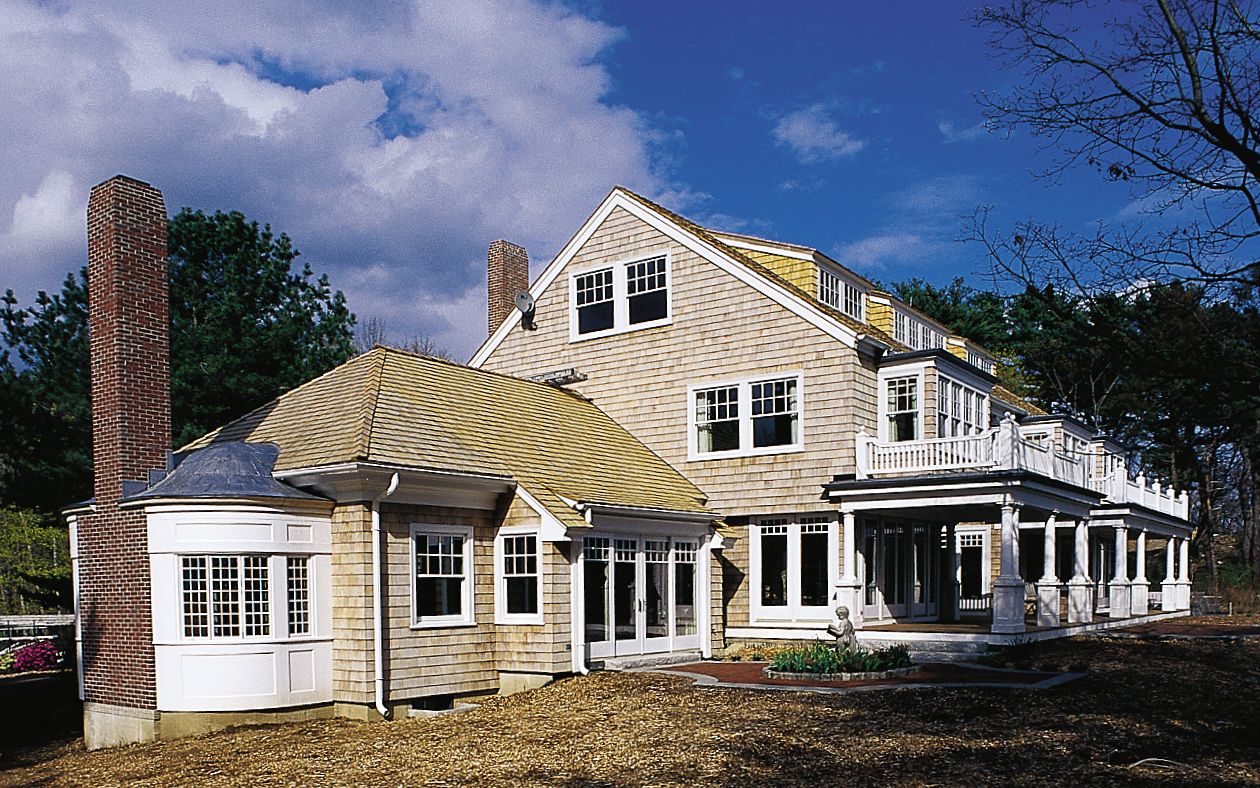 Janet McCue says she always felt that before it was all over, she wanted to find a way of getting her hands dirty — to participate in the actual work of renovating her and husband David's seaside home in Manchester. She also says when the opportunity eventually presented itself, she had little idea what she was getting herself into. But as she gets nearer to finishing the process of restoring the windows in the first-floor "bump-out," Janet is pleased by what she's learned and what she's done.
Janet and David have nurtured a special fondness for this small
picturesque nook, one of the few surviving features original to the
house's Colonial-Revival glory days. Situated to the side of their new
enlarged kitchen and living area, the half-drum space has often been variously referred to as a bump-out
or conservatory. With an easterly exposure, the area gets great sunlight, and Janet had her eye on it from the start as a spot where indoor plants could thrive. Theirs has been a massive renovation, however, and small projects like reincarnating this little space do tend to add up in more ways than one. Then Janet realized, with a bit of encouragement from series producer Bruce Irving, that this was her chance to pull off a double play — getting involved in some
renovation work and parlaying her own sweat and effort into creating her dreamed-of conservatory — that time and budget might not otherwise have allowed.
The structure of the bump-out has incurred a bit of wear over the years,
not to mention a shed roof that replaced the original elegance of a flat balustraded roof in the 1979 renovation. But all told, the area wasn't in too bad a shape, and the McCues definitely wanted to preserve and recoup as many of its original elements as possible. For Janet's
purposes, this primarily meant the windows.
Caked with layer upon layer of old paint, the windows were long
inoperable and needed a thorough stripping, reglazing and repainting. No trivial task considering there are 10 sashes in all, each with 17
lights. Then there was the mixed blessing of the heavily leaded "PT boat blue" paint: it served to protect the underlying structure of the
windows, but it can be devilishly hard to get off.
To test the feasibility of her plan, Janet began back in October by
stripping one of the windows, while another was sent off to be dipped.
Using a fairly benign, environmentally friendly solvent, she says she spent about six and a half hours on that first window. For help in removing the glazing compound Janet also had at her disposal a number of paint-master John Dee's scraping tools, including some of his handy dental equipment for getting into the many sharp angles of the diamond panes. At the start, Janet also unleashed a hot-air gun on the paint, which worked well, although she quickly abandoned that method amid a chorus of warnings that the gun could cause the lead in the paint to become airborne —clearly to be avoided. At any rate, she says an
industrial-strength vacuum was invaluable, though, for whisking away the copious amounts of residue generated from the stripping.
When the other window came back from its trial dip in more powerful
chemicals, Janet wasn't happy enough with the results, knowing that the price would work out to around $80 per window. She decided to follow through on her own and enlisted the willing aid of two good friends to finish the eight remaining windows. In this phase, Janet says they also used an oscillating saw Tom Silva lent them to help root out much of the old resistant glazing compound. As they inevitably will, several glass panes were broken in the process, and Tom's brother Dick has been on hand to show Janet how to cut diamond-shaped replacements (a process Janet says she never quite got the hang of). Dick also helped the trio deal with the windows' hardware, all of which had to be removed, sanded, soaked and primed.
It took Janet and crew eight hours to strip the rest of the windows, and
work still continues. They're now in the process of reglazing, after
which they'll sand and prime, apply two careful coats of fresh white
paint, then re-hang the windows. Once that's done, the crowning step for this new conservatory will be to replace its sloped roof with a new
glass one. Janet and David also made sure to save the lovely paneled
bench that fits around the inside of the semi-circle, and they're having
a copper tray built to sit along its top where Janet will grow her plants.
She did very much want to get involved, but with a bit more yet to do,
Janet confesses in hindsight that she had no idea what to expect from
this project, and without being able to count on all the available advice and assistance, she's not sure she would have taken this one on.
But there's always pleasure in learning how to do something new, and Janet says she has learned a great deal. Watching those plants soak up the sun beaming through her rejuvenated old windows will no doubt bring her a special satisfaction.