Bright Spots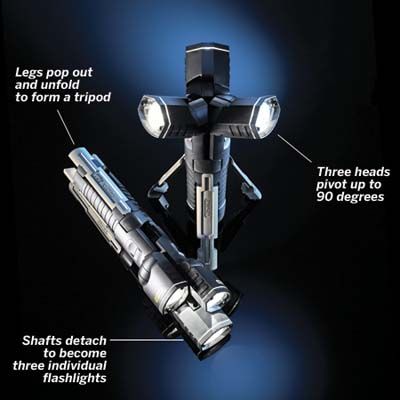 A homeowner without a flashlight ends up at the mercy of the darkness. But there's help on the way—from the latest high-tech torches outfitted with LEDs (light-emitting diodes). The tiny semiconductors work with a fraction of the power an incandescent requires, so batteries can be smaller and still produce light for up to 20 hours. The diodes pump out about five times the light an old-style flashlight bulb could produce. And because they have no delicate filaments, LEDs are virtually indestructible; you could operate one for nearly six years—nonstop—before it blinked out. But here's the downside: When a diode fails, it can't be replaced—you'll need to buy a new flashlight.
Shown: For hands-free lighting, the three legs on the 3-in-1 Tripod pop out with a push of a button. Aim each of its three pivoting heads where you need light or pull any of them out as an individual flashlight. 20 lumens each, 6 AA batteries, about $30; Stanley Tools
Toolbox Mainstay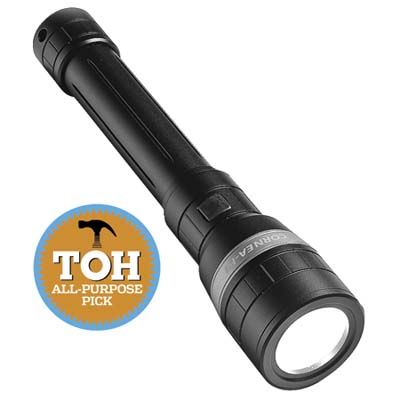 The 8-inch Cornea HI is tough (the housing is anodized aluminum), adjustable (goes from wide to tight beam with a twist), and fun (strobe light anyone?). At the brightest setting, its beam has a 584-foot range, thanks to three potent lithium batteries. 105 lumens, about $65; Gerber Gear
Power Struggle: LEDs vs. Incandescents
Compare a modern AA-powered LED flashlight with an old-school D-cell battery incandescent, and it becomes clear how much LEDs have furthered flashlight efficiency and performance:
Power (watts): LED = 3, Incandescent = 1.2
Brightness (lumens): LED= 50; Incandescent = 11
Bulb life (hours): LED = 50,000+; Incandescent 15
Battery life (hours): LED= 3; Incandescent = 18
Rugged Rechargeable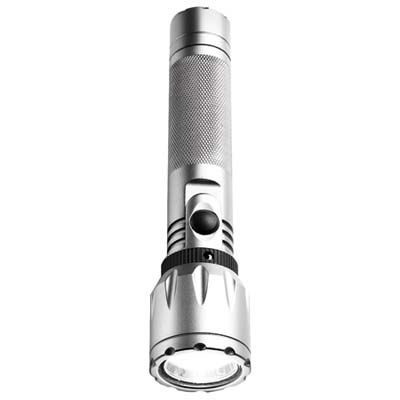 The machined aluminum body will take some knocks, and you can leave it plugged in all the time because the charger protects the battery from overheating. Operates continually for 85 minutes. 80 lumens, about $60; Energizer
Buyer Beware: Flashlight makers are not bound by any labeling standards, so one manufacturer's "90-lumen" LED could be dimmer than one labeled 50 lumens. But now, 14 companies are developing standard flashlight testing protocols. Sometime next year, you'll be able to accurately compare, lumen for lumen, any flashlight sold by major U.S. retailers, such as Lowe's and Wal-Mart.
Green Light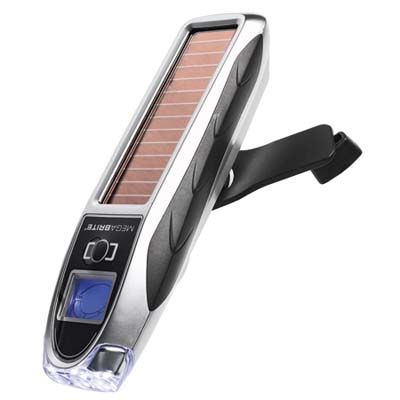 Solar cells on the Solarmax Deluxe mean a full day of sun can supply one hour of light. If that's not enough, hand-crank it; an LCD readout tells you how much light-time you're putting in. In an emergency, set its three LEDs to flash. 90 lumens, about $20; MegaBRITE
Flexible Finder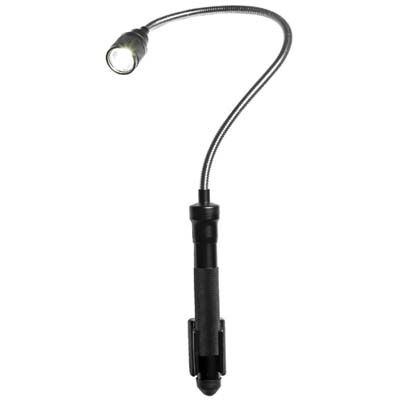 The LED on the end of the Junior Reach's flexible 13-inch neck rivals the brightness of the high-intensity xenon bulbs used in car headlights. A magnetic clip secures the
light for hands-free work. 55 lumens, 2 AA batteries, about $40; Streamlight
Bright Lights, Small Packages
Among the many LED flashlights less than 6 inches long, here are three standouts:
(a) The Bolt has a 50-lumen beam that projects 150 feet. 2 AA batteries, about $40; INOVA
(b) The Genesis provides 20 hours of light and has a 236-foot reach. 47 lumens, 2 lithium batteries, about $60; Princeton Tec
(c) Coleman's Multi-Color has a white LED as well as a red one, which won't force your eyes to readjust at night. 65 lumens, 3 AAA batteries, about $30; Coleman
Style Conscious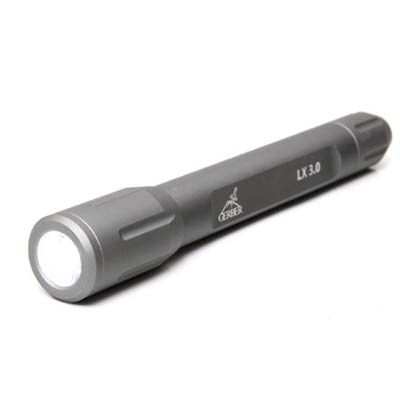 The LX3.0's sleek looks are backed by serious performance: Its 150-foot range makes it the brightest light for its size on the market. 51 lumens, 3 AA batteries, about $41; The Gerber Store
Tactical Grade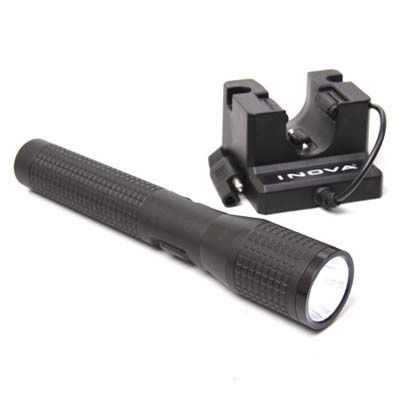 With an aerospace-grade aluminum body, this rechargeable 8-inch long flashlight is durable. Press the switch to broadcast the light up to 350 feet or cycle through its high, low, or strobe settings. 175 lumens, about $117; Inova
Pocket Light
This ½-watt LED may look like a gadget designed for James Bond, but its mission is to help you see into tight spaces. With a 7½-hour runtime and unbreakable polycarbonate lens, it deserves a spot in your tool bag. 24 lumens, 2 AAA batteries; about $22, Streamlight
Traditional Light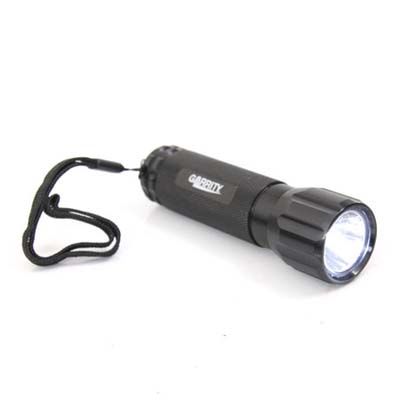 For those looking for a traditional flashlight, Garrity's 1-watt is for you. The plain black style, comfortable grip, and durable aluminum body make this light suitable product for everyday use. 45 lumens, 3 AAA batteries, about $22; Garrity
Battery Friendly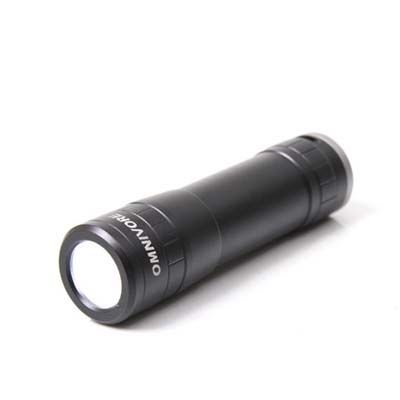 The Omnivore is your junk drawer's best friend—it works with AA, AAA, or lithium CR123 batteries. The more powerful the battery, the long, brighter, and farther—up to 190 feet—it broadcasts light. 10-18 lumens, about $57; Gerber
Water Loving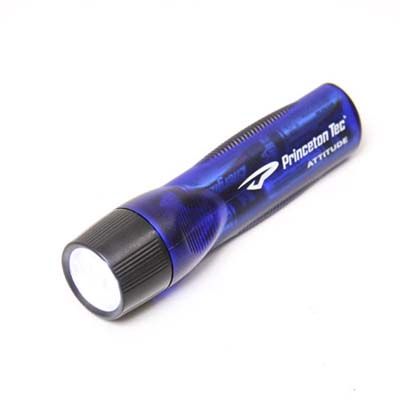 Even if you're not a scuba diver, inevitably you'll need to go out in a downpour after dark because someone forgot to close the car windows. There's no switch to wear out; you turn it on by twisting the head counterclockwise. A rubber washer creates a waterproof seal that works up to 325 feet underwater. 12 lumens, 4 AAA batteries, about $20; Princeton Tec
Bright White
Duracell's new line of Daylite flashlights provide a clear white light. Each
of the three flashlights focuses from flood to a spot with a twist of the
head, without the dark spot common in incandescent flashlights. 80 or 160
lumens, AA, AAA, and CR123 batteries, about $20-$40; Duracell
Economical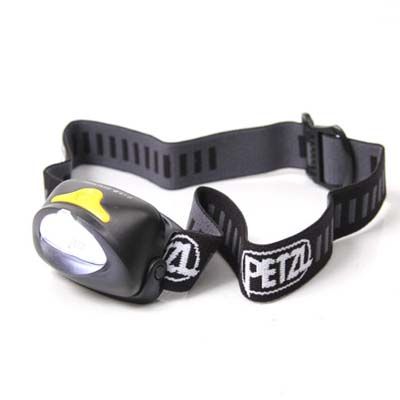 The water-resistant Tikka Plus works in any weather. Its four LED beams can be angled up or down. Use the economy setting and get 150 hours of light on one set of batteries. 35 lumens, 3 AAA batteries, about $35; Petzl
Hands-Free Headlamp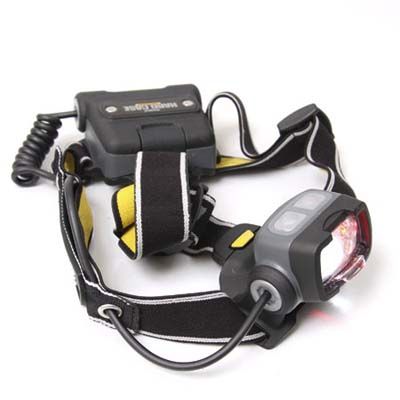 You don't have to be a spelunking enthusiast to find a practical use for this light. It boasts four lighting modes, including red for night vision, and is perfect for peering into crawl spaces and under sinks. 100 lumens, 3 AA batteries, about $36; Energizer
Road Tripper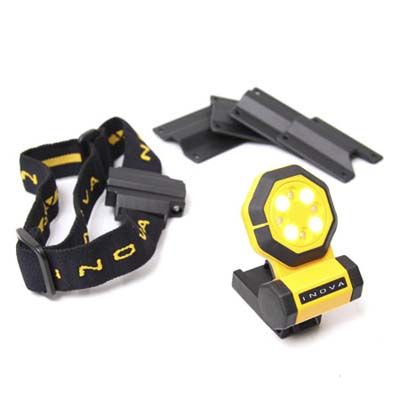 For emergencies on the road, a dependable flashlight is a must. Even better is Invoa's 24/7, which has eight settings and can be seen from two miles away. You can hail for help by setting it to blink S-O-S or flash a three-color distress strobe. A magnetic clip lets you stick it to the underside of your car's hood or you can wear it around your neck. 1 CR123, about $60; Inova
Rechargeable Spotlight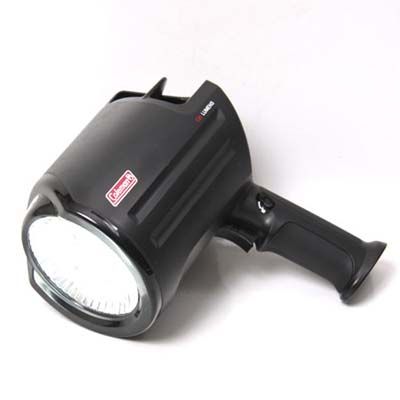 Emitting light through three high-powered LEDs, this comfortable spotlight has a 2½-hour runtime and comes in handy during power failures or on campouts. 530 lumens, about $60; Coleman