Benefits of Yellow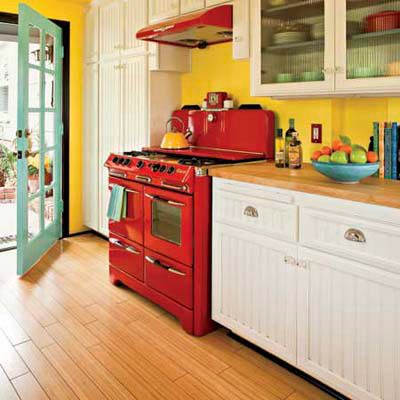 If your kitchen doesn't get much natural light or could use some visual warmth, yellow is the perfect choice: It's the most luminous shade and not too far from white, but has the added benefit of chasing any chill. Use it to brighten up the space where you and your family gather, and fuel yourselves with a burst of sunshine. And don't just think canary, but amber, autumn leaves, corn meal, the mellow glow of a sunset, or a lion's mane. To get you started, here are our 17 favorite yellow kitchens, from the pages of This Old House.
Creamy Yellow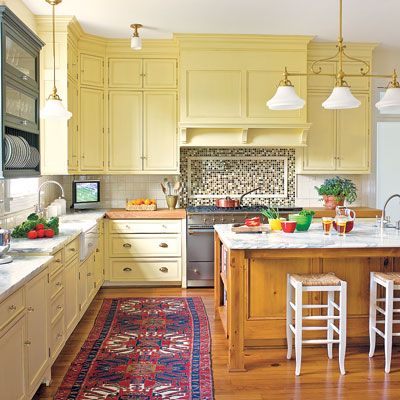 A creamy take on the shade makes a nice but neutral alternative to white on these detailed cabinets.
Get more background on this kitchen remodel.
Bold Statement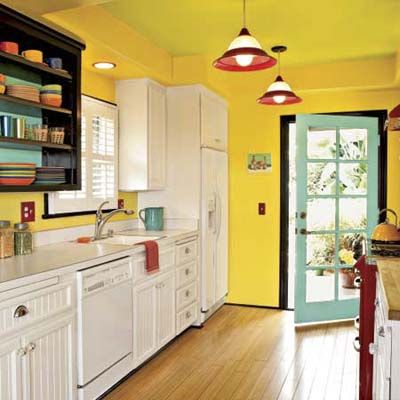 A kitchen goes bold in Fiesta-ware hues, including sunflower walls.
Read about how this kitchen came to be.
Pretty Buttercream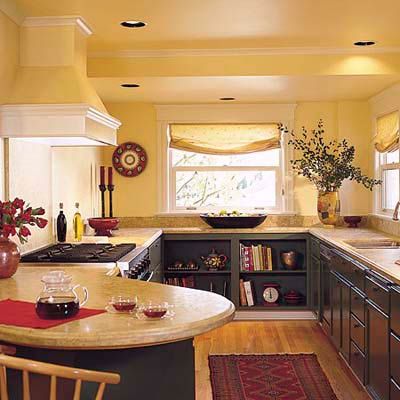 Soft, buttercream enrobes this space, enlivened with splashes of red.
Check out more on this galley kitchen.
Corn-Colored Beauty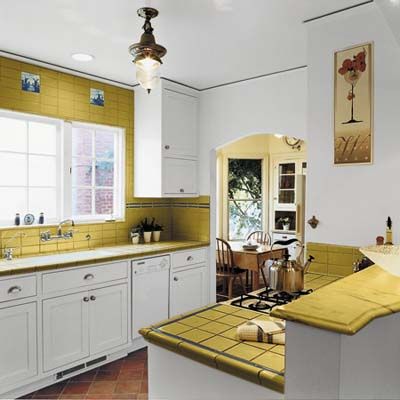 Fields of corn-colored tile provide a showcase for a series of Delft accents.
Read more on how an architect maximized space in this kitchen.
Saturated Hues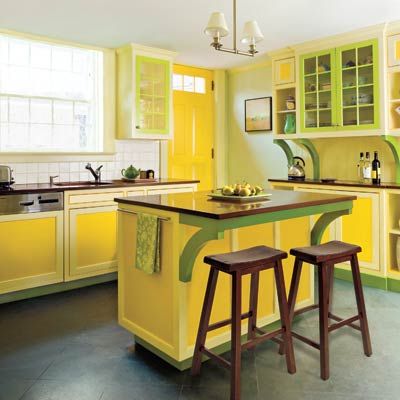 Pop goes the kitchen, as lemon pairs up with its neighbors on the color wheel—lime, grass and Granny Smith green—to enliven this space.
Read more about this kitchen's energetic color scheme.
Cheery Yellow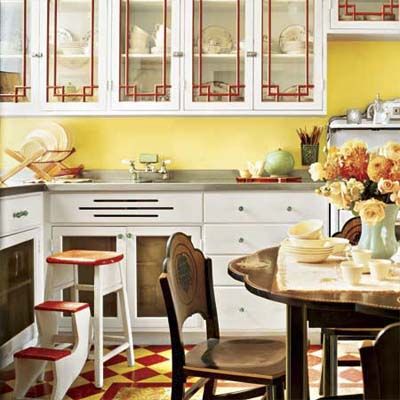 Touches of red applied artfully and sparingly throughout this early 20th-century-style lemon-meringue yellow kitchen keep its palette from veering into golden arches territory.
Check out more details on this vintage-style kitchen.
Green Meets Gold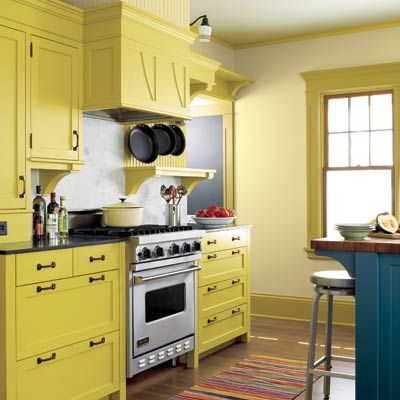 The greenish gold of extra-virgin olive oil is so apropos on these cabinets.
Learn more about the unique paint color used in this kitchen.
Striking Blond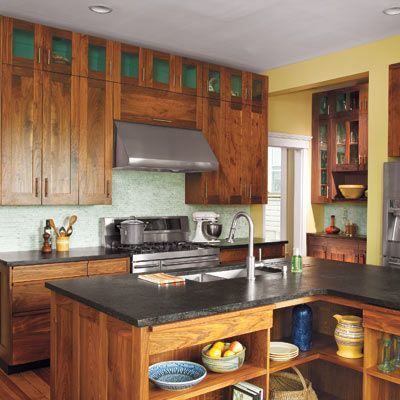 Handsome blond walls in an Arts-and Crafts influenced kitchen showcase the walnut cabinetry and cedar green accents.
See more on how a team collaborated to update this kitchen.
Mellow Yellow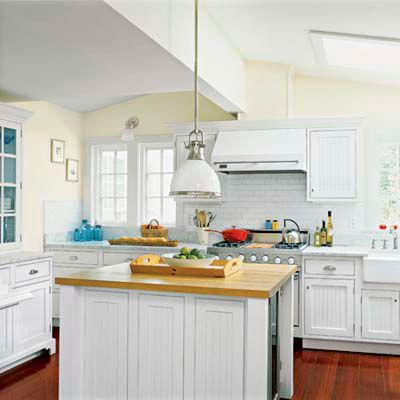 A touch of butter-pat yellow enlivens the walls and pairs well with the aqua green cabinet interiors and vintage bottle collection.
Check out how this beach house kitchen came to be.
Soft Yellow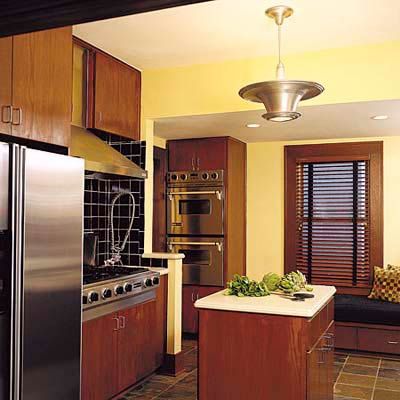 The soft yellow walls and red-toned wood cabinets really warm up this space, while touches of black in the backsplash, window seat cushion and window-blind's tape, add crispness.
Get more details on this kitchen's fixtures.
Let the Sunshine in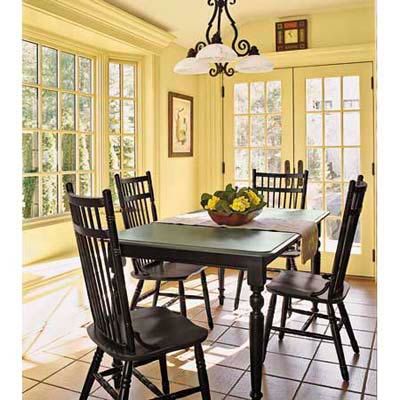 Why not add a wash of sunshine in the sunniest room in the house?
Read on for the before-and-after story of this .
Golden Delight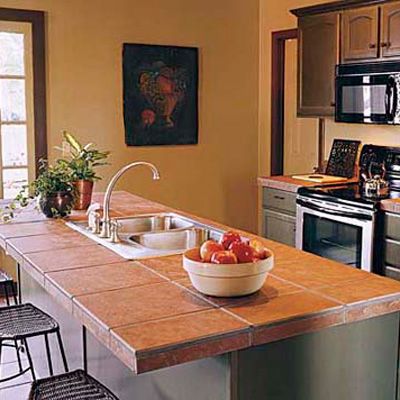 Golden walls extend the warmth of the island's tilework.
Check out what details can bring a kitchen to life.
Dazzling Shade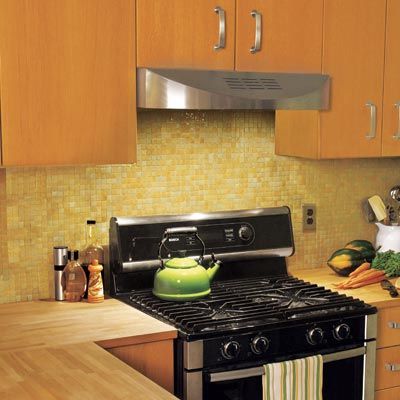 A field of glass mosaic tiles in shades from turmeric to polenta make for a dazzling—and easy to clean—backdrop.
See more about the glass mosaic tile backsplash in this kitchen.
Joyful Yellow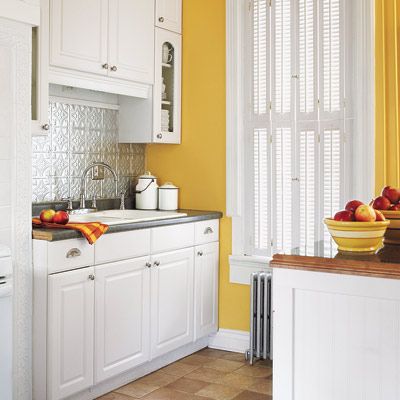 A golden delicious wall shines its light on a cool aluminum backsplash and sharp white trim and cabinets.
Learn more about the transformation of this kitchen.
Pop of Yellow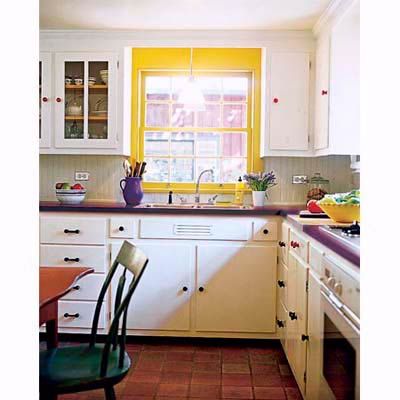 A pop of yellow paired with a countertop in violet—its complementary shade on the colorwheel—makes for a harmonious space.
See more about the color scheme used in this kitchen.
Curry-Inspired Hue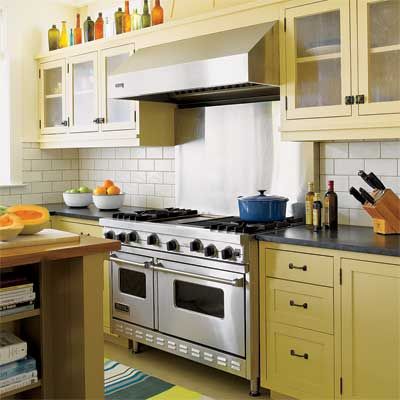 Painting an upper row of cabinetry an almost imperceptibly lighter hue of curry than the base cabinets gives this space a lift.
Find out how more on this period-style kitchen.
Mustard Yellow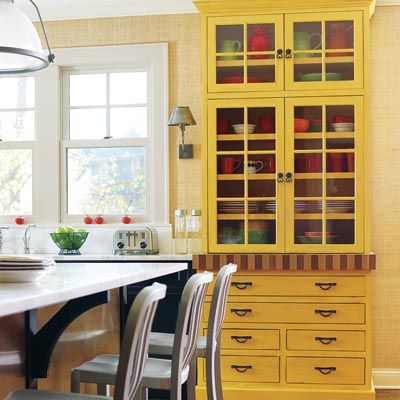 A mustard yellow hutch holding plenty of green and red ceramics brings some heat to a serene grass-cloth clad wall.
See more on the color combo used for this kitchen.
Sweet Color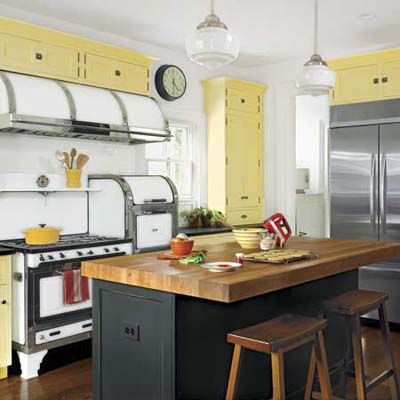 Cabinets in banana-pudding yellow sweeten a sleek space with vintage accents.
Check out additional details on this vintage kitchen.