Bigger isn't always better but creating the illusion of a more open space might help. Galley kitchens have a U-shaped layout that offer supreme style and functionality for small spaces. We share 9 ways you can design your small kitchen to brighten up the space.
Galley Kitchen Ideas and Layout Considerations
1. Balance Aisle Space, Light, and Storage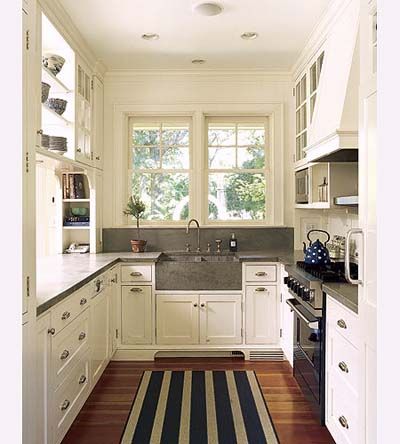 For maximum efficiency when short on space, this layout excels. Its two parallel counters make all points of the work triangle equally accessible. Important things to keep in mind during your design are: aisle space, light, and storage.
In this kitchen, concealing the fridge and dishwasher behind cabinetry panels gives the small space a tidy look. Light-colored cabinets, open shelving, and a large pass-through window make the galley open and airy.
2. Measure Your Space to Use it Wisely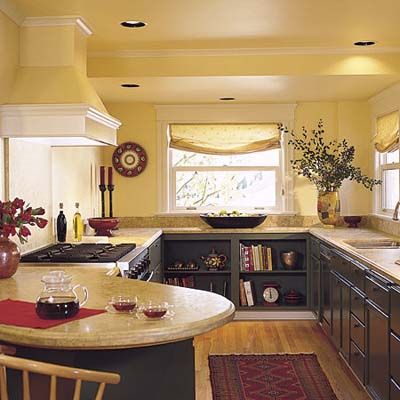 To minimize problems with congestion when people are congregating or base-cabinets and appliances are open, the aisle should measure at least 4 to 6 feet wide, with the sink and refrigerator on one wall and the range on the opposite one.
Here there is plenty of room to move around, and a peninsula off the end of the U-shaped layout creates an eat-in space.
3. Use Windows to Open Up the Space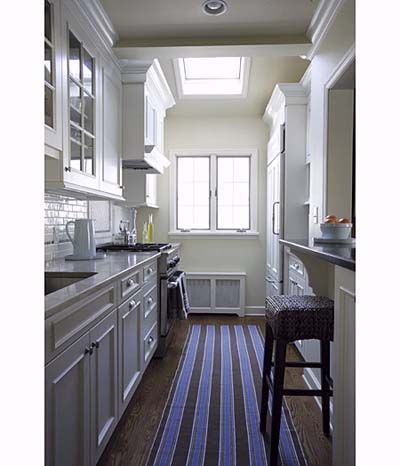 This galley kitchen is efficient in its narrow footprint, with ample built-in storage and counter space. The pass-through window not only opens the room up to an adjacent dining area, but it also provides a two-seater breakfast bar. Glass-front cabinets with lighted interiors offer a visual focal point.
4. Create a Cooking Work Triangle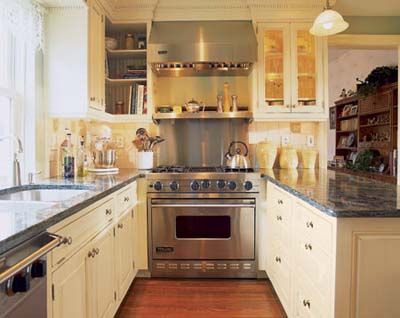 The U-shaped layout of this kitchen offers an efficient work triangle for its owners, a couple with a penchant for cooking. Wine cubbies above the window make use of often-overlooked space. As one side opens up to the adjacent living space, antique-white painted cabinets, dark green granite countertops, and original oak floors help stainless steel appliances blend into the 1874 farmhouse.
5. Open Up Your Galley Kitchen with Shelving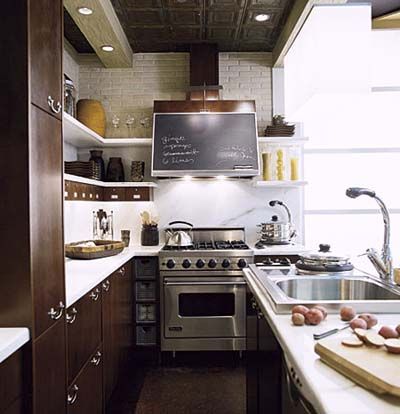 In this kitchen, storage solutions create style and offer practicality. Instead of top cabinets, shelving puts spices and dishware on display, helping the layout maintain efficiency and a spacious feel. Narrow slide-out mesh baskets beside the range make the most of the space and offer compact see-through storage.
6. Choose a Focal Point in Your Galley Kitchen Design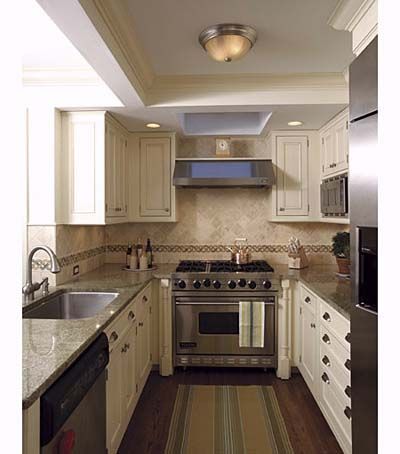 The professional range in this kitchen acts as the focal point of the design. The configuration offers plenty of counter space, as well as lots of room for cabinets. A pass-through (not shown) serves as a breakfast bar and looks out onto an intimate corner banquette for family dinners.
7. Conceal Clutter and Consider How You Move Around the Space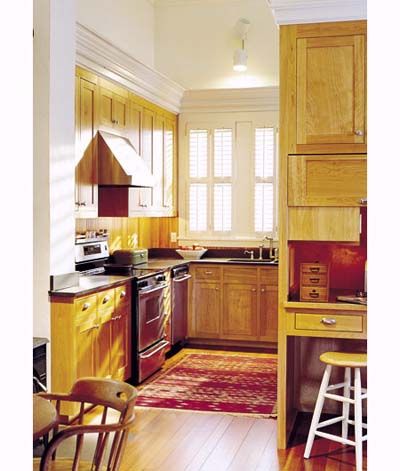 This intimate space is perfect for its owners, empty nesters who rarely cook large feasts. The cabinet adjacent to the entryway is a desk with a tambour door that pulls down to hide paperwork. The U-shaped design makes it easy to get around, and standard mid-line stainless steel appliances give the room a clean look.
8. Rearrange Appliances for Maximum Efficiency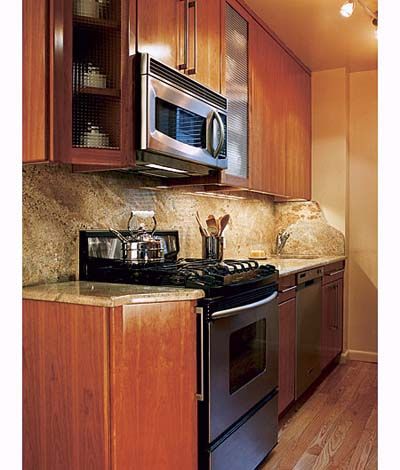 Chef Michael Lomonaco's plan for his 7-by-10 foot Manhattan galley kitchen was simple: use every available space efficiently, without changing the basic layout. So he moved the sink faucet into the corner and the microwave to over the range—the only configuration changes he made—freeing up counter space for food prep.
9. Explore Smart Storage Options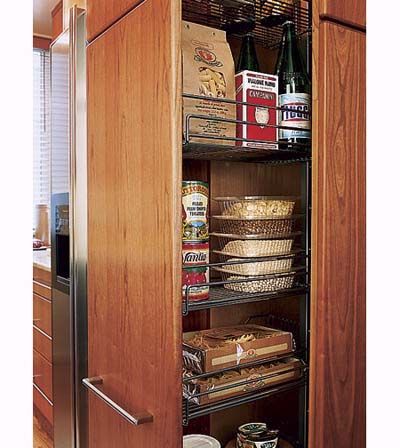 The star of Lomonaco's new kitchen is really the smart storage, an asset for any small space. What looks like an ordinary cherry-panel wall turns out to be a pull-out pantry. The 15-inch-wide, floor-to-ceiling shelving allows for ample space and easy access while maintaining the kitchen's streamlined look.