Not So Traditional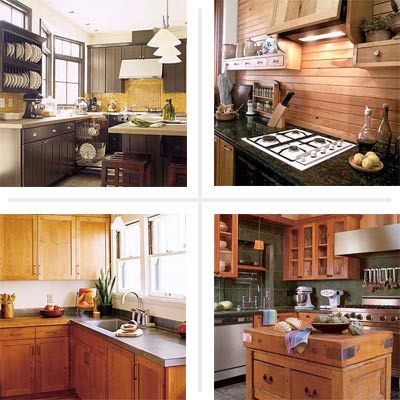 From butcher block to cabinets to floors and even backsplashes, wood fits right in the kitchen. The well lit space is a great place to showcase the patterns in the material's grain. And, when its surface is polished, even the darkest cherry or mahogany will still reflect light. But if wood brings to mind more traditional interiors, think again: Simply designed cabinetry with minimalist hardware often makes the best backdrop for wood's features, while the inherent warmth of the material will cozy up just about any ultra-modern cookspace.
Great Grain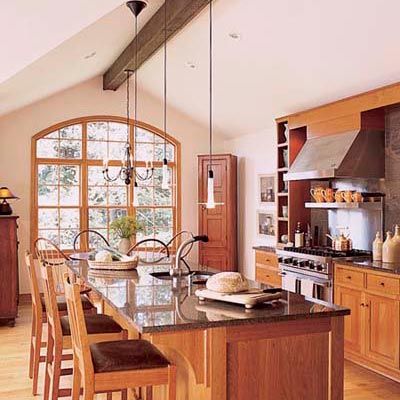 Gorgeous bourbon-hued wood is the feature in this space, from the island to the window frames. Warm white paint adds to the cheerful effect.
Superb kitchen lighting isn't just a safety requirement, it's a design essential.
Into the Woods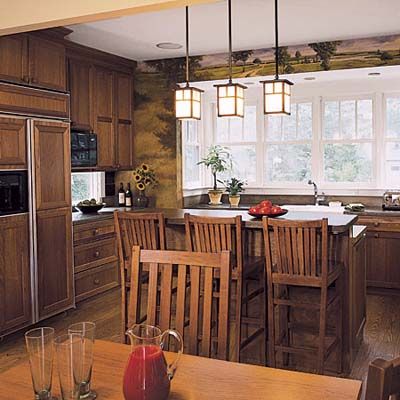 A classic Craftsman-style kitchen clad in oak still gets plenty of light from the window bank painted bright white.
Cherry, Oh Baby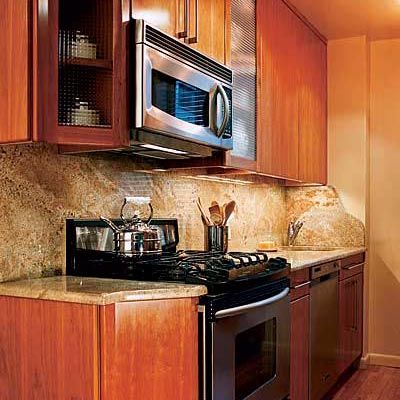 Cherry cabinets, golden brown granite, and red oak floors emanate warmth and cheer in this well-appointed chef's galley kitchen.
Deep Doesn't Have to Mean Dark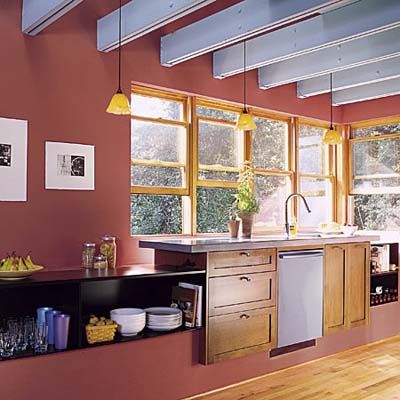 Even wood has colors in it. Here, muted red walls and blue beams bring out the rosy glow of the wood cabinetry and window frames.
Timeless Yet Modern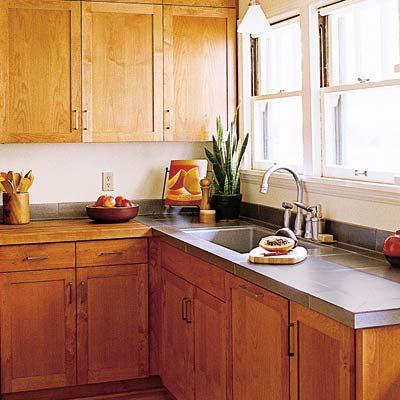 Beautiful, amber toned-wood cabinets really shine in this airy, paired down space.
Even the novice cook—or kitchen designer—can learn a lot from this Kitchen 101 guide.
Smooth Transition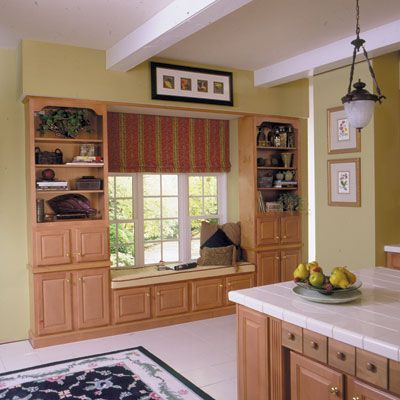 Muted mustard-colored paint unifies the cabinetry and island.
Provide a place to shelve cookbooks and sip coffee when you build a window seat.
Broad in the Beam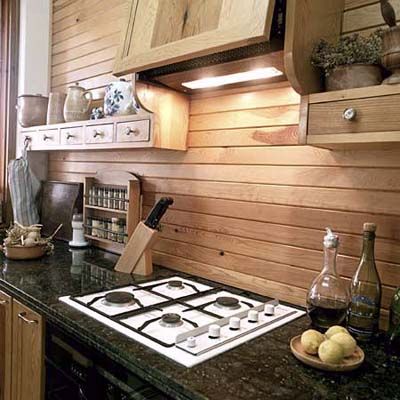 Bare, horizontal boards make for a bigger looking kitchen.
Let this kitchen backsplash style guide lead the way for the rest of your cookspace's decor.
A Rich Palette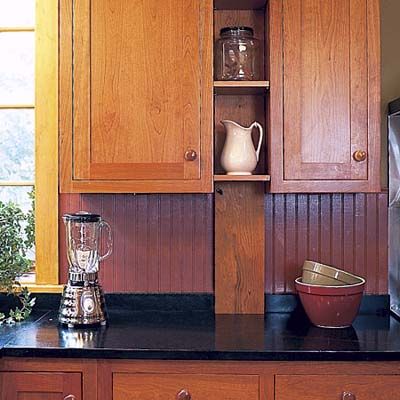 A red beadboard backsplash and black granite countertop add to the wood cabinetry's richness. Wood knobs add vintage flavor.
What's Old Is New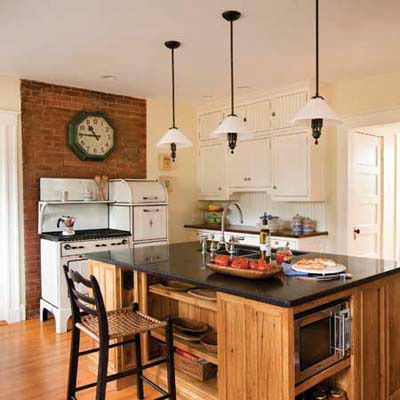 A salvaged wood island sits atop warm maple floor boards.
This modern vintage kitchen has major design chops with an open plan and the right dose of charm.
Clever Contrast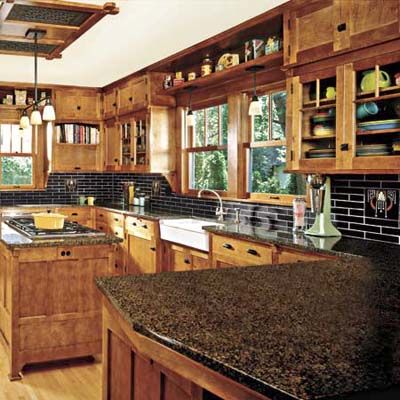 A black-tile backsplash and oil-rubbed bronze pulls and latches light up red birch cabinetry in this Craftsman-style kitchen.
A wood kitchen is the perfect way to pull off classic Craftsman style.
Orange Aid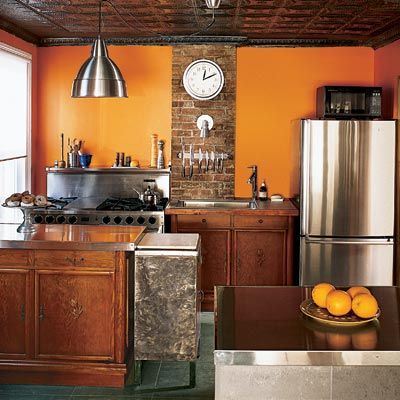 Juicy orange warms up the walls and heightens the warmth of heirloom oak cabinetry.
Spanish Colonial Revival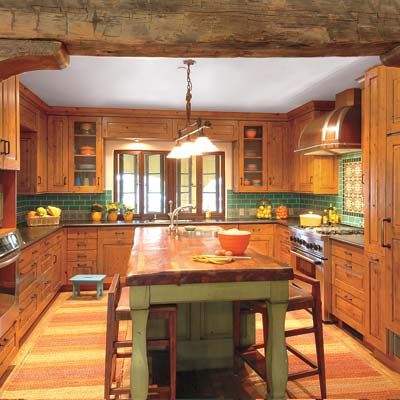 Golden alder cabinets and chestnut flooring glow against jade-green subway tiles.
Distressed cabinet pulls and distressed alder cabinets pull together an old world look in a 1940s Spanish Revival home.
Go With the Grain
Vertical striations in bamboo cabinetry add graphic punch, giving this space modern appeal.
A designer-contractor duo transformed a dated kitchen into an expanded, green-hued haven.
Dynamic Duo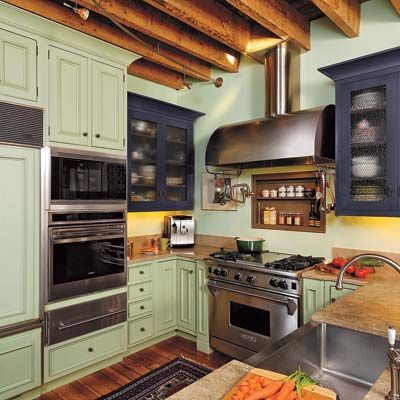 Unexpected yet harmonious hues—muted green and purple—make exposed beams and wood flooring pop.
Really cook something up in the kitchen with these surprising cookspace color combos.
Colors in Concert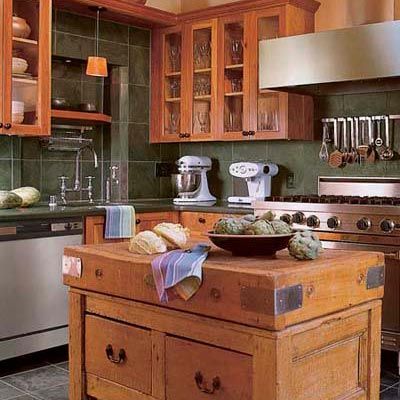 A honey-colored island topped with sturdy vintage butcher block ties in with cherry cabinets.
Fall-hued kitchen elements bring vibrant touches to indoor spaces all year long.
Gorgeously Grounded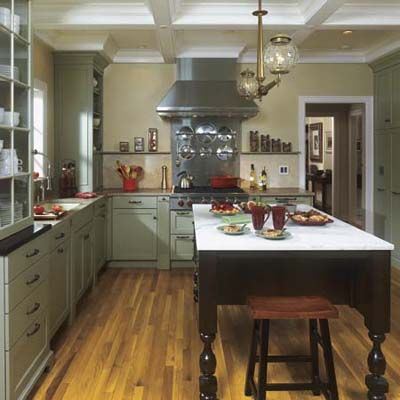 A cherry-stained island adds depth to a kitchen done primarily in paler muted hues.
The best of the best brought a small kitchen to peak performance in the same footprint.
Paint it Black (and Blue)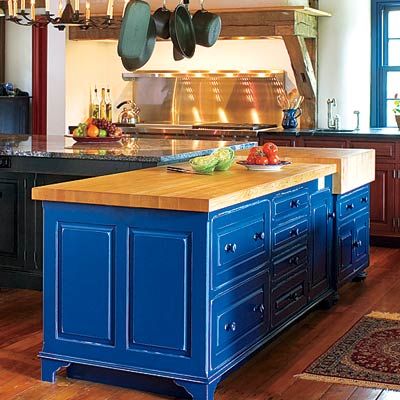 An island painted in licorice and cobalt adds a jolt of color to a kitchen dominated by wood flooring and cabinetry.
From prep work to stashing cookbooks, learn all about kitchen islands.
A Modern Take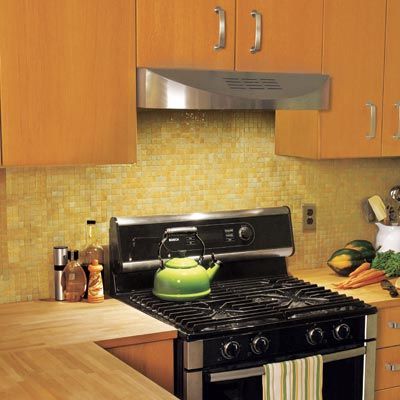 These minimalist slab cabinets show that wood isn't just for traditional kitchens. A yellow glass mosaic tile blacksplash and butcher-block counters in the same color family add heft to the streamlined style.
Recreate at least part of this look in your own home with glass mosaic tile backsplash step-by-step instructions.
Happy Medium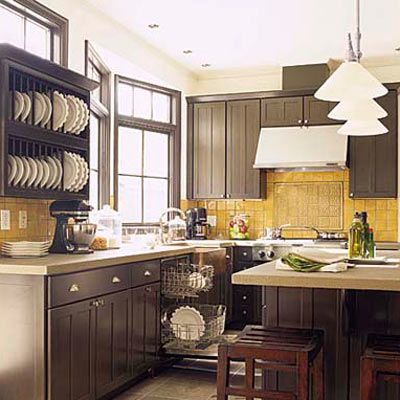 Cabinetry painted a medium gray-brown, along with a cherry-stained island, add coziness to a brightly lit space.
Good design rules in sensational space-saving kitchens.
Burnished and Bright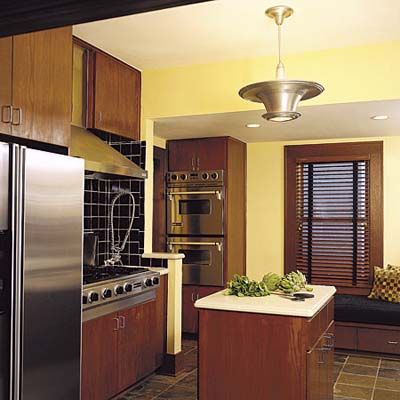 Butter-cream walls bolster and brighten cherry-colored cabinetry and woodwork.