Modern Makeover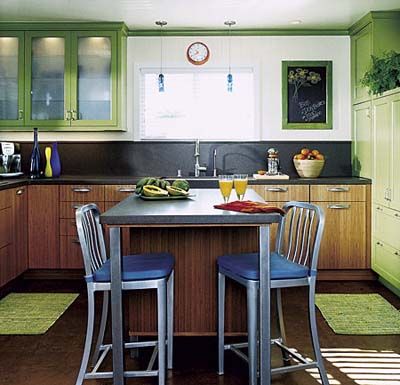 For the owners of this home, a designer-contractor duo, a small, dated kitchen wasn't acceptable. By knocking down a wall, updating the amenities, and adding color, they created a space that feels open and airy.
The green pantry wall (far right) covers the spot where a back door stood. The concrete subfloor, exposed when vinyl was removed was cleaned and colored with an acid-based stain. Toekicks were built 1 inch higher than normal to allow for future installation of wood or tile.
Before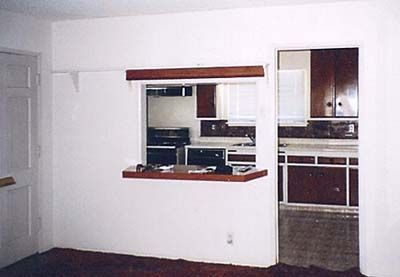 The old kitchen was closed off save for a doorway and pass-through. It lacked ample counter space and was overrun not only with old cabinets and inefficient appliances, but with ants as well.
Keeping It Simple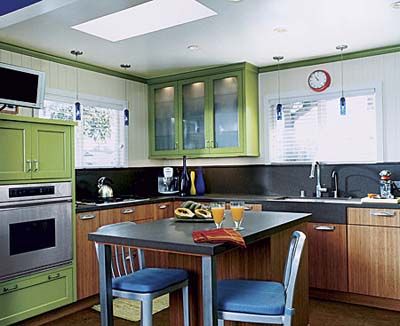 The couple passed on glitzy product choices, opting instead for streamlined selections that would suit the simplicity of the rest of their home. Concrete floors, engineered stone counters, and contemporary bamboo base cabinets mix with traditional flat-panel pantry doors and V-groove wallboards for something of a modern-farmhouse look.
Spice It Up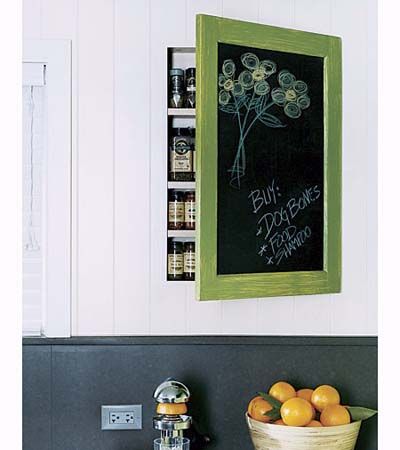 The custom spice cabinet is designed like a bathroom medicine chest, with a chalkboard where the mirror should be. Its green border is just one of the bright accent pieces used throughout the home.
Faking It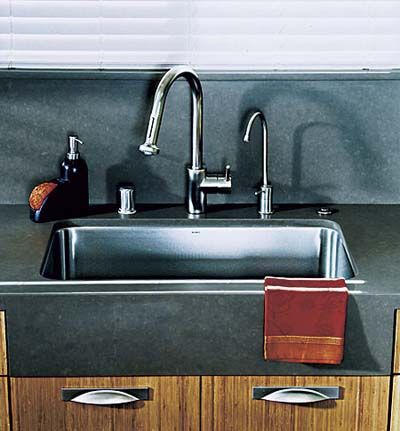 The faux apron-front sink was made by facing the front of a stock 30-inch single-bowl stainless-steel Blanco sink with the same Ceasarstone engineered stone used for the countertop and backsplash.
Around the Corner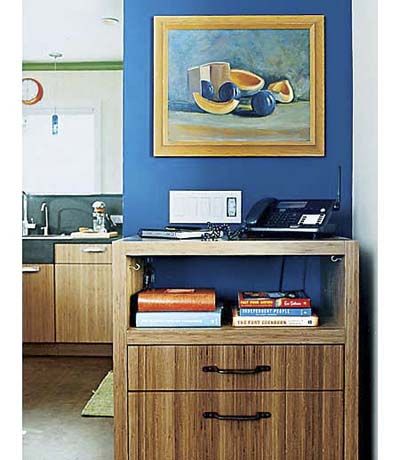 The bamboo telephone cabinet around the living room corner echoes the kitchen's Plyboo base cabinets—and is a clever idea for storing hefty phone books and creating a dedicated message center. The vivid blue wall plays off the kitchen's apple-green cabinets.
Hide and Seek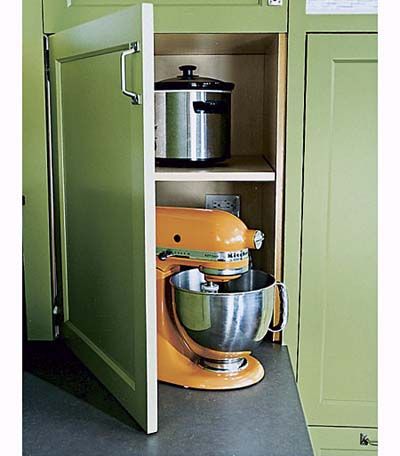 Small-appliance storage is provided by pantry cabinets by R&J Cabinets and
Woodwork that run right down to the top of the countertop, keeping clutter to a minimum.
Easy Viewing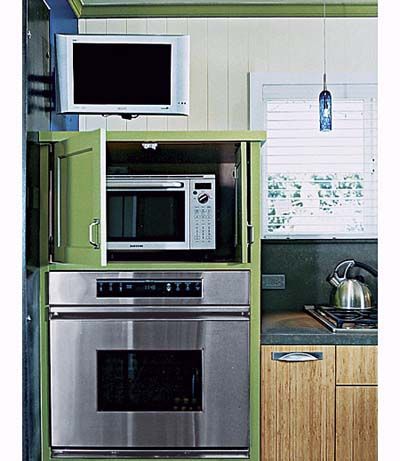 The Samsung Electonics microwave and Dacor wall oven are housed in a cabinet topped by an LCD TV from Philips Consumer Electronics. The TV is mounted on an articulating bracket for viewing from anywhere in the room.
Before Floor Plan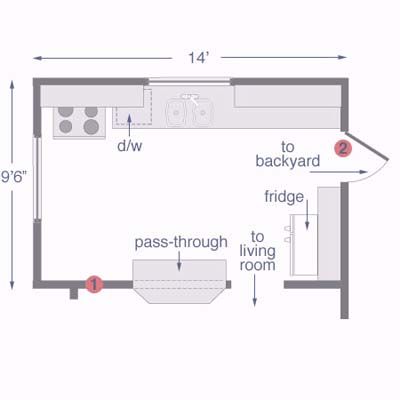 The old 9 ½-by-14-foot kitchen had little counter space and a doorway interrupting the L-shaped layout.
After Floor Plan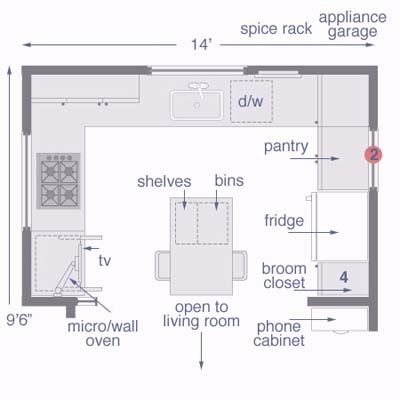 Removing the wall shared with the living room and closing up the back door made room for a handy U-shaped design with counters, cabinetry, and appliances on all three walls. An island added seating and extra storage.