Gone are the days of honing your budding construction skills on patching together tunnels and forts with castoff cardboard boxes and sheets. Now, pro-level carpentry skills and permanent structures are making their mark on Pinterest and our envy, among other places. Click through for a glimpse at a pirate ship in a bedroom, interior rock-climbing walls, and more inspiring playrooms.
Year-Round Play Places for Imaginative Kids
Playhouse Within a House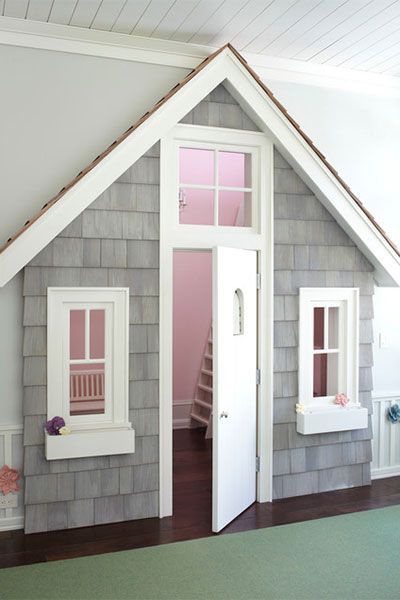 This quaint playhouse design from Myefski Architects can be enjoyed year round. A cute facade nearly flush with a wall keeps the playroom contained. Real-house features like a white fence, cedar-style shingles, and window boxes for tucking in faux flowers add to the interior structure's charm. A non-locking front door, windows, and transom keep little ones under adult supervision.
Add instant charm to a play area by adapting a tutorial from This Old House TV general contractor Tom Silva for building and installing window boxes.
Pirate Ship in the Sky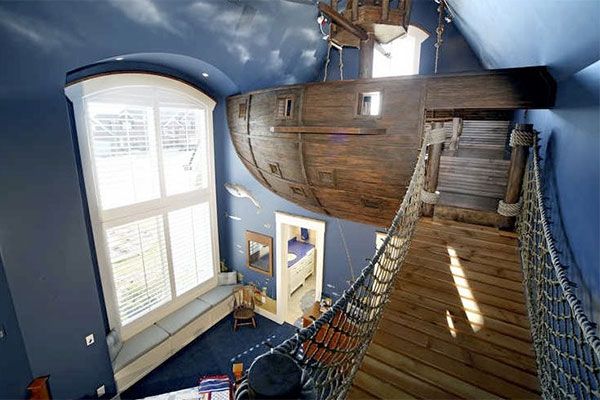 Fantasies of commanding a sturdy vessel equipped for battle on the seven seas became near-reality for one lucky kid with this floating pirate ship built by Kuhl Design Build LLC. The Peter Pan-like hangout spot includes a crow's nest, ship wheel, and multiple points of access.
Draw inspiration for an adventure-worthy sleep space with decorating ideas from a cabin-style bedroom.
Adventurous Rock-Climbing Wall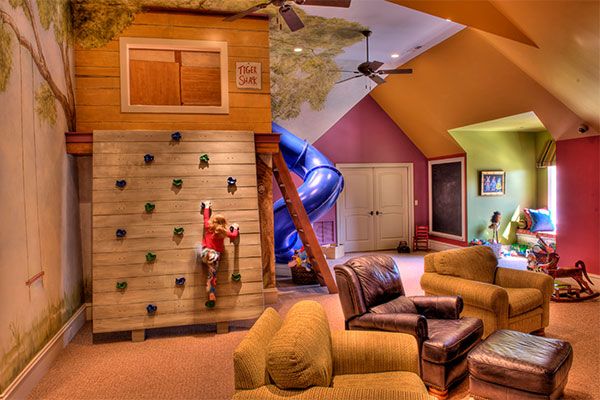 Keep little ones active—even if you're holed up inside during a blizzard—with a miniature rock-climbing wall that leads up to a play area. Here, a play corner built by Gabriel Builders Inc. creates the perfect indoor hideout, with a picturesque wall and ceiling mural to stand in for a backyard view.
Get inspiration for an all-season interior play area with these clever ideas for outdoor retreats.
Indoor Treehouse
This space, inspired by the Magic Tree House book series, provides plenty of room to let a kid's imagination run wild. The Thinkterior project includes sneaky built-in storage, a mudroom-like rack, and a performance-ready stage. Plus, a rope-wrapped ladder and grab bars make this play feature a bit safer for accident-prone kids.
Explore the creative possibilities with 18 treehouses nicer than your house.
Pint-Size Literary Escape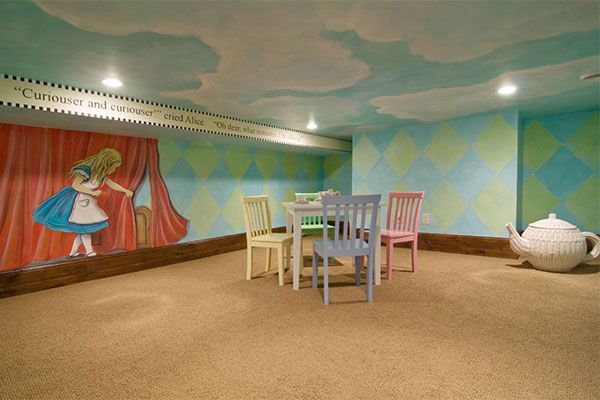 A curious tunnel off a master bedroom leads to this mini playroom built by Schrader & Companies. An Alice's Adventures in Wonderland mural and miniature furniture bring the theme home.
Narrow down your choices for a unique accent wall with our favorite ways to deck the walls.
Faux Grass and Walkways
There's plenty to lead the eye—and mind—to wander in this playful finished basement by Gander Builders. Astroturf eases transitions between discrete play areas like a police station and grocery store.
Want a playroom of your own? Finish a basement by watching our tutorial for installing a floating linoleum tile floor.
Pair of Rope Swings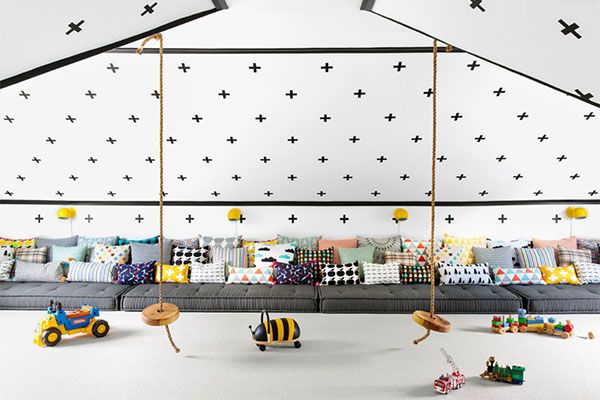 The lofty ceiling of this playroom designed by Chango & Co. allows room for rough-and-tumble fun with a pair of rope swings ready for action. Nearby, hefty cushions, bright throw pillows, and school-bus-yellow sconces create a cushy spot for decidedly more tranquil activities.
Get the look by watching our video tutorial on building an old-fashioned tree swing.
3D Tree and Swing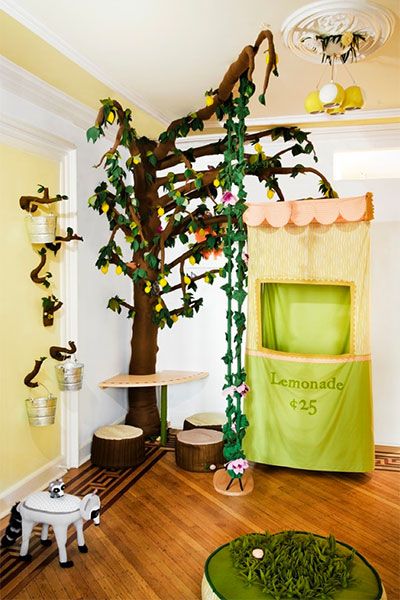 No corner is wasted in this room that brings the pleasures of a lofty tree swing and an enterprising lemonade stand under a roof. Interior designer Jen Talbot crafted the felt tree by hand and attached lemons with Velcro.
Dupe the spirited look by building a lemonade stand that will work indoors or outdoors.