There are a ton of benefits to creating a home gym: You can exercise in a way that's convenient to you, you never have to deal with crowds, there is no commute, you can get in a workout at any time, and the price point is usually lower than the cost of an annual gym membership. If you're trying to meet your fitness goals but find that going to a commercial gym is inconvenient, we recommend checking out our list of the best home gym equipment.
Whether you're looking to build muscle with weight training or looking for a low-impact workout machine that helps you stay fit year-round, try this curated list of fitness equipment that's perfect for the home.
Best Home Gym Machines – Our Top Picks
Affiliate Disclosure:This Old House's Reviews Team is committed to delivering honest, objective, and independent reviews on home products and services. To support this business model, This Old House may be compensated if you purchase through links on our website.
By clicking on the product links in this article, Mattress Advisor may receive a commission fee at no cost to you, the reader.
Best Smart Home Gym Machine – Tonal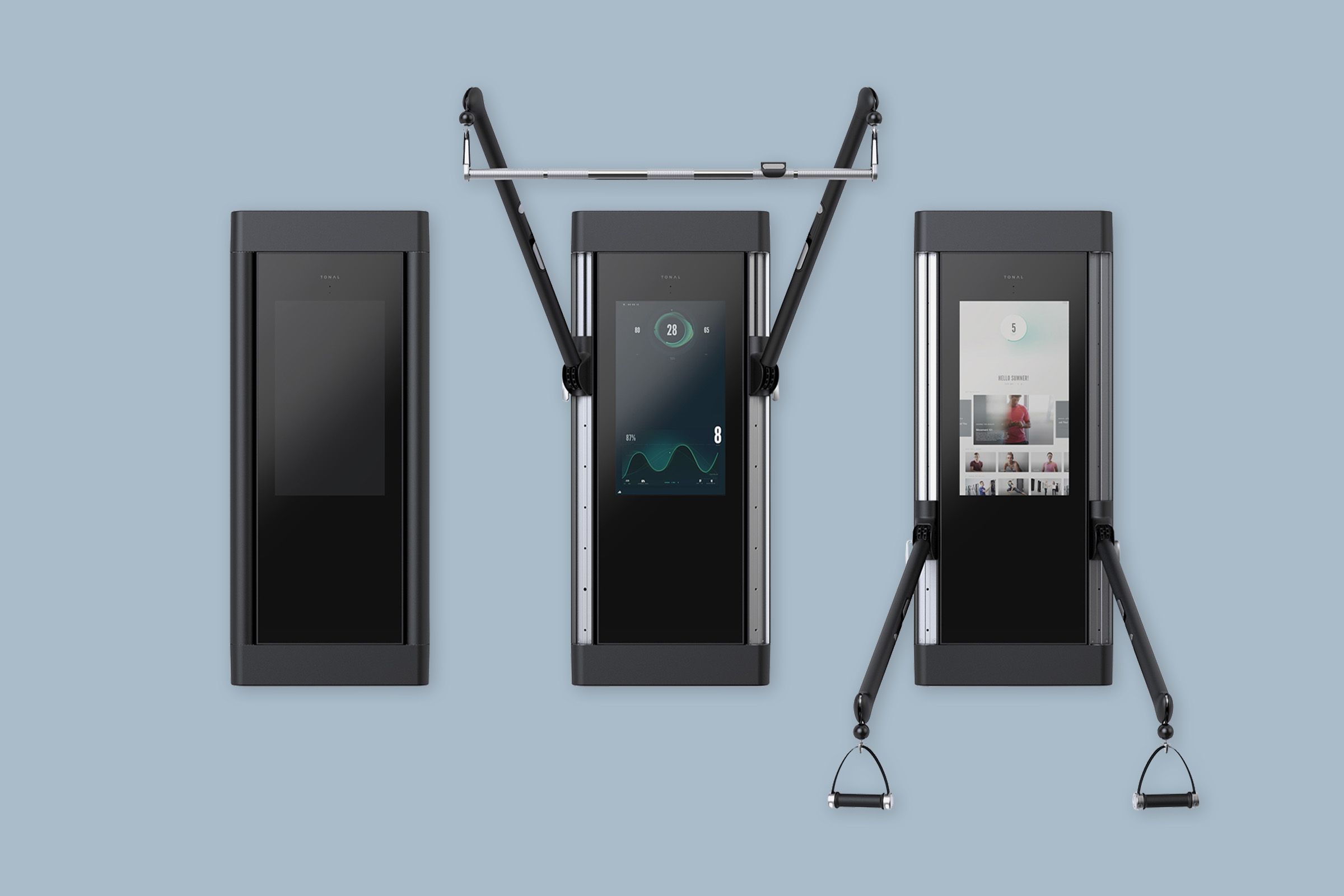 Pros and Cons of The Tonal
| Pros | Cons |
| --- | --- |
| Up to 200 lbs of digital resistance | Requires a monthly subscription |
| AI monitors your form and provides feedback + weight adjustments | Accessories are an additional cost and are somewhat necessary |
| Complete gym set-up that takes up very little space | |
| Pros | Cons |
Product Weight: 150 lbs
Dimensions: 5.25″D x 21.50″W x 50.9″H
Maximum Weight Resistance: 200 lbs
Style: Exercise mirror
Looking to bring the personal trainer experience to your home? The Tonal Smart Home Gym offers a totally new and innovative way to get fit in your abode, complete with programming and smart AI that assesses your form, increases your weight as you progress, and makes strength training at home possible with only a single device. This wall-mounted exercise mirror boasts thousands of workouts to follow along with on the 24-inch interactive display. Users can opt for on-demand classes, custom programs, workouts guided by coaches, and even partner classes.
Seventeen sensors within Tonal assess and provide feedback on your form while you're working out, including monitoring your pace, reps, and weight. The AI in Tonal works to then automatically increase or decrease the weight you're lifting as you go, so all you need to worry about while working out is adjusting the arms to the right position and lifting the weights (no rep counting, weight-gauging or anything). The more you use Tonal, the more accurate it gets, with the AI improving over time to help you incrementally increase the weight you're lifting, so you'll get stronger without needing to create a program for yourself or get a coach or trainer.
Best Exercise Bike for Home Gyms – NordicTrack Commercial Studio S15i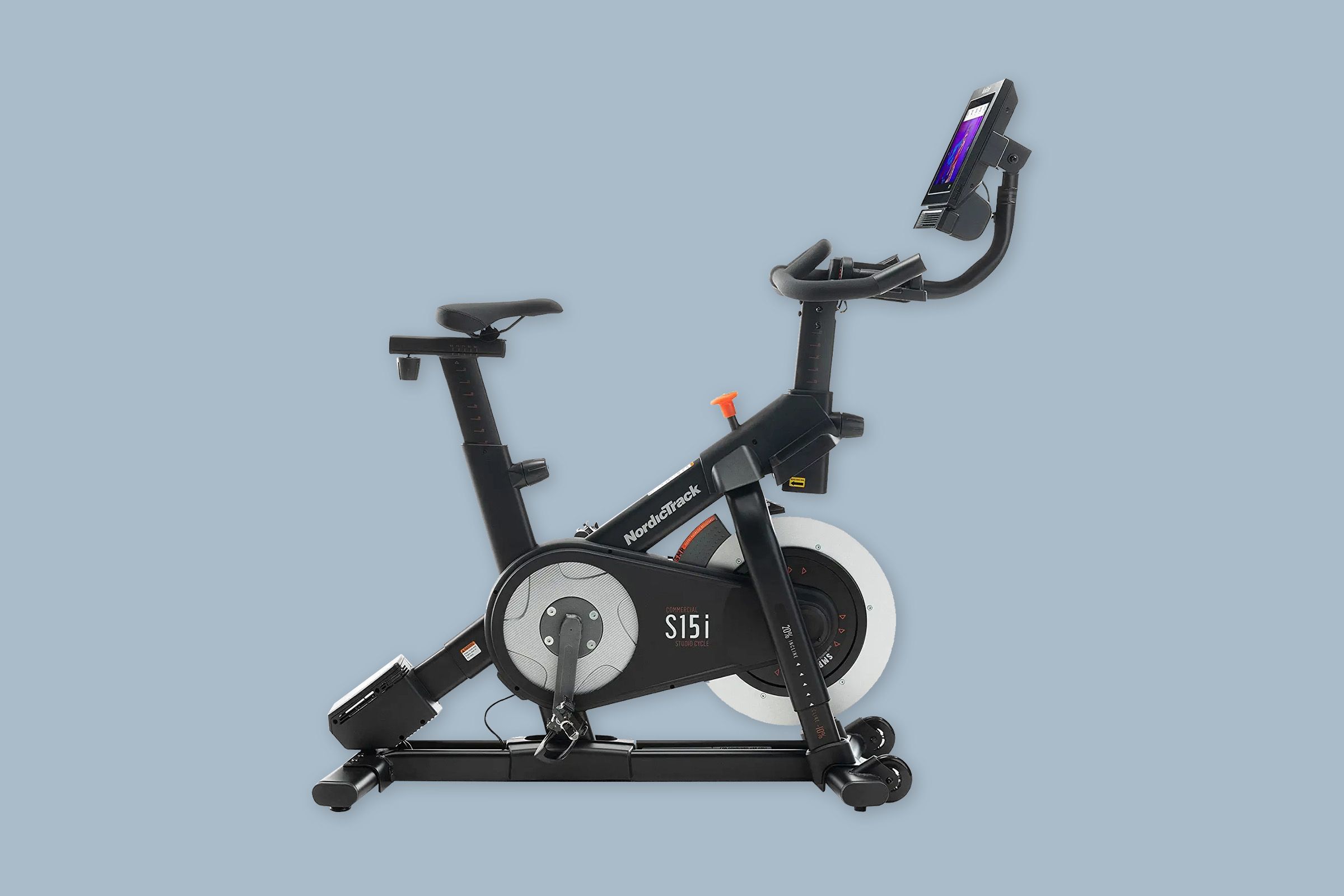 Pros and Cons of the NordicTrack Commercial Studio S15i
| Pros | Cons |
| --- | --- |
| Incline and decline adjustments | Assembly can be difficult and requires two people |
| Large swiveling touchscreen (14″) | Four years of iFIT included in price of bike (about $1,800 total) |
| Works with iFIT automatic trainer control | |
| Pros | Cons |
Product Weight: 203 lbs
Dimensions: 60″L x 22″W x 58″H
Maximum Resistance: 22 levels
Style: Exercise bike
You don't need to go to the studio to get in a good cycling session thanks to this home exercise bike. The NordicTrack S15i is NordicTrack's most affordable studio-style bike, priced at being "free" if customers commit to four years of iFIT membership ($1,872). With 22 silent resistance levels, interactive cycling classes and workouts, and an auto-adjust feature that allows the trainers to adjust the incline, decline, and resistance while you follow along, this is pretty close to the in-person spin class experience.
Users can even map out a ride on Google Maps and follow along with that if they're training for a specific event or want to bike a specific distance. Bluetooth connectivity allows you to connect your headphones and heart rate monitor to the device, which is great for follow-along workouts. This bike boasts a weight capacity of 350 lbs thanks to its durable frame of commercial-grade steel. If cycling is your workout of choice and you're looking to leave the studio behind and bring the same experience into your home, the NordicTrack S15i is our recommendation.
Best Treadmill for Home Gyms – Sole F63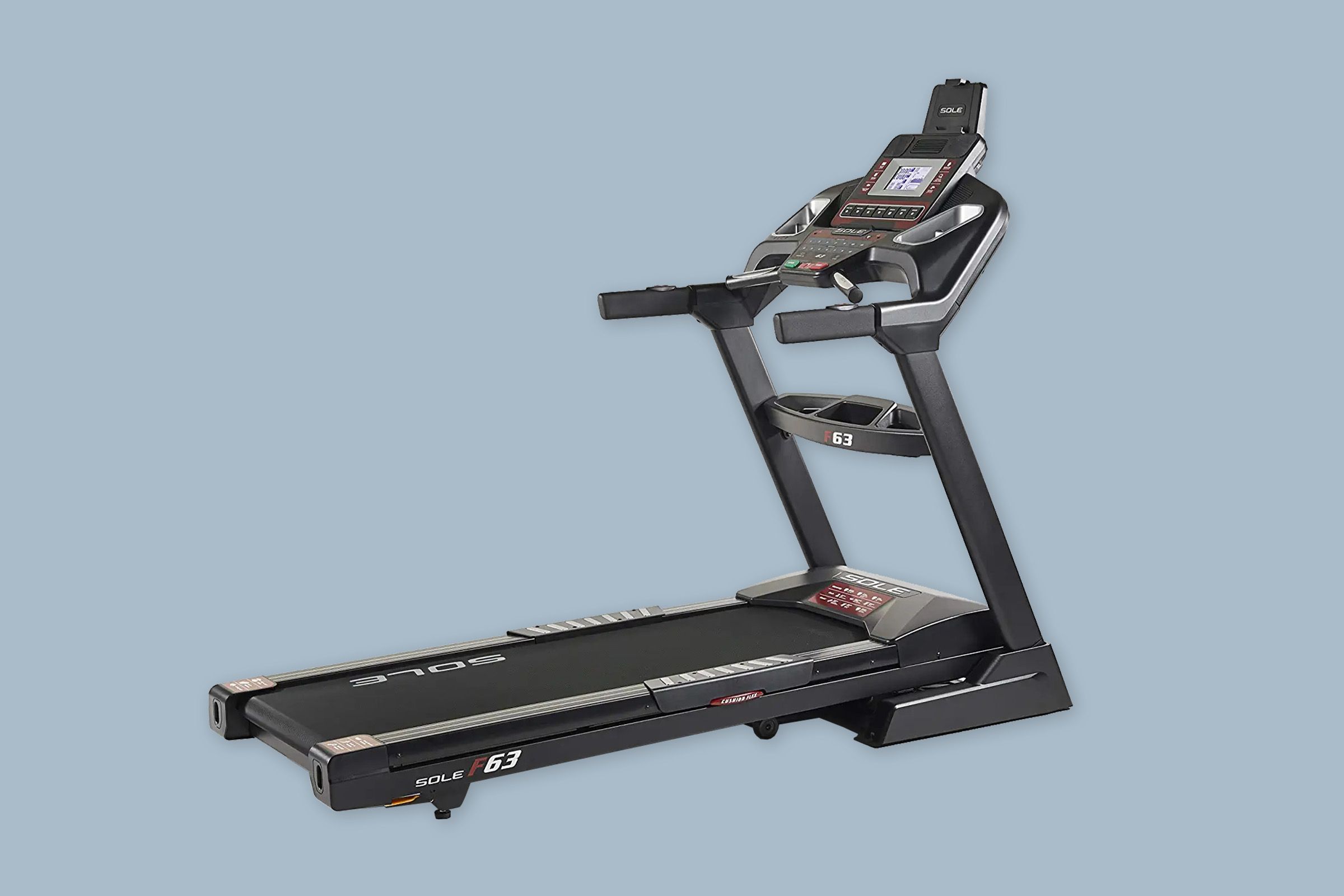 Pros and Cons of the Sole F63
| Pros | Cons |
| --- | --- |
| Lifetime warranty on the motor and frame | LCD screen (no touch option) |
| Great budget option – around $1,000 | May shake slightly when running at high speeds |
| Folds up nicely for space-saving | |
| Pros | Cons |
Product Weight: 254 lbs
Dimensions: 82″L 35″W x 66″H
Maximum Speed: 12 mph
Style: Treadmill
Walking and running are great and simple forms of exercise, but it's not always the most convenient. Whether you live in an area that doesn't offer a lot of great trails or sidewalks for running or walking, the weather isn't suitable very often, or find yourself preferring to run or walk in the early morning or late at night when it's still dark, a treadmill can be a convenient addition to your home gym setup. The Sole F63 is our top pick with a weight capacity of 325 lbs, speeds up to 12 mph, a foldable design, and included heart-rate monitor—all for around $1,000.
The console and LCD screen feature 10 different training programs to follow, and the controls are simple and easy to use, which is great for users who prefer not to deal with high-tech machines. An incline of up to 15% allows for simulated uphill walking or running, and the incline and speed can adjust automatically during some of the training programs on the treadmill, which is useful for anyone who wants a great workout without having to fiddle with the controls. Speakers built into the console allow users to plug in their phone and play music while they run, which is great if you find that headphones tend to fall out often while you run.
Best Rowing Machine for Home Gyms – XTERRA ERG600W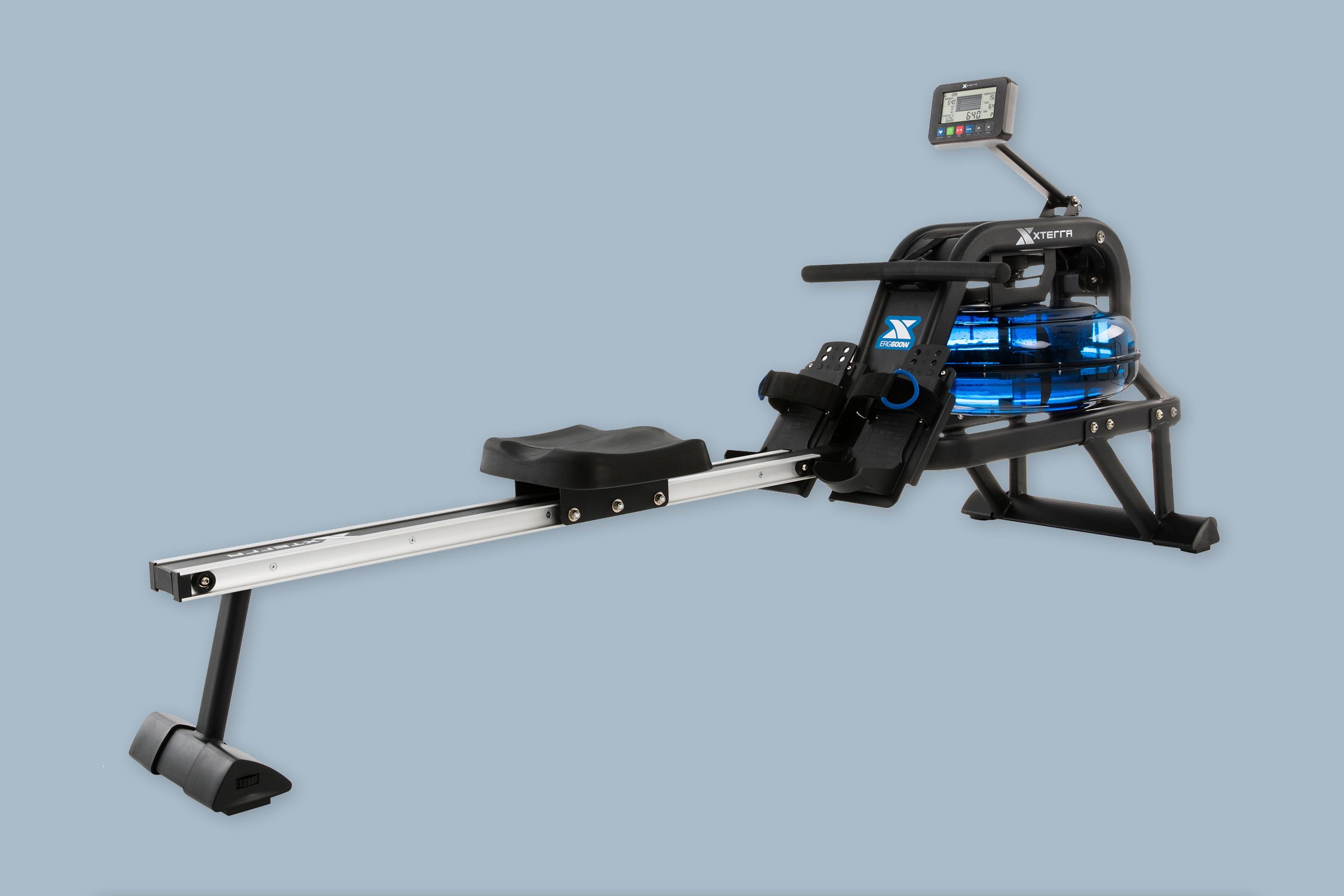 Pros and Cons of the XTERRA ERG600W
| Pros | Cons |
| --- | --- |
| Pressurized water tank for long-lasting performance | Small screen |
| Comes with pre-programmed workouts | Water rowers may leak occasionally |
| Imitates open-water rowing | |
| Pros | Cons |
Product Weight: 83 lbs
Dimensions: 80.7″L X 22″W X 33″H
Maximum Resistance: 6 levels of water resistance
Style: Water rower
Rowing is a full-body workout that's very convenient with a machine, but difficult to accomplish in real life, mainly due to the equipment and location needed. That's why water rowers are so great: They imitate the feel of open-water rowing from the convenience of your home and are much quieter than air-resistance rowers. The XTERRA ERG600W is an affordable yet durable water rower that offers an easy way to get fit without a gym membership.
This is a sturdy rower option with a solid steel frame and sturdy aluminum slide rails. A weight capacity of 300 lbs and height limit of 6′ 4″ make it usable for nearly everyone, and adjustable footrests should be large enough to accommodate any foot size. The display monitor shows basic metrics and includes seven pre-programmed workouts. The resistance can be adjusted by adding or removing water from the tank, which some users may find inconvenient. If you're tight on space, you can store this rower upright, significantly reducing the footprint until you're ready to use it again. Assembly is fairly easy, and you won't require professional installation, unlike other machines on this list.
Best Elliptical for Home Gyms – Horizon Fitness EX-59
Pros and Cons of the Horizon Fitness EX-59
| Pros | Cons |
| --- | --- |
| Excellent budget elliptical option (under $500) | Flywheel isn't very heavy (14 lbs) |
| Lifetime warranty on the frame | Step-up height is a bit high |
| Bluetooth speakers | |
| Pros | Cons |
Product Weight: 145 lbs
Dimensions: 74″L x 25″W x 64.5″H
Maximum Resistance: 610 levels
Style: Elliptical
An elliptical is a top-notch way to get in a great cardio workout without putting too much strain on the body (especially on areas like the hips, knees, and ankles). While some of these machines can cost quite a bit of dough, the Horizon Fitness EX-59 is a great machine that comes in at a reasonable $500. Ten levels of magnetic resistance give users the option to really work their muscles if they want, while an 18-inch stride length is quite a bit longer than other budget elliptical machines and is suitable for taller individuals and those of average height.
One issue for shorter people or those with low mobility is the step-on height of nearly 11 inches, which could be difficult for some people. The sturdy frame on this machine prevents the elliptical from shaking while you're using it and comes with a lifetime warranty to boot. The LCD screen isn't the flashiest, but it's user-friendly and covers all the bases, plus it includes five preset workout programs to choose from.
Best All-In-One Home Gym – Bowflex Blaze Home Gym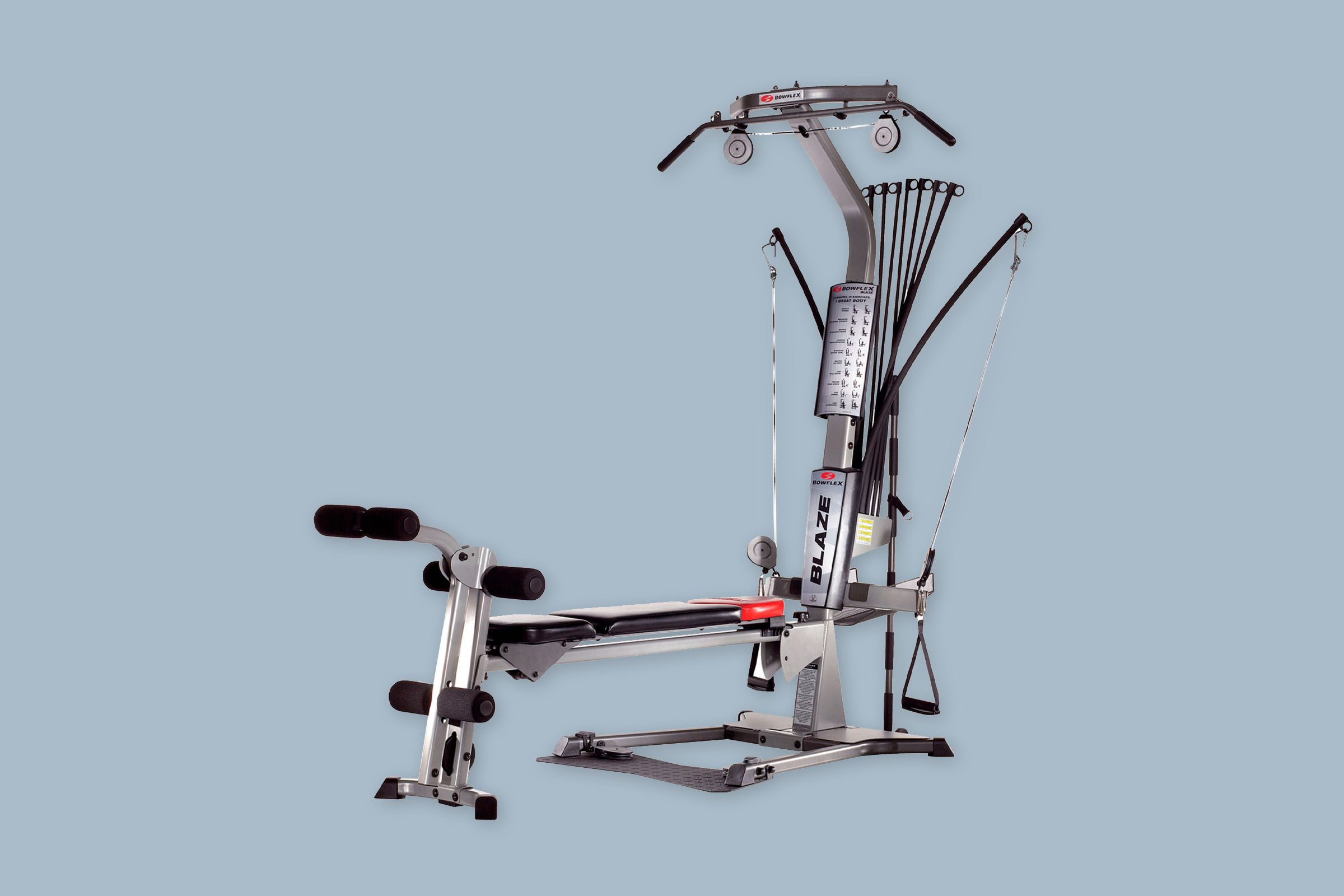 Pros and Cons of the Bowflex Blaze
| Pros | Cons |
| --- | --- |
| Over 60 exercise options | 210 lbs of resistance might not be enough for some people |
| Great for working all muscles | Takes up a lot of space |
| 5-year warranty on rods | |
| Pros | Cons |
Product Weight: 98 lbs
Dimensions: 90″L x 38″W x 83″H
Maximum Resistance: 210 lbs
Style: Home gym machine
The gym can quickly become inconvenient or annoying during busy hours, especially if you prefer to do strength training and need to use the cable or weight machines. Since the popular Bowflex Xtreme 2 SE has been discontinued, we included an incredible alternative from the same brand.
With the Bowflex Blaze Home Gym, you'll be able to maximize your time (and your workout). Multiple pulley systems and cable positions allow you to work all areas of the body without needing to adjust the cables frequently. It also has a squat bar, replacing your need for a full squat rack to work your lower body. The machine offers up to 210 lbs of total resistance, with the option to upgrade to 310 or 410 lbs if you want or require more weight. The variety of exercises available on this machine is immense: Over 60! It has several different attachments, including hand-grip and ankle cuffs, a lat bar, a squat bar, and a bench with a sliding seat rail option. This is the perfect option for anyone who loves the machines at the gym, but dislikes the tedium of going to the gym.
Best Home Gym for Small Spaces – MaxPro Fitness: SmartConnect Cable Home Gym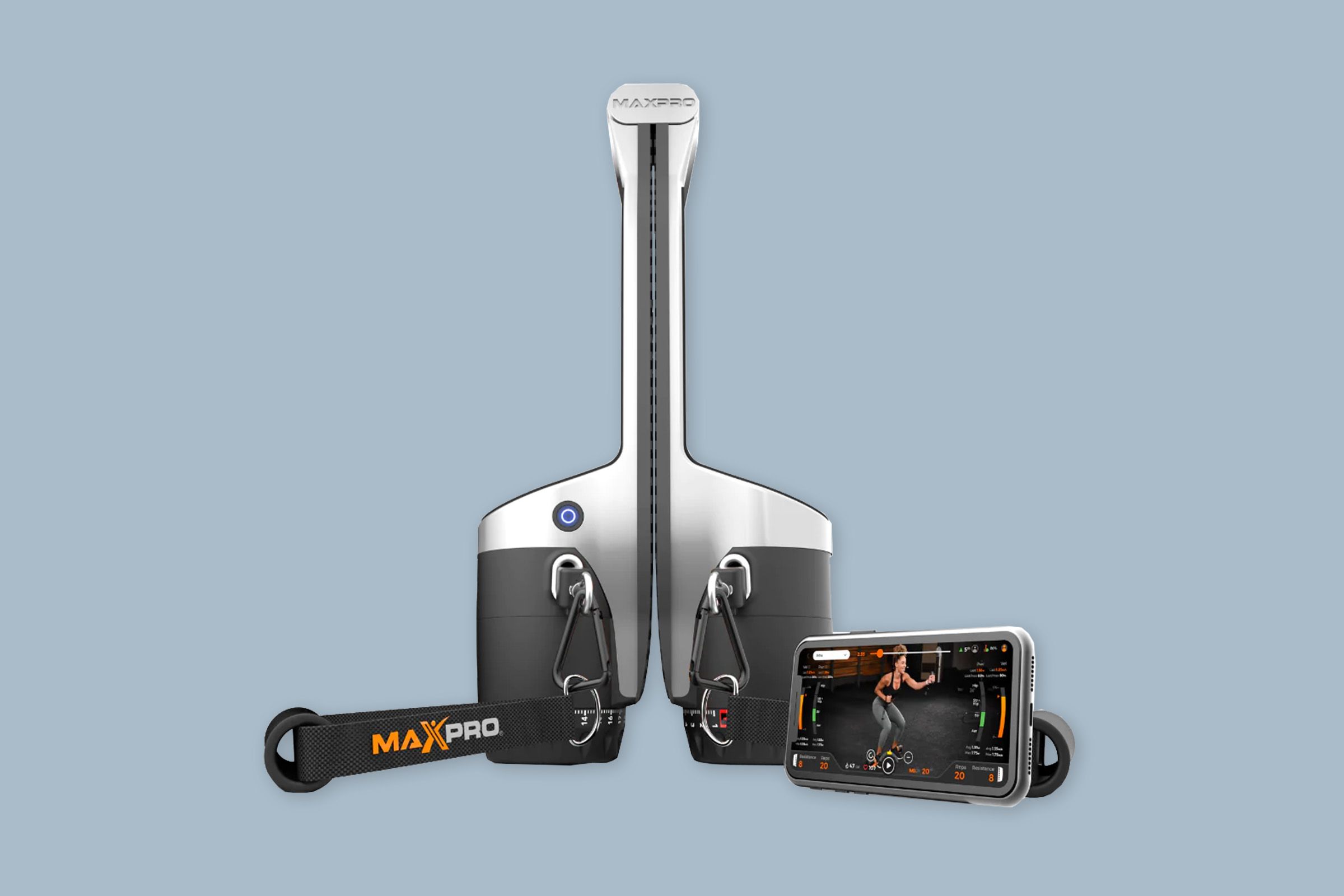 Pros and Cons of the MaxPro Fitness
| Pros | Cons |
| --- | --- |
| Super small and portable design | Resistance is concentric only (not eccentric) |
| Offers up to 300 lbs of resistance | Expensive option |
| App allows you to take live classes and track progress | |
| Pros | Cons |
Product Weight: 10 lbs
Dimensions: 19.2″L x 15.7″W x 5.9″H
Maximum Resistance: 300 lbs
Style: Cable machine
Getting in a great workout doesn't need to require a ton of space, especially when it comes to the MaxPro SmartConnect Cable Machine. This small-but-mighty piece of equipment delivers up to 300 lbs of resistance in a small, easily stored package. Simply place the machine on the ground or on a door (it comes with brackets and a door mount kit!) and you're all set to start working out. Included with your purchase are ankle/wrist straps, workout handles, a long bar (for squats, benching, etc.), a charger and mounting equipment.
If you aren't sure where to start, MaxPro has an app that contains workouts from coaches, plus provides an interface to track your workouts and progress for improved fitness over time. While this machine is battery-powered, you can expect it to last around two months if you use it three to four times a week and it takes around 2.5 hours to charge. The MaxPro SmartConnect folds in half for easy portability or storage, allowing you to take it virtually anywhere or use it in any room of your home.
Best Home Gym Machine for Body Building – Marcy Smith Machine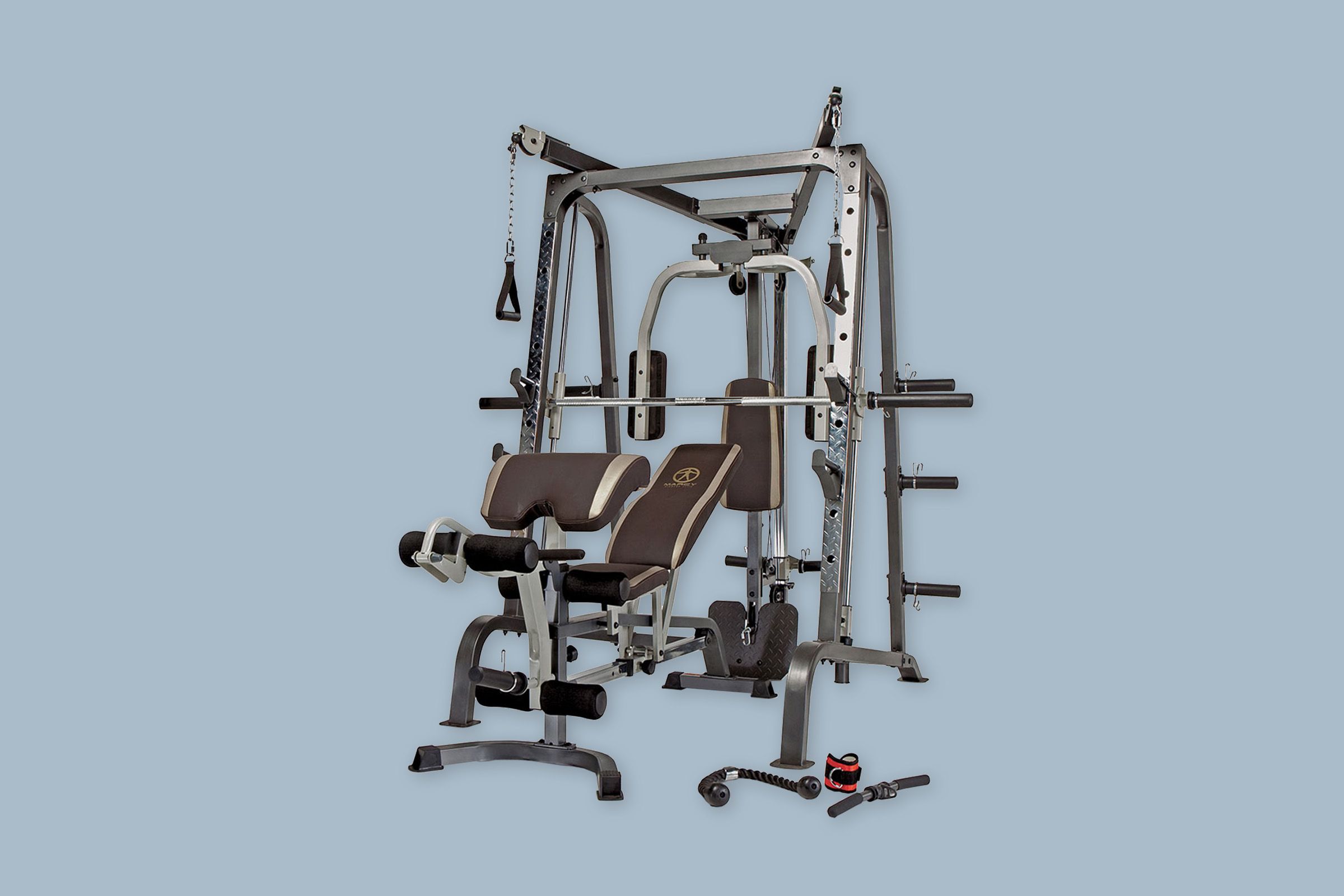 Pros and Cons of the Marcy Smith Machine
| Pros | Cons |
| --- | --- |
| Ideal for those who enjoy bodybuilding | Requires a bit of assembly |
| Wide range of exercises | Takes up a lot of space |
| App allows you to take live classes and track progress | |
| Pros | Cons |
Product Weight: 288 lbs
Dimensions: 65″L x 79.25″W x 84.5″H
Maximum Resistance: 300 lbs
Style: Smith machine
Bodybuilding is tough to accomplish at home, especially with free weights. If this is your preferred style of exercise, decking out your home gym with the Marcy Smith Machine is a good move. Not only does it allow you to perform practically any exercise, from squats and bench presses to deadlifts or leg extensions, but it's not as expensive as you might think, especially when you compare it to the cost of your annual gym membership.
With cables, a bottom pulley, a bench/leg developer, up to 300 pounds of resistance, and all the attachments you'll need (handles, a triceps rope, V-bar, shiver bar, ankle straps, and chain link) this machine brings the gym to your home. The larger design requires a bit more space than other models, so we suggest having a designated workout room or placing this in your garage for usability and safety. For any of the gym-goers who want to kiss their gym goodbye but aren't ready to give up on their bodybuilding gains, we suggest this machine.
Best Affordable Home Gym Machine – Gorilla Bow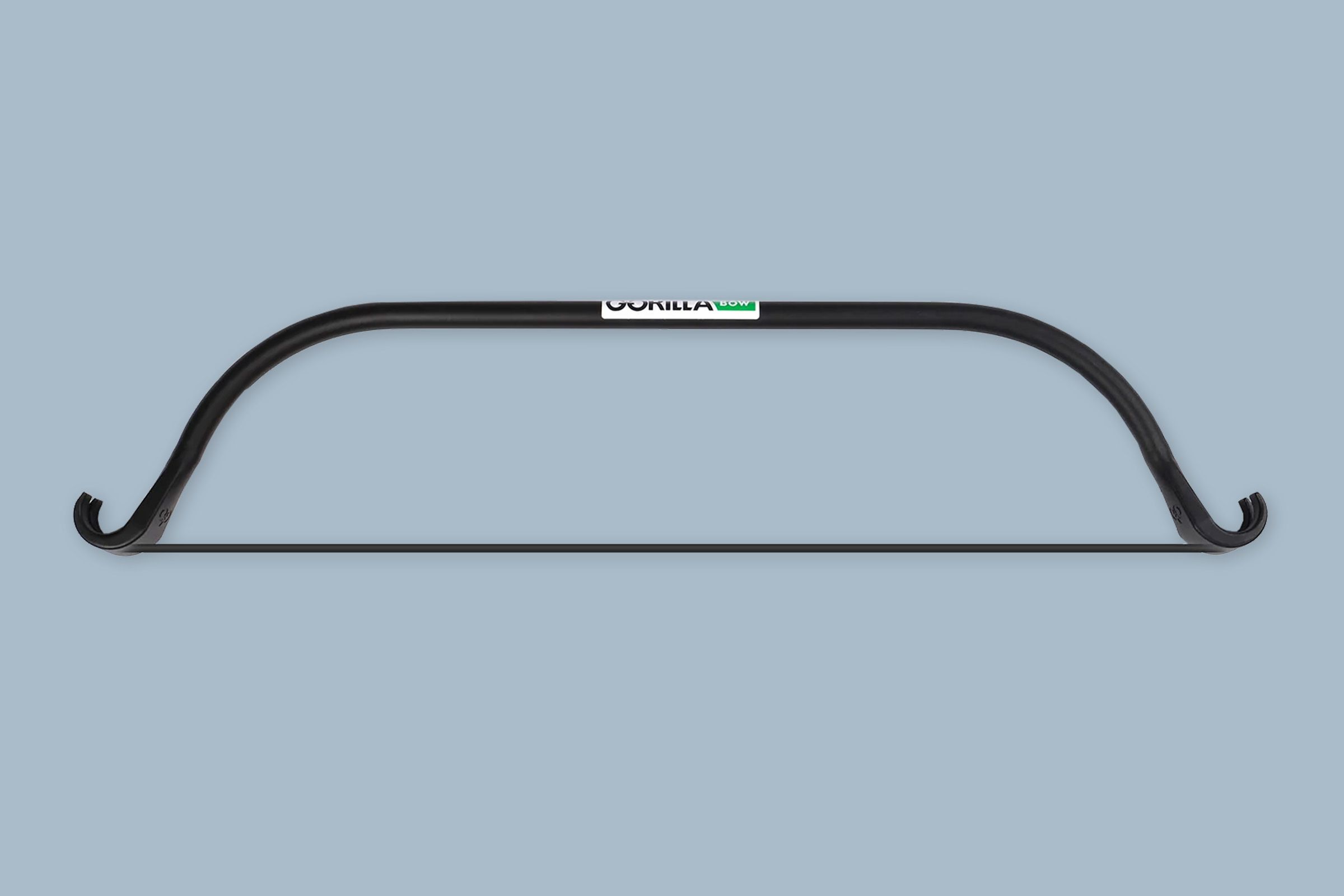 Pros and Cons of the Gorilla Bow
| Pros | Cons |
| --- | --- |
| Effective and inexpensive workout equipment | Might be difficult for beginners |
| Offers programming for follow-along workouts | Bands aren't labeled, don't indicate how much weight you're lifting |
| Super simple assembly | |
| Pros | Cons |
Product Weight: 6 lbs
Dimensions: 56″L
Maximum Resistance: 300 lbs
Style: Resistance bands + aluminum "bow"
Workout equipment can quickly get expensive, especially if you're investing in several sets of dumbbells, buying a cardio machine, or setting up a barbell cage in your house. If you're looking for something simpler and more affordable, the Gorilla Bow is a straightforward and basic piece of home workout equipment that won't cost you an arm and a leg and is capable of working several muscle groups.
The concept is attaching a band to the aluminum bar to accomplish a host of exercises, whether you use it to squat, overhead press, bench, or curl. The bands range in resistance, with the maximum amount capping at 300 lbs of tension. If you find it tough to come up with your own workouts with the Gorilla Bow, a membership to their app and website (included free for 30 days after purchasing the Bow!) provides tons of workout videos and on-demand classes to follow along with. This is a great choice for anyone with limited space or on a tight budget who wants a creative and effective workout option.
Best Suspension Trainer – TRX All-in-One Suspension Trainer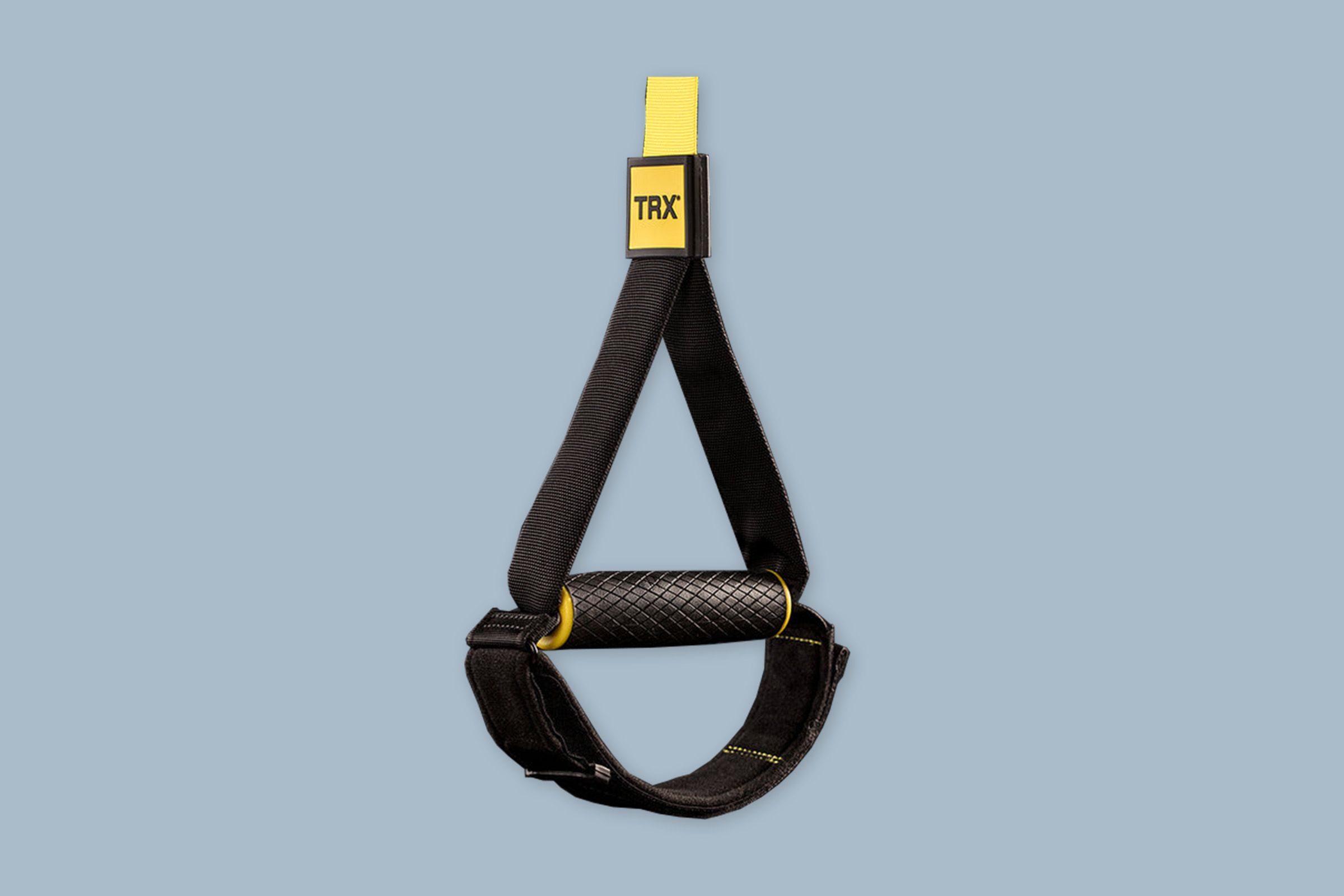 Pros and Cons of the TRX Suspension Trainer
| Pros | Cons |
| --- | --- |
| Great way to add challenge to bodyweight workouts | Anchoring on a doorway limits range of motion for some exercises |
| Can be used anywhere with a suitable anchor | Beginners may struggle coming up with exercises |
| Lightweight and portable | |
| Pros | Cons |
Product Weight: 1.7 lbs
Dimensions: 50″L x 1.97″W x 0.1″H
Maximum Weight Capacity: 700 lbs
Style: Suspension trainer
Suspension training is a great way to work and tone a lot of muscles in your body without much equipment. TRX equipment was initially developed by former Navy Seal Randy Hetrick while on deployment. Seeking a way to stay in peak physical shape, he created a suspension trainer using just parachute webbing and a jiu-jitsu belt. Today, TRX is the top name in suspension trainers thanks to the brand's durability, versatility, and efficacy.
The TRX All-in-One system is our favorite of the options because it's perfectly suited for all fitness levels. Two anchor options allow users to set up their gym nearly anywhere, and the adjustable foot cradles, handles, and straps make it easy to perform over 100 different exercises. They even include a mesh carrying bag for easy portability and a workout guide to help you figure out the full potential of this system. TRX has also developed an app with training videos, follow-along workouts, and workout plans. Anyone short on time and looking to increase the intensity of their body weight workouts will love the simplicity and challenge provided by the TRX All-in-One system.
What Makes a Good Home Gym Machine?
Designing and picking out equipment and machines for your home gym is largely based on your personal preferences. If you hate running, a treadmill probably isn't the smartest move. Likewise, if you're unfamiliar with using a smith machine or don't have the patience to work out with bands or cables, it's best to steer clear of those machines. Instead, we recommend getting equipment that you know you'll use, even if it's in your garage or basement, or home office slash home gym.
Budget: While some people opt to create their own home gym due to the inconvenience of getting to a real gym, some people do it to cut costs. Gym memberships can be pricey, especially if you go to a nicer gym. That said, some of the machines on this list can be costly, so if you're trying to keep your expenditure to a minimum, we suggest opting for a budget-friendly piece of equipment or choosing something you know will totally replace your gym membership.
Exercise Style: Buying home exercise equipment that caters to your preferred exercise style is the best way to ensure you'll use it. If you're spending money on a monthly gym membership just to run on a treadmill, buying a treadmill for your own home is a great way to save some cash (and time). If you love weight lifting but hate the amount of waiting that can be involved during busy times at the gym, a smith machine or cable machine is probably the best bet for you.
Weight Load: Not everyone needs a heavy-duty machine capable of providing hundreds upon hundreds of pounds of resistance. If you do, one of the sturdier options like the smith machine or smart cable machine is probably a good fit for you! If you don't, a lighter choice, like resistance bands or a suspension trainer will probably suffice. And if you don't need any weight at all, a cardio machine is an excellent way to stay in shape year-round.
Space: One constraining factor for many people looking into creating a home gym is space. If you have an extra room, transforming it into a home gym is an excellent way to ensure you'll use it, plus it allows you to get the equipment you need or want without worrying about storage. If you're planning on using your guest room or home office as a gym space, we suggest choosing equipment or machines that store easily.
Versatility: Choosing just one type of workout can be difficult for some people. Others know they enjoy cycling, so investing in a good indoor bike is a no-brainer. If you aren't quite sure what your cup of tea (or your shaker bottle of pre-workout) is, opting for something that gives you a little more flexibility (like a suspension trainer, resistance bands, or exercise mirror) might be a good option. That way, you can explore different options for exercising.
Additional Accessories: Some machines and pieces of equipment require a ton of extra accessories to make them worth it. On the other hand, if you already own some of those accessories (such as a bench, kettlebells, or dumbbells), building on that equipment is a useful way to add to your home gym.
FAQ About the Best Home Gym Machines
What is the most complete home gym?
In terms of offering the most options similar to a real gym, the Marcy smith machine is the most "complete" home gym machine on this list, as it offers cables/pulleys, a smith machine, and a leg trainer for full bodybuilding. As far as versatility goes, however, the Gorilla Bow, TRX, and MaxPro Fitness systems are all great options too!
How much should you invest in a home gym?
This is entirely subjective depending on what sort of workouts you like to do and what your budget is. The products on this list range from around $200 to $3,500, with plenty of options in between. If you are a serious exercise enthusiast who wants to totally forgo their gym membership, investing more in your home gym might be a useful way to ensure you aren't tempted to go back.
Is it better to have a home gym or go to the gym?
There is no "right" way to exercise, whether you do it at home or at a gym. Many people enjoy the gym for the wide range of machines and the social aspect of it, but the commute and crowds can be deterring for some people. If you feel that you would be more likely to exercise if you had equipment at home, then invest in a home gym!
Which rooms are best for home gyms?
Home gyms can be set up pretty much anywhere, whether you have an extra room, some space in a basement, or a garage. One thing to keep in mind is the temperature of the room (if you set up your gym in a garage, will it be usable in the winter or summer months?) and the floor (should you be dropping weights or running on a treadmill if you live above people?)
Summary of Our Top Picks for the Best Home Gym Machines