Finding a way to move your body that you enjoy is one of the biggest initial hurdles when it comes to kick-starting an exercise routine. Starting a home gym is an easy way to make exercising more convenient, but all of the equipment can take up a lot of space that many of us don't have in our homes. The best workout mirrors out there are not only space-saving devices (most of them are wall-mounted), but they offer an immense variety of classes, and some of them even come complete with the equipment you'll need to work up a serious sweat.
These workout mirrors offer live and on-demand workouts in vast libraries covering everything from yoga and Pilates to strength training and kickboxing, so no matter how you want to get your movement in, you can find an instructor and a class for it. These devices make it easier to work out from your home and have fun doing it.
By clicking on the product links in this article, Mattress Advisor may receive a commission fee at no cost to you, the reader.
Affiliate Disclosure:This Old House's Reviews Team is committed to delivering honest, objective, and independent reviews on home products and services. To support this business model, This Old House may be compensated if you purchase through links on our website.
Best Workout Mirror – Our Top Picks
Best Overall Workout Mirror – Tonal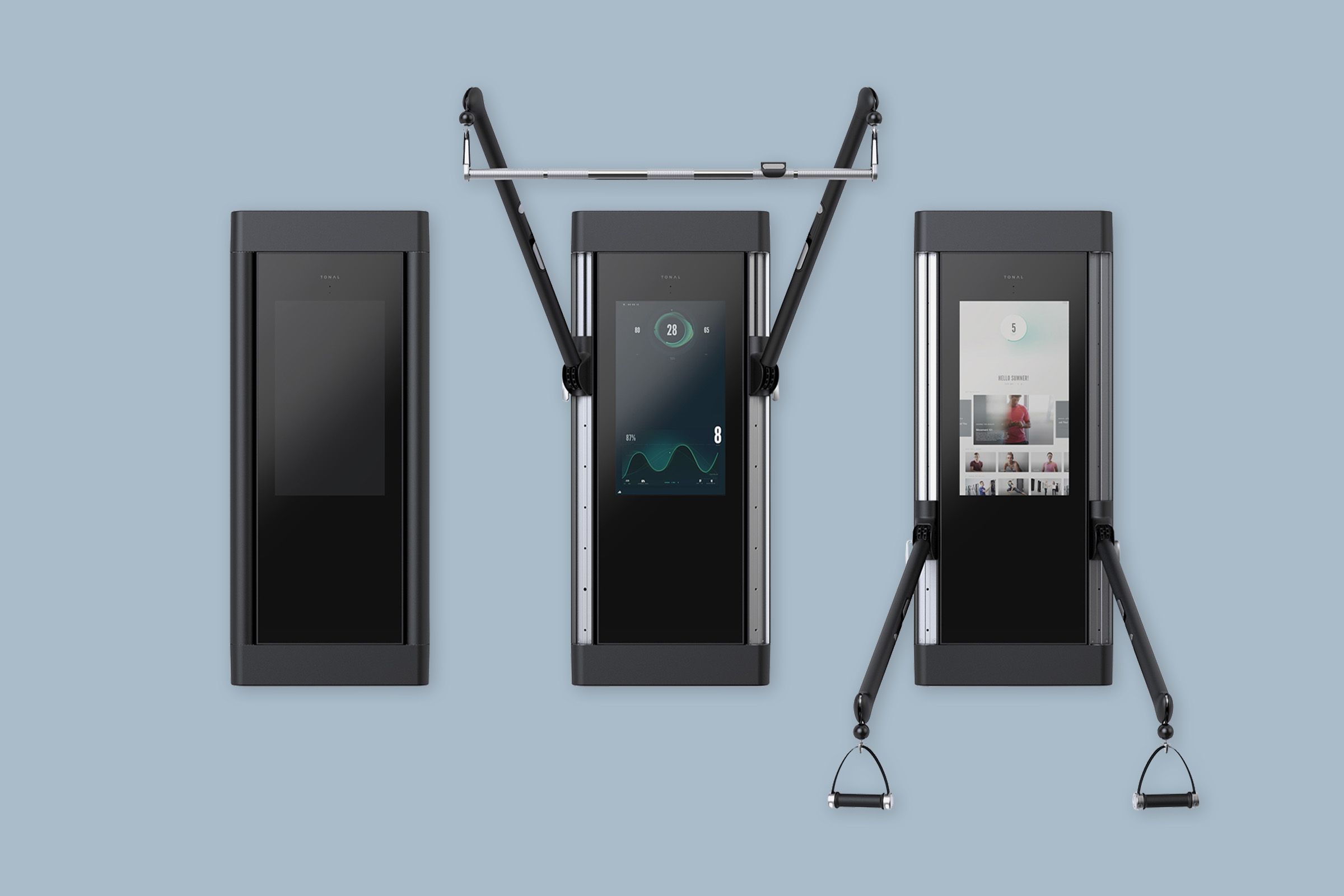 Pros and Cons of the Tonal Mirror
| Pros | Cons |
| --- | --- |
| Up to 200 lbs of digital resistance | Accessories are fairly essential and cost extra money |
| Users can access live and on-demand classes | Expensive |
| Uses AI to assess and correct your form | |
| Pros | Cons |
Product Weight: 150 lbs
Dimensions: 50.9″ H x 21.5″ W x 5.25″ D
Mount Type: Wall
Monthly Membership Cost: $49
Equipment Included: None
There's a big appeal to being able to workout at home – no commuting, no waiting for equipment to open up, you're able to get it done a lot faster – but it can be tough to set up a home gym with all the necessary equipment, especially if you enjoy strength training. For those looking to replace their gym membership with a fitness mirror, Tonal is the best option out there. Not only does this wall-mounted device take up minimal space, but it negates the need for any equipment (outside of their accessories bundle), but it uses AI to track your workouts and provide real-time feedback while also working to increase your weight with time, working to build your strength.
Users can enjoy live and on-demand workout classes, eliminating the difficulty of programming their own workouts every day. Users can also opt for custom workouts, programs guided by coaches, and partner workouts in addition to the other classes offered. The AI automatically adjusts the weight for you as you power through a workout, all you need to do is move the arms into the proper position (they give a demonstration on-screen, so you won't need to figure it out on your own, either).
Best Budget Workout Mirror – Lululemon Studio MIRROR
Pros and Cons of the Lululemon Studio Mirror
| Pros | Cons |
| --- | --- |
| Two-way camera allows for personal training | Not a touchscreen, navigation is done through app on phone |
| Brings the high-energy feel of studio classes into your home | Those who enjoy weight lifting may not enjoy MIRROR's programming |
| Tons of new workouts available and added regularly | |
| Pros | Cons |
Product Weight: 70 lbs
Dimensions: 52.6″H, 21.1″W, 1.7″D
Mount Type: Wall or floor
Monthly Membership Cost: $39
Equipment Included: None
For many individuals, stepping into a fitness studio and having their workouts taught by an energetic and upbeat instructor is a motivating experience, helping them power through their workout and leave feeling good. It's not always easy to access those studios, between scheduling your class times, getting to the studio, and adjusting your schedule. The Lululemon Studio MIRROR is bringing dynamic studio energy into homes, with high-end audio and visual quality, a huge on-demand class library, and even the capability for one-on-one personal training.
When not in use, the Lululemon Studio MIRROR looks just like its namesake, blending in with the other decor so you won't necessarily have to designate an entire room for it (though you can, if you'd like). One thing that really sets the Lululemon Studio MIRROR apart from its competitors is the immense variety of class genres it offers, ranging from kickboxing, strength training, and cardio to pre- and postnatal, meditation, pilates, and Tai chi. The Lululemon Studio MIRROR doesn't require any additional equipment, though people interested in strength training may want to invest in some dumbbells to help them get the most out of those workouts, and the same goes for users interested in yoga, Pilates, or other exercise types that may be better with the recommended equipment.
Best Workout Mirror for Weightlifters – Tempo Studio
Pros and Cons of the Tempo Studio Mirror
| Pros | Cons |
| --- | --- |
| Two-way camera allows for personal training | Not a touchscreen, navigation is done through app on phone |
| Brings the high-energy feel of studio classes into your home | Those who enjoy weight lifting may not enjoy MIRROR's programming |
| Tons of new workouts available and added regularly | |
| Pros | Cons |
Product Weight: 100 lbs
Dimensions: 2.2′ wide x 1.4′ deep x 6′ tall
Mount Type: Floor (freestanding)
Monthly Membership Cost: $39
Equipment Included: Starter Package – 75 lbs of weight in 10, 5, 2.5 and 1.25 pound increments, dumbbell bars, mat
If weightlifting is your jam, getting in a good workout at home can be a bit trickier than for those who prefer bodyweight or cardio-style exercises. Finding the storage necessary for all the equipment you'll need isn't easy (unless you're making do with a single set of adjustable dumbbells), and most online programs aren't geared toward weightlifting.
The good news: Tempo Studio not only offers interactive weightlifting workouts, but it comes with the equipment you'll need to perform the workouts. Stashed beneath the large touchscreen display are various weight plates that you'll use for your workouts; the Standard package comes with 75 pounds of plates plus dumbbell bars, a heart rate monitor, and a mat, the Plus package adds a barbell and a bench, and the Pro package includes additional heavier weights, a folding squat rack, a kettlebell system, and a foam roller. You'll be able to get in a gym-level workout from your home, plus you won't need a ton of additional storage space.
The Tempo Studio uses 3D sensors, which allows it to monitor your form and provide feedback while also counting your reps and recommending an increase or decrease in weight. If you aren't feeling weight training that day, you can also opt for one of their other class offerings, which include yoga, core, mobility, bodyweight, HIIT, boxing, and prenatal workouts.
Best Compact Workout Mirror – Echelon Reflect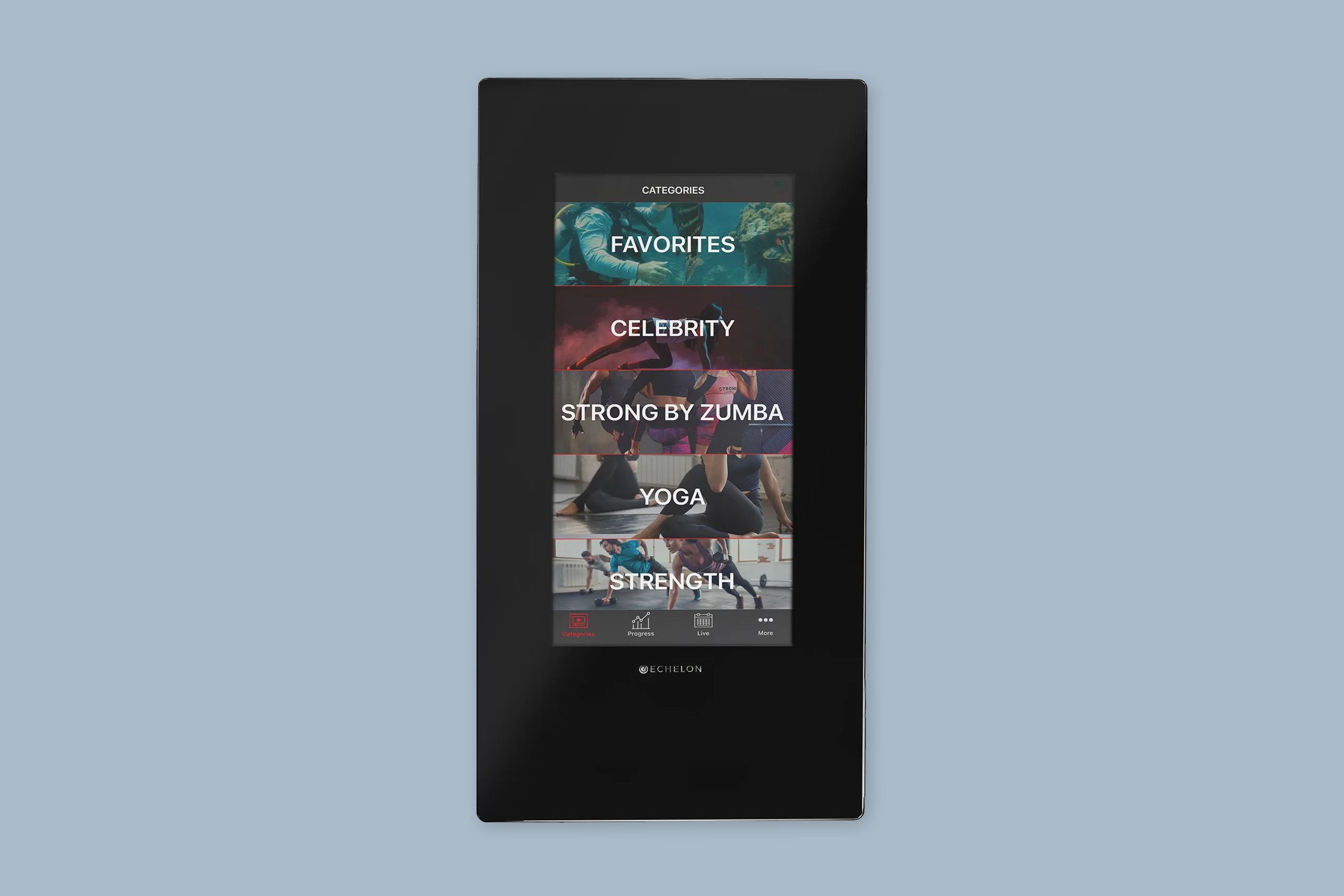 Pros and Cons of the Echelon Reflect Mirror
| Pros | Cons |
| --- | --- |
| Huge selection of on-demand workouts and live classes | Users have to wall-mount it themselves, requiring two people |
| Super small and sleek compared to other options | Quality of audio and visual elements could be improved |
| Doesn't require users to download an app | |
| Pros | Cons |
Product Weight: 52 lbs
Dimensions: 50″H x 20″W X 2″D
Mount Type: Wall
Monthly Membership Cost: $40
Equipment Included: None
We don't all have a ton of space in the home for a ton of workout equipment, so finding something that's effective and compact is important. Luckily, the Echelon Reflect is both of those things, plus it looks and functions as a normal mirror when not in use, so you can use it in a bedroom, office, or any other space if you don't necessarily have a designated "home gym" in your home.
Unlike some other smart workout mirrors, the Reflect allows users to navigate it through the use of a touchscreen and doesn't require an app to be downloaded in order to use it. The class library is pretty consistent with other options, with strength training, cardio, HIIT, dance, Pilates, barre, yoga, and more to choose from. This workout mirror doesn't come with any additional equipment, so you may need to buy some if you want to participate in classes that require special equipment (such as strength training or Pilates).
Best Live Coaching/Instructor Lead Workout Mirror – NordicTrack Vault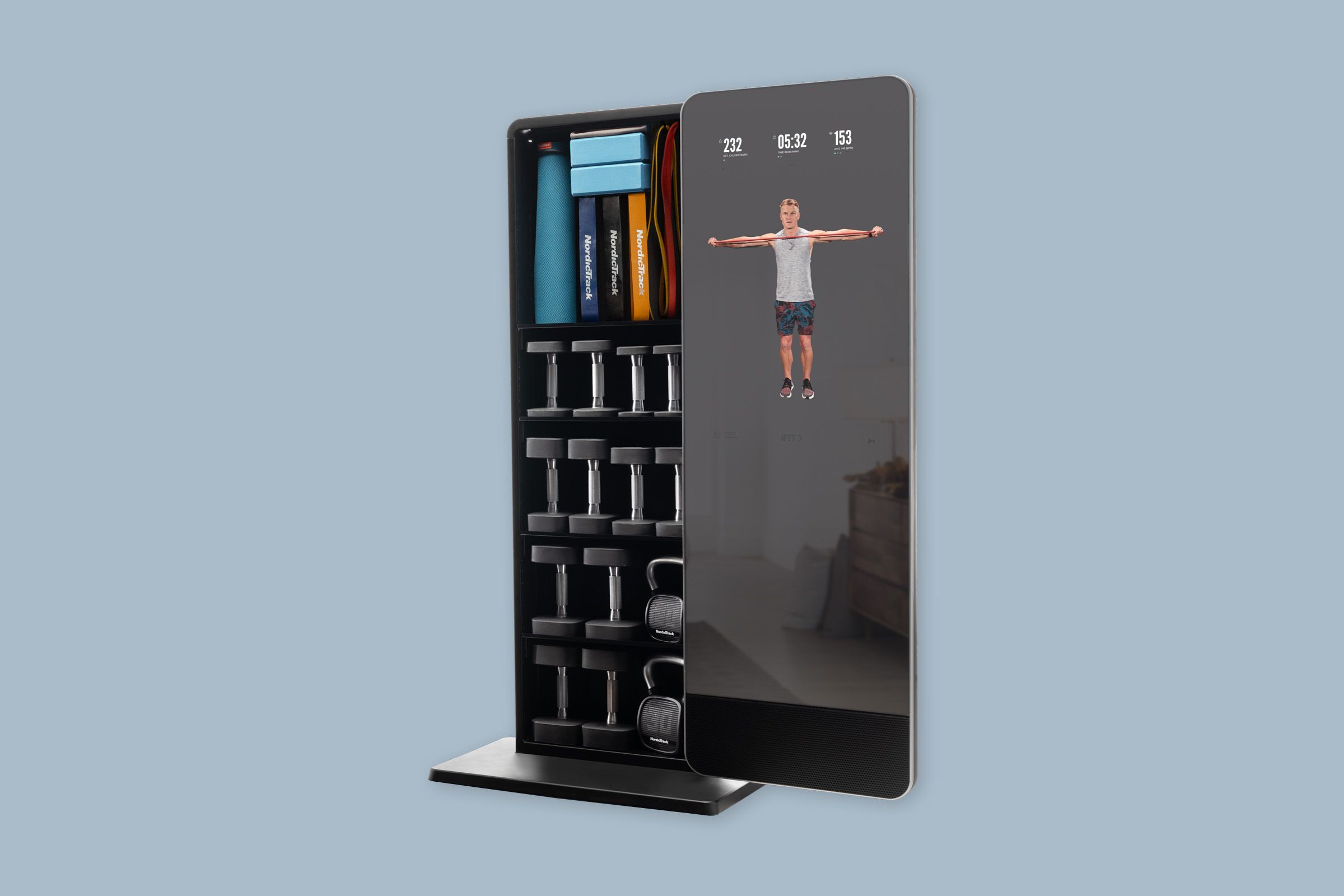 Pros and Cons of the NordicTrack Vault Mirror
| Pros | Cons |
| --- | --- |
| Comes with lots of equipment, including up to 30 pound dumbbells | Not for garage gyms – warranty is void if kept in a garage |
| Mirror can pivot so you can access equipment storage and watch the screen | Super heavy |
| Interactive programming by iFit is great and engaging | |
| Pros | Cons |
Product Weight: 258 lbs
Dimensions: 72.65″H x 24.25″W x 14″D
Mount Type: Freestanding
Monthly Membership Cost: $39
Equipment Included: Kettlebells, dumbbells, resistance bands, workout mat, yoga blocks
The NordicTrack Vault Complete is NordicTrack's iteration of smart fitness mirrors, and it offers quite a list of compelling reasons to ditch the gym membership and opt for a home gym system. Not only does this large standalone device come with a bunch of equipment you'll need to perform strength training exercises, but comes with iFit classes, which is some of the best (in our opinion) workout programming on the market today. Already have equipment? You can opt for the "Standalone" version of the Vault, which costs $500 less on Amazon and doesn't include any of the equipment (but still offers storage space for your existing stuff).
In addition to weight lifting workouts, iFit offers HIIT, bodyweight exercises, bootcamp, yoga, core, and Pilates classes, all of which users can follow along on-screen with the instructor. Live classes are also available and are led by group fitness instructors and certified personal trainers, and they bring the energy of a real workout class to your home, aided by the large display on the Vault and the speakers for the music and instructors' voices. For those who want to work toward a specific goal, iFit offers progressive series and challenges for users to follow. The 32-inch touchscreen is easy to navigate, and users have the option to connect a heart rate monitor, fitness tracker, or headphones to the Vault using Bluetooth.
Best Fitness Mirror for Yoga – Forme Studio
Pros and Cons of the Forme Studio Mirror
| Pros | Cons |
| --- | --- |
| Very responsive HD touchscreen | No live or streamed classes |
| Offers one-on-one personal training | Audio quality could be improved |
| Users have the option to upgrade their device for barre or strength training | |
| Pros | Cons |
Product Weight: 125 lbs
Dimensions: 68″H x 26.3″W x 2.25″D
Mount Type: Wall
Monthly Membership Cost: $49
Equipment Included: Yoga mat, heart rate monitor, cleaning towel
If you're on the market for something a little more luxurious, the FORME Studio is one of the higher-end fitness mirrors and offers more of a focus on yoga, mindfulness, breathwork, meditation, and recovery than other mirrors. Visiting a yoga studio regularly can quickly get expensive (not to mention how difficult it can be to get to your favorite one if it isn't close), and while other mirrors offer yoga programming, FORME's is far and away the best option for yogis and those who want classes for wellness in addition to fitness.
The class library offers a range of other class options, including barre and strength, both of which users can get add-ons for to take their workouts to the next level (other options include boxing, cardio, and Barry's Bootcamp classes). Each user is assigned to a fitness concierge, who helps them assess and reach their goals and recommends classes based on their preferences. Sequential plans are available for those who want to follow a specific program for a few weeks. Users can also opt for personal training sessions with a certified instructor/coach for $130/hour; the two front-facing cameras come in handy for personal training, allowing your coach to watch your movements and offer advice, adjustments, or corrections.
What Makes a Good Workout Mirror?
Finding the perfect workout mirror for your home largely depends on what sort of things you're looking for in terms of home fitness. All of the mirrors featured are high-quality pieces of equipment, designed for beginners and fitness enthusiasts alike, but there are a few factors that set them apart from each other and may make a difference when it comes to making your decision. Unlike other machines, such as treadmills, exercise bikes (like the Peloton), or rowing machines, workout mirrors offer a variety of workouts without taking up much room at all. They can be a great way to incorporate fitness into your routine without a gym membership or equipment!
Setup
For the most part, the setup of the various fitness plans is fairly similar: Once you have it mounted (or standing, leaning, etc.), all you need to do is connect the mirror to WiFi, create a profile, and start working out. A fitness mirror is the perfect addition to your home gym if you have minimal floor space, you could set up your new mirror in your living room, where it would function as a full-length mirror until you set up for a home workout and participate in fitness classes. Many of the mirrors come with white glove delivery, which means someone from the company will come set up your new device for you (either complimentary or for a fee, depending on the company), though some of them may require you to do the setup. If you aren't able to mount a mirror on your wall, we suggest choosing a mirror that can lean, stand on its own, or comes with a stand.
Equipment
If you don't own any fitness equipment (such as dumbbells, resistance bands, or yoga/Pilates equipment) you may want to consider a fitness mirror that comes with equipment (such as FORME, the NordicTrack Vault, or Tempo), or opt for one that doesn't require a ton of equipment, such as MIRROR or the Echelon Reflect. You can always choose to get home gym equipment separately if you want to try out strength training workouts or strive for new fitness goals. If you don't want fitness equipment, you can still get a great full-body workout using bodyweight (and likely an exercise mat), a smart home gym system, and WiFi connectivity.
The Workouts
The type of workouts you prefer should be one of the largest factors taken into account when browsing through the workout mirror options. Choosing one that provides the type of workouts and classes you prefer is a good way to ensure you'll not only use your fitness mirror often, but you'll enjoy doing so. Whether you enjoy yoga classes, weight lifting, Bootcamp-style workouts, HIIT, dance, or a good variety of everything, be sure you check what type of classes the mirrors offer when deciding between them!
Cost
The fitness mirrors on this list range in price, with some costing around $1,000 and others closer to $3,000. While this might seem expensive, other home gym machines usually cost around the same, but workout mirrors offer an immense variety of classes whereas the machines only offer a singular exercise. If you're tighter on cash but still interested in a workout mirror, MIRROR is the cheapest option and occasionally runs specials that bring the price down even more, but it's worth noting that it doesn't come with any equipment, unlike models like the NordicTrack Vault, Tonal, Tempo, or FORME Studio, which make it easier to get set up for all of the different classes offered on the fitness programming. If cost isn't an issue, we suggest getting whichever mirror you think you'll use most, whether that's the more weight-lifting-oriented Tempo, the yoga-focused FORME, or the high-energy MIRROR.
FAQ About the Best Workout Mirrors
Is a fitness mirror worth it?
This mostly depends on your preferred method of exercise. If you love visiting the gym, have a dedicated running regimen, or attend weekly spin classes, a fitness mirror is probably not a great investment for you. On the other hand, if you're someone looking to add more energy, structure, and guidance to your workout plan, plus you prefer (or would like to start) working out at home, a fitness mirror is a great investment.
What's the difference between Tonal and the Lululemon Mirror?
Tonal is more intended for strength training, which is why it comes with cable attachment arms that use digital weight to help users participate in trainer-led workouts on-screen. The Lululemon Mirror, on the other hand, has more class variety, with a greater focus on high-energy group and live classes that range from cardio and dance to strength training and yoga. Tonal also uses sensors to track your movements and provide feedback on your form, weight used, and more, and provides feedback based on the data. This makes it similar to a personal trainer, but not quite. The Lululemon Mirror does offer one-on-one personal training sessions that use built-in cameras to allow the trainers to see you and provide real-time feedback, but that's only if you opt for personal training.
How do you install a smart fitness mirror?
Several of the fitness mirrors on the market (particularly those with tricky wall installations) require or come with professional installation, so you'll be able to sit back and relax while others do the heavy lifting for you. A few may require you and another person to install the mounting hardware yourself, while others still require no installation and are free-standing.
Do workout mirrors have to be installed on your wall?
Not all workout mirrors have to (or should be) installed on your wall. Some models, like the NordicTrack Vault or Tonal, have no wall-mounting option and are freestanding. Others, like MIRROR, come with the option to mount it to your wall or get a stand for it, while others still require wall installation. For the latter models, installing it into your wall is not as difficult as it may seem, as there are professional installation options available, plus the workout mirrors look like normal mirrors when not in use, so you can use them as a normal reflective surface until you're ready for your workout.
Summary of Our Top Picks for the Best Workout Mirror