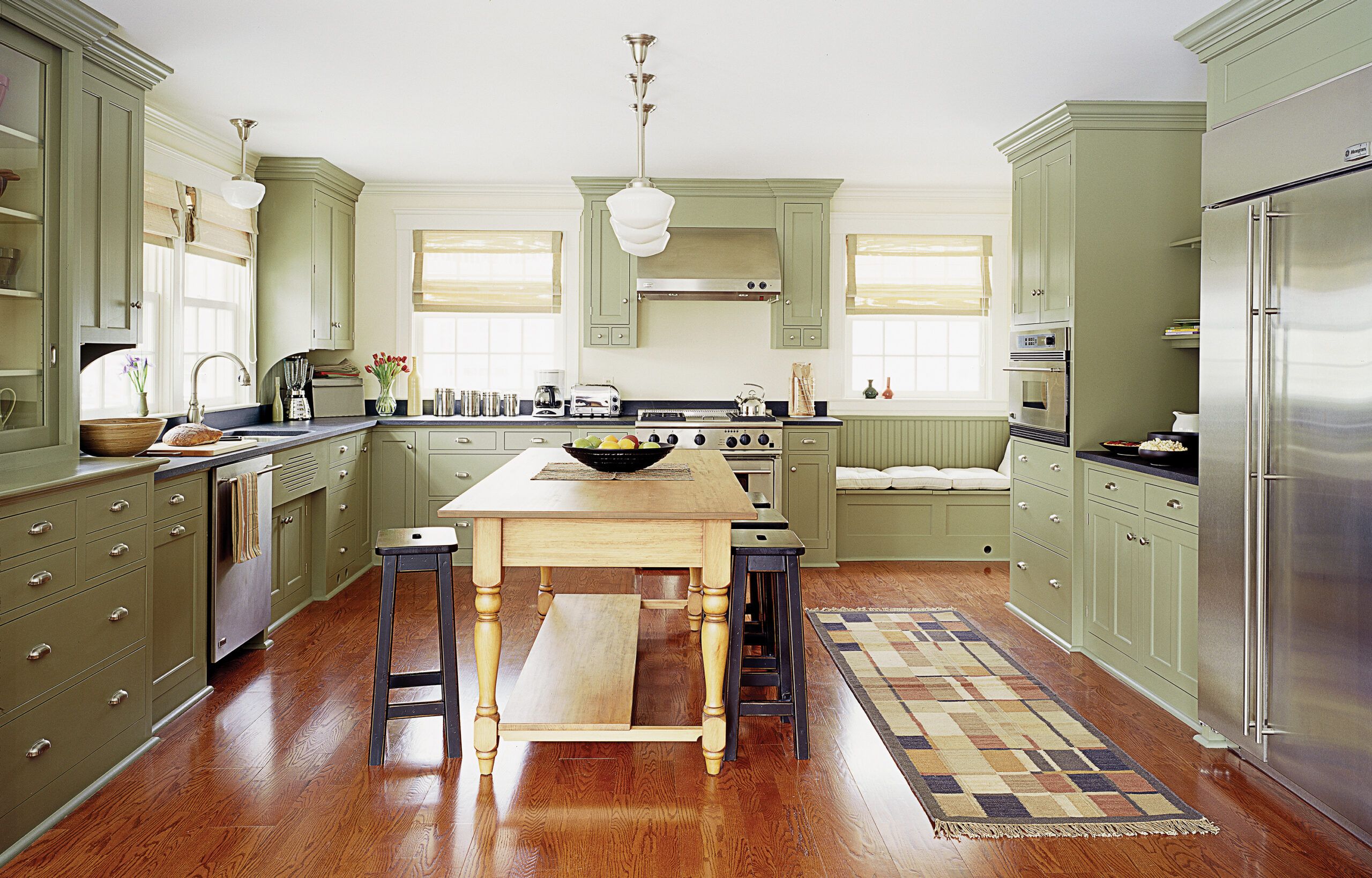 Why Engineered Flooring?
Take a close look at the wood floor in the photo on the right. A keen eye might conclude that this rich expanse is made up of solid strips of red oak, one of the most popular American hardwoods. That eye would be wrong, mostly. Sure, it's oak on top, but that's just a wood veneer skin. Underneath are more thin wood layers, all glued together to make a plywood sandwich called engineered flooring.
Since their invention in the 1960s, engineered wood floors have improved in appearance and performance, accounting for 30 percent of all the wood flooring sold in America today. Available in dozens of wood species, and with new surface effects, such as hand scraped, for a timeworn patina, these high-tech boards now look just right in any vintage house, whether it's a 1910 foursquare or a '70s raised ranch.
Most boards come with a factory finish that'll outlast one applied in your home on solid wood, and they'll be ready for footsteps the day you put them down. Engineered boards are also problem-solvers, allowing you to use them where solid strips often can't go, like in basements or directly over concrete slabs. Even better, budget-minded homeowners can lay the boards themselves, saving a bundle on pro installation and getting great-looking results in a weekend.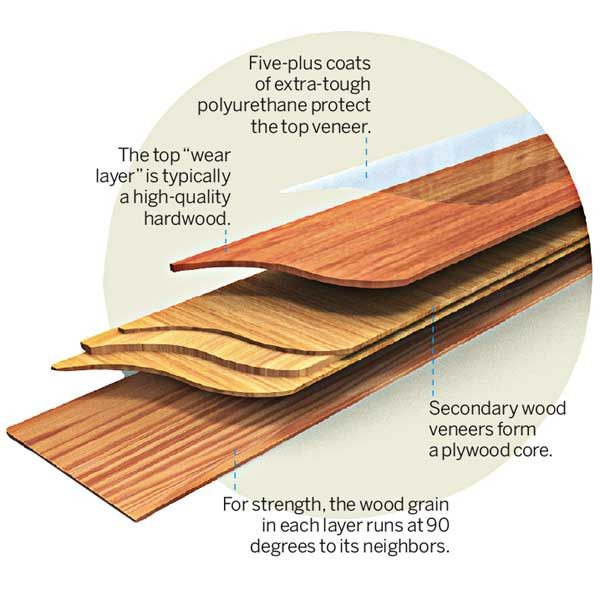 Vitals
Is it right for you?
DIY-friendly installation; most boards come prefinished. Big selection of wood species and surface treatments. Suitable for basements, where solid wood often isn't.
What's it cost?
About 20 percent more than unfinished solid boards, but you recoup that cost and then some on installation, staining, and sealing. Figure $3 to $14 per square foot.
Does it hold up?
Warranties on the finish range from 10 to 30 years under "normal wear." That means one or two dogs per household, not 10. Most companies provide lifetime warranties against veneer delamination.
How to care for it?
Mop with a microfiber cloth and wood floor cleaner to remove the dirt that scratches the finish and shortens the floor's life.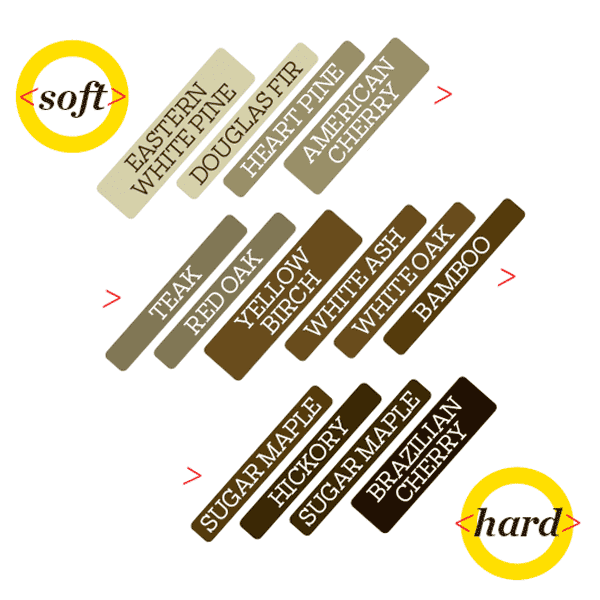 Where to Install It
Engineered flooring goes anywhere you'd put solid wood—and some places you couldn't.
In Basements
The moisture that gathers here wreaks havoc on solid wood flooring. Because the veneer layers used for engineered boards crisscross like plywood, the wood's natural tendency to expand and contract in humid areas is reduced. The boards' thinner profile also helps where headroom is at a premium.
During Remodels
The range of thickness options, starting as low as ¼ inch, allow you to finesse transitions between different types of flooring at doorways and stairways that would be awkward or impossible with standard ¾-inch solid flooring. You can also lay engineered flooring over any flat, stable surface, including ceramic tile, sheet vinyl, and existing wood floors.
Over Radiant Heat
Thinner engineered boards transfer heat better than thick solid wood and are more stable. Floating floors are best because they don't need staples or nails that might puncture wires or hot-water tubes. Check with the radiant system's manufacturer before using a foam underlayment, which interferes with heat flow.
Where Not to Use It
While engineered flooring handles swings in moisture better than solid flooring, it has limitations. The wet feet, drips, and soggy towels of a busy bathroom, mixed with steam from a shower, put even stable engineered boards at risk. The same threat hangs over laundry rooms.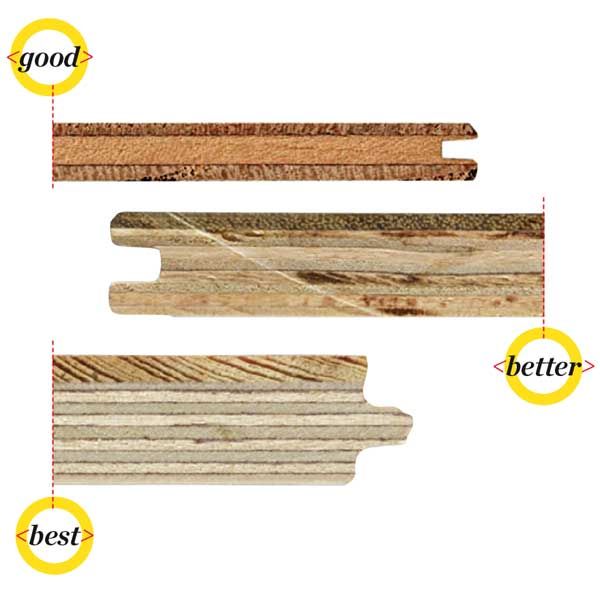 What to Look for
Good, better, best
Engineered flooring runs the gamut from the low end, starting at $3 per square foot, to the high, at $14 and more. To judge quality, check the thickness of the "wear layer," or top skin of wood; the number of veneers in the core; and the number of finish coats—all of which affect price and warranty. Typically, the more layers, the better. Below, see how the three common classes of engineered boards stack up.
Good: 3-ply construction; 1-2 mm wear layer; 5 finish coats; 10- to 15-year warranty; ¼ inch thick; About $3-$5 per sq. ft.; Options limited to common species, such as oak or ash, and just a few stains.
Better: 5 plys; 2-3 mm wear layer; 7 finish coats; 15- to 25-year warranty; ¼ inch thick; About $6-$9 per sq. ft.; More species, such as cherry, beech, and some exotics; all stains and a few surface effects, such as distressing.
Best: 7-9 plys or more; 3 mm-plus wear layer, which can be sanded two or more times; 9 finish coats; 25-year-plus warranty; 5/8 to ¾ inch thick; About $10-$14 per sq. ft.; Widest selection of species; reclaimed options; and more surface treatments, such as hand scraped and wire brushed.
Why Hardness Matters
The harder the top layer, the more resilient it is to dents and the longer it'll keep its like-new looks. But hardness isn't the only factor to consider. Dense woods with less grain, like maple, show dings more readily than a slightly softer wood with a bold grain, like red oak. And floors with little or no gloss are better at hiding scratches and wear. The chart below compares the hardness of popular wood species.
The Competition
We sort the difference between engineered, laminate, and solid boards
Laminate: It may look real, but that's actually a photo of wood you're standing on. A paper image is embedded in resin, glued to fiberboard, and coated with a protective finish. A surface embossing mimics wood's texture. Laminate flooring is about as thick as engineered, so you can lay it over existing floors, but once a laminate's top coat wears away, it's toast; it can't be refinished.
Solid Wood: Sawn boards interlock with a tongue on one edge and a groove on the other. Because the boards expand and contract so much, they must be fastened to a subfloor and can't be laid directly over concrete, like engineered and laminate. A ¾-inch-thick wood strip can be refinished up to 10 times, compared with three for the best engineered and none for laminate.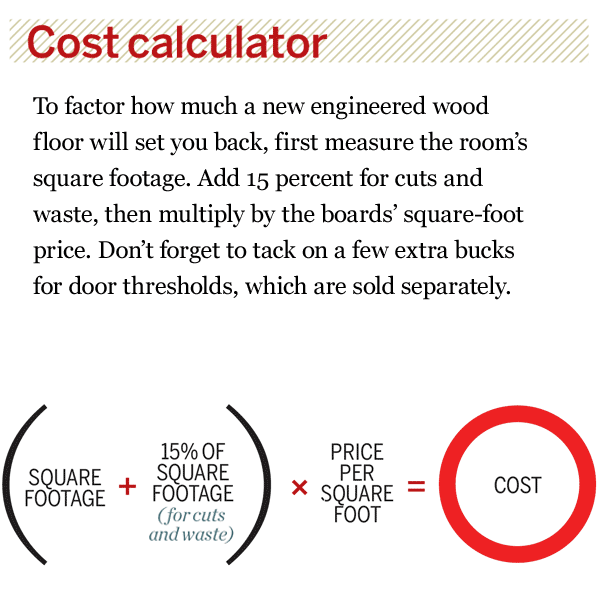 Four Ways to DIY
Engineered flooring can be fastened or glued down, or left to "float," relying on its mass to hold it in place. Use this guide to choose the install method that's best for you
1. Glue it together. Apply a bead of glue to the tongue of each board and tap it into place with a block. The floor floats, unattached to the subfloor except by force of gravity.
2. Fasten it down. Rent a floor stapler and compressor (about $40 per day) and rapidly secure the boards to the existing floor without having to wipe up any glue.
3. Glue it down. Lay the boards in a bed of adhesive, as you would tile. This approach works particularly well over cured concrete, where you can't use staples.
4. Click and lock. This floating floor has specially milled tongues and grooves that lock together without glue or fasteners. It's the quickest and cleanest installation method.
Can engineered floors be refinished?
Yes, they can, at least once. Floors with a wear layer less than 2 millimeters thick can tolerate a light scuff-sanding with a buffer. Thicker top layers can be sanded just like solid wood, allowing you to erase deeper scratches and dents. An engineered floor with a 3-millimeter top, for instance, can handle two refinishings. Just be sure your flooring pro knows your floor's specs and refinishing history before he begins.
Cost calculator
To factor how much a new engineered wood floor will set you back, first measure the room's square footage. Add 15 percent for cuts and waste, then multiply by the boards' square-foot price. Don't forget to tack on a few extra bucks for door thresholds, which are sold separately.