While bamboo flooring is not exactly new, having been around for two decades, it might as well be. In recent years, advances in manufacturing have enhanced its performance and diversified its appearance. The major change: the introduction of superdense "strand-woven" bamboo, which can be milled into boards that are two and a half times as hard as red oak.
They also can be produced in an array of wood-look styles—from the familiar, like maple or walnut, to exotic species, like tigerwood and cumaru—that are quite different from what most people associate with the material. "Strand-woven has changed bamboo's reputation from an eco product to a major player, delivering the look and durability of Brazilian hardwoods for two-thirds the cost," says Joel Hirshberg, president of Green Building Supply, which has been selling bamboo floors for 16 years.
Whether you're simply looking for something a little different from what all your neighbors have or like the idea of remodeling with sustainability in mind—or just love the price—here's what you need to know about buying and installing today's bamboo flooring.
Shown: Wide planks that look like exotic hardwood warm up this white kitchen. Morning Star 5⅛-inch Antique Strand Bamboo, about $3.69 per sq. ft.; Lumber Liquidators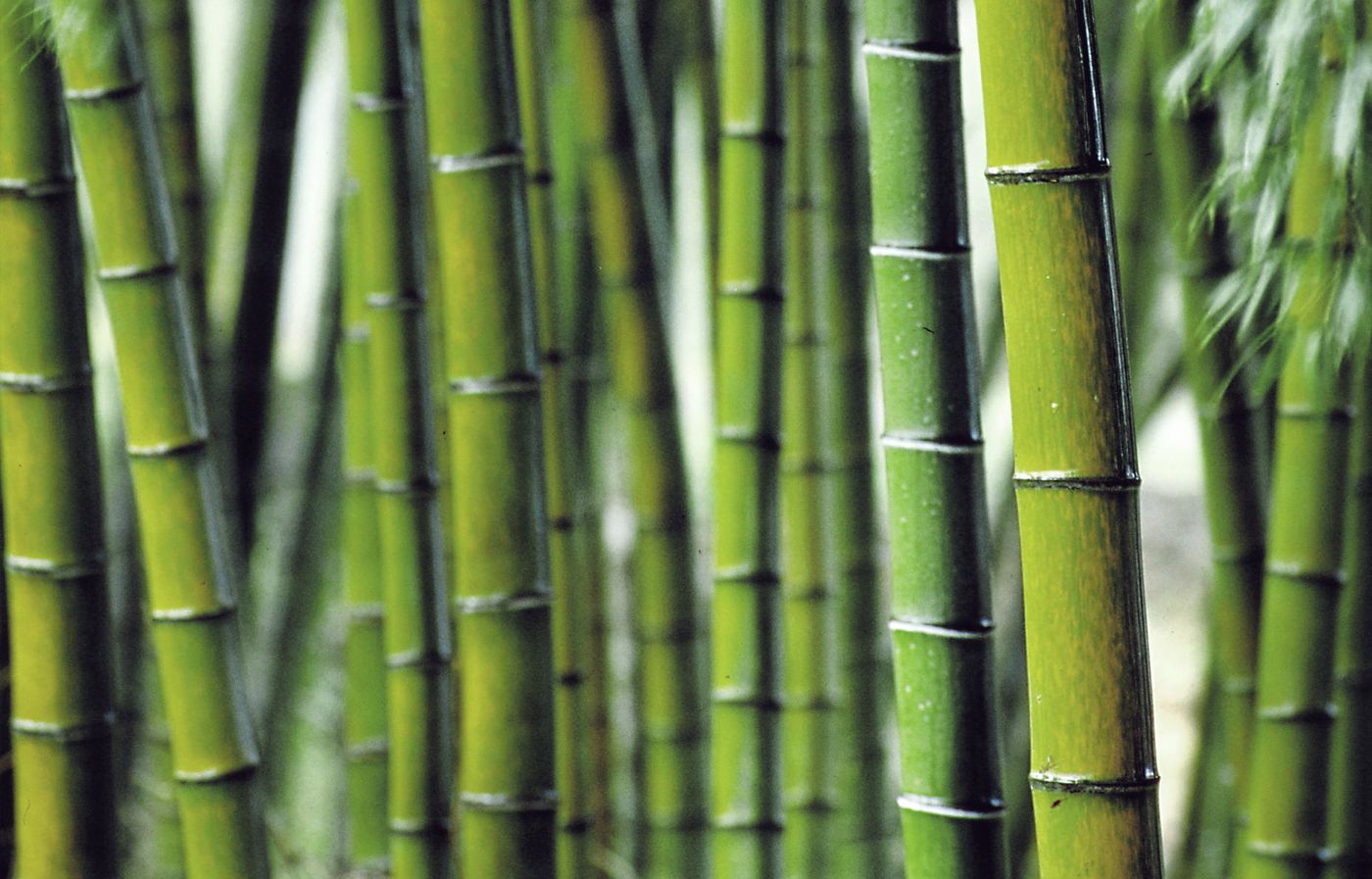 The Difference in Bamboo Used for Flooring: Bamboo is a grass, and the variety used for flooring is different from the plant that grows in a pot on your desk. This is Moso bamboo, which reaches its full height, 40 to 80 feet, in its first year and thickens to 6 to 8 inches in diameter as it matures over the next five years.
Bamboo Flooring: What to Ask Before Investing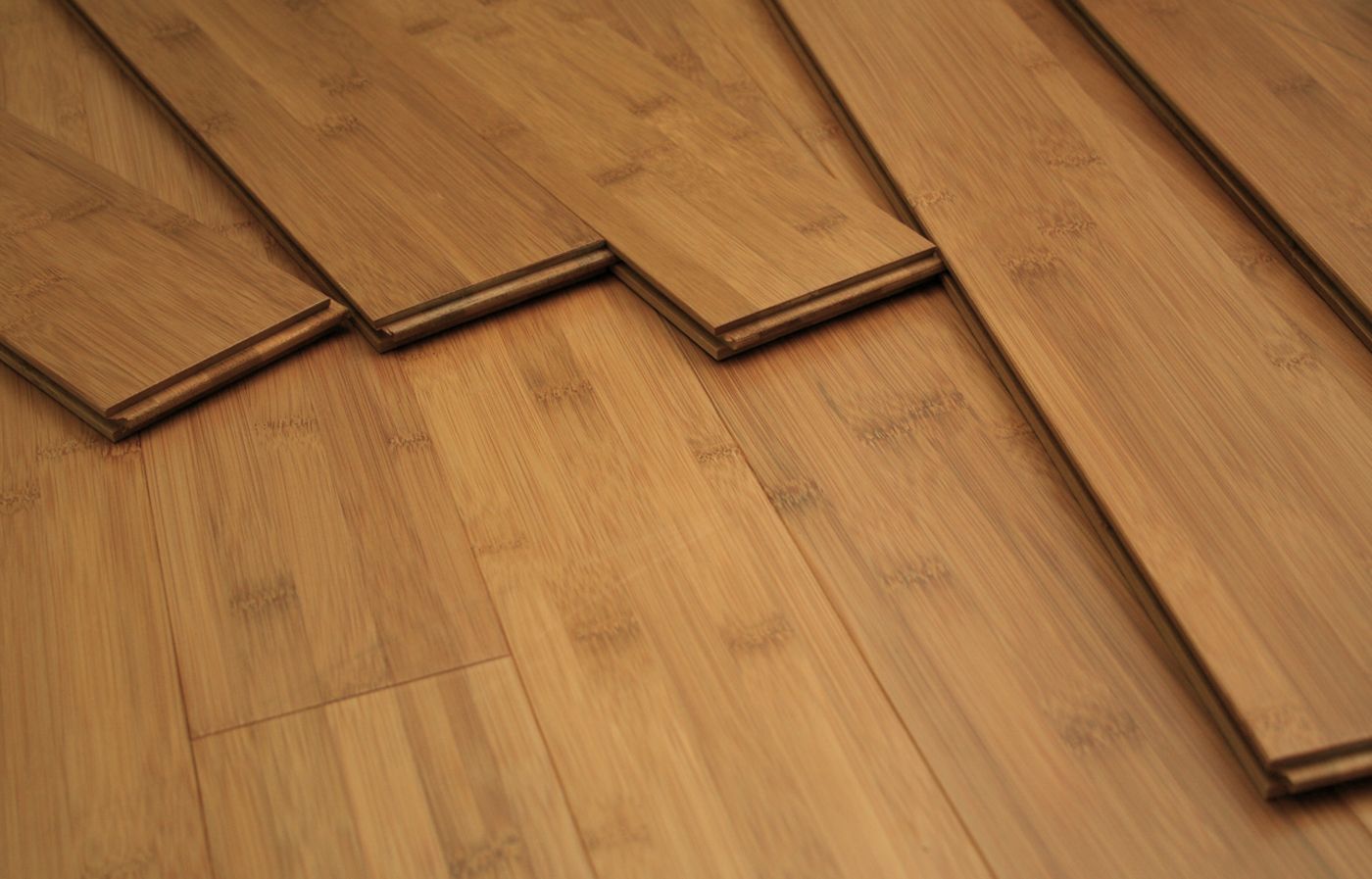 Bamboo flooring cost?
From $2 to $10 per square foot for both solid and engineered boards, depending on type and finish. Expect to pay the same for installation as with a wood floor.
DIY or hire a pro?
Bamboo boards go down like wood—so if you're comfortable nailing or gluing tongue-and-groove oak or snapping down a floating floor, you can tackle bamboo.
Which rooms to install it in?
Anywhere you'd use wood—including baths, kitchens, basements—but it's subject to the same risk of damage from excess moisture or dryness as hardwood.
How long will it last?
Most manufacturers provide lifetime structural warranties, while a factory finish should be guaranteed for at least 25 years.
Bamboo Flooring Pros and Cons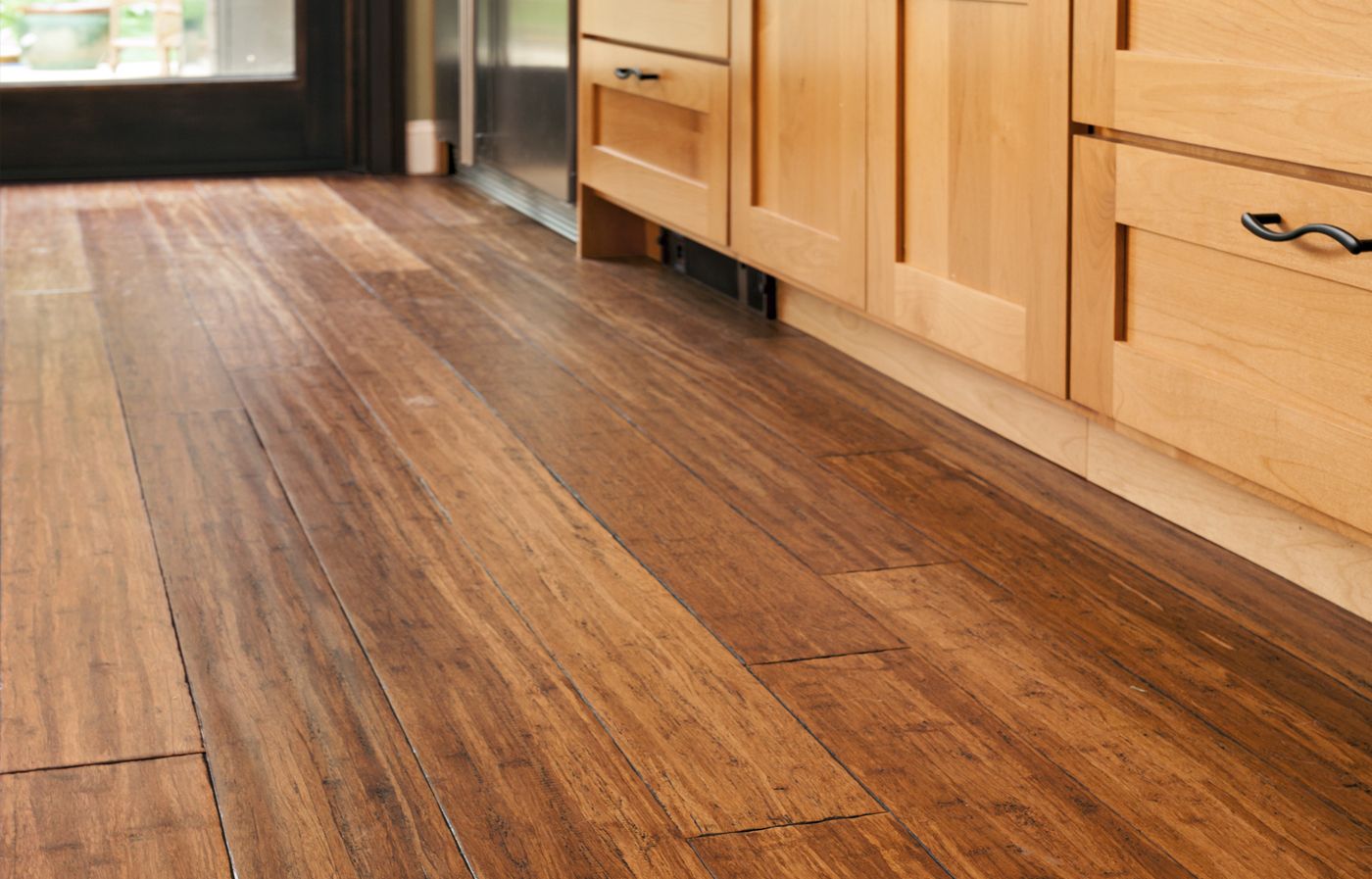 Ease of installation and affordability are pluses with this renewable material, but pay close attention to quality.
PROS:
A fast-renewing resource, bamboo is ready to harvest in 5 to 6 years, about one-tenth the time it takes red oak to mature. New stalks regrow from the same plant.
Generally less expensive than a common hardwood by about $1 per square foot, and even cheaper in comparison with an exotic species.
Extremely durable, a quality bamboo floor can last decades with care and minimal exposure to grit, high heels, and pets' nails.
CONS:
It can scratch, even with a factory finish, just as wood does; use doormats inside and protective pads with furniture.
All bamboo is not the same, and it can be hard to sort through the quality claims. Plus, the different types (see below) make apples-to-apples comparisons a challenge.
Off-gassing can occur with lesser-quality flooring made with adhesives containing urea-formaldehyde.
Shown: Light Carbonized Engineered Strandwoven Bamboo, about $6.99 per sq. ft.; ECOFusion
How Eco-Friendly Is It, Really?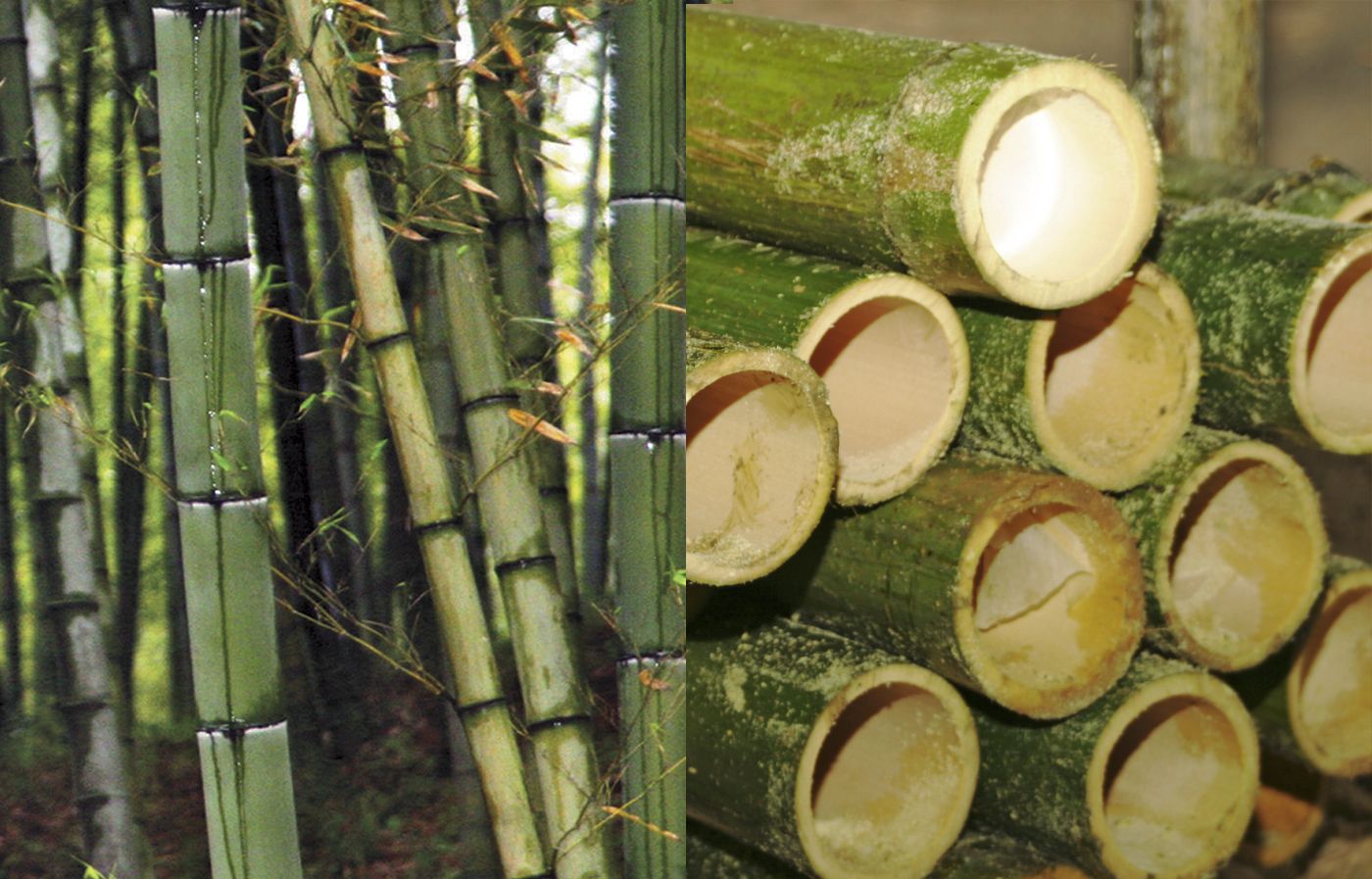 Moso bamboo (Phyllostachys edulis 'Moso') grows naturally in China, where the vast majority of bamboo flooring is manufactured. If harvested stalk by stalk, without clear-cutting, it regrows in five to six years, making it a rapidly renewable resource. Some, but not all, companies can tell you if they source from a responsibly managed plantation. Forest Stewardship Council (FSC) certification is not yet widespread.
As for the chemical-containing adhesives and finishes used in the finished product, looking for third-party certification (FloorScore and GREENGUARD are two among the most widely used) remains your best bet regarding VOC and formaldehyde emissions.
How Is Bamboo Flooring Made?
Horizontal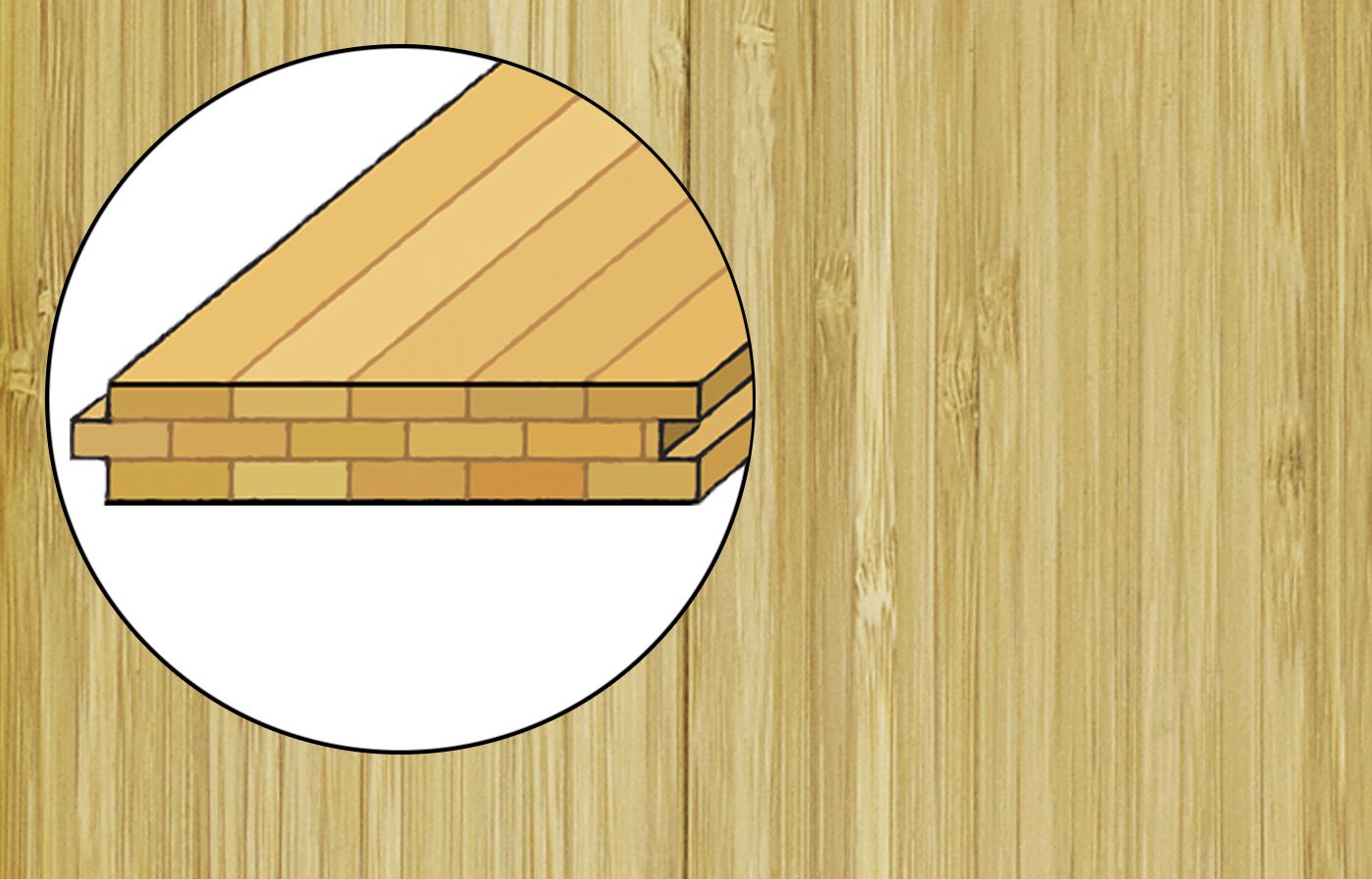 Stalks are sliced into ¼-by-¾-inch strips, bound with powerful adhesives, then milled into three types of bamboo flooring.
Horizontal Strips are adhered edge to edge, skin side up, making maximum use of the stalk. This orientation shows the nodes, or "knuckles," for a classic bamboo look. Offset layers add strength. Comes natural, stained, and carbonized (heat-treated during manufacturing to give it a caramel-like hue).
Vertical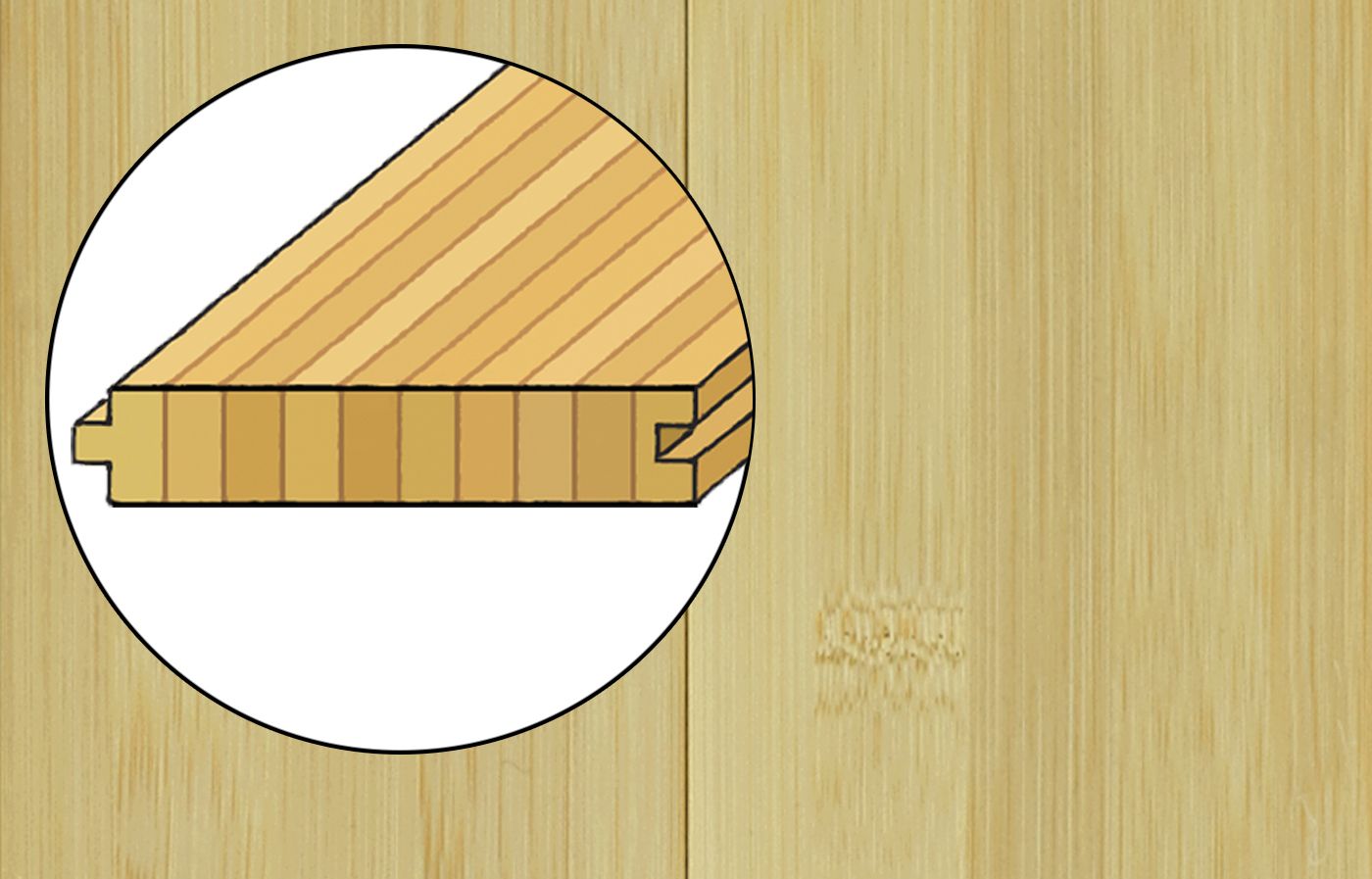 Strips are arranged and glued with cut edges facing up for a linear look and a floor that's less likely to show dents than horizontal bamboo. Knuckles are much less noticeable, too. Available natural or carbonized but typically not stained, as a stain isn't absorbed as readily by the thin strips.
Strand-Woven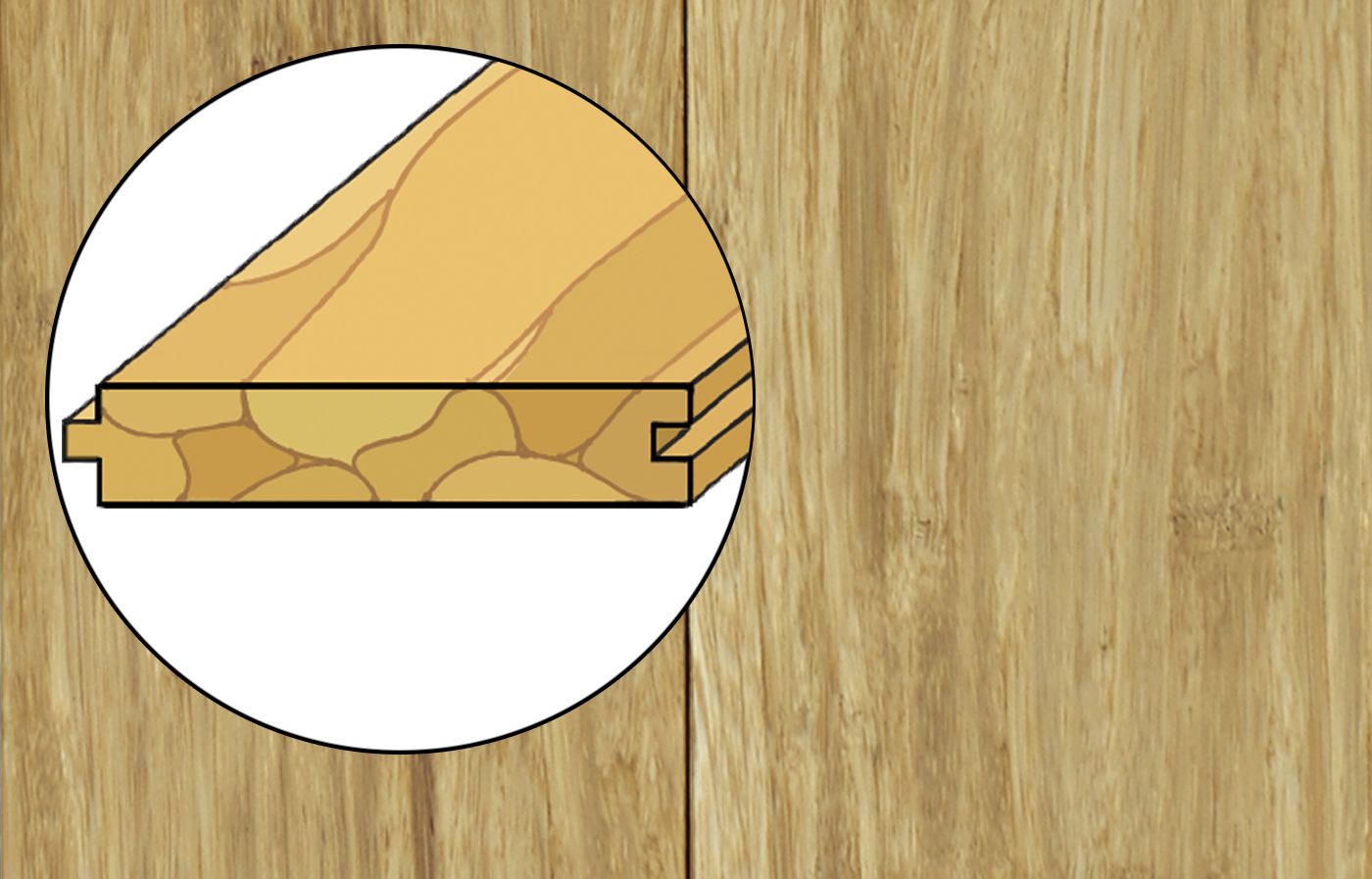 Strips are soaked in adhesive, laid out lengthwise in various orientations, then compressed in giant hydraulic presses, creating a solid rectangular mass that's milled into floorboards. Two to three times denser than other types of bamboo, it lends itself to special finishes and surface treatments.
Bamboo Wood Flooring: What to Look For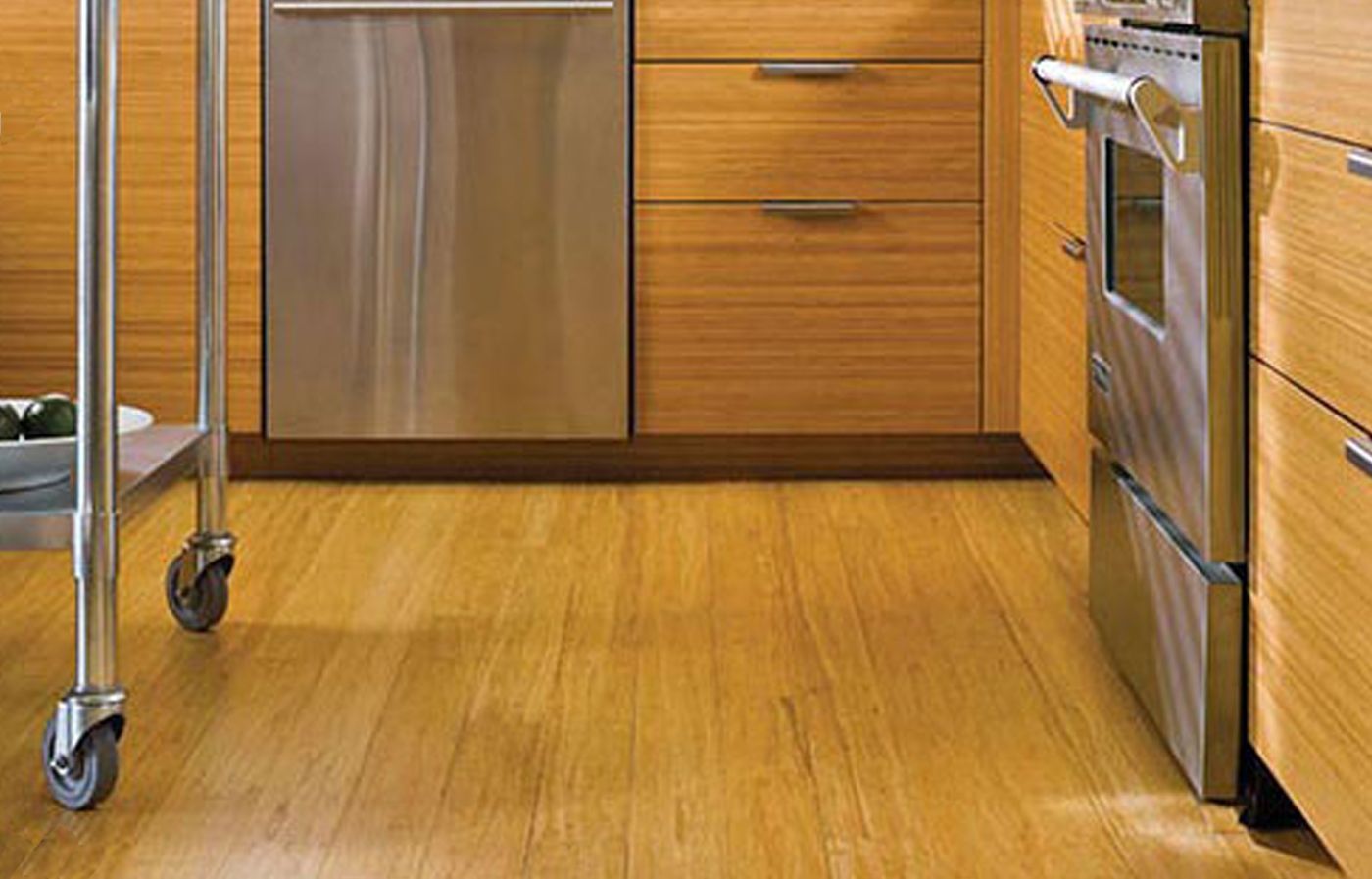 Thickness
Solid boards come ½ to ⅝ inch thick; engineered planks, ⅜ to ½ inch. Made with a bamboo veneer atop a plywood or bamboo substrate for added stability, engineered planks are good for floating floors in damp or very dry environments. Expect to find unfinished planks at ¾ inch thick, to be sanded on-site.
Width
The standard for solid bamboo is 3¾ inches, but 4- to 6-inch widths are gaining ground. As with prefinished wood floors, micro-beveled edges help hide unevenness between planks. Click-together engineered planks are square-edged, as are some traditional horizontal or vertical bamboo floorboards.
Hardness
Though there is tremendous variation among products, vertical and horizontal bamboo floors typically score around 1,825 on the Janka scale (a universal hardness rating for flooring), harder than hickory. Strand-woven can score nearly double that, around 3,270, comparable to Brazilian redwood. Check company websites to see if third-party testing has been done.
Finishes
As with hardwood flooring, the glossier the finish, the more scratches will show. Factory-applied finishes offer superior durability but require more skill and labor to replace, unlike finishes that are applied on-site. (For more, see the next slide.)
Air quality
The second main ingredient in bamboo flooring is adhesive resin. Cheap urea-based resins can off-gas formaldehyde, a known carcinogen. Look for independent certification, such as one from GREENGUARD or FloorScore, so that it won't emit high levels of VOCs.
Finish Options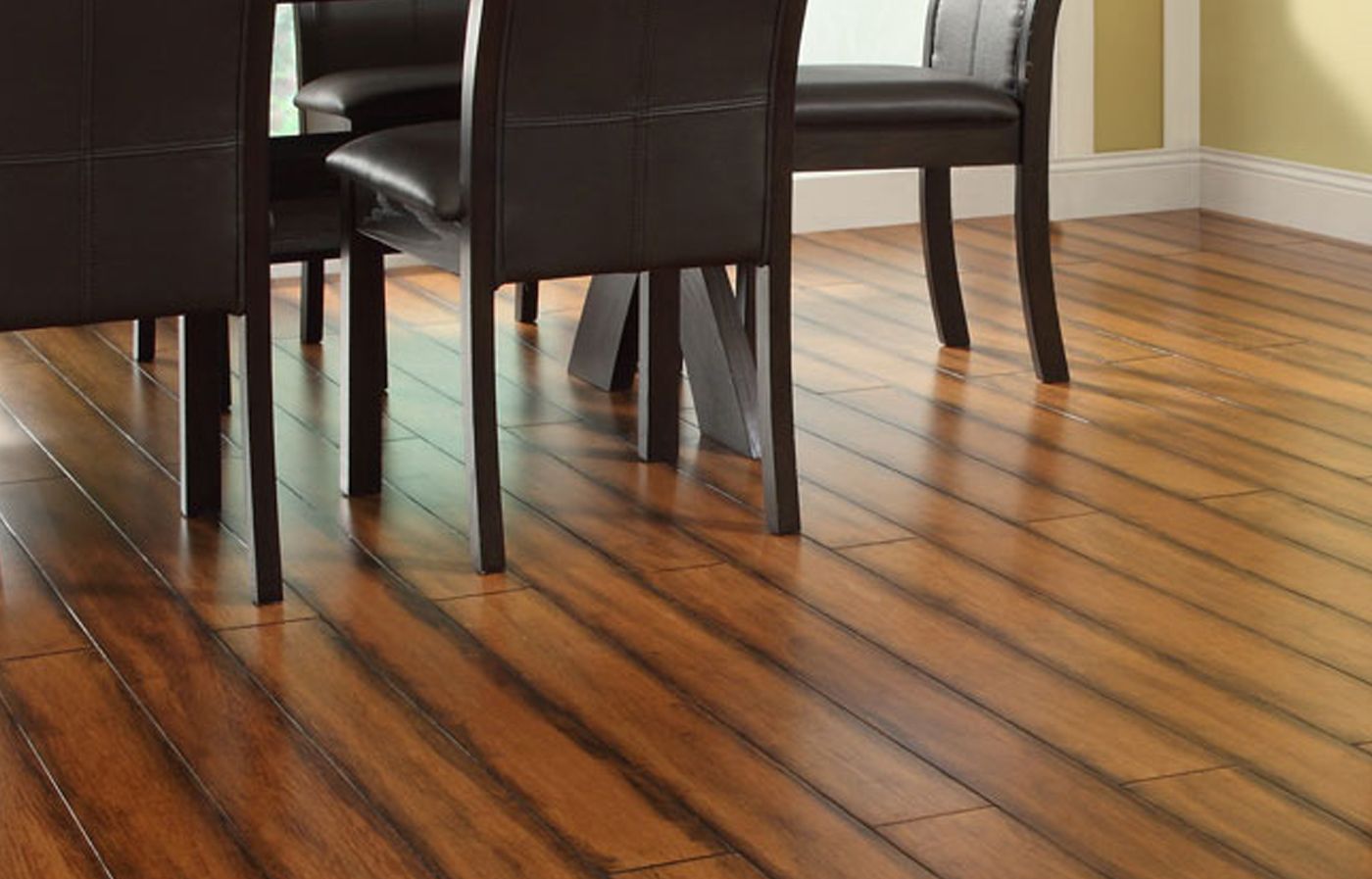 Factory finish
Most durable is a factory-applied, multilayer aluminum oxide coating—manufacturers claim anywhere from 2 to 10 layers—that comes topped with an additional clear coat. Aluminum oxide finishes provide superior wear resistance; the clear coat makes recoating easier and gives a smooth appearance.
Oil finish
A new and growing trend is a wax-based coating, typically made of a combination of linseed oil, carnauba wax, and beeswax, that imitates the vintage look of a hand-applied oil. More matte in appearance, it's often applied over a distressed texture. Another part of its appeal: Scratches are less noticeable, and if damage occurs, the surface can be sanded and touched up with more oil. This finish requires renewal every few years with a specialty cleaner and a wipe-on oil, such as Rubio Monocoat.
Unfinished
As with wood, most types of solid-bamboo flooring that are not stained or textured can be special-ordered without any finish. Sanding the boards after installation gives you the flattest surface, with no eased edges on the boards, and the opportunity for the custom stain of your choosing. It's much easier to refinish this type of floor if any damage occurs; however, finishing on-site won't provide nearly the longevity of factory-applied aluminum oxide.
Bamboo Flooring Installation Tips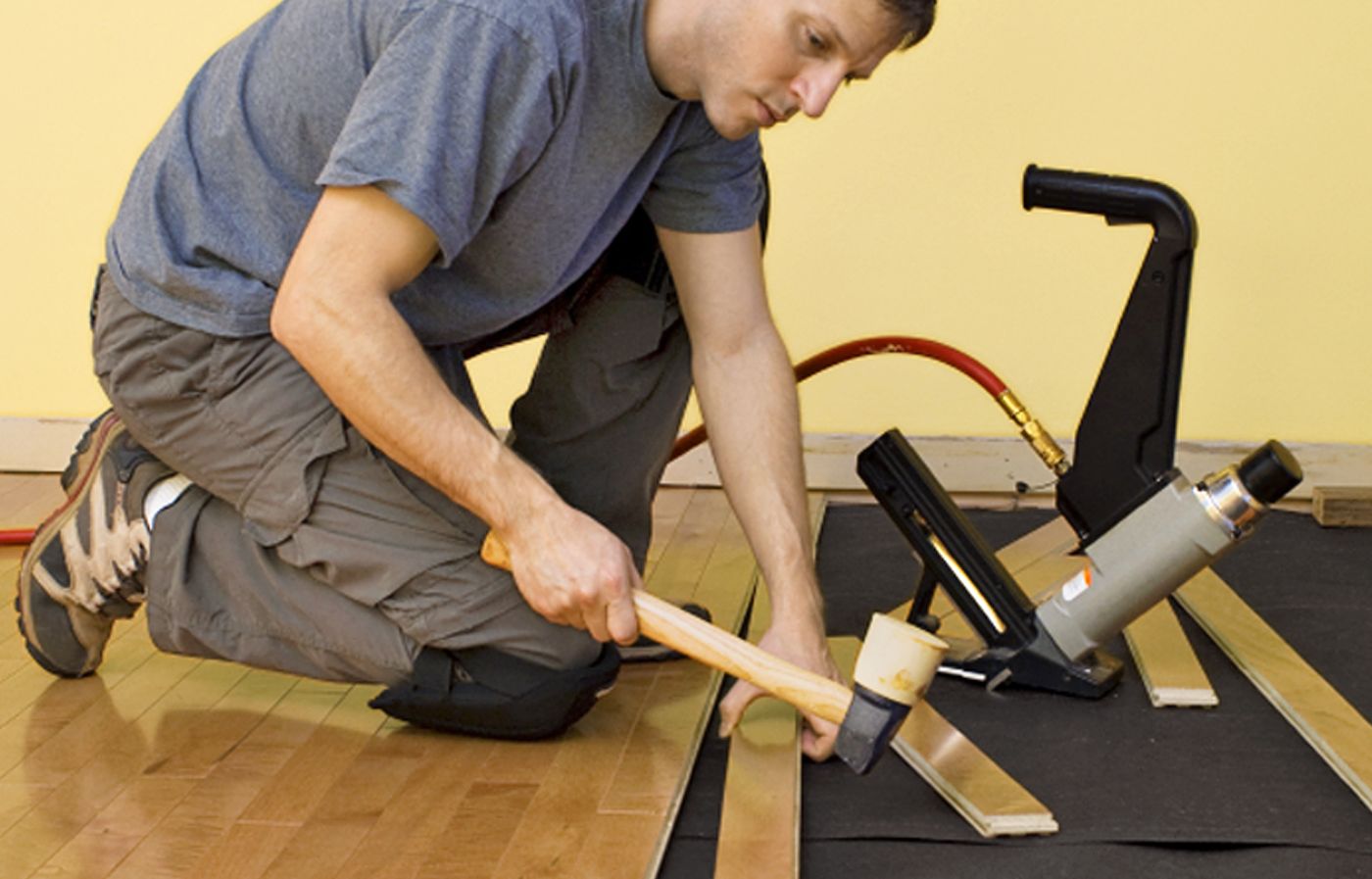 As with wood, nailing yields the tightest results underfoot, but there are glue-down, floating, and click-together bamboo boards to suit whatever your site calls for. Just keep these considerations in mind.
Acclimate boards
Before it's installed, all bamboo flooring needs a waiting period inside the house so that its moisture content can stabilize. Skip that wait and your new floor can shift or show gaps. The only sure way to tell when the wait is over is with a moisture meter. Most horizontal and vertical bamboo can stabilize within three to four days, but strand-woven takes much longer, in some cases up to 30 days. Be sure to follow the manufacturer's instructions.
Evaluate the substrate
Over a flat plywood or oriented-strand-board (OSB) subfloor, bamboo needs only a layer of 15-pound builder's felt. Installations over concrete rely on glue or float over a foam underlayment. In either case, seal the concrete first to prevent moisture from causing the glue to pop off or the flooring to swell.
Radiant heat
As long as the heat source does not rise above the temperature limit stated by the manufacturer's guidelines, and the floor is floated, you can use radiant heat with bamboo flooring in your home.
Shown: A mallet racks boards together; the pneumatic nailer secures them.
Consider This: While factory-finished bamboo that suffers severe damage can be mechanically stripped and refinished on-site, the job requires special sanding equipment, advanced dust filtration, and some finesse, especially with strand-woven bamboo. It's not generally considered a DIY job. If damage is confined to a small area, you may be able to patch in matching boards—a good reason to keep an extra box on hand.
Bamboo Flooring Colors: Pick Your Board
Hand-Scraped Honey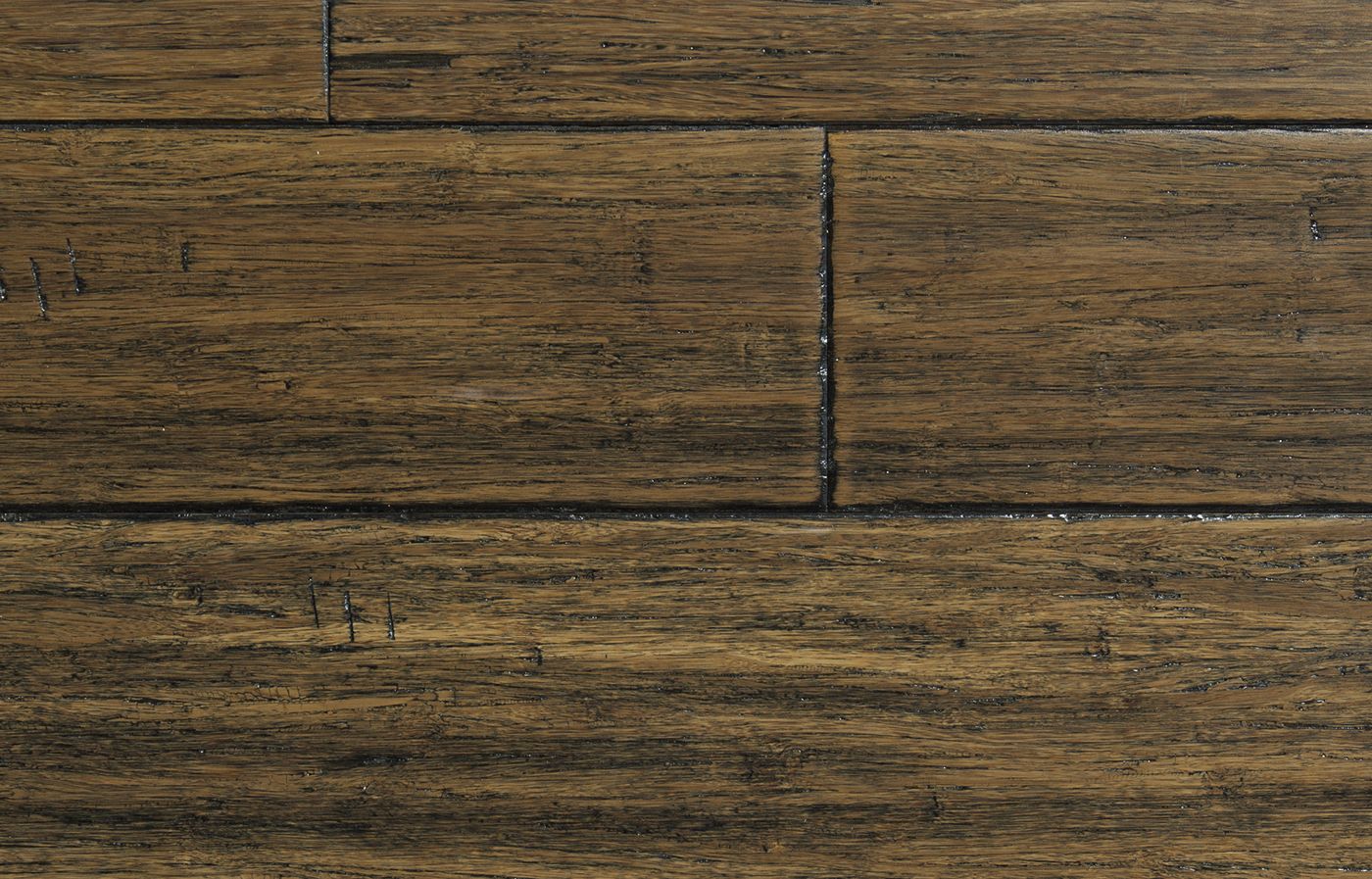 Price: about $3.79 per sq. ft.
Maker: Morning Star; Lumber Liquidators
Highlights: Stained and distressed strand-woven evokes aged hardwood.
Toast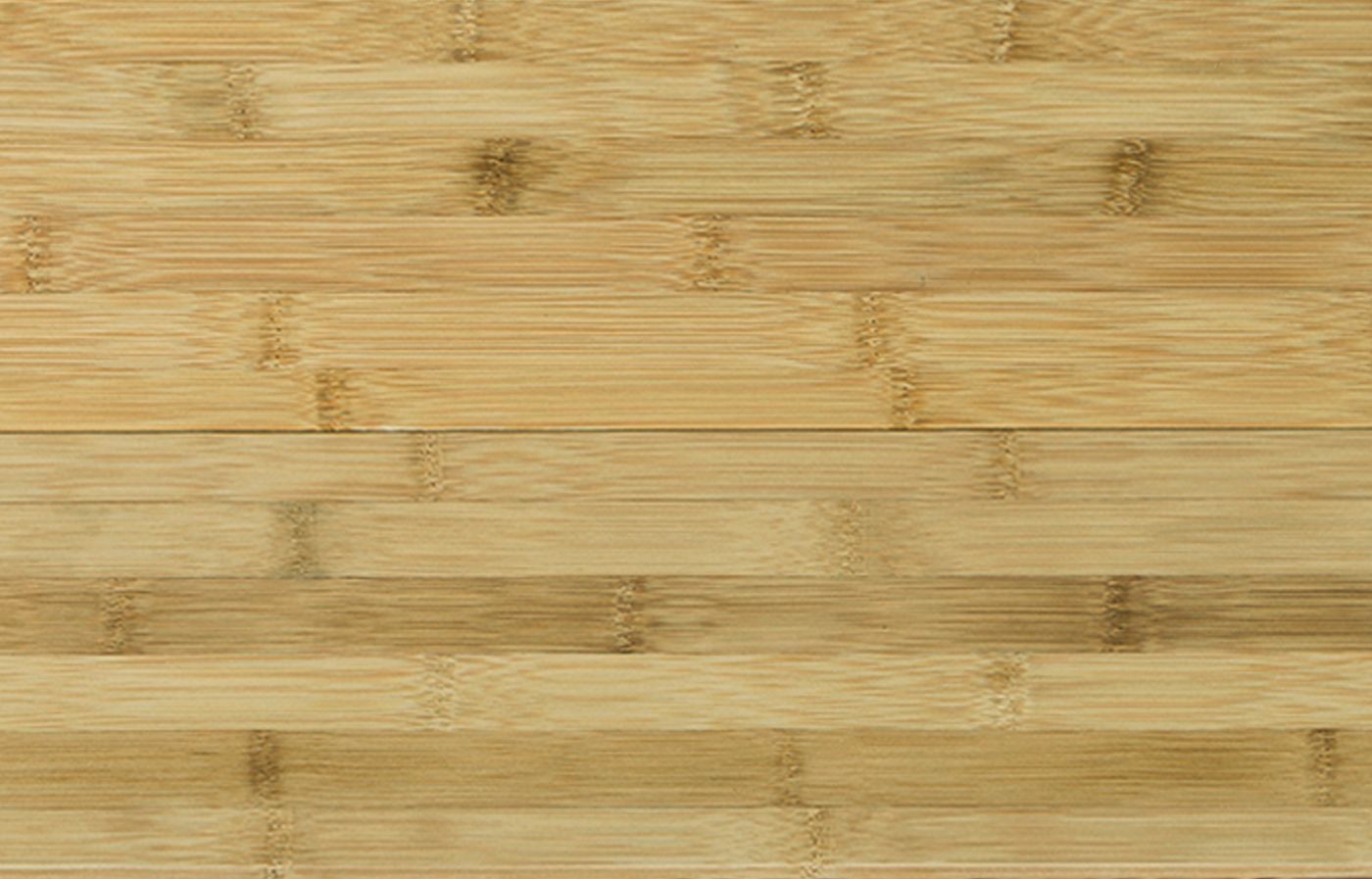 Price: about $1.99 per sq. ft.
Maker: Home Decorators Collection; The Home Depot
Highlights: Classic natural horizontal bamboo with "knuckles."
Stormy Night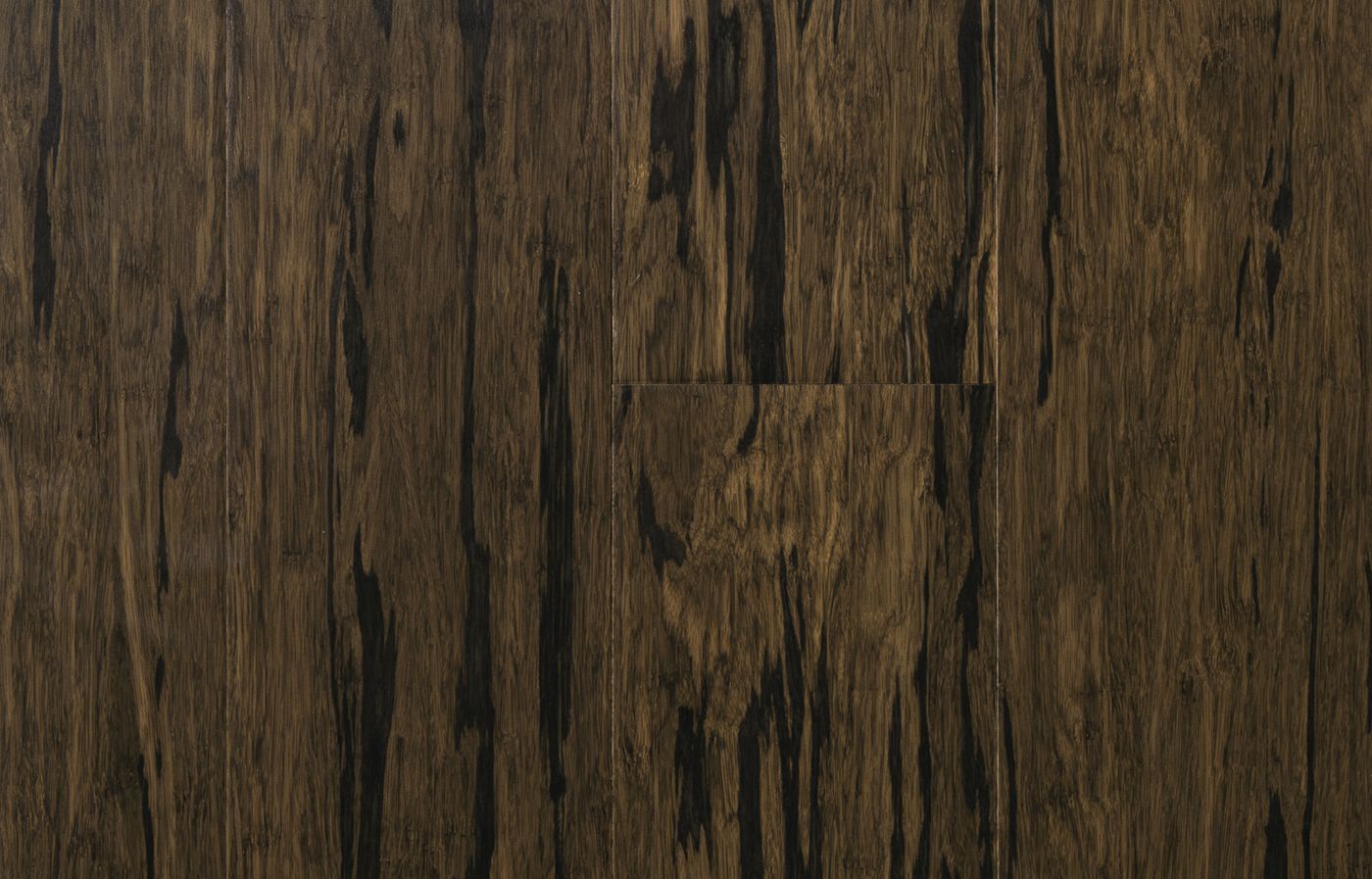 Price: about $6.99 per sq. ft.
Maker: EcoFusion; Granite Bay Flooring Design
Highlights: Engineered planks of strand-woven bamboo gain rich color variation with plant dyes.
Rustic Beachwood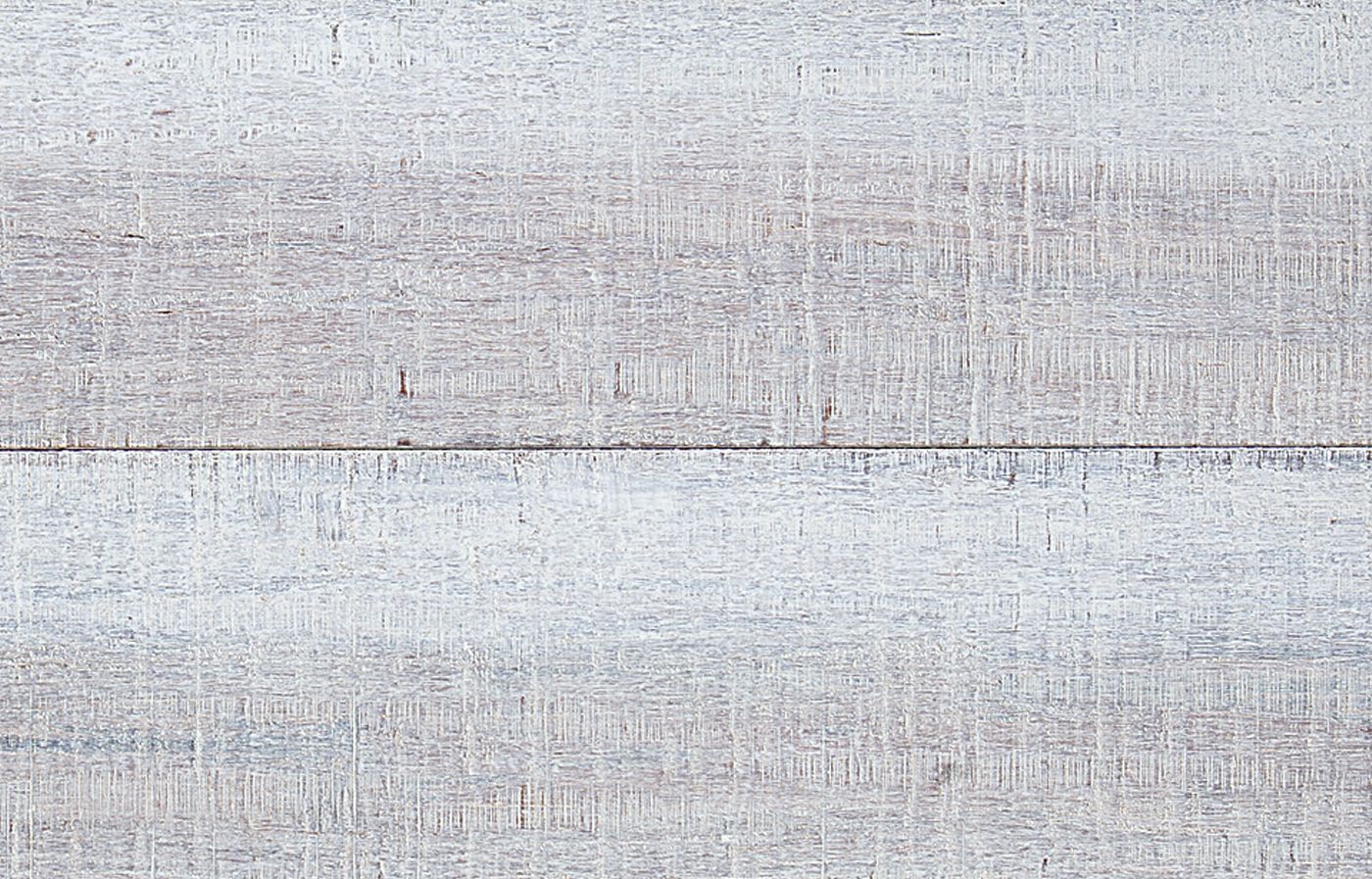 Price: about $5.99 per sq. ft.
Maker: Cali Bamboo; Lowe's
Highlights: Stained white and distressed, strand-woven planks are finished with oil.
Hewn Port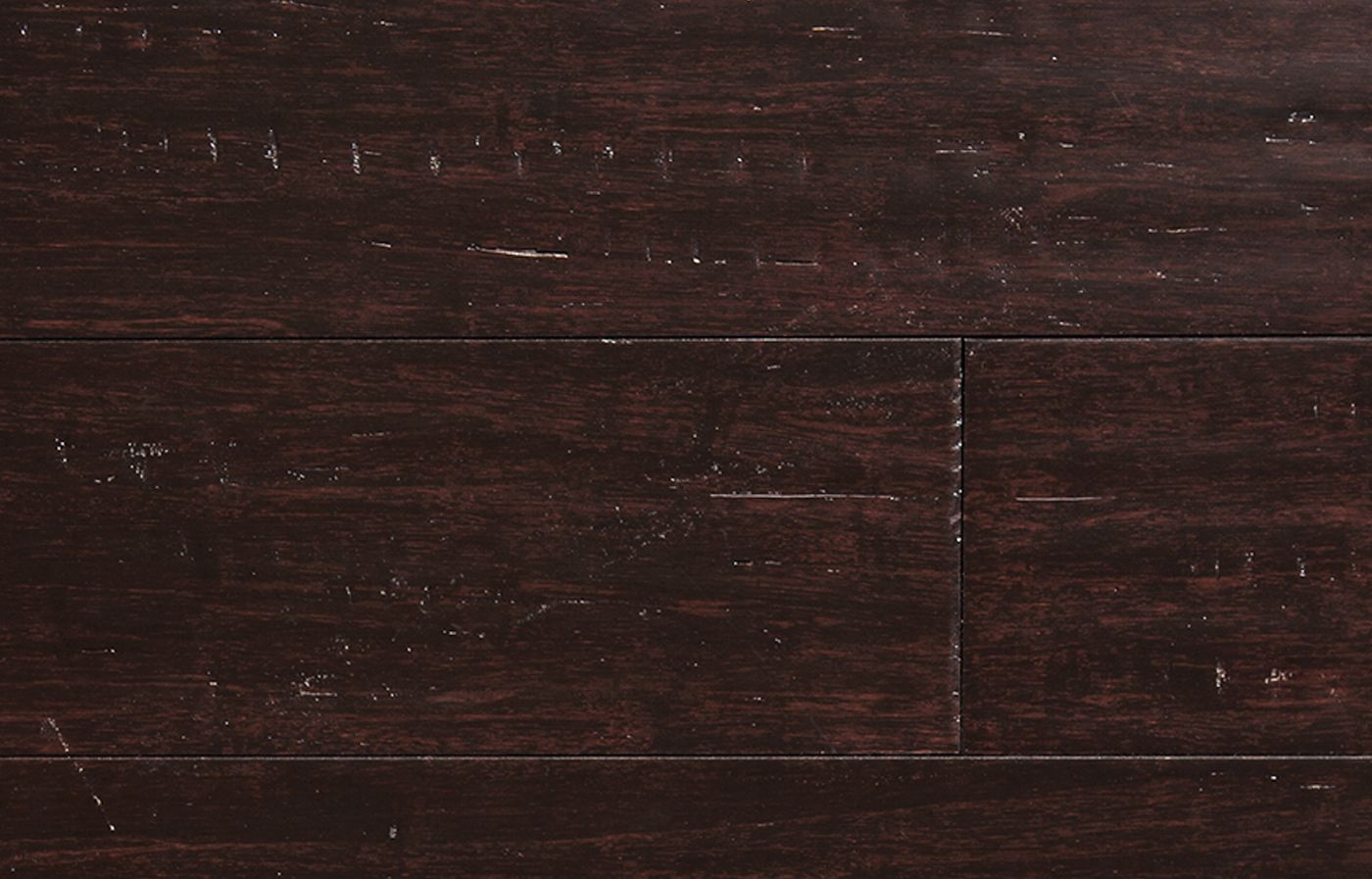 Price: about $7.79 per sq. ft.
Maker: Teragren; Right Flooring
Highlights: Planks 5½ inches wide with a rich, ruddy finish fit well with traditional interiors.
Pearl City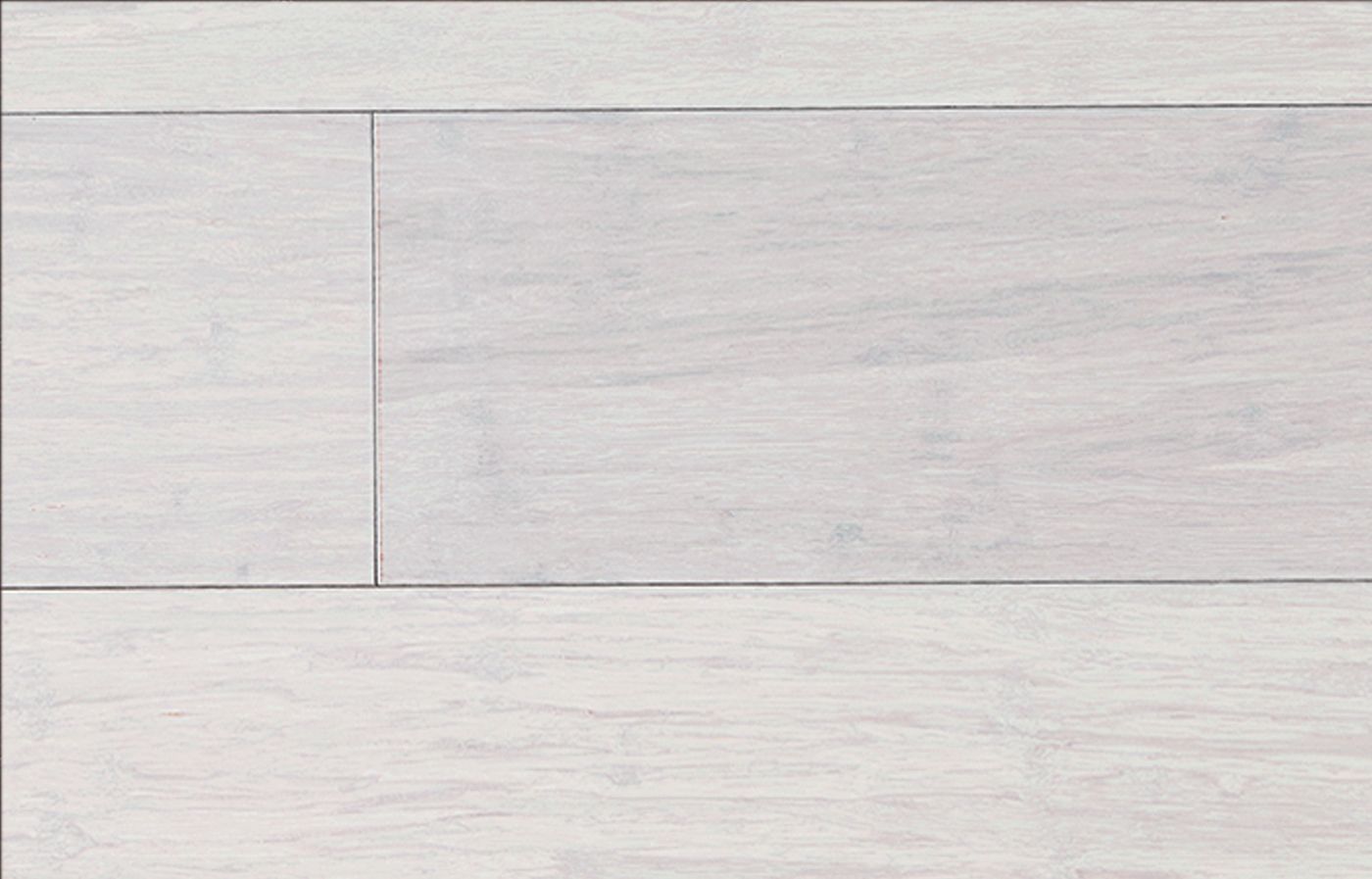 Price: about $3.19 per sq. ft.
Maker: Morning Star; Lumber Liquidators
Highlights: Strand-woven bamboo stained grayish white has a lustrous, modern feel.
Neopolitan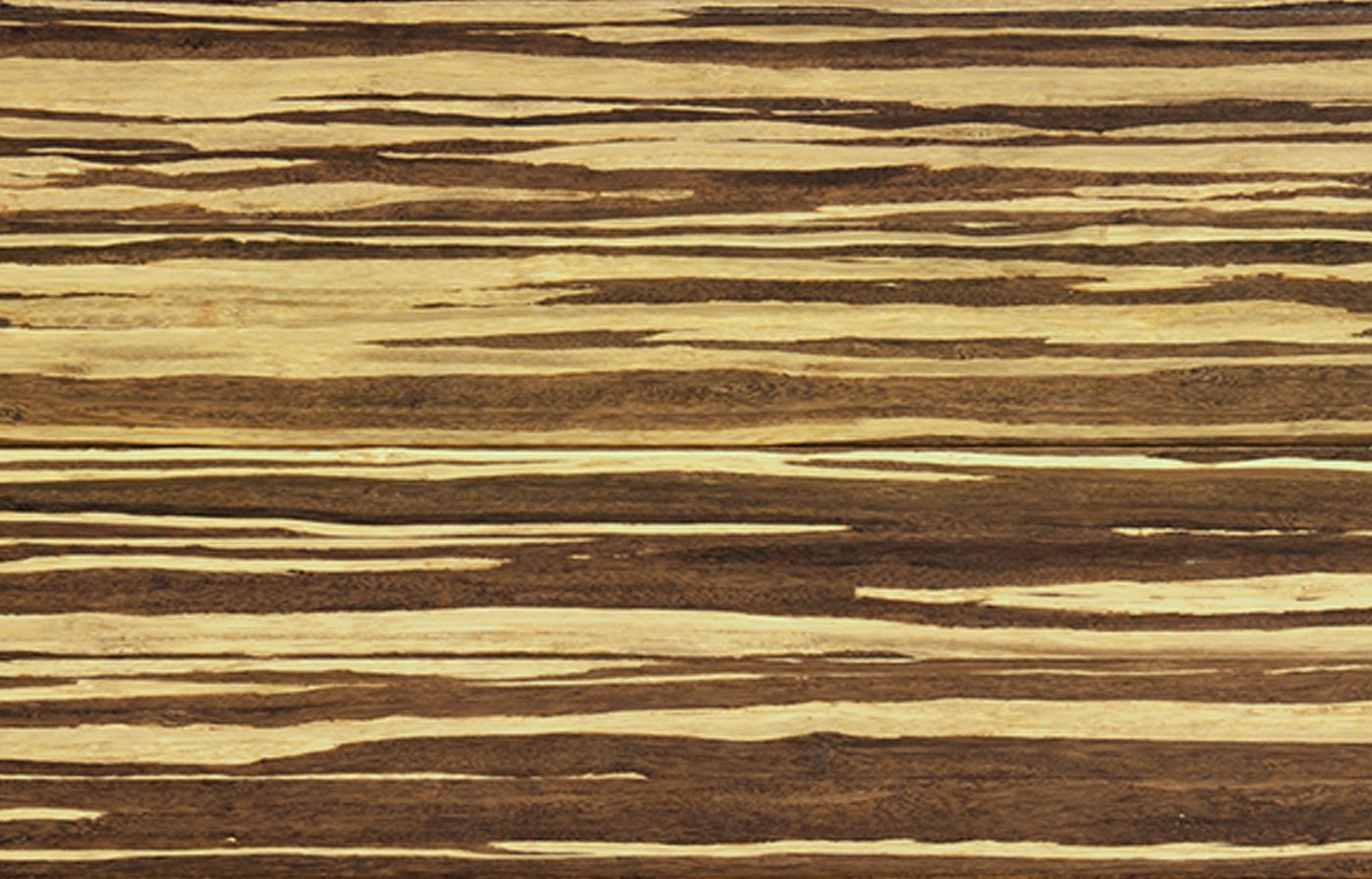 Price: $4.99 per sq. ft.
Maker: Smith & Fong; plyboo
Highlights: Natural and carbonized strands blended together for a dramatic two-tone look.
Natural Skin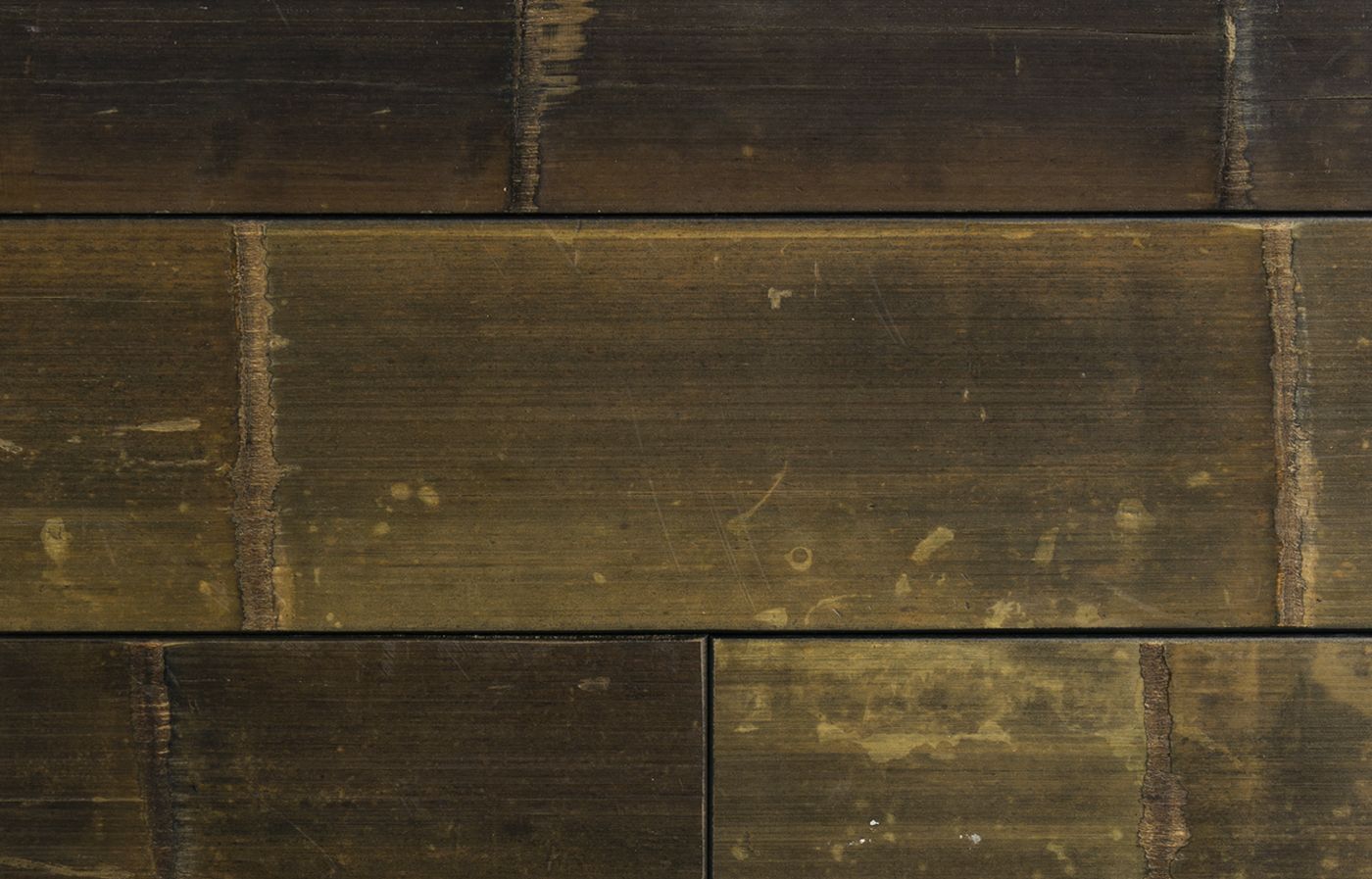 Price: about $10.06 per sq. ft.
Maker: EcoTimber; Dwell Smart
Highlights: Surface layer is made from a single bamboo stalk that's cut, then flattened.
Bronze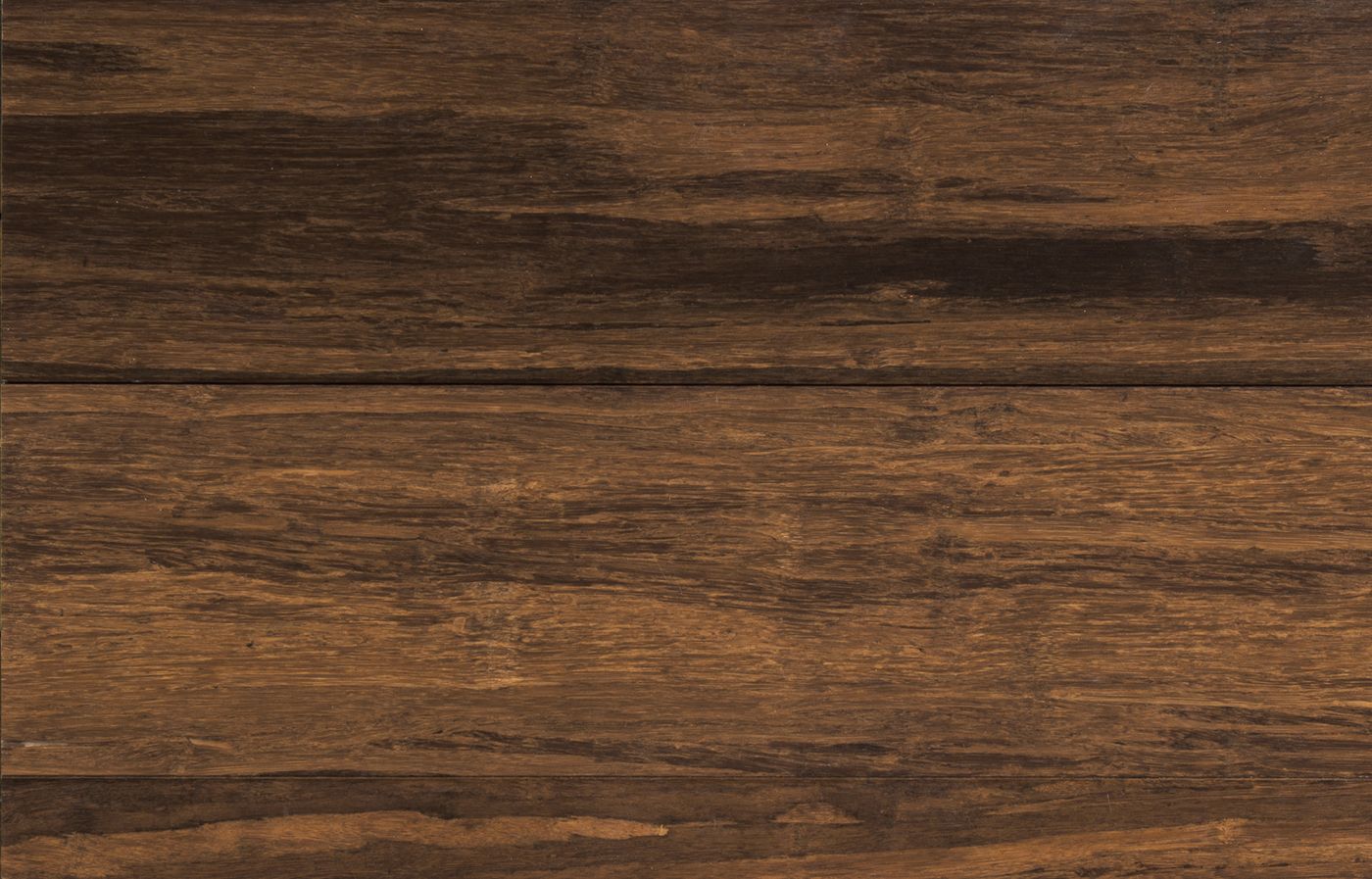 Price: about $4.99 per sq. ft.
Maker: Bellawood; Lumber Liquidators
Highlights: Brown-and-tan strand-woven bamboo suggests a tropical hardwood.
Carbonized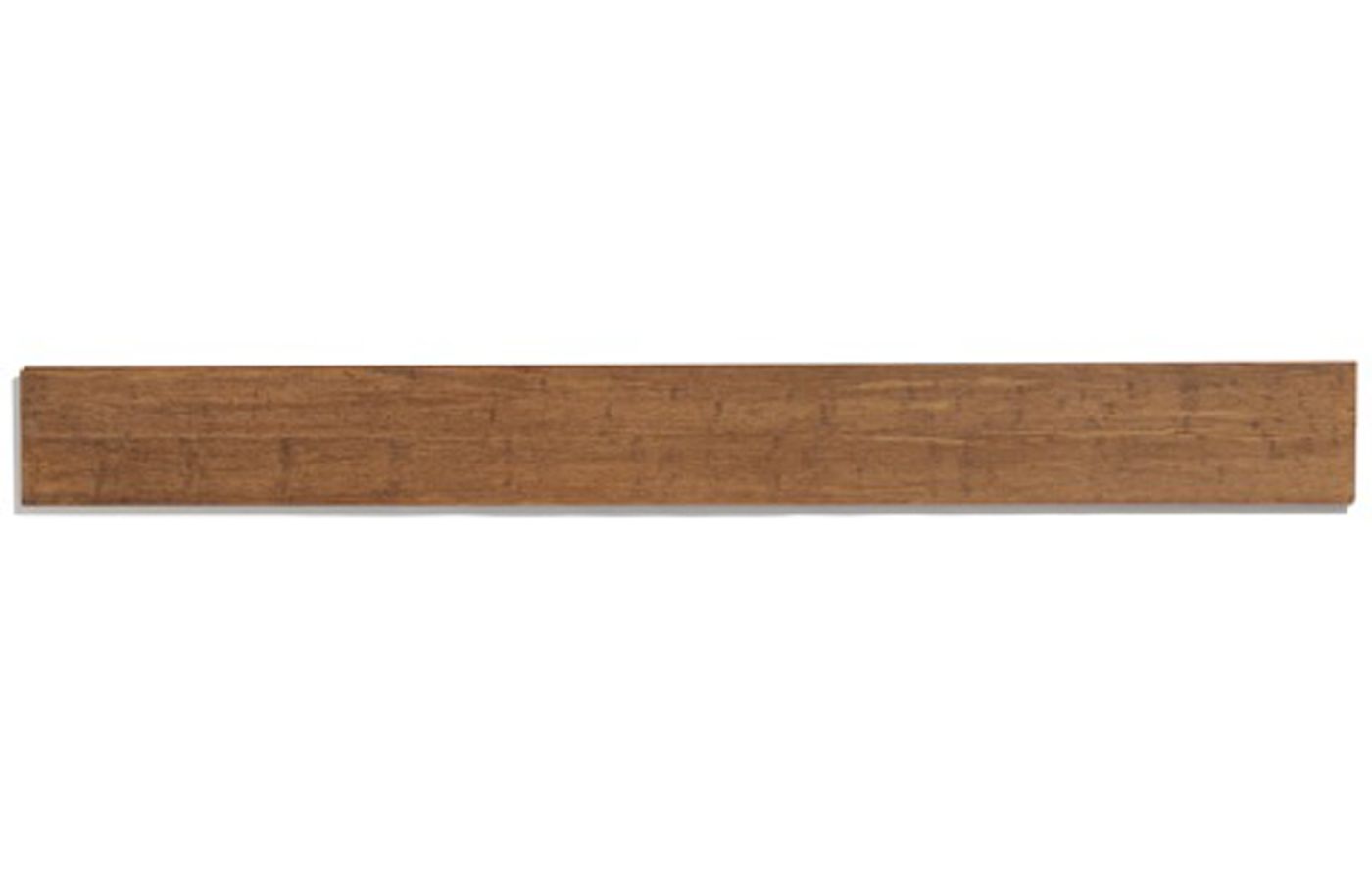 Price: about $4.29 per sq. ft.
Maker: Foundations; Lumber Liquidators
Highlights: Unfinished strand-woven planks allow you to apply a finish of your choice.
Dark Java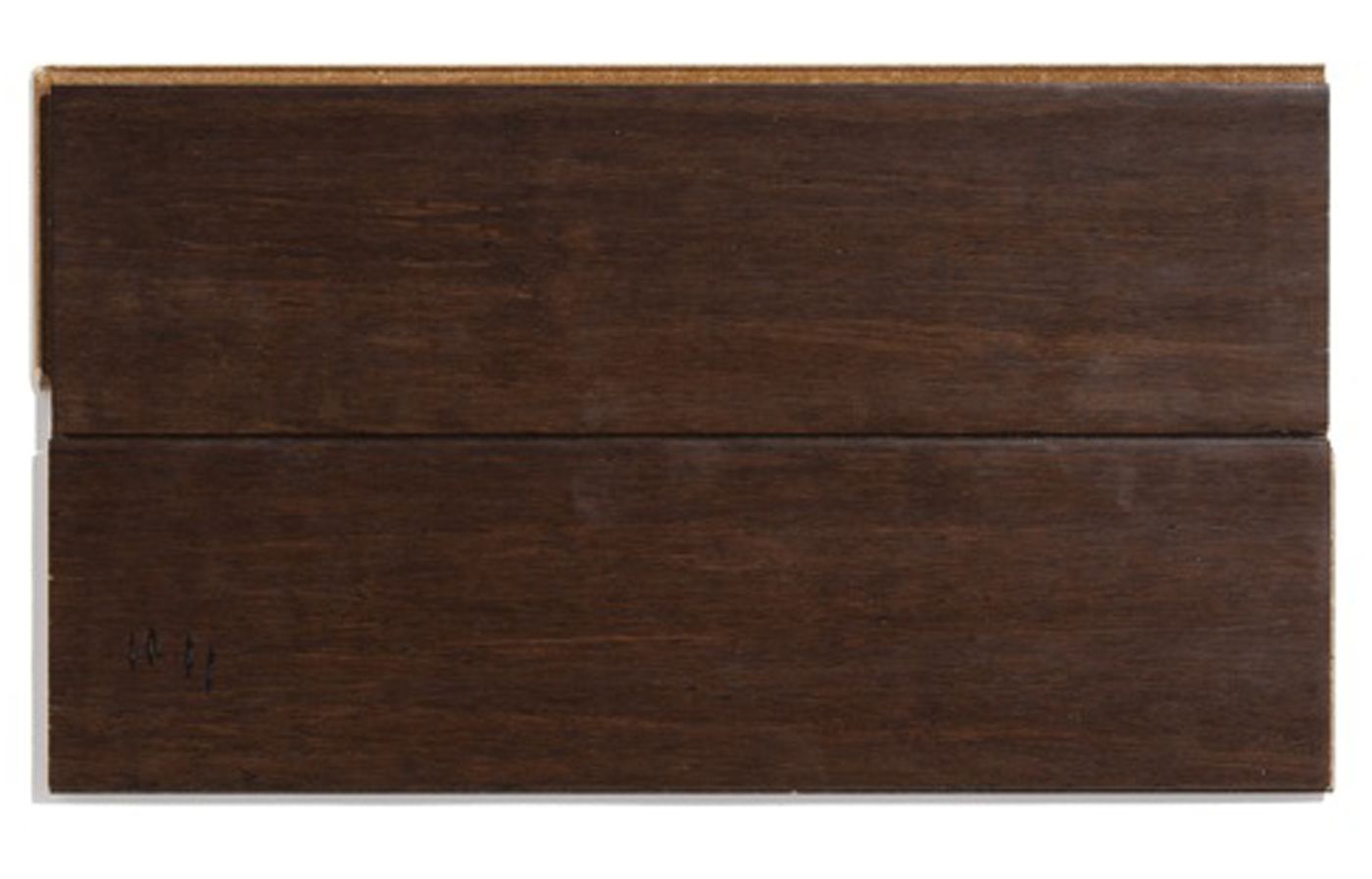 Price: about $3.29 per sq. ft.
Maker: US Floors; Lowe's
Highlights: Its locking installation construction means no glue, staples, or nails are required.
Harvest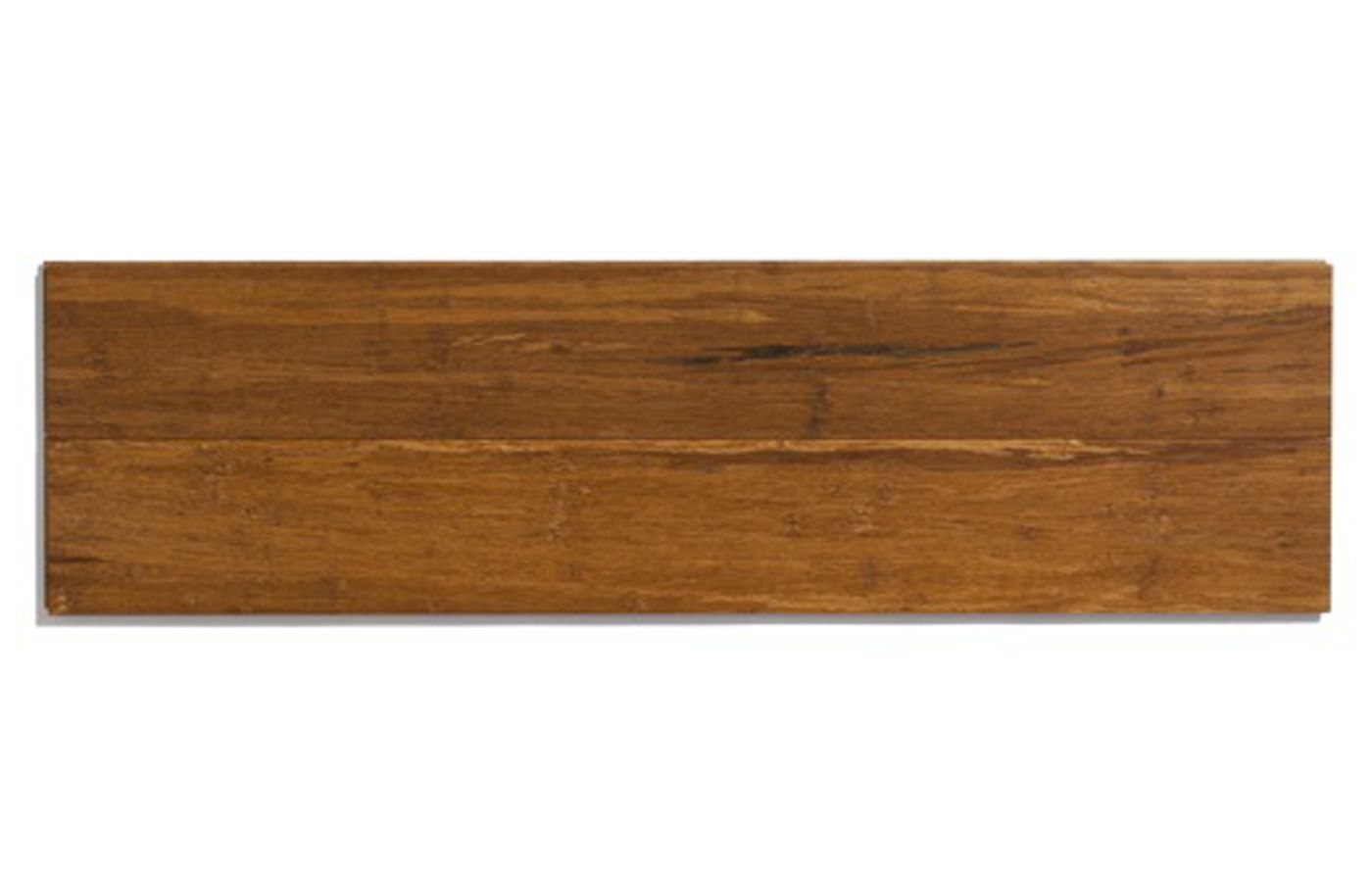 Price: about $2.29 per sq. ft.
Maker: Home Decorators Collection; The Home Depot
Highlights: Strand-woven with grain effect from bamboo nodes.
Style Selections
Sleek Traditional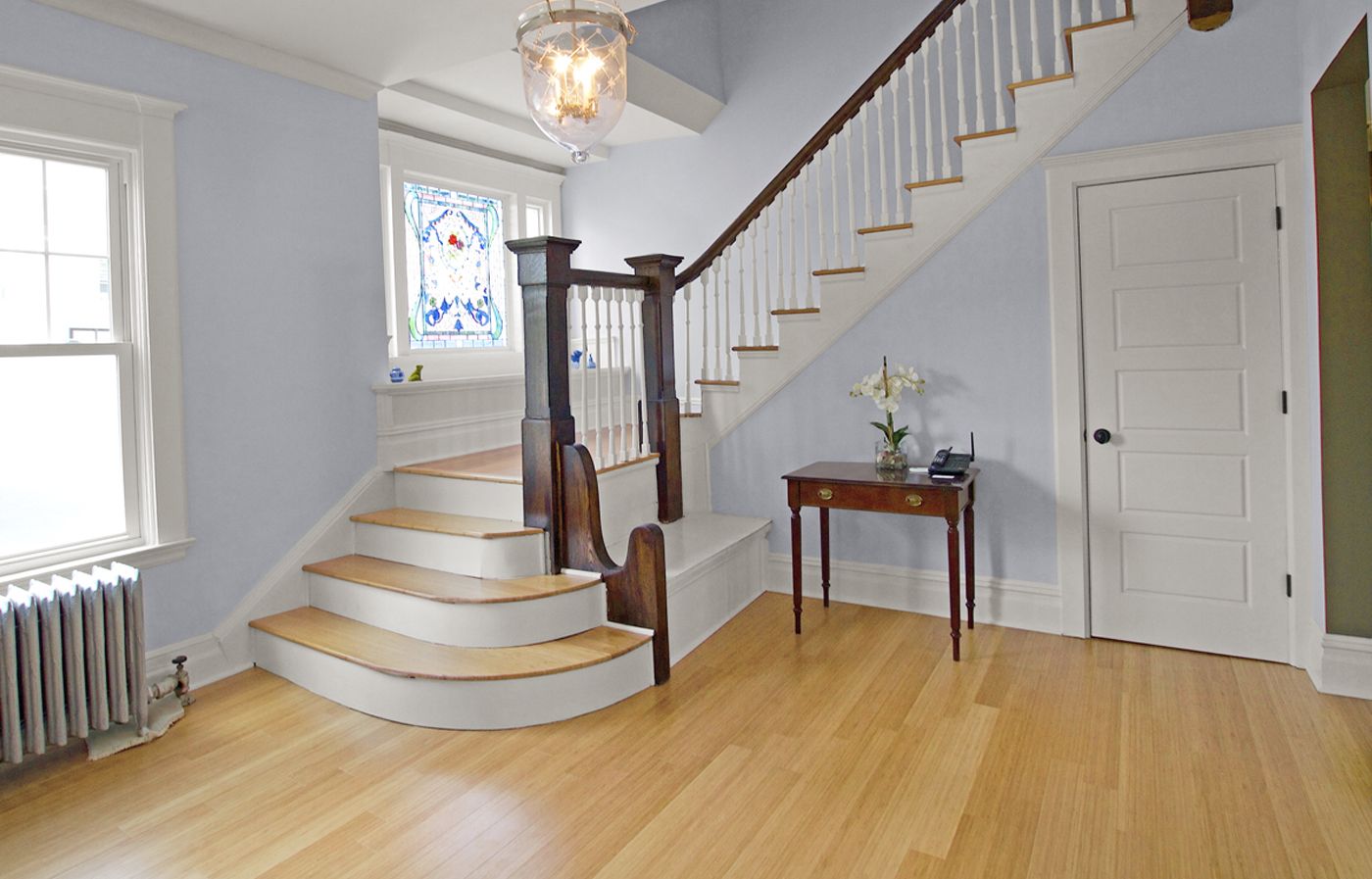 The blond vertical bamboo in this formal entry creates a serene backdrop for pale-blue walls, crisp white trim, and dark stair parts. Plus, it will hold up well to traffic, including high heels.
Shown: Carbonized Vertical Prefinished Bamboo Flooring, about $3.41 per sq. ft.; Lumber Liquidators
Refined Rustic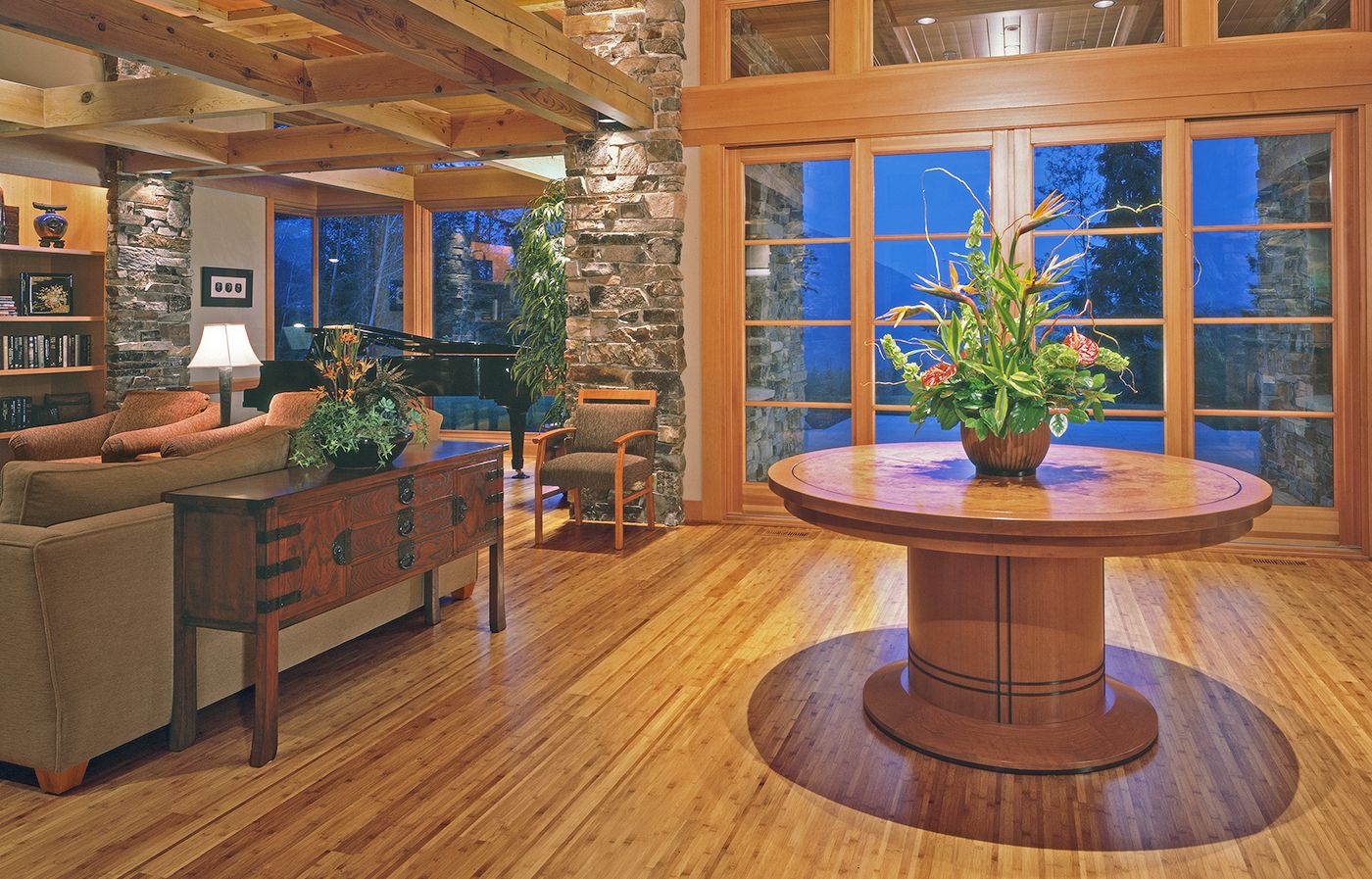 The carbonized horizontal bamboo underfoot has a warm caramel color and a subtly knotty look from the plant's characteristic "knuckles," echoing the room's exposed structural elements.
Shown: Signature Naturals Prefinished in Caramelized, about $5.52 per sq. ft.; Teragren.com for stores.
Mid-Century Modern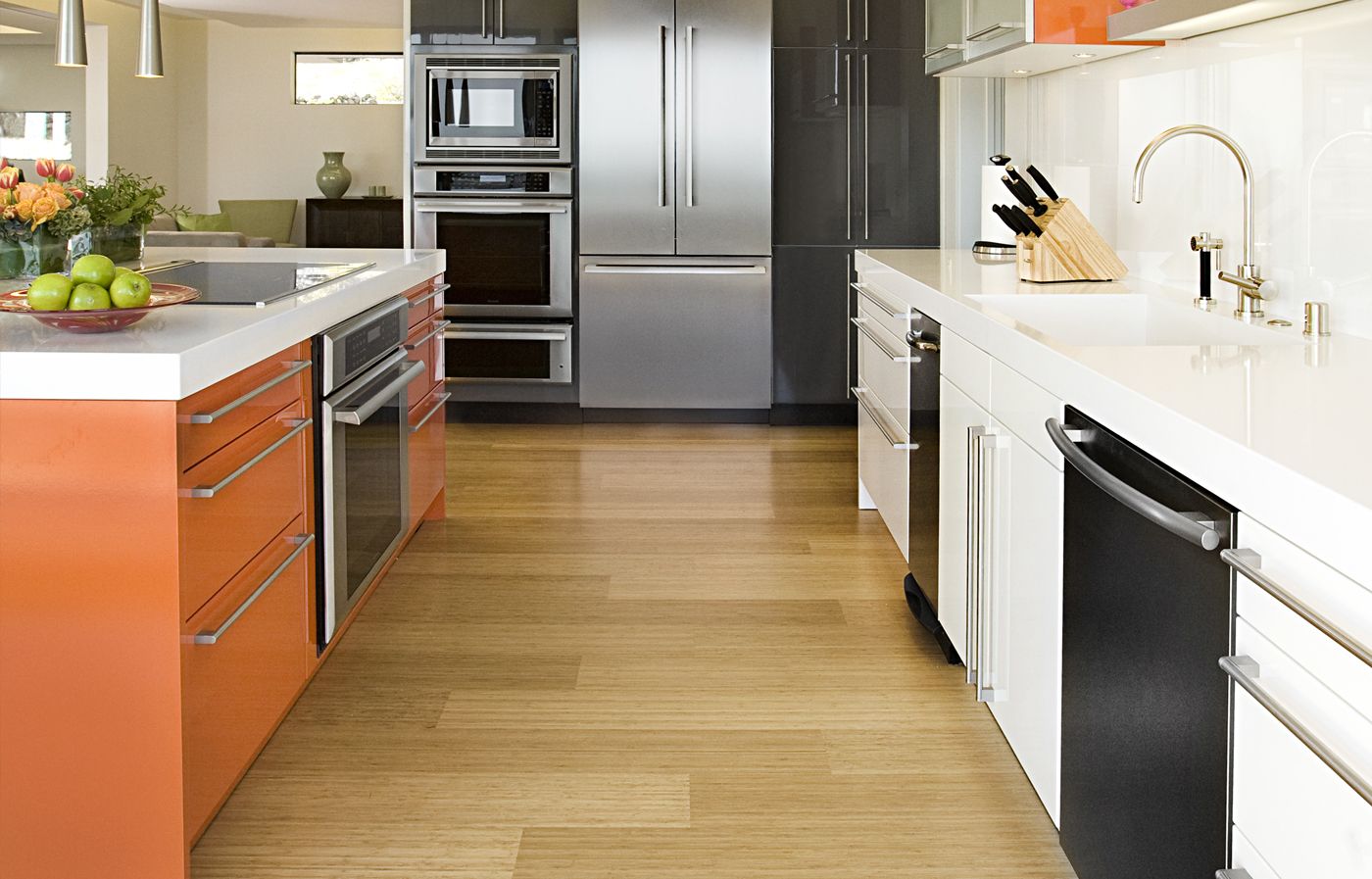 This natural-bamboo floor, with its simple vertical-edge-grain planks, complements the clean lines and broad, flat surfaces of this modern cook station. The floor's pale neutral hue helps unify the bold palette of black, white, and steel, with occasional hits of brilliant orange.
Shown: Edge Grain Prefinished Flooring in Natural, about $4.50 per sq. ft.; plyboo.com for stores.
Charming Cottage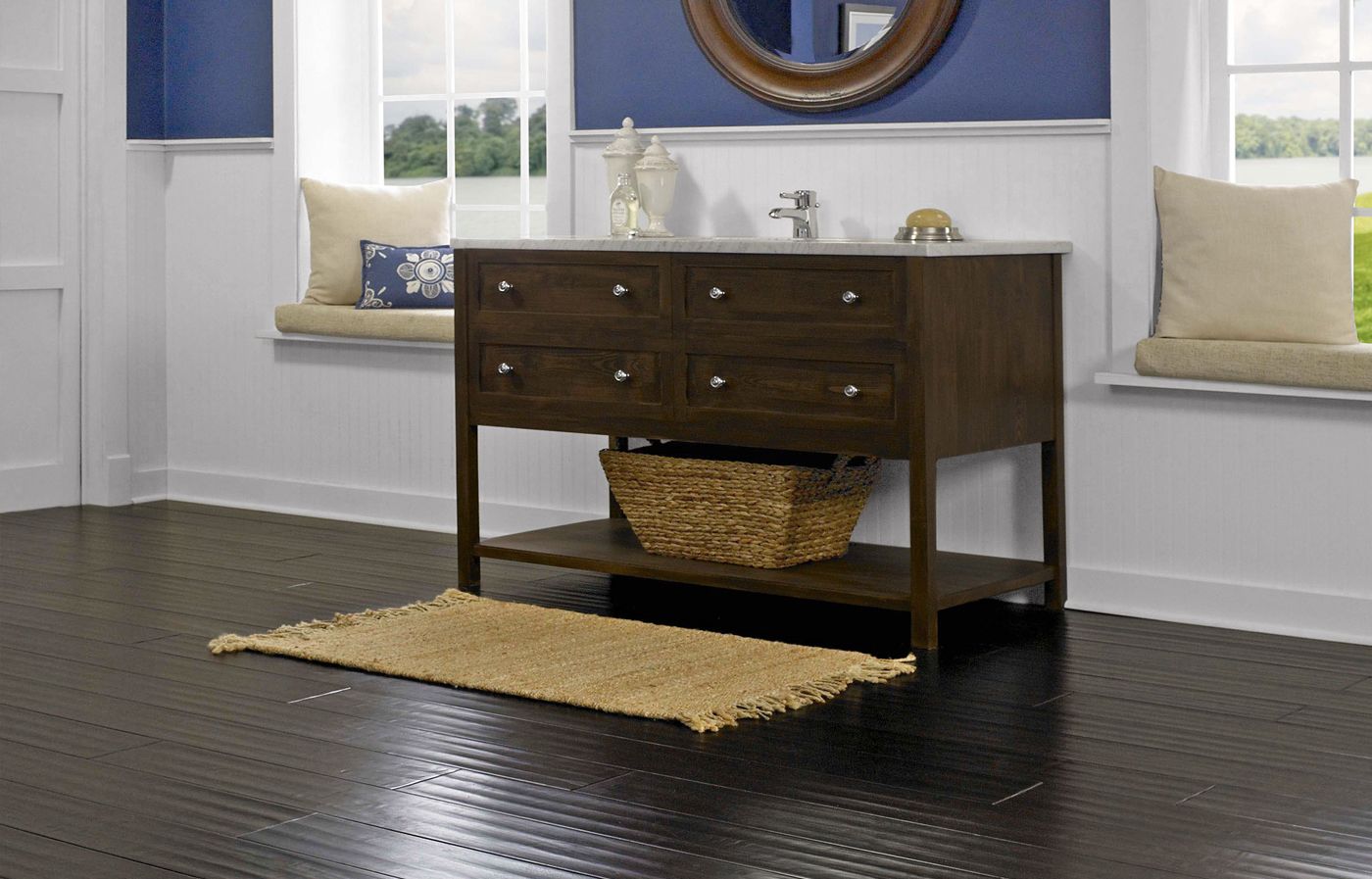 Handsome ceiling beams balance the dark wide-plank, hand-scraped bamboo floor in this fresh-looking blue bath, wrapped with white wainscoting.
Shown: Handscraped Engineered Strand Woven Bamboo in Walnut, about $5.99 per sq. ft.; WellmadeFloors.com for stores