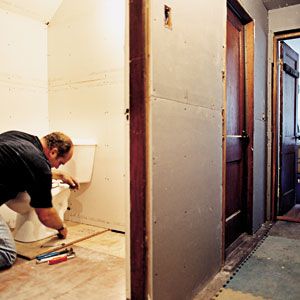 For Christine Flynn, a typical winter morning means wrapping up in a warm robe and thick socks and feeling her way from her attic bedroom along the hall and down the stairs to the lone bathroom in her duplex apartment. But when her place went through a major renovation as a This Old House television project—along with the other apartment in the 1916 house, owned by her niece, Liz Bagley—it was time for an upgrade. A new bathroom that's closer to her master bedroom was always at the top of Chris's wish list. But she worried that her modest budget might not allow her to go where no plumber had gone before.
Chris was right to be concerned. She didn't have much to spend (the combined budget for both apartments was $250,000, which doesn't go very far in the Boston area), and new bathrooms are notoriously pricey. Per square foot, they're the most expensive rooms in the house—plumbing, tilework, cabinets, fixtures, fittings, and lighting can exact a brutal toll on a homeowner's bottom line.
It's costly enough redoing an existing bath, but how do you install one where there's never been one without making increasingly frantic calls to a mortgage broker? By making savvy choices: stealing space where you can find it, placing plumbing where it's least costly to add, and picking fixtures that look good but don't cost as much—or as much to install—as their pricier counterparts. Here's how.
To Find Room, Make Use Of Little-Used Spaces
Seasoned renovators zero in on dead spaces that aren't being used efficiently: attics, closets, pantries, laundry rooms, basements, and garages are typical locations. A side porch—once considered perfect for a sunroom—is even a good choice. The ideal is to find a closet or some other storage space between bedrooms and open the walls, robbing a few feet from each bedroom.
Older houses present the biggest challenge because many weren't built with closets. "That's when it becomes a real dilemma," says Kathy Marshall, the kitchen and bathroom designer responsible for creating Chris Flynn's new master bath. "Sometimes you have no choice but to lose bedroom space or even eliminate a bedroom altogether."
Extra attic space near a top-floor bedroom offers a great solution, as Chris discovered when Marshall suggested taking over unfinished space next to her bedroom, but only if you have high enough ceilings and can avoid messing with joists or rafters. Her attic boasts a generous 14-foot ceiling height, which means TOH general contractor Tom Silva didn't have to cut a hole in the roof and install a dormer to create headroom, as he usually would on such a job.
There is one other way to cheat your home's bones if you don't have enough headroom. "The tough spots are in front of the sink or toilets, where people need to stand," says Amy Hall-McNamara, an architectural designer who works with historic homes in San Francisco. "If you put in a skylight, you can gain up to a foot of space—enough to make you comfortable."
Fitting It In
Carving out a full bath doesn't require much square footage. Here are three ways to do it: 1. Urban rowhouses traditionally have space—or an existing room—between a front and back bedroom, as well as small rooms stacked over the front entry. Both have enough floor area to become a bathroom. 2. Sacrificing closets is a common way to gain a bathroom. In a single-story house, a laundry room next door makes tying into the plumbing a cinch. 3. Second-floor porches make good master bathrooms, as they're often large and attached to the biggest bedroom.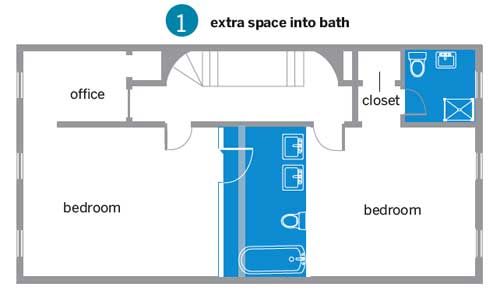 Don't Deconstruct The House To Construct The Plumbing
The guts of a bathroom—the rough-in pipes, the sewer and supply lines—are the things no one ever likes to spend money on. "It's not sexy," says TOH plumbing and heating expert Richard Trethewey. "You can't park it in the driveway." Plumbers can't give you much of a break on rough-in essentials; if you ask, they will politely tell you to focus on selecting more economical fixtures. But you might save by remembering that the shortest distance between two points is a straight line. So when thinking about adding plumbing, try to stack it. Position a new bath one floor above a room with existing lines, such as another bath, a kitchen, or a laundry room. Or on single-story homes, put a new bath back-to-back with one of these rooms.
Chris's new attic bathroom sits above the kitchen and around the corner from her laundry room. This nexus of piping meant she didn't get hit with the cost of running many new lines. But a challenge nevertheless loomed: The floor joists run perpendicular to the way the pipes needed to go, which would normally mean either strengthening each joist with added pieces of plywood on both sides before punching through them, or reframing the whole area under the bathroom to make the joists run the other way. But those options are costly—likely a day or two of extra labor for the contractor, on top of an extra half-day for the plumbers. Tom and Richard's solution: a platform of 2x6s built right over the existing floor to contain the plumbing, with the fixtures installed on top of it.
The 6-inch bump-up was all Richard's crew needed to get in water and waste lines, as well as heating and cooling ducts. The trade-off is that Chris has to go up a step to enter the bathroom. Still, she doesn't mind. "It sounds crazy to say you're excited about a bathroom," she says, "but I'm way over the moon." Placing a new bath above existing plumbing is a neat little strategy, says Richard, but he warns that there's a right and wrong way to do it. "Stacking is fine if everything is properly vented," he says. "But you can't just cut a drain into existing plumbing above a fixture on a lower floor. You have to cut in at the lower floor or even the basement so the lower fixtures stay vented."
Richard also worries that homeowners who place baths near existing plumbing in order to save a few bucks may end up compromising needlessly in terms of function and aesthetics. John McCaleb, who heads up a design/build firm in Tucson, Arizona, agrees, pointing out that plumbing bids vary widely by region. "It's not a given that you will save money," he says. "So ask around. Some plumbers will charge $500 to plumb a toilet regardless of where it is."
Choose Budget-Friendly Fixures—Or One That Makes A Big Impact
Fixtures vary insanely in price. "You can pick out a $250 toilet or a $4000 one," says Tom. "The tile, the surround, the tub—all those things make a huge difference in terms of cost."
Additionally, fixtures and finished have built-in consequences. Before you buy, for example, it pays to think about how much a toilet and bathtub will weigh once they are filled with water. Tile looks great, but it's heavy too. Why should that matter? Because if your existing floor can't support the weight of these new additions, the entire room or floor may require costly carpentry to keep from sagging. Suddenly, a light fiberglass tub makes more sense than nicer-to-the-touch cast iron.
You might well find that marble tile is cheaper than ceramic at the home center, but it can ultimately cost you 20 to 30 oercent more for materials to compensate for the extra waste that's caused by natural irregularities in the stone. Even the way it goes down can make a difference. "I've found that it costs more to lay tiles diagonally, because it requires more material," says designer McNamara, "but that laying them in a brick pattern does not."
To lower costs, consider no-brainers: prefab fiberglass shower/tub enclosures mean no tilework is needed; stock vanities provide built-in sinks without a custom-built price; light/fan combos shed the cost of one fixture. Remember that you can customize with paint and upgrade lights and hardware later on.
When Seattle husband-and-wife architects Antonio Pares and Laura Van Amburgh lived in an 1100-square-foot house in Santa Fe, they gave their small master bath interest by eschewing tile in favor of pool plaster, a waterproof material that comes in different colors and is hand-troweled to resemble a fine-grain stucco. They opted to include a shower but no tub to open up the space and fitted out the shower stall with a slate floor and a fixed sheet of glass to block spray. While shower-only baths leave some people cold, this stylish treatment rendered objections moot. "You have to think about your priorities," says Van Amburgh. "If you already have one bath with a tub, why do you need another?"
Van Amburgh also encourages clients to play up a single feature in the room. "I tell them to pick one piece that's special," she says. In one client's house, she and Pares cut a hole in an old table and installed a sink for an offbeat vanity. In another, they mounted a glass basin on top of a countertop fashioned out of a single plate of steel. "When people walk in, it's the sink that catches their eye," she says.
The couple's design philosophy is all about personalizing a space for the way the homeowners live, not just choosing what has good resale value. For Chris Flynn, that means splurging on a border of smooth river rock around her new tub. "Along with the soothing earth tones in the room, it will create the calm spa I always wanted," she says. "I envision low lights and candles-my perfect relaxation retreat.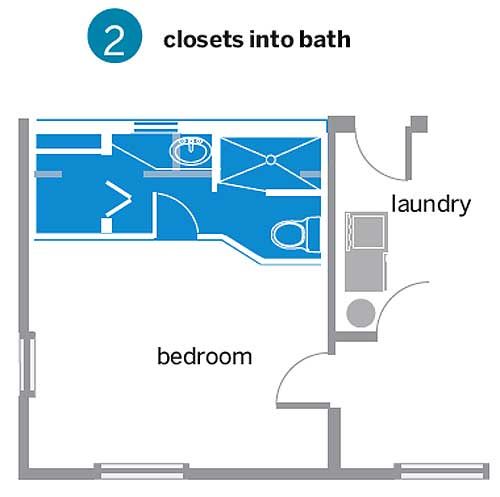 Where To Find It
Kitchen and bath designer:
Kathy Marshall, CKD
KMarshall Design Inc.
Hamilton, MA
978-468-7199
Thanks to:
Amy Hall McNamara
Gordon Hall & Associates Inc.
San Francisco, CA
Antonio Pares and Laura Van Amburgh
Seattle, WA
206-829-8464
John McCaleb
McCaleb Construction Inc.
Tucson, AZ
520-323-2100