Exterior Front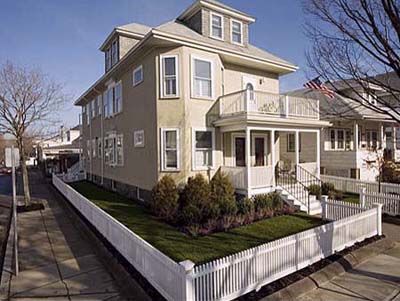 Christine Flynn and Liz Bagley, aunt and niece, bought this two-family house from the rest of their clan—the house has been in the family since it was built in 1916. They've turned it from a tired and dated old lady into a fresh pair of urban apartments, with Liz living on the first floor and Chris at home on the second and third floors.
The outside of the house looks almost brand new—the ivy that was strangling the house came down, the crumbling stucco was repaired and repainted, new asphalt replaced the worn-out slate roof, the porches were reborn, a new lawn was laid, and a perfect white picket fence popped up in place of the old scraggly privet hedge.
Exterior Back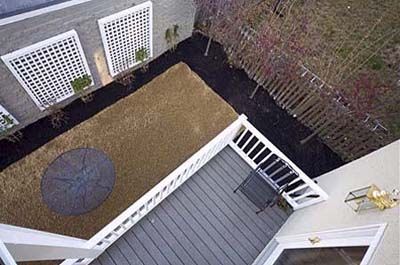 The tiny backyard has gone from a sorry state to a serene oasis. From the upstairs porch at Chris's apartment, you can see Liz's brand-new deck—and a yard decorated with trellises for the climbing hydrangea and autumn clematis, three crab apple trees, and a swath of pea stone that will hold up to foot traffic when Liz entertains.
First Floor Living Room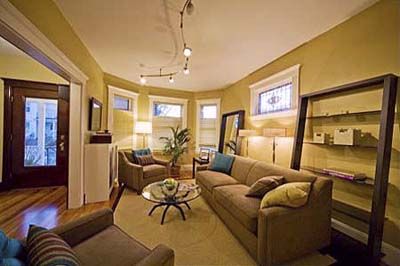 Liz's living room didn't change structurally, but it did get a new ceiling, insulation in the walls, and a restored stained-glass window. Visible on the left is one of the two original front doors to the house, found in the basement and refinished by Liz, Chris, and TOH general contractor Tom Silva.
First Floor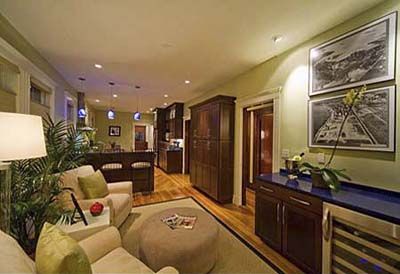 Liz wanted her apartment to feel like an urban loft, so Tom and his crew removed a wall that once divided the dining room from the old kitchen, creating a wide-open space that allows Liz to stand in her kitchen and see clear through to the front windows (and out to the water a couple of blocks beyond).
First Floor Kitchen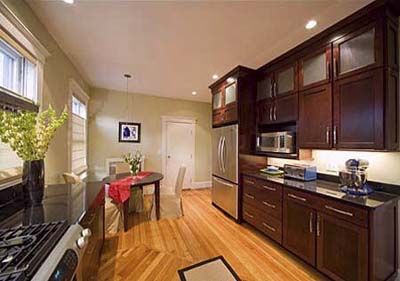 Liz and Chris's kitchen and bath designer, Kathy Marshall, chose dark-wood cabinets for a contemporary feel downstairs. Liz splurged on granite countertops and stainless-steel appliances to enhance the look. But the floors are the original fir, dug up from under a layer of vinyl tile. Tom created an interesting pattern with the boards to avoid having to weave in patches where walls had been.
First Floor Lounge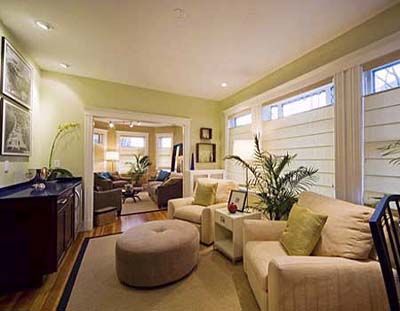 In the space that used to be a dining room, Liz has created a lounge area, with a wine cooler and bar, and comfy furniture for reclining guests.
First Floor Sun Room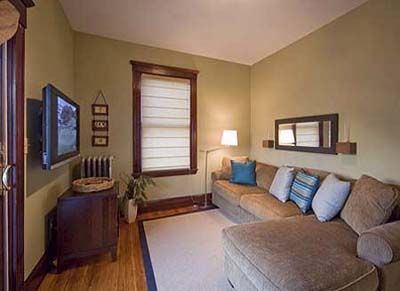 Liz converted the back bedroom of her apartment into a TV room, with sliding doors that lead to her new deck.
First Floor Laundry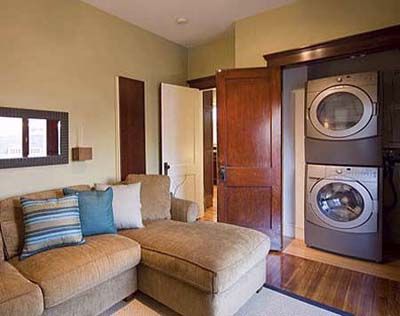 Liz's sun room/media room also has a laundry center, with the washer and dryer hidden behind closet doors, and a decorative wood panel in the wall behind the sofa that opens to reveal a built-in ironing board.
First Floor Master Bedroom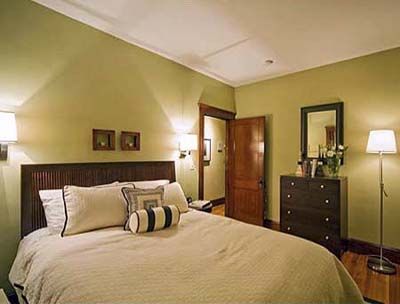 The two remaining bedrooms in Liz's apartment received only cosmetic upgrades: a new coat of finish on the original wood trim, contemporary lighting, and some colorful paint to liven them up.
First Floor Bathroom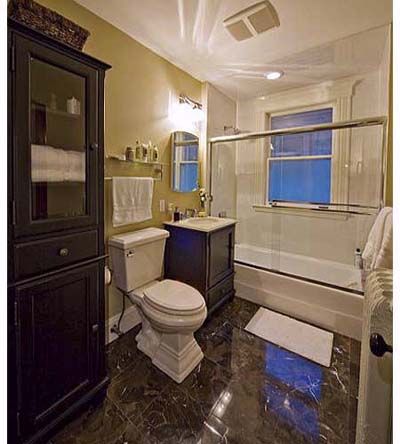 Liz's modern bathroom looks lush but was created with many affordable off-the-shelf items, including the tile, the cabinet, and the suite of fixtures.
Second Floor Living Room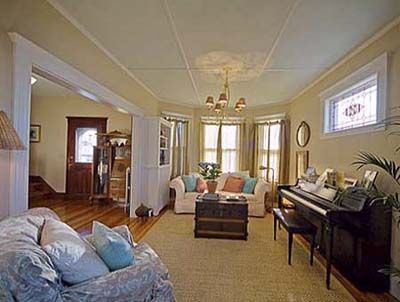 In Chris's two-floor apartment, the layout in many rooms remained intact, with plaster patching and new paint to give them a fresh look.
Second Floor Landing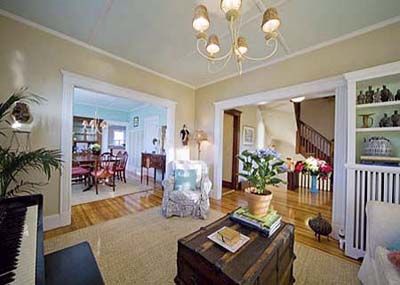 From Chris's living room, you can see the entry landing one flight up from the street (on the right) and the dining room, the highlight of which is the original leaded-glass china cabinet built into the far wall.
Second Floor Dining Room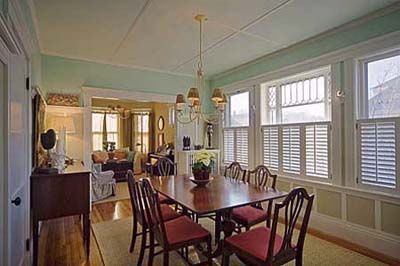 Chris wanted her apartment (where she had grown up, moved out, and returned) to be more traditional, keeping her formal dining room for holiday entertaining.
Second Floor Kitchen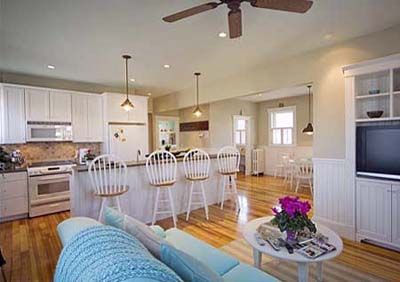 For her kitchen, however, Chris wanted a more open and inviting space. So Tom knocked out the walls to two of her five bedrooms and created a large room with lots of seating, so Chris won't feel like she's stuck alone when preparing for parties. The style of the room, with its white beadboard cabinets, is meant to evoke a "cottage by the sea."
Second Floor Breakfast Area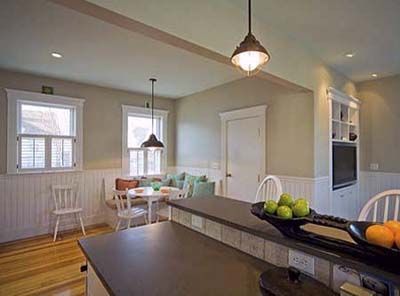 Chris joins the ranks of the lucky homeowners who can boast owning an original creation by TOH master carpenter Norm Abram. Her corner banquette, where she can eat casual meals alone or with friends, was designed and built by Norm.
Second Floor Pantry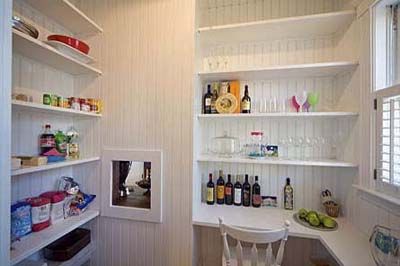 Repurposing a small room from the old kitchen that had held the refrigerator, Tom created an open shelf pantry area that blends in with the rest of the kitchen with its beadboard paneling. The pass-through leads to the dining room through the china cabinet, a feature saved from the original house.
Second Floor Bathroom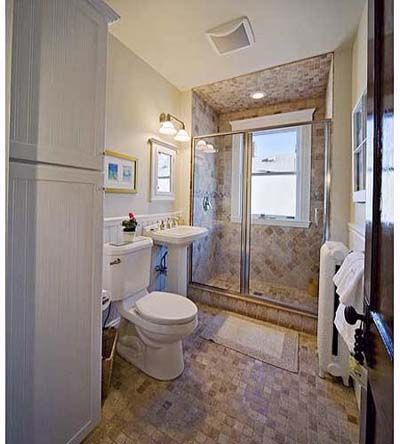 Chris's bathroom is almost identical in layout to Liz's, one floor below. Both have windows in the shower, which Tom helped waterproof with exterior paint and PVC trim. The medicine cabinet is salvaged from the old bathroom, revitalized by Tom with a coat of paint and new shelves inside.
Third Floor Landing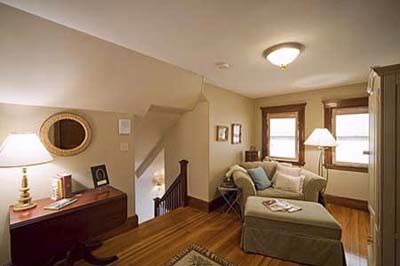 Chris's top floor has some cozy rooms tucked under the roof, including this sitting area at the top of the stairs. Nothing was added to this space save a coat of paint.
Third Floor Office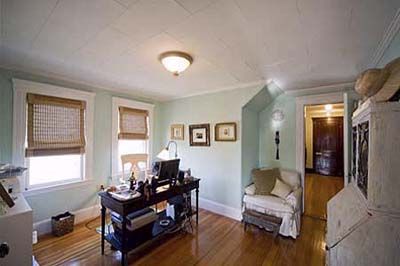 From Chris's home office, you can see into a new hallway that takes over formerly unfinished attic space. Tom outfitted the space with a new full bath and laundry area designed by Kathy Marshall.
Third Floor Bathroom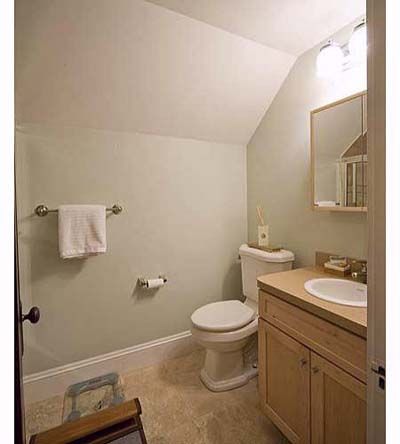 Chris used to have to make her way down the stairs from her top-floor master bedroom to the only bathroom in the apartment. Now a new full bath next door to her bedroom saves her the trip.