All About Entry Sets
Consider the front door the welcoming face of your home and the entry set its hearty handshake. This lock-and-trim hardware is a small detail that makes a big first impression.
An entry set is also your home's guardian, allowing you to key a dead bolt into place with a satisfying snap. This familiar sound, which precedes our every trip across the threshold, reassures us that everything—and everyone—inside is safe and sound. For added security and convenience, some newer locks don't even need keys; they're opened with a touch pad or a smartphone, such as a BlackBerry.
While the lock is all business, the trim that surrounds it is about pleasing our senses; how it feels matters as much as how it looks. No wonder that entry set manufacturers offer so many knob, lever, thumb latch, and escutcheon options, as well as a slew of different metals and finishes. Choose from oil-rubbed cast bronze, brushed stainless steel, and luminous forged brass coated with a high-tech finish so that it will never tarnish. Some companies even sell entry set parts a la carte so that you can customize the door hardware you've got for a fraction of the cost of buying new.
In this gallery, TOH explains the different trim and lock types, what to look for when shopping for a new set or upgrading an old one, and which style is right for your house. Because dressing up your entryway isn't just for a winning first impression—it's also about helping to form a lasting one that both you and your guests will remember long after closing the door.
Pictured: This forged-brass entry set with full-length escutcheon exudes strength. Ribbon-and-reed detailing, popular in the early 1800s, adds period style. Ribbon-and-reed handleset, about $525 (tubular only); Hickory Hardware
Anatomy of an Entry Set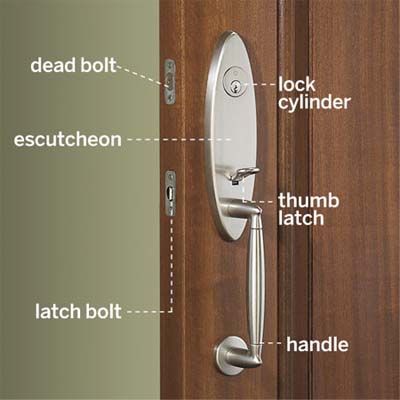 Dead Bolt
For maximum security, should extend 1 inch from door's edge.
Escutcheon
Protects door from key scratches and hides holes drilled for lock and thumb latch.
Latch Bolt
Holds door securely against stop.
Lock Cylinder
Accepts key, which operates dead bolt.
Thumb Latch
Retracts latch bolt.
Handle
Vitals
What types of locks are there? A tubular lock has its latch bolt and dead bolt in two separate holes. In a mortise lock, both bolts are encased in a steel box that fits in one hole.
What Do They Cost?
Tubular thumb latch sets start at about $100; mortises, about $200. Custom sets from specialty shops can easily surpass about $1,000.
How Long Do They Last?
Most entry sets come with lifetime warranties on their locks; they're covered for as long as you own your house. Coverage on the finish ranges from one year to a lifetime.
DIY or Hire a Pro?
Upgrading the entry set on an existing door is fairly easy, as long as the new lock is the same type as the old one. In a new slab door, drilling the holes for a tubular lock is a task most DIYers can handle. Cutting the slot for a mortise lock is more difficult; in this case, hire a locksmith to rout the mortise and install the lock.
Save or Splurge?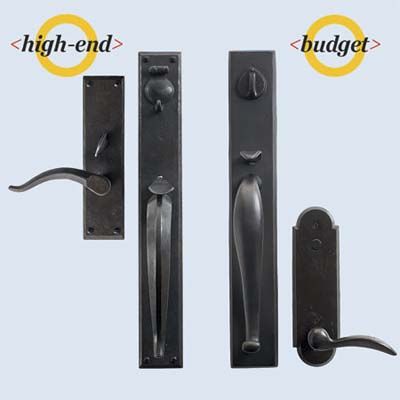 Both of these classic thumb latch handlesets are virtually the same size and hide your lock under a peekaboo keyhole cover. A closer look reveals why one is so much pricier than the other
High End Thumb Latch Handleset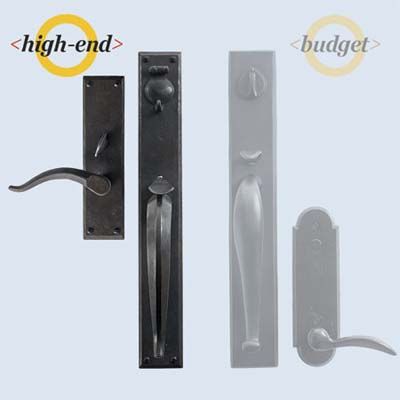 Hardware Renaissance Verona Thumb Latch With Interior Lever
Size: 2½ x 18½ inches
Warranty: Lifetime on construction
Material: Hand-forged steel; each piece has a unique pattern of hammer marks that add to its old-time charm.
Details: The hand-wrought pigtail on the keyhole cover would be difficult to replicate through casting.
Design: The rough, handcrafted appearance is well suited to Tudor or Spanish Colonial Revival houses.
Finish: Hot wax brushed on at the factory darkens the steel and protects it from rust.
Fasteners: Slotted oval-head screws are inspired by old European wrought-iron hardware.
Bottom Line: This one-of-a-kind piece shows off its handworked details. An occasional waxing will keep it looking good for a lifetime.
Price: about $2,105 (mortise only) from Hardware Renaissance
Budget Thumb Latch Handleset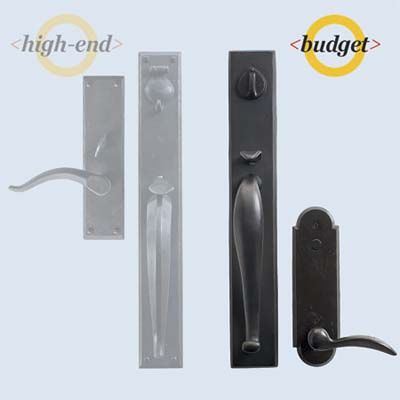 Emtek Rectangular Full-Length Handleset With Interior Lever
Size: 2¾ x 19 inches
Warranty: Five years on construction
Material: Solid, sand-cast bronze; the escutcheon is covered with scratch marks left by a grinder.
Details: The casting process creates smooth, comfortable curves and crisp edges, time after time.
Design: This smooth, graceful handle shape looks right at home on Colonial-style doors with four to six panels.
Finish: An oxidizing treatment darkens the metal, but this uncoated "living finish" will show bright brassy tones in spots that are rubbed repeatedly.
Fasteners: The Phillips-head screws holding the escutcheon to the door are visible only from the inside.
Bottom Line: This sturdy entry set trim has a classic styling that won't grow old. And its price can't be beat, if you're looking for low-maintenance bronze.
Price: about $275 (mortise), about $201 (tubular) available from Cape Cod Brass & Security Hardware
Tubular vs. Mortise: Tubular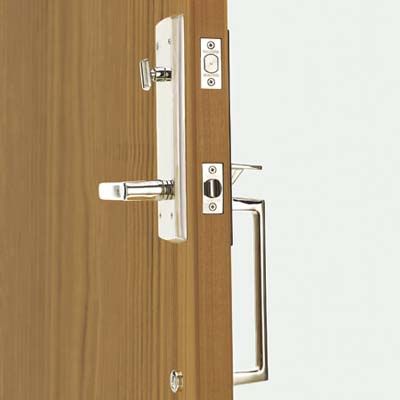 Pros: Easily installed using a spade bit and hole saw; readily available at home centers.
Cons: Trim styles and material options are limited; not as solidly constructed as mortise locks.
Shown: Soho trim in polished chrome; tubular lockset, about $570 from Baldwin
Tubular vs. Mortise: Mortise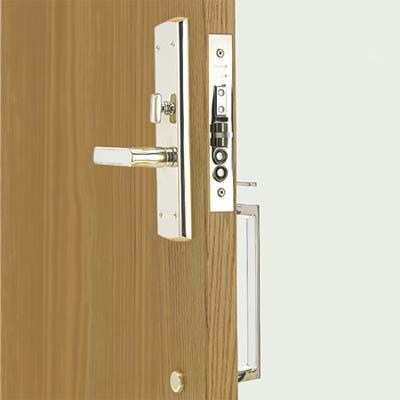 Pros: Very durable; locks have more features, and trim is easy to replace or upgrade because, unlike tubular locks, latch and lock fit in one hole.
Cons: Costs about 50 percent more than tubular; usually requires a locksmith to install. A special-order item; allow up to 10 days for delivery.
Shown: Soho trim in polished chrome; mortise, about $860 from Baldwin
How Strong is Your Lock?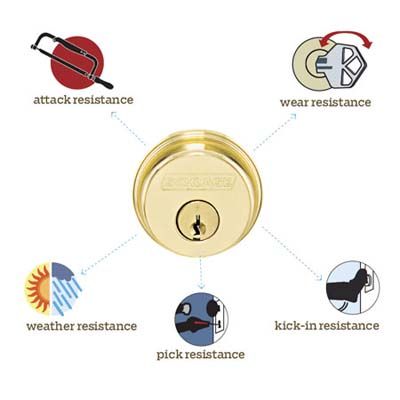 The security of a tubular entry set depends on its dead bolt, but not all bolts are of the same caliber. They're graded 1 (the highest), 2, or 3 based on how well they withstand a battery of independent tests, spelled out below.
Attack Resistance
In one test, the dead bolt is fed into a metal-cutting band-saw blade. Grade 1 and Grade 2 locks can survive this treatment, as well as drilling, punching, pulling, and prying, for 5 minutes.
Weather Resistance
All graded locks have a finish that remains intact after being assaulted with abrasives, humidity, UV light,
and salt spray.
Wear Resistance
To simulate how well a lock stands up to wear, a machine repeatedly turns the key, throwing the bolt and then retracting it. Grade 3 locks can go just 100,000 cycles without failure; Grade 1: 250,000.
Pick Resistance
Each grade is strong enough to thwart a professional lockpicker for 10 minutes.
Kick-in Resistance
An assembled door is rammed with increasing force until one component—bolt, strike plate, or screws—fails. Grade 1 locks can take a total of eight such blows, including two of 150 foot-pounds each.
Preventing Break-Ins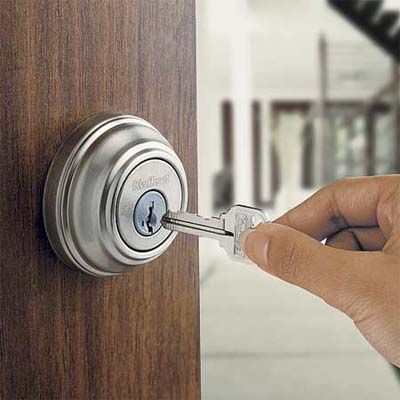 Lock bumping is a fast and unobtrusive way for thieves to open a door without leaving a sign of forced entry. All it takes is a modified key that fits in the lock slot. Tapping the key with a hammer "bumps" the locking pins out of the way so that the cylinder can turn and retract the bolt. To thwart the bad guys, manufacturers have developed bump-resistant dead bolts, like Kwikset's SmartKey with BumpGuard (shown), about $30.
Caring for Your Entry Set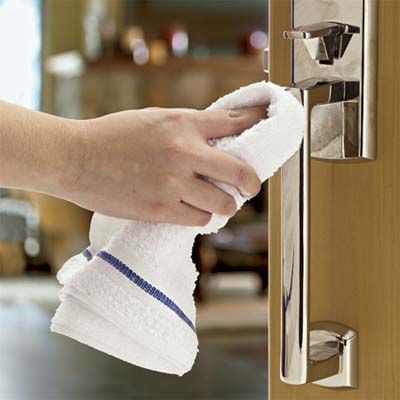 Sticky Lock
Squeeze powdered graphite, available at hardware stores, into the key slot, then turn the dead bolt with a key to distribute the powder. (Do this every couple of years to prevent sticking.) Steer clear of spray lubricants, such as WD-40, which collect dust.
Stubborn Latch Bolt
Latches also need occasional lubrication. A squirt of silicone or WD-40 on the extended latch is just what the locksmith ordered.
Splotchy Lacquer
When lacquer starts to peel or wear in spots, remove all the finish with a methylene-chloride paint stripper. Be sure to protect your skin and adjacent door surfaces, and provide plenty of fresh air. Wipe down the clean metal with ammonia, then care for it as recommended below.
Tarnished Metal
To keep it shiny, rub on jeweler's rouge, such as Flitz (about $6; doitbest.com). Keep it away from the keyhole so that it doesn't clog the lock. For a soft patina that fits nicely with an old house, buff on a clear, protective layer of car wax, like Turtle Wax, every three months or so. Waxing will also preserve lacquer that's still in good shape. Buffing on a coat of wax every three months will keep a lacquered finish, like the one on this chrome Baldwin entry set, looking like new.
Lockset Lingo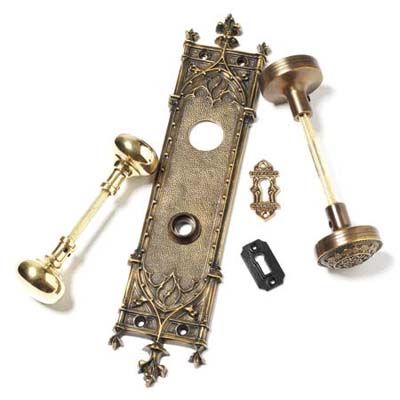 You can upgrade an entry set in less than an hour with new handles or escutcheons. But before you hit the specialty shops or websites for replacement parts, be sure you take all the right measurements. Here's a look at what you need to know.
Backset
The distance between the edge of the door stile and the center of the hole drilled for the lock cylinder. Your replacement escutcheon will center on this hole, so make sure it's not too wide. When the door is closed, there should be no less than ¼ inch between the doorstop and the escutcheon.
Center-to-Center
The distance from the center of the hole drilled for the lock cylinder to the center of the knob hole. This corresponds to the location of the holes in replacement escutcheons.
Right- or Left-Hand Swing
Particularly important when installing levers. To identify a door's "handedness," stand outside and note which side the hinges are attached to. For example, a right-hand door is hinged on the right and swings to the right.
Spindle
The metal rod on which knobs and levers are mounted. You need to know the spindle's width and thread count to make sure new hardware is compatible with it. Spindle length is determined by the thickness of your door stile. If a spindle is too short, the knobs can't connect; too long, and the knobs won't sit tight against the escutcheons.
Hole Size
An escutcheon should be wide enough to hide the holes in the door. Before you buy a narrower escutcheon, remove the one you have and see how big the holes are.
Pictured: Classic door trim, such as these knobs and keyhole covers and this Gothic-style escutcheon, all from House of Antique Hardware, adds vintage appeal to any door.