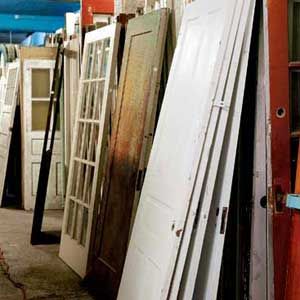 Introduction
For centuries, doors have marked our comings and goings, shut out storms, and guarded against intruders. They've also provided a handsome focal point, whether placed inside a house or out, with raised wood panels, arched tops, or leaded-glass insets.
Most doors sold at home centers today are little more than utilitarian molded metal or plain wooden slabs; special-order models from lumberyards offer better design and craftsmanship. But for doors with a timeworn patina or made from old-growth wood—much of which isn't logged anymore—visit an architectural salvage yard. There you'll find models to suit a range of personal tastes, house styles, and uses both practical and creative. A matched lot of six-panel interior doors rescued from a demolished 1760s house, for instance, would be period-appropriate replacements for the hollow-cores in a new Colonial Revival. And a 19th-century barn door with wrought-iron strap hinges could be repurposed as a rustic garden gate between stone pillars.
New doors come in standard sizes, but old ones were often made-to-order by a finish carpenter. So measure your doorway before visiting a salvage yard. Calculate the distance from the inside of one side jamb to the inside of the other, and from the threshold to the header. Then subtract 1/4 inch from each measurement to provide clearance for the door swing.
It is often possible to cut down an old door by an inch or so on the top, bottom, or sides, taking care not to ruin the original proportions. If the door is too small, you may be able to enlarge it by attaching wood sections, but the whole thing will have to be painted to cover the patch. Enlarging a stained door is a job best left to a professional. Bob Reed, owner of the Stripping Workshop, a wood repair and refinishing business in Washington, D.C., uses wood of the same type and vintage as the original door for nearly invisible alterations. Reed, who layers various stains to achieve the aged look of the original finish, goes as far as hand painting tiny grain lines on the wood patch to replicate those on the rest of the door.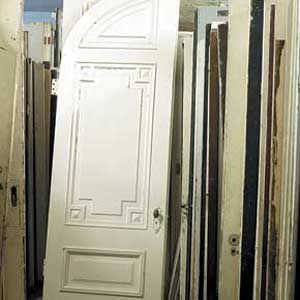 Fitting Old Doors
Look out for doorknob holes that don't match those in the jamb where you plan to install it. Old doors were typically cut for mortise locks, while most new jambs are bored for a cylinder lockset, says Steven Miller, co-owner of Hippo Hardware & Trading, a Portland, Oregon, salvage yard that stocks old doors and the period hardware to go with them. Miller also asks customers which direction the door should swing and whether it will open toward them or away from them, to make sure the existing hinge mortises are in the right place. "You need to know whether you've got a left- or a right-handed swing, which refers to where the hinges are located, not where the doorknob is," he says.
Finish is also a factor when buying an old door. Stained ones typically don't require stripping, unlike doors coated with layers of peeling lead paint. Many of Miller's customers prefer the look of stain, which deepens in color with age. The downside is that these doors tend to be more expensive, ranging from $75 for a single-panel interior model to $1,000 or more for an oak Arts and Crafts?style exterior door inset with leaded glass. Painted fir doors start at about $25 and go as high as $800 for a pine Georgian-style, nine-panel front door in good condition.
If you like the look of an old door but don't have a jamb to hang it in, use it as a tabletop, a wall-mounted headboard, or group it with two others to create a hinged folding screen. In the kitchen, turn a door on its side as a decorative panel for the front of a breakfast bar. You can even hang doors horizontally on the wall for an alternative to traditional wainscoting, says Miller. He achieves a uniform look by using doors that are the same style, height, and width, finishing the vertical seams with wood trim and topping the panels with a chair rail. Depending on how high you want the wainscoting (32 to 48 inches is standard), you may want to install a tall baseboard for the doors to rest on.
Whether creatively repurposed or used as originally intended, old doors can improve the look and feel of a house. Just remember to match them to their surroundings if they're going to become part of the architecture. "I like to think of a door in a house like a picture in a frame," says Miller. "You wouldn't want to put a simple picture in a very ornate frame, just as you wouldn't want to use an Art Deco door in a Queen Anne house." Hang the right style, however, and you'll add a handsome, historical feature—one ready to stand sentry for many more decades of living.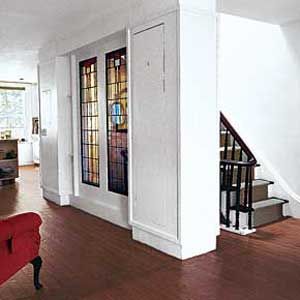 Turn Old Doors Into a Windowed Wall
When Steve Brown and Myra Klockenbrink decided to turn a series of cramped rooms in their 1890s townhouse in Brooklyn, New York, into an open, loftlike space, the couple hated the thought of sacrificing a set of stained-glass Art Nouveau pocket doors that resided in the recesses of a wall slated for demolition. "We wanted to keep the doors, but we had to remove the wall," says Klockenbrink. "Then one day it was like, 'Aha! We can make them work as a design element.'" The couple reused the doors as large interior windows set into a much smaller load-bearing wall erected in the middle of the reconfigured space; structural supports are hidden in the wood-framed columns that flank the stationary doors. Not only did the solution save the doors, it effectively defined the borders of the new kitchen, hallway, and dining and living areas while preserving a sense of openness, since the windows allow light to pass between the rooms.
—Jennifer Reading
Where to Find It
The Stripping Workshop
Washington, DC;
202-362-4770
The Brass Knob's Back Doors Warehouse
Washington, DC;
202-265-0587;
Hippo Hardware & Trading
Portland, OR;
503-231-1444;