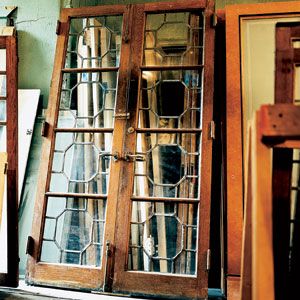 A door's primary function is to close one space off from another. But when the door is also a window, the barrier is fluid, allowing light and views to pass through. Such is the case with French doors, which are lined from top to bottom with divided lights.
Now common throughout the United States, such windowed doors first became popular in the 18th­century French Colonial era along the Gulf Coast, where they hung in the exterior walls of virtually every room of Creole cottages and plantation houses.
Swung open, French doors helped maximize ventilation and provide comfort in the region's hot and humid climate, says Eugene D. Cizek, director of preservation studies at Tulane University in New Orleans. They also provided direct access to the wraparound porches, or galeries, that functioned as passageways between rooms. Unlike houses of English Colonial origin, such as Georgians, where rooms were connected by interior hallways, in French Colonial houses rooms opened directly into each other and to the outside.
By the early 20th century, architect Frank Lloyd Wright was using French doors in his Prairie-style masterpieces, such as the Robie House in Chicago, where they erased the transition not only between inside and out but also between the billiards room and kids' playroom. Millwork companies of the era soon caught on and began marketing French doors as airy room dividers.
Today, salvage dealers stock a wide variety of vintage originals for reuse in both new and old construction. At The Old House Parts Company in Kennebunk, Maine, simple yellow pine French doors from the 1930s with 15 divided lights per panel start at $400 a pair. Earlier and finer oak sets with beveled glass panes sell for $1,600 or more.
The architectural style of French doors is indicated primarily by the shape and configuration of wood or metal muntins set within stile-and-rail frames: Stacked rows of multiple squares are typical of the Colonial Revival style; diamond-shaped panes of Tudor and Gothic Revival; leaded geometric and floral patterns of the Prairie style; and square-and-rectangle combinations of Craftsman.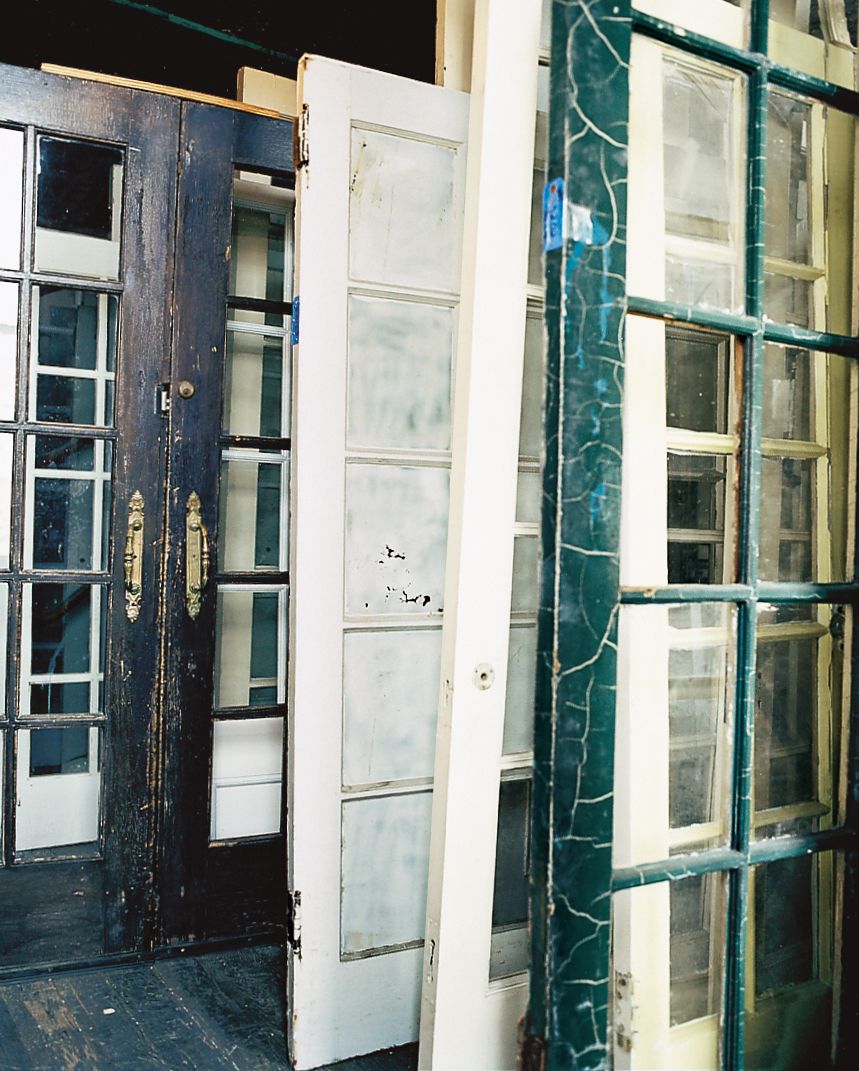 How To Choose
It's best to choose doors that match your home's period and style. But if your house doesn't have a discernable architectural heritage, you have more leeway to introduce a new look, as long as it's in keeping with the scale and feel of the space.
Be sure to take into account how much room you'll need to accommodate the door swing. If installed in a dining area, the doors will require enough clearance to avoid bumping into chairs placed in front of them, or into furniture, such as a built-in china cabinet or buffet placed along the wall where the doors will rest when left open.
The direction of the swing is also important, particularly is they lead to a patio or terrace. It's easier to install an exterior screen if the doors swing into the house. But to maximize interior floor space, you may want out-swinging doors instead. For the latter, just make sure your patio is covered, so wood-framed doors don't get wet if left open during a sudden rain shower. If it snows in your area, an overhang will also keep drifts from building up against your door, making them hard to push open.
If you plan to swap out your current contractor-grade French doors for higher-quality antiques, you'll likely have to patch the doors' old hinge mortises and cut new ones that line up with existing mortises in the jam. Adding sets of salvaged doors where only a single door hung before will mean resizing the opening. "You might have to put more time into the prep work with antizue doors," says Mike Thompson, sales manager at The Old House Parts Company. "But if you are looking for better craftsmanship than most new ones—they have true divided lights rather than muntins floating over a single large piece of glass—and something with more character than what you'll find at your home center, it's worth the effort.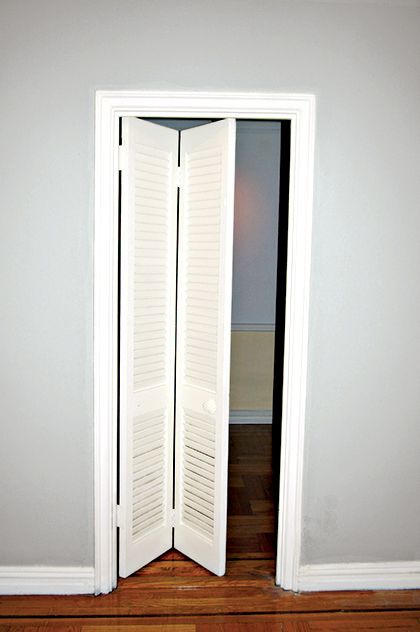 Widening a Doorway at My House
Writing the Salvage column has its perks: getting to swap "street score" stories with fellow junkers; wandering around warehouses full of architectural antiques looking for cool stuff to tell you about. This month I got to install a pair of vintage French doors in my 1930s Art Deco?style apartment. Only problem was, I had to first widen a single-door opening (see photo, near right) for two doors. I'm a handy gal, but I know my limits. For this job, which took three days, I called on Terrence McCafferty of Auric Construction & Design in New York City for help.
Here's how we hung two doors where only one hung before:
1. Measured the doors and added about 13/4 inches to the width and 15/8 to the height to account for the new jamb and threshold.
2. With all old trim removed from the existing opening, traced the outline for the new rough opening on the wall and scored along the pencil line.
3. Removed wall material inside the line to expose the old door framing. Checked for plumbing and electrical lines that needed to be relocated.
4. Cut the framing members and reinstalled them flush with the edge of the rough opening.
5. Installed a new 1x poplar jamb that we'd first mortised for hinges.
6. Attached the new threshold with construction adhesive.
7. Filled gaps around the jamb with setting plaster, then skim-coated.
8. Nailed on new casing and hung the doors.
9. Finished the wall, trim, and doors with new paint, then screwed on reproduction Deco-style pull knobs and surface-mount bolts.