Ideally, the dining room is where you gather with loved ones to cherish a meal, with conversations lasting for hours and everyone laughing, debating, and making memories.
However, in some homes, the dining room is seldom used. Daily meals happen elsewhere, while the dining room is reserved for special occasions. And sometimes, this results in an unused space that becomes a landing place for clutter. If this sounds all too familiar, it's time to breathe new life into your dining room with an inviting upgrade that makes you want to use it every day.
How to Design a Dining Room
All it takes to turn your dining room into a comfortable place to lounge with family and friends is choosing the right-sized table and rug, perfect lighting, and eye-popping color. Follow these points to design a dining room you'll want to use again and again.
Plan the Layout
Before you even start decorating, it's important to draft up all the dimensions of the dining room space. After all, a crowded room is not a comfortable one. Measure the room and draw a floor plan to scale. If you have furniture you're keeping, measure each piece and include them in your drawing. Or, if you have an empty room, use painter's tape to mark out on the floor where each piece of furniture will go. Then use the measurements to calculate the size of your table.
"The rule for table size is to leave 36 inches around the table," says Paige Maurer, CKBD, certified interior designer and owner of Paige Lee Interiors in Traverse City, Michigan, "So, if your room is 10×10 feet square, subtract 3 feet from each side, and you'll end up with 48 inches. Therefore, a table that is 48 inches or less will be most proportionate for the room. However, it can get more complicated.
Get the Dining Table Right
"I ask clients how many people will eat at the table every week," says Maurer, "as well as how many they'll have during holidays or entertaining." For everyday meals, you want a table large enough, without extensions, to accommodate the family. But make sure that with an extension or two, there's enough space to seat additional people when needed.
But perhaps the dining room isn't large enough for a fully extended table. In that case, Maurer suggests you may want to explore the possibility of enlarging the space by removing walls. Or, if you already have an existing open floor plan, you can use the kitchen island to accommodate additional seating.
If you're in the market for a new table, there are a few things to consider to achieve the optimal amount of space and a visually appealing design. A square or round table works best in a square or round room, while a rectangular or oval table is ideal for a rectangular room. If space is tight, a round or oval table provides soft edges for a more comfortable traffic flow. And if you're considering a wood tabletop, make sure it complements any other wood in the room, like hardwood floors, molding, or other pieces of furniture.
If you want the family to linger over their dessert, make sure the chairs are comfortable and kid-friendly if you have children. If you're going for the popular transitional design style of mismatched furniture, check the chair height to the table before buying them.
Master the Rug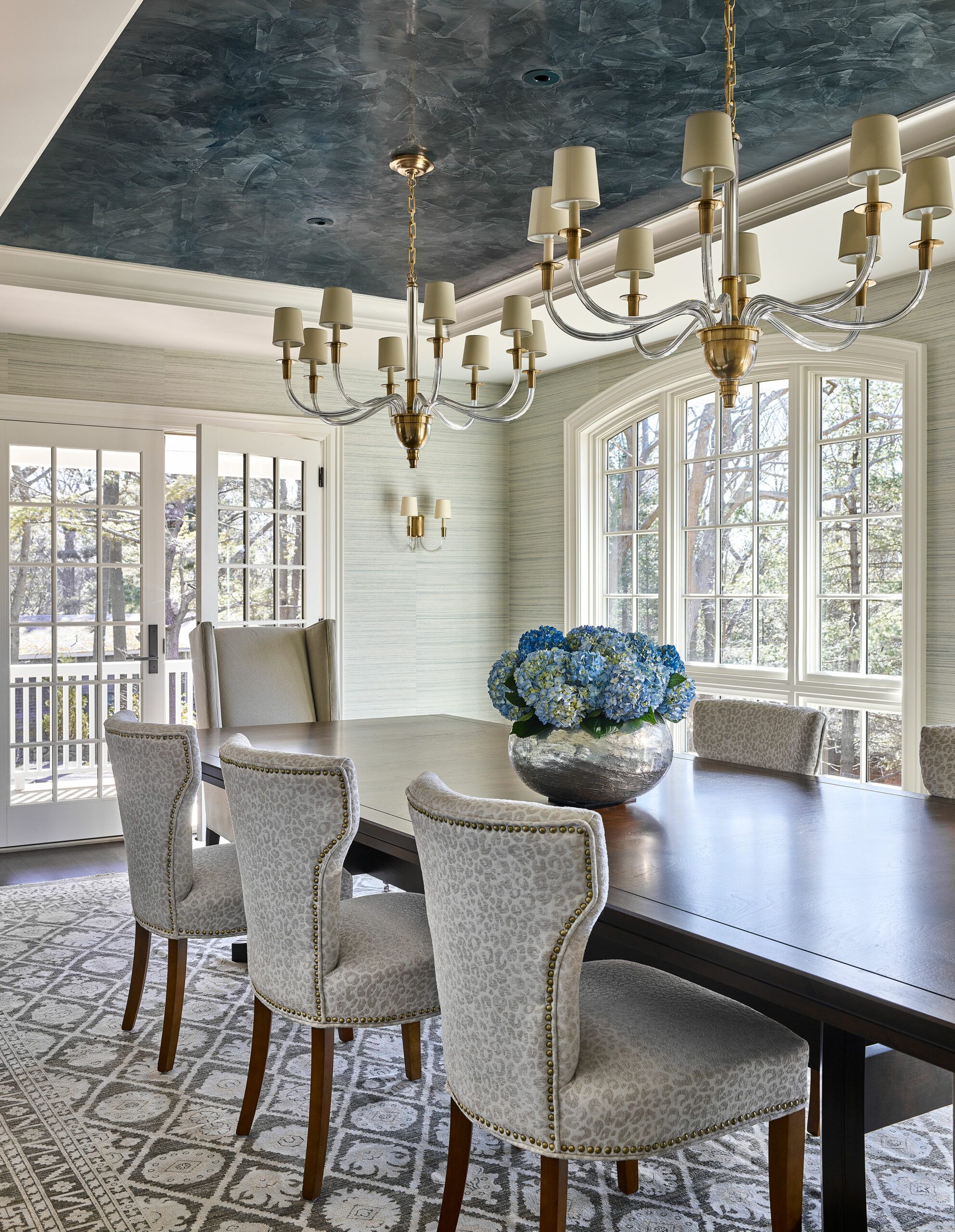 Don't make the mistake of trying to save a few dollars by skimping on a small rug. The last thing you want when your boss comes to dinner is for her to catch a chair leg on the edge of the rug and spill red wine down her blouse. To provide enough room to slide chairs back without going off the edge, purchase a rug that extends about 36 inches beyond the table's edge on all sides.
Turn Lighting into a Focal Point
Lighting in a dining room is critical. You want direct lighting so you can see what you're eating. And ambient lighting sets the mood for intimate gatherings. Ambient lighting can include cove lighting, sconces, additional can lighting, or cabinet lighting in a service area, like a bar. When choosing direct lighting, you generally take your cue from the table.
"You want a light fixture over the table that's one-half to two-thirds the size of the table," says Maurer. "The goal is to light a good amount of the tabletop." For rectangular or oval tables, choose a linear or horizontal chandelier that streams the light down the length of the table. Or, you can achieve the same coverage with multiple pendants. For a square or round table, choose a square or round-shaped fixture suspended over the center. And when it comes to light bulbs for the chandelier, aim for a total of 200 to 400 watts with a dimmer switch.
How high should you hang your chandelier? A general guideline is 30 to 36-inches above the tabletop. To see what feels comfortable for your space, hang the fixture, walk around to see how it looks, and reposition it as needed before making the height permanent.
Maurer says you also want to be careful not to obstruct a fantastic view with a large chandelier. For example, if your dining room faces a beautiful view of the mountains or a body of water, you don't want the light fixture to block the scene when guests enter the room.
Another thing to be mindful of: When the table is extended to full length, you don't want to leave the diners at each end in the dark. In this instance, Maurer suggests recessed can lights positioned to illuminate the outer ends, which are not under the direct light of the chandelier.
Add the Extras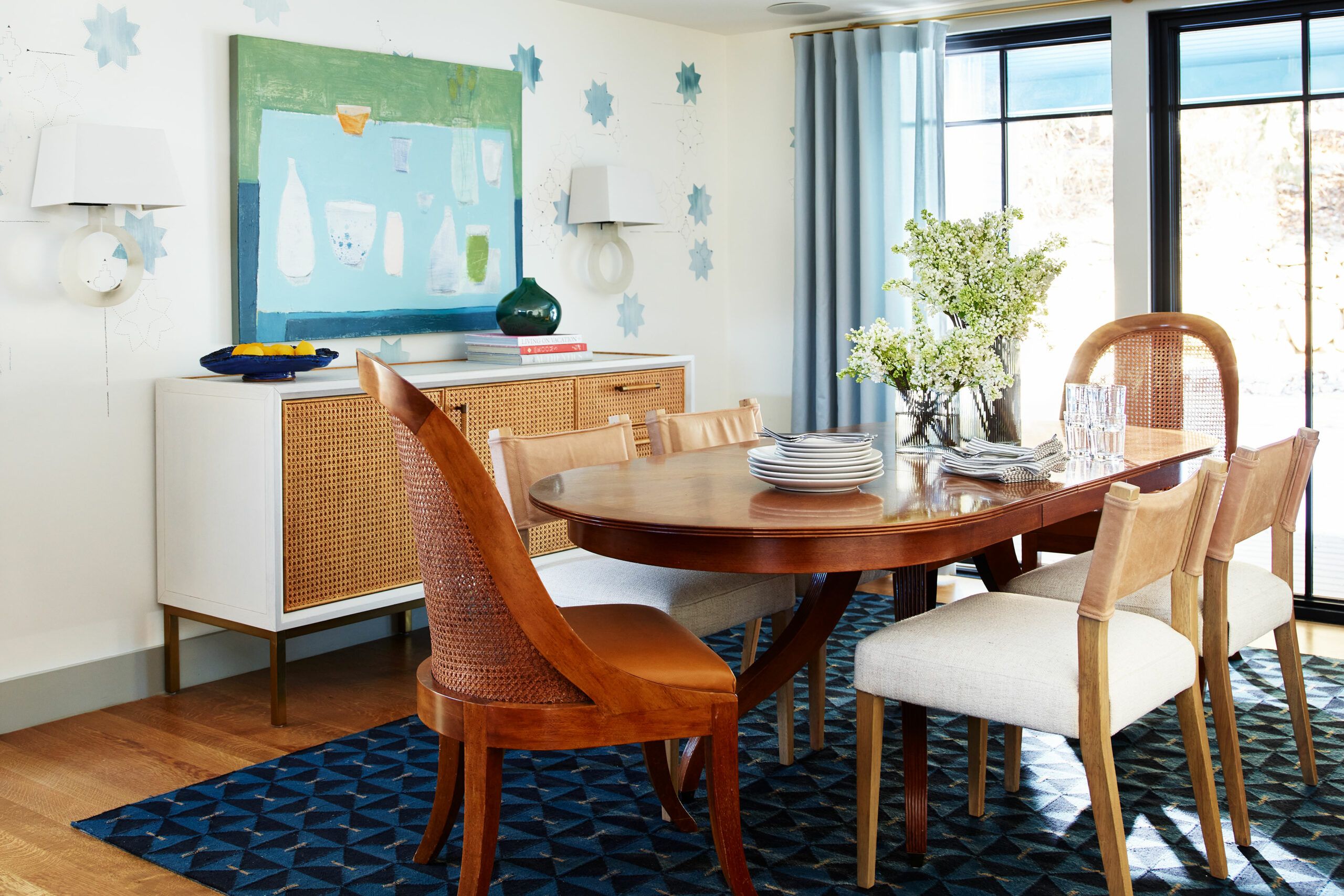 Once you've chosen the major elements, it's time to complete the style with the right finishing touches. "The design style should flow seamlessly to adjacent rooms," says Maurer. "For instance, if you have a natural, organic vibe throughout the house, you're not going to want shiny finishes and formal touches in the dining room." Even if you have a separate dining room, sometimes overly ornate accents may make the space feel too fancy, and you avoid using the room for everyday meals.
There are a few window dressing options, including blinds, shades, or drapes. Make sure to add one statement piece to add an extra pop of style and color. It could be oversize artwork, a family heirloom, or a centerpiece for the table. Keep in mind that drapes will look best when they are floor length. Short curtains are better left for the kitchen.
Bring on the Color
It may make sense to choose the paint color for your walls last. Since paint comes in many colors and can even be custom matched, it's easier to find a paint color to complement your furnishings than to find furnishings to match your paint color.
For an open floor plan, it's a good idea to ensure the colors you selected for your dining area work with the rest of the space to achieve a cohesive look throughout the house. However, if the dining room is separate, it's an excellent opportunity to try a bolder paint color than you have in the rest of the home. Even patterned wallpaper or just one accent wall can give it a new look.
Your dining room doesn't have to include the latest trends or cost a fortune to be a comfortable gathering place. Even on a budget, you can create an elegant, tasteful space your family and friends will love.