Whether you want to bring some nature into your urban environment or host candlelit soirees, the following ideas will help you to create the perfect vibe for your roof deck location. If you live in an apartment with a shared roof deck, be sure that your planned enhancements conform to your building's rules before executing on them.
11 Roof Deck Design Ideas
Light things up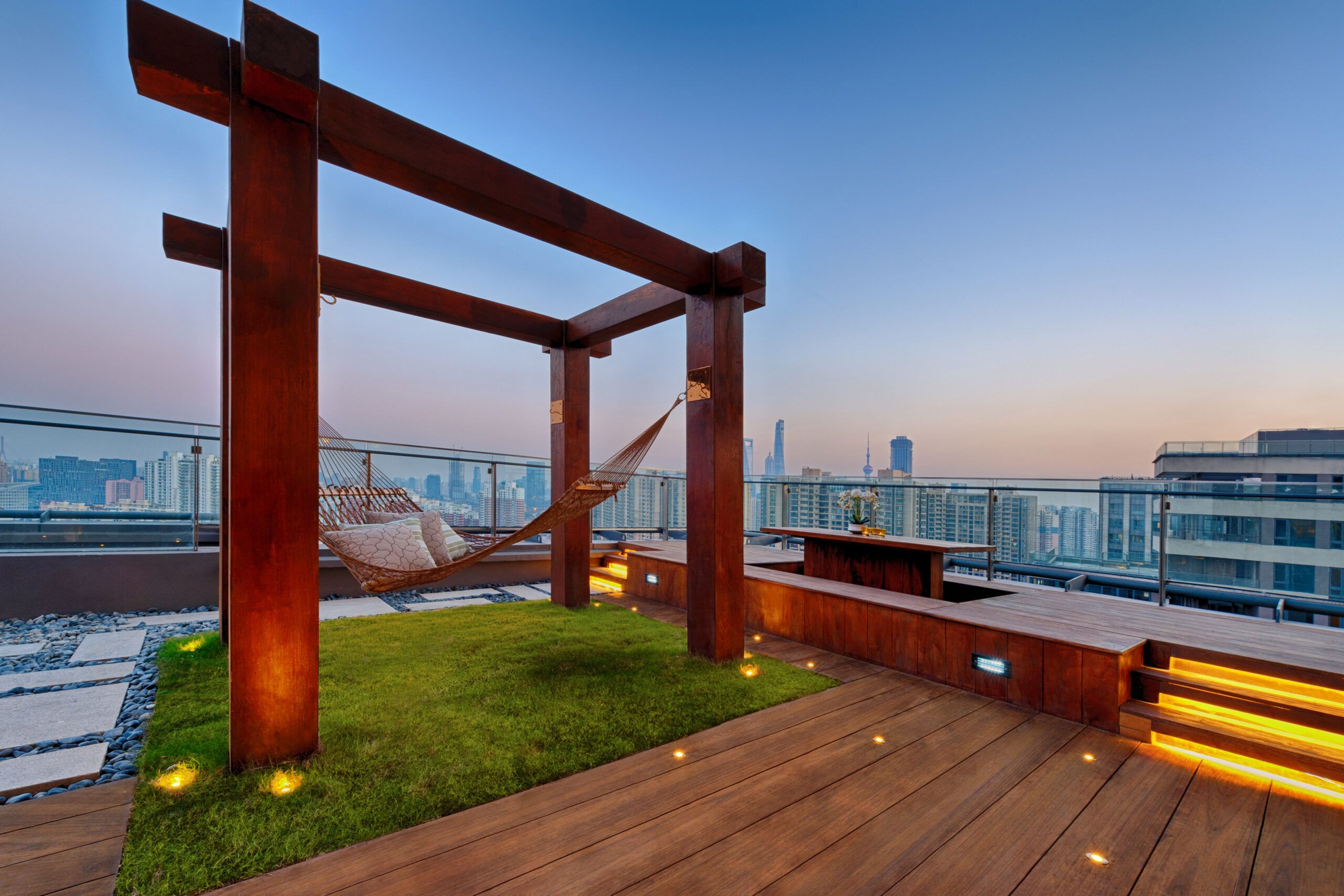 For evening gatherings, amp up the rooftop with lighting. Choose elements that complement the surrounding design. Look for solar-powered illumination and achieve a layered effect with ambient lights, task lighting, and safety lights near steps and doorways. And, if you have garden plants on the roof, direct lights at them to showcase their beauty after the sun's gone down.
Keep things private
A neighbor might need a telescope to see who you're dining with on your rooftop, but if you still feel like a goldfish, erect some privacy screens. Installing prefabricated privacy fence panels is one option; another is introducing a long planter—or more than one—containing a fast-growing, tall plant like bamboo.
Stay warm
If you plan to use your rooftop year-round, you may want to add some form of heat. Besides a fire pit or chiminea, consider an electric heater. Or, for a large deck with separate seating areas, enjoy the warmth of a few propane patio heaters.
Grow a vegetable garden
Most garden vegetables grow easily in planters. For root vegetables like potatoes, beets, or carrots, use planters at least 14 inches deep. Fill the bottom with gravel to facilitate drainage. For vining plants like cucumbers and tomatoes, stake a trellis in the planter or grow the vegetables in hanging pots. Most plants do well in a mix of equal parts compost, peat moss, and vermiculite.
Build a pergola
A pergola provides a defined space for conversation and dining. It also offers shade for your roof deck and a place to hang plants and install lighting. Before putting up a pergola, be sure to check with your building management, as they may prohibit the building of structures on the roof.
Provide shade
Shade options for the roof don't have to be structural, like a pergola. Nor do they have to be permanent. Consider using a large patio umbrella over a dining table. Or, if you have a window adjacent to your rooftop, install a retractable awning over it to provide shade for both inside and out. And for a more informal feel, hang a shade sail or two over the area.
Relax in comfortable seating
Whether you want traditional outdoor furniture or an eclectic mix of floor pillows, seating is a must for the roof deck. Think about the vibe you're aiming for; have some fun and look at various options. Consider a hammock, porch glider, hanging egg chair, or even a day bed with weatherproof cushions.
Include earth, wind, and fire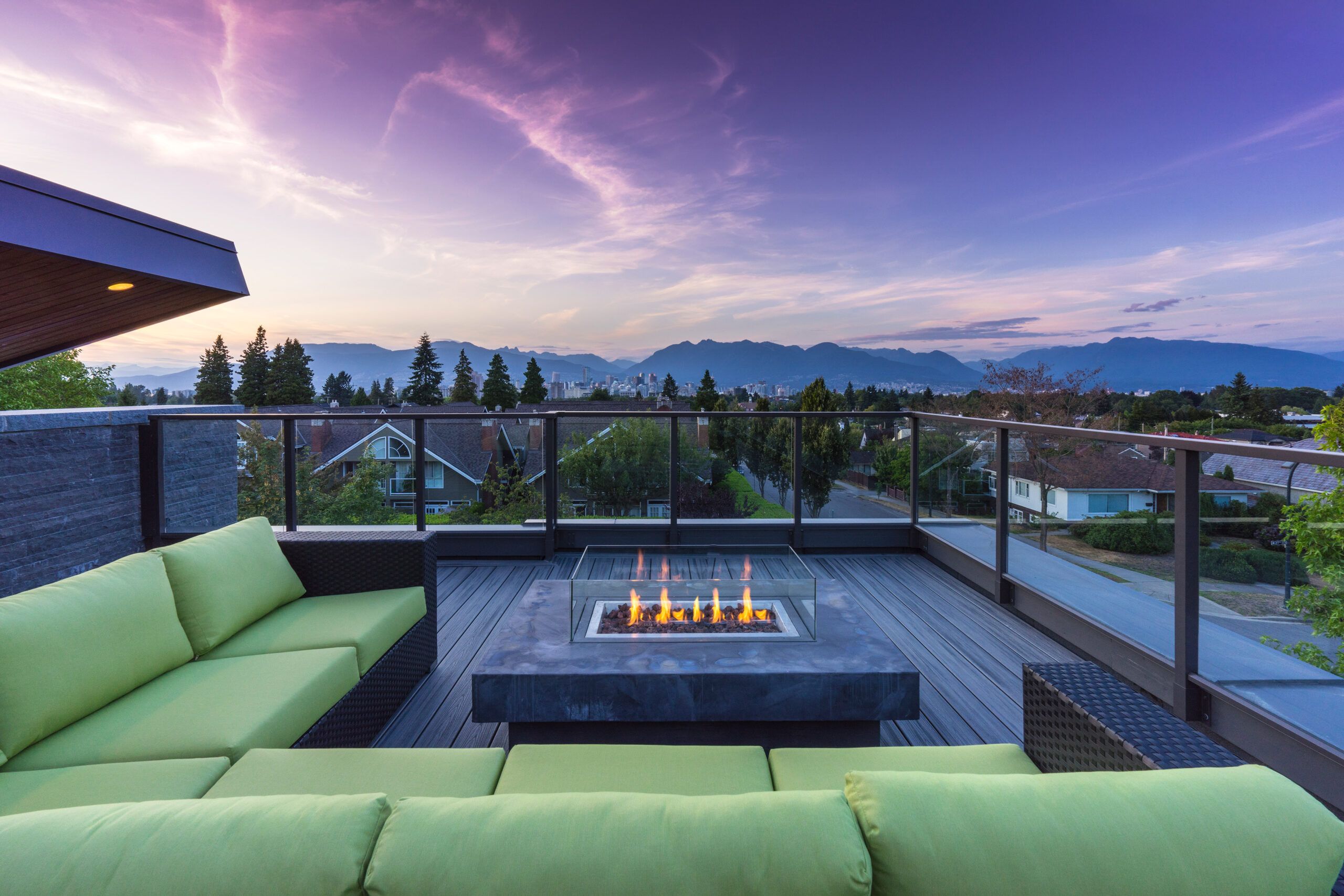 Turn your rooftop into a nature preserve if you tire of the concrete jungle. Include as many natural elements as possible, such as wooden deck flooring, a profusion of plants, and perhaps even a dovecote or two. A firepit and trickling fountain round out the relaxing feel for either day or night.
Get the boho vibe
Macrame wall hangings, floor pillows, billowing curtains, and lots of candles will give your rooftop a free-spirited feel. To complete the bohemian look, introduce windchimes or speakers that allow you to play a bit of rhapsodical music.
Save by upcycling
Furnishing your roof deck doesn't have to cost a lot of money. Use what you have on hand. Paint a discarded patio table, use pallets to create seating, or snag a wooden electrical wire spool to use as a side table. Or spend a day at the flea market scouting for pieces to repurpose.
Add a floor
Who wants to relax on concrete or flat roofing material? Cover the floor with something comfortable like wooden decking or outdoor carpet squares to cozy up your roof deck. Use a large outdoor rug or layer smaller ones for something less permanent.
Whether atop a city apartment building or off the primary suite of a single-family home, roof decks offer a level of privacy you won't find at ground level. Upgrading this untapped space will yield endless hours of open-air enjoyment.
​​