Don't Block the View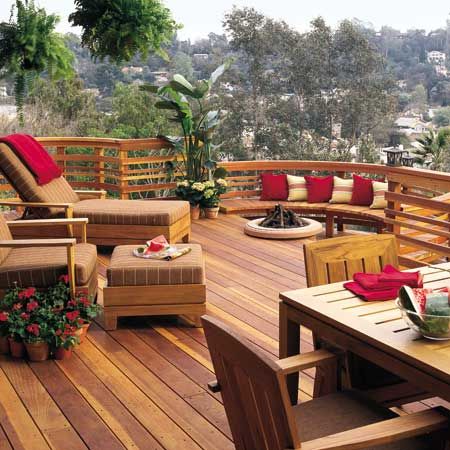 Springtime is deck time, as everyone starts thinking about spending more time outdoors. Chances are, your phone is ringing with calls from customers that want a new deck. On the following pages, you'll find photos of design details and custom features that will turn the decks you build into something extraordinary.
Shown: The designer of this deck did something very clever. The lower-level built-in curved bench serves two purposes. Of course, it gives additional seating, but because the lower level is a few steps down from the upper level its railing doesn't block the beautiful view for the people sitting in the upper-level chairs.
Built-In Planters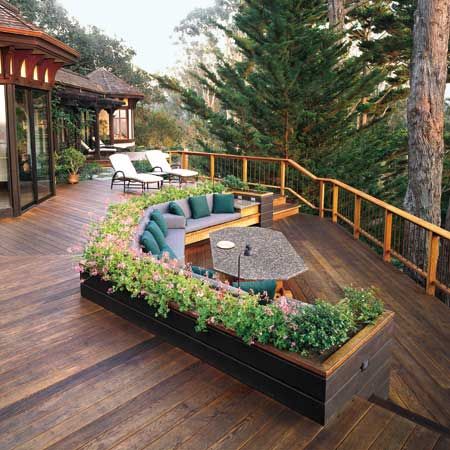 Building a planter behind a lower-lever, built-in bench can be an elegant solution to hiding the back of the bench. Holes in the bottom of the planters drain to the ground below and prevent over saturation during the rainy months.
Secluded Seating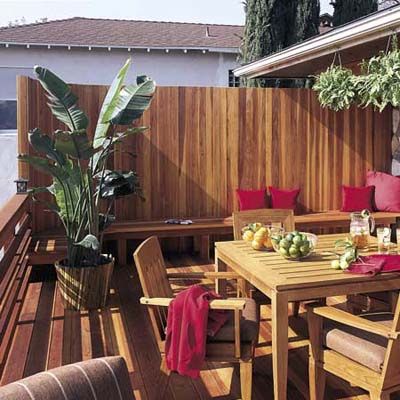 With the neighbors only 10 feet away, this deck desperately needed privacy. An 8-foot-high wall, made of 1×4 redwood staves, blocks the unwanted view and provides a place for additional built-in seating.
Shade from a Pergola
The pergola's perpendicular rafters and purlins shade this Maryland deck. For more sun protection in the summer, the owners could plant climbing vines that would cover the top. The structure was bolted to the deck framing, and the decking was cut to fit around each post. The railings' wood frames hold welded wire mesh. The 2-inch mesh, which is powder-coated to prevent rust, doesn't compromise safety or the river view. A good source this type of wire is Riverdale Mills
How's They Do That Railing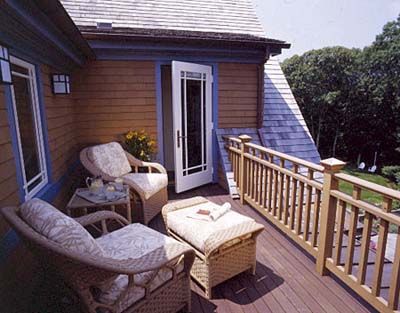 It is unfortunate that the photo doesn't show how the far end of the deck's railing attaches to the wood shingle roof. In fact, that whole area looks like a perfect place for a leak to start. Anyone have any ideas?
Double-Duty Table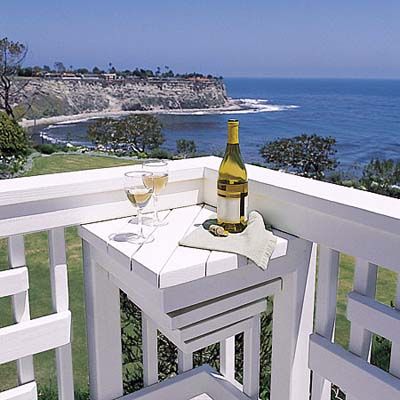 This inverted pyramid table conceals a waterproof, low-voltage lighting fixture mounted underneath. Some people just know how to live right, right?
Railing Details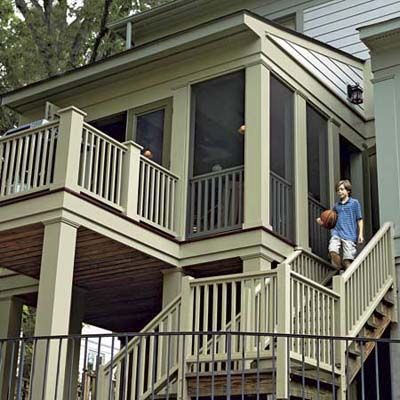 Carrying the same railing details throughout the porch, deck and stairs adds continuity to this design. Using the same railing behind the porch screens keeps that kid from sending his basketball through them. It still looks like he was sent outside to play.
Contrasting Colors for Stair Safety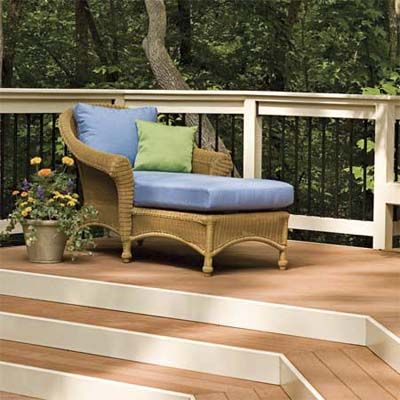 Even with excellent nighttime lighting, outdoor decks tend to be dimly lit for ambiance. Using a lighter color decking material for stair risers can prevent a trip and fall.