As idyllic as your backyard deck could be, maintaining that elevated expanse of lumber can be a downright chore. When the less demanding plastic-composite decking appeared on the scene in the 1990s, homeowners happily adopted it, despite the higher price and limited color selection (gray). A decade later, as companies began to offer new products that looked like fresh-cut cedar and Brazilian walnut but never turned gray, sales of composites took off.
That kind of popularity represents a big boost for the environment, too, because most composites are made from waste: sawdust, used plastic milk jugs, and shopping bags.
The fact that composites don't feel or look like real wood is beside the point. Once in place, they just do their job and don't need much more than an annual wash-down, leaving you plenty of time to work on your nap.
Here's a detailed review about composite decking, including how to choose the best boards, comparing costs, as well as installing and cleaning them.
What Is a Composite Decking Board Made Of?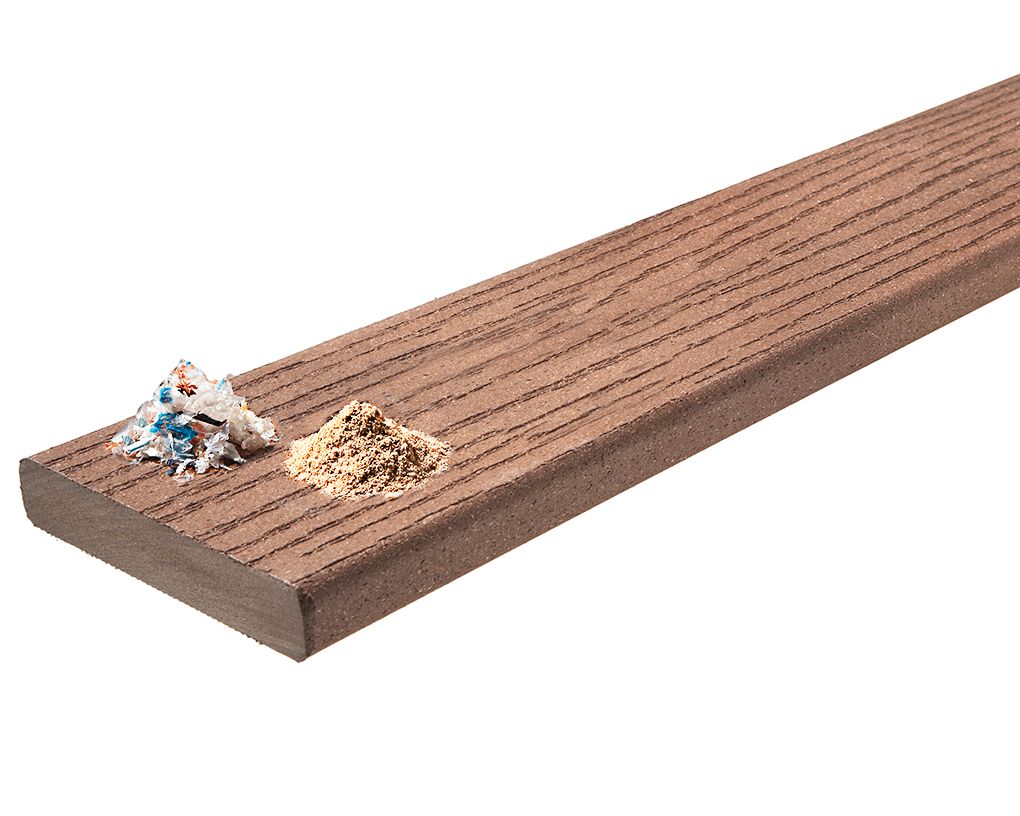 Equal parts of wood fiber and plastic are mixed with pigments, ultraviolet inhibitors, and borate preservatives, then usually heated and extruded. The texture, if any, is embossed onto the warm surface before it cools.
Waste Wood: Ground-up wood from mills and furniture factories
Recycled Plastic: Shredded polyethylene from milk jugs and shopping bags
Composite Decking Prices, Cleaning, & Warranty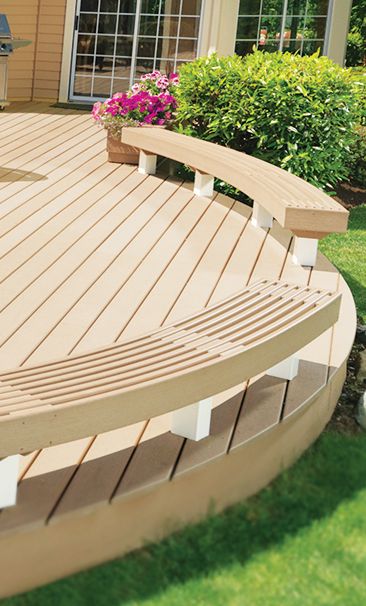 What's it cost?
Run-of-the-mill boards start at $4 per square foot, while the premium products that closely resemble tropical wood run up to $7.20 per square foot.
What's the warranty?
Most manufacturers offer either a 25-year or limited-lifetime warranty on structural integrity; some warranties are transferable from one homeowner to another. Fading, scratches, and stains usually aren't covered.
How much care?
Less than wood. A simple scrubbing with soapy water and a soft bristle brush is usually all that's needed.
Not just decking.
Everything you need to finish a deck—fascia boards, railings, balusters, treads, and posts—is made in matching colors using the same composite material.
Does it burn?
Yes, but at a much higher temperature than wood. Most composites meet California's strict Wildland-Urban Interface Building Code.
Pros & Cons of Composite Decking
Before you make a commitment, weigh the pros and cons of composites.
PROS:
Reduced maintenance: Forget about having to bleach and stain wood every other year. With the money you save by not using these coatings and cleaning materials, you can recoup the higher cost of composites in about five years.
Long life: Composites don't rot or attract termites, they can't warp or check, and you can go barefoot without fear of splinters.
Minimal fading: All composites turn a slightly lighter shade after the first two or three months in the sun, then the fading stops. (Left to its own devices, wood inexorably turns gray.)
Longer boards: Up to 20 feet, which means fewer end joints.
High recycled content: Every 10 square feet contains nearly 3,000 recycled plastic shopping bags and 1,100 one-gallon milk jugs.
CONS:
High initial cost: Low-end composites are priced about 30 percent higher than pressure-treated pine. High-end composites run about the same as ipe (ee-PAY), a hardwood decking harvested from tropical rain forests.
Easily scuffed: Moving furniture, frisky dogs, and gritty shoes will abrade new composites. Light scratches can't be sanded out but do blend in over time.
Prone to staining: The wood fibers are easily stained by food and grease. And the hardwood in many mixes can create uneven brownish tannin stains early on when wet, but they typically disappear over time.
Hot underfoot: Like dark hardwoods, dark composites heat up as they bake in the sun. Lighter-colored and deeper-grooved boards are more barefoot-friendly.
Doesn't really look like wood: Some boards do a better job at mimicking wood than others, but a close look or touch gives them away.
Types of Decking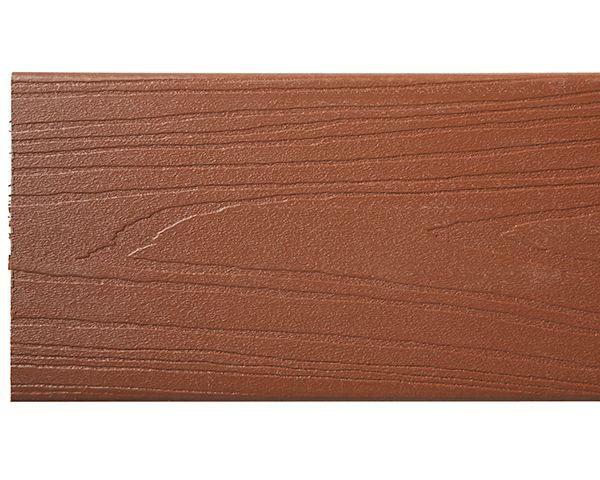 Textured Grain
Professional by Fiberon
Price: $4.90 per sq. ft.
Highlight: Both faces have a rough, cut-in "grain" that helps hide scuffs and scratches. Slotted profile. fiberondecking.com
Two-Faced
Veranda

Price: $4.50 per sq. ft.
Highlight: One side has a wood-grain look (shown), the other is brushed. Slotted profile. homedepot.com
Plastic-Wrapped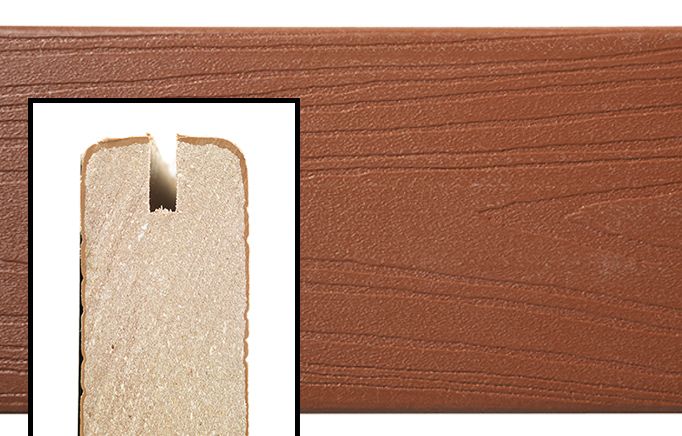 Horizon by Fiberon
Price: $5.80 per sq. ft.
Highlight: A covering of proprietary resin gives it excellent stain, scratch, and fade resistance. Reversible matching faces. Slotted profile. fiberondecking.com
Embossed Grain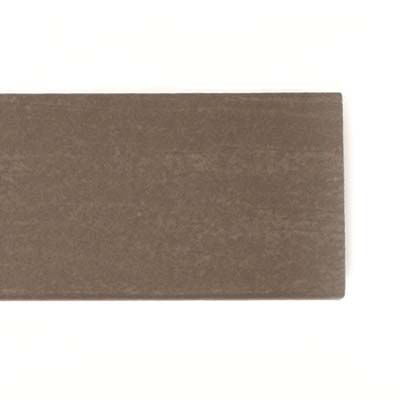 Classic EverGrain by TAMKO
Price: $4.60 per sq. ft.
Highlight: The graining is deeper because it is pressed rather than cut into the board. Solid profile. evergrain.com
Weathered Wood
Exotics by Monarch
Price: $6 per sq. ft.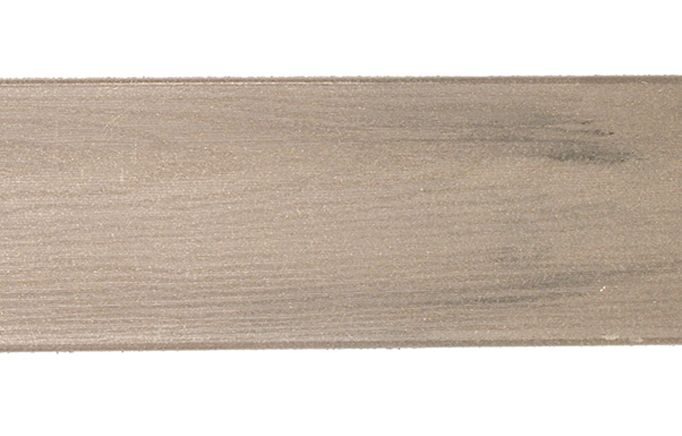 Highlight: Extra pigments produce a veining designed to resemble aged cypress. Reversible. Slotted or solid profile. monarchdeck.com
Paper Board
Cedar by GeoDeck
Price: $6.90 per sq. ft.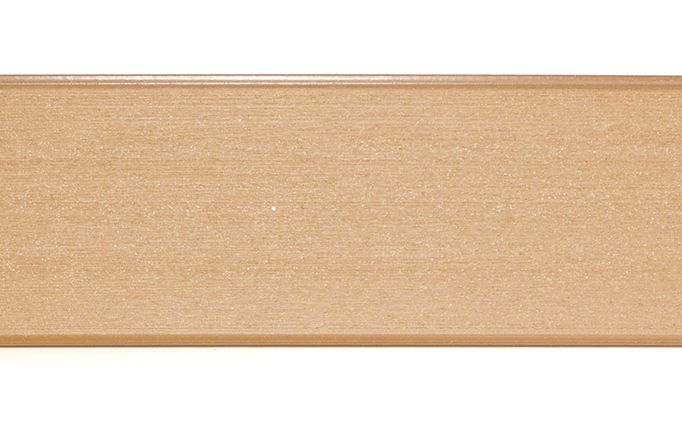 Highlight: Made with plastic and recycled paper, which the company says resists fading better than wood fiber. Hollow profile. geodeck.com
Watertight
MoistureShield by A.E.R.T.
Price: $4.40 per sq. ft.
Highlight: Absorbs almost no water, even if submerged. Scalloped underside. moistureshield.com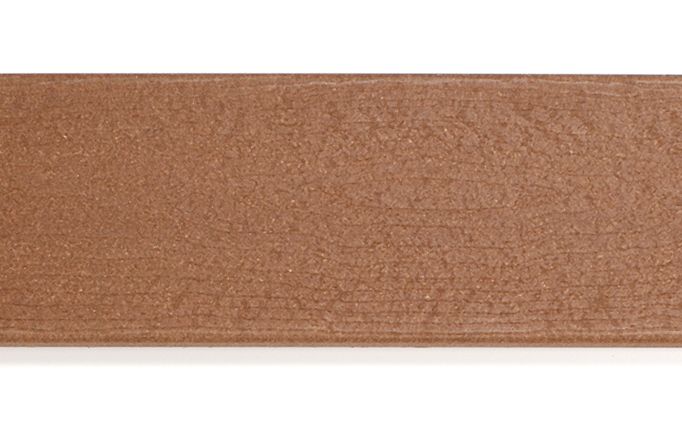 The All-Plastic Alternative
They look like composites, but these boards are actually 99 percent virgin PVC plastic, very different stuff from the polyethylene-wood mix found in most composites.
PVC is harder than polyethylene, so it doesn't scratch as easily. And because it doesn't contain wood fiber, it won't absorb water or food stains. (Suntan lotion and insect repellent will stain it, however.)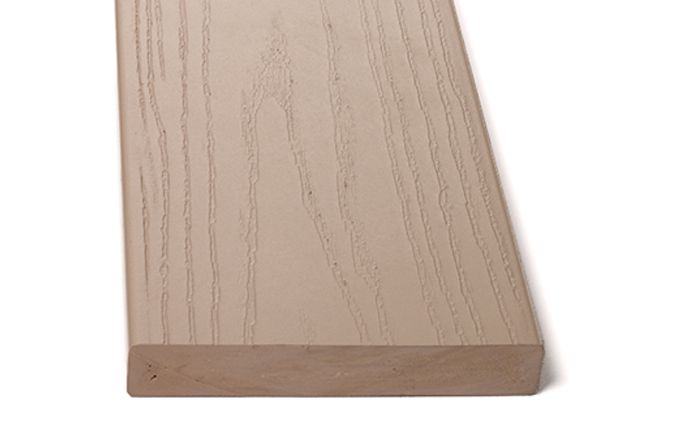 But all-plastic decking has a very limited color palette—three or four colors at most—and it's pricey, about the same as a top-of-the line composite. Plus, PVC is not particularly friendly to the environment: There's no recycled content, and when it burns it releases toxic hydrogen chloride gas.
Composite Decking Prices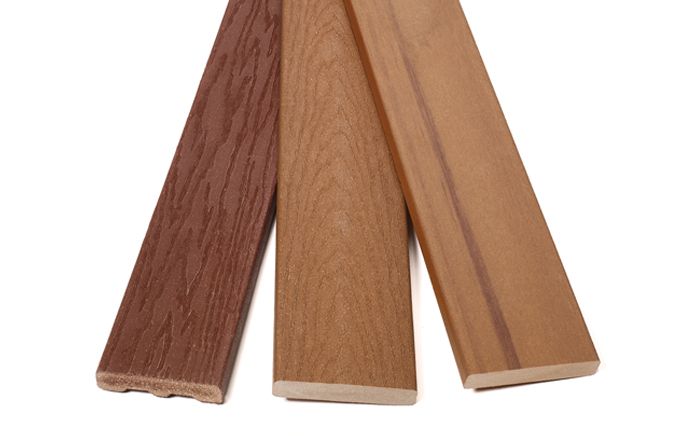 All composites have roughly the same basic ingredients and performance characteristics. The primary differences come down to aesthetics: If you want more color choices and a more wood-like appearance, you'll pay more.
Basic
These boards have rough, deep graining and are 5 inches wide, ½ inch narrower than higher-priced boards. Colors are limited to gray, red, and brown. To make this board lighter, ridges are pressed into the underside, so only one side is usable. Trex Contours, $4 per sq. ft.; trex.com
Mid-Range
The surface grain pattern is more subtle than a basic board, and it has two usable sides. Width is 5½ inches. Choose from four colors. Trex Accents, $5 per sq. ft.; trex.com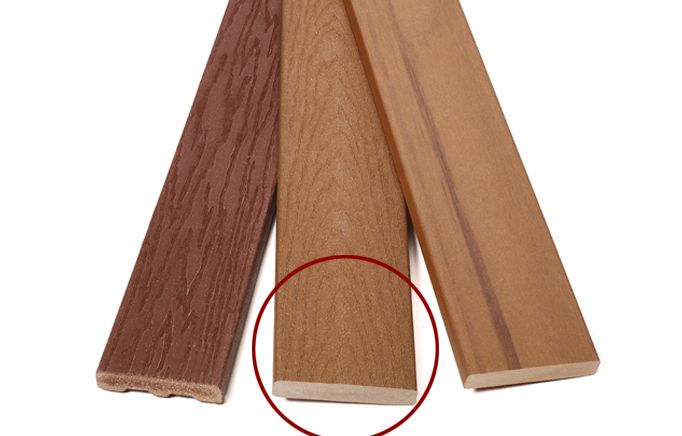 Premium
Streaks of a different-colored pigment added to the mix replicate the look of tropical hardwoods. These 5½-inch-wide boards have little or no surface texture, although they are slip-resistant. Also available with slots. Trex Brasilia,$5.90 per sq. ft.; trex.com
The Importance of Profiles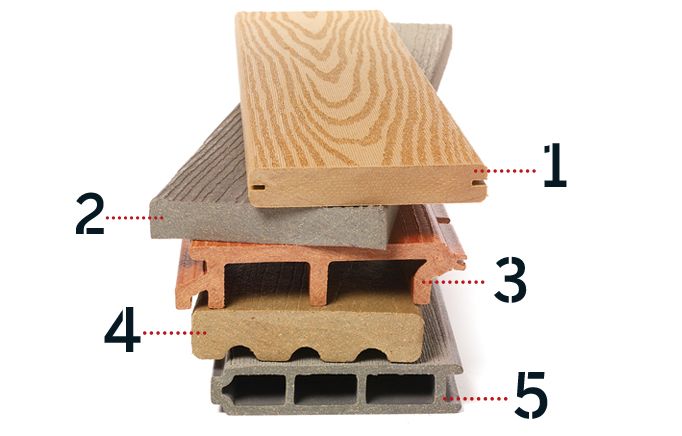 Composites are made in a range of profiles to make boards lighter, easier to install, or both. The profile you pick determines how your deck will be fastened down, which affects its look (do you want to see screw heads or not?); the installation speed; and how much you'll pay for the fasteners (see slides 19-22).
1. Slotted. Grooves along both sides accept the hidden fasteners specified by the manufacturer. 2.5 pounds per foot. Starting at $4.60 per square foot; latitudesdeck.com
2. Solid. Can be face-fastened or edge-fastened and has two usable sides. 2.5 pounds per foot. Starting at $4.60 per square foot; evergrain.com
3. Open flange. Saves weight without loss of stiffness. Uses only hidden fasteners. 2.2 pounds per foot. Floorizon, $5.90 per square foot; timbertech.com
4. Scalloped. As heavy as a solid board but with only one usable side. Fastens like a solid board. 2.5 pounds per foot. Starting at $4.70 per square foot; choicedek.com
5. Hollow. Stiffer and almost 25 percent lighter than a solid board. End caps stop bugs from nesting inside. Fastens like a solid board. 1.9 pounds per foot. $6.90 per square foot; geodeck.com
Installing It Right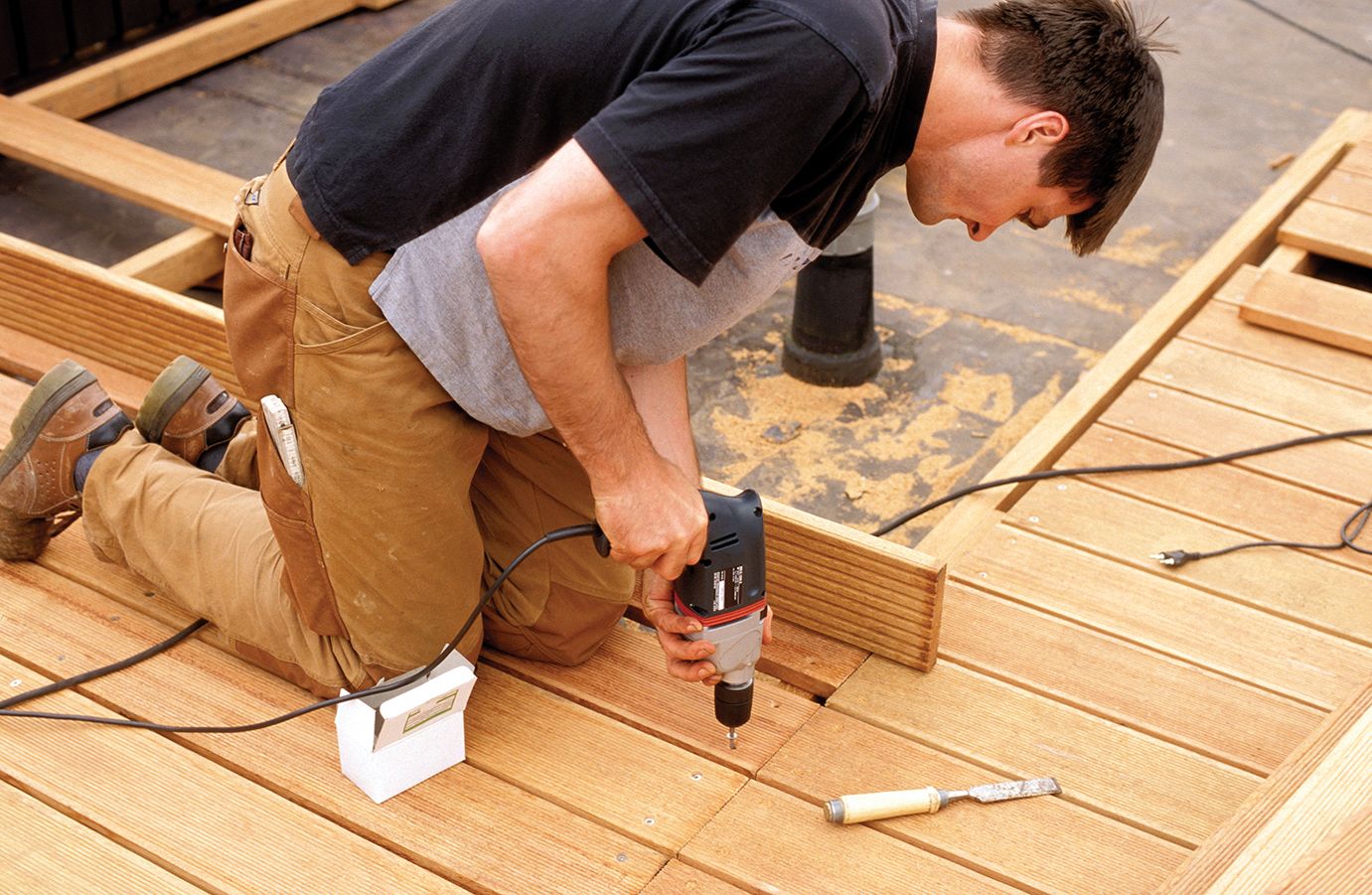 Don't assume this decking goes down just like wood. Here are a few important differences to keep in mind.
Joist spacing. Composites will sag if joists are spaced wider than 16 inches on center. Screw placement. Composites may crumble if face-fastened too close to an edge. TOH general contractor Tom Silva recommends keeping screws about ¾ inch from ends and edges. At butt ends, he angles the screws slightly toward the joist.
Butt-end spacing. Boards grow longer in hot weather and shorter in cold, so keep an eye on the thermometer during installation, and follow the manufacturer's spacing specs to a T.
Edge spacing. Narrow gaps can easily become clogged, increasing the chance of stains and mildew, and of boards becoming waterlogged and falling apart prematurely. When Tom fastens through the boards' faces, he uses 16d nails to set the between-board spacing. (With hidden fasteners, the spacing is set for you.)
MORE: How to Install Composite Decking (How-To Video)
How to Fasten Composites Down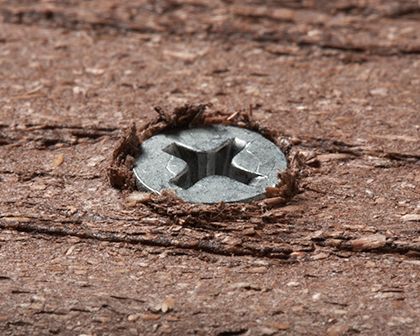 You can fasten boards to joists by driving screws through the face or into clips inserted along the edge. Edge-fastening looks good because the screws are hidden, but face-fastening is faster, stronger, and easier to fix. When face-fastening, use screws designed only for composites. This decking bubbles up around standard bugle-head deck screws (above).
MORE: Big Ideas for Small Yards
Installing Composite Decking
Face Screw for Solid Boards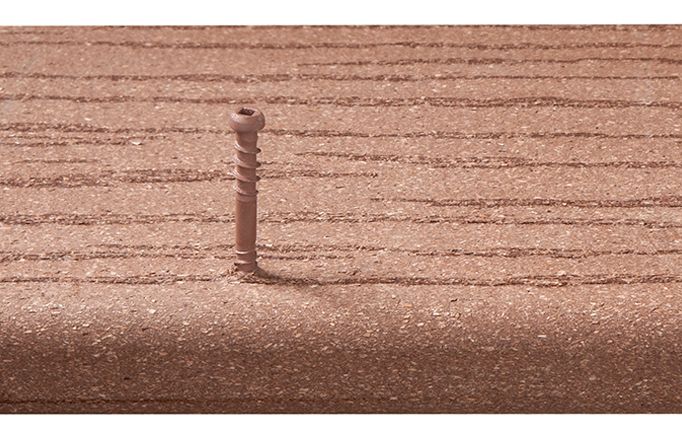 Trap-ease. Left-handed threads near the head push down the plastic as the head sinks in. Colored to match. 35 cents per sq. ft.; fastenmaster.com
Hidden Fastener for Solid Boards
Tiger Claw. The pronged, stainless-steel clip is hammered into the edge, then screwed to the joist. TC-3S, $1.25 per sq. ft.; deckfastener.com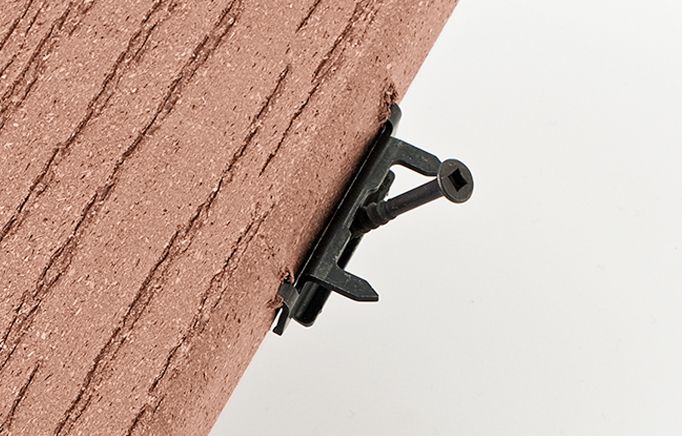 MORE: 20 Ways to Keep Deer Out of Your Yard
Hidden Fastener for Slotted Boards
EBTY. Plastic biscuits fit into slotted edges, allowing boards to expand and contract. $1 per sq. ft.; ebty.com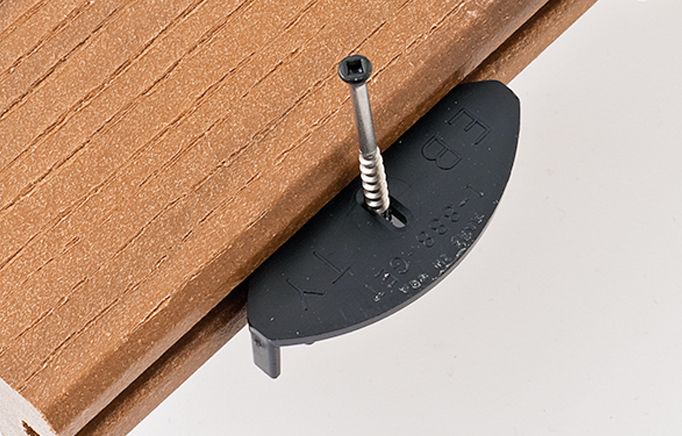 Maintenance
Composites have few maintenance needs, so you'll have plenty of time to take care of the ones that do crop up.
Clogs. Sweep or blow away any debris between the boards so that water can run off freely.
Food stains. Fast action is the best defense. Use a degreaser such as Dawn dish soap on oily spots, and bleach and hot water on fruit and wine stains. Placing mats around the barbecue is a good preventative measure.
Tannin stains. Scrub with cleaners that contain oxalic acid.
Gouges. Superficial scuff marks blend in over time, but any board that has deep scratches or melt marks will have to be replaced.
Mildew stains. Add some dish soap to a 50-50 mix of oxygen bleach and hot water.
Designs
Colorful Border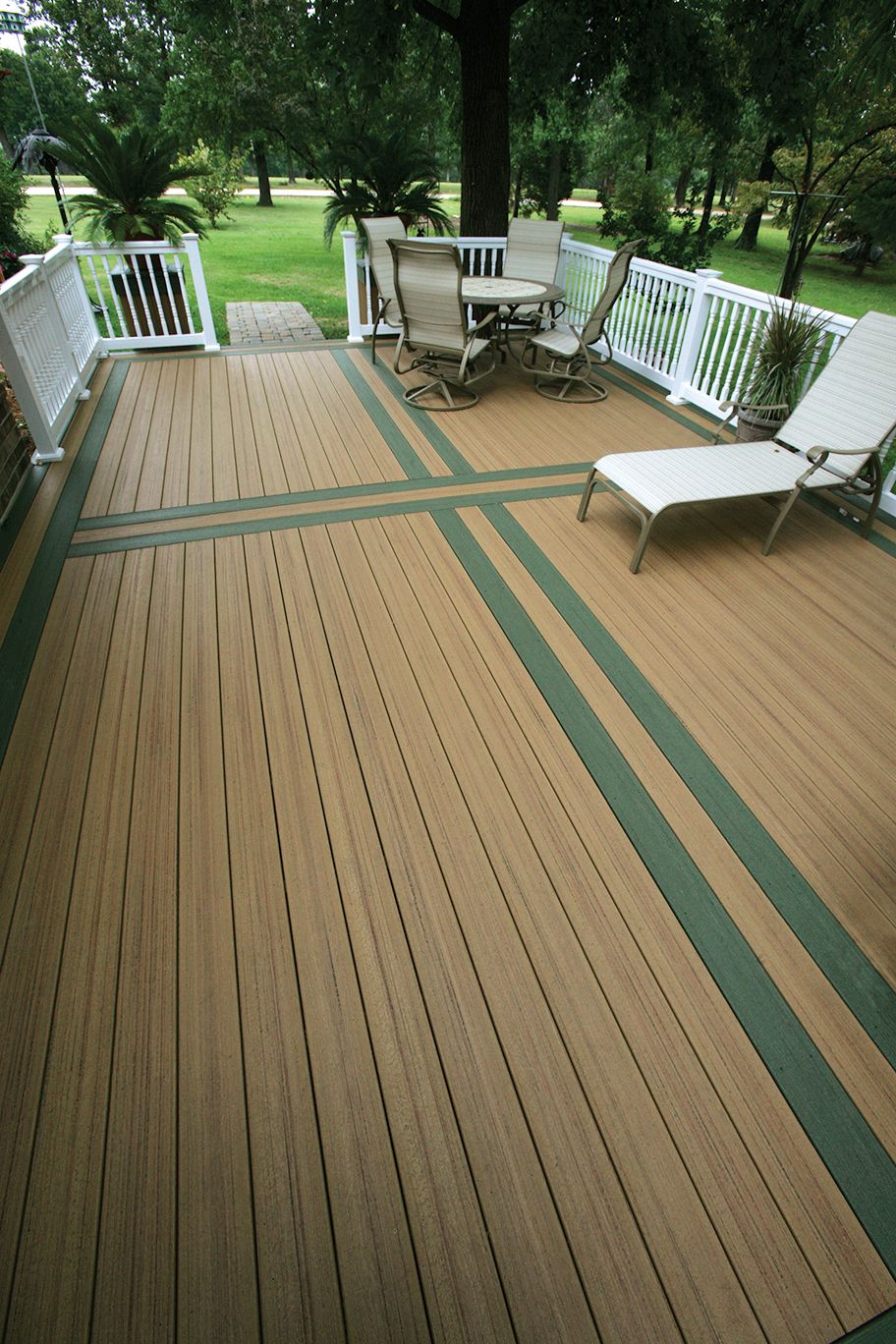 Accent stripes help to break up a deck's wide expanse into defined sections. EverGrain Vibrance in Rustic Birch and Classic in Forest Green, $4.60 per sq. ft.; tamko.com
Square Medallion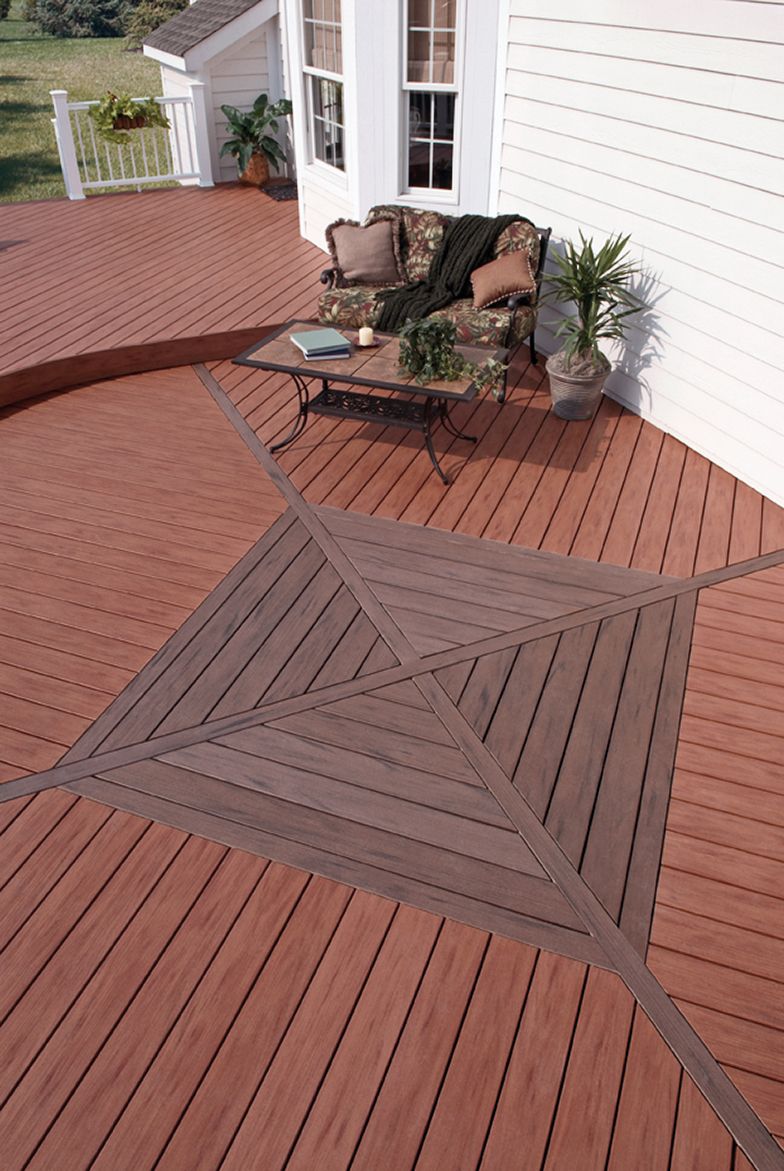 Opposing diagonals and contrasting colors draw attention to the center of a deck. Earthwood in Rosewood and Walnut, $7.20 per sq. ft.; timbertech.com
Curves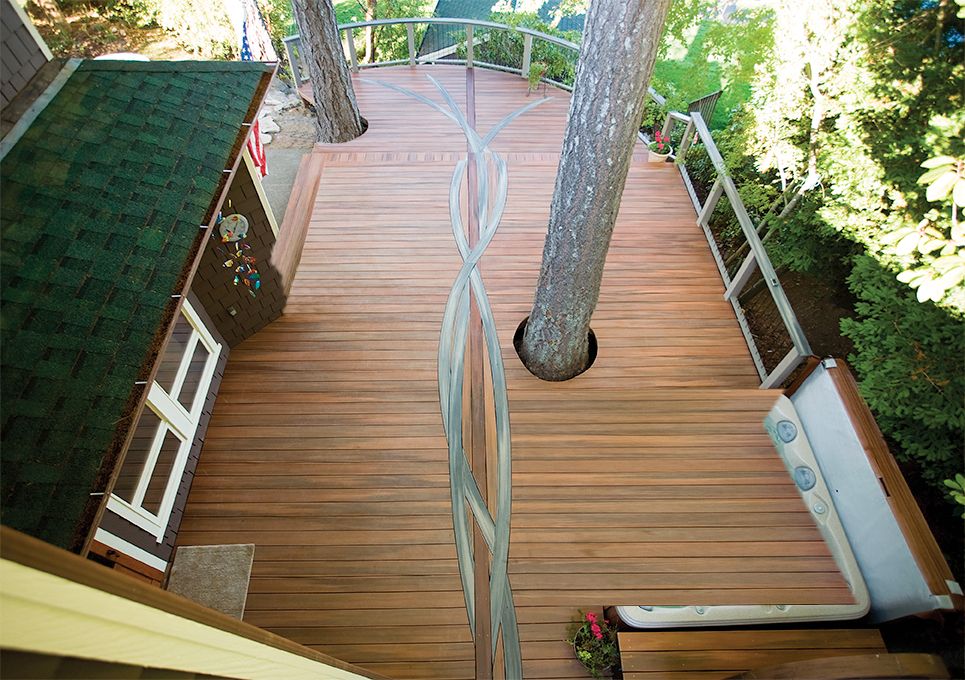 If you want to bend composite boards into fun shapes, you have to soften them up first in a hot steam box. Tropics in Jatoba, Mahogany, and Cypress, $5.80 per sq. ft.; fiberondecking.com
MORE: How to Get More Plants at No Cost
Artistic License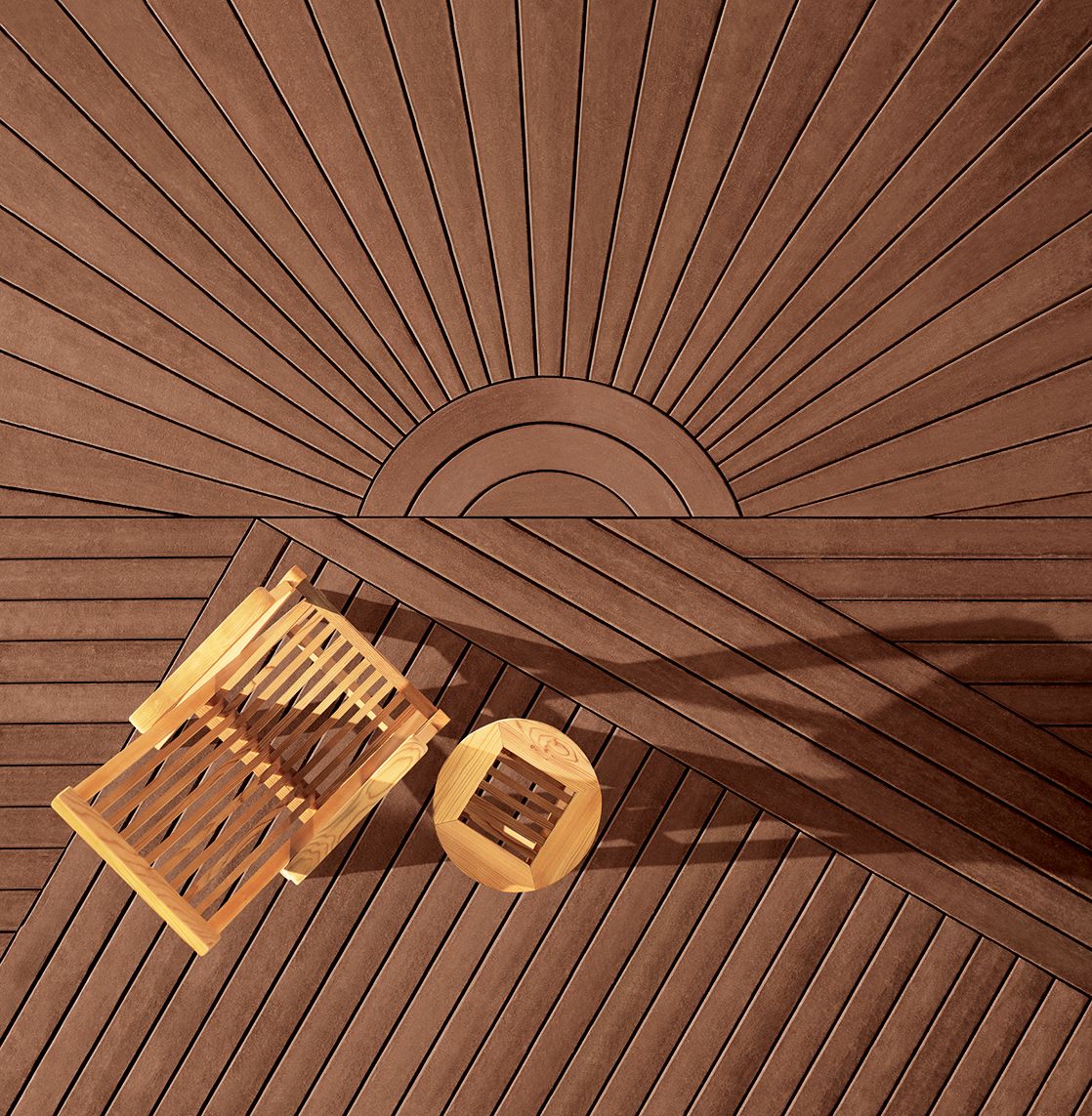 Complicated designs, such as this sunrise pattern, require complex framing underneath to ensure that each piece has enough support. Origins in Madeira, $5.50 per sq. ft.; trex.com