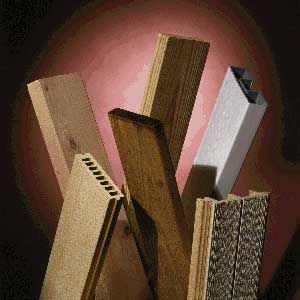 Comfort, elegance and living space make a deck one of the best home improvement investments you can make. According to the annual Remodeling magazine "Cost vs. Value Report," you'll get back nearly 75 percent of what you pay for a deck if you sell your home within the first year after the deck is built. That investment can vary widely, from around $15 per square foot installed for pressure-treated Southern yellow pine decks to more than $30 per square foot for cedar and redwood. Building it yourself? Depending on materials and the intricacy of your design, figure on about $1.50 to $5 per square foot for the planks and another $4 to $6 per square foot for joists and posts. An array of new decking options can make all that effort and expense last longer and cut down on maintenance during its life. While pressure-treated "green" Southern yellow pine still goes into 80 percent of all decks, there are several alternatives even within the pressure-treated (PT) lumber category. Other choices include exotic hardwoods and a variety of nonwood products, such as engineered vinyl systems and plastic-wood composites. And there are the different shapes, widths, grades and treatments within categories. This guide to the major decking materials includes pros, cons, grades, costs and availability for each, along with some advice to make your investment last.
Pressure-Treated Wood
Advantages: Economical and plentiful, pressure-treated wood lasts around 15 years when properly treated with a water repellent every two years.
Disadvantages: The dominant PT species, Southern yellow pine, checks and splinters as it dries. Left untreated, some PT turns muddy gray (use a semitransparent stain or clear sealer). In addition, PT preservative chemical residue may cause health problems. If you're doing the building, wear a dust mask. And be sure to wash yourself carefully and your clothing separately after working.
Availability: PT is widely available at lumberyards and home centers. Most is sold in 5/4×6 boards and all 2-by dimensions.
Recommendations: Southern yellow pine is treated with chromated copper arsenate (CCA), an insecticide-preservative. Use 0.40 (chemical density) CCA for decks and joists and 0.60 for posts. Consider PT that's factory-treated with water repellent; Hickson's Thompsonized PT and Osmose's Armor All PT are two examples. You can also get prestained PT, such as Osmose's Woodshades, which comes in three colors. Two less-toxic alternatives are ACQ Preserve with UltraWood water repellent and Kodiak lumber. Both are preserved without arsenate, and are backed for life against termites, decay and fungi. Quality grades run in descending order. Choose grade No. 1 for railings and benches, and grade No. 2 or BTR for decking. Also check the grade stamp for the letters KDAT (kiln-dried after treatment), which is more dimensionally stable than air-dried wood. And use hot-dipped galvanized, aluminum or stainless-steel (ring-shanked) nails, screws and other fasteners.
Cost: About $10 to $16 per square foot installed. CCA PT decking itself costs around $1.50 to $2 per square foot; add 50 cents per square foot for Kodiak and UltraWood.
Redwood and Cedar
Advantages: Redwood and cedar heartwood has glowing color, handsome straight grains and natural resistance to rot and insects. Boards are easy to cut and can be left untreated to weather naturally. Life span is easily more than 20 years.
Disadvantages: Both are expensive. Redwood sapwood – the newer wood closer to the bark – rots when exposed for sustained periods to moisture. Cedar sapwood breaks down quickly in moist conditions.
Availability: Redwood and cedar are sold in all standard dimensions. Cedar 5/4×6-in. deck boards are easy to find. Redwood can take a few days for special orders.
Recommendations: For redwood, use kiln-dried deck heart or deck common. Clear heart, clear, B heart and B grade redwood are fine for lower budgets. For cedar, clear all heart is the premium choice. Good, lower-cost alternatives include appearance grade and, for dry areas, No. 1 select tight knot (STK). Use hot-dipped galvanized, aluminum or stainless-steel (ring-shanked) nails, screws and other fasteners.
Cost: About $18 to $22 per square foot installed for both woods, not including substructure. Decking itself costs about $5 per square foot; the higher grades of redwood cost much more.
Tropical Hardwood
Advantages: Now more widely available, ipe (E-pay) is a durable teaklike tropical hardwood sold as Ironwood or Pau Lope (pow LOW-pay). Twice as strong as oak, ipe is more durable than redwood and cedar. It has a life expectancy of 40 years or more, and is resistant to insects and decay. Ironwood is backed by a 25-year transferable warranty, while Pau Lope comes with a 20-year limited warranty. All grades are virtually knot-free, and tight grain patterns make this wood impervious to water. Another tropical hardwood option is cambara; it's less durable than ipe but also knot-free.
Disadvantages: Expensive. Requires predrilling for fasteners. Availability: Ipe is available in most standard dimensions, including 5/456 in. for deck tops and 2-by dimensions for handrails, joists and posts. But delivery can take up to three weeks.
Recommendations: Treat it just once with a UV-blocking sealer like Penofin ($30 per gallon) and let it weather. Use stainless-steel screws.
Cost: About $22 per square foot installed, not including substructure. Decking itself costs about $5 per square foot. Cambara decking costs $3 per square foot.
Plastic-Wood Composites
Advantages: Virtually indestructible, plastic-wood composites blend 30 to 50 percent recycled plastic with wood fibers for skid resistance and stainability. Composite lumber is low-maintenance, and resists rot, insects and UV rays. It's also splinter-free and easy to work with. Deck screws sink in and disappear. Trex, TimberTech and DuraWood EX come with 10-year warranties, while ChoiceDek and DuraWood PE are backed for 20 years.
Disadvantages: Some composite lumber has a plastic appearance, and some colors fade over time. During construction, sawdust and shavings must be collected in a drop cloth because they aren't biodegradable. What's more, not all composite lumber can span traditional 16- or 24-in. joist spacing; narrower joist layout may be needed, boosting cost. Some building codes don't allow composite lumber; check with your building department before ordering.
Availability: Trex, approved by most building codes, is sold in most standard dimensions, including 5/4×6 in. and 2-by. ChoiceDek and SmartDeck come in 5/4×6 in. and 2×6 in. TimberTech is 1 1/2×6 and 1 1/2×8 in.
Recommendations: Typical choices are plain deck boards, like Trex and ChoiceDek, and shaped tongue-and-groove deck boards, like TimberTech (which you install) and SmartDeck's DuraWood EX (installed by a certified contractor). SmartDeck also offers a 100 percent plastic product, called DuraWood PE. If you're wiring the deck, consider ChoiceDek and DuraWood; both of these deck-and-rail systems are formed to allow running wires within posts or deck boards. Composite lumber weathers to a light gray and can be painted or stained, though protective sealers aren't required. Use galvanized screws.
Cost: About $20 per square foot installed for DuraWood EX, not including substructure. Most composite lumber by itself costs around $3 per square foot.
Vinyl Deck Systems
Advantages: Installed by you or a contractor, vinyl deck systems typically include deck boards, rails, spindles and fascia. They create a low-maintenance deck that needs no sealers or finishes and is free of splinters and cracks. Planks have good spanning ability and resist UV rays if treated at the factory. Fasteners can be completely hidden once planks are installed. The three major manufacturers of vinyl deck systems—Kroy, DreamDeck and EZ Deck—offer limited lifetime warranties.
Disadvantages: These systems are relatively expensive. Vinyl can fade and get brittle with age unless specially treated at the factory, and all vinyl eventually loses its gloss. Sawdust isn't biodegradable, so it must be collected in a drop cloth.
Availability: Kroy deck planks come 8 in. wide, DreamDeck planks are 5 1/2 in. wide and EZ Deck planks are 4 or 6 in. wide. These systems must often be ordered through distributors.
Recommendations: Choose skid-resistant planks, available in a variety of colors from Kroy, DreamDeck and EZ Deck. Also opt for color-fast, no-fade treatments like the one used by EZ Deck. Planks can be cut to length with a circular saw; plank ends are covered with vinyl caps. Proprietary strip systems are screwed to joists with galvanized or stainless-steel screws, then planks snap into place.
Cost: About $13 per square foot installed for Kroy, $18 for DreamDeck and $22 for EZ Deck, not including substructure. Decking itself costs about $7 to $12 per square foot.
Where to Find It:
Advanced Environmental Recycling Technologies
FM 2169HC 10, Box 116
Junction, TX 76849
915/446-3430
Chemical Specialties
200 E. Woodlawn Rd., Dept. TH798, Charlotte, NC, 28217
800/421-8661
Georgia-Pacific Corp
900 S.W. 5th Ave.
Portland, OR 97204-1255
503/222-5561
Greenheart-Durawoods Inc.
665 Rte. 9 N, Box 279
Bayville, NJ 08721
800/783-7220
Hickson Inc.
1955 Lake Park Dr., Suite 250
Smyrna, GA 30080
770/801-6600
Kodiak Inc.
Box 9158, 416 E. Brooks Rd.
Memphis, TN 38109
800/556-3425
Kroy Decks
522 W. 26th St., Box 309
York, NE 68467
800/933-5769
Osmose Wood Preserving
1016 Everee Inn Rd., Box O
Griffin GA 30224-0249
770/228-8434
Performance Coatings
360 Lake Mendocino Dr.
Ukiah, CA 95482
800/736-6346
SmartDeck
2600 W. Roosevelt Rd.
Chicago, IL 60608
888/733-2546
Thermal Industries
301 Brushton Ave.
Pittsburgh, PA 15221
800/245-1540
Timber Holdings Ltd.
2400 West
Cornell, Milwaukee, WI 53209
414/445-8989
TimberTech, Crane Plastics
Box 1047
Columbus, OH 43216-1047
800/307-7780
Trex Company
20 S. Cameron St.
Winchester, VA 22601-9917
800/289-8739
Western Red Cedar Lumber Association
1100-555 Burrard St.
Vancouver, British Columbia, Canada V7X 1S7
604/684-0266
ZCL Composites Inc
2305 8th St.
Nisku, Alberta, Canada, T9E7Z3
800/990-3099