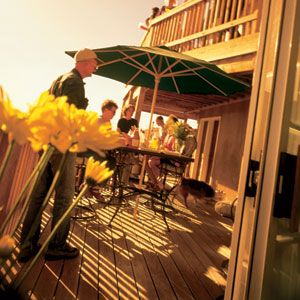 Betty Gerisch was nudging through a dinner-party crowd of Salvation Army members, aiming for a buffet table on the deck of a house in Atlanta one evening three years ago. Just as she and her husband, Robert, stepped through the door, she heard a loud crack and found herself falling through air. The deck had pulled away from the side of the house and collapsed, dumping 60 guests onto a concrete patio 18 feet below and scalding dozens of them in a torrent of overturned grills and chafing dishes. The scene "looked like a battlefield," reported one firefighter. Ambulances jammed the street as rescue workers helped people with broken pelvises, broken backs and third-degree burns. Robert Gerisch, 77, a cardiologist, suffered a head injury that would keep him in the hospital for six months. Betty Gerisch, 74, suffered a broken neck and a severed spinal cord. "I fell on lawn furniture and cement planters, and then everyone fell on top of me," she recalls. "I was conscious, but I dearly wished I hadn't been." She would never walk again. Three years later, she remains partially paralyzed and unable to get around except in a wheelchair. "To think that, in one instant, life can change so dramatically," she says. "And all because of a badly built deck." Decks are phenomenally popular in the United States. The National Association of Home Builders estimates they are included in nearly a third of all new houses, and decks are by far the most popular do-it-yourself construction project. Yet structural defects that can bring decks down are frighteningly common. Although no one keeps statistics, "I'd say as many as 10 percent of the decks I've seen have serious design or construction flaws that could lead to catastrophe," says Bob Fennema, a structural engineering consultant and member of the American Society of Home Inspectors. Moreover, deck collapses tend to occur just when the potential for injury is greatest: when a crowd gathers. Near Kalamazoo, Michigan, a 57-year-old woman was killed when a deck crashed on top of her several years ago while revelers upstairs were singing "Happy Birthday." In 1995, at a campground in suburban St. Louis, more than 100 fans of the Grateful Dead rock group were injured, five of them critically, when a covered deck under which they had sought shelter from a thunderstorm broke away from a lodge. And at the New Jersey shore last summer, an outdoor wedding ceremony was disrupted when the deck collapsed as the bride and groom exchanged vows. (They completed the ceremony in the emergency room, where doctors treated most of the wedding guests, including the mayor, who officiated.) A deck can even handle the rowdiest gang of fraternity brothers as long as the beam that carries the floor joists is properly bolted to the side of the house. By contrast, virtually every deck that collapses has been merely nailed on. Robert Falk, a structural engineer with the U.S. Forest Products Laboratory in Madison, Wisconsin, realized this while researching a deck-building manual five years ago. Falk had heard about the death of the woman in the deck collapse near Kalamazoo, and he wanted to find out the reasons for the failure. Using a database to search five years of newspaper articles from around the country, he found that nearly every collapsed deck had been attached with nails, rather than bolts, and that investigators had pinpointed the nails as the cause of collapse. "On paper, you can calculate that nails will work," Falk says. "In practice, it's a different story." As people gather on a deck, their weight and movement translate not just into a downward force but also into an outward force that acts as a lever prying the deck away from the house. Nails work well to resist the downward force but are no match for the outward force. Held in place only by the friction of bent wood fibers, nails tend to loosen when wood alternately shrinks and swells with changes in moisture content and temperature. Once nails loosen, they offer even less resistance to the prying forces of a crowd. "There is no built-in safety factor with nails, no warning of a coming disaster," Falk says. "When they pull out, they pull out." A screwed-in connector behaves differently. It gains increased frictional strength from the wedging action of wood fibers along the entire length of the shaft. A lag bolt, which looks like a giant screw, has as much as nine times the pullout resistance of a nail for every inch of penetration, Falk says. Better still is the metal-to-metal connection of a true bolt, inserted in a drilled hole and fitted with a nut on the other side. Placing a washer on both sides spreads the pulling force over a larger portion of the beam. "You'd rip the whole structure apart before those bolts would pull out," Falk says. Both of these connectors offer an extra benefit over nails: They don't suddenly pull out as wood shrinks and swells. But they may loosen over time. If the deck is inspected annually, early signs of loosening will show up as a widening gap against the house. "With bolts, you're more likely to see a problem brewing before your deck falls," Falk says. Another crucial step is to keep the connection between deck and house dry by adding flashing to drain water away. This will protect both the deck and the house. Holes made in the side of a house, even if filled with bolts, allow water to seep in. Jim O'Brien— who owned a construction company in Peachtree City, Georgia—recalls tearing a deck off a 7-year-old house and discovering that water flowing in had rotted the house. "We literally had a 5-foot section rotted so badly that you could put your hand through it," he says of the exterior wall. Flashing will prevent this, Falk says. He also advises squirting a durable caulk, such as silicone, into the holes drilled for the bolts: "The connection will be waterproof." Even better, Falk says, is to avoid attaching the deck to the house in the first place. A freestanding deck, built on posts so that a 1-inch gap separates it from the house, allows water to drain with no damage to the house. However, the posts need cross-bracing to keep the deck from wobbling. The bracing gets in the way if the deck extends above a walk-out basement. "But this would be our recommendation in just about every case," Falk says. "From a durability standpoint, freestanding decks are the way to go."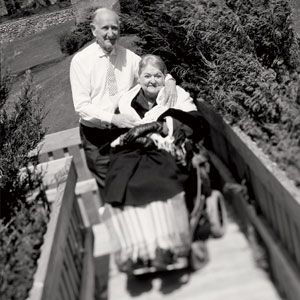 Norman Koplon, the director of Atlanta's Bureau of Buildings, knew none of this when he looked into the deck collapse at the Salvation Army party. The cause, at first, perplexed him. For one thing, this was no rickety, neglected structure. The deck, only 12 years old, had been built of rot-resistant pressure-treated wood and seemed as solid as the Georgian mansion to which it was attached. The deck wasn't overloaded either; it should have been able to support a crowd three times as large. Searching the rubble, Koplon came upon a small section of the deck that had remained in place. He checked it carefully and found that it was attached with bolts. The collapsed section had been held on with a handful of 12d nails—3-1/4 inches long. Instead of driving the nails where they would penetrate the solid-wood framing, the builders had simply hammered in about six nails every 16 inches. The result was that the tips of the nails penetrated the 3/4-inch siding—but not a fiber of cellulose beyond it. "The wood clapboard was supposed to be holding up the whole deck," Koplon says. "This isn't anybody's idea of a safe situation." In addition, the builders had skipped flashing. The wood behind the beam was rotten and riddled by termites. Amazed that anyone could have attached a deck by just nailing it into siding, Koplon researched the recommended construction method. Thumbing through the Atlanta building code, he found a definition of a deck—but little else. "I could not find a single substantial detail published on how a deck should be attached to a house," he says. "I just couldn't believe it." The lack of a code on deck attachment is not unique to Atlanta. Of the three main building codes in the United States—all of which were consolidated into a uniform code in the year 2000—not one dealt with fastening decks to houses. "You're not going to find any prescriptive details relevant to the structure of a deck," concedes Mike Pfeiffer of the Building Officials and Code Administrators, International, which publishes the BOCA National Building Code. The new consolidated code doesn't cover the specifics either—designed to fit all climates, it focuses on broad building requirements and offers even fewer specifics than the current codes. Home construction manuals also are little help, judging by a review of 19 books with deck plans. Only one contained drawings showing all the details required to properly attach a deck to a house. Many home owners expect local building officials to ensure that decks are properly built, but this, too, is a risky assumption. Although nearly all municipalities require decks to be built "to code," many do not inspect home-owner or low-cost projects, often defined as those costing less than $2,500. Bill Satter of Cav-Ark Builders Inc. in Niverville, New York, recalls building a large house in the Hudson River Valley for someone who later added a deck himself. When done, it was obvious that the supporting timbers were too small. The building inspector noticed the flaw and ordered Satter to rip it down. "When I explained the owner built the deck, not me, he let it go," Satter says. "It was okay if it was just something the home owner did." Some inspectors, however, have become crusaders for safer decks. After several collapses in Peachtree City, Georgia, building director Tom Carty made proper deck-building his mission. He even has a model of a deck, with bolts and flashing, in his office. When anyone applies for a deck-building permit, he says, "I walk them by it and make sure they understand every detail before I give the permit to them." The Gerisches also turned into reluctant experts in building a safe deck. By the time Robert Gerisch emerged from the hospital, his cardiology practice had withered; he went into forced retirement. Betty lost even more, but she's grateful: Surgery restored her speech, she now moves her arms freely, and her spirits are strong. "She's smart and alert, as always," Robert says. "It's just a miracle that I'm alive," Betty says. To help her get around, the Gerisches built a deck that slants down to the walkway in front of their house in Bloomfield Hills, Michigan. Betty's proud of the way it's attached: with bolts, nuts and plenty of flashing. "This one doesn't worry me," she says. "Believe me, it's solid."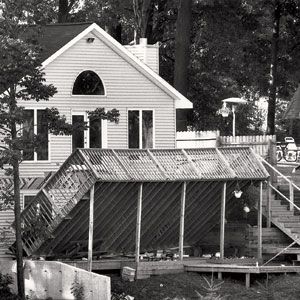 Two Good Ways to Keep a Deck Attached to a House
U.S. Government's Forest Projects Laboratory System, developed by researchers at the U.S. government's Forest Products Laboratory, will keep a deck from prying loose—and it will help prevent rot.
Inspecting your own deck
To check the attachment between a house and a deck, go beneath it and look at the main beam: "If you don't see bolts and flashing, it's because they're not there," says Tom Carty, the building director for Peachtree City, Georgia. Adding lag bolts may make the connection more secure, but often either the beam or the house has begun to rot. Carty suggests sticking a pocketknife into the beam and the wall; if the blade penetrates easily, the wood is rotting and the entire deck-to-house-joint may need rebuilding. If bolts are in place but a gap at the joint appears, it could be a sign they are working loose—or were never attached to anything structural in the first place.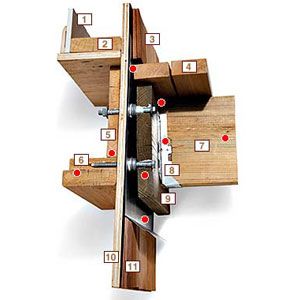 Tom Silva's System
Adding a deck to a house in Lexington, Massachusetts, This Old House contractor Tom Silva pays particular attention to the beam that connects the deck to the house and carries all the supporting joists. "It's where 99 percent of mistakes are made," he says.
Because a beam pressed tight against a house can trap moisture and encourage rot, Tom creates a gap for air with spacers shaped to fit the recessed foundation of the house. He cuts the spacers from scraps of pressure-treated wood, nails them on and then drills two holes through each spacer and the beam, one hole near the top edge, another at the bottom.
Tom and his nephew Charlie Silva jockey the beam into position. Aiming through the top holes previously made, they drill into the house's wooden sill and screw in lag bolts. Through the lower holes, they install masonry anchor bolts into the concrete foundation.
For flashing, Tom uses an adhesive-backed flexible membrane made of polyethylene film and rubberized asphalt. Tom prefers it to metal flashing because its sticky nature makes a watertight seal around bolts that penetrate the surface. Since the material could degrade in ultraviolet light, however, he makes sure to cover it with siding and decking. To prevent rot, Tom constructs the entire deck frame from pressure-treated wood. This wood is usually loaded with arsenic and chromium as preservatives, but he works with a look-alike product treated with a safer preservative, A.C.Q. For the decking, Tom switches to cedar or redwood because he likes the look.