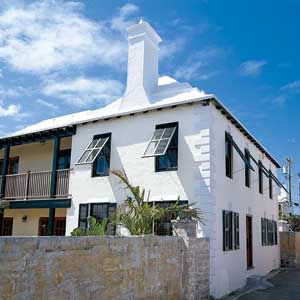 Bermuda is nothing if not moderate. The average temperature is 75 degrees Fahrenheit, and it's rarely more than 10 degrees above or below that, year round. It gets four or five inches of rain a month, year round. The average humidity is between 70 and 80 percent, also year-round. Except for the dramatic hurricanes that can come calling in late summer and early fall, the weather is stable, predictable, and lovely.
But on a February day when those in colder climes might envy Bermudians their moderate temperatures, the relative humidity in the northeastern United States is 30 percent. It's chilly indeed, but it's mighty dry. In Bermuda, the humidity simply doesn't go away, ever, and the cumulative effects of the relentless dampness show up in carpets, drapes, and even in the walls of the stone houses.
"In the States you might keep your drapes for ten years, but we can't do that," says interior designer Michele Smith, managing director of the Bermuda office of OBM International. "We tend to replace drapes and bedding every other year because of the humidity. We don't use a lot of drywall, either, and we only use wall coverings in new construction with central air conditioning that will run all the time, like in commercial projects."
When a house has been empty and neglected for years, as Harbour View has, the water problems go far beyond drapes and carpet. "When the exterior is neglected for a long time, it starts to affect the interior," says Smith. "You get water penetration through the window sills, and then it gets down into the stone. Harbour View is made of Bermuda stone covered with plaster, and in some places water got behind the plaster and into the stone. The stone acts like a sponge, and you can't just repaint or replaster — you have to chip the plaster away and let the entire wall breathe and dry out, then replaster the dry stone."
Once the existing walls are dried out, construction plans need to take the ongoing humidity into account. The new design includes many of the strategies Bermudians have embraced to keep the damp at bay: cross ventilation, reversible ceiling fans, vent slits in the roof that let warm air escape, and floor and wall surfaces that don't hold moisture. Window treatments include shutters and wood blinds rather than a lot of fabric.
"We're putting in engineered wood floors in most of the house," says Smith. "Porcelain tile is perfect for the living room floor — it's cool in summer, and it's easy to maintain. We'll use full-height tile in the master bath, leaving no wall surface exposed."
Of course, keeping the interior dry would become a moot point if the roof weren't sound. Harbour View's roof, like many in Bermuda, is made of locally quarried slate laid in overlapping rows on wooden rafters, then covered with cement wash. The result is a solid, watertight, and extremely heavy layer of limestone attached to the house below it.
"To a great extent, the sheer weight of a roof like that holds it in place," says project manager Alex DeCouto of contractor BCM McAlpine. "It might crack, or a strong hurricane might rip up some tiles. But except in the worse cases it wouldn't move, and we'd just fill in cracks with cement wash."
Unfortunately for Harbour View, its roof was already bit precarious. Homeowner Delaey Robinson recalls a crack that developed along the ridge of the northwest hip, as the very steep roof slid off the rafters. The roof was reset and bolted, ensuring that each slate had contact with wood. That fixed the problem on that section of the roof, but the rest of the house was still not sound.
"The roof is pinned at its base; it's a heavy roof sitting on a wood frame," says architect Colin Campbell. "At some point in the past, probably in a sudden zip of money, some guy used iron nails to attach the roof, and they all rusted. Then along came Hurricane Fabian last September, which loosened the construction."
The repaired roof will meet the new building code, which is similar to the South Florida building code for construction in a hurricane zone. "The roof connections are now made with lag screws," says Campbell. "Everything is secured to the rafters, and corner tie beams get metal L brackets to secure them."
Code also requires that every exterior opening in a house have protection against flying debris, so the shutters will be more than just for show. "The shutters are all operable and they're functional, not just decorative," says DeCouto. "You want to keep your windows safe from flying missiles. You can use simple wood louver shutters, or aluminum, or PVC, with hurricane-resistant ratings — everyone uses the Dade County, Florida, spec as the standard for hurricane resistance. The shutters we're using are made of composite material reinforced with aluminum." But, DeCouto adds, these shutters are not just for once-a-year use during storm season. "We close them up in storms," he says, "but we also sometimes close them for the night just to keep the room dark."
Delaey and Andrea are looking forward to closing those shutters on a good night's sleep in their own home, and that's getting a lot closer. Harbour View is just about all closed in now, with the roof complete and the walls of the addition in place. The last of the plastering should be completed soon, and painting and tiling is already beginning in some rooms. In just a few weeks, this family of four should be able to close the shutters and head off to bed in a newly restored, watertight home.