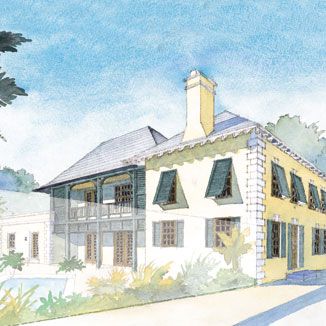 For nearly 200 years, the little Georgian-style house on Aunt Peggy's Lane in St. George's, Bermuda — the site of the current This Old House TV project — has been a home to well-known Bermudians. It has housed a merchant, a blacksmith, and even a member of Parliament. In fact, that last resident, Delaey Robinson, is still the owner, though he's given up politics to run his family's bed-and-breakfast with his wife, Andrea Dismont. He also gave up living in the house, known as Harbour View, when he and Andrea married, leaving it vacant for the past eight years.
Now the Robinsons are ready to reclaim the circa-1805 structure as a home for their family, which includes two young sons. While the house has all the basics to accommodate the foursome, a little extra attention will turn this very traditional, boxy house into a gracious family home. Local architect Colin Campbell has come up with a plan to enlarge the house and connect it to a small guest house on the property, which will remain a separate bedroom suite for visitors. The main house's new floor plan will give the family a luxurious living room with access to an expansive veranda, a large kitchen, a powder room, and a formal dining room downstairs, and two spacious bedroom suites upstairs. Outside, the scruffy yard will transform into formal gardens with a small resistance pool and a spa, restoring the colorful charm for which Bermuda's houses are known.
The project is set to finish up in four short months, thanks to local builder Alan Burland's hardworking crew — and a generous budget of $700,000. Then all this classic island gem will need to bring it back to life is the warmth of the four happy souls who'll call it home.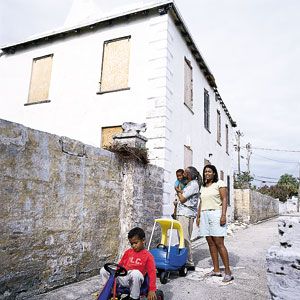 The Georgian Style
The georgian style Harbour View was built in the Georgian style, which dominated residential architecture in Britain's western colonies through most of the 18th century. Georgian's most prominent identifying feature is its square symmetry, with an equal number of windows on either side of a (1) classical entryway. Many examples built in the American colonies have pediments over the windows, (2) fanciful front gables or (3) hip roofs — sometimes with balustrades — and (4) dentil molding decorating the
cornice.
Because architectural forms crossed the oceans very slowly back then, the colonial version of "Georgian" doesn't mirror the concurrent English Georgian style — though both take their name from the three kings George who reigned during this period. The colonial Georgian style actually has its roots in earlier, 17th-century English architecture, which was based on ancient Roman and Greek forms. The elements of this classical English style arrived in the colonies half a century later along with craftsmen and architectural pattern books.
Bermudian Georgian is a more modest version of its American counterpart, adapted to suit the island's yearly hurricanes and scarcity of native wood. The walls and roofs are almost always heavy Bermuda limestone, which means the houses are often smaller — only one room deep — to carry the weight. Exterior wood ornamentation is rare; wood was used only for interiors, if at all, and (5) quoins and (6) keystones are commonly made from stone.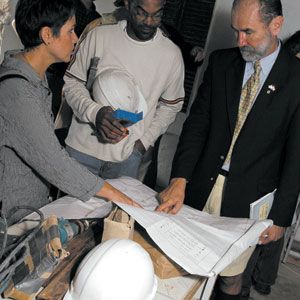 Where to Find It
Architect:
Colin Campbell OBM Limited
Hamilton HM FX, Bermuda
General contractor:
Alan Burland BCM
McAlpine Ltd
Hamilton HM NX, Bermuda
Our thanks to:
Andrew Trimingham
author of Bermuda's Architectural Heritage: Devonshire
the first volume in the Bermuda National Trust's Bermuda's Architectural Heritage series.