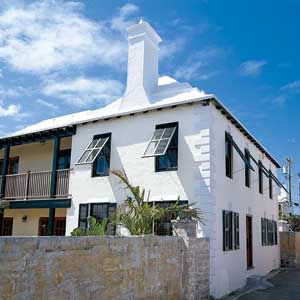 Andrea Dismont and Delaey Robinson have two small children, so Andrea knows what she's talking about when she describes the renovation process as being like a pregnancy. "In the beginning there's the thrill," she says, "when you say, we were chosen! That's followed by the nausea, then the final push of labor. And when it's all over, there's that post-partum sadness."
The renovation of Harbour View is now complete, and — after years of living in temporary quarters — Andrea and Delaey are finally home. They have a modernized kitchen and ample living space downstairs; comfortable sleeping, storage, and bath space upstairs; beautiful cedar doors and traditional shutters throughout; and a truly glorious landscaped courtyard outside. If there's any post-project sadness going on, Andrea seems to be coping with it pretty well.
"I'm totally in love and attached to this house!" she exclaims. "It's actually hard to get out of bed in the morning. I told Delaey that I won't need to go on vacation any more. In fact, from now on when we do travel we'll feel like we're slumming."
Listening to Andrea describe the newly remodeled Harbour View would make anyone want to vacation at her house — as if anyone needed another reason for a trip to Bermuda. The outdated kitchen and bath are things of the past, as are the waterlogged walls and hurricane-damaged roof. But more has changed than just infrastructure and appliances. The home is now perfectly suited for the life of a busy family of innkeepers, with well-laid-out spaces for cooking, dining, relaxing, entertaining, and, well, living.
"This layout is working so well for the family," says Andrea. "The great room has a kitchen combined with a den, where the kids have their TV and videos and an old beaten-up couch, so we don't have to worry about where they are. They have cubbies for their toys in there, too. It used to be that I'd have to be upstairs with the boys while Delaey was downstairs cooking. Now we can all be together."
The second-floor layout elicits similar praise, with its master suite, boys' bedroom, and walk-in closet. "I'm loving my soak tub and steam shower, and I used the foot whirlpool last night," Andrea says. "It's like having a personal home spa."
The interior is in every way a homeowner's dream: designed to the family's exact specifications, filled with a combination of new furnishings and treasured heirlooms, and solidly constructed to withstand the occasional hurricane. But the exterior courtyard is a brightly colored dream of its own, with its swim spa and hot tub, multi-level entertaining spaces, and custom landscape design. "Mohammed [landscape designer Mohammed Farooqui] translated our ideas perfectly," says Andrea. "It's got a great sense of privacy, great colors. I love the Mexican pebbles shaped into sunburst patterns, and the travertine tile that's cool to the touch. The sound of the waterfall makes you feel like you're at a retreat. And at night it's magical, as the fountains are lit and the palms are highlighted."
It's not just the luxurious touches that make the new house a home. The sense of permanence, after years of short-term solutions, is at the heart of the remodeled house. "My two-year-old is sleeping like a dream in this house," Andrea reports. Myles and his four-year-old brother, Kelsey, had been sleeping in their parents' room since Hurricane Fabian blew through the island last September. In addition to the damage Fabian did to Harbour View, it caused some minor damage across the street at Aunt Nea's Inn, as well as the guest apartment around the corner where the innkeepers were living at the time.
"Our moon gate fell down," says Andrea of the distinctive round gateway found on so many Bermudian homes. More significantly for the family, the ceiling in the boys' bedroom fell in, forcing them to share sleeping space with their parents. Faced with a triage situation, Andrea and Delaey opted to put their efforts into restoring their permanent home first. With that large project complete, the contractor can now turn to repairing the lesser damage at the other buildings.
Of course, just as a completed pregnancy is only the end of the beginning, so the official wrap of a This Old House project is not necessarily the "end" of a renovation. The film crew is gone for good now, but there are finishing touches still to be added, the kitchen garden to plant, final furniture decisions to be made. And because the house became something of a local tourist attraction, there are even house tours to schedule around "Elevenses" — an early tea with pastries.
Andrea and Delaey both express amazement and gratitude for the tremendous effort the many contractors and vendors made to renovate Harbour View in record time, bringing order to what they admit were chaotic lives. And even as Andrea concedes that she'll miss the process — the house full of workers, a TV camera following her family around the house — and suffer from a touch of that post-partum sadness, she and Delaey are deliriously happy about one thing. They've got one beautiful baby to keep.
For information about the contractors, products, and services used on the Bermuda project house, see the Resource Directory.