Science shows us time and time again that sleep is the number one predictive factor of long-term health. That being said, even if your air bed is only a temporary, alternative solution to a regular mattress, it's still just as vital that you're putting your best foot forward in ensuring that you get the most out of your sleeping experience. Qualities such as size, fabric, and internal structure can influence how long your air mattress will last and where it will fit best in your home or place of lodging. On the other hand, features such as internal vs. external pumps, battery vs. electrical power, and portable storage bags will impact the level of convenience and accessibility throughout use. The importance of all of these considerations will vary based on category of need, eight of which are discussed below in this guide.
Affiliate Disclosure:This Old House's Reviews Team is committed to delivering honest, objective, and independent reviews on home products and services. To support this business model, This Old House may be compensated if you purchase through links on our website.
By clicking on the product links in this article, Mattress Advisor may receive a commission fee at no cost to you, the reader.
Best Air Mattress – Our Top Picks
Best Overall Air Mattress – SoundAsleep Dream Series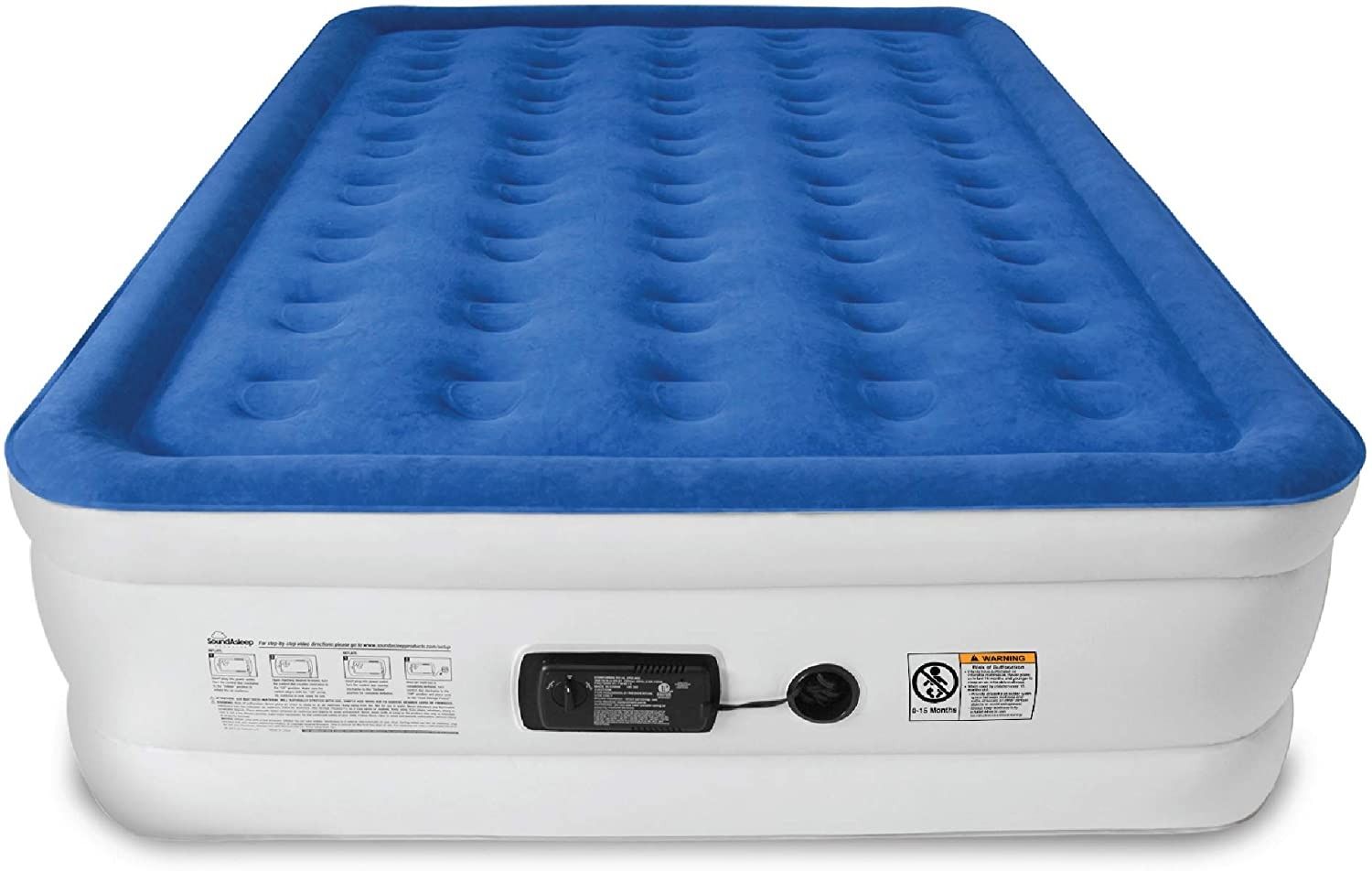 Made with a patented SoundAsleep design, this piece of luxury sleep equipment offers a phenomenal balance of comfort, durability, and simplicity. To start, our team noted that the industry-leading ComfortCoil Technology did an excellent job of providing maximum reinforcement and firmness to the sleeper, giving us confidence that the customer will be able to sleep soundly (pun intended) knowing that the mattress won't lose its shape throughout the night.
To offer a level of comfort not typical for an on-the-go mattress is an extra-thick, multilayer, and puncture-resistant PVC top that keeps the sleeper soothed and in place while they rest. What our team loved most, however, was the patented EZ Pump that comes with it. Its one-click toggle works quickly, intuitively, and quietly to inflate and deflate the mattress in only four minutes. Overall, the high-quality comfort technology, easy functionality, and overnight durability left our team feeling confident that the SoundAsleep Dream Series Air Mattress deserves the title of Best Overall Air Mattress in the game.
Pros and Cons of the SoundAsleep Dream Series
| Pros | Cons |
| --- | --- |
| EZ Pump technology is easy to use and works quietly and efficiently | Not as suitable for consistent, long-term use |
| Comfortably holds its shape over night | Less ideal for shoppers on a budget |
| Raised edges to keep sleepers feeling safe and secure | |
| Pros | Cons |
Pump Type: Electric
Price: $149.95 (Queen)
Inflated Mattress Height: 19 inches
Warranty: One-Year Warranty
Best Luxury Air Mattress – Serta Raised Air Mattress
Many were skeptical that an air bed can provide a luxury sleeping experience, but Serta has given all of these non-believers a run for their money. Besides the fact that the Serta Raised Air Mattress is lightweight and great for small spaces, it also offers convenient storage capabilities. Each air bed comes with a storage bag of the customer's choosing (either a duffel or carry bag) in which the air bed can fit into once deflated, making sure that a premium sleeping experience can follow you wherever your lifestyle may take you. What our team can't stop raving about, however, is the Serta Raised Air Mattress' patented two-pump system.
The primary pump offers quick and easy inflation and deflation as well as the option to choose between three firmness levels: Plush, Medium, or Firm. The second pump, the patented NeverFlat Pump, does what no other mattress in the industry has been able to do: change the inflation level while you sleep. Using innovative technology, the air pump is designed to continuously receive feedback about the air pressure of your mattress based on your desired settings. When the pump senses that the air pressure has decreased, it will automatically refill the mattress to the proper setting, all while the customer sleeps soundly. All in all, our team believes that the Serta Raised Air Mattress is the best pick for anyone hoping to give themselves or their overnight guests a luxury sleeping experience without having to invest in the real thing.
Pros and Cons of the Serta Raised Air Mattress 
| Pros | Cons |
| --- | --- |
| Lightweight and great for small spaces | Not ideal for shoppers on a budget |
| Comes with convenient carrier bag with purchase | Consistent buzz from second pump could be bothersome to some |
| It's NeverFlat, two-pump system keeps the sleeping surface at the desired setting without having to lift a finger | Some customers have had issues with air leaks in material |
| Pros | Cons |
Pump Type: Electric
Price: $159.95 (Queen)
Inflated Mattress Height: 18 inches
Warranty: One-Year Warranty
Best Air Mattress for Couples – BeautyRest Comfort Plus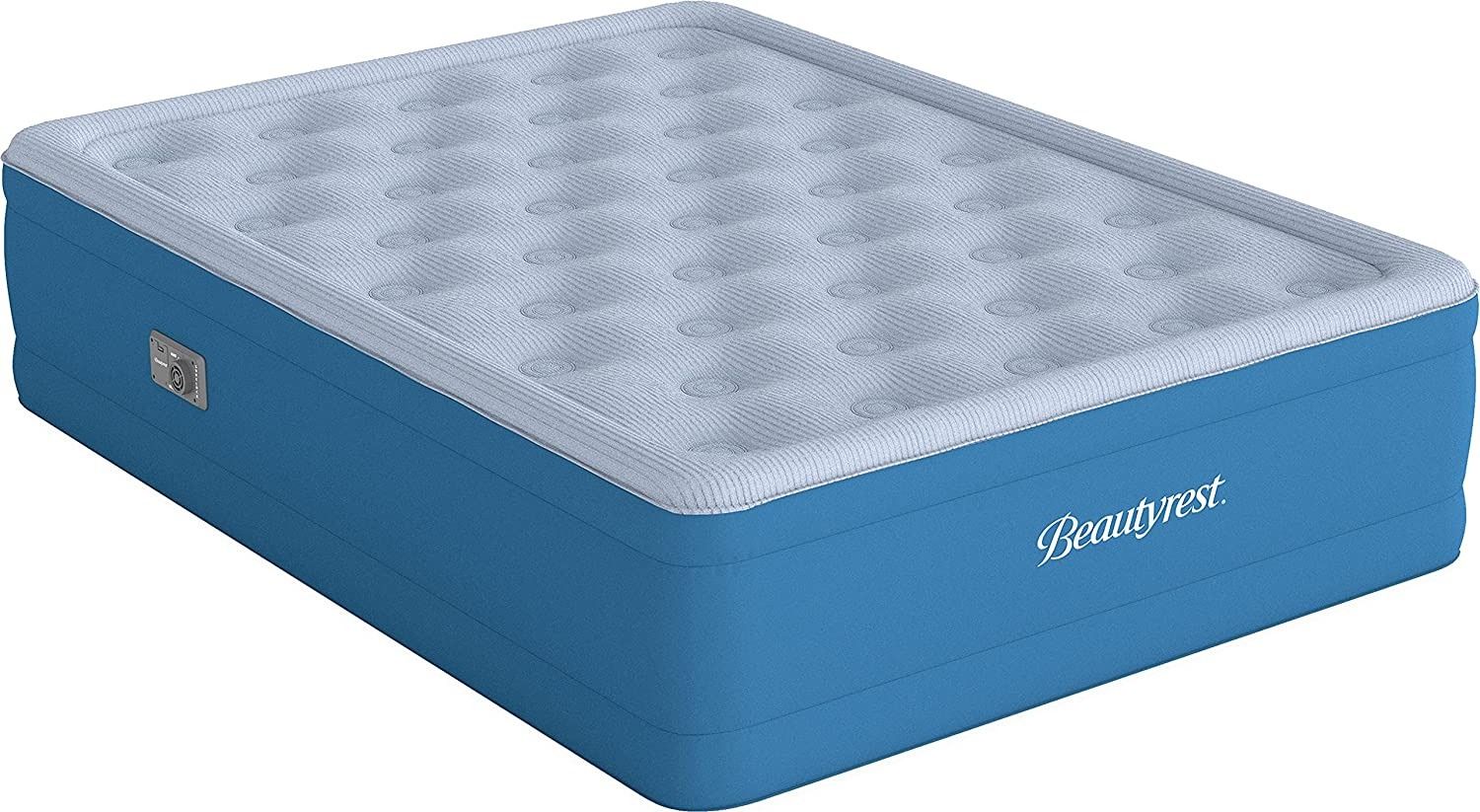 It's no surprise that the title of Best Air Mattress for Couples goes to a product designed by BeautyRest, a company that's been providing top-notch, innovative sleep technology to sleepers in the US for over 40 years! This high-quality air mattress impressed our team on more levels than one, but especially when it came to its stability and anti-sagging components. As couples sleep on air mattresses (or any type of mattress, really), the tendency is for sleepers to either sink towards each other or veer towards the outer edges throughout the night, interrupting their good night's sleep.
The Comfort Plus, however, is constructed with a no-sag edge support, a no-tilt base, and a dual coil-in-coil design that reduces motion control and keeps sleepers feeling stable and secure while they rest. Our team also feels confident that couples will love the cooling capabilities of the Comfort Plus, all thanks to the extra-plush, extra-thick, and puncture-resistant topper made to optimize airflow and keep you feeling perfectly chilled and at-ease all night long.
Pros and Cons of BeautyRest Comfort Plus
| Pros | Cons |
| --- | --- |
| Designed with proven anti-sagging capabilities | Pump is external |
| Includes an anti-leak pump | Not ideal for sleepers with back or neck problems |
| Keeps couples cool and comfy all night long | Not ideal for shoppers on a budget |
| Pros | Cons |
Pump Type: Electric
Price: $159.95 (Queen)
Inflated Mattress Height: 18 inches
Warranty: One-Year Warranty
Best Air Mattress under $100 – Intex Dura-Beam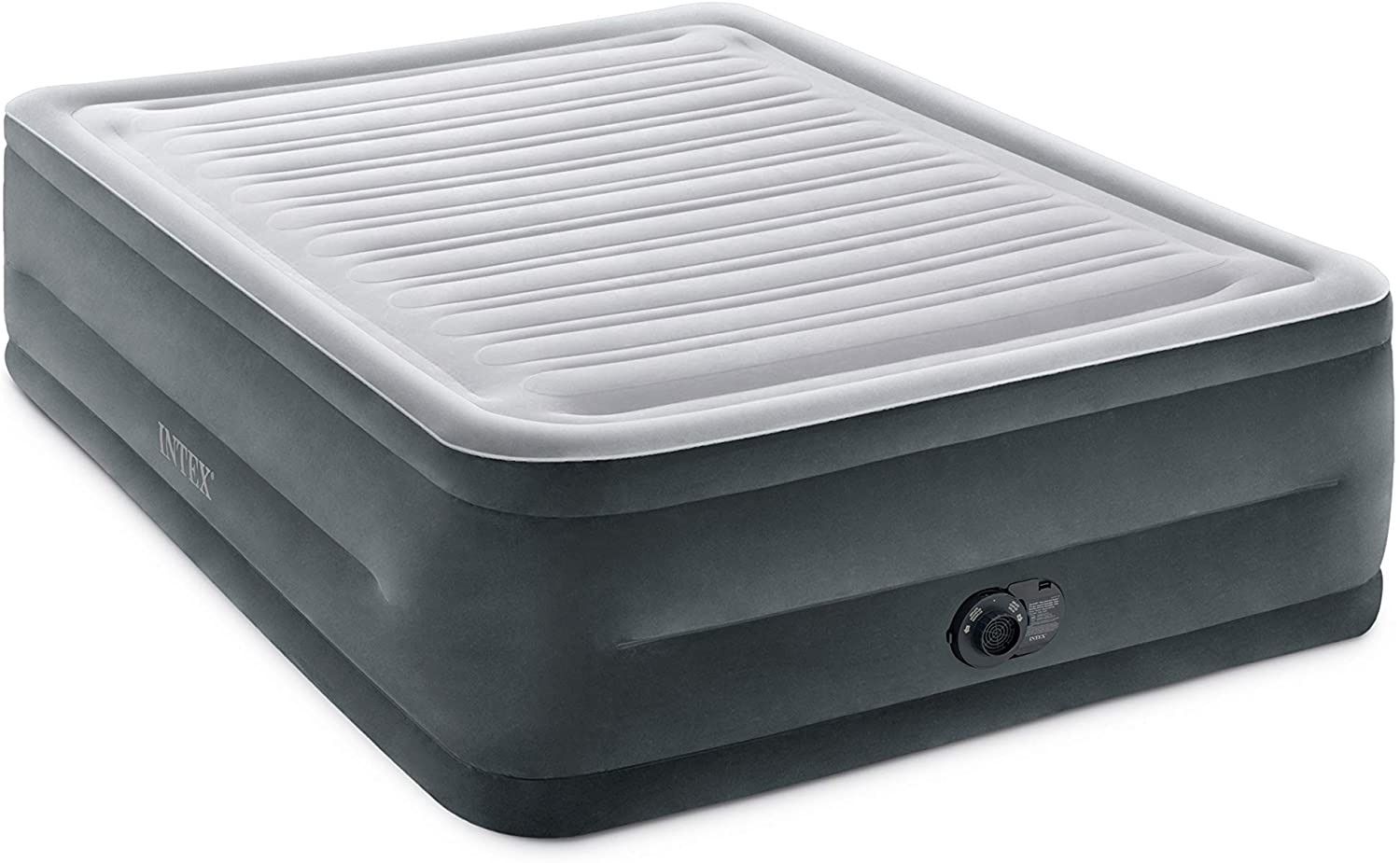 Because air mattresses are often purchased for temporary or short-term use, it's understandable that many shoppers aren't interested in dropping a bunch of cash on one. This doesn't mean, however, that you always have to sacrifice quality. The Intex Dura-Beam, available on Amazon for less than $100, is comfortable, supportive, and easy to use.
To start, our testing team loved how quickly and easily (in three minutes, to be exact) the Intex air mattress uses its QuickFill internal pump to inflate to a whopping height of 22 inches. Plus, thanks to the mattress' horizontal support beams, not only does the sleeping surface reach this impressive height in no time, but it also stays at this height throughout the night. (Yup, that means no sagging!). The icing on the cake of this budget sleeping equipment is its velvety, puncture-resistant top and sides, which our team is confident will make for a comfy and stress-free night's sleep. Overall, if you're looking for an air mattress with a solid deal and some solid features to back it up, the Intex Dura-Beam is the choice for you.
Pros and Cons of Intex Dura-Beam
| Pros | Cons |
| --- | --- |
| Ideal for shoppers on a budget | Can have issues if over-inflated |
| Comes with carrier bag to facilitate easier transport | Not ideal for shoppers looking for a mattress to fit into tight spaces |
| Inflates and deflates in exactly three minutes | Can deflate during the first few uses while material stretches |
| Pros | Cons |
Pump Type: Electric
Price: $79.99 (Queen)
Inflated Mattress Height: 22 inches
Warranty: 1 year limited warranty
Best Air Mattress for Camping – Coleman Camping Cot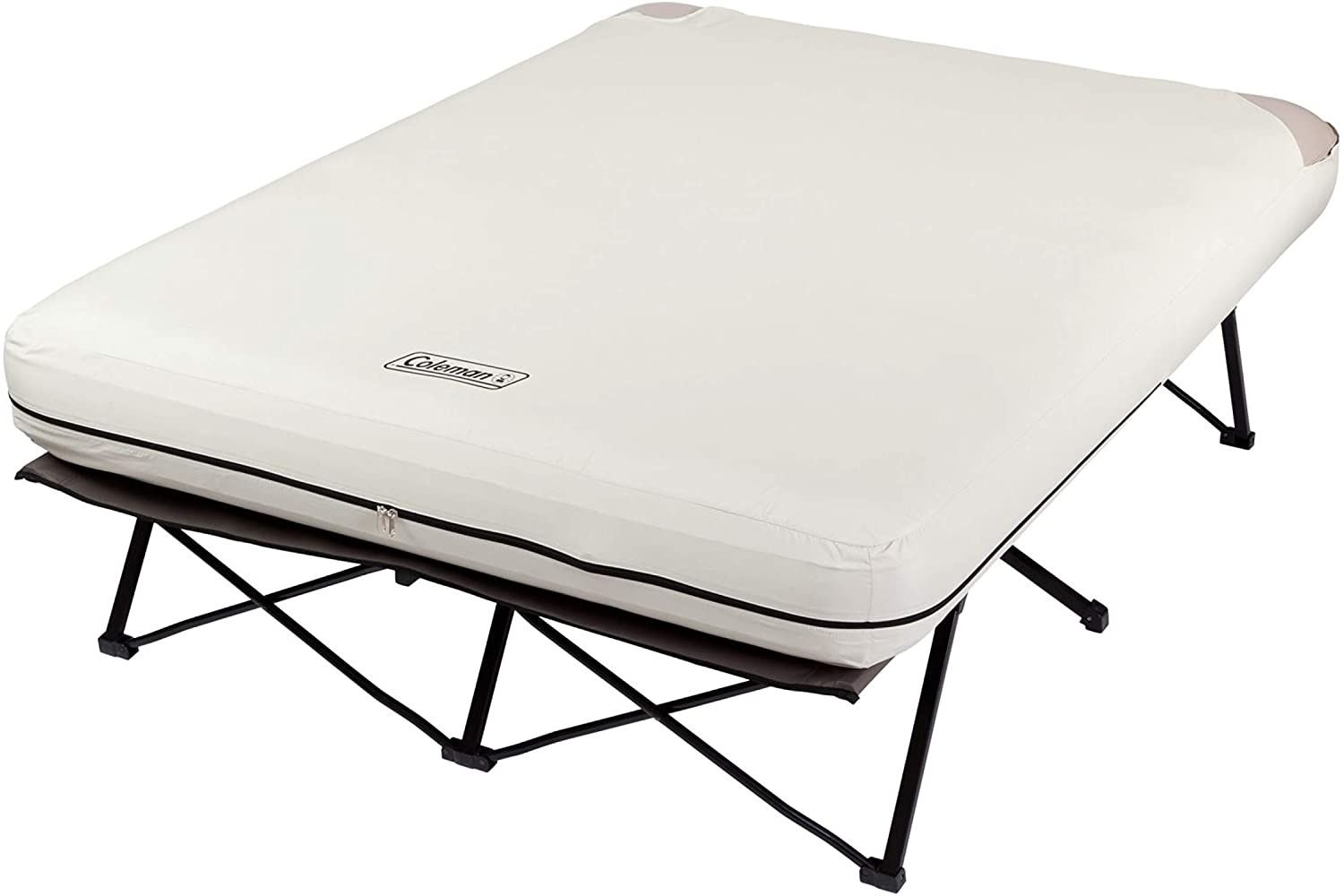 The Coleman Camping Cot is not only wildly fun to say, but it's also one of the best air beds for campers. Coming in at only 22.5 pounds altogether, this cot and queen-size mattress combo offers a quick and easy set up for any and all lovers of the outdoors. The above-ground frame also allows enough room for some under-the-bed storage, making the Coleman Camping Cot a great choice for those looking to get the most out of their tent space.
Our team particularly loved the homey-touch of the retractable side tables with mesh cup holders, which are perfect for keeping your phone and/or water bottle close by during your night under the stars. Then, once your outdoor adventures have come to an end, the Coleman Cot can be simply and conveniently stored in a portable bag light enough for the average person to carry alone. If you're a camper in need of back pain relief or extra edge support, this piece of sleeping equipment might not be the choice for you. However, if what you're looking for out of an air mattress is functionality, accessibility, and simplicity, our team feels strongly that the Coleman Camping Cot more than gets the job done.
Pros and Cons of the Coleman Camping Cot
| Pros | Cons |
| --- | --- |
| Acts as a great space-saver | Not ideal for sleepers in need of extra back support |
| Quick and simple set-up | Not a lot of edge support |
| Convenient and portable | Less suitable for campers on a budget |
| Drink holders on both sides | |
| Pros | Cons |
Pump Type: Battery-Operated
Price: $199.99 (Queen)
Inflated Mattress Height: 10.6 inches
Warranty: 1 year limited warranty
Best Extra-Long Air Mattress – King Koil Luxury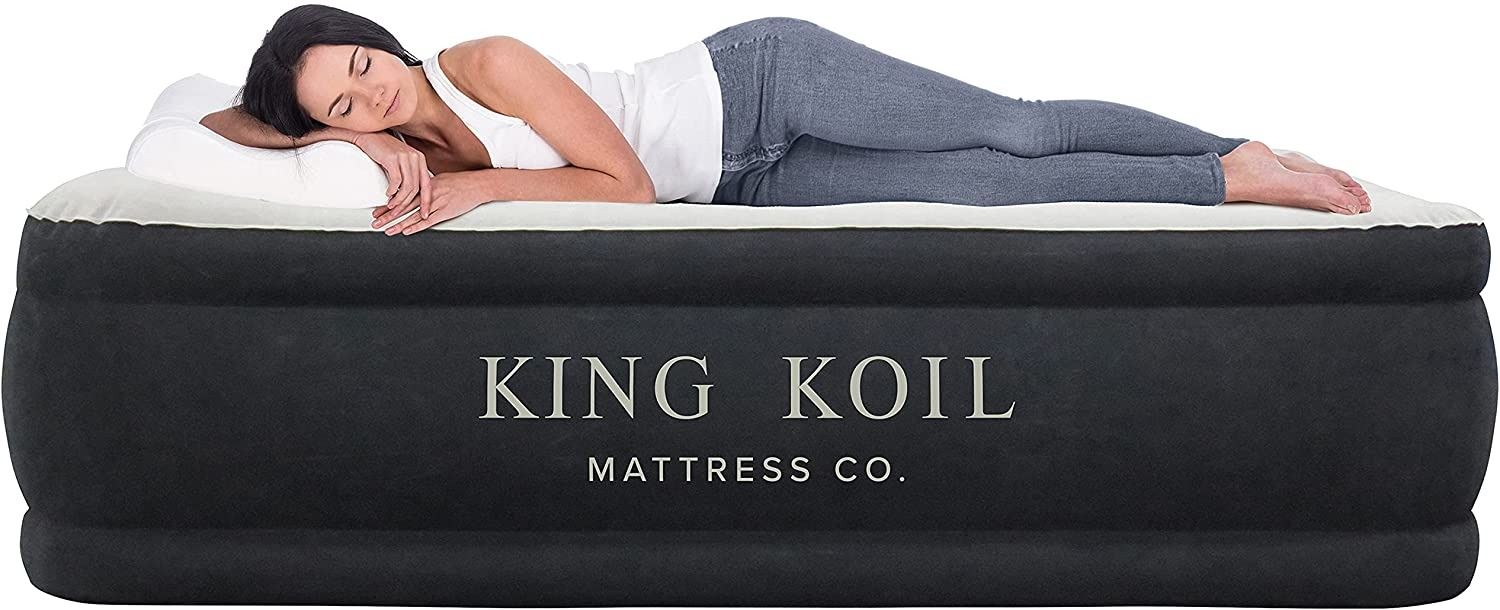 Whether you're in need of a sleeping solution for your welcome house guests or your next big camping trip, our team feels confident that the King Koil Luxury is an air mattress fit for, well, a king! Available for just under $200, this extra-large piece of sleeping equipment uses a built-in, high-speed pump to inflate in just two minutes and thirty seconds, making it one of the fastest-working pumps in the industry!
Our team especially loved the mattress' innovative system of internal air coil beams, which work effectively to support the sleeper and maintain spine alignment throughout the night. To add to its impressive and well-rounded features, is its comfortability and durability. Both the top quilt layer and sides are designed using high-quality, puncture-resistant, and waterproof material perfect for withstanding wear and tear for years to come. The most notable feature, however, is its size! The King Koil is one of the only companies in the industry that offer air mattress equipment in king sizes, making it ideal for sleepers looking for a bed that not only offers extra surface-area but also the functionality and reliability to get the job done.
Pros and Cons of King Koil Luxury
| Pros | Cons |
| --- | --- |
| Inflates and deflates in under three minutes | Not ideal for shoppers on a budget |
| Patch kits included in every purchase | Less suitable for small spaces |
| Fantastic customer service | Has had issues with air leakage |
| Built in pillow rest | |
| Pros | Cons |
Pump Type: Electric
Price: $169.95 (California King)
Inflated Mattress Height: 20 inches
Warranty: One-Year Warranty
Best Adjustable Air Mattress – EnerPlex Air Mattress
It's not easy to create an air mattress that's easy to use, comfortable, AND optimal for all occasions. However, our testing team found that EnerPlex (which comes in queen and twin sizes) had no issues doing exactly that. To start, we were impressed with how this inflatable air mattress was able to be filled to its maximum height of 15 inches in just two minutes, making it more than two times faster than its industry counterparts!
After filling up in record time, the EnerPlex dual-pump system easily and intuitively allows you to adjust the sleeping surface to your desired comfort level. Whether you're purchasing the Enerplex Air Mattress for your guest room or your next outdoor adventure, you can rest assured knowing that whoever uses it will be able to make the adjustments they need for a good night's sleep. Lastly, our team was surprised with how the velvety flocked top and coil beam technology work in tandem to create a pleasant, supportive surface that keeps sleepers feeling secure and at ease through all hours of the night.
Pros and Cons of the EnerPlex Air Mattress
| Pros | Cons |
| --- | --- |
| Inflates in just two minutes | Will require an adapter if being used for camping |
| Dual-pump system allows for easy adjustability | More ideal for temporary rather than long-term use |
| Comfortability and versatile | |
| Pros | Cons |
Pump Type: Electric
Price: $98.51 (Queen)
Inflated Mattress Height: 15 inches
Warranty: Two-Year Warranty
Best Air Mattress with Built-In Pillow – Active Era Air Mattress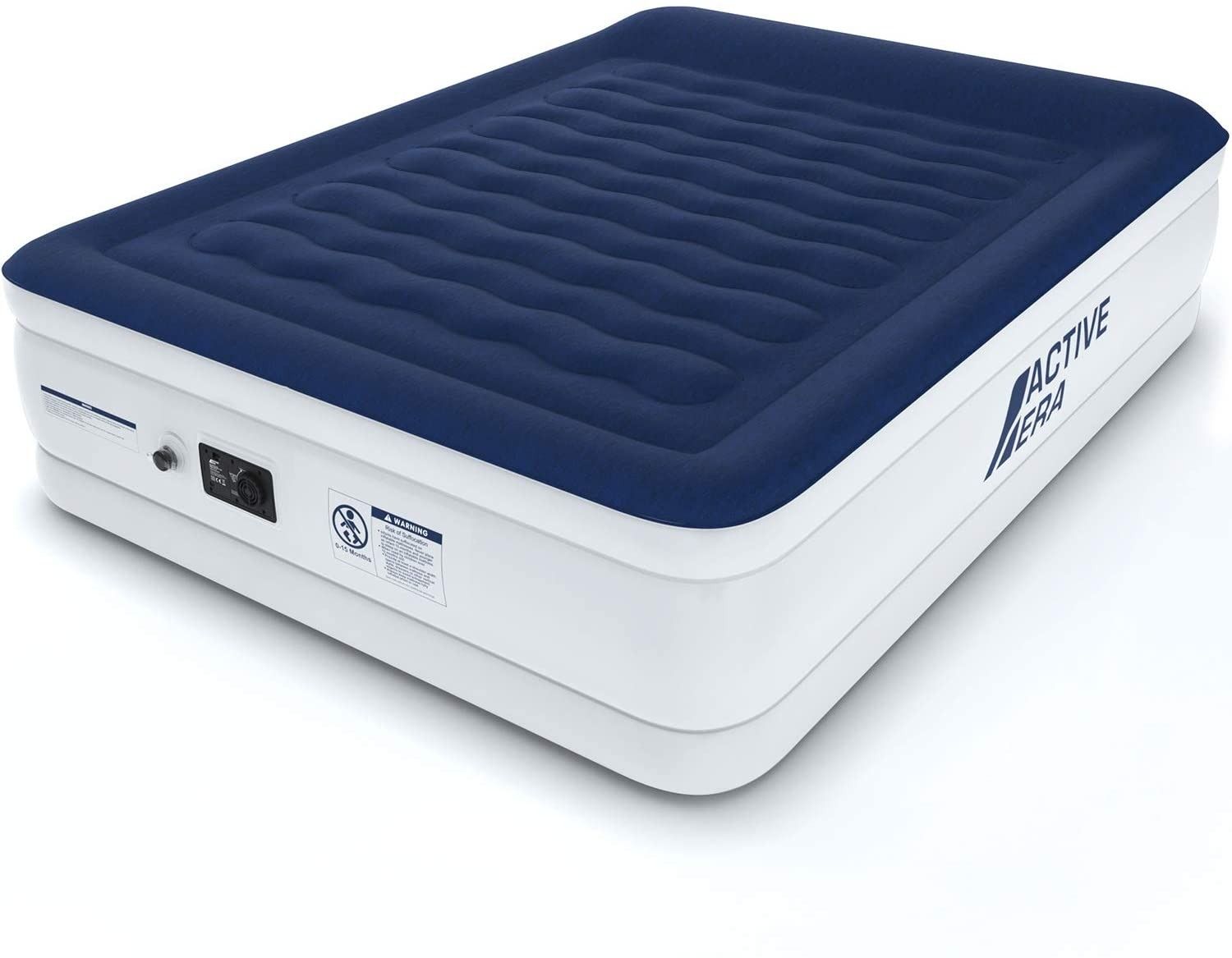 The more functional, the better—right? Our testing team noted that the innovative design of the Active Era Air Mattress includes an integrated, 3-inch pillow that offers sleepers the extra neck and head support not found in other air mattresses of its kind. To add to its bed-like features is also an internal, 35-coil system that delivers comfort and durability that keeps sleepers' spines feeling supported and secure all night long. Although the Active Era insta-bed might not be ideal for everyday use, its water-resistant, puncture-proof materials still make it a suitable and trusted choice for occasional guests or camping trips. Plus, every purchase of an Active Era Air Mattress includes a handy travel bag that makes for quick and easy portability.
Pros and Cons of the Active Era Air Mattress
| Pros | Cons |
| --- | --- |
| Optimal for sleepers looking for additional head and neck support | Made from vinyl so stretches naturally during first few uses |
| Built-in-pump that inflates in three minutes or less | Not ideal for larger/taller sleepers who might need extra space |
| Comes with carrier bag to maximize portability | Less suitable for long-term use |
| Pros | Cons |
Pump Type: Electric
Price: $119.99 (Premium Queen)
Inflated Mattress Height: 20 inches
Warranty: One-Year Warranty
MA Score: The Mattress Advisor Score is a weighted score that takes into account 14 different factors related to the mattress' performance, function, convenience and the brand's social responsibility.
Air Mattress Shopping Tips
Air mattresses might not be your forever bed, but because we NEVER want to underestimate the power of a good night's sleep, they're certainly worth doing the research for. To start, you want to consider what exactly comes with the purchased package. For example, make sure to ask yourself: "Does the mattress come with its own pump or will I need to buy one separately?", "If it includes one, is it an internal or external pump?", "Does the bed inflate using electricity, battery power, or a manual hand pump?". The answers to these questions will provide insights into the level of convenience that the air mattress will provide for you.
Other considerations include how quickly the bed can inflate and deflate, how easily you can adjust the air to fit your comfort level (if at all), and how to care for and store your on-the-go sleeping equipment after use. Continue reading below to find more in-depth explanations for all of the factors you should consider when on the search for the best air mattress for you.
Type of Pump
Manual: This particular kind of pump requires you to use your arms to pump air to inflate the air mattress manually. If you don't mind sacrificing convenience and time to save some money, this might be a good choice for you.
Electric: Some electric pumps will come already integrated into the bed while others will require one that is detached. This may mean that you need to purchase the pump separately. Additionally, some electric pumps run off of battery power while others need to be plugged into an outlet. This would be something to keep in mind if you're in the market for an air mattress that you can bring along on an outdoor excursion.
Performance Factors
Set-up: Luckily, most air mattresses are fairly simple to set up. What makes certain air beds stand out amongst the rest, however, is how quickly they're able to be inflated and how easily they can be adjusted to match your comfort level. Regarding speed, two to three minutes is considered to be a very quick inflation rate by industry standards. In order to optimize adjustability, shoppers should look for a dual-pump system and/or a mattress with air pressure detection technology that consistently monitors and inflates/deflates based on the user's desired settings (such as with the Serta Raised Air Mattress, for example).
Durability: Just because air mattresses are inherently less durable than regular mattresses doesn't mean there aren't some great options out there that pack a big punch. Keep an eye out (especially if you're the adventurous type) for air beds made with puncture-resistant, water-proof, and no-slip materials that can withstand the wear and tear of multiple uses.
Firmness: Partial or complete deflation in the middle of the night is probably one of the most frequent customer complaints when it comes to air mattresses. That being said, it's important to make note of the construction of the air mattress before purchasing. A design that incorporates air coils and beams throughout the mattress offers the sleeper more reliable spinal support as well as a decreased chance of sagging throughout the night.
Size: Before you start your search, make sure you're clear on not only the purpose you want the air mattress to serve, but WHO you want your air mattress to serve. Will it be for a couple? Children? Adults? What size are they? Keep the answers to these questions in mind when looking at the size and weight capacity of each mattress.
Air Mattress Construction
Fabric Type: Most air mattresses are made out of PVC (Polyvinyl Chloride), as it is very versatile and lightweight. When conducting your search, however, make sure to check if the material is also puncture-proof and water-resistant. Some brands (such as King Koil, for example) will include a patch kit with your purchase, seeing as leaks are quite common, even in the best of the best air mattresses.
Air Chambers: In order to keep the sleeper lifted and supported during the night, air mattresses are filled with chambers of air that are typically divided into zones. These zones are there to ensure that the weight support is evenly distributed as well as to allow for adjustments in firmness based on the sleepers desired level of comfort)
Inflated Height: Air mattresses can range from only a couple inches in height to approximately twenty inches. The height of the best mattress for you can depend on multiple factors (including the type of space you're trying to fit it into and the specific use you have in mind), but typically those with the greater height are capable of offering more comfort. For shoppers who are looking for an air mattress to accompany them on a camping trip, however, a shorter height promises an easier, quickier, and often more convenient setup.
Internal Support: The highest quality air mattresses in the game will likely consist of a vertical coil system. Although mattresses with this feature usually cost more, they do a much better job of providing trusted support for those who use it, especially if there is more than one sleeper involved.
FAQs About the Best Air Mattresses
Can I use an air mattress over a regular mattress?
Life happens! Sometimes we're working with a small budget or need something to hold us over while we change homes or cities or both. In these cases, it is perfectly acceptable to use an air mattress. It should simply be noted, however, that they likely will not be able to provide you with the support and durability that your body needs for good, restorative sleep in the longer-term.
How do I fix an air mattress leak?
In the event of a leak in your air mattress, you either place some adhesive tape over the hole/tear or cover with a vinyl patch. Some air mattress brands, such as King Koil, include a patch kit with your air mattress purchase.
How long do air mattresses last for?
The durability of air mattresses depends on several factors, such as the type of fabric it's designed with, how often it is used, where it is used, and the size of the person/people using it. Typically, however, an air mattress will last between two to eight years.
Can I prevent my air mattress from deflating during use?
There are a few things you can do to ensure optimal air pressure of your mattress throughout the night. To start, you should make sure to allow the mattress to stretch out properly before selecting your desired setting, as the particular fabric it's made with takes a couple of uses to stretch out to its final size. Next, in order to prevent tears or leaks, stay cautious of over-inflating the mattress. Lastly, it's important to take into consideration your surroundings before setting up your sleeping station. Ensure that your mattress is not making contact with anything sharp and check that the room you are sleeping in is set at room temperature, as too warm of an environment can cause air loss.
How do I clean my air mattress?
Some people can overlook this fact, but air mattresses need cleaning just like regular mattresses do! A soft brush, a broom, or even a handheld vacuum are all perfectly safe to use on air mattresses, as long as you make sure to use gentle strokes. Wet rags or wipes are also acceptable cleaning tools to use, as long as you remember to let the material dry fully before placing it into storage.
Can I use a mattress topper with my air mattress?
Extra comfort? Yes, please! Even though many air mattress designs already include a flocking layer in the top of the mattress, adding your own topper is a great way to get even more out of your air mattress experience. They have the capacity to make the mattress warmer, cooler, or firmer, so it all depends on what you're looking for!
Summary of Our Top Picks for the Best Air Mattress