The Murphy bed has come a long way since it was first designed in the late 19th century, when, as legend has it, the inventor William Murphy sought to quickly convert his studio apartment into a proper sitting room. Murphy wished to have a lady friend in his home but entertaining a woman in his bedroom would've been inappropriate, even scandalous—and so the hideaway Murphy bed was born.
5 Creative Murphy Bed Ideas
Today, Murphy beds can be stand-alone pieces of furniture, encompass everything from desks to bookshelves, and be the center of many clever storage ideas.
Let's take a look at some creative Murphy bed designs that make the most of your space without sacrificing your style.
Murphy bed with a desk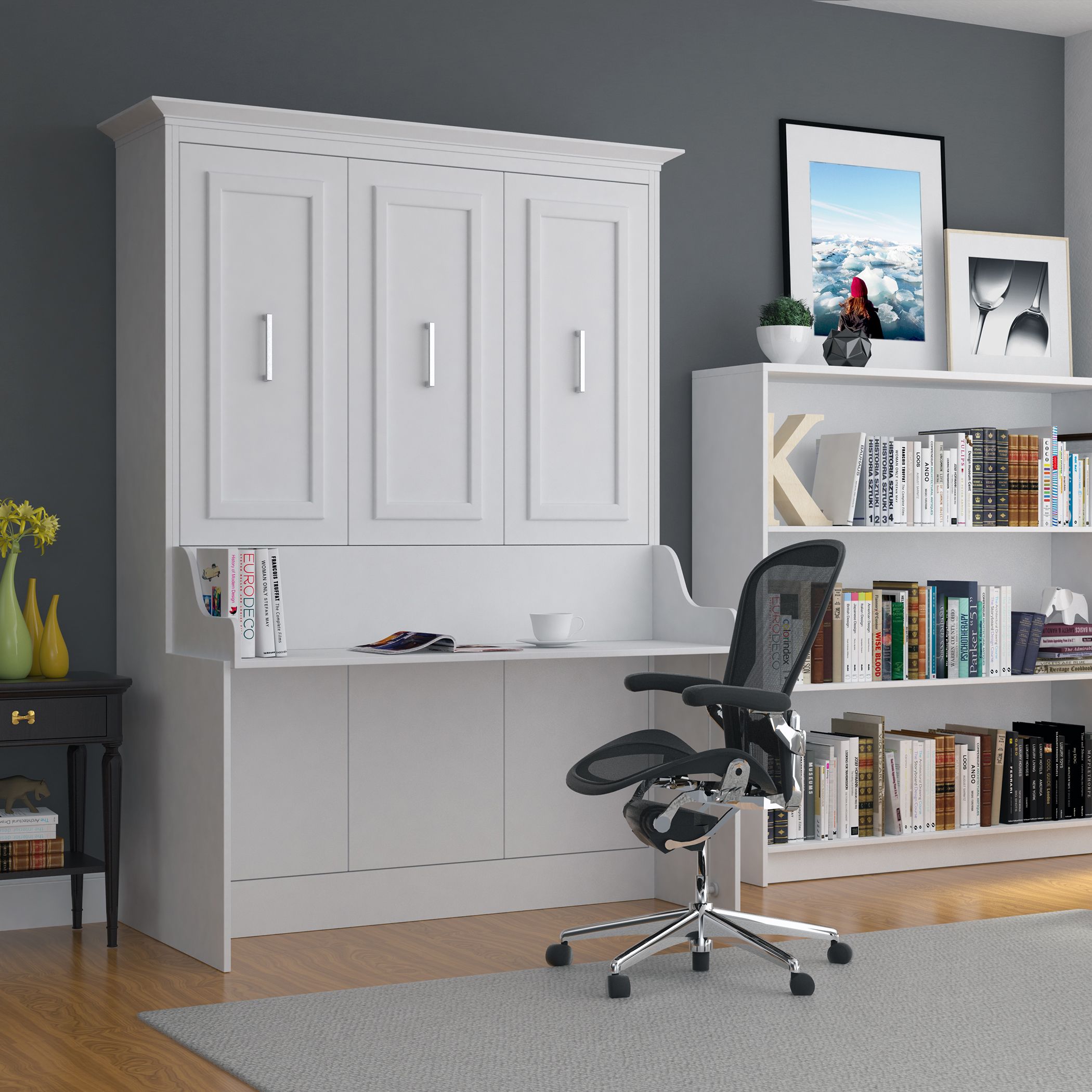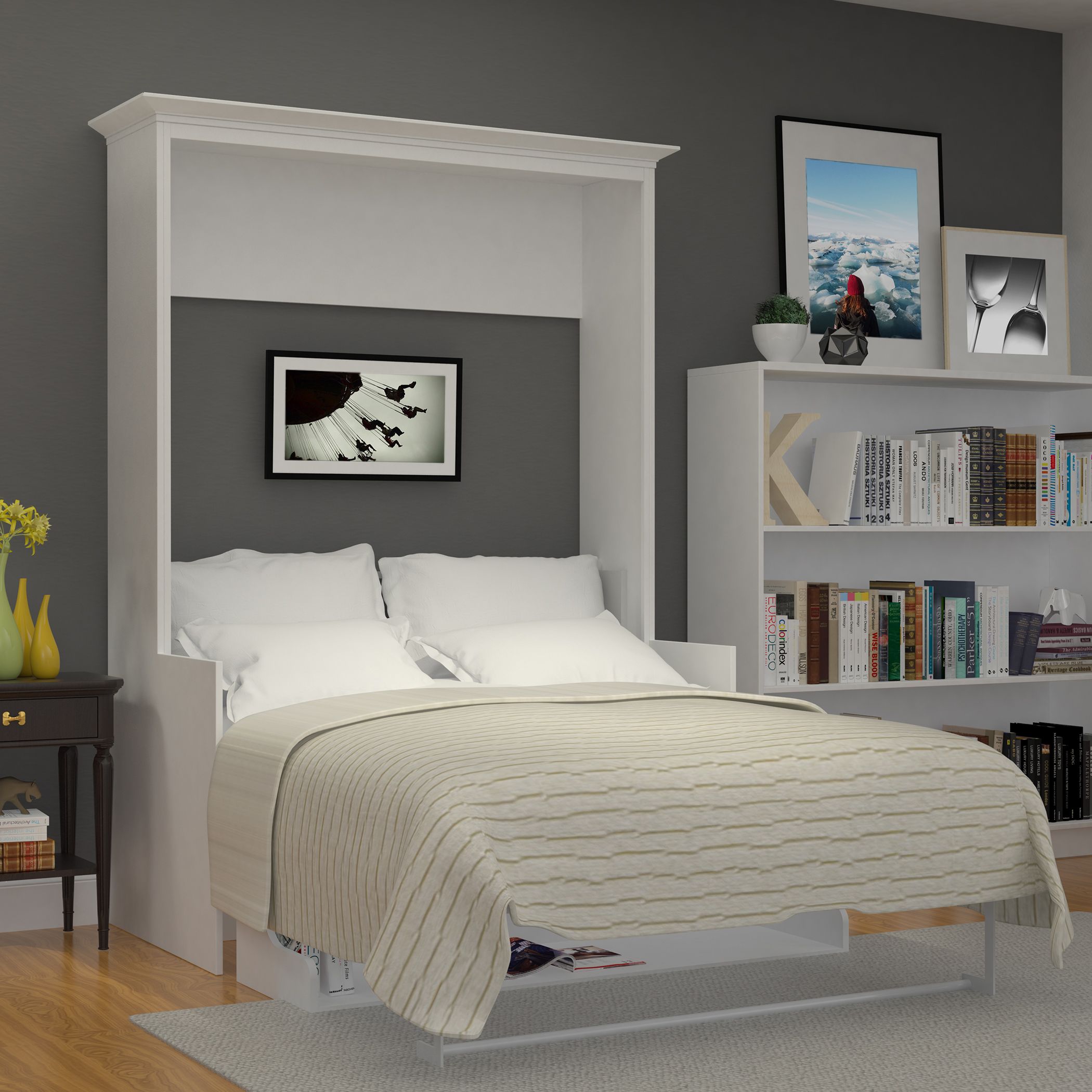 Many people with an extra bedroom decide to use it as a home office but want the option of turning it into a guest room when friends or family come to visit. To hide a bed that's largely unused, consider tucking it into a desk!
The desk may resemble an upright piano, with a flat piece that juts out as the work surface. The rest of the structure may pose as cabinets, but actually hides a mattress and frame. Some versions even keep the items on the desk in place, under the bed, when the frame is lowered.
Shown: Tova Murphy Bed, Available on Wayfair
Murphy bed with a sofa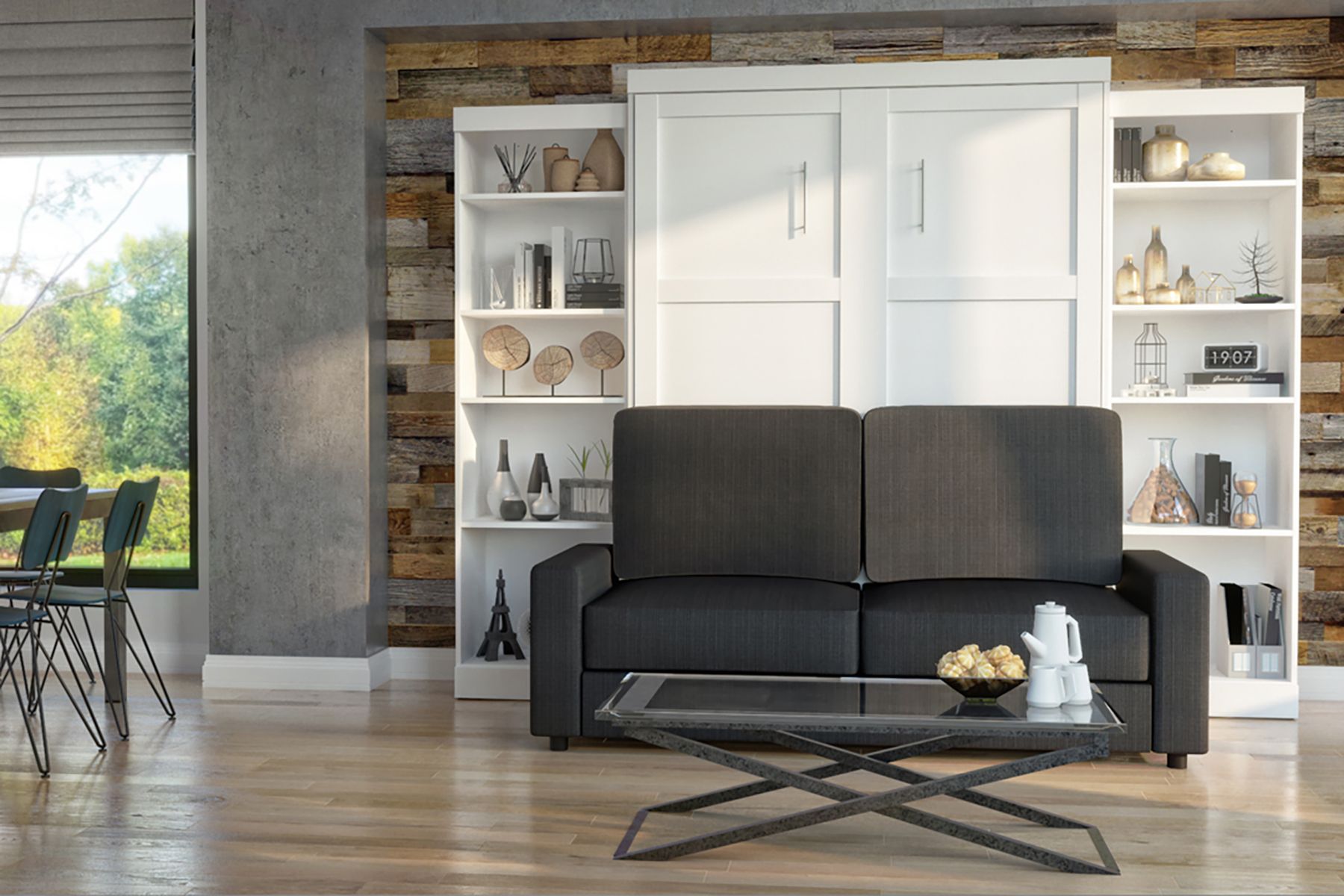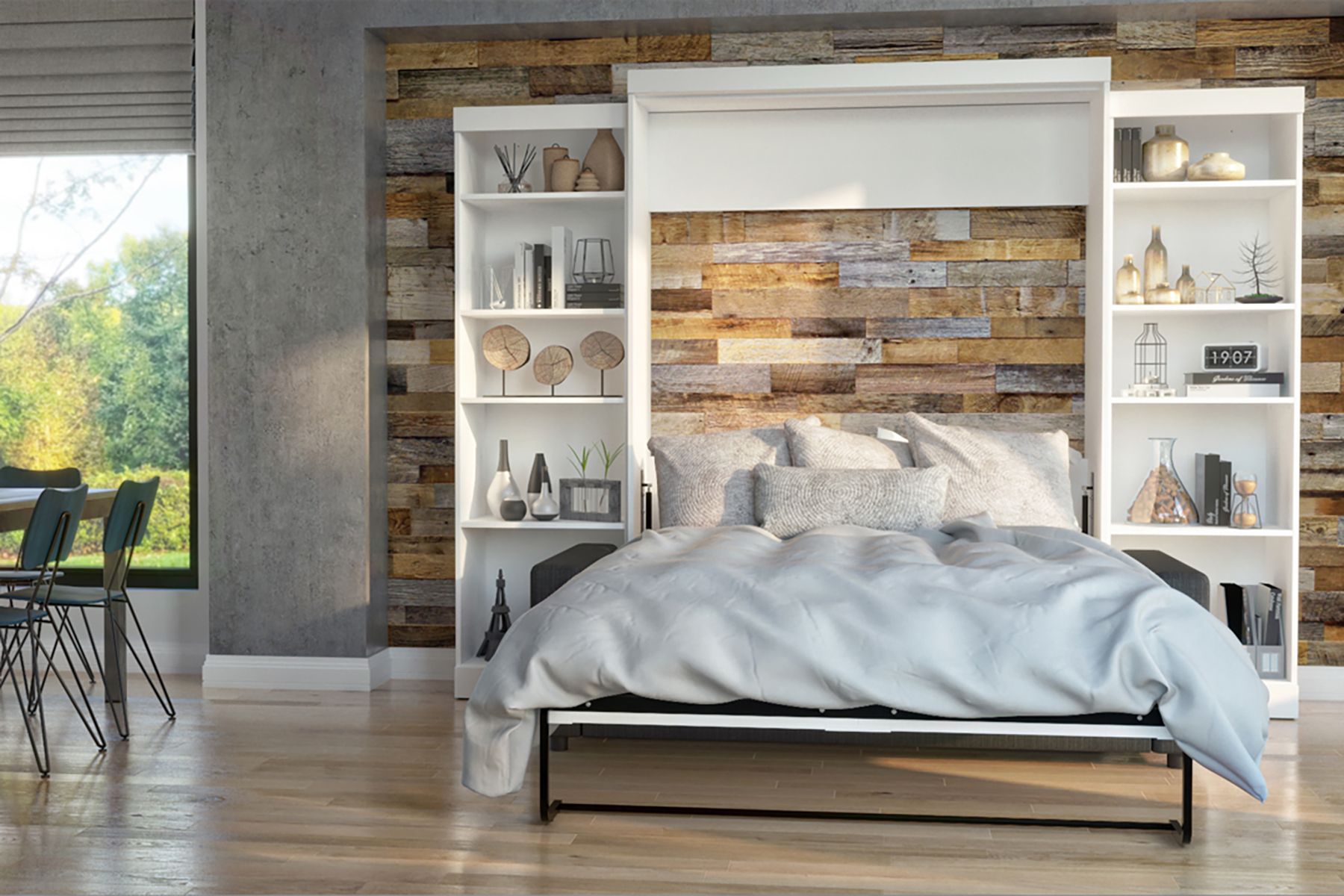 Standard sofa beds are great for guests to sleep on for a few nights, but for a sofa that'll double as an every-night bed, the Murphy bed version will generally be more comfortable. This is because the sofa bed's folding design doesn't provide substantial support, which lead to or exacerbate back pain if used regularly. In addition, if the bed is being pulled out of a sofa every night, the operating mechanism could quickly malfunction from overuse.
A hybrid option is a Murphy bed combined with a sofa component that sits against the wall. When it's time to use the bed, the sofa cushions are removed, and the front panel of the sofa is pulled out, prompting the mattress and bed frame to unfurl from the wall. This innovative design makes for a solid, stable surface upon which to sleep.
Murphy bed with bookcases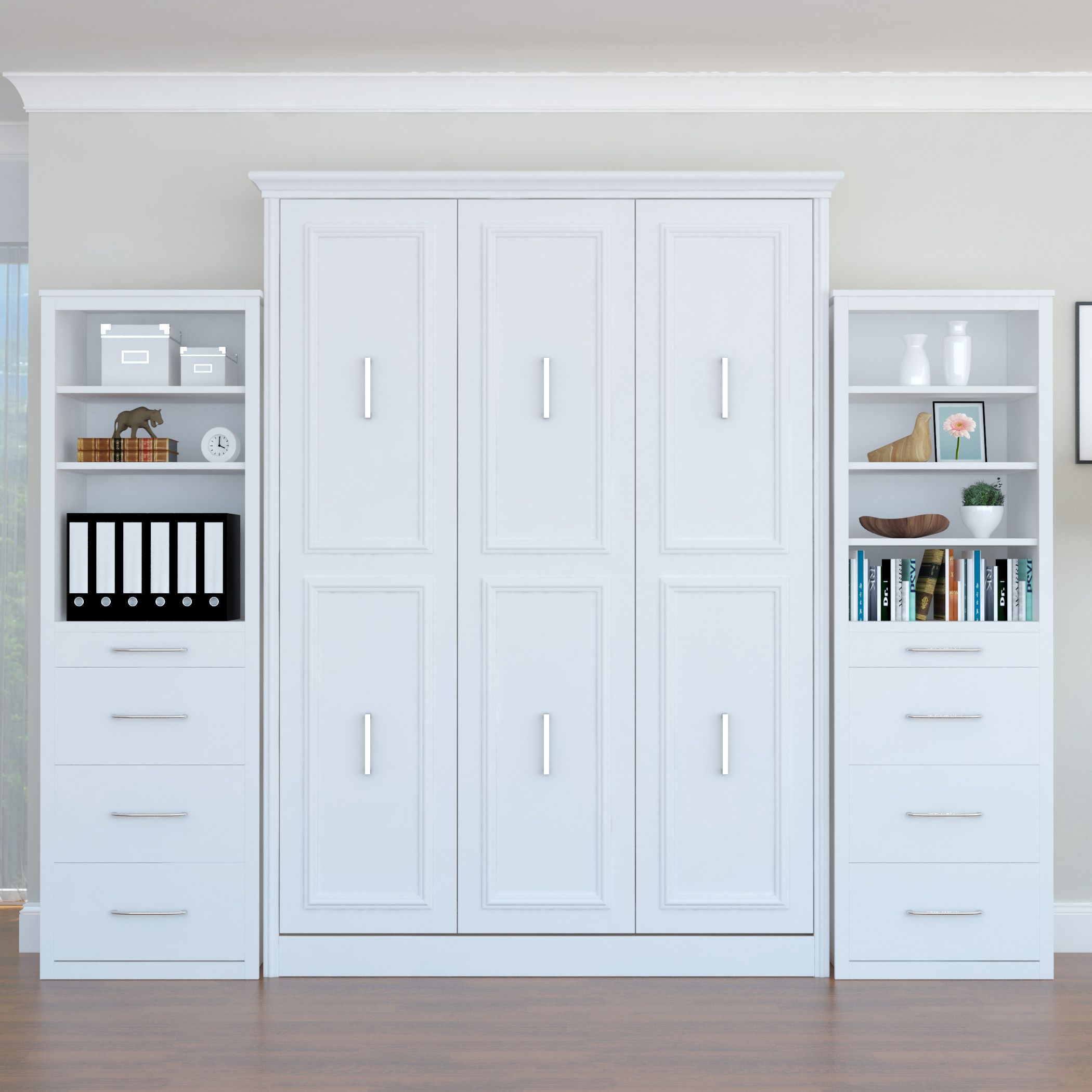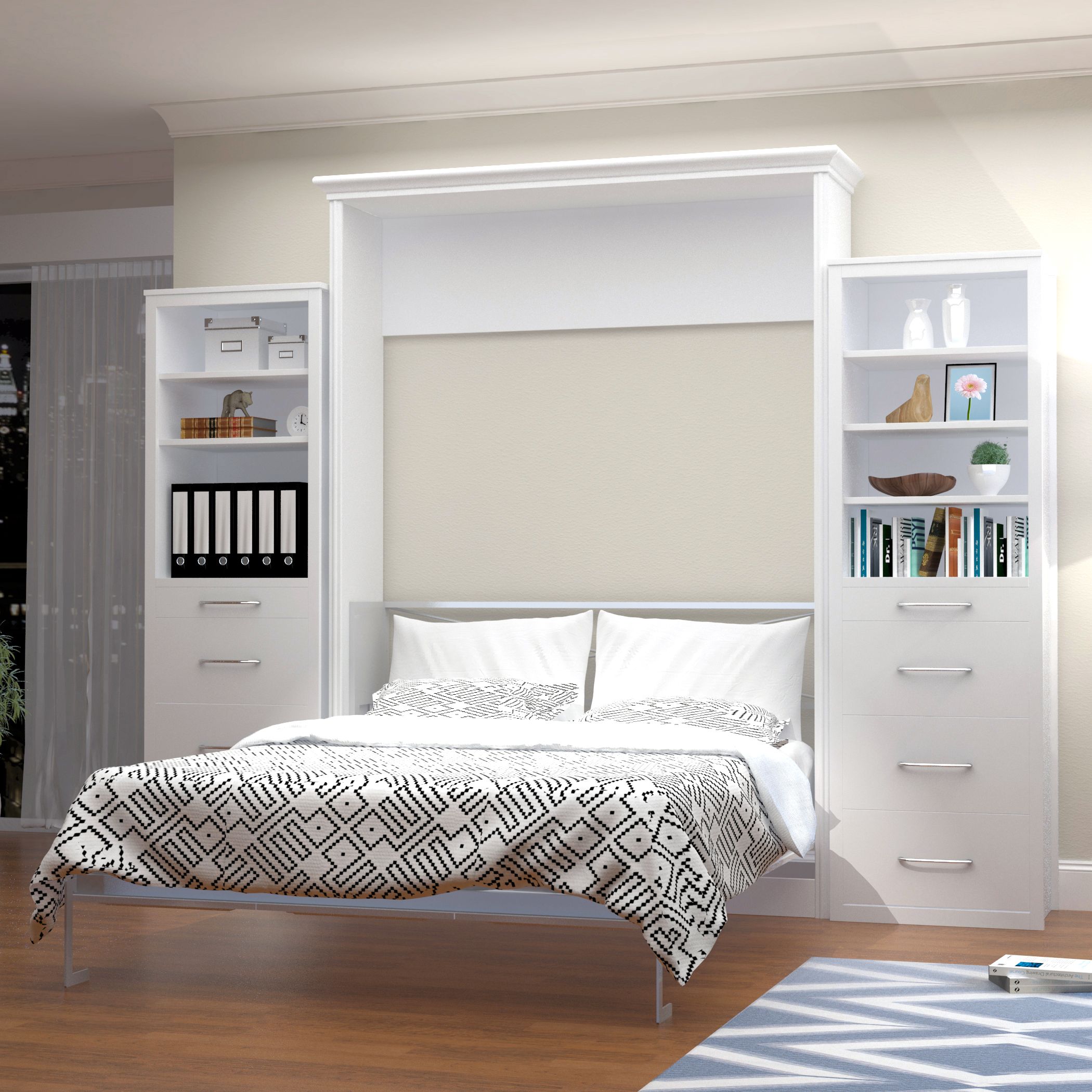 A notable issue with Murphy beds is that when they're raised in the not-in-use position, all you see is the broad, uninteresting bottom side of the bed frame, which can be an eyesore against a plain wall.
A Murphy bed that's flanked by bookcases is a great solution. The bookcases provide balance, and if the bottom of the bed is designed to look like it has cabinet doors, the bed enclosure can resemble an attractive armoire.
Murphy bed in a chest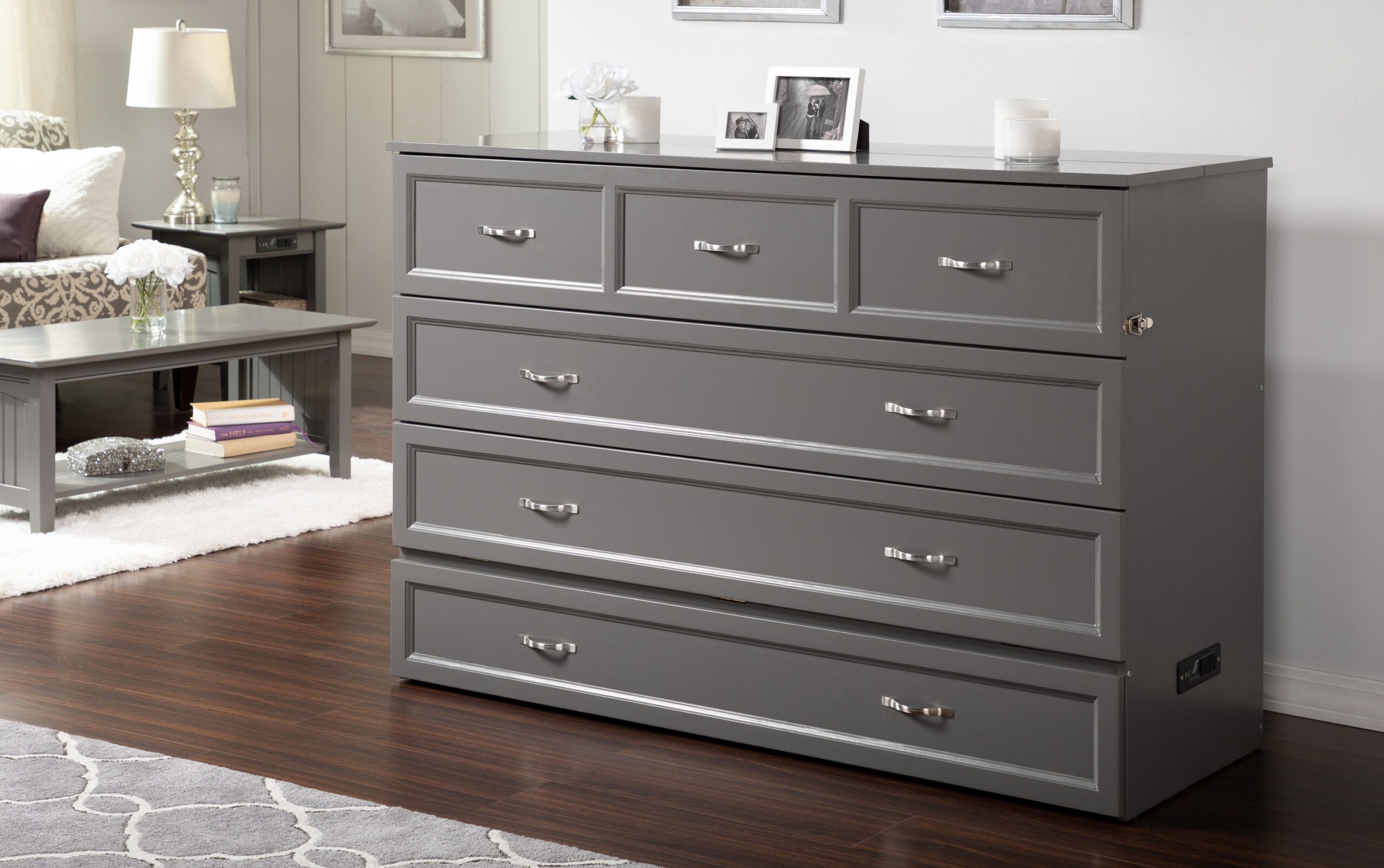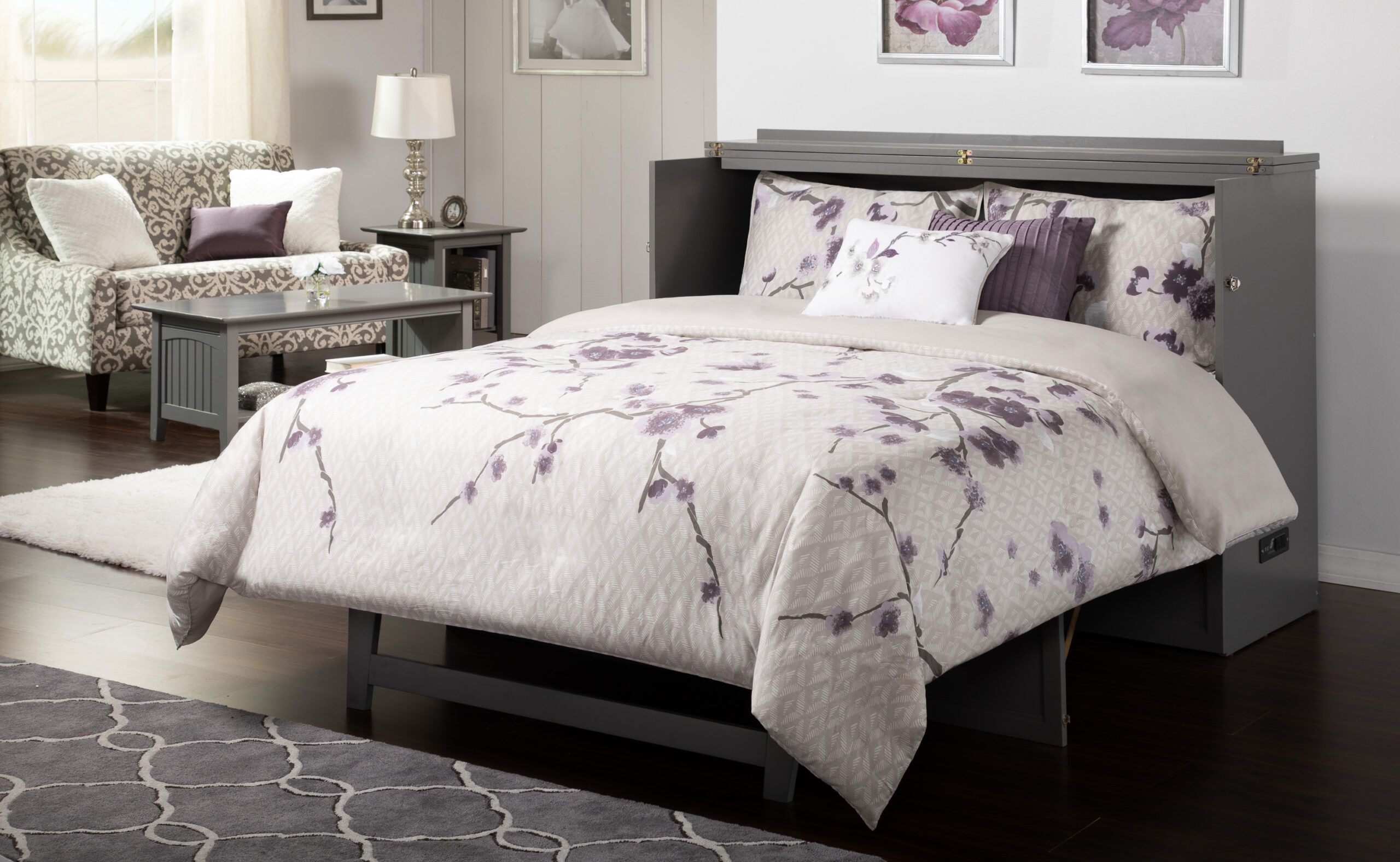 A Murphy bed that's hidden in a compact bureau is a brilliant blend of form and function. When not in use, the bed can be tucked into what appears to be a regular chest of drawers. But when it's time to sleep, the face of the cabinet can be pulled down to reveal the bed frame.
Some models include the mattress, while others are more bare bones, hiding away just the frame; the mattress would need to be stored separately.
Shown: Atlantic Furniture
Murphy bed bunk beds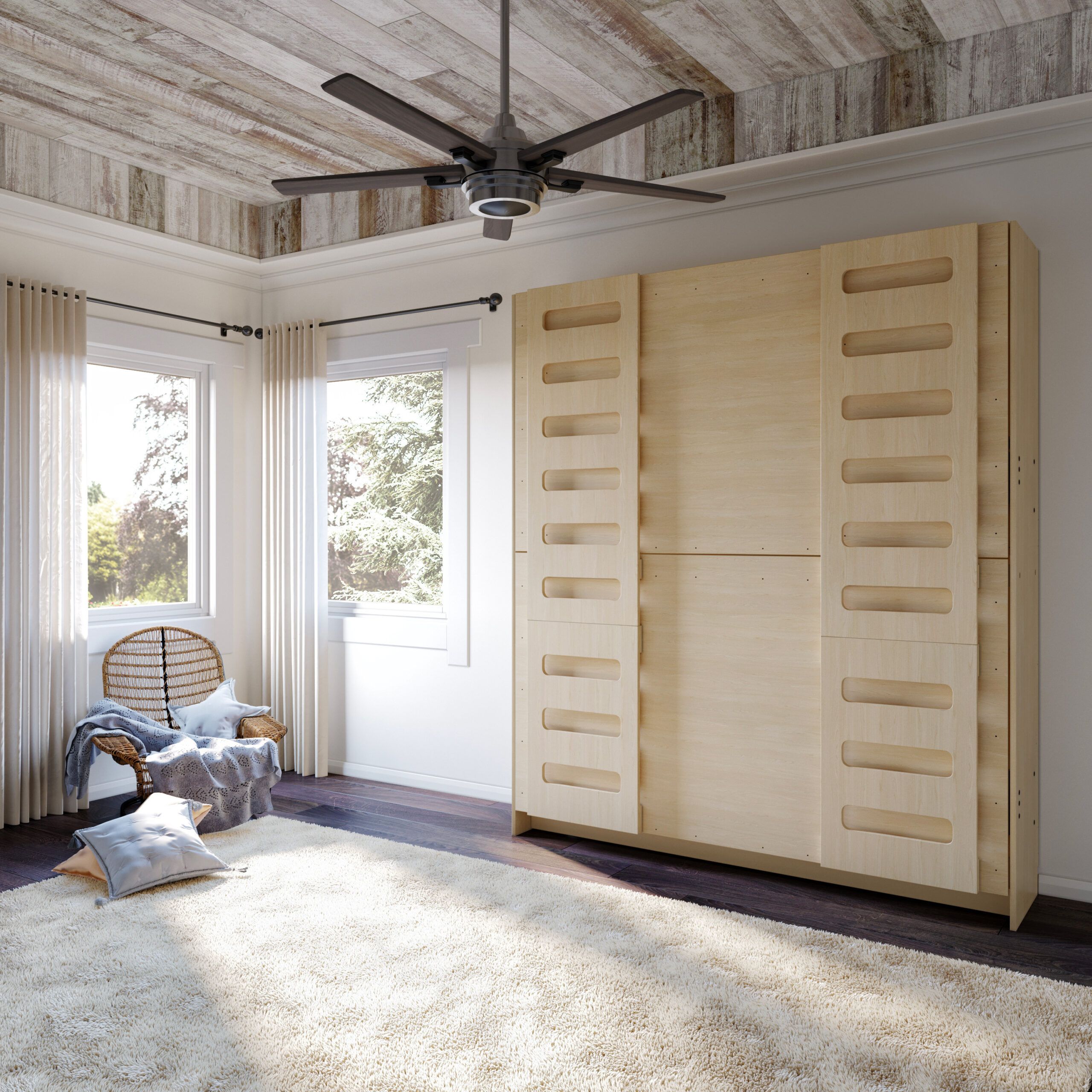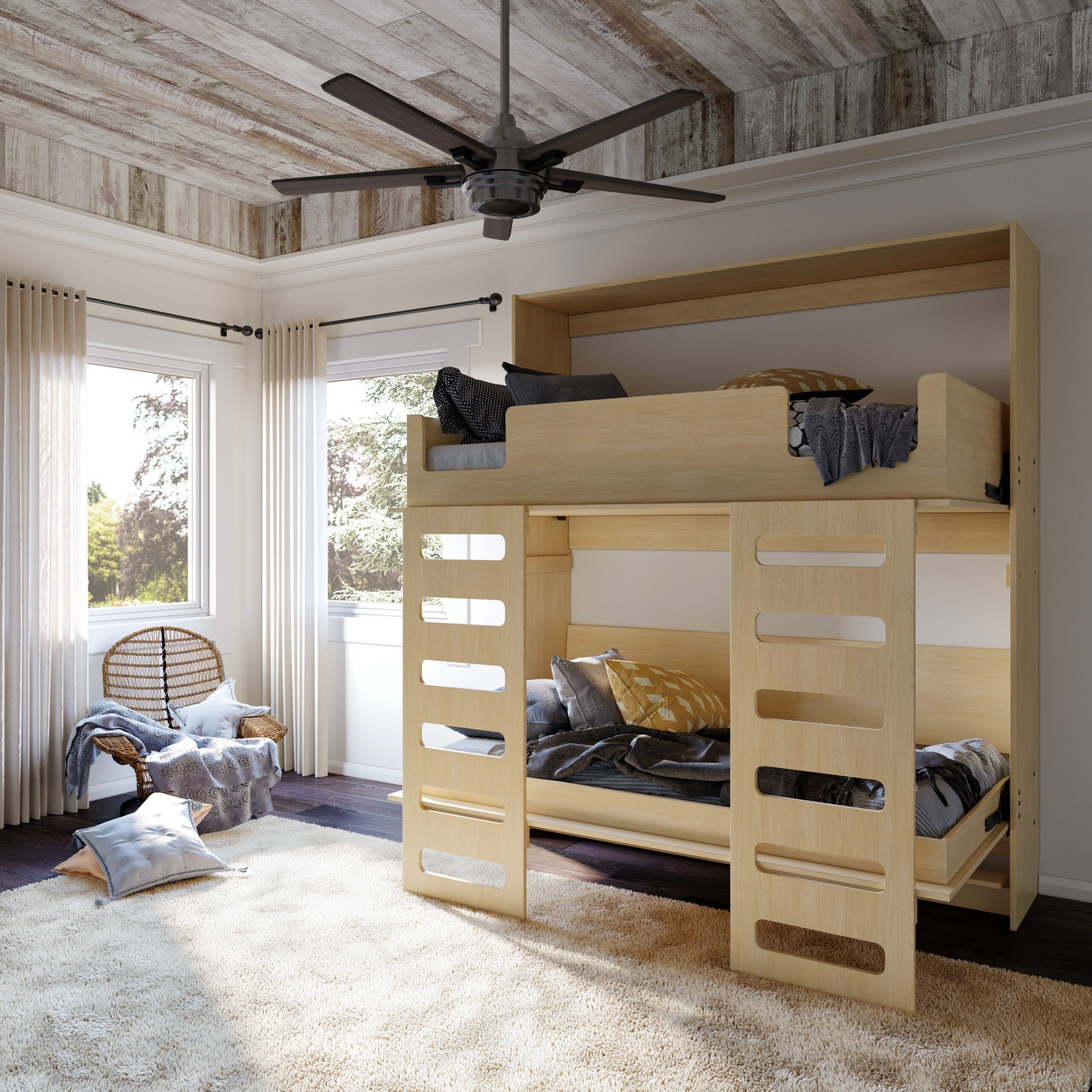 A fun twist on the traditional Murphy bed, Murphy bunk beds consist of two stacked beds with a ladder leading up to the top one. When the beds are put away, the frames align to form one large piece that hugs the wall.