After: A Few Feet Makes The Difference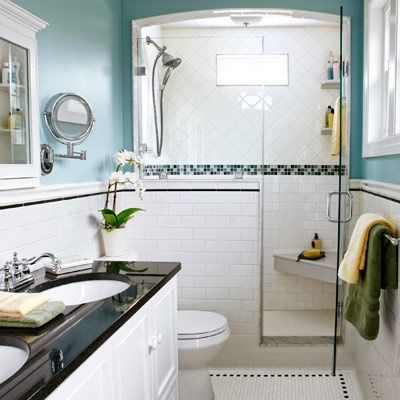 Narrow doesn't have to mean cramped. But to Cyndi and Doug Alioth of Mechanicsburg, Pennsylvania, their dark, tunnel-like master bath definitely felt crowded. Only about 5 feet wide, it had two interior walls that broke up the space, a small fiberglass shower insert, a single sink, and only one window. "We wanted the bath to feel more spacious and uncluttered," Cyndi says. So when the only practical way to expand it proved to be lengthwise, they stole 2 feet from the bedroom to square off a closet bumpout.
Shown: Lots of white tile and a frameless glass-enclosed shower create the illusion of size.
Tile: American Olean
Faucets: Danze
Before: Confined and Narrow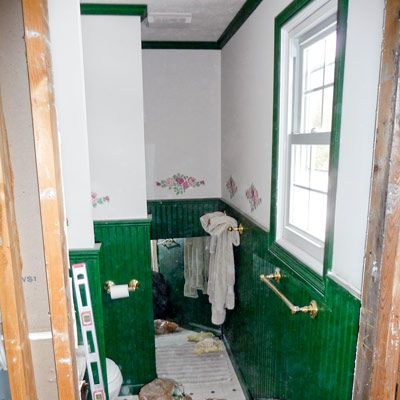 Doug, a math teacher and an avid woodworker, gutted the space and rebuilt it, keeping the same basic layout. With knowledge gleaned from YouTube videos, he enlarged the shower to run the width of the back wall and put in four new windows. Then he built a double vanity with two separate sinks, and two medicine cabinets for needed storage. After six months of part-time remodeling, the couple finally had a light-filled bath with breathing room. "We had a vision," Cyndi says proudly, "and Doug made it come true."
Shown: At only 40 square feet, the 1980s bath was dark, confined, and in need of an update.
Room for Two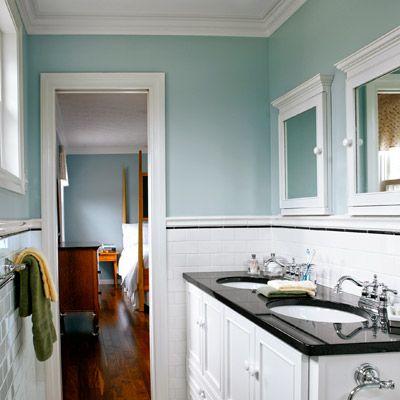 The new double vanity has his-and-hers sinks. Watery-blue walls add a serene feel to the space.
Paint: Valspar's Blue Arrow
Bumped-Out Shower
A corner seat made of remnant quartz fits easily in the shower, now twice its former size and with a small window set high for privacy. White 4-by-4 tiles arranged in a diamond pattern sit above a band of glass mosaics, with subway tiles below.
Homeowner Tip: "Spend the money for epoxy grout, at least on surfaces that will come in contact with water. It's incredibly durable, virtually stainproof, and doesn't need sealing." —Doug Alioth, Mechanicsburg, PA
Doctored-Up Custom Windows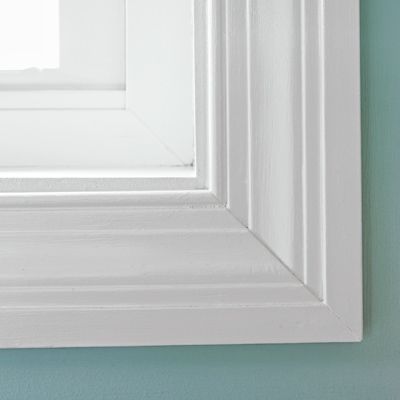 DIY casings dress up "misordered" custom windows bought at discount at a builders'-supply company.
Windows: Simonton
DIY Vintage Look
Recessed medicine cabinets with vintage-style wood details were designed and built by Doug.
Floor Plan: After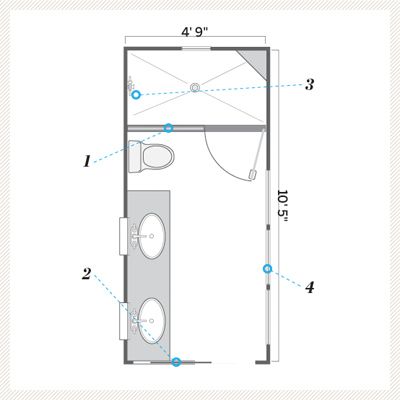 Boosted to 53 square feet, with a bigger shower, two sinks, and more windows, the bath is now bright and open.
1. Added a half wall in the shower to provide a modicum of privacy in the straight-run space.
2. Annexed 2 feet from the bedroom to allow for a double vanity. Installed a space-saving pocket door to eliminate the door swing.
3. Expanded the shower, moving the plumbing to accommodate the half wall's glass panel. Added a small privacy window on the back wall to help brighten the space.
4. Swapped one window opposite the sink for three to bring in lots more natural light.