These budget bathroom ideas include fresh takes on wainscoting, tile, flooring, and more make it easy to trade up to one-of-a-kind style.
1. Subway Wall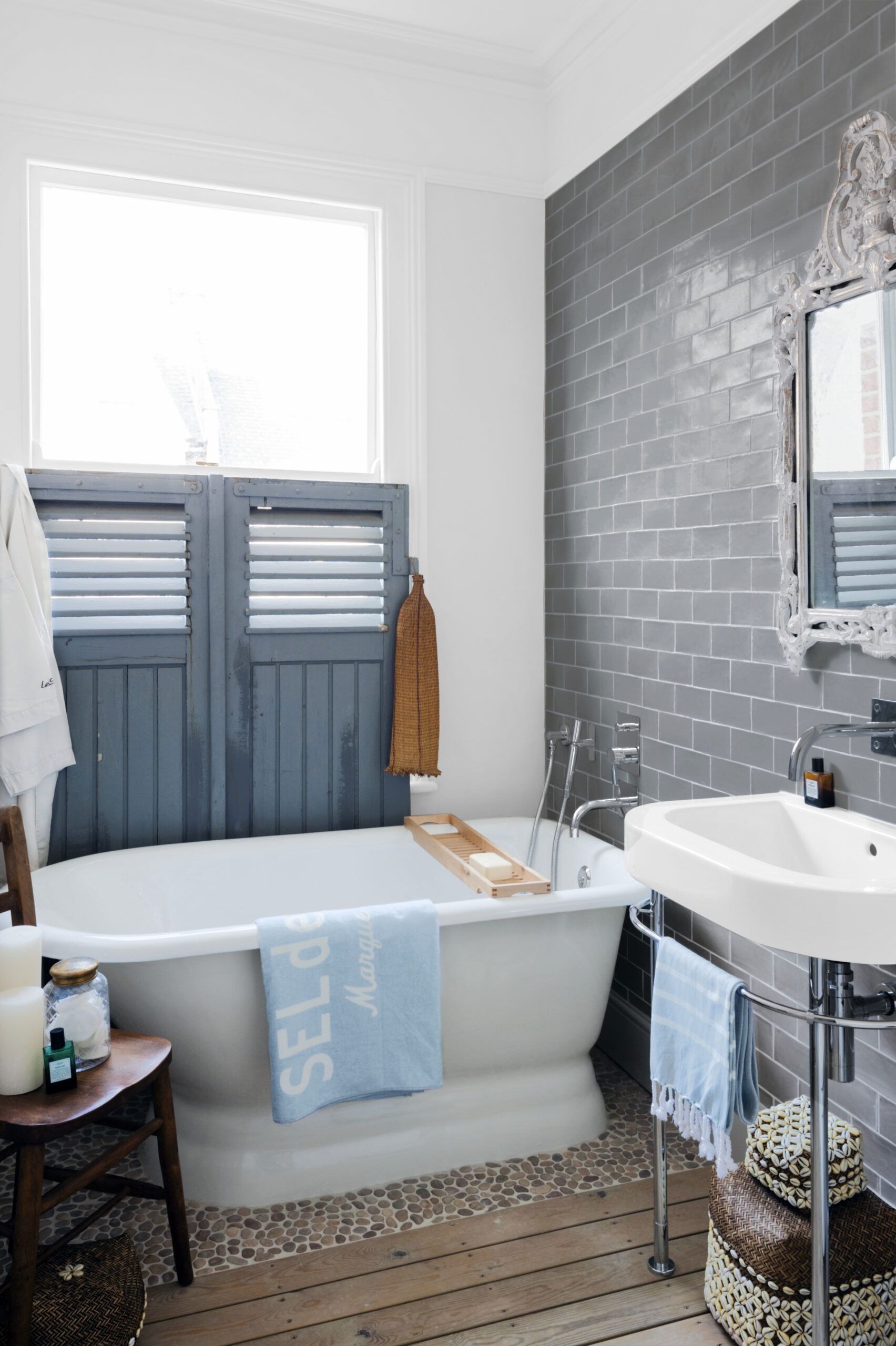 Create an accent wall with tile in a warm neutral color, like this soothing gray. Taking the tile all the way up to the ceiling will make the room appear taller.
Similar to shown: U.S. Ceramic Tile in Tender Gray Matte, about $30 for a box of 80 tiles; The Home Depot
2. Salvaged Shutters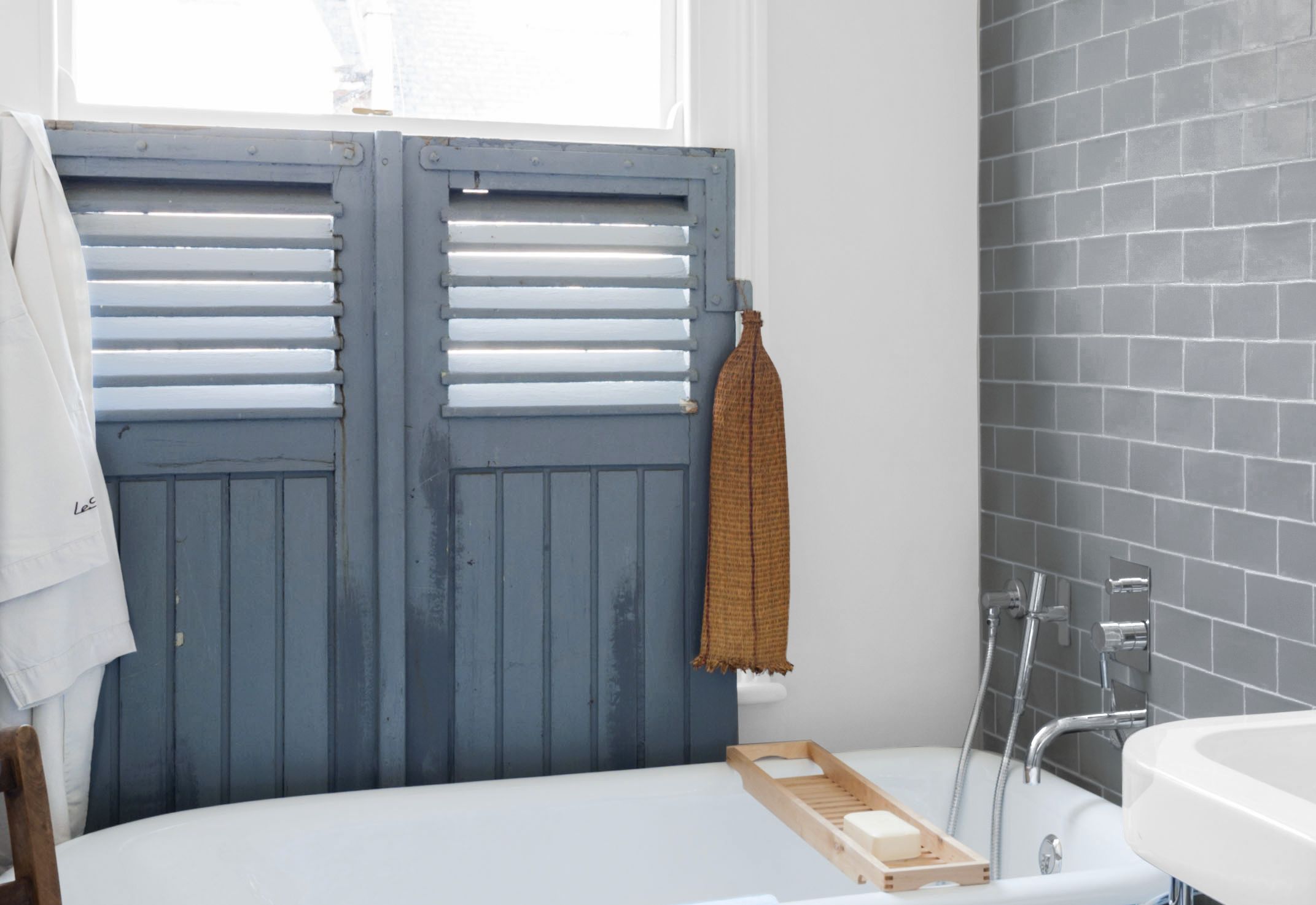 Forgo pricey shades and dress up a window with painted shutters instead. Louvered-on-top designs like the ones shown in this bathroom remodel inspiration offer privacy without blocking light, and the adjustable slats let you direct the sun's rays.
Similar to shown: Check out etsy.com for salvaged shutters, starting at about $25 each.
3. Mixed-Material Floor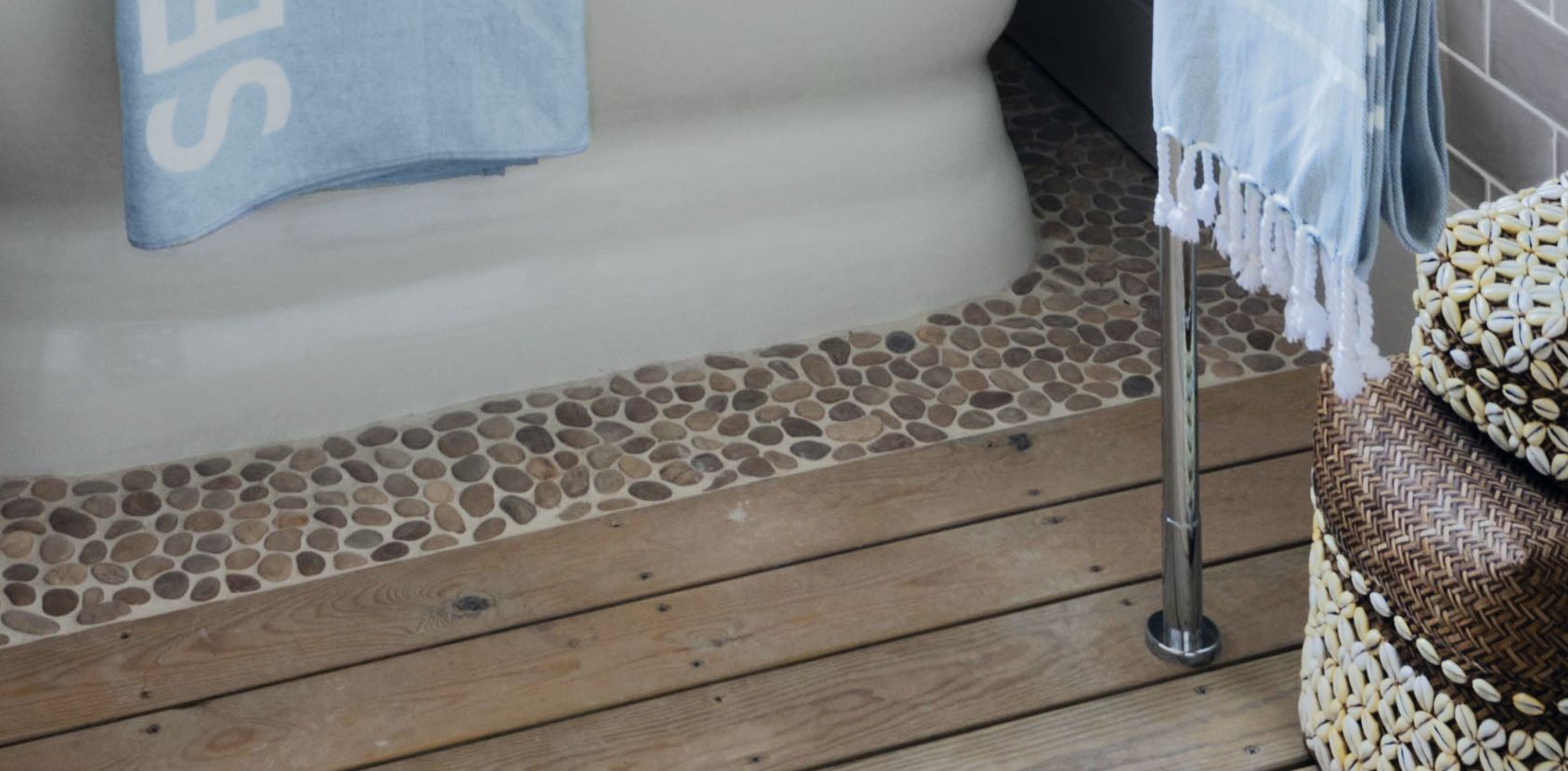 Add some variety underfoot by combining textures—in this case, wood planks and pebble tile—for an unexpected twist that brings the great outdoors inside.
Similar to shown: Polished wine pebble tile, about $12 per square foot; Strata Stones
4. Beadboard Canopy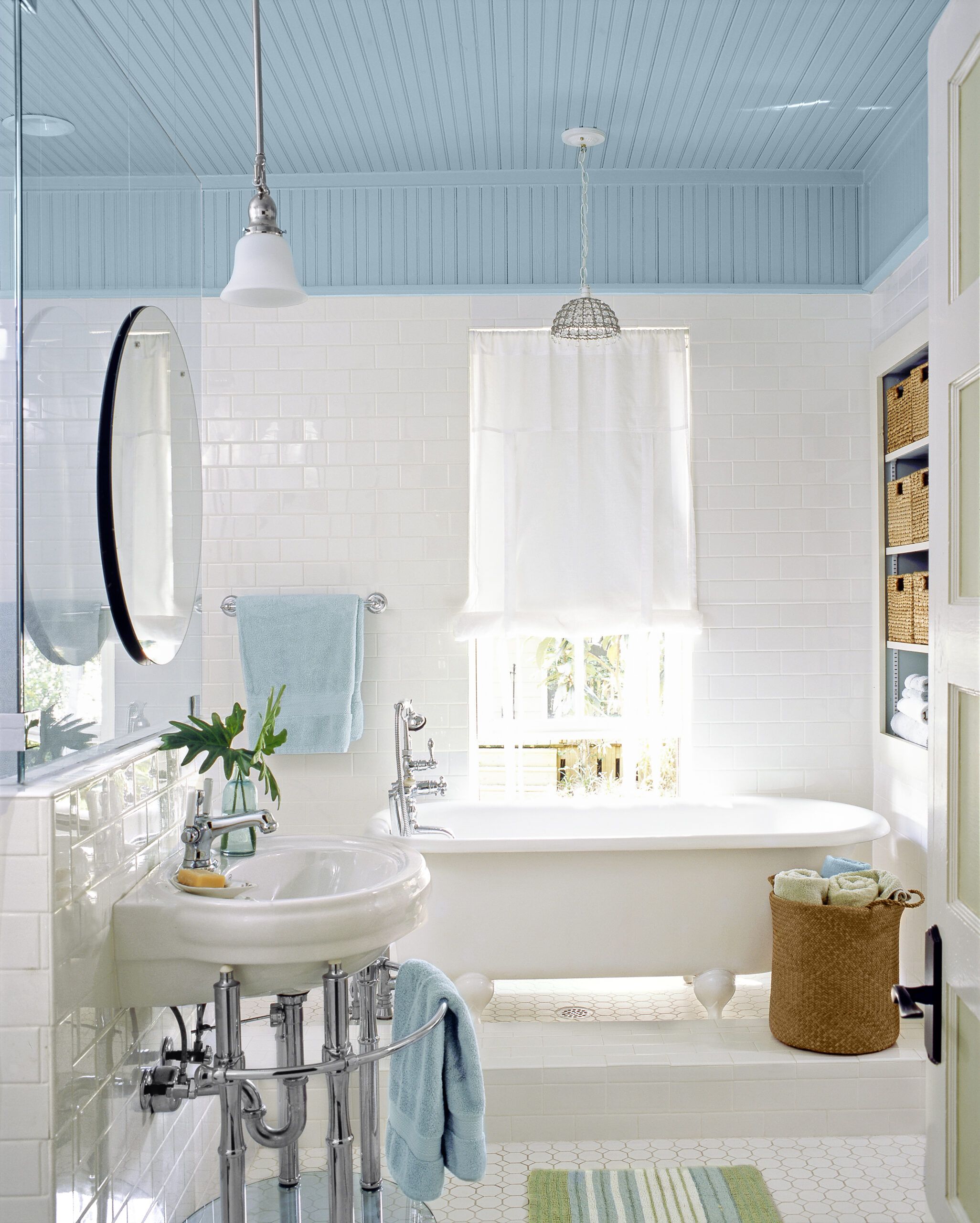 Give the ceiling a lift with this budget bathroom idea by covering it in beadboard and extending it down the walls a bit for a canopy effect. Paint it a tranquil shade of sky blue to evoke the porch ceilings of yore.
Similar to shown: 5½-inch-by-8-foot PVC beadboard panel, about $15; Lowe's. Paint: Benjamin Moore's Aura Bath & Spa paint in Sea Isle, about $70 per gallon; benjaminmoore.com
5. Sink Stand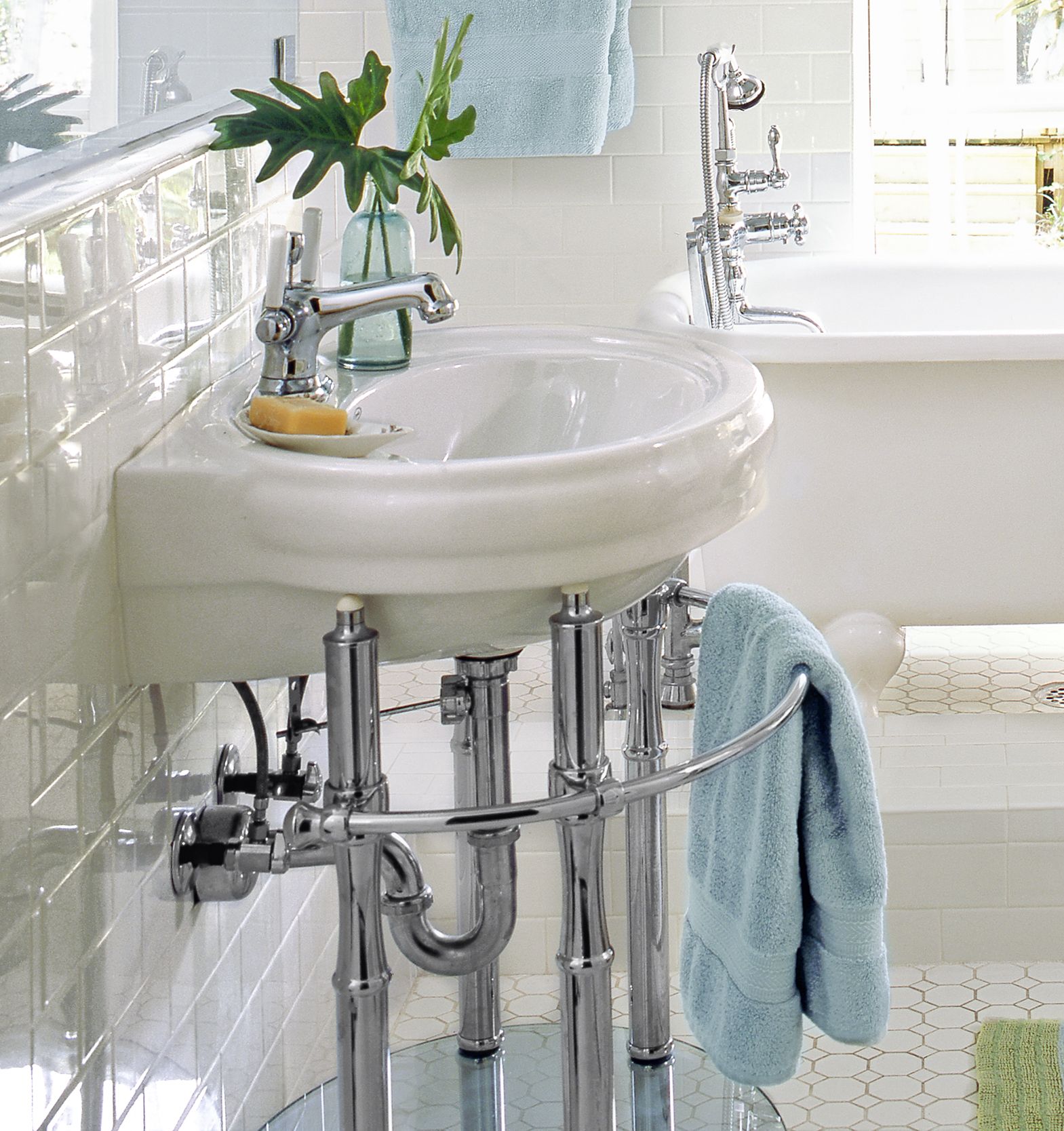 Add a curvy console towel rail and gleaming chrome legs to a wall-mount basin—or even swap out a pedestal base—for a style and storage boost.
Similar to shown: American Standard Console Leg Set in chrome, about $465; Amazon
6. Layered Mirrors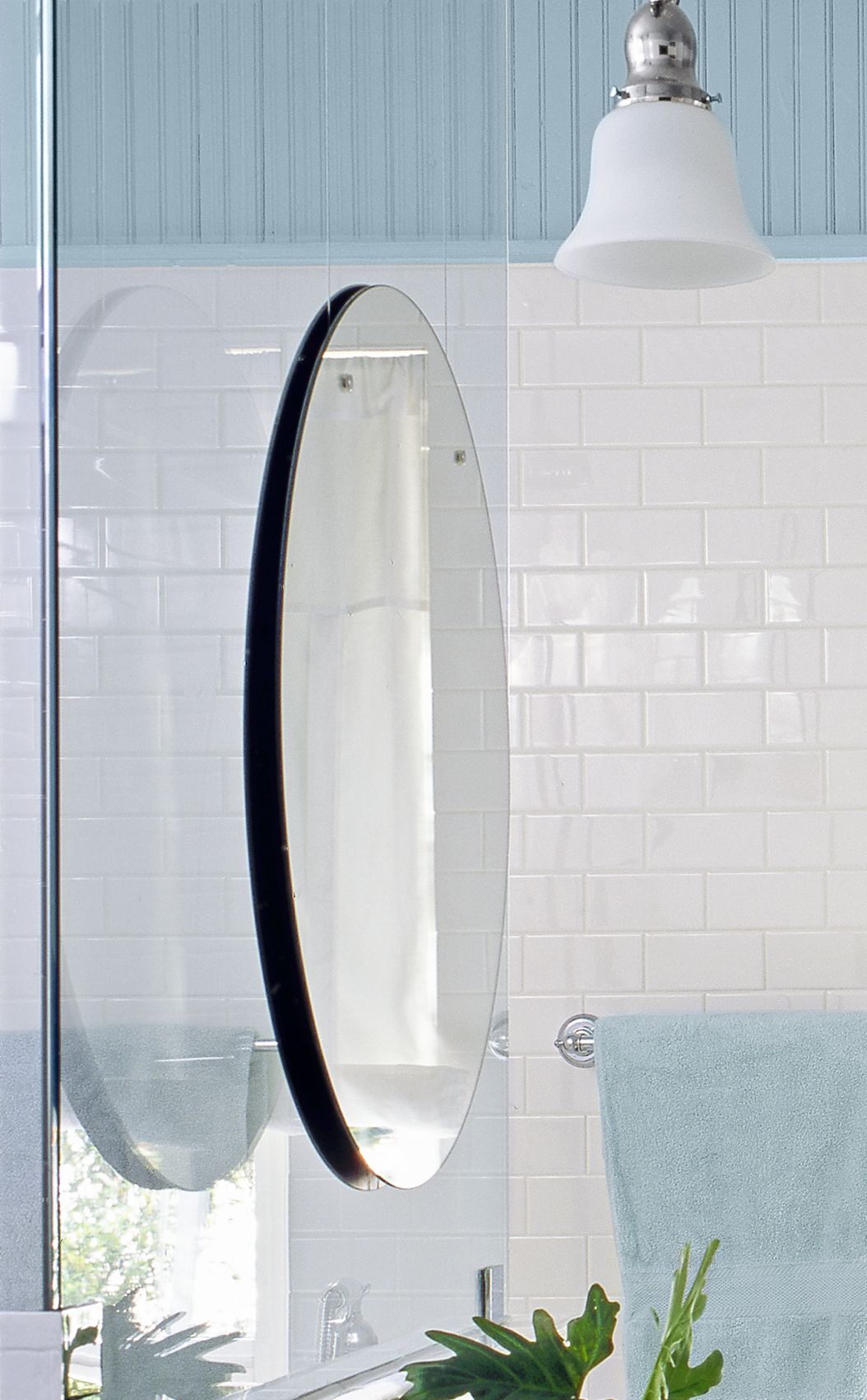 Give a wall-to-wall mirror some focus with this bathroom remodel inspiration idea by hanging an oval mirror over it, above the sink.
7. Distinctive Decals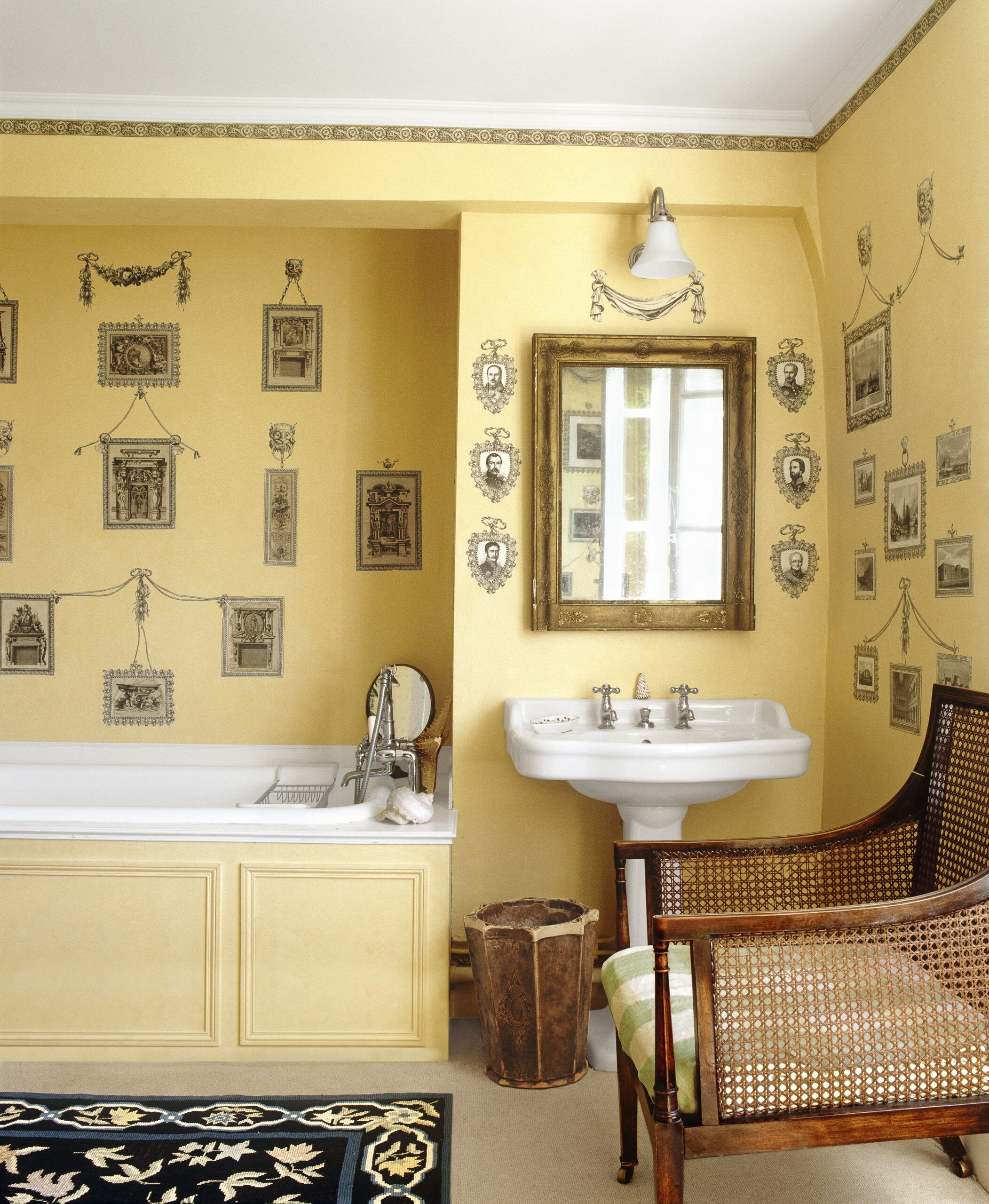 Dress up painted walls with inexpensive peel-and-stick designs. The fancy Federal-style swag and portrait motifs here are an unexpected twist in a bath and a lot easier to apply than wallpaper.
Similar to shown: Old Frames Wall Stickers, about $29; Amazon
8. Paneled Tub Surround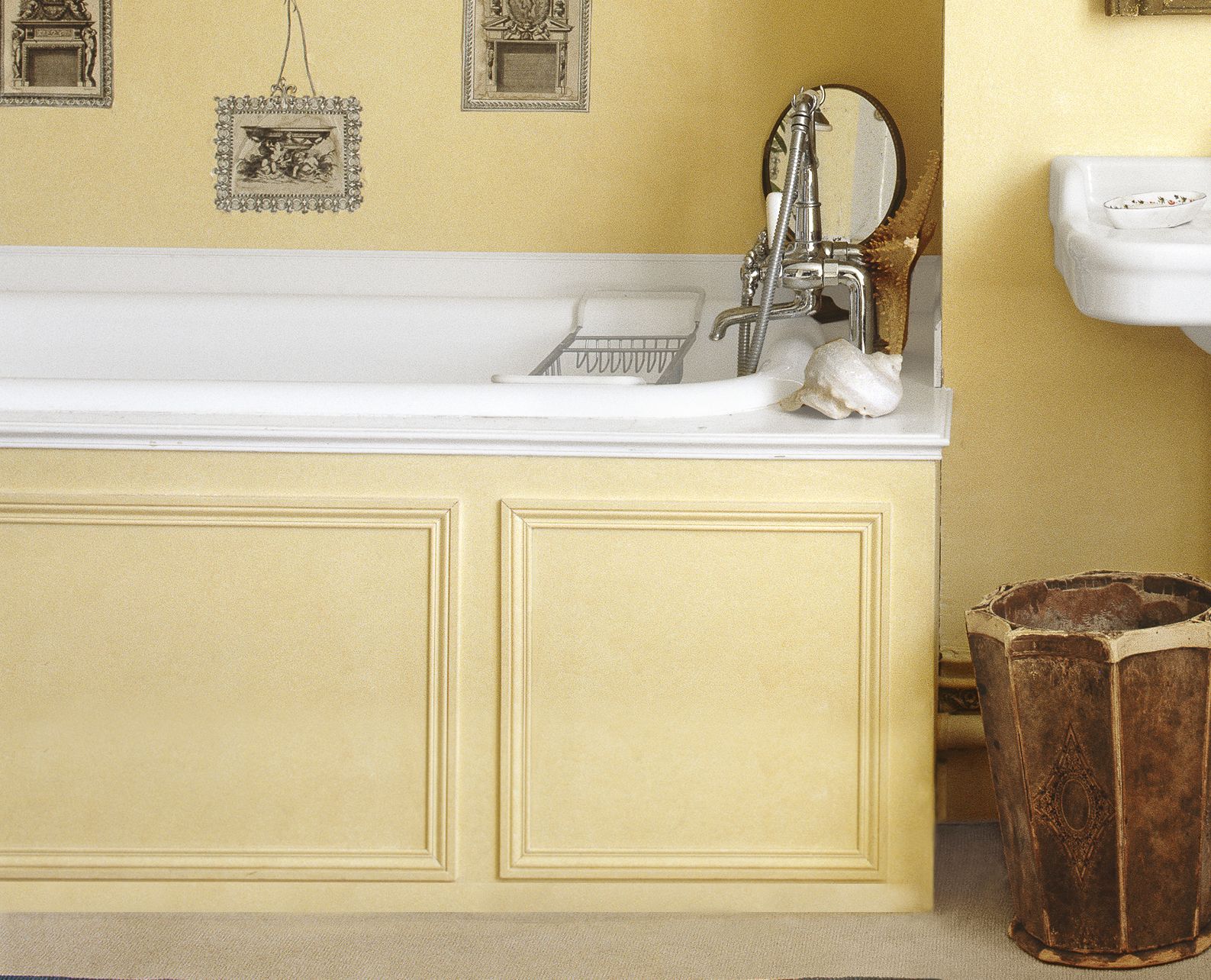 Give a drop-in tub vintage elegance by wrapping it in a stylish base. Build a frame of 2x4s and clad it with birch-veneer plywood. Craft wall frames from molding and attach with panel adhesive. Use ½-inch cement board for the deck; cover and trim out with tile. Paint the base to blend in with the walls.
Similar to shown: Sherwin-Williams's Harmony Paint in Butter Up, about $50 per gallon; sherwin-williams.com
9. Handsome Seating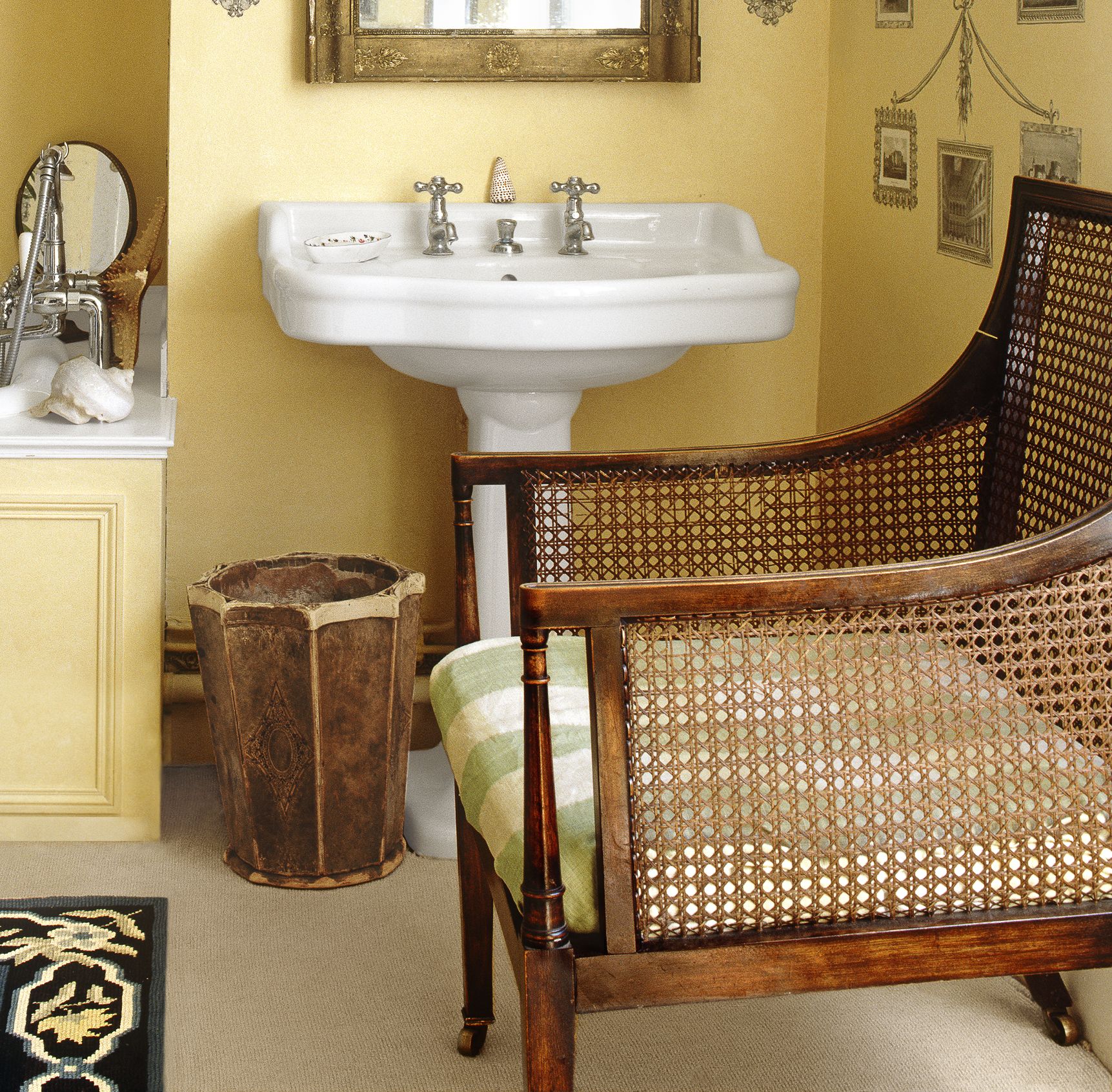 Introduce a piece of upholstered furniture to ratchet up a bath's style. The slim profile of this British Colonial-inspired armchair doesn't hog space, and the casters make it easy to move around.
Similar to shown: Kingston Isle armchair (set of two), about $320; wayfair.com
10. Concealed Curtain Rod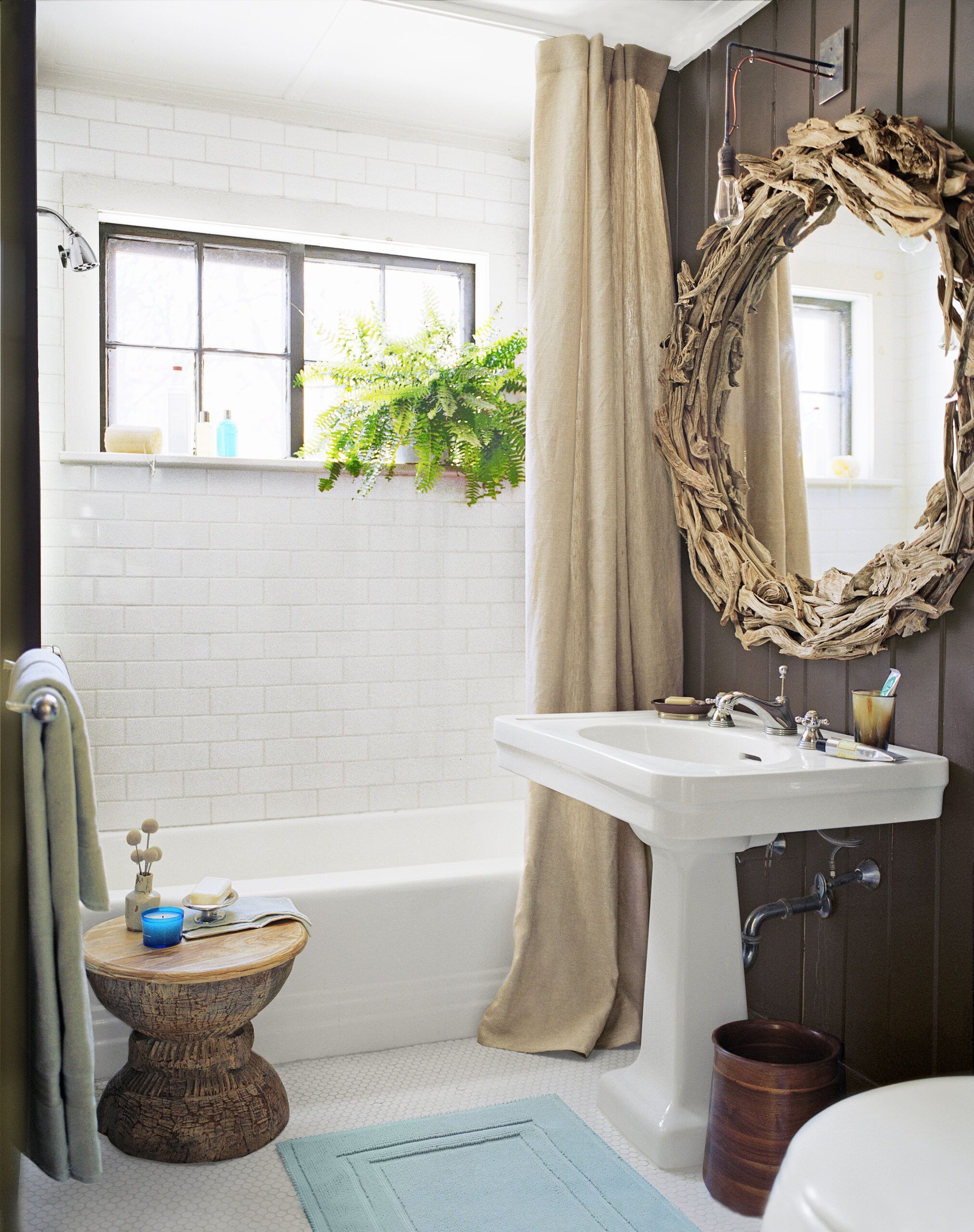 Install a track on the ceiling to keep shower-curtain hardware out of sight. Bonus: Hanging the curtain from ceiling height makes the room look and feel loftier. To save on the cost of a custom curtain, fashion one from burlap or a canvas drop cloth.
Similar to shown: Ceiling-mount track, about $30; curtain-tracks.com
11. Window Ledge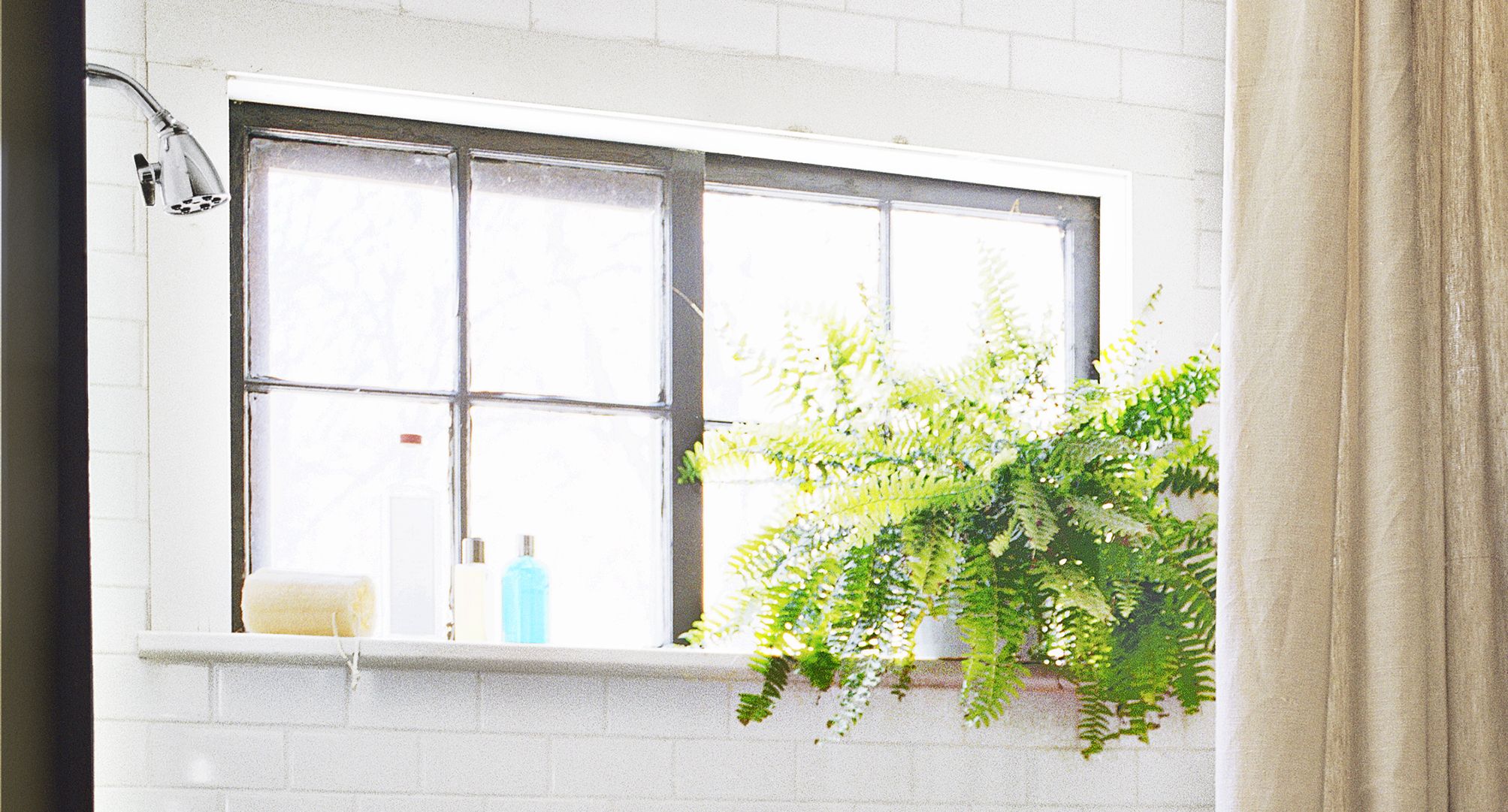 Carve out extra shelf space in a tight tub-and-shower area by adding a ledge to an existing windowsill. Be sure to use a material that can withstand exposure to water, such as cellular PVC.
Similar to shown: PVC board trim, about $30 for a 12-foot section; Lowe's
12. Wood Wall
Warm up the room by covering one wall in tongue-and-groove wood paneling painted a rich matte espresso brown.
Similar to shown: EverTrue 8-foot Knotty Pine V-Groove paneling, about $15; Lowe's. Paint: Benjamin Moore's Aura Bath & Spa Matte Finish Paint in Rural Earth, about $70 per gallon; benjaminmoore.com
13. Red-Hot Linoleum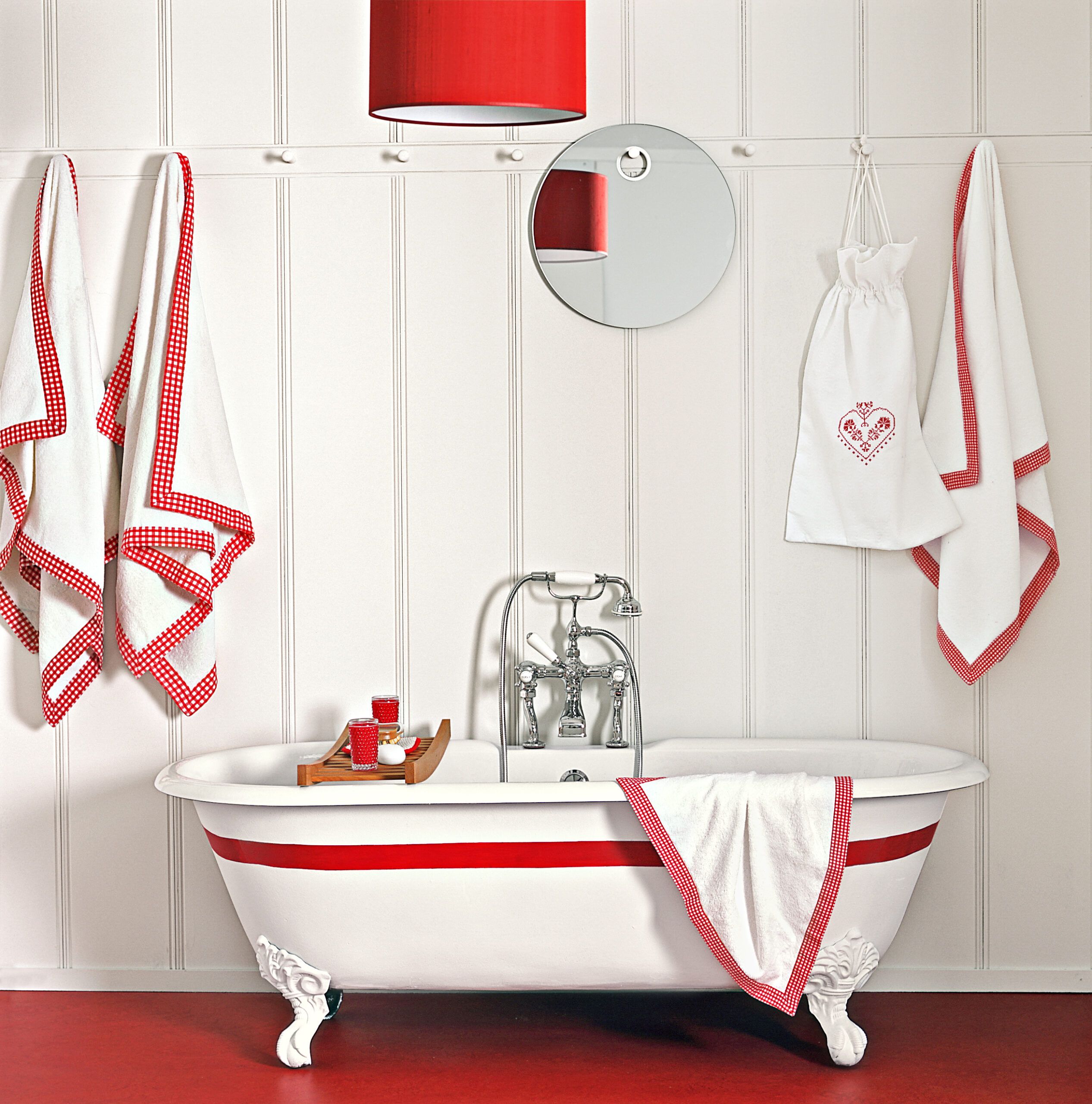 Take a walk on the wild side with a vibrant floor. Sheet linoleum is a great choice for high-traffic areas, like baths, and can stand up to spills and splashes.
Similar to shown: Forbo Marmoleum in Bleeckerstreet, about $6 for a 12-by-36-inch panel; greenbuildingsupply.com
14. Drum-Style Pendant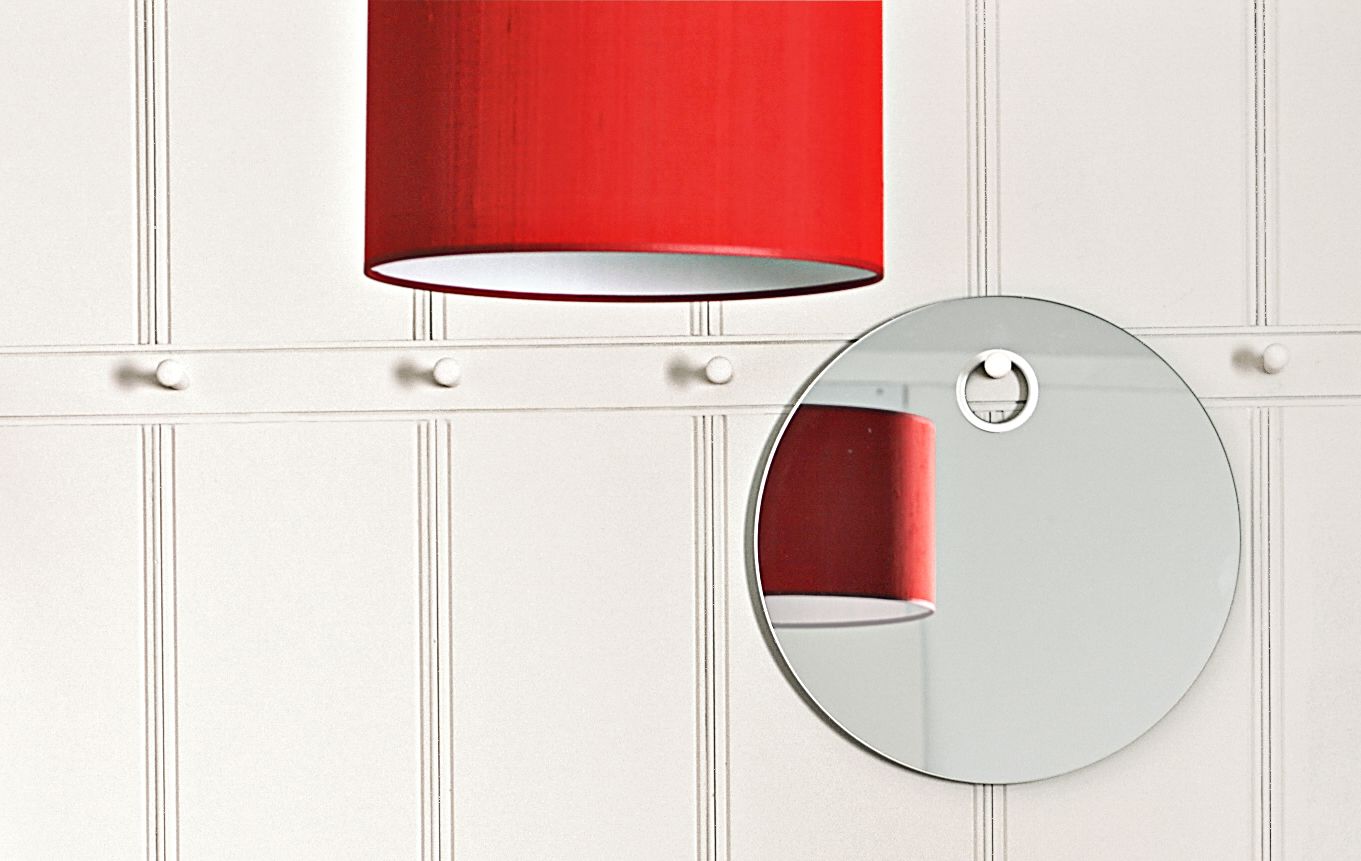 Inject some serious drama overhead with a fire-engine-red fabric shade.
Similar to shown: Adesso Harvest 1 Light Drum Shade, about $100; Amazon
15. Shaker Peg Rail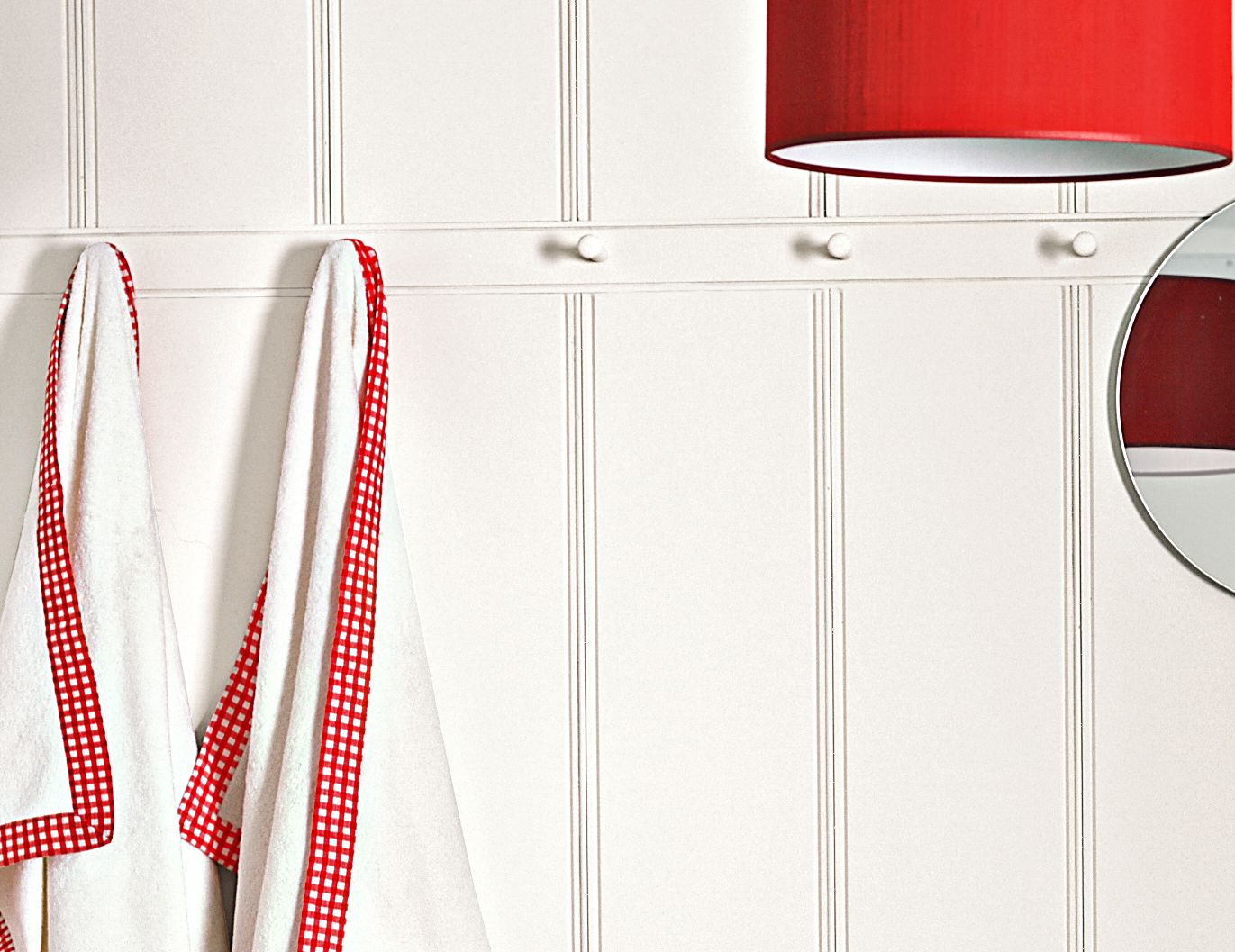 Turn towels into decorative accents with a row of Shaker-style pegs and you'll never be wanting for color—or a handy place to hang your robe.
Similar to shown: Shaker peg rails from 22 inches up to 70 inches, starting at about $30; The Period House
16. Stenciled Stripe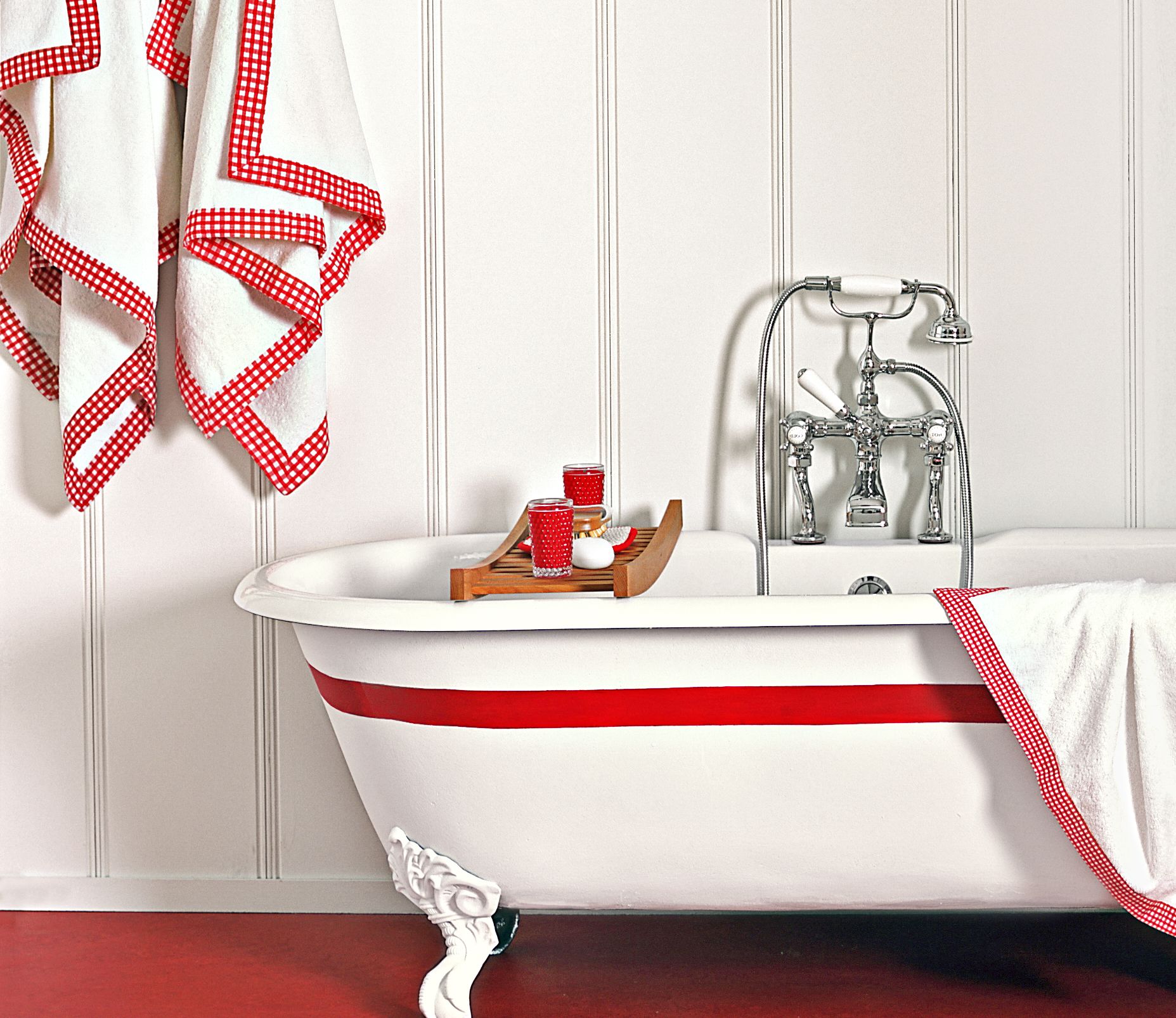 Tie your claw-foot into the room's color palette in one bold stroke by painting a high-contrast stripe inspired by a Plimsoll line around the exterior.
Similar to shown: Sherwin-Williams's All Surface Enamel Oil Base in Fireworks, about $25 per quart; sherwin-williams.com
17. Colorful Tile-Grout Combo
Make a statement with subway tile installed halfway up the wall: Match the shade of the grout to the painted wall above.
Similar to shown: Laticrete Twilight Blue Epoxy Powder Grout, about $15 for a 2¼-pound carton; Lowe's
18. Whitewashed Barn Wood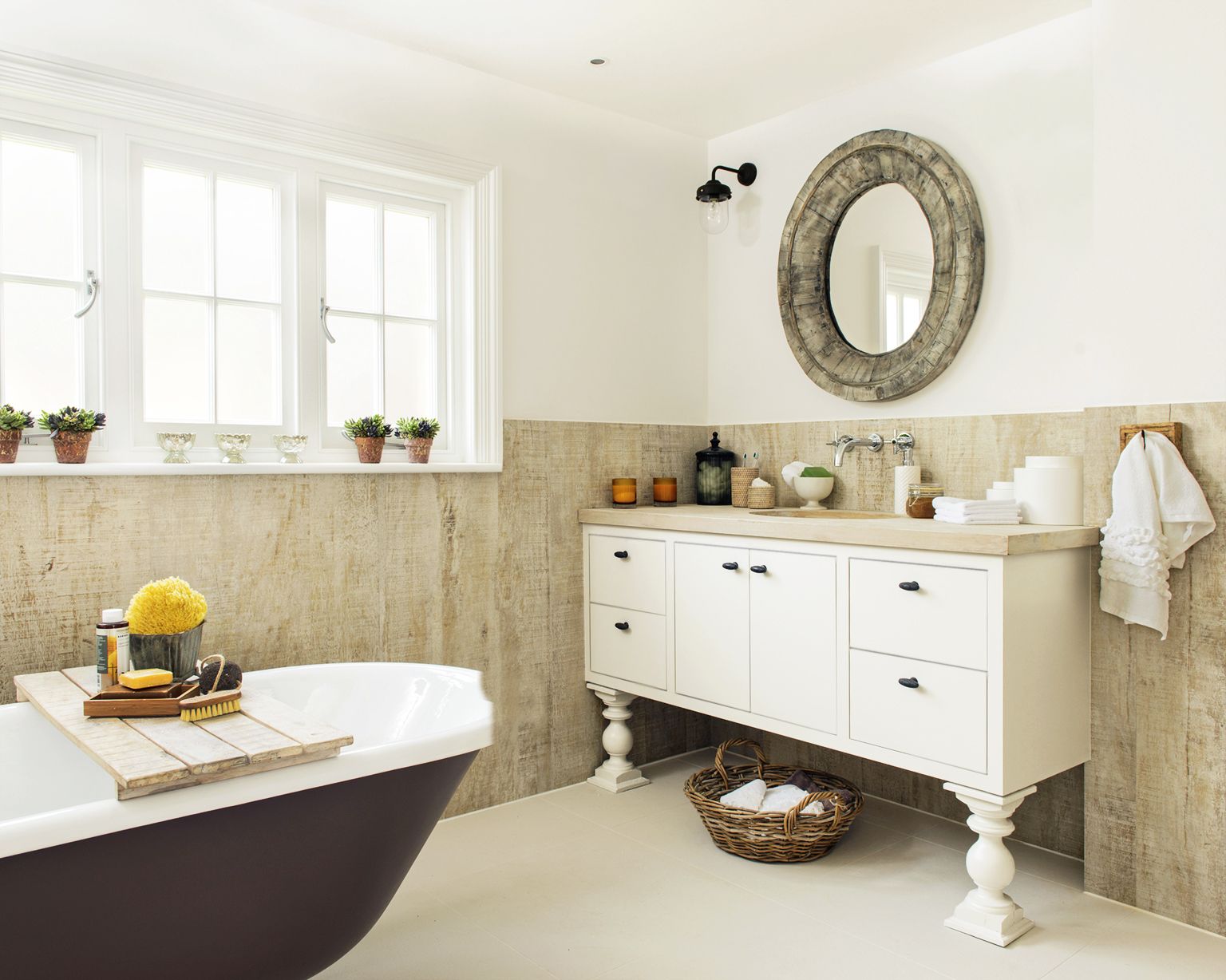 Refine the rustic look by whitewashing salvaged planks; it's an easy and affordable way to add character to walls.
Similar to shown: Planks, starting at about $6 per square foot; old-barn-wood.com
19. Corrugated Metal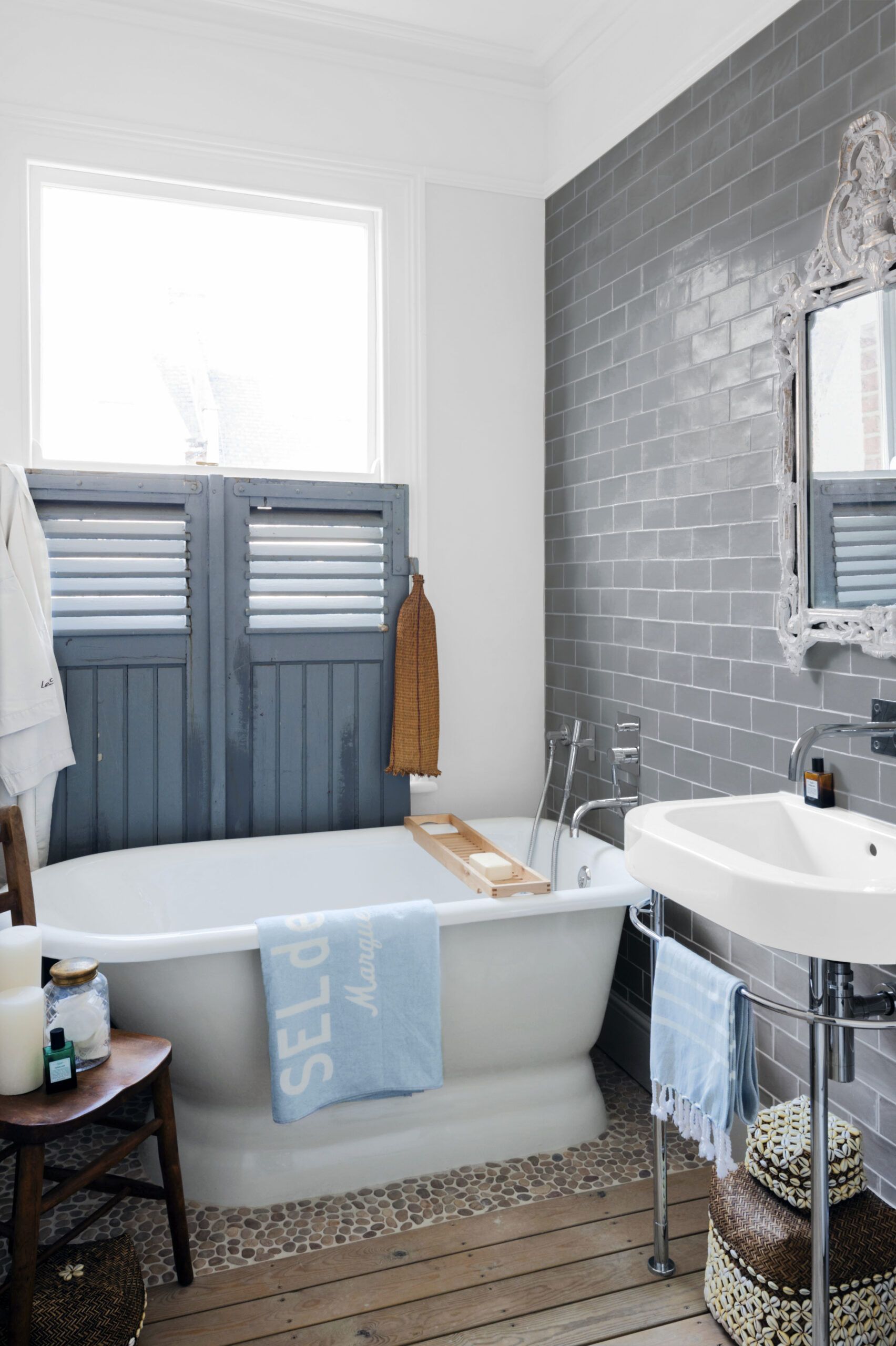 Add a surprise element by wrapping the lower half of the wall in metal roofing. It's inexpensive, rustproof, and practically indestructible.
Similar to shown: Galvanized roofing, $12 for an 8-foot-long panel; The Home Depot
20. Distressed Tin Tiles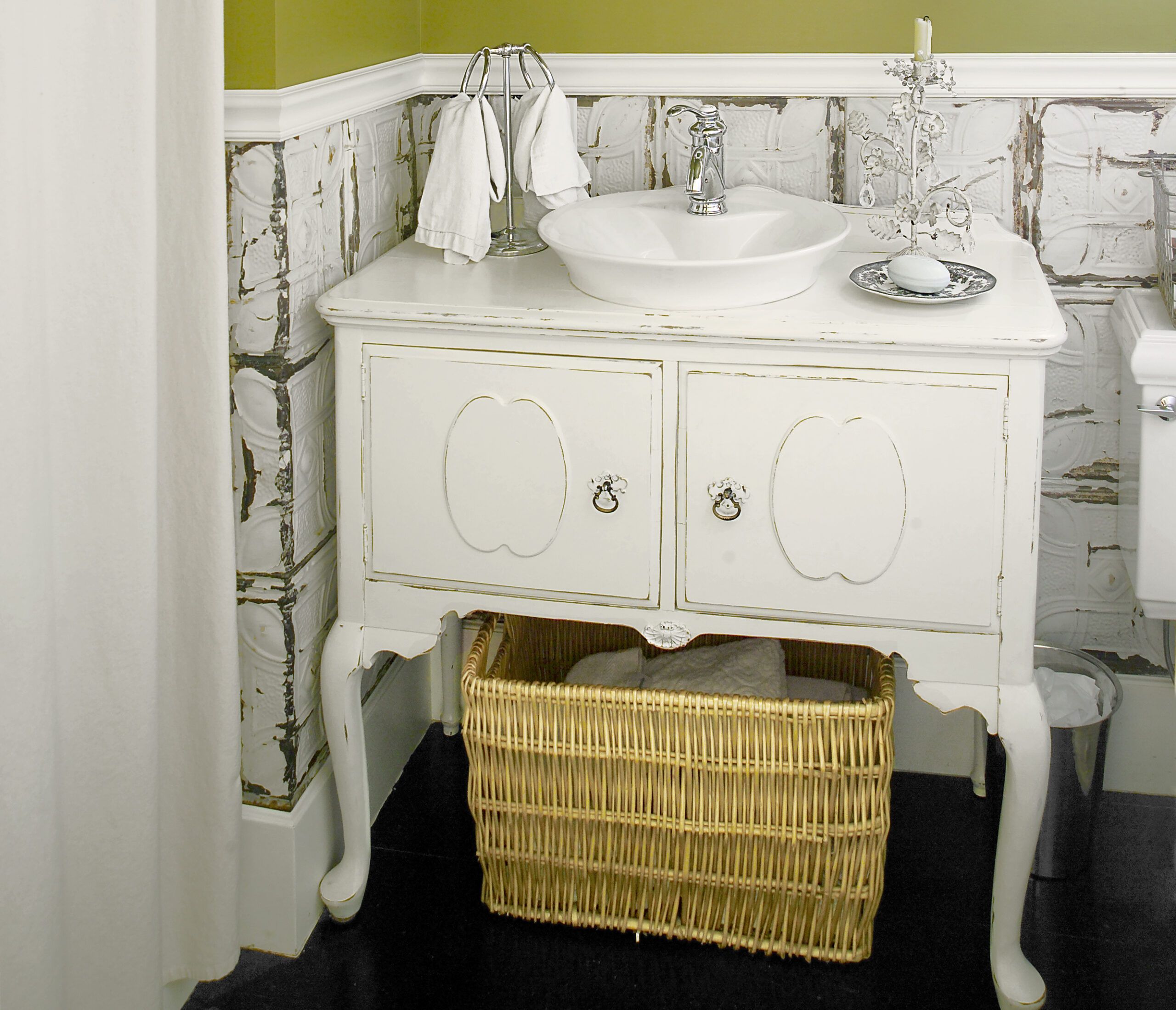 Use painted metal ceiling tiles to create a wall treatment that's full of old-fashioned charm.
Similar to shown: Genesis 2-by-2-foot Antique White Ceiling Tile, about $2.50 per square foot; The Home Depot