Unloved No Longer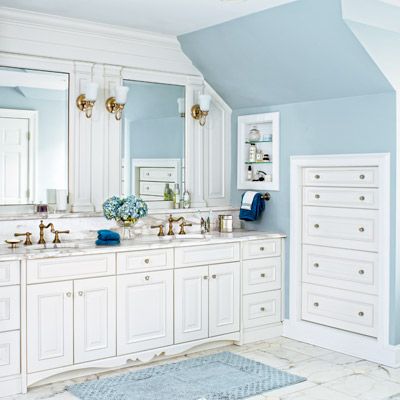 One remodel often builds off another. Tom and Joan Hagan's 1940s Colonial Revival, in Ho-Ho-Kus, New Jersey, came with space added by the previous owner, including a room off the master bedroom with closets in the eaves, including one for a washer and dryer. After "hitting our elbows" in the tiny original master bath one too many times, says Joan, they asked designer Tom Santarsiero to convert the bath into a walk-in closet and the unloved room into a master bath with separate behind-closed-doors areas for the toilet and the laundry. As for the look, Joan says, "I wanted something classic and updated but not too ornate."
Shown: Built-in dressers make good use of low-clearance space in the eaves.
Before: Too Much Multipurpose Room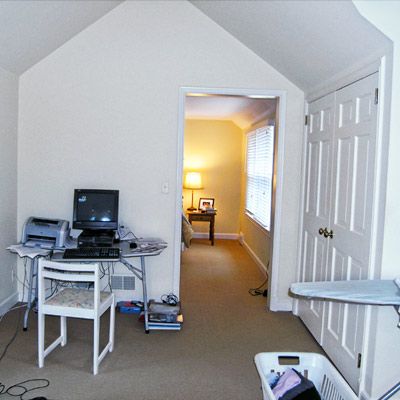 Santarsiero removed a dormer to raise a section of the roof to accommodate the toilet room, a shower enclosure, and a claw-foot tub; built two sets of drawers into the remaining dormered space; and installed radiant floor heat throughout.
Shown: Capped by a sloping roof, the room was a catchall with a laundry closet.
After: Beautiful Bath Suite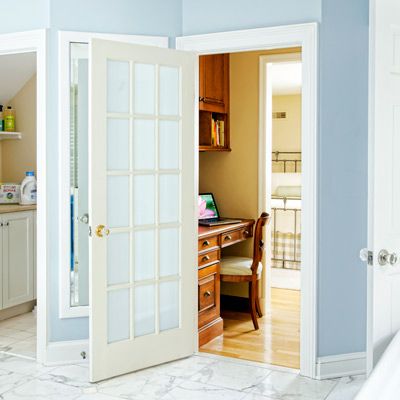 He even slipped a bonus desk alcove between bedroom and bath. "I do e-mail there—it's quieter than the kitchen," says Joan, mother of three, adding that the suite is now her favorite place to linger. "It's so peaceful and calming. I really love it."
Shown: Converting it to a bath required opening a stud bay for pipes and eliminating a dormer. Built-ins and classic finishes keep the look clean and polished. The cozy desk alcove, with oak flooring to match the bedroom, adds the expansive feeling of a whole other room to the master suite.
Sinks: Kohler
Desk and shelves: Draper-DBS
Homeowner Tip: "A frosted-glass door lets light into a desk alcove between the bedroom and bath while preserving privacy." —Joan Hagan, Ho-Ho-Kus, N.J.
An Alcove for The Tub, Too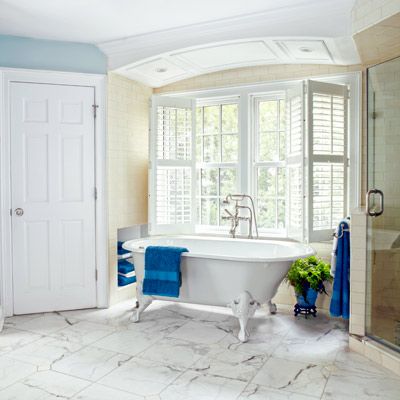 The tub alcove, flanked by the toilet room and the shower enclosure, is set off by a paneled ceiling with recessed lights. The marble floor is detailed with ceramic diamonds.
Tub: Kohler
Windows: Andersen
Pendant: Hudson Valley Lighting
Towel Niche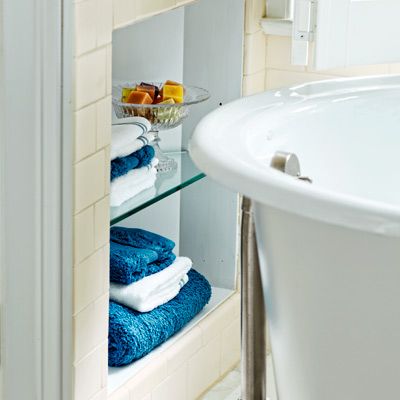 Glass shelves keep fresh towels handy and reflect light from the new windows. Period-style fittings have a matte-nickel finish.
Subway tile: Gainey Ceramics
Channeling The Light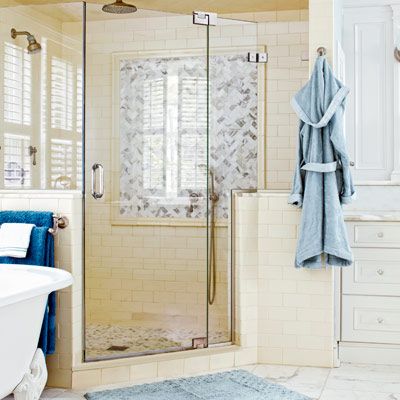 The frameless shower enclosure channels—and reflects—light from the double window over the tub.
Mixed Tile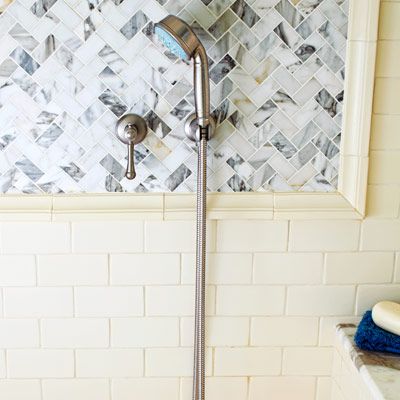 The shower is lined with a mix of marble mosaic and herringbone tile framed by ceramic chair-rail and subway tiles.
A Little Privacy, Please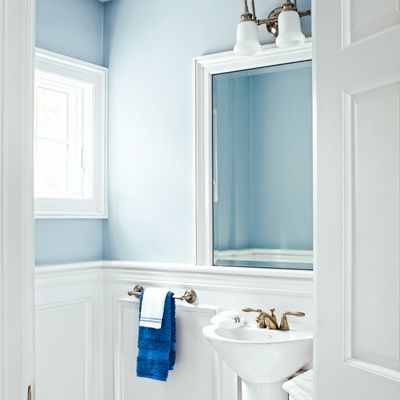 The toilet has its own room, complete with a sink, a mirror, and wainscoting.
Toilet and sink: Kohler
Sconce: Murray Feiss
Wall paint: Benjamin Moore's Yarmouth Blue
Floor Plan: Before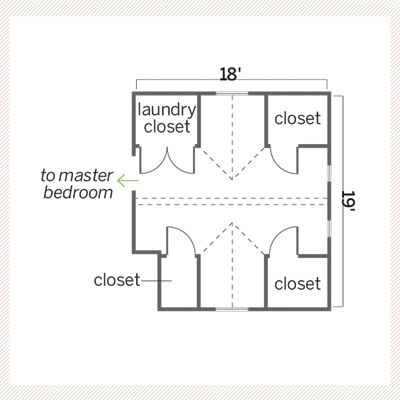 The 330-square-foot catchall space had two dormers, with four closets—one for laundry—under the eaves.
Floor Plan: After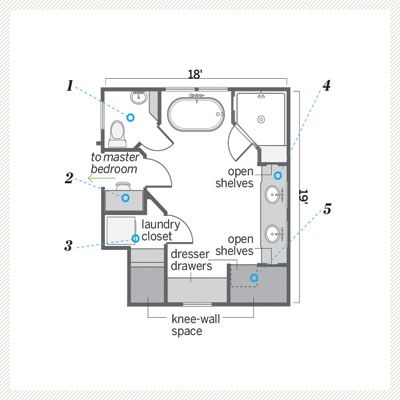 Eliminating a dormer and raising a section of roof freed up usable floor space. Walls went up for the relocated laundry and a new desk area.
What They Did:
1. Took down a dormer and raised the roof to fit in a toilet room, tub alcove, and shower enclosure.
2. Created a desk alcove that acts as a buffer between the bedroom and the bath.
3. Added a closet inside the bath to hold a stacked washer and dryer, as well as a laundry cabinet and an open shelf for easy-access supplies.
4. Put in a two-sink vanity, with recessed open shelves in the sidewalls in lieu of medicine cabinets.
5. Built in two sets of deep drawers, one in knee-wall space, eliminating the need for bedroom dressers.