Organization Central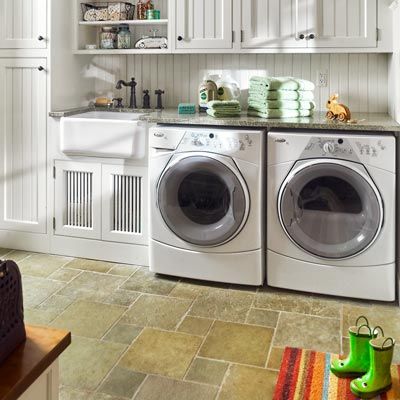 The laundry room has finally come into its own as a bright and organized cleanup command center, whether in a tidy corner of the basement or a nook next to the kitchen. For help updating yours, check out our expert advice on everything from energy-wise machines and thrifty flooring options to the best labor-saving layout and how to safeguard the house from a potential flood or fire.
Where to Put It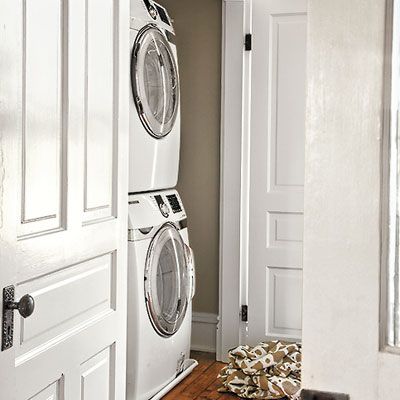 For lots of us, the basement is just fine. But many homeowners who can spare the space and expense prefer to have the laundry closer to bedrooms or the kitchen. Here's what to factor in before remodeling your laundry room.
On an upper floor
Pros: Proximity to where dirty clothes are shed lessens schlepping distance with hampers. Can tap into existing plumbing lines if in or near a bathroom.
Cons: Noise and vibration require extra insulation and a motion-arresting pad. Leaks can damage first-floor rooms. Closet installation requires a vented door and additional space around stacked machines to dissipate dryer heat.
Where to Put It (Continued)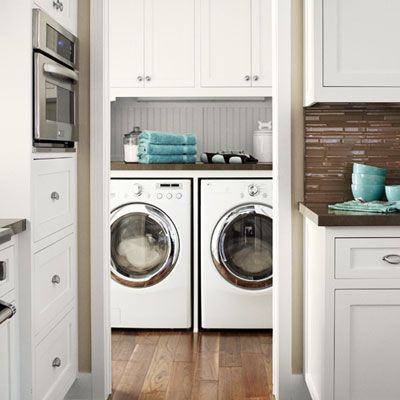 On the first floor
Pros: Near where most other house-keeping chores take place. May be able to share kitchen or powder-room plumbing lines.
Cons: Laundry can pile up in cooking, eating, and foot-traffic areas. Need to carry hampers upstairs. Machines hidden in cabinets require vented doors and clearance space for proper ventilation.
Low-Impact Layout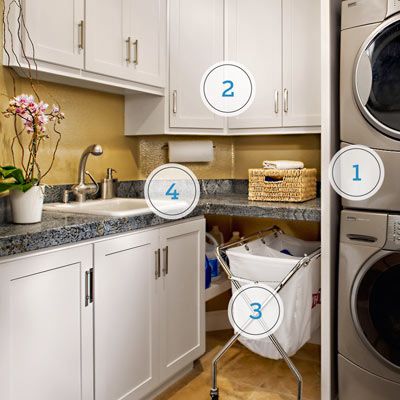 You don't need a huge space. In fact, some of the most efficient laundry room designs are quite small, with the following four elements arranged in close proximity, not more than a step or two away from one another:
1. Appliances: Stack them or put them side by side to transfer wet clothes easily from washer to dryer. Machines should be placed directly in front of utility hookups.
2. Supplies: Store detergent, stain sticks, and other clothing-care items, such as a sewing kit, in closed cabinets, cubbies, or open shelving that's above or next to machines.
3. Baskets: Leave enough room in front of machines to empty or fill them easily, and create a nearby niche to tuck baskets or hampers out of the way but within easy grabbing distance.
4. Work surface: Add a counter or a freestanding table adjacent to stacked or top-loading machines for sorting, treating, and folding. With front loaders placed side by side, consider installing a counter on top of the machines to save space.
Comfortable Clearances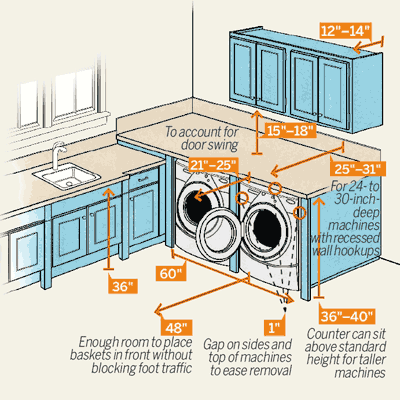 Consider these measurements before hooking up machines or adding built-in storage to keep your laundry room looking—and working—its best.
Delivery-Day Reminder: Measure the dimensions of not only the area where the machines will be installed but also doorways and stairwells that they will have to pass through to get to the laundry room. Most machines need about a 30-inch-wide opening.
The Case for Front Loaders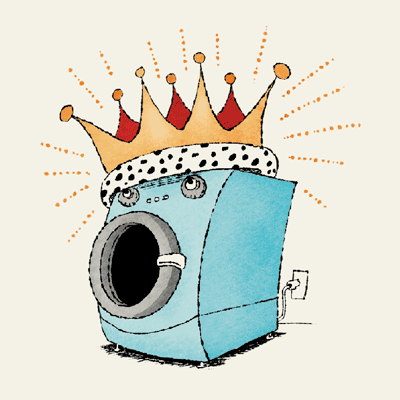 They cost about $150 to $300 more, but front-loading washers tend to clean better and more efficiently than most top loaders—a faster spin cycle, up to 1,200 rpm, wrings out more water to cut drying time and energy consumption. A front loader also offers design flexibility and comfort; you can stack it with a dryer to save floor space, top it with a counter for folding, or raise it on a pedestal to a back-friendly height. To do the latter with a top-loading washer, you'd have to be part giraffe to reach inside the machine.
Front-Loader Add-On: Pedestals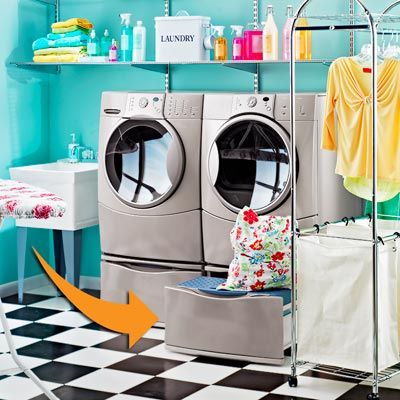 $100-$300
• Good storage for tight quarters because they sit beneath machines and don't eat up floor space.
• Elevate the washer and dryer, saving you from having to bend over as much to reach into the machines.
• Drawer can be ordered from the manufacturer that makes your machines for a perfect match. Just be sure to check specs; drawers should be deep enough (typically 12 to 15 inches) to hold detergent bottles upright.
Front-Loader Add-On: Countertop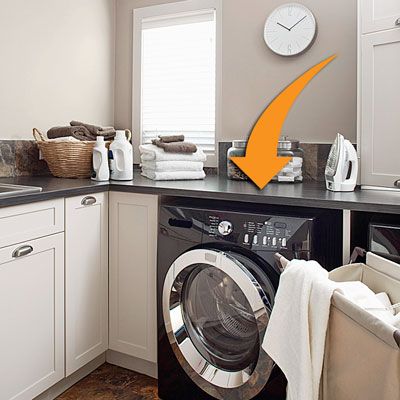 $200-$800
• Fits across the top of the washer and dryer for a large work surface for sorting, treating stains, and folding.
• Prevents items from falling in between or behind your machines.
• Could be a custom counter, or a prefab rubber tray (made by several manufacturers to complement their machines) that resists staining, has a built-in backsplash, and often comes with rear pockets for laundry supplies and other small items.
Keep It Safe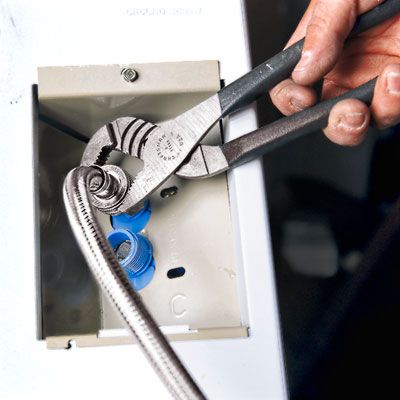 Washer mishaps are among the leading causes of home floods, and dryers account for thousands of fires annually. But with some key supplies, you can avert disaster and save thousands. Here's what you'll need:
• Braided steel washer hoses, shown left, that can't split open like rubber ones.
• Metal dryer-vent pipe sealed with foil tape, rather than a plastic flex hose, which is a fire hazard.
• A washer box that's recessed in the wall so that water valves are easily accessible and hoses don't loosen or get damaged by getting squished behind the machine.
Oatey Washing Machine Outlet Box, $23; The Home Depot
Safety (Continued)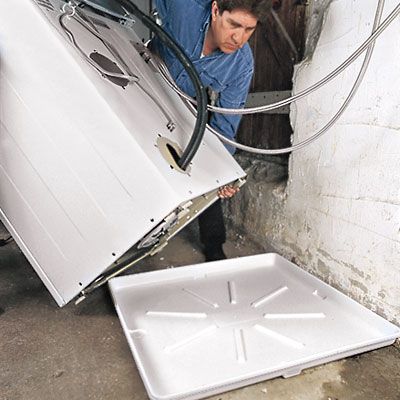 • An automatic shutoff valve that cuts water to the washer if it detects a leak or a burst hose.
FloodStop, $161; Amazon
• A washer drain pan (shown) to catch drips, especially for machines on main living levels.
1-2-3 Under Washer Tray, $30; Menards
Buying a Dryer: Gas or Electric?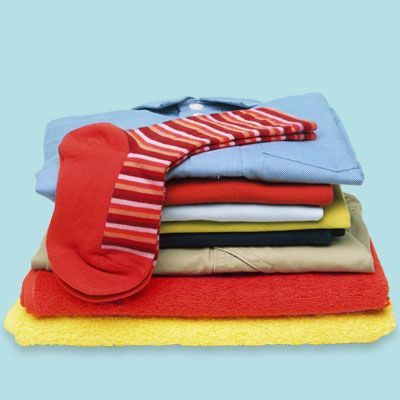 The connections in your laundry room will likely dictate your choice. But if you have both a gas hookup and a 240-volt outlet, go for gas. It costs about $50 to $100 more than an electric model, but it's cheaper to operate over the long haul—15 to 20 cents per load, compared with 30 to 40 cents for electric. Considering that the average American family does 300 loads of laundry a year, that's an annual energy savings of $45 to $60 with gas.
Decoding Energy Star Labels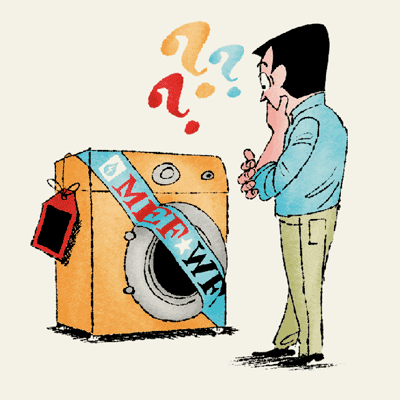 Most HE (high-efficiency) washers are also rated by MEF and WF. Here's what the new acronyms mean:
MEF: Modified Energy Factor is a measure of the energy used to run the washer and heat the water. The higher the MEF, the more energy-efficient the washer.
WF: Water Factor is based on the number of gallons of water consumed per cubic foot of capacity. The lower the WF, the more miserly the washer.
Ventilation Checklist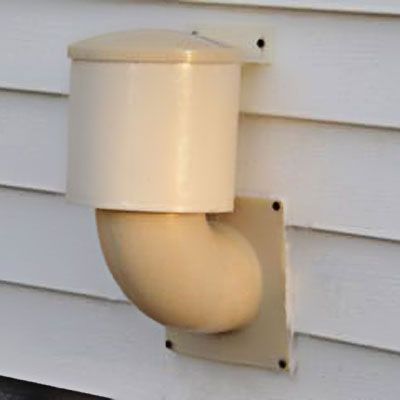 • Make metal vent-pipe runs to the outdoors as short as possible, with limited bends for the best airflow (45 feet max, assuming two 90-degree bends).
• Install a self-closing exhaust vent, rather than a louvered one, to keep outdoor air from coming into your home when the dryer is off.
• Consider putting in a bathroom-type vent fan in the ceiling to prevent moisture buildup in a laundry with a stall shower or pet-care station.
The Right Ironing Board for You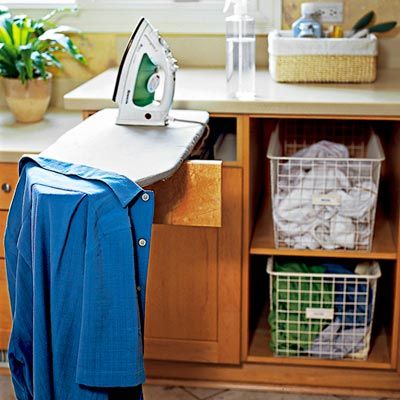 If you're the type to tote your wrinkled shirts to the den so you can watch TV while you press, go for the classic folding board. But if you prefer to iron in the laundry room, consider one of these built-in space-savers instead.
Drop-down board It stows in a recessed or wall-mount cabinet. Pricier models, such as the Deluxe Iron-A-Way Wall Ironing Board with a birch-veneer door ($517; Amazon), are configured with storage shelves and electrical outlets.
Foldout board This compact board unfolds from behind a false drawer front (shown) for a seamless look. The Rev-A-Shelf VIB Series Board ($232; Amazon) is sold as a kit that you can retrofit into an existing drawer.
The Best Basket If You…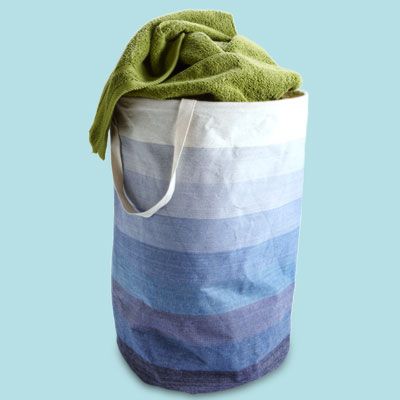 Take sorting seriously: Individual stacking baskets that nest ($10 each), or a metal frame that holds multiple removable fabric bags ($35).
Like to roll: A wheeled garment rack with bins ($20 to $40).
Navigate stairs: Lightweight, soft-sided vertically shaped bins, similar to the loop-handled canvas one (shown, about $20 each). Traditional rectangular baskets are unwieldy and lead to scraped knuckles.
The New and Improved Utility Sink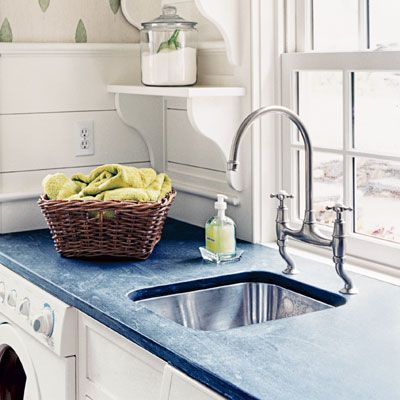 Standard-issue plastic laundry tubs stain easily, lack under-sink storage, and are too deep to be practical. A better option is a 10- to 12-inch-deep square or rectangular stainless-steel sink with curved, easy-to-clean corners. Paired with a gooseneck faucet or one with a pull-out spray, the setup is perfect for doing delicates, washing hands, and filling buckets and watering cans.
Smart and Cheery Finish Materials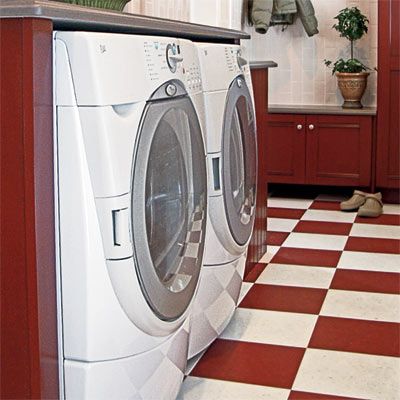 Chemicals, water, and soiled items tend to get splashed, sprayed, and dumped in a laundry room, so when it comes to finishes, prioritize durability and affordability over luxury. But that doesn't mean your room needs to be dull. Consider these hardworking, thrifty surface options that can also inject color and texture to liven up your laundry space.
Floors
Glue-down linoleum (shown), cork, and vinyl floors shrug off moisture with less upkeep than wood and without the worry of ceramic tiles' cracking or dingy grout lines.
Finishes: Storage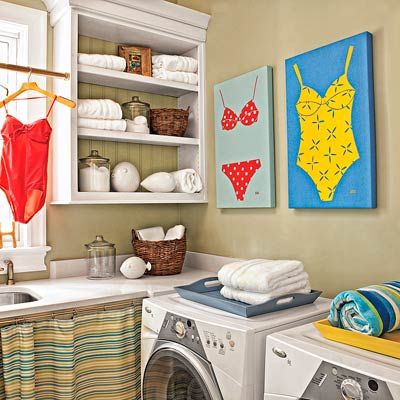 Rather than closed cabinetry, consider open shelves and cubbies. To stylishly conceal clutter under a countertop, hang a curtain printed with a colorful pattern.
Finishes: Walls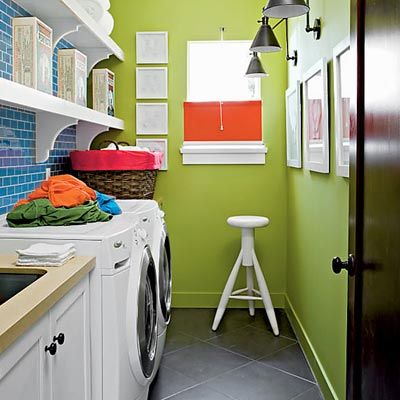 Easy-to-wipe-clean semigloss paint, beadboard paneling, and glossy ceramic tiles can take a beating while injecting your laundry room with bright hues and personality.
Finishes: Countertops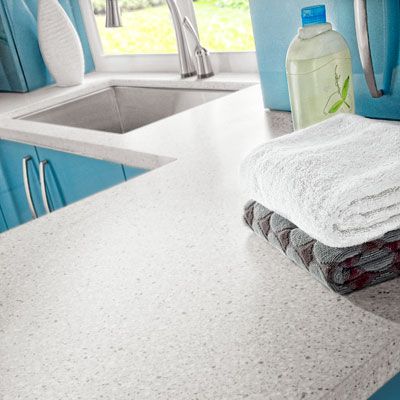 Instead of natural stone, try nonporous solid surfacing, such as Corian (shown in Silver Birch), engineered stone, or laminate, which cost the same or less and come in muted and vibrant shades.
Which Lights Where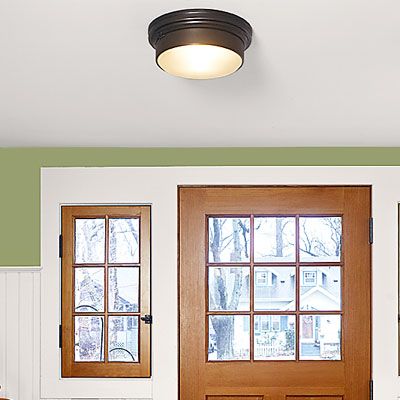 For general ambient illumination in addition to any natural light in the room, choose a low-profile ceiling-mount fixture. A pendant is a more stylish alternative, but steer clear of the folding area and upper cabinetry unless you want to play whack-a-lamp. For treating stains or spotting wrinkles while you iron, go with task lighting, such as LED undercabinet strips, which are energy efficient and stay cool to the touch, or focused overhead spots.
All the Extras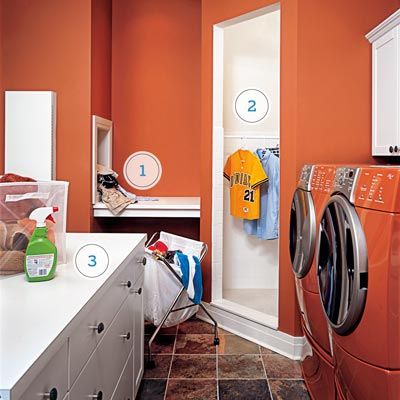 There are dozens of ways to upgrade your laundry room, but which of the bells and whistles are really worth the extra money?
Worth the splurge
• Replacing an old washer. Switching out one that's more than 10 years old for an Energy Star model can save you $35 a year in energy bills because they are 30 percent more efficient and use 50 percent less water. Plus, you may qualify for rebates and tax credits.
• Stainless-steel washer tubs and dryer drums. They last longer than plastic or porcelain-coated steel and won't chip, crack, scratch, or leave rust stains on clothes.
• Laundry chute (1). If you've got a clear path between floors—no wiring, plumbing, or ductwork to contend with—eliminating those tiring trips down the stairs with arms full of dirties can be easier than you may think. Old-house owners may even be able to convert a decommissioned dumbwaiter.
• Simple shower stall (2). Use it to bathe the dog, rinse off muddy outdoor gear, and hang clothes as they drip-dry.
• Movable or built-in island (3). Not just for kitchens, these workhorses can serve as a folding table or a homework station with stool seating, and provide extra storage for cleaning products, the toolbox, even craft and gift-wrapping supplies.
Extras (Continued):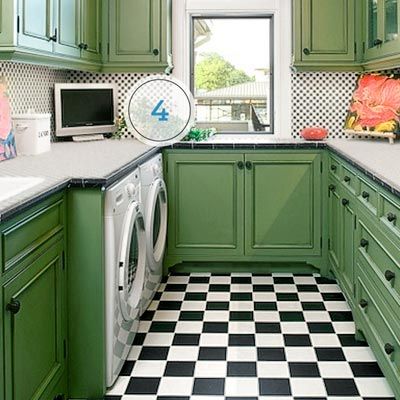 • Television (4). It'll keep you entertained during long periods of folding and ironing.
Not worth the splurge
• Natural stone finishes, such as marble, for counters and floors. They require sealing to prevent staining and don't absorb sound. With exceptions for high-visibility laundries, such as one that adjoins a kitchen where you want materials to match, they're rarely worth the expense and upkeep.
• Drying cabinet. This armoire-like machine air-dries your clothes with gentle heat and uses 90 percent less energy than conventional dryers, but at $4,000, you'll never recoup the cost.
• Jetted sinks with timers for hand washables. Most washing machines these days have extra-gentle cycles for delicates.
• Steam settings, which add some cleaning power to a washer but not enough to justify a couple hundred dollars more on the price tag.
• Interactive LCD displays on washers to track the progress of a load and get stain-removal tips.
• Built-in clothes bins. They hide dirties but tend to trap moisture and get smelly. Better to tuck bins into open cubbies where air can circulate around them.
3 Indoor Air-Dry Options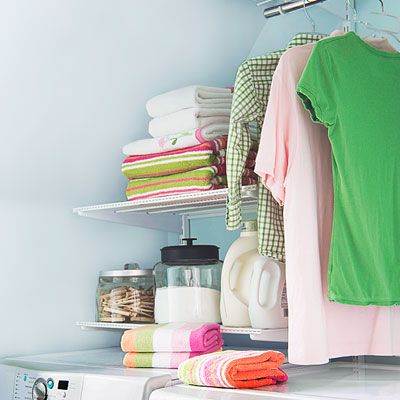 Clothes dryers cost about $85 a year to run and are second only to refrigerators in terms of energy expenditure, so consider these electricity-free options when planning your new laundry room. Bonus: Air-drying causes less wear and tear on your clothes, so they'll last longer and you won't have to shop as often.
1. Hanging rod ($2–$3 per foot) Make it metal, and securely mount it to bear the weight of wet garments.
2. Retractable clothesline ($10–$50) Wall-mounted pull-out clotheslines, available as a single line or multiple lines. Set one up in a well-ventilated spot where you can lay down a towel to catch drips.
3. Foldaway rack ($10–$35) Choose from wood accordion-style and two-tier metal and mesh folding racks that expand to provide ample space to hang or to lay garments flat.
Multitasking Laundries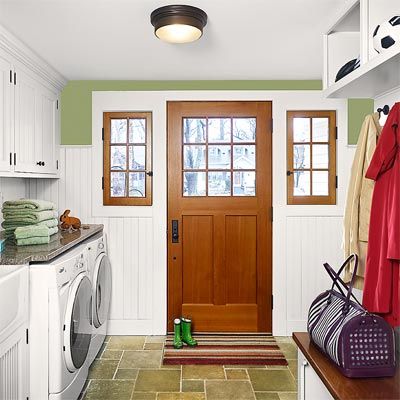 The laundry room increasingly plays host to a variety of household chores and activities, from pet-grooming and potting to sewing and organizing sports gear, backpacks, and coats. Below, four double-duty rooms that do it well.
Mudroom
A laundry near the back entry allows family members to toss dirty sports clothes or soiled garden togs right into the washer so as not to track muck into the main living area. A boot bench with hooks above corrals coats and bags, and closed cabinetry keeps laundry supplies hidden from view.
Multitasking: Bathroom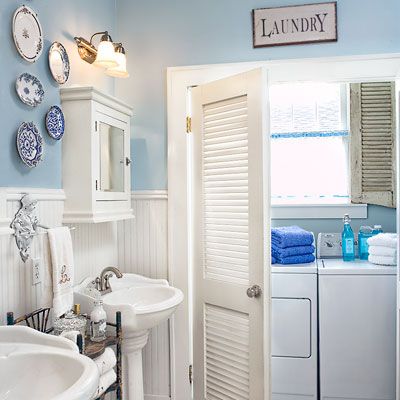 Pull warm towels straight from the dryer in this combo room. A louvered door discreetly separates the laundry from the bathing area and provides extra ventilation for the machines.
Multitasking: Pet-Care Center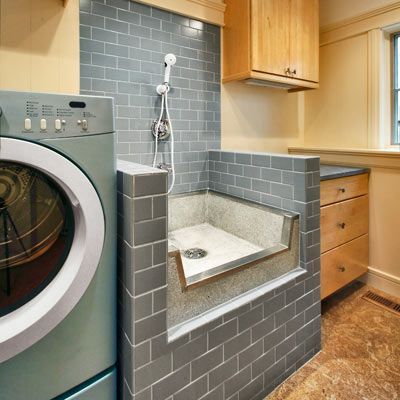 A shower pan on a raised platform beside the washer is designed for dog grooming, but also works great for spot-cleaning large items, like throw rugs.
Multitasking: Dressing Room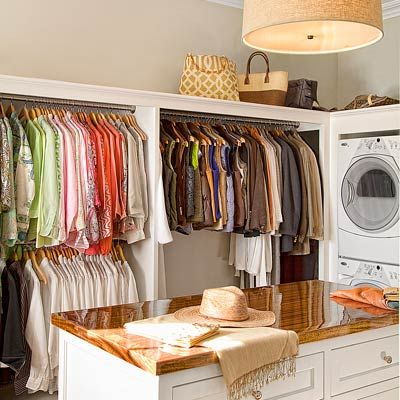 Clean clothes go straight from the dryer to the drawer in this walk-in closet, no hamper required. For efficiency, the homeowner opted for stacked machines and a built-in dresser that also serves as a folding table.