Bathroom Before Upgrade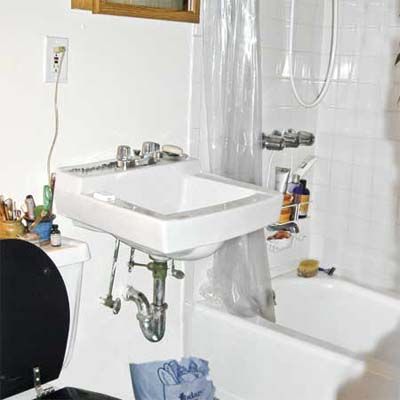 Ugly bathroom got you down? Forget the wall-breaking, layout-rearranging bathroom renovation. Add both style and storage by focusing instead on the room's centerpiece: the sink area.
Bathroom After Upgrade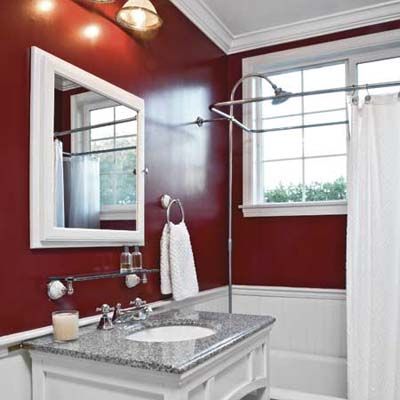 Here, the homeowner traded a wall-mount basin for a white-painted vanity fitted with a Pegasus gray granite top and under­mount sink, all stock pieces from the home center. A new, semi­recessed medicine cabinet from EXPO Design Center, overhead light from Lowes, and vintage-look faucet also from EXPO Design Center finish the transformation.
Mix and match the components featured in this gallery for your own custom look.
Painted White Wood Vanity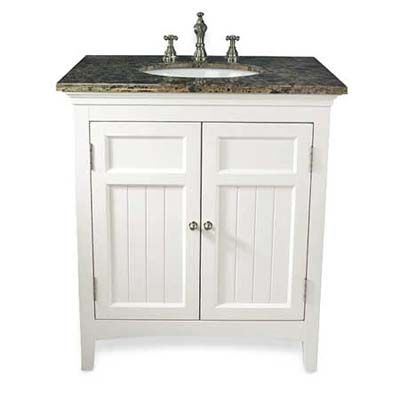 Nothing defines the look of a bath more than its vanity. Rather than a closed cabinet, chose open shelving to make a small room appear larger. Standard vanity depth is 21 inches, but lengths range to suit a wide variety of bathroom sizes.
The white-painted finish on this simple wood vanity reflects light, making a diminutive bath seem brighter and roomier. Around $429, EXPO Design Centers
Contemporary Vanity
This contemporary vanity with a granite vessel sink attaches to the wall, leaving the floor free for a waste bin. Around $650, Xylem
Porcelain and Stained-Wood Vanity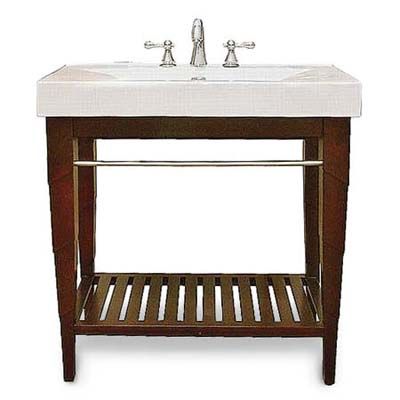 No need for a counter with this integral porcelain sink supported by a stained-wood base. Open storage and a built-in rack hold towels. $848, EXPO Design Centers
Pewter Faucet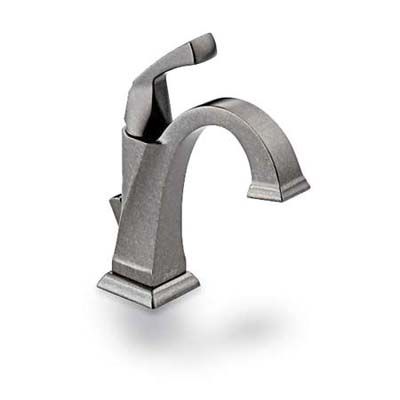 The faucet is the jewel of your setup. Be sure the one you pick is sized for the predrilled holes in the counter or sink you plan to use. Choose among single-hole spouts with built-in controls and three-hole ones with a 4- or 8-inch spread between taps.
The boxy lines of this pewter faucet make it ideal for bungalow baths. Around $321, Delta Faucet
Brushed-Nickel Faucet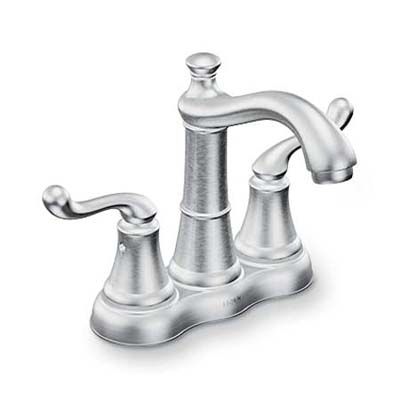 A brushed-nickel finish and shapely handles give this faucet a classic look. Around $240, Moen
Bronze Bamboo Faucet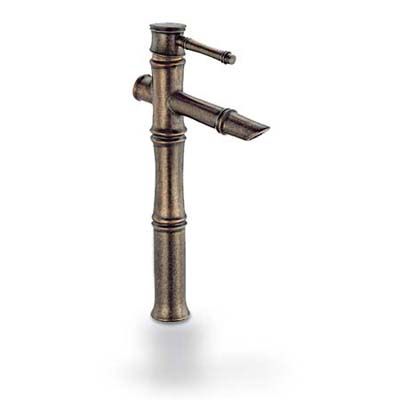 Fill tall vessels with this bamboo-look spout in distressed bronze. Around $355, Danze
Flush-to-Wall Medicine Cabinet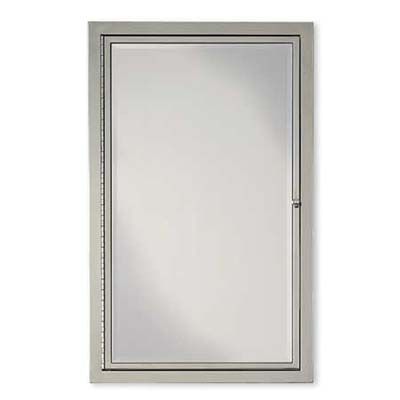 From contemporary to classic, mirrored cabinets provide a place to primp and space to stow toiletries. You can save valuable square footage by swapping a wall-mount cabinet for a new semirecessed one.
This stainless-steel-wrapped cabinet mounts between the studs for a face flush with the wall. Around $495, Restoration Hardware
Crown-Topped Medicine Cabinets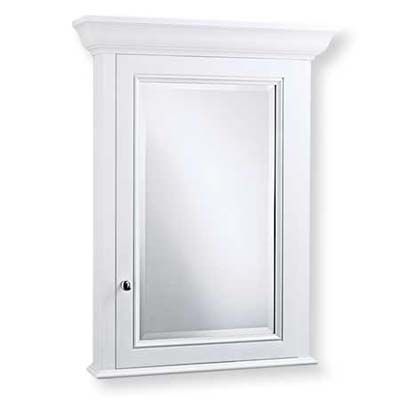 Elegant crown molding tops this simple wall-mount cabinet with three adjustable shelves hidden inside. Around $730, Robern
Recessed Wood Medicine Cabinet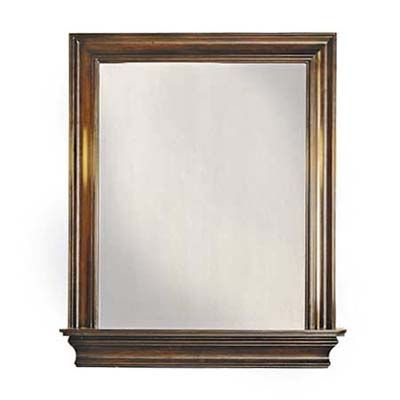 If space is at a premium and you can't open the wall to recess a cabinet, hang a slim mirror instead. A 3½-inch-deep shelf
on this wood-framed model provides just enough room for a toothbrush and paste. $149, Pottery Barn
Art Deco-Style Sconce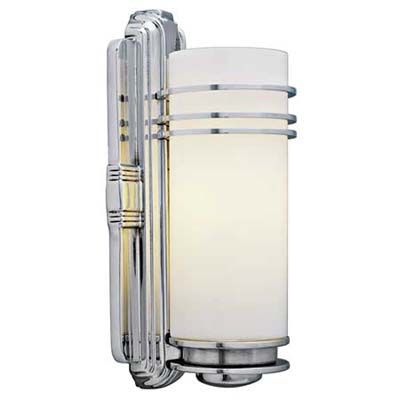 A new fixture brightens your bath in more ways than one, providing crucial task lighting for grooming and enhancing the look of the room. Choose overheads or sconces that cast evenly diffused light to prevent glare.
Sconces like this aluminum Art Deco–style one should be spaced 36 to 40 inches apart to avoid casting shadows on your face. Around $259, Schoolhouse Electric
Double-Lamp Wall Fixture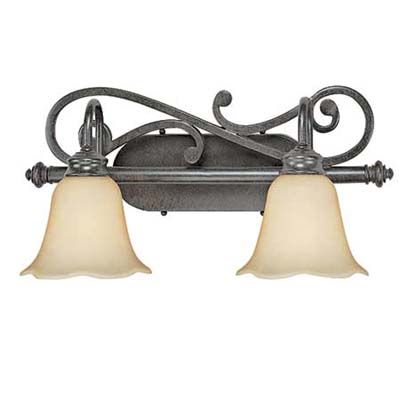 This double-lamp fixture has etched, tea-stained glass shades and metalwork recalling ornate wrought iron. Around $165, Thomas Lighting
Craftsman-Style Light
This colorful Craftsman-style light can be mounted alone over a medicine cabinet or used in a pair to flank the sides. Around $212, Wilmette Lighting Company