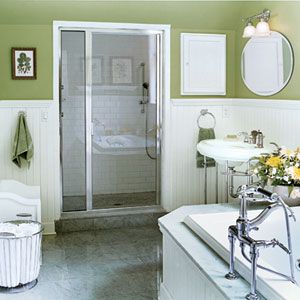 Replacing bathtubs with shower stalls is one way to free up bathroom space in an old house. But it can also spell a long wait for family members who want to have a leisurely soak in any remaining tub. So when Mandy Sherman and her husband, Bob, made the switch to showers throughout their Chappaqua, New York, home, the couple knew they wanted to find a way for the four of their six kids living at home to comfortably use the new jetted spa tub they planned to install in their master-suite addition—while preserving a private cleanup area for themselves.
Local architect Robin Prince Zahn came up with a unique solution: Divide the bathroom in two, with the tub and shower in one room and a sink and the toilet in an adjoining half-bath. Such a split would mean less hammering on the door in the evening, when the athletic Sherman kids might be soaking their sore muscles while Mandy or Bob want to get ready for bed. Finished with wainscoting and vintage–look fixtures, the two parts of the bathroom are united by a turn–of–the–century English style that complements the rest of the circa 1917 Tudor. The tub room also features a leaded–glass window that's installed on an interior wall to brighten the stairwell.
These days the mood around the house is brighter as well. Says Mandy, "Now my children can never hold the entire bathroom ransom. It's worked out really well."
What they did:
1. Established the footprint. A steep slope in the backyard made locating the master-suite addition (which also houses an office and a stairway) on the side of the house the most practical option. As a result, the master bath was configured to be longer than it is deep, like the rest of the addition.
2. Designated the tub/shower room. The 6–foot tub, which is at the center of the new master bath space, shares the main room with a 3– by–6–foot steam shower and a single sink.
3. Created an adjoining half–bath. Locating the toilet and a second sink in a separate room next door allows members of the family to use different parts of the master bath at the same time without sacrificing privacy.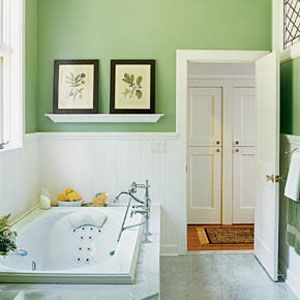 Where to Find It:
Architect:
Robin Zahn,
AIA, Robin Prince Zahn Architecture, P.C.
Yorktown Heights, NY
914–245–2025
Tub:
Kohler #K–1332–0 Memoirs Body–massage WP.
Tub faucet:
Kohler #K–110–4–PC Antique Faucet with Lever Handles and Handshower.
Pedestal lavatory:
Kohler #K–2013–8–0 Revival.
Console lavatory:
Kohler #K–2013–8–0 Revival.
Console lavatory:
Kohler #K–2001–10–0 Revival.
Faucet:
Kohler #K–16102–4A–CP Revival Widespread with Traditional Handles.
Toilet:
Kohler #K–3555–0 Revival 2–piece.
Shower:
Kohler #K–T9494–7–CP Mastershower trim for mixing valve and #T9472–7–CP trim for volume control.
Shower slide bar kit:
Kohler #K–9500–CP.
Shower wall elbow:
Kohler #K–9513–CP.
Shower arm/ceiling mount:
Kohler #K–7396–CP.
Towel shelf:
Kohler #K–16155–CP Revival.
Tower bar:
Kohler #K–16150–CP 24–inch Revival.
Fixtures and fitings:
All through Best Plumbing Supply,
Yorktown, NY
914–736–2468
Tile:
White Subway Tile,
Best Plumbing Supply.