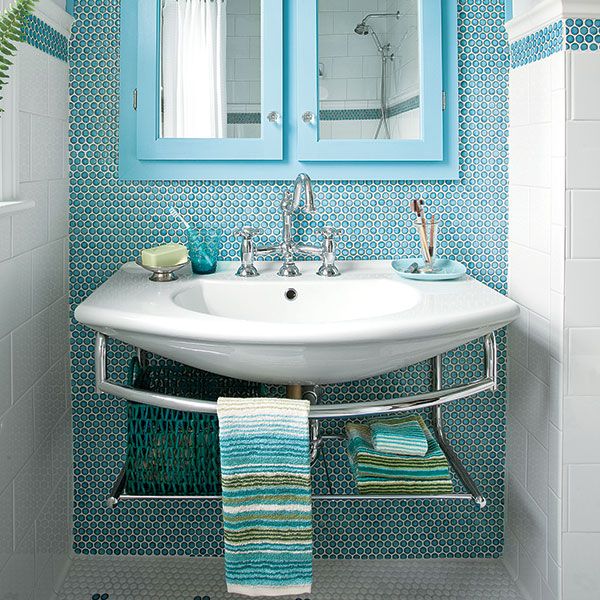 One of the most popular DIY projects among TOH readers is redoing a small bathroom. According to the Liberty Mutual New Beginnings Report, 23 percent of Americans beginning a home renovation this year will update a bathroom. When space is limited, it can be especially difficult to incorporate desired design elements while maintaining a functional washroom.
Here, expert craftsman Chip Wade, a consultant with Liberty Mutual Insurance, offers tips for a successful small bathroom redo.
1. Get the (Large) Look
Choose design elements that open up the space so you don't feel cramped. For example, a glass door for your shower or tub can make the space appear larger and more open instead of closed off. Adding a mosaic tile pattern to the walls creates the illusion of a larger space without encroaching on the existing footprint. Or you can paint a colorful accent wall for a visual focal point.
2. Double Up For Storage
Make sure that each fixture or piece of furniture has a dual use. The medicine cabinet can also be where the mirror is. A pedestal sink is slim, but a sink with a small cabinet or open shelves underneath can stow items out of the way. Hang shelves inside the shower or tub to keep necessities neat and organized.
3. Salvage to Stay on Budget
Save money by reinventing items you already have. Try reglazing the sink or tub, and installing updated faucet or plumbing fixtures to get a brand-new look at a fraction of the cost of buying brand-new models. Cabinets may only need a touch-up—such as a fresh paint job or modern knobs or pulls—instead of completely replacing the unit.