Lots of Style in a Small Space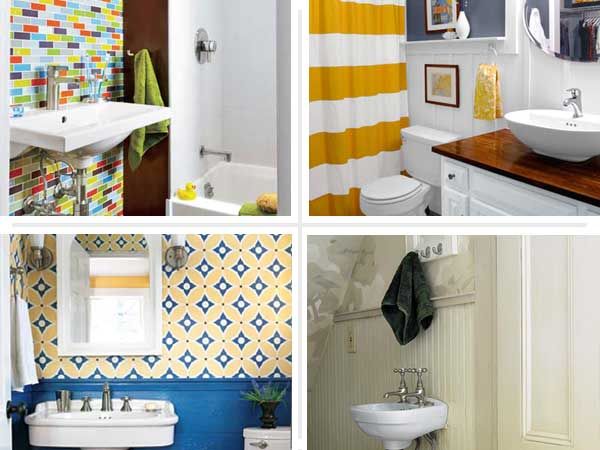 It's tempting to disregard a cramped small bath when it comes to convenient and attractive designs. But, we have plenty of inspiration where you're lacking in that department. Read on for 23 amazing bath remodels, all executed within a tiny footprint.
Optical Illusion Graphic Appeal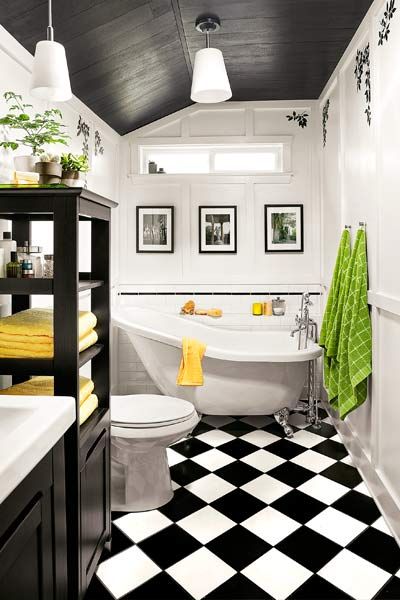 Large-scale graphic prints can be wielded to make a space feel more substantial. Here, black and white checkerboard tile stretches out the narrow design of a small guest bath.
Give your bath graphic appeal by tiling the floor
Transform your bath with our how-to on painting a checkerboard on a wood floor
Clever Built-in Bath Storage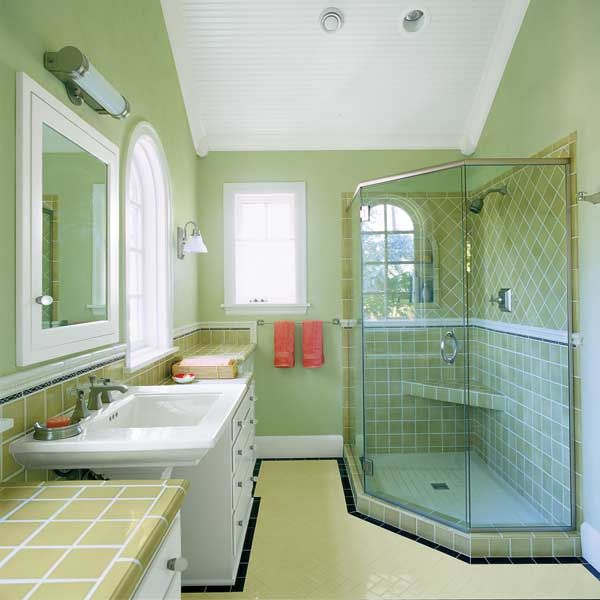 Eradicate the need for cumbersome storage furniture by building in bureaus that blend in beautifully with the vanity.
Look behind the mirror for extra storage with these medicine cabinets built with hideaway storage space
Get loads of storage and style by building a vintage-look dresser vanity
Flow With Pedestal Sinks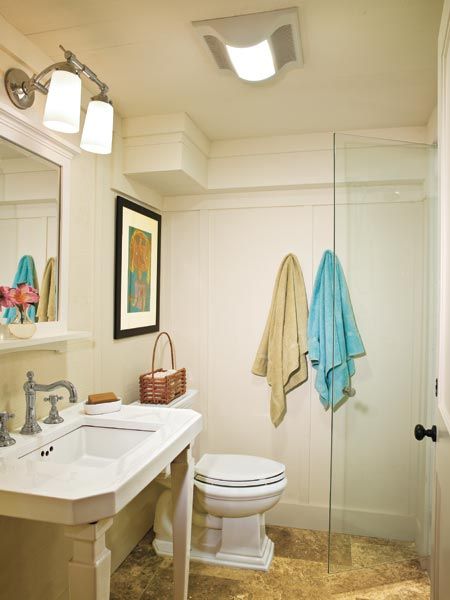 Sculptural pedestal sinks add to the design—and visual space—of cramped water closets.
Size up your small bath for a pedestal sink with important numbers every homeowner should know
Get one step closer to your dream powder room by installing a pedestal sink
Bumped-Up Size With Tall Paneling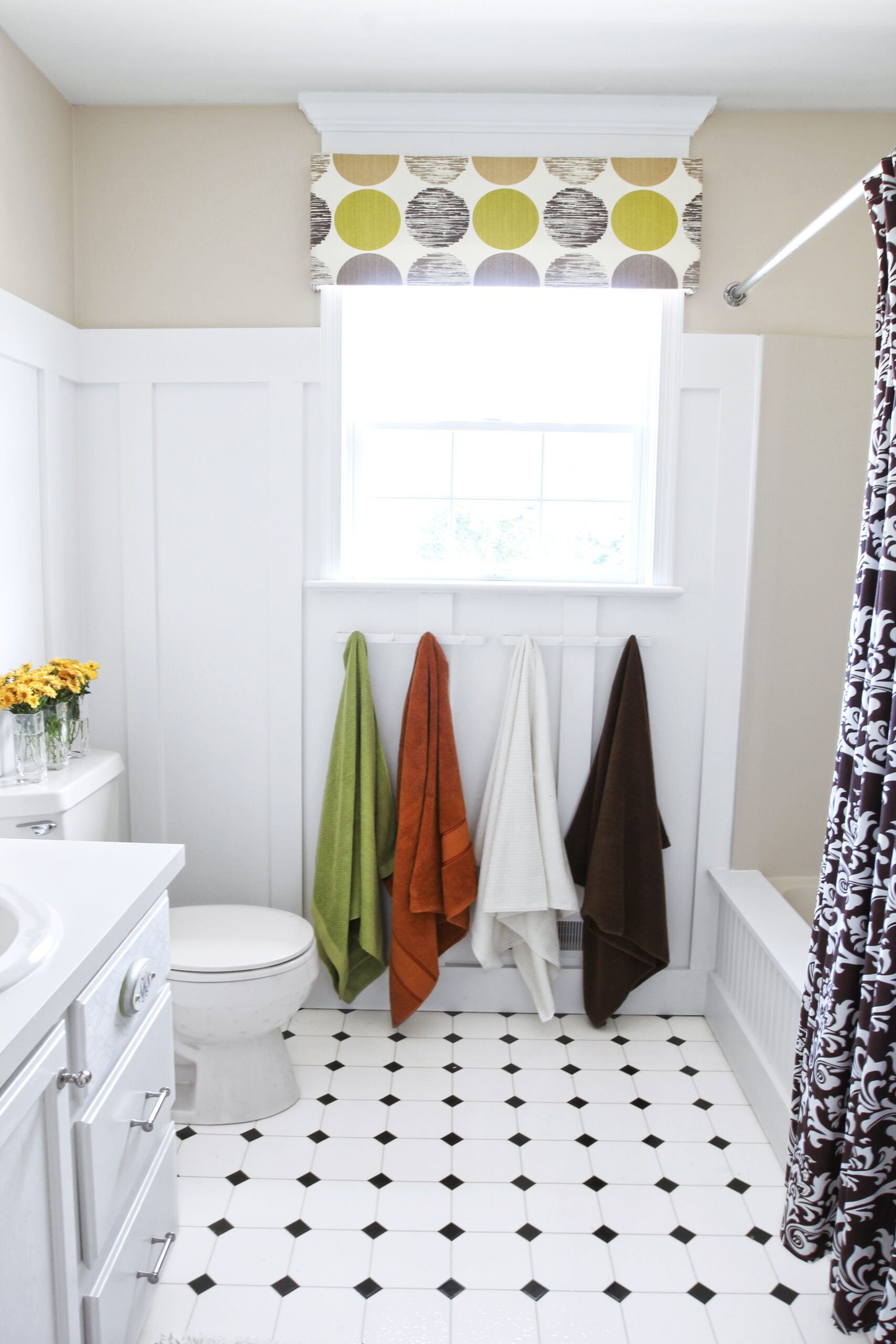 Draw the eye upward when all else fails in fitting out a small bath. Here, sophisticated faux paneling distracts from this guest bath's tiny footprint.
Channel old-house charm by building tall custom wainscot panels
Add height with wainscot built from stock moldings
Chair Rail Doubles as Shelving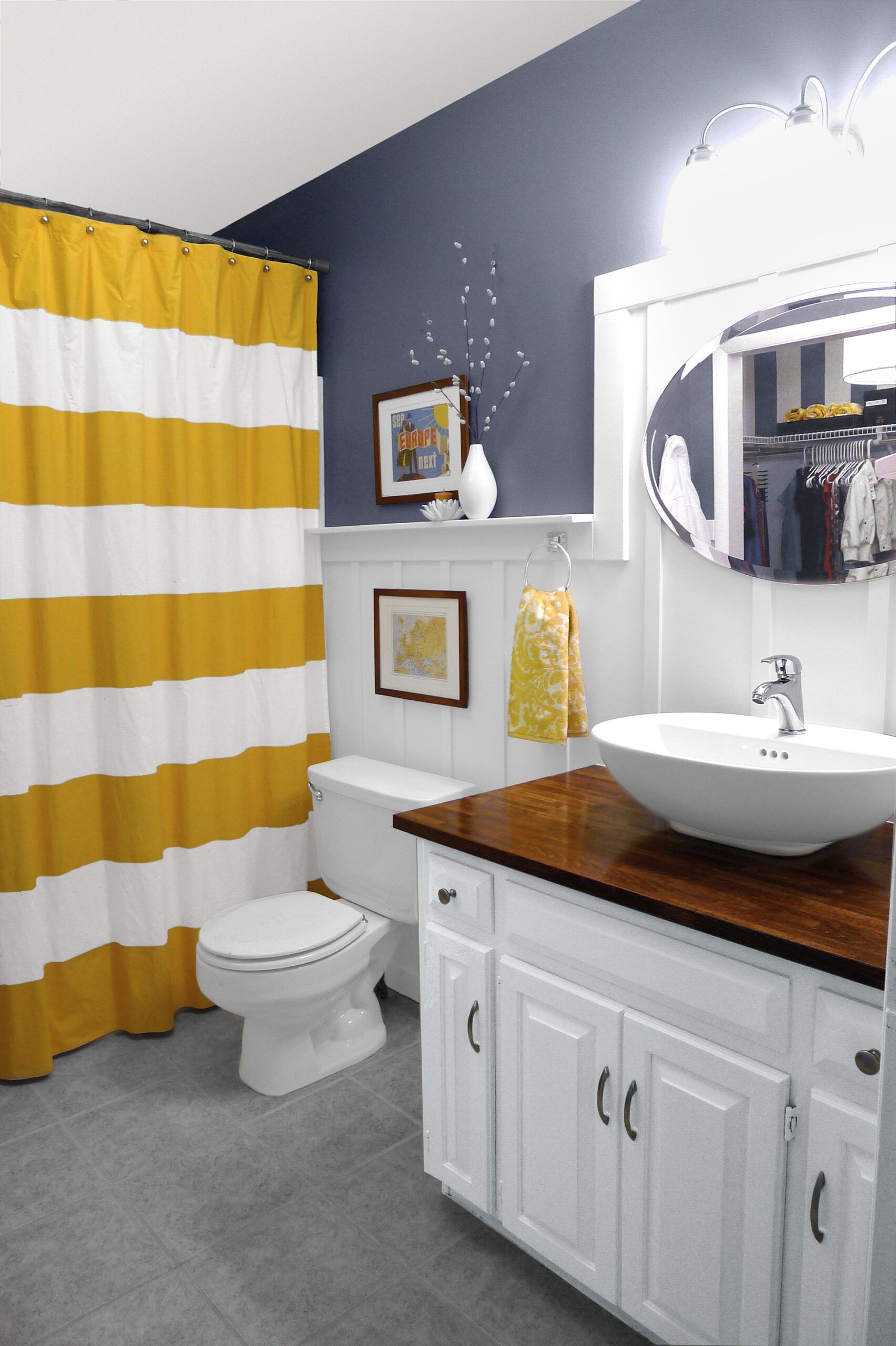 Even the smallest of rooms deserve a little ornamentation. Homeowners of this cottage bath made room for a vase and other display opportunities by installing a generous chair rail atop the wainscoting.
Give wall art and display items interesting backing by installing wainscoting
Learn from the best: Watch Tom Silva talk about interior trim options
Detailed Countertop Materials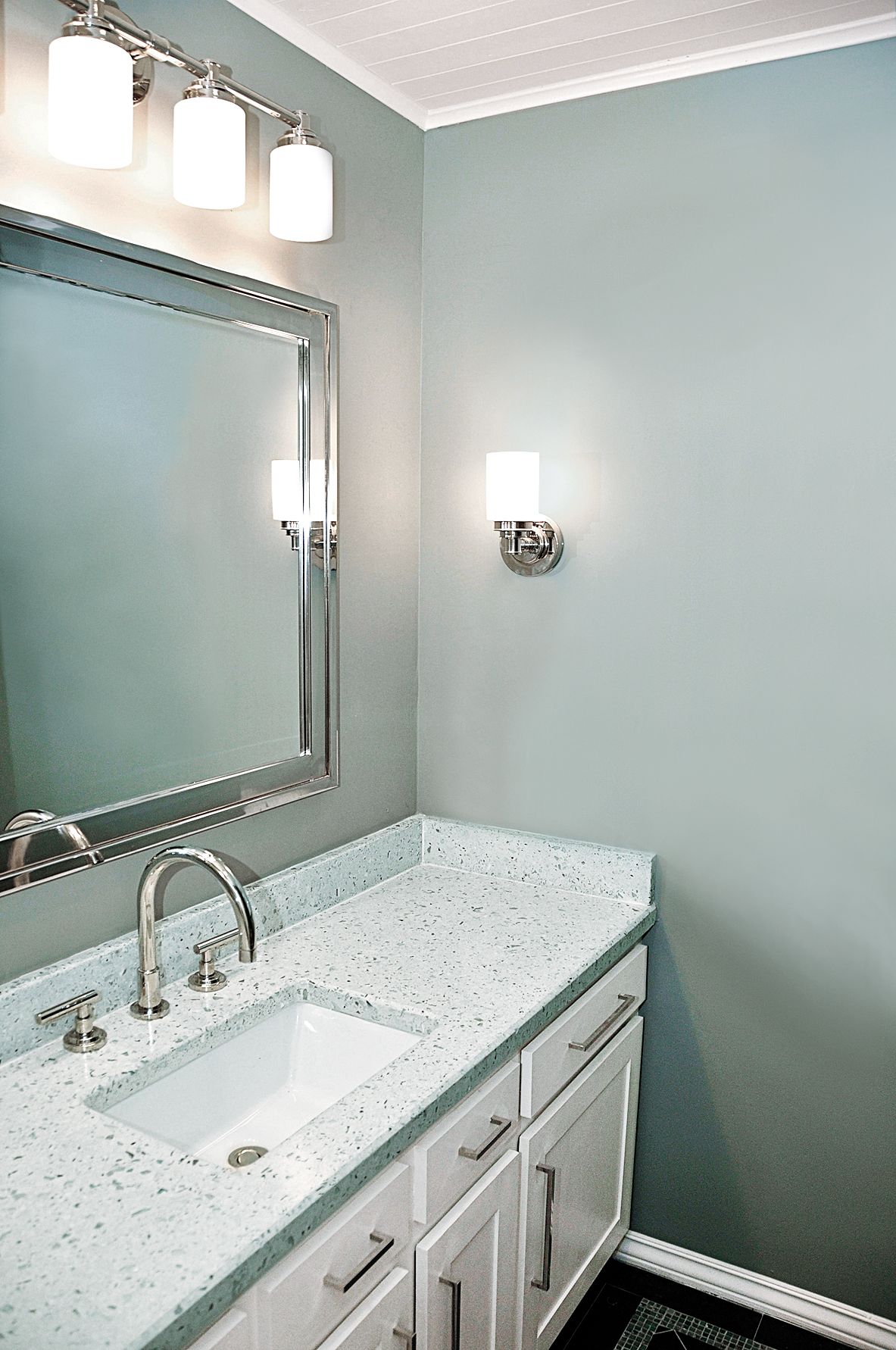 Opt for major personality in a small counter space with a unique-looking countertop material. Light-catching glass flecks in this concrete DIY countertop signal careful planning spent on an overlooked windowless half bath.
Try a blogger's trick to give laminate countertops a faux concrete look
Make your bathroom counter surfaces sparkle by learning all about stone countertops
Space-Saving Small Sink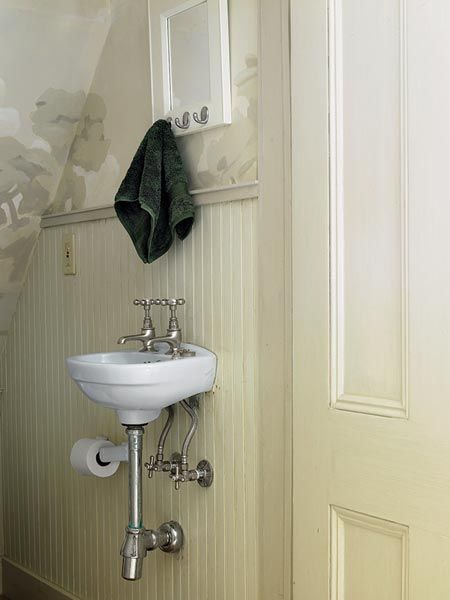 A sink is one of the areas where you can sacrifice some space. A miniature version—even better if it will hold a roll of toilet paper—may even become your favorite powder room fixture.
Check out other small bath investments that make a big splash
Reclaim more space with these 10 bath and kitchen space savers
A Step Down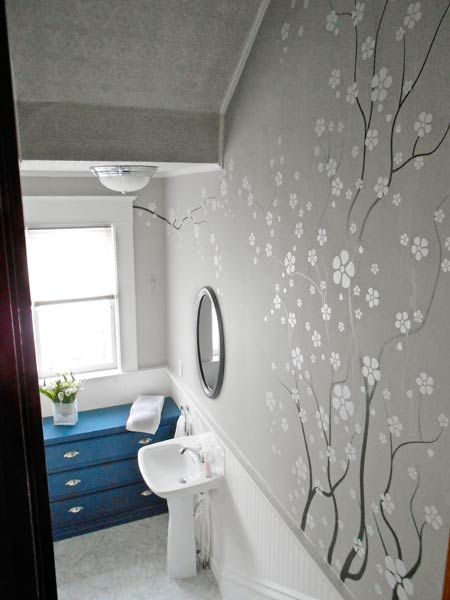 Look for unexpected places to squeeze in a half bath. Here, a convenient powder room is tucked in to a slim downstairs space with a cheery paint job that perks up the foundation-hugging (that's not a dresser) room.
Figure out how to fit in a washroom with these four half-bath design sketches
Steal design ideas from our past favorite small bath designs
Rustic Driftwood Wainscot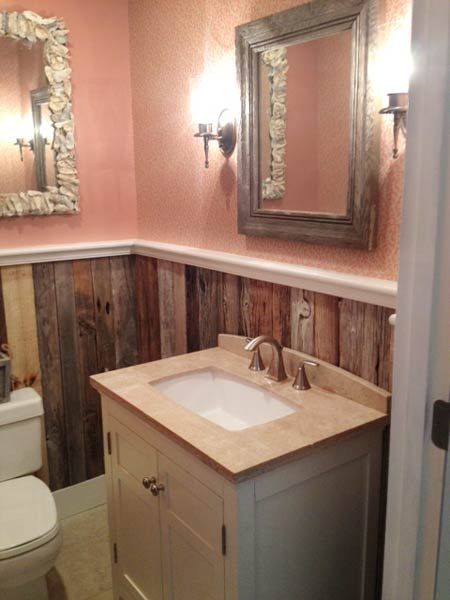 Salvaged details can amplify a tiny room's design cred. Reclaimed boards can make for handsome wainscot or paneling in a postage stamp-size bath.
Before you go to town on that wainscot, get the 411 on salvaging wood pallets
As an alternative, use distressed wood as wall paneling
Put Discounted Special-Order Items to Work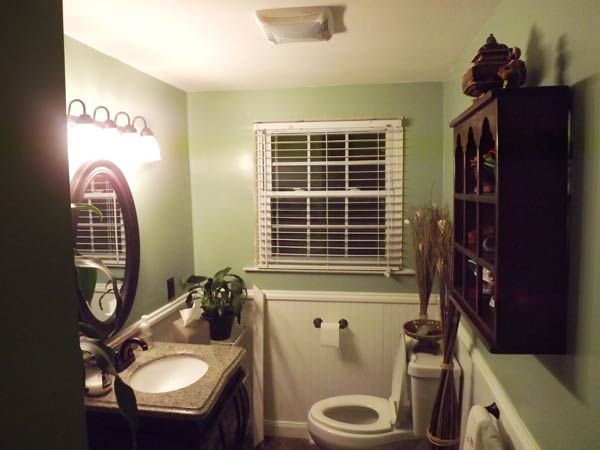 Scour the discount aisles in pursuit of the stuff that people thought they wanted. Special-order items just may be the perfect fit for your little water closet. Thanks to discounted bargain hunting, readers gutted this powder room and came out spending less than $500.
Take it from us: You can pay less for home remodel supplies
Learn how the pros make home upgrades for less
Charming, Classic Stripes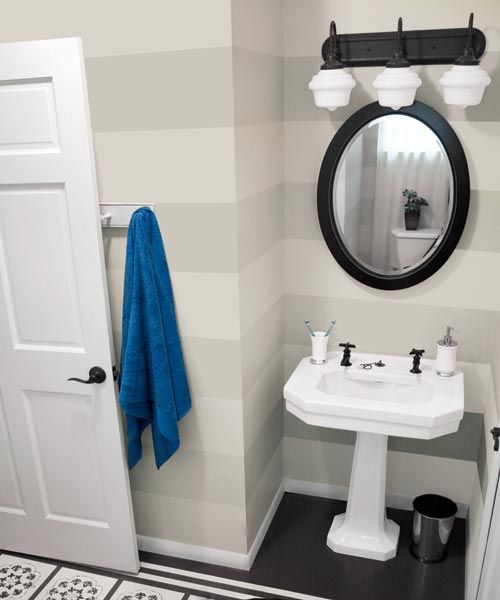 Horizontal stripes are a no-brainer for visually widening a room. This classic paint job transformed a small bath with a mere four gallons.
Move the stripes to the floor with our how-to on painting broad bands
Or, keep the design on an accent wall with our how-to on painting a striped wall
Hand-Painted Canvas for Colonial Flair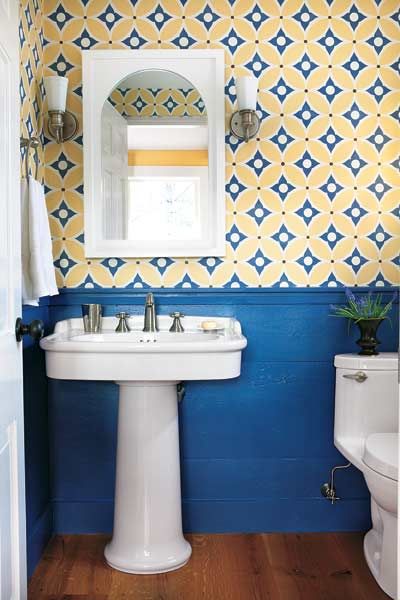 If you normally shy away from patterns, try one on for size above wainscot in a powder room. Here, hand-painted canvas that matches the house's colonial history features a vibrant pattern that perks up the space.
Skip the canvas and create faux wallpaper with paint
Source a pattern idea with a large stencil for a wallpaper look
Tinted Plaster for Shimmery Walls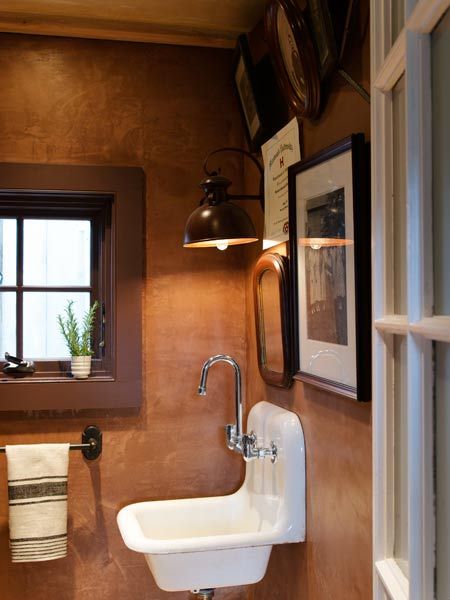 Forget all your stiff misconceptions about plaster. The old-house wall covering can shine with the best, like in this farmhouse powder room addition with gritty rustic shimmer.
Give your small bath a coating of character by using our how-to on plastering a wall
Spice up the room with a plaster ceiling medallion with our guide on casting plaster details
Claw-Foot Tub With Room for Scenery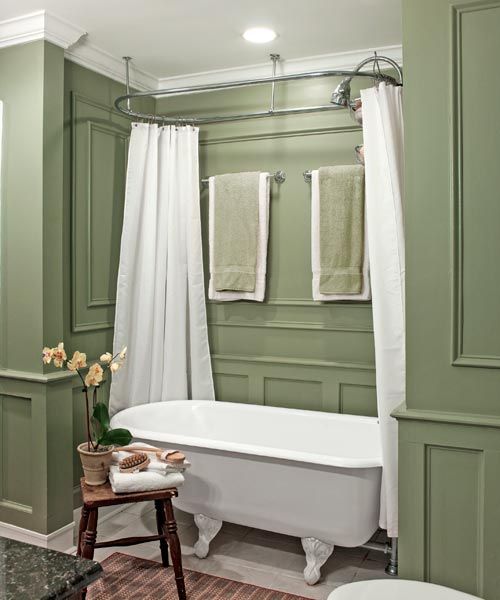 Skip the shower surround and opt for a claw-foot tub with a showerhead instead. It'll give your space old-house charm and allow for admiring beautiful molding.
Get this look by watching our steps for adding a shower to a claw-foot tub
Spiff up your new bath centerpiece by refinishing your claw-foot tub
Embrace Rainbow Mosaic Tile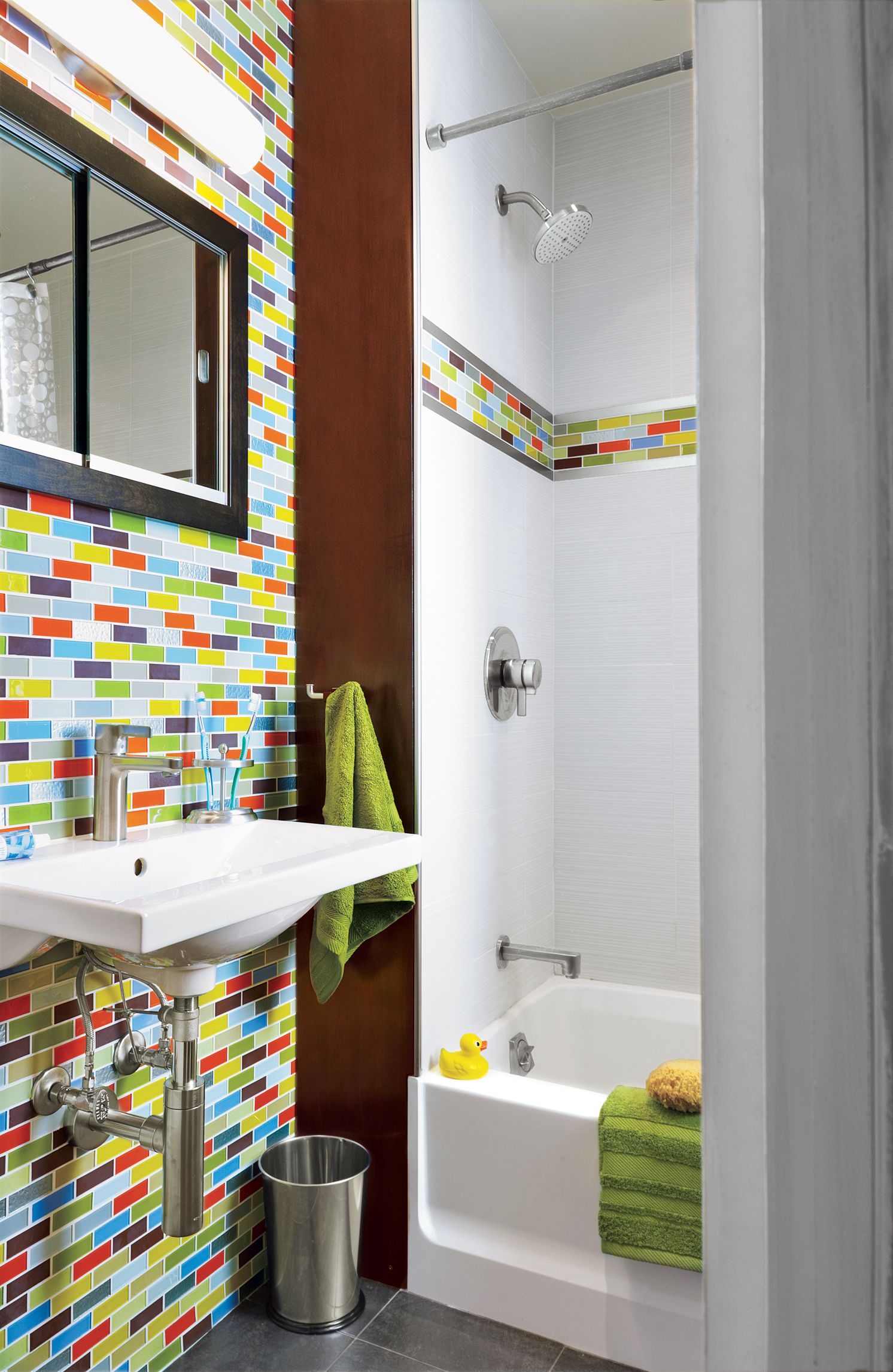 Guarantee that nary a visitor will forget your home's small bath by imprinting a rainbow of glass mosaic tile on their brains. If an accent wall is too extreme, go for just a colorful band in the shower for a fun surprise.
Define spaces to your liking with tile options for your bathroom
Tone the mosaic down to a limited area by installing a glass mosaic tile backsplash
Pile on the Specialty Tile Pieces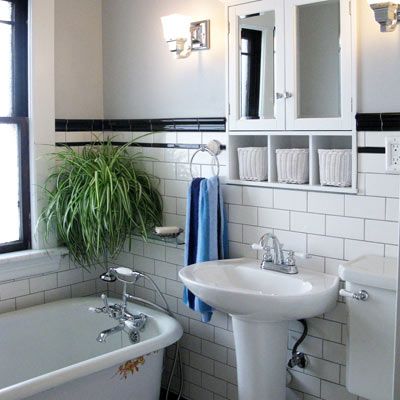 The traditional white subway tile look is always nice, but playing around with other pieces in different colors will make a tile wall stand out from the rest. Here, black accents, bullnose cap, and cove pieces make this neutral bath command attention.
Learn about colorful grouts and more in our guide for ceramic subway tile
Take a closer look at white subway tile
Bigger Windows for More Light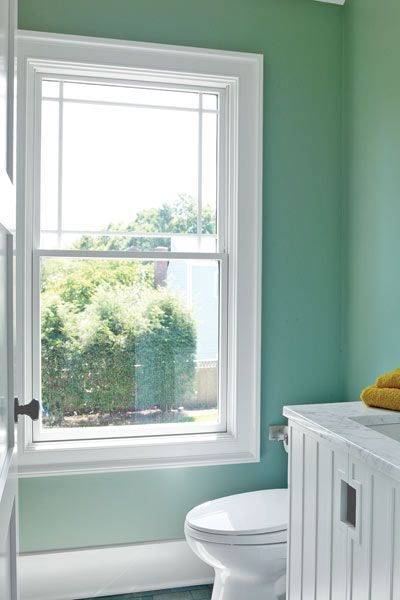 Turn a dark half bath into a light-filled corner showpiece by enlarging an existing window. It can only help highlight all the hard work you put into the bath's other details.
Let in rays of light by installing a window
Bring a little luxury to the bathroom by installing a skylight
Antique Stained Glass Window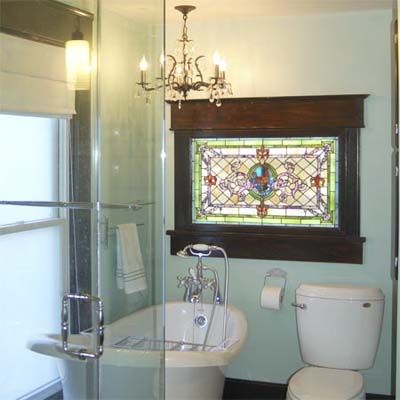 Vintage details normally reserved for other rooms also work well in the water closet. A stained glass window, chandelier, and soaker make for a relaxing period corner in a modern bath.
Before you wire up that elaborate light fixture, read our dos and don'ts of bath chandeliers
Get more ideas from low-cost custom details from design pros' own homes
Toilet-Shaped Wall Niche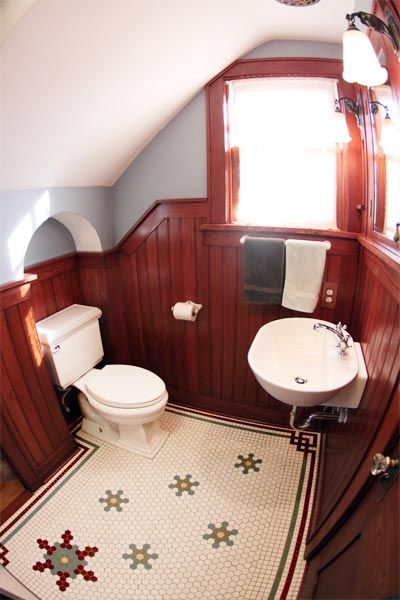 Lessen the footprint of your toilet by going to the wall for extra space. Here, a stylish arched niche gives the room's necessity extra flair.
Make room for displaying decorative items by installing a wall niche
Carve out more space with these smart DIY storage solutions
Romantic All-Black Bath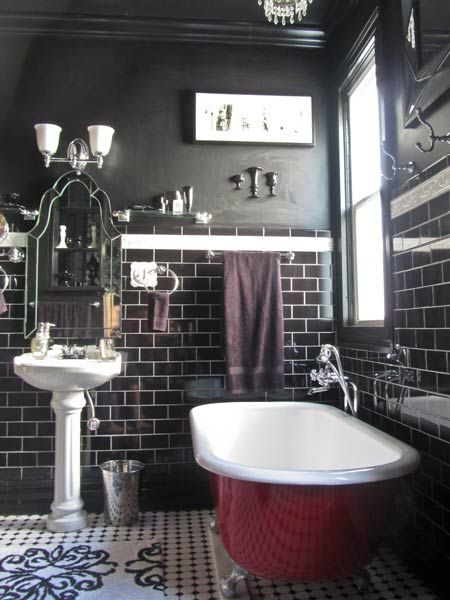 Squeeze a lot of (the good kind of) drama into your tiny bath by going for an all-black decorating scheme. Just give your eye the chance to rest with other colors like here with a white pedestal sink and deep red claw-foot tub.
Copy this classic subway tile pattern by watching our video on how to set tile
Explore your tile options with ceramic penny-round tile
Tiled Vanity Top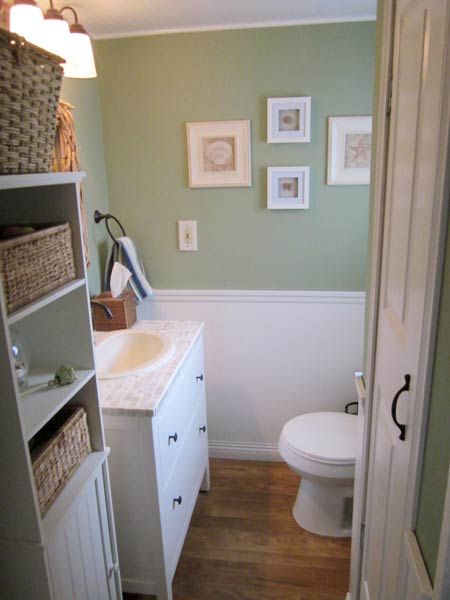 Ditch the usual bath countertop suspects and go for a tiled vanity top. It's budget-friendly and adds an extra touch of interest in a tight space.
Get a bath refresh by watching our how-to on replacing a vanity
Focus on your bathroom centerpiece with this vanity revamp advice
Combo Sink and Toilet Shelf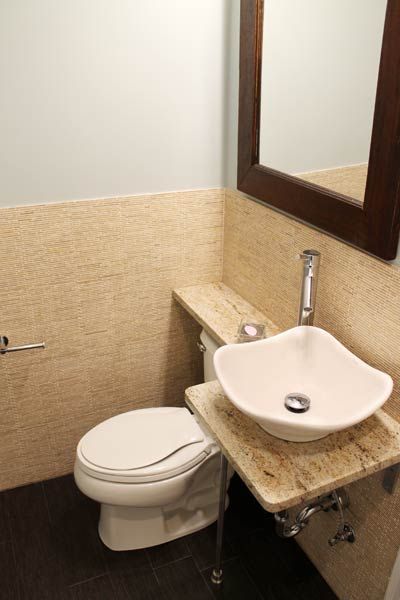 Help the eye flow by installing a custom shelf that fits under the sink and over the toilet. You'll barely even notice the exposed plumbing underneath. (But if you do, it matches the other fixtures.)
Warm up a small bath with these Victorian-style lav faucets
Zero in on your search with our facts on faucets
Look Into The Shower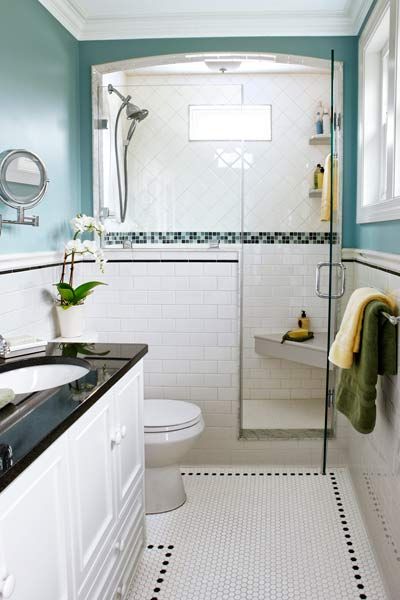 Avoid bouts of claustrophobia by giving a shower an airy appeal. Here, a wainscot tile job continues to the shower and stops short to squeeze in a glass shower door. The glass enclosure allows for more admiration for a band of mosaic tile work.
Figure out which shower door type will work for you
Make visual space for shower surround tile work by installing a shower door