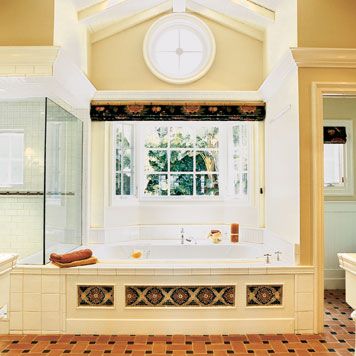 You expect beach cottages to be close to the shore. You don't always expect them to have big master baths. Don and Nanette Vodra's was no exception, squeezed into a 1930s Cape Cod near the ocean in Laguna Beach, California. The purely utilitarian 5-by-9-foot space had just one sink, a tub-shower, a toilet, and no storage. It was small enough that the couple had to take turns brushing their teeth.
But after three years in the 2,500-square-foot shingled home, the Vodras were hooked on their second-floor bedroom's postcard-perfect views of the surf. So rather than move, they decided to give their bedroom the spacious, airy bath it deserved, while preserving the home's cottage charm. Architect Morris Skenderian and designer Gary White designed a simple, squared-off two-story addition to the back of the house that looks as if it's always been there. The new 11-by-17½-foot bath is flooded with natural light thanks to lots of windows, including a "porthole" just below the peak of the rustic raised ceiling with exposed rafters. Now there's plenty of room to avoid knocking elbows. "We refer it to it as our Four Seasons' suite,'" says Nanette of the bath's spa-tub luxury. "It's become our favorite room in the house."
The Plan
1. Built an addition.
An existing laundry-room bump-out in the back of the house was expanded and squared off with a second story, accommodating an exercise room on the first floor and the 11-by-17½-foot bath and twin closets above—for a total of 468 square feet of new space. The old bath, located in a corner of the bedroom, was removed.
2. Made the tub the bath's focal point.
The spa tub was positioned on the middle of the wall opposite the entry and further emphasized with a bay of windows. The shower was placed on one side of it, the toilet on the other. Matching vanities flank the doorway and back up to new his-and-hers closets.
3. Let in lots of natural light.
In addition to the bay over the tub, there are windows in the shower and toilet enclosures, one on an adjoining wall, and one in the gable end. Sconces, recessed cans, and lighting behind the crown molding keep the bath well-lit at night.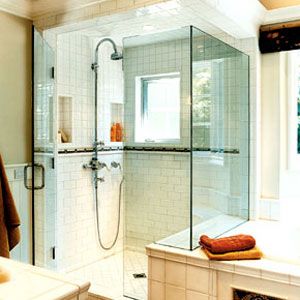 Where to Find It:
Architect:
Morris Skenderian & Associates
Laguna Beach, CA
949-497-3374
Designer:
Gary White
CKD, CBD
Kitchen & Bath Design
Newport Beach, CA
949-955-1232
(Story continues below ad.)
Contractor:
Tom Brooks
Orange, CA
714-282-2300
Custom tile design and tile:
Concept Studio
Corona del Mar, CA
949-759-0606
Tub, sinks, faucets, and showerhead:
Waterworks
Danbury, CT
800-927-2120
Toilet:
Kallista
Kohler, WI
888-452-5547