Grown-up Getaway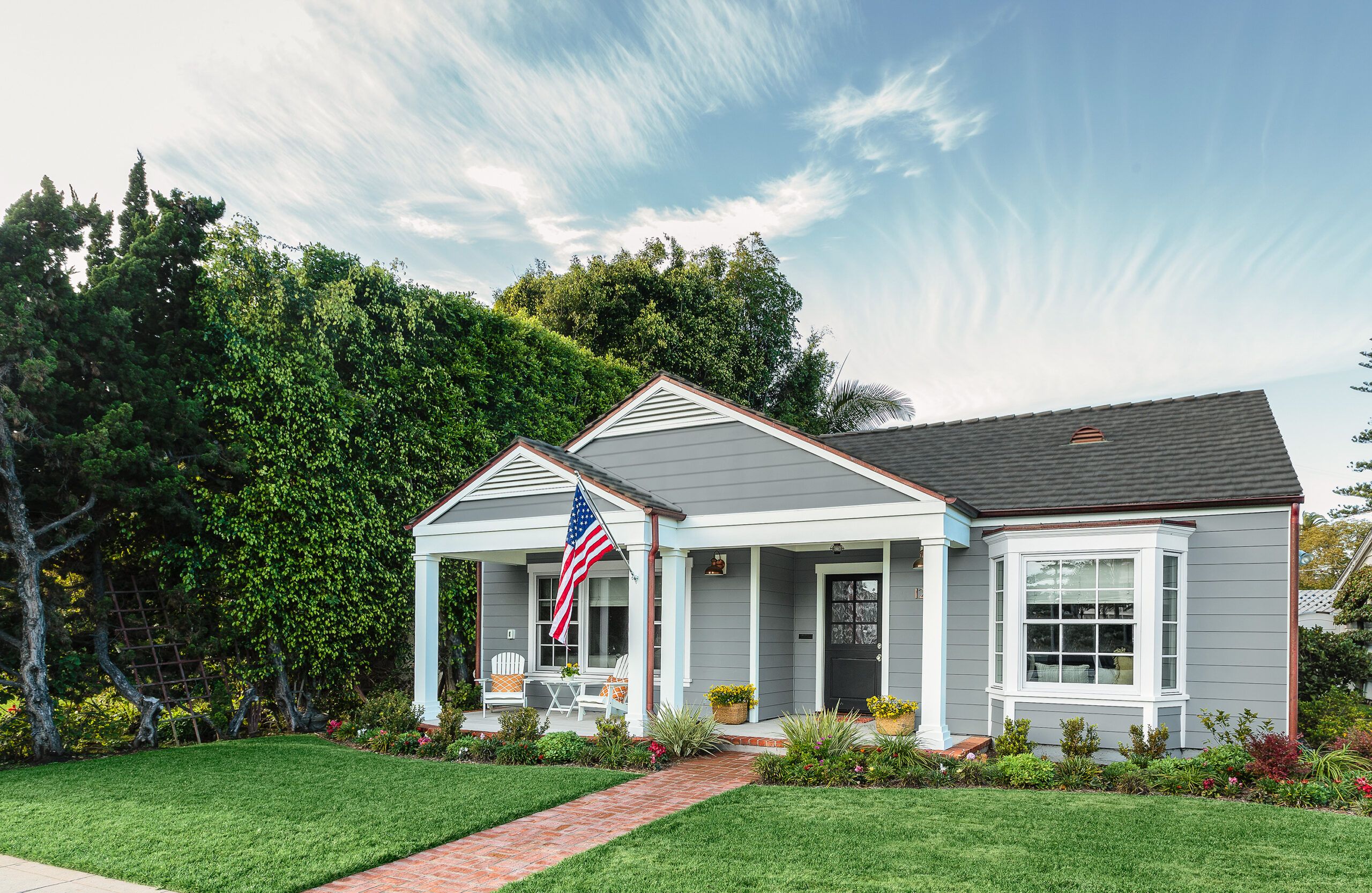 Since when is an empty nest really empty? Cast an eye around one and you are likely to hear stories about how all those interesting things came to be there, from the dresser handed down by Great-Grandma Susan to the painting the homeowners purchased in Paris, back when they couldn't rub two IRAs together. These nests aren't empty—they are crammed with souvenirs.
Now what if you present the same couple with a second nest, one they can renovate and furnish from scratch? Then you get a fresh idea of what matters, because people who have tried out different settings over time have a pretty sharp sense of what will make them happy. For Mike and Nancy Friend, who live most of the time in a big-city condo, the chance to remake a truly empty second nest was also a chance to enjoy a house with a little history, kitting it out with finishes and furnishings that would cue memories of a time when life was slower and sweeter.
Shown: A new twin- gabled porch gives the modest house a balanced, well-composed air.
Siding: James Hardie
Roof shingles: Cedarlite
Door and windows: Sierra Pacific Windows
Landscape design: Simply Green Landscape Maintenance
Friends at Home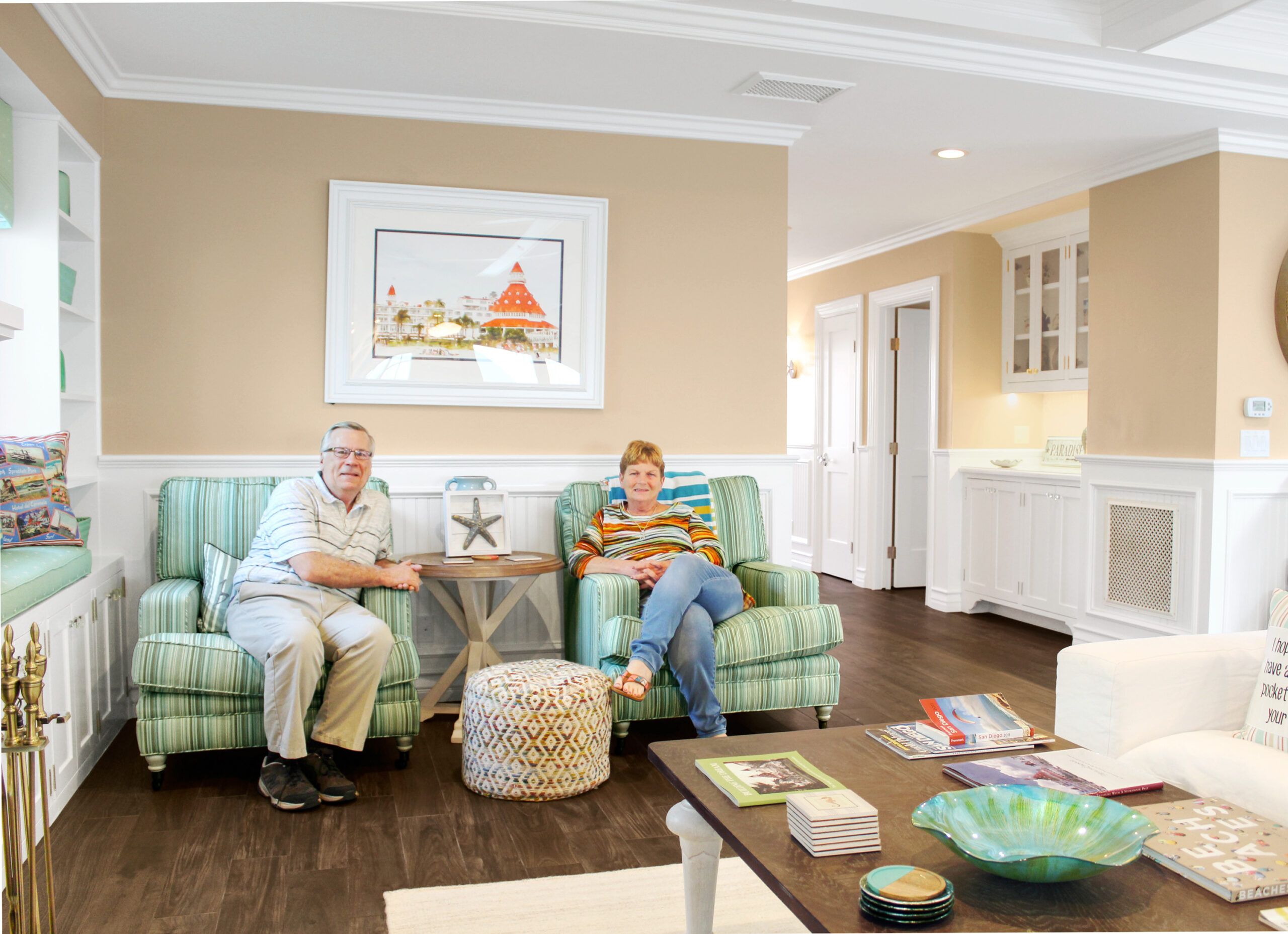 Mike grew up in Michigan, Nancy in Texas "porch country." Now rooted in Phoenix, where he runs a large plastics company and she is the pioneer retiree of the household, they longed a few years back for a place near the water where they could unwind with friends on weekends and welcome their grown kids during holidays.
During regular visits to seaside Coronado, California, they drove around looking for a cottage or bungalow. "The realtor kept showing us big, three-level Mediterranean mansions," Mike recalls. "We said we just want a little beach house, where you can still have sand on your feet" and not, for example, destroy the brand-new red oak floor in the vaulted double-height foyer.
Then one day "we turned a corner onto a street with only six houses and I saw it and I said, 'That's it, it's perfect.'"
Shown: Homeowners Mike and Nancy Friend topped the roof with faux-cedar shingles and swapped in a Dutch door.
The Full Nest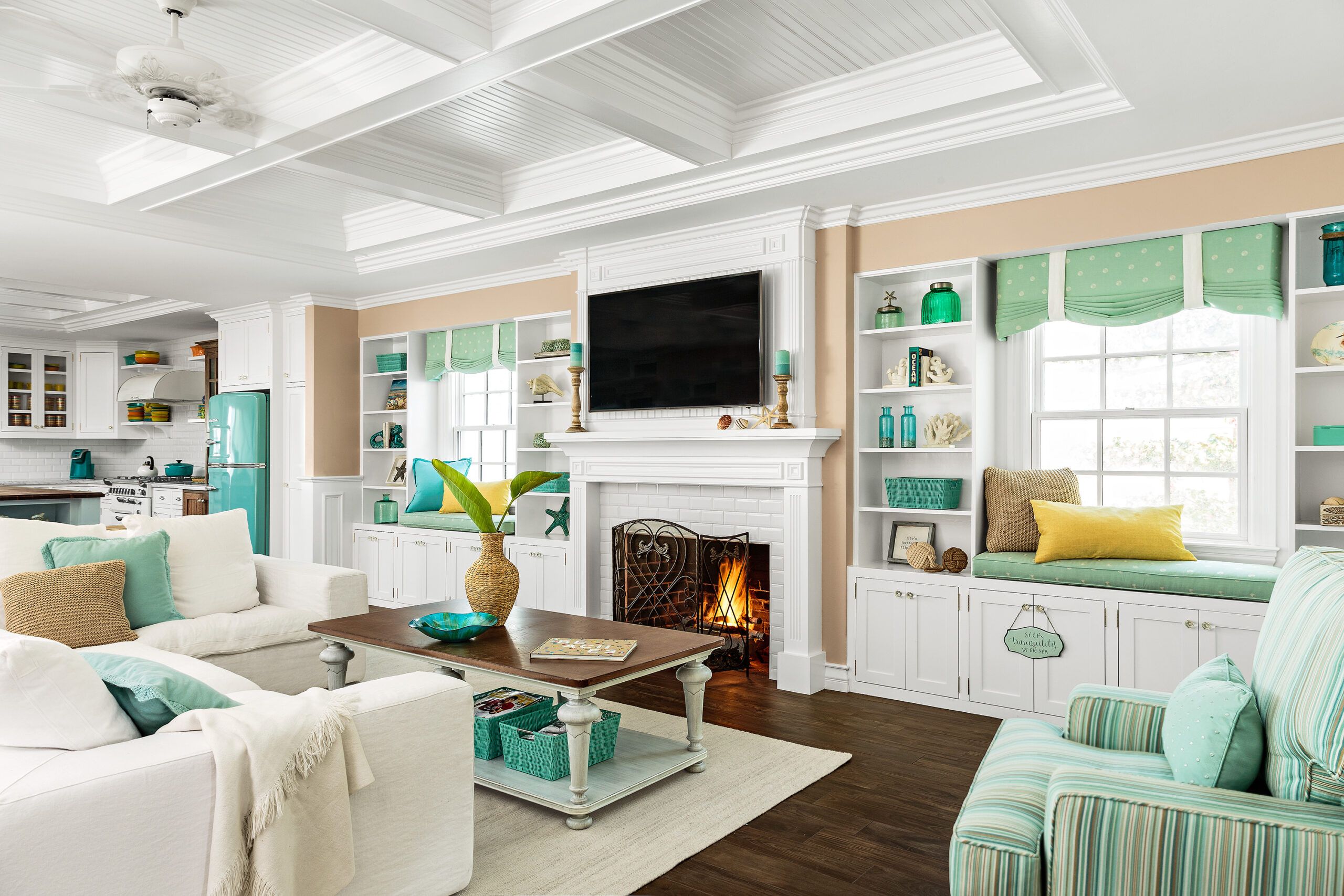 It was a modest three-bedroom ranch "with a Cape Cod look," as Mike puts it, squeezed between other houses on a scrubby lot a half-block from the beach. Across the street stood the Hotel del Coronado, a beloved local landmark, a Victorian-era pile, and a magnet for local hobnobbing; and quaint Coronado village was within walking distance, making the location, Mike says, ideal.
Built in 1949, possibly for one of the families stationed at Coronado's naval base, the house had an absentee landlord who had originally planned to demolish and replace it. "We said we'd never tear it down," Mike says, and they also weren't in a hurry to kick out the tenant. The couple waited four years before finally deciding how to proceed.
Shown: At the top of the homeowners' wish list was a retro-style fridge in a bright hue, along with a more open plan and vintage-style touches like wainscoting. Durable porcelain floor planks and a sand-and-sea palette tie the discrete spaces together. Coffered ceilings add a feeling of loftiness; the design-build team borrowed dead space in the attic to raise the paneled sections.
Paint (walls): Dunn-Edwards's Verona Beach [https://www.dunnedwards.com/colors/browser/de6135]
Fireplace screen: Uttermost [https://www.bedbathandbeyond.com/store/product/uttermost-effie-metal-fir…
Ceiling fan: Craftmade [http://www.craftmadelightinglights.com/product/craftmade-cordova-indoor-…
Sectional sofa: Restoration Hardware [https://www.restorationhardware.com/catalog/category/products.jsp?catego…
Coffee table: Universal Furniture [https://www.universalfurniture.com/home/listby/living%20room/accent%20ta…
Dual-Fuel Range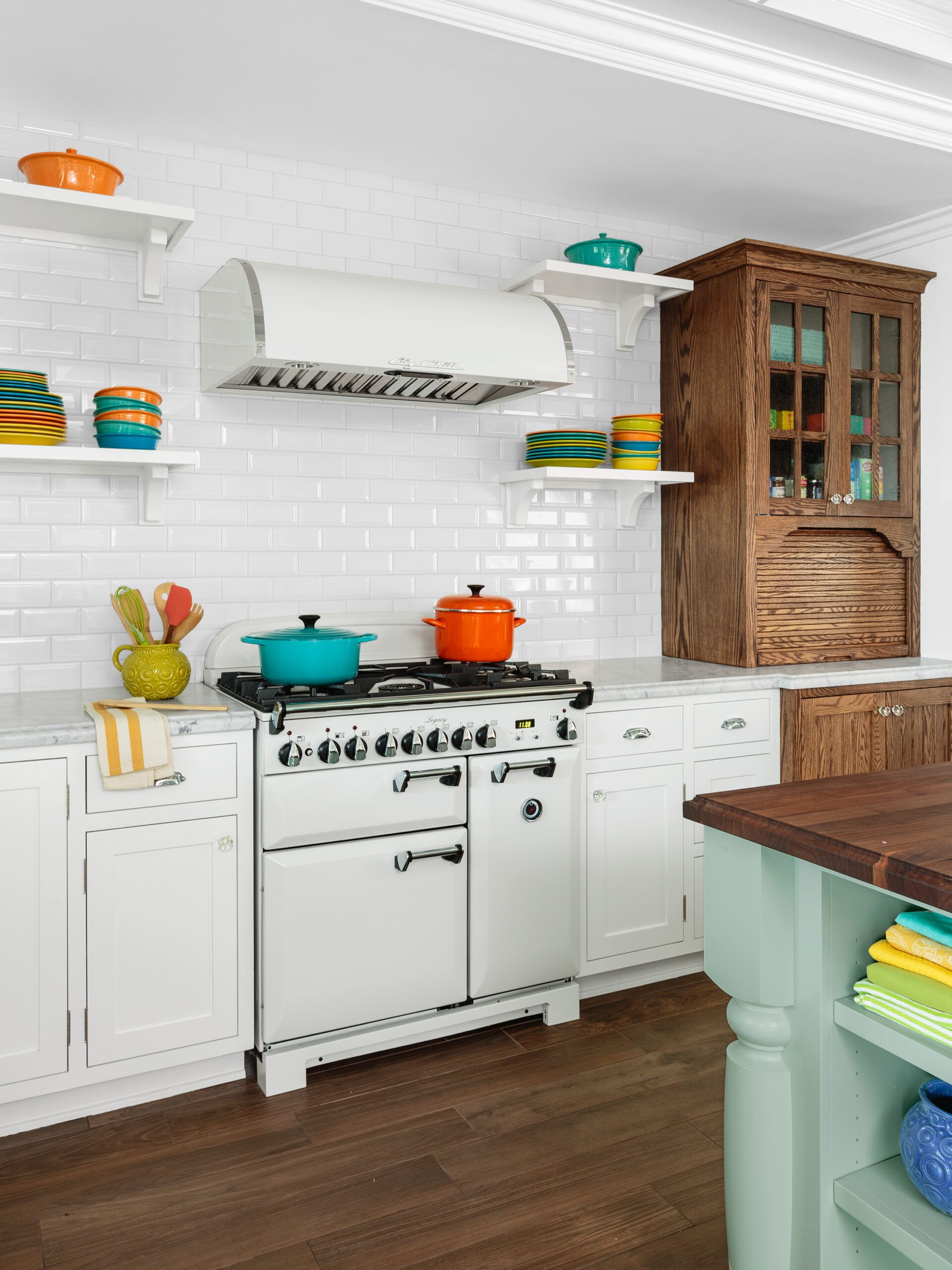 After lining up architect Kevin Rugee, who is known for his period-sensitive remodels, and a similarly oriented design-build firm, QualCraft Construction, the homeowners set out their needs, wants, and resources.
"They wanted to make it feel like an older beach cottage, so we tried to really play up trim and beadboard and ceiling beams, that old style with a lot of detail," says Dominique Tharp, a QualCraft interior designer who worked with the homeowners from the beginning. Nancy had a clutch of torn-out magazine pages, one of them featuring a charming retro-style fridge. With the beach nearby, the couple wanted flooring that wouldn't mind a little friendly sand.
Along with warm references to how things used to be, the couple asked for seamless connections to the outdoors, starting with an open-wide glass-panel-and-door system Mike had spied in his travels. (If you are wondering about screens, not to worry: Paradisiacal Coronado has no mosquitoes.) Check, check, and check again.
Shown: The late-model dual-fuel range has an old-school look in keeping with the rest of the house.
Range: Aga
Range hood: Big Chill
Island Atmosphere
They also wanted to raise their profile in the neighborhood, a Mayberry-like scene, Mike says, where tourists jump off trolleys to take pictures of flowers on front porches and the main drag shuts down for the Fourth of July parade. "Every year, during Coronado's Flower Show, they go around and judge your front yard," Mike says. "While we had a tenant in there, all we got was a 'Participation' award"—that had to hurt—"and I said I want First Place!"
The one-story, concrete-slab house was in okay condition, with three bedrooms, three baths, and about 2,000 square feet. But it was overdue for an update, starting with an old rear addition (or additions) holding an awkward jumble. The couple also wanted more room for overnight guests.
Shown: The island's walnut butcher-block top echoes the porcelain flooring. Finished with beadboard and chunky table-style legs, it adds period flavor, reinforced by an unpainted Hoosier-inspired built-in and a fridge right out of the '50s.
Paint (island): Dunn-Edwards's Rolling Waves
Cabinets and island: Holland's Custom Cabinets
Refrigerator: Big Chill
Stools: Hooker Furniture
Floor and wall tile: Daltile
Windows and door: Sierra Pacific
Pendant fixtures: Rejuvenation
Sink and faucet: Rohl
Runner: Dash & Albert
Dining Built-Ins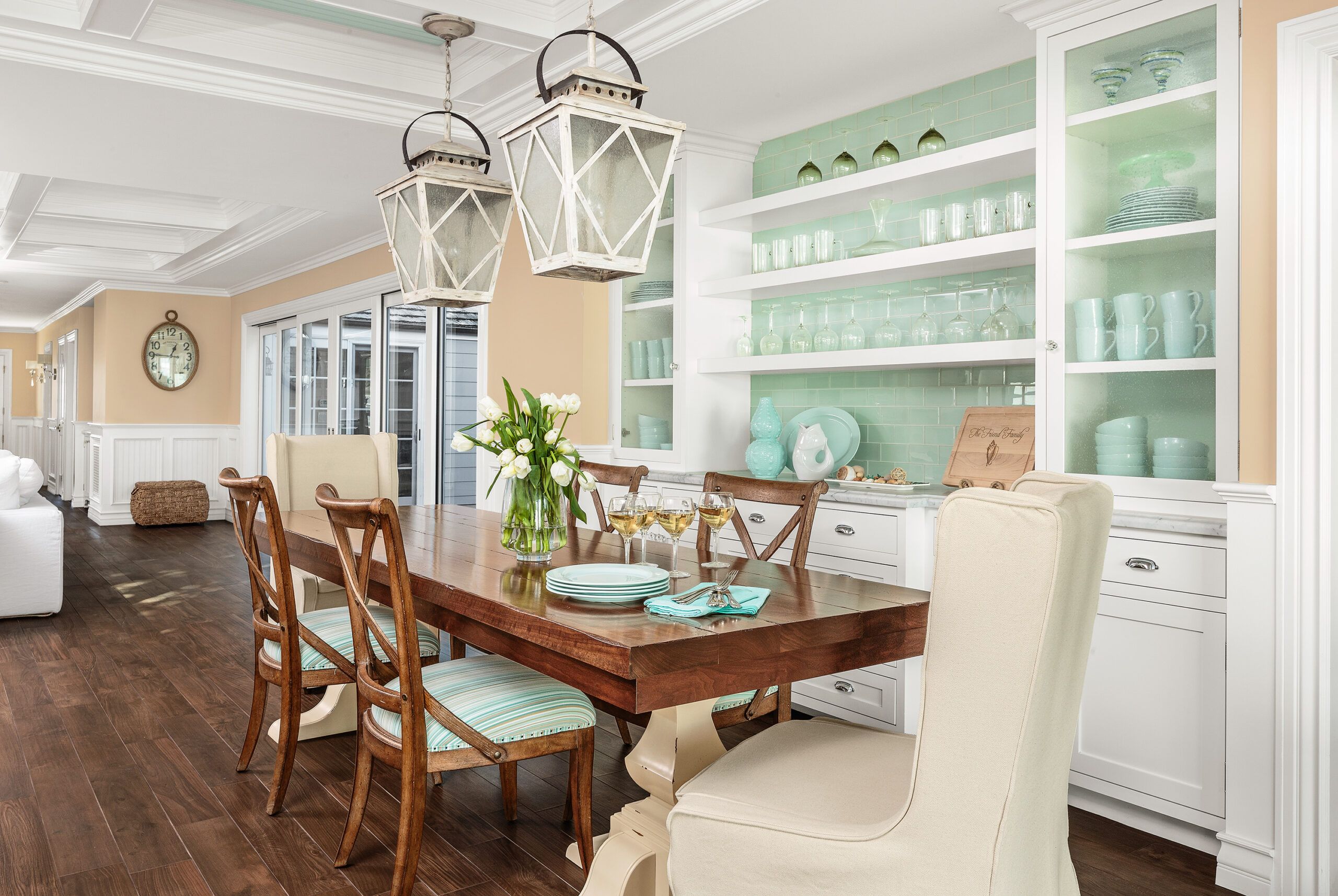 "The kitchen wasn't quite where it was supposed to be," Mike says. "We knew there were plumbing issues, and the roof was leaking.…" Longtime readers of this magazine know where all this would soon lead.
Rugee recalls kicking around several approaches to the question of houseguests before hitting on the idea of a rear garage with guest quarters on the second floor. This allowed the front portion of the main house, with its three bedrooms and two baths, to keep its layout. Everyone agreed the old rear addition(s) had to go, and that something had to be done to make the 8-foot ceilings in the living area feel less cramped.
Shown: New dining-area built-ins echo existing ones while incorporating touches like beefy open shelves and sea-green glass tile. The custom table has a walnut top and painted pedestals; end chairs were upholstered in cloud-colored cotton.
Pendant fixtures: Kichler
Table: Holland's Custom Cabinets
Side chairs: Stanley Furniture
End chairs: Universal Furniture
Glass tile: Daltile
Master Bedroom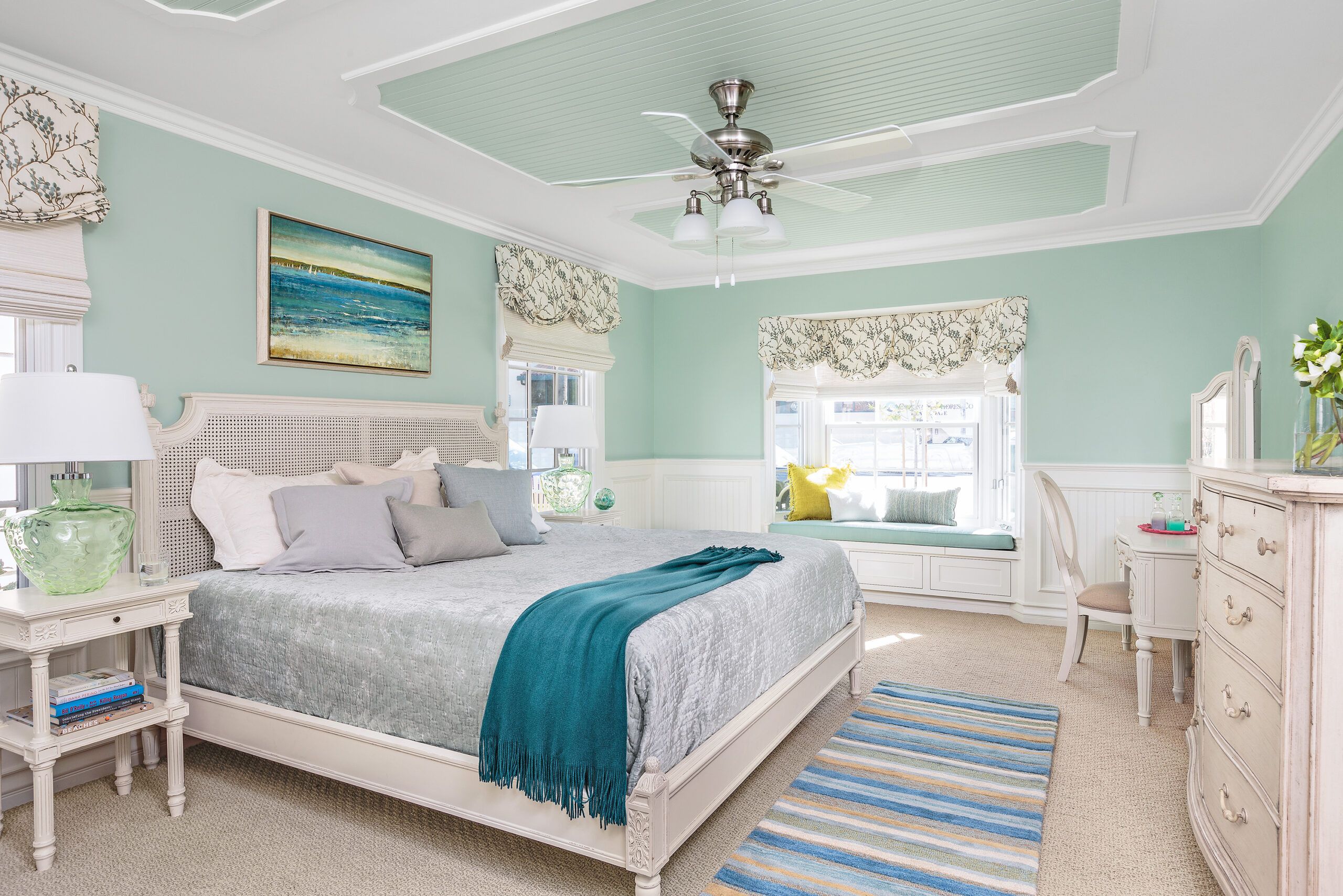 Rugee proposed a replacement addition with an open kitchen, a powder room, and a laundry room, along with chunky coffered ceilings over the living areas paired with wainscots.
As for the exterior, Rugee says, "We updated the windows but kept the eave and gable-end details to preserve the original facade." He grafted on a front porch with two street-facing gables and tweaked the entry, swapping in a Dutch door.
Shown: Wall-to-wall carpeting, a cozy window seat, and framed beadboard insets overhead warm up the master bedroom.
Paint (walls): Dunn-Edwards's Dew Not Disturb
Dresser: Stanley Furniture
Ceiling fan: Progress Lighting
Leggy Bath Sink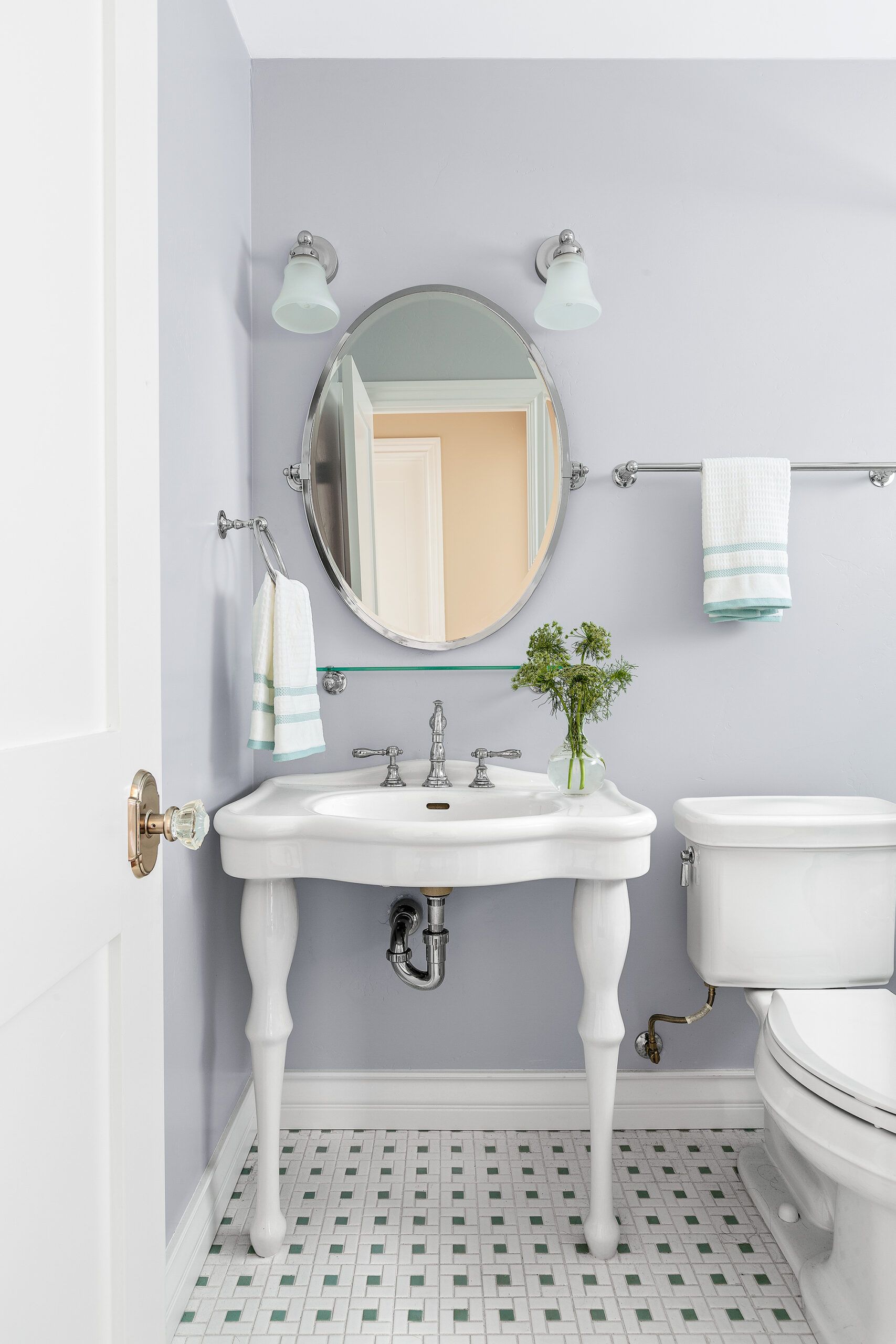 To open up the kitchen to the dining and living areas, the team demolished walls. "A chunk of the back came down completely," says general contractor Michael Jacobs-Bonnett, adding: "We made major structural changes to accommodate the new addition and higher ceilings. We did not take the roof structure off, but we raised the joists and reinforced the beams."
This labor-intensive upgrade allowed sections of the ceiling to pop up into the unfinished attic while the ceiling perimeter stayed at 8 feet. It was enough of a project to dissuade the team from fooling with the ceilings at the front of the house, instead finishing the master bedroom ceiling with two framed beadboard insets—"a simple concept that added a lot of detail," Jacobs-Bonnett says.
Shown: A leggy console sink adds vintage flair to a new powder room tucked behind the dining room.
Paint (walls): Dunn-Edwards's Mount Sterling
Sink: Rejuvenation (no longer available)
Faucet: Newport Brass
Toilet: Kohler
Door knob: Emtek
Tile: Daltile
Outdoor Living Space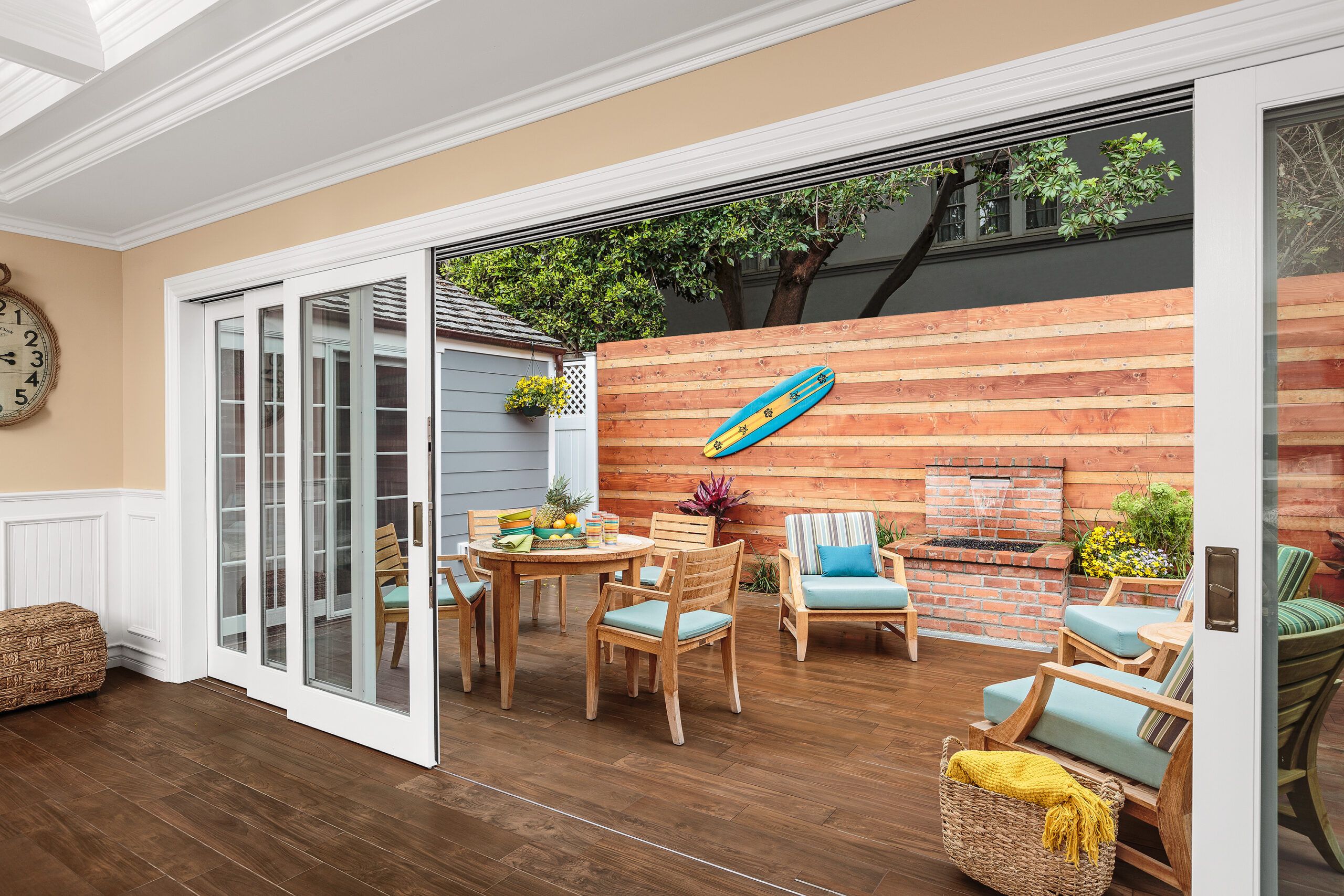 Before getting to that point, his crew pretty much stripped down the house to its framing. "The timbers were in perfect shape," says Jacobs-Bonnett. "There was a lot of life left, even though it's a stone's throw from the ocean." Pause. "Douglas fir, likely old growth."
Still, one wall got bumped out 4 feet to accommodate a sliding-glass-door system opening onto a side courtyard. And here's where the reno required a second burst of finessing. To unite living spaces and extend sight lines, the team chose faux-walnut porcelain planks for both the interior and the exterior spaces. "To have seamless tile, the exterior 'flatwork' had to be raised to meet the level of the foundation," Jacobs-Bonnett explains. "That's supposed to be a no-no in the building world because you want the foundation to be higher so water can't get in."
Shown: Living space extends to a side courtyard with porcelain floor planks and a small outdoor kitchen (not shown). A cedar wall encloses the courtyard and contributes to its identity as a bonus room. The surfboard is a reminder of the beach nearby—as if they needed one.
Outdoor furniture: Janus et Cie
French door system: Sierra-Pacific Windows
Window Seat Built-Ins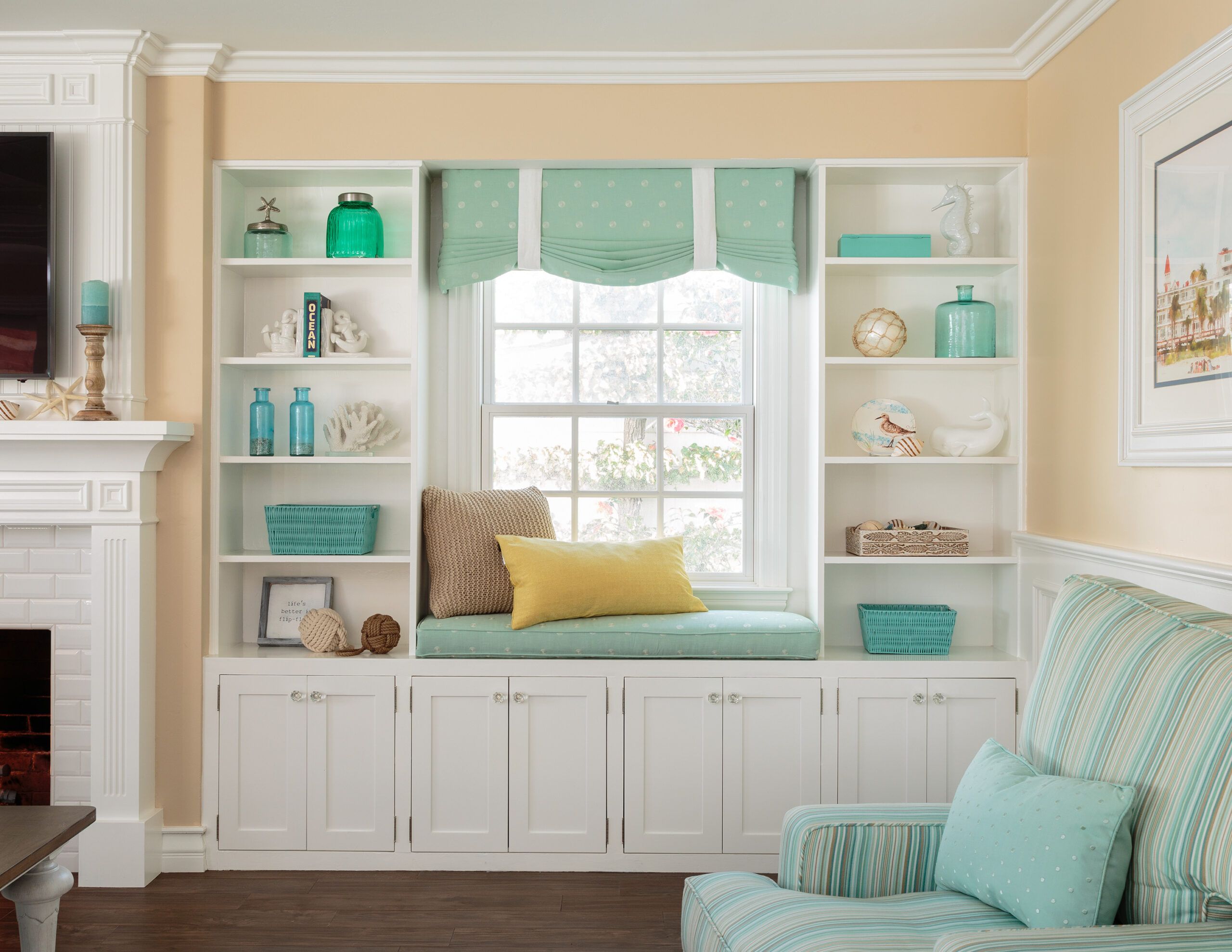 His crew solved the problem by wrapping the foundation with a metal barrier and sloping the exterior slabs ever so slightly, ushering the rare Coronado downpour into a perimeter channel drain.
Inside, along with building a new kitchen and powder room, his crew redid the master and shared baths. The house may have been no teardown, but in the end the only untouched item, Jacobs-Bonnett notes, was the chimney.
Shown: Built-ins flanking the fireplace are original to the house; the homeowners swapped in new doors and plumped up the window seat.
Custom window blinds: Graber
Valences: Raymonde Draperies
Window seat cushion: Jackson's Fabric Corner
Master Bath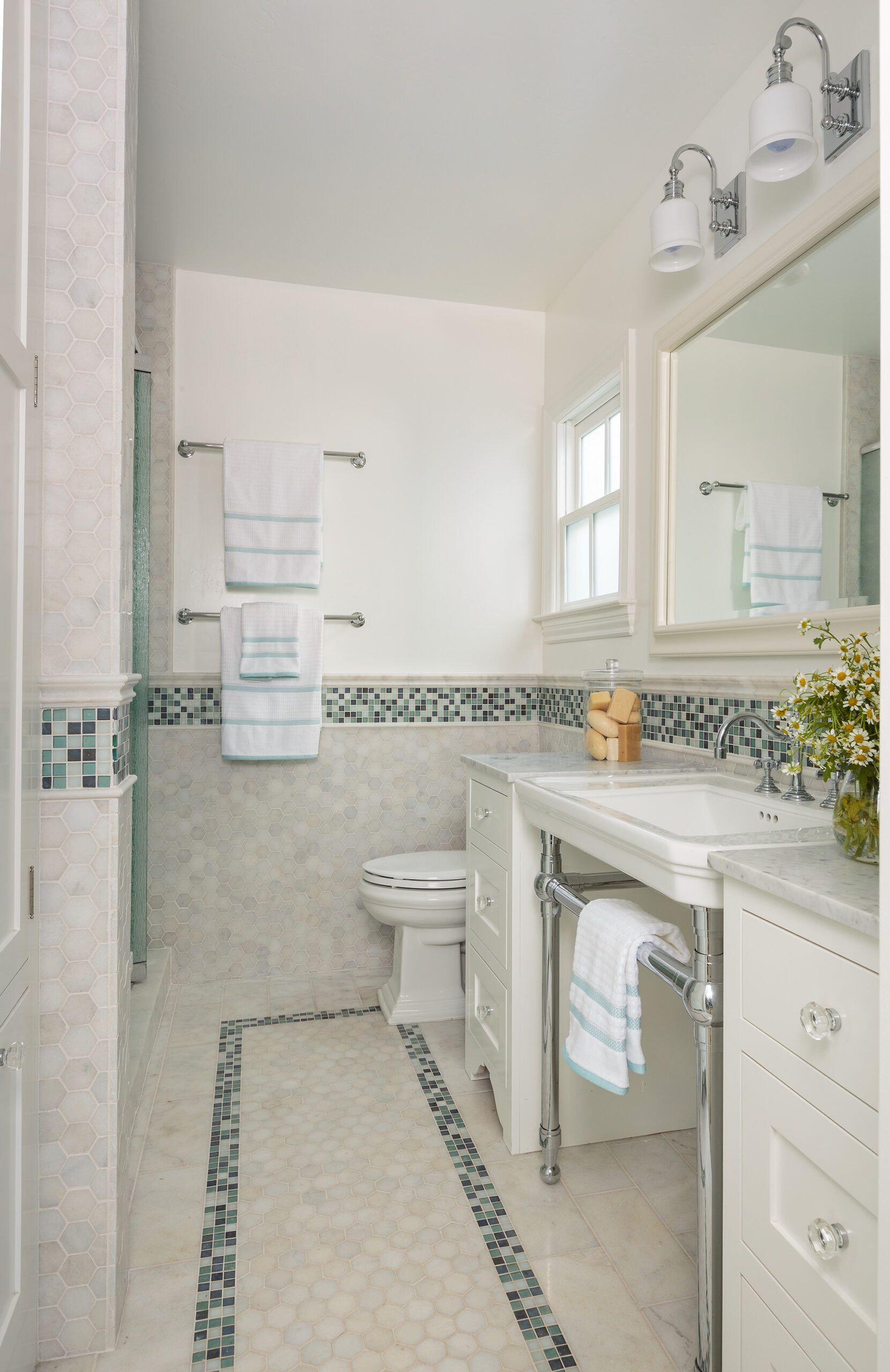 After joining the homeowners in hot pursuit of the retro fridge—turquoise, please—Tharp furthered the vintage look with a kitchen island whose fat turned legs suggest a farmhouse table. The dishwasher hides behind a panel; the island's microwave and warming drawer are invisible from the guest side. A built-in roll-top Hoosier holds small appliances, and the dining table, designed to fit in a narrow space while also seating 10, has a walnut top, distressed as if with flattering signs of wear.
"We searched for things that felt old but had all the perks of new," Tharp says. "So, for instance, the cabinets have nice soft-close hinges inside and beautiful exterior hinges just there for the look." The paint scheme balances warm and cool, with suggestions of a sandy beach on a sunny day.
Nine months after the work began, they were in.
Shown: The master bath blends traditional finishes like marble hex tile, a chrome-legged sink, and a shepherd's crook spout with fresh ribbons of colorful glass mosaic tile.
Tile: Daltile
Sink: Rejuvenation
Faucet: Watermark
Sconces: Hudson Valley
Toilet: Kohler
Mirror, sconces, towel bars, and glass shelf: Pottery Barn
Breezy Porch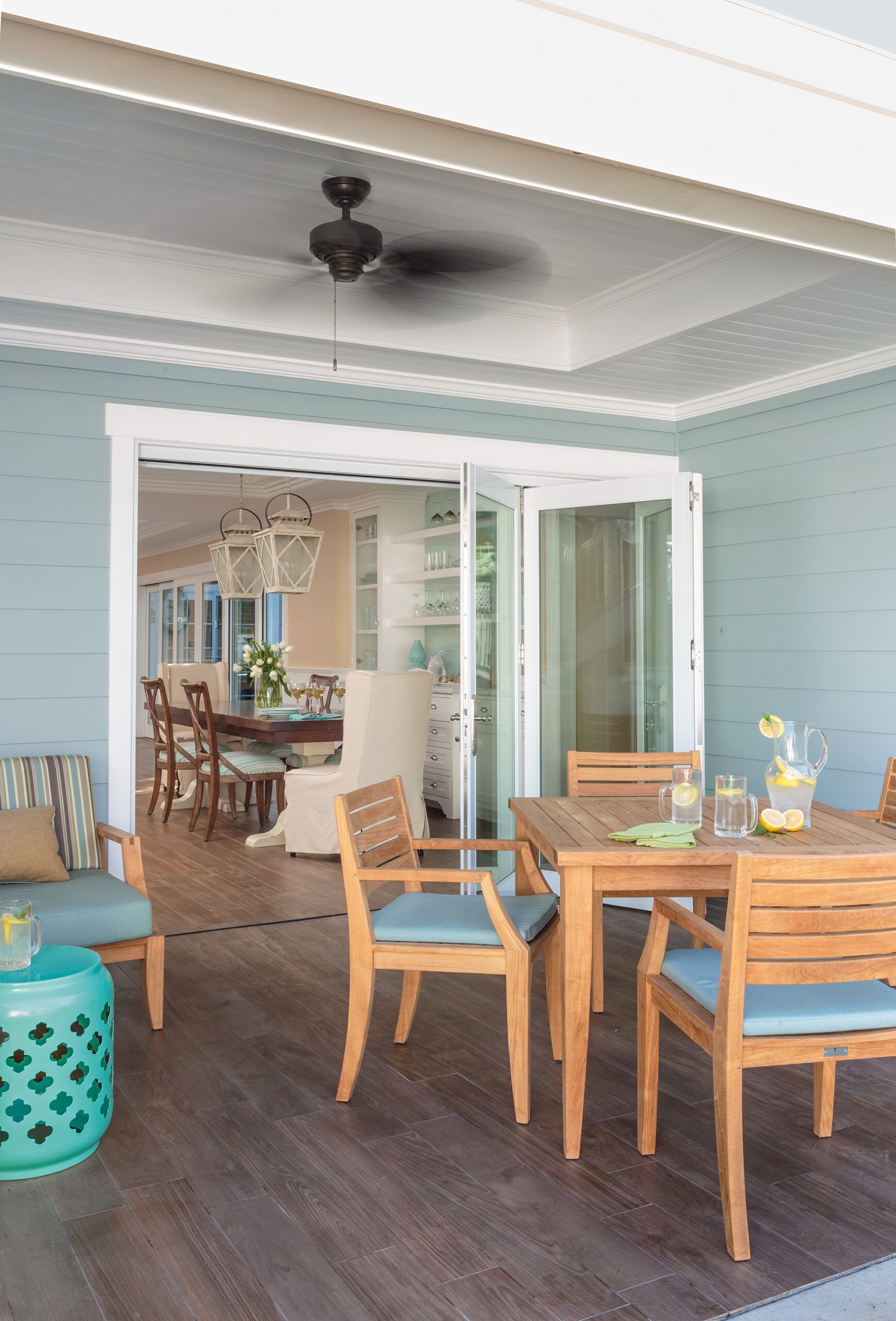 Mike says he and Nancy couldn't be happier. "We love to sit on the back porch," he says, "and when we have guests we move into the courtyard." He adds, "You can sit there and see the game on the TV in the living room, it all kind of flows together."
But if there's one thing that makes the couple happiest it's the gracious old-fashioned way the house now greets guests and passersby alike. "The first thing I do is open the Dutch door and put the flag out," Mike says of their constant visits. "It's just a lovely place—it makes us feel so proud."
As for this year's garden competition, you won't be surprised to hear that the little ranch with the charming front porch did pretty well: First Place and a blue ribbon for best on the block.
Shown: The new back porch segues into a stretch of grass and faces a new garage with guest quarters. Porcelain floor planks unite it with living space inside.
Paint: Dunn-Edwards's Lake Placid (siding) and White (trim)
Ceiling fan: Hunter
Floor Plan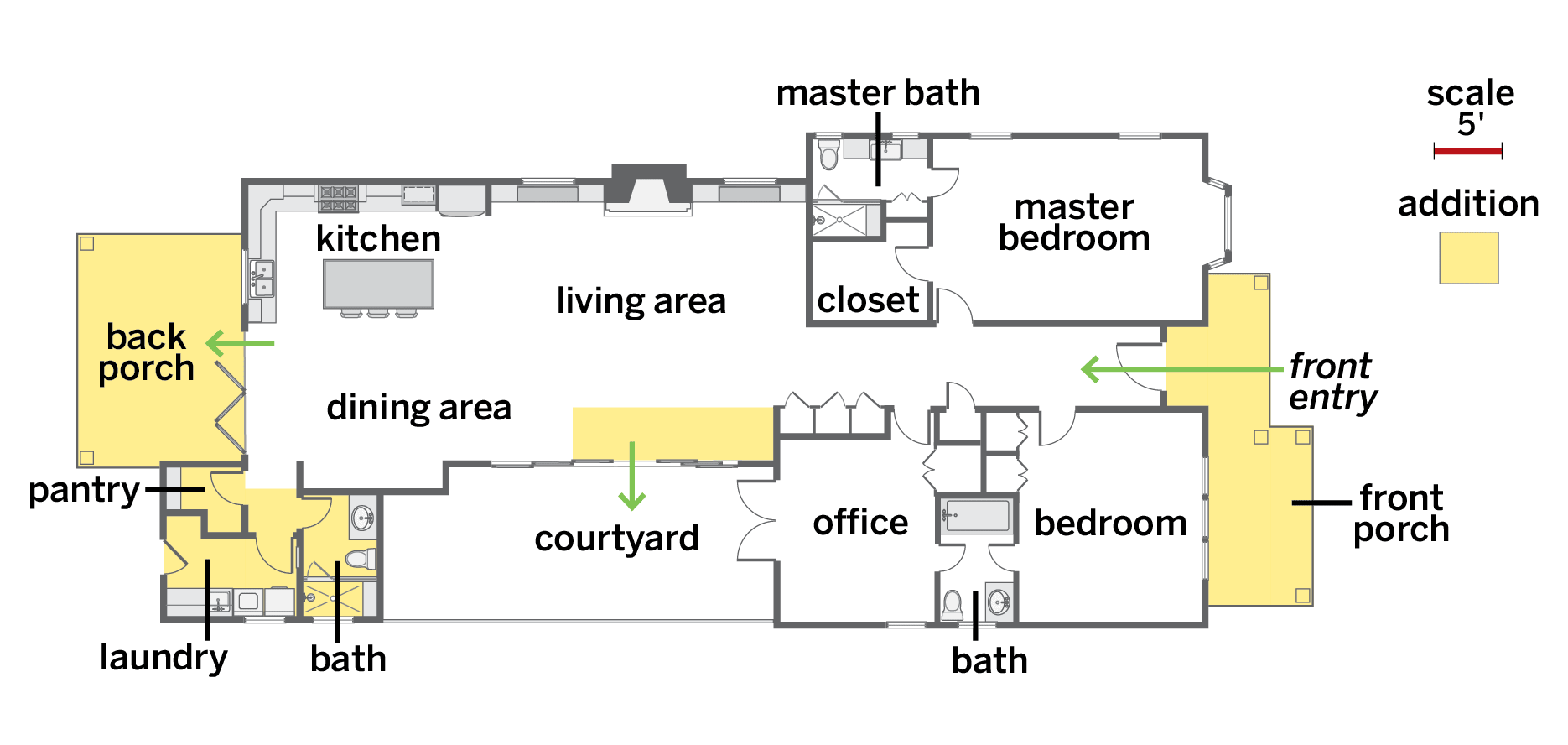 The one-story 1949 house came with three bedrooms, three baths, and 2,042 square feet. The reno added 136 square feet; the crew lopped off and partially replaced a rear addition, opened up the living space, bumped out a side wall 4 feet, adding glass doors that open onto the side courtyard, and turned one bedroom into an office. The front and back porches are also new.