Best Old House Neighborhoods 2010: Editors' Picks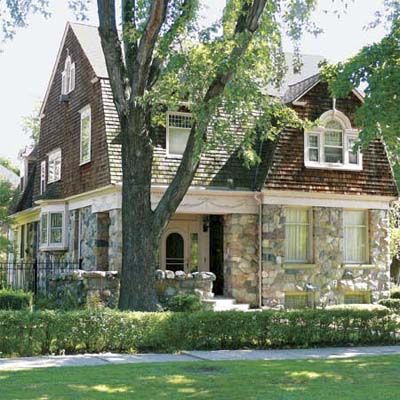 For our third annual Best Places to Buy an Old House contest, what we looked for was simple: oft-overlooked neighborhoods populated by people who share an appreciation of finely crafted homes that have plenty of past and lots of future. And what we found—with the aid of our friends at PreservationDirectory.com, who helped us contact thousands of neighborhood groups, real estate agents, residents, and preservationists for nominations—was mighty impressive. Joyce Perrin told us about the very available painted ladies of Union Springs, Alabama. Tim Liddy introduced us to the Faulkneresque Courthouse Square and tree-lined streets of Holly Springs, Mississippi, and Harris Steinberg let us in on the stone-solid manses and community spirit of Philadelphia's Mt. Airy neighborhood. In this gallery you'll see six of our winners. The rest—one from each state—can be found at thisoldhouse.com/bestplaces. Whether you're thinking of buying an old house or just looking, here are some of the best places to find one.
Pictured:
A Dutch Colonial Revival house in Detroit's The Villages neighborhood.
Best Place for Bargains
The Villages, Detroit, Michigan
Yeah, times are tough in Detroit. Still, we can't overlook its bargain-hunter's bounty of architectural riches—just one reason we're betting on the city's survival. Although the Motor City's economy is in tatters, the people who live in The Villages, a collection of six historic neighborhoods three miles east of downtown, remain upbeat. "There's a richness in this neighborhood," says resident Kathy Beltaire. "The houses are beautiful and the streets are walkable, but the people here are the best part—they really care." These days, nice-as-can-be multigenerational families who have lived here for decades continue to welcome first-time buyers who appreciate intricate woodwork, front porches, and spacious urban yards. If you can nail down a job in this city's tough economy, your money goes a long way here.
The Houses
The Villages offers more than 17 architectural styles, from Craftsman to Richardsonian Romanesque. The largest, most elaborate homes are in Indian Village, where prominent Detroit architects Albert Kahn and William Stratton designed grand Georgian Revival and Federal Revival homes for the city's first auto barons in the early 1900s. Smaller cottages and rowhouses can be found in nearby West Village. Whatever your tastes, there are houses to be had in The Villages for less than $100,000.
Why Buy Now?
Not only will you get more house for your buck, you may just help fuel a Motor City comeback. That comeback already has a strong human foundation, thanks in part to the commitment of The Villages residents, who continue to mow the lawns and maintain the shrubs of the neighborhood's empty and foreclosed homes, anticipating they'll one day attract future neighbors.
Among the best for: Bargains, City Life, Fixer-Uppers, Midwest
Love Among the Ruins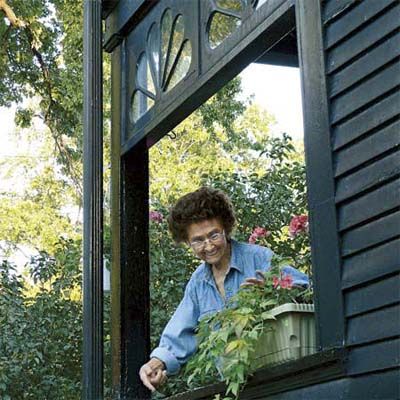 A Villages homeowner tends to her flowers.
The Villages, Detroit, is among the best for: Bargains, City Life, Fixer-Uppers, Midwest
Best Place for Coastal Living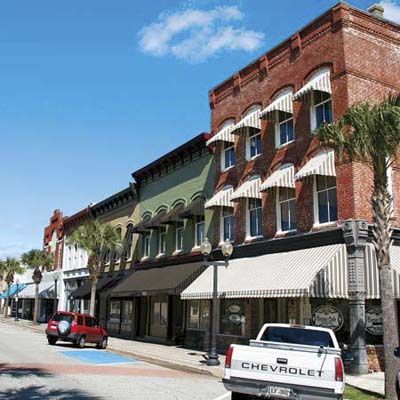 Old Town Historic District, Brunswick, Georgia
Located on a peninsula surrounded by tributaries to the Atlantic, the unspoiled coastal community of Brunswick offers laid-back neighborhoods shaded by oaks. At its center is a quaint, turn-of-the-century Main Street with dozens of welcoming restaurants, cafes, and shops. The city is modeled after James Oglethorpe's "Savannah Plan," with homes built around parklike squares.
The Houses
Brunswick sports a number of Queen Annes, Gothic Revivals, and Second Empires. Homes start at $75,000 for a small fixer-upper and $190,000 for a larger, restored home.
Why Buy Now?
With an expanded marina, new businesses on Main Street, and a progressive, preservation-minded mayor, Brunswick is poised to become a vacation and full-time hot spot. Though overdevelopment has hindered the charms of nearby barrier islands, Brunswick remains largely preserved and refreshingly authentic. "It's still pristine," says transplant Julie Martin. "It still feels like a small town, not a tourist trap."
Among the best for: Bargains, Fixer-Uppers, Retirees, South
Shady Lanes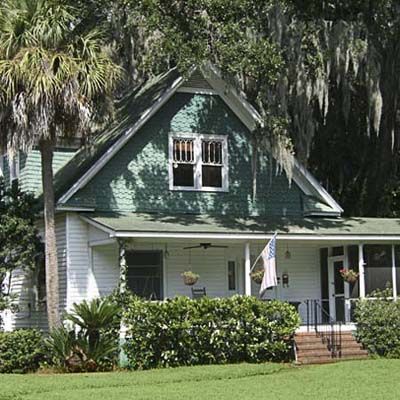 Brunswick is home to longtime residents employed at the port and in the seafood industry, as well as incoming retirees and old-house lovers. Smaller fixer-upper homes start at $75,000.
Among the best for: Bargains, Fixer-Uppers, Retirees, South
Best Place for Families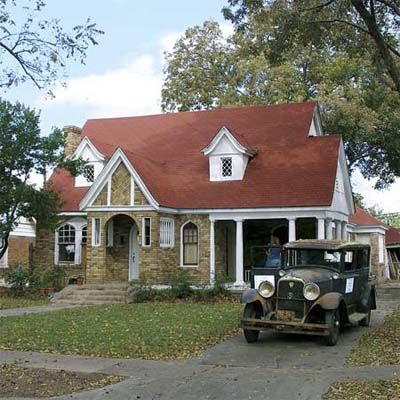 Junius Heights, Dallas, Texas
Like most of Texas, the city of Dallas is obsessed with all things big. But the people of the Junius Heights neighborhood beg to differ. "This is a small-town, front-porch community," says Bill Williams, who purchased a Craftsman here in 2003. Junius Heights is home to some of the city's most interesting residents, including artists, reporters for The Dallas Morning News, and about half the lawyers in town. And it's turning into a haven for families looking to eschew traditional suburban living. That's thanks in part to Woodrow Wilson High School, "one of the best examples of an inner-city high school in the country," according to one resident (and Newsweek magazine). The school provides a top-notch education, as well as entertainment for Junius Heights residents through its excellent theater and athletic programs.
The Houses
Textbook examples of Prairie and Craftsman houses are the mainstay. A handsome 1,600-square-foot Craftsman can cost $149,000, but fixer-uppers go for as little as $80,000. Fully restored houses top out just above $500,000.
Why Buy Now?
Proximity to downtown Dallas, great schools, and recent recognition as a National Register Historic District are driving up Junius Heights' property values and helping the neighborhood maintain its historic character.
Seems Like Old Times: Junius Heights residents are big into events. This Tudor-Revival house is done up retro style for the neighborhood's annual house tour.
Among the best for: City Life, Cottages and Bungalows, Families, Fixer-Uppers, South
Best Place for Bungalows and First-Time Buyers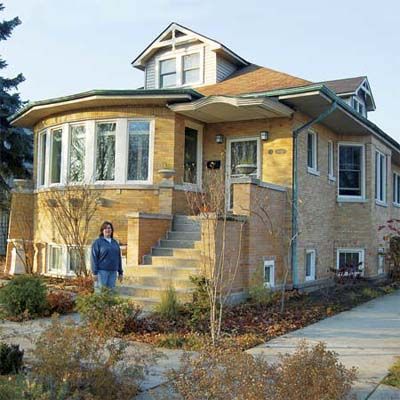 North Mayfair, Chicago, Illinois
Like Polish sausage and deep-dish pizza, the Craftsman bungalow is both ubiquitous and beloved in Chicago. And one of the few places you can still score one for a reasonable price is North Mayfair. Here you'll find block after uniform block of sturdy, tree-shaded brick bungalows occupied by an affable mix of old-timers, many of German and Swedish descent, and new residents. But what we like is the neighborhood's stubborn determination to maintain its historic character through the North Mayfair Improvement Association, founded in 1929. The group just succeeded in its effort to get part of the neighborhood listed in the National Register of Historic Places and is adamant about keeping out-of-scale building developments at bay.
The Houses
Brick bungalows with Craftsman-style built-ins and stained glass.
Why Buy Now?
Property-tax freezes are available for those looking to restore older homes. Prices are (temporarily) down. Though rare, we found a fixer-upper bungalow for $218,000.
Among the best for: City Life, Cottages and Bungalows, Families, First-Time Buyers, Fixer-Uppers, Midwest
Sweet Home Chicago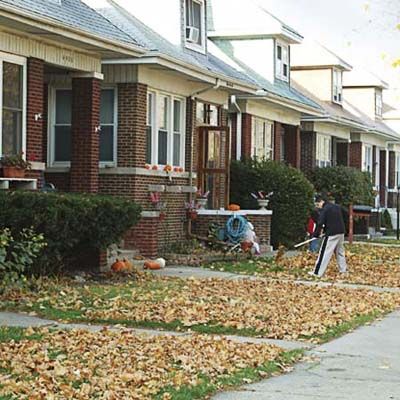 The tightly spaced lots and front porches of North Mayfair bungalows encourage good neighborly relationships.
North Mayfair, Chicago, is among the best for: City Life, Cottages and Bungalows, Families, First-Time Buyers, Fixer-Uppers, Midwest
Best Place for Movie Fans
West Adams, Los Angeles, California
Once home to Los Angeles's wealthiest 19th-century bankers and mining execs, West Adams seems like a studio backdrop for the set of a perfect small town. It's become a shared secret among those of more modest means, who love its authentic feel in a city often chided for its artificiality. In recent years, residents have been restoring homes, showing how collectively invested they are in its future. "When you have everyone working together to preserve and maintain a neighborhood, it's a very powerful approach," says longtime resident David Raposa.
The Houses
This is L.A., so even traditional styles, such as Craftsman and Mission, are glitzed to the max with detail.
Why Buy Now?
Fixer-upper bungalows that were selling for $350,000-plus a few years ago can now be had for $250,000. Most of West Adams is in a "historic overlay zone," which protects home facades and keeps property values rising.
Best Place for: City Life, Movie Buffs, Singles, West and Northwest
L.A. Awe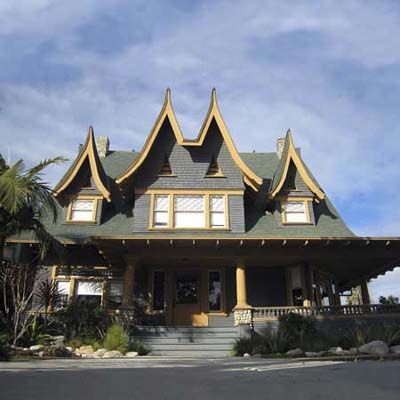 Craftsman and Tahitian-influenced homes (pictured) demonstrate the stunning amount of style and craftsmanship that went into the construction of West Adams's homes.
West Adams, Los Angeles, is among the best for: City Life, Movie Buffs, Singles, West and Northwest
Best Place for Brownstone Buffs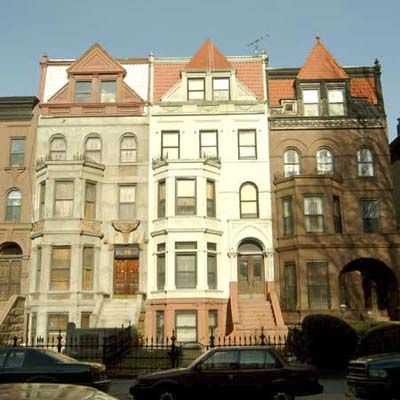 Stuyvesant Heights Historic District, Brooklyn, New York
Stuyvesant Heights, Brooklyn, New York
For years real estate agent Judd Harris kept a close eye on Brooklyn's Stuyvesant Heights. He was waiting to see if it would start attracting the same kind of brownstone buffs who'd helped jump-start the real estate frenzies that have taken hold of nearby neighborhoods Fort Greene and Clinton Hill. These days he likes what he sees. "If you're a buyer looking for lots of architectural detail, this place has a lot to offer," he says. "And homes are still within reach of the average New York City buyer." This culturally rich nabe is shedding its high-crime rep as restaurants, bakeries, and cafes open their doors to new and longtime residents, all of whom want a distinctly Brooklyn lifestyle for themselves and their families.
The Houses
Home to perhaps the most diverse array of townhouses in New York City, ranging in style from Federal to the ubiquitous Italianate brownstone to Queen Anne.
Why Buy Now?
While prices for townhouses were creeping into the millions a few years ago, they've come down of late. Some fixer-uppers are going for as low as $475,000. It won't stay that way.
Best Place for: City Life, Fixer-Uppers, Northeast