Doing The Math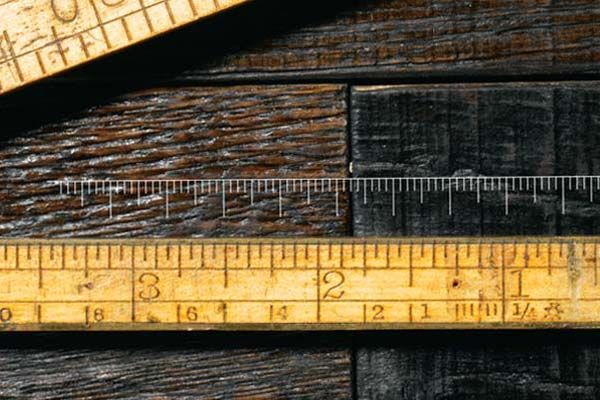 Some spaces just feel good, and you can't put your finger on why. Chances are, it's because everything is where it should be: Handles are easy to reach, drawers open unobstructed, there's light where you need it. The key is knowing the right numbers. Whether you're starting fresh or just adding a few upgrades, your home is sure to measure up.
A note on the numbers: The recommended dimensions and clearances are based on national building and design industry guidelines. You can—and should—adapt them to your own size, circumstances, and preferences. Just be sure to comply with local building codes to ensure your safety.
Bath Numbers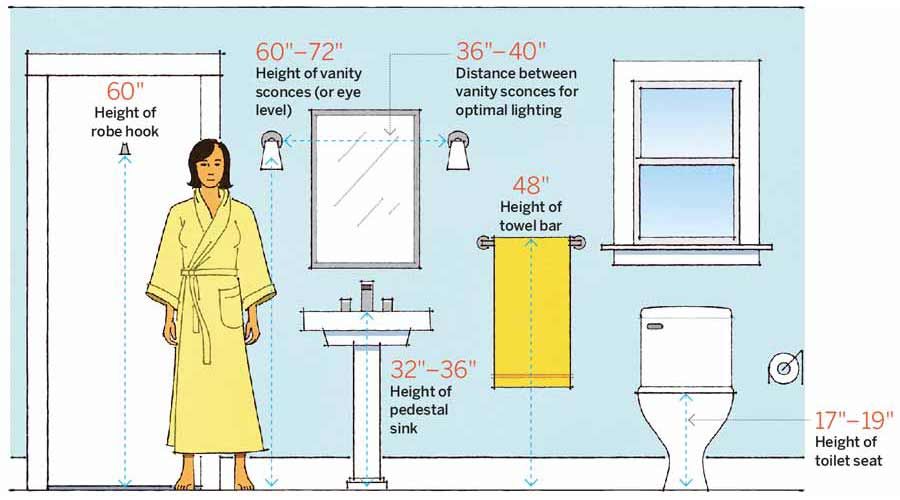 Inch for inch, the bathroom packs in more functionality than any other room in the house. With scant space to hide mistakes, though, even tiny miscalculations can create big problems—not to mention compromise safety. For maximum comfort, convenience, and utility, keep these magic numbers in mind.
Bath Numbers: Shower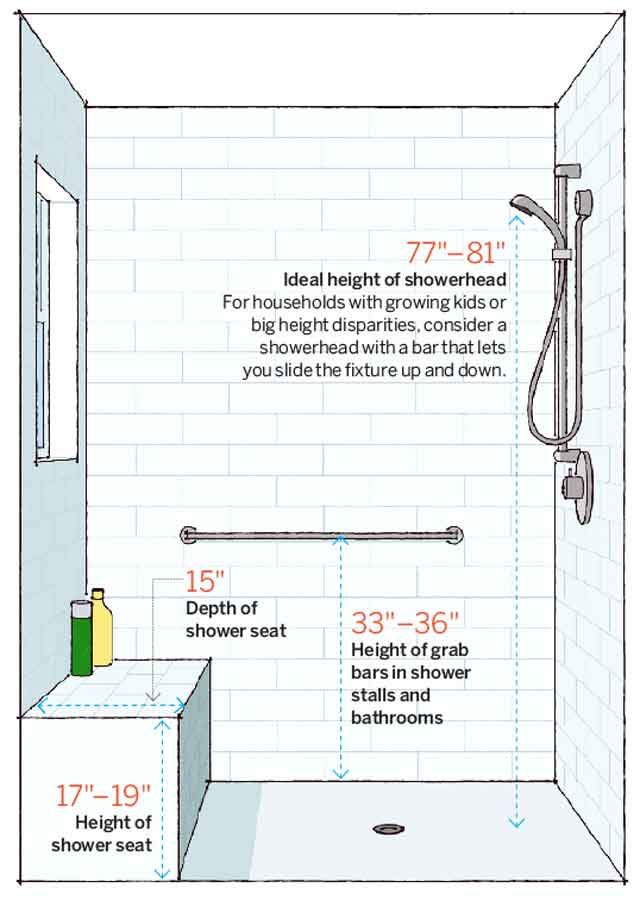 Shower stalls should allow room for a shower seat, grab bars, and adjustable shower heads.
Bath Numbers: Toilet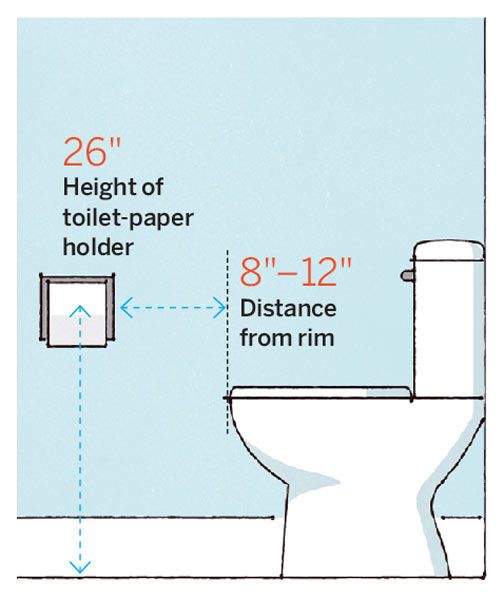 Consider the height and distance of the toilet paper holder in relation to the toilet rim.
Bath Numbers: Layout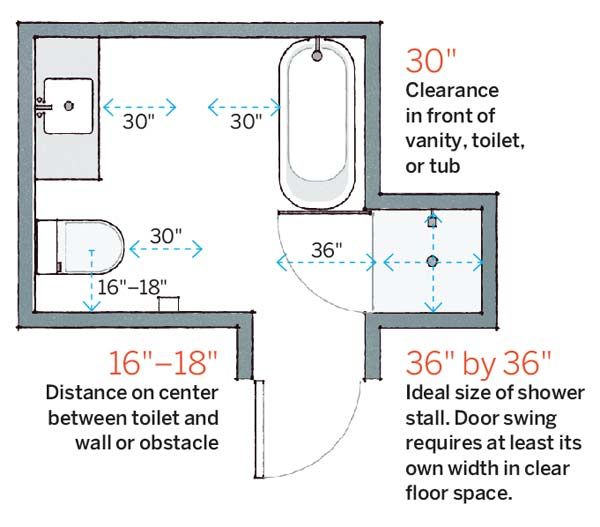 Shower door swing should be accounted for in layout planning.
Kitchen Numbers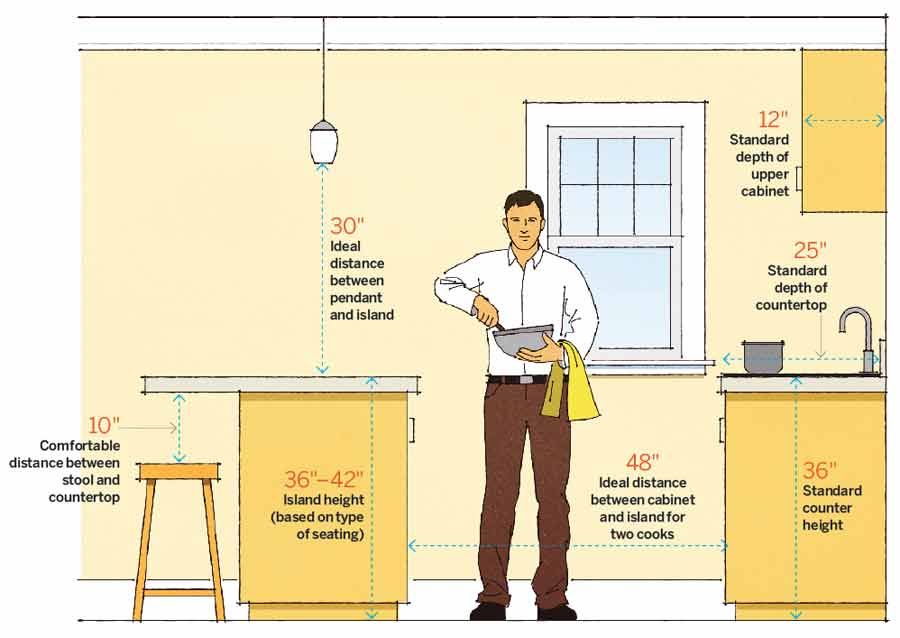 Keep the most popular room in the house functional and safe with these simple design guidelines for the placement of appliances, cabinets, and countertops.
Kitchen Numbers: Stove Area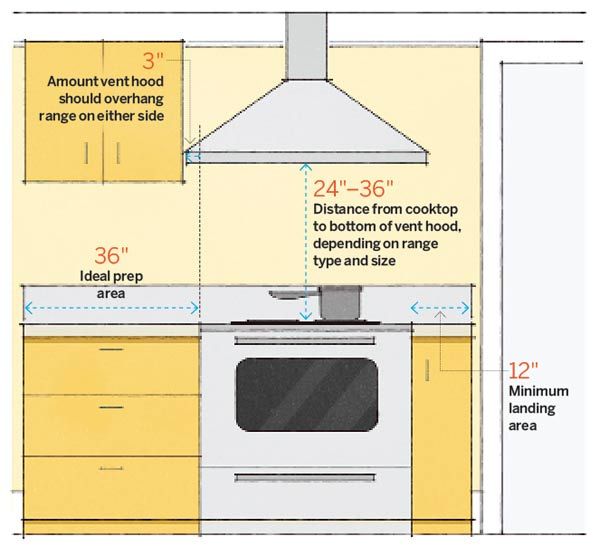 The distance from the cooktop to the range hood can affect the kitchen helper's effectiveness.
Kitchen Numbers: Range Hood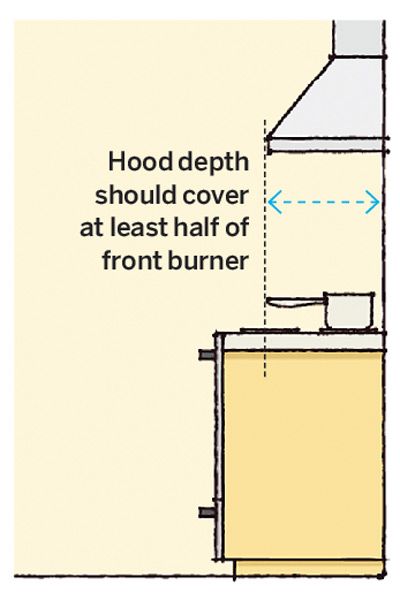 Don't forget to account for the depth of your range hood, too.
Kitchen Numbers: Dining Nook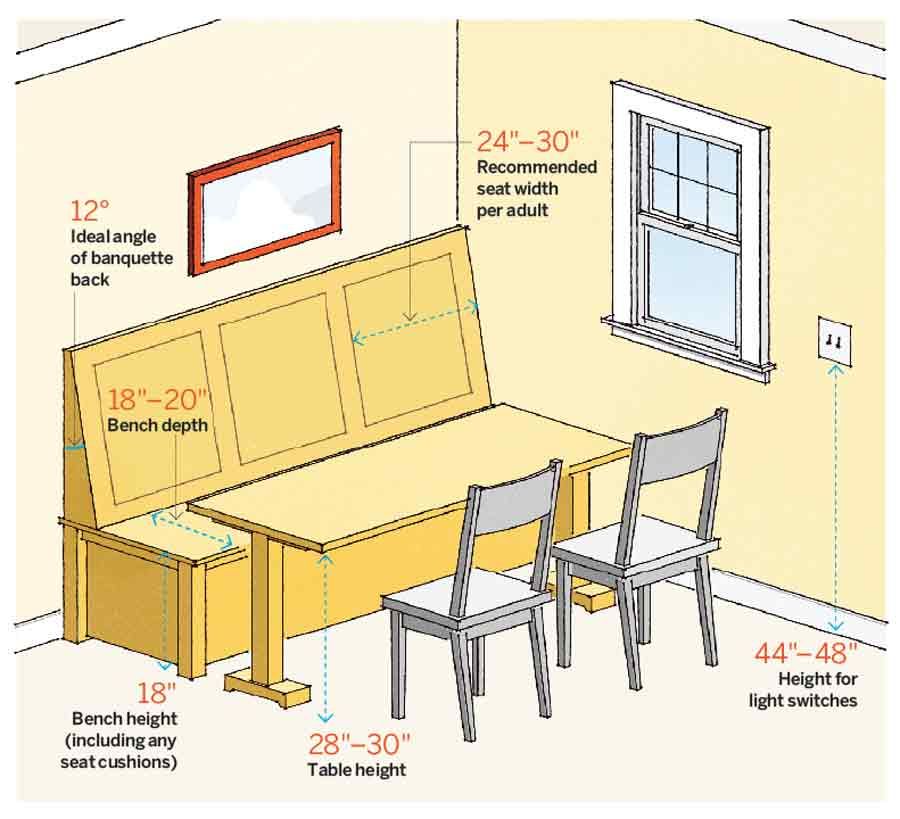 Optimized dining and quality time requires nook dimensions built for comfort.
Kitchen Numbers: Sink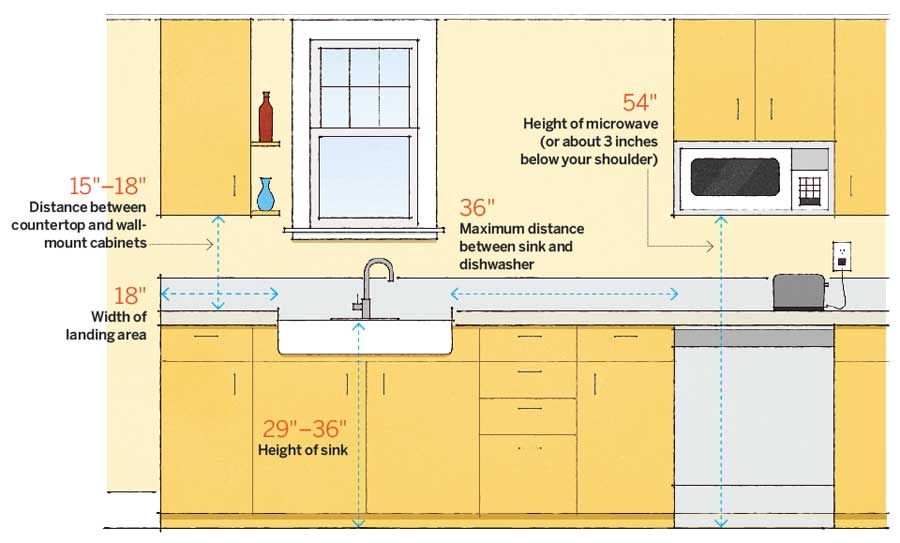 Creating a functional food prep space means allowing the right amount of room.
Kitchen Numbers: Breakfast Bars and Islands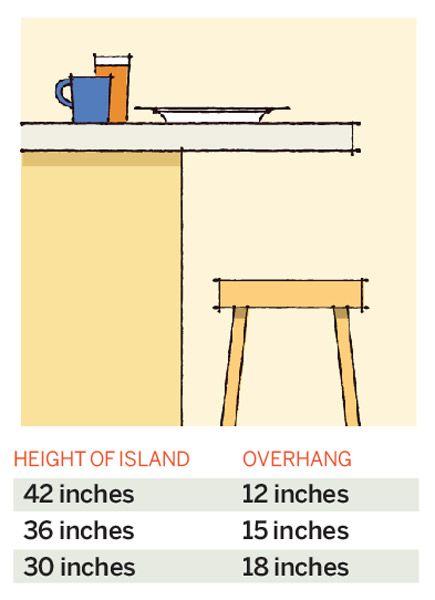 The right amount of overhang Island seating generally comes in three heights: table (30 inches), counter (36 inches), and bar (42 inches). Each one requires a different amount of overhang (also called knee space) for diners to sit comfortably. The higher the seating, the less knee space needed, as per these recommendations from the National Kitchen and Bath Association.
Living Room Numbers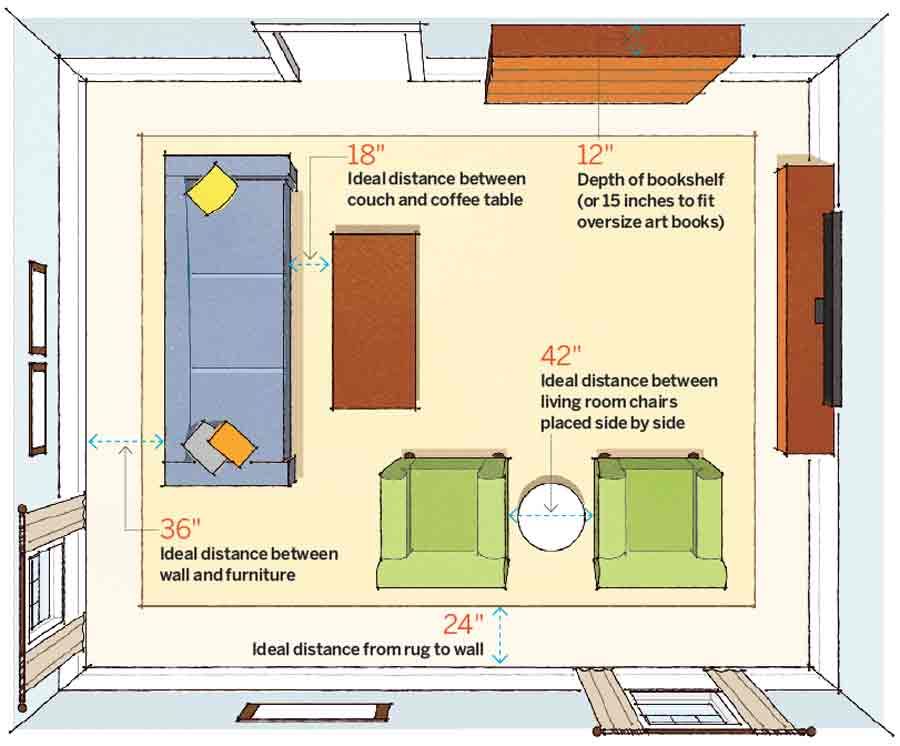 Whether your social area is big or small, the secret to a comfortable room for entertaining, TV watching, or just hanging out is judicious spacing.
Living Room Numbers: Proportioned Decor Elements
Necessities and accents coexist harmoniously with the proper dimensions.
Living Room Numbers: TV Screen Sense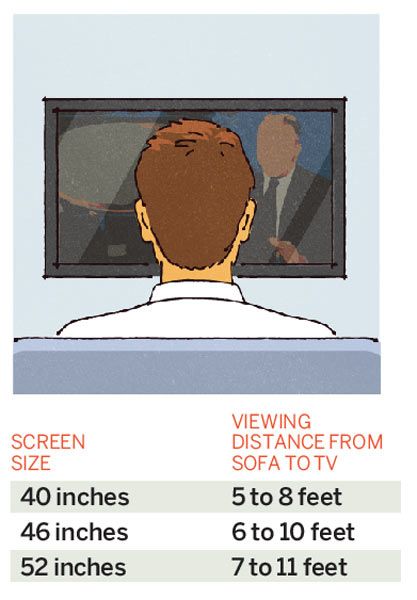 For optimal viewing, size your TV based on its distance from the sofa. To get the minimum screen size in inches, divide the viewing distance by 3; for the maximum, divide by 1.5. Already have a TV? Use these guidelines to position your couch. Aim for a 15- to 20-degree viewing angle to the center of the screen.
Laundry Room Numbers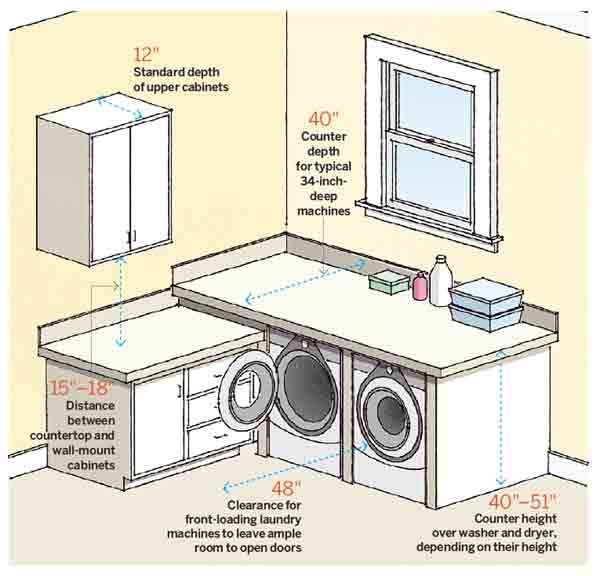 Squeezing big machines into small spaces can be a challenge. Follow these key measurements for an efficient work area.
Laundry Room Numbers: Hookup Clearance
The hookup clearance behind machines and pedestal height affect chore efficiency.
Home Office Numbers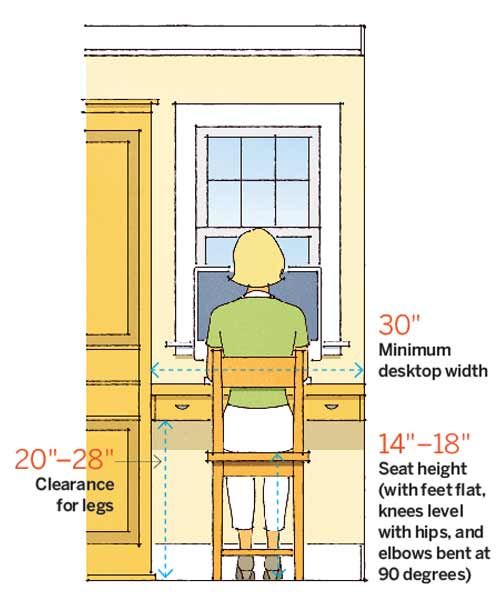 To boost productivity, create an ergonomic setup that maximizes both comfort and function.
Home Office Numbers: Ergonomic Setup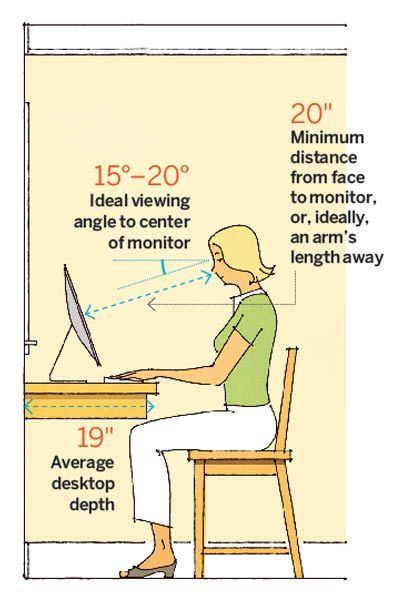 Get comfortable with properly positioned home office elements.