Up Your Spooky Factor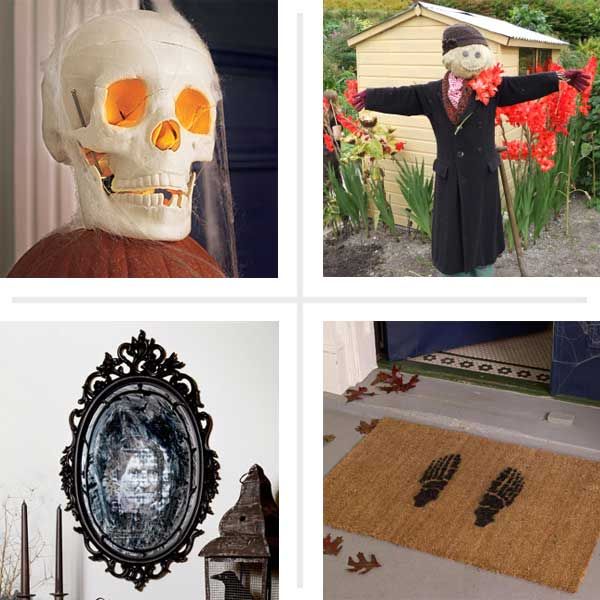 Show off your DIY prowess this Halloween with hand-made decorations you'll be proud to show off. Craft a seasonal front stoop to greet trick-or-treaters or a whole haunted house. We've got the step-by-step guides for eerie (and fun) projects to vamp up the spookiness in your house.
Wire Ghost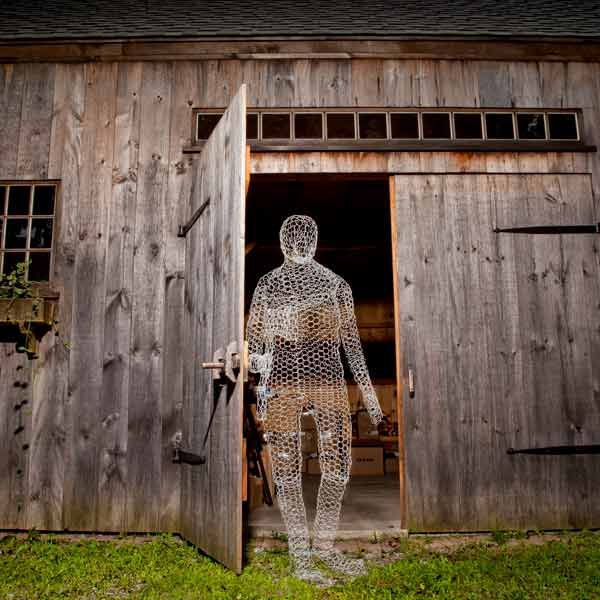 Barely-there chicken wire gives just the right ethereal look to a ghostly apparition. There's a lot of trial and error in the process of pinching and cinching the wire hexes to form a life-like shape, but luckily this malleable medium can be easily reshaped as you go.
Here's how to conjure up your own: How to Build a Wire Ghost
Zombie Planters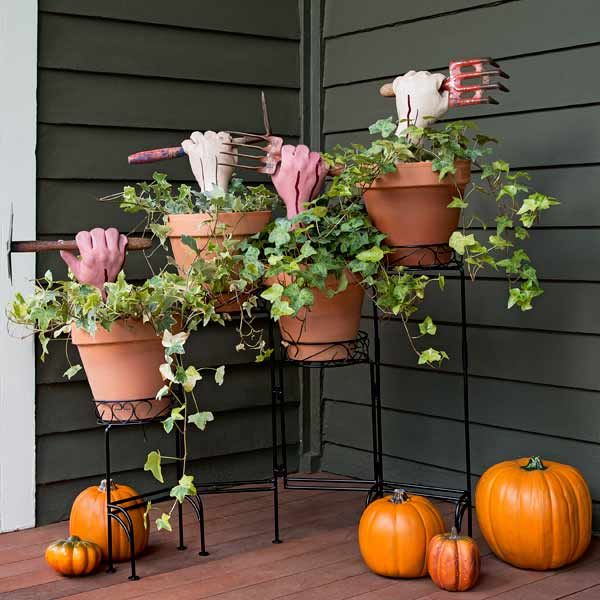 Trick out your front entry for Halloween with a macabre display of old gardening hand tools. The result: a creepy show of hands that trick-or-treaters won't soon forget.
Here's how to create a container garden within the undead's grasp: How to Make Halloween Zombie Planters
Tin-Can Lanterns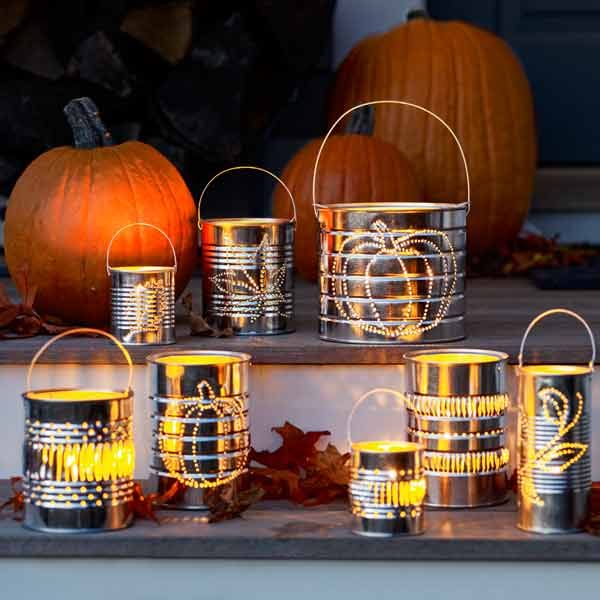 Welcome trick-or-treaters by candlelight with festive punched-out luminaries made from leftover food cans. Raid the recycling bin for a variety of vessels in different shapes and sizes. Remove the labels, and deodorize the insides by wiping with a damp sponge dipped in baking soda.
See how we banged these out: How to Create Tin-Can Lanterns
Skull Light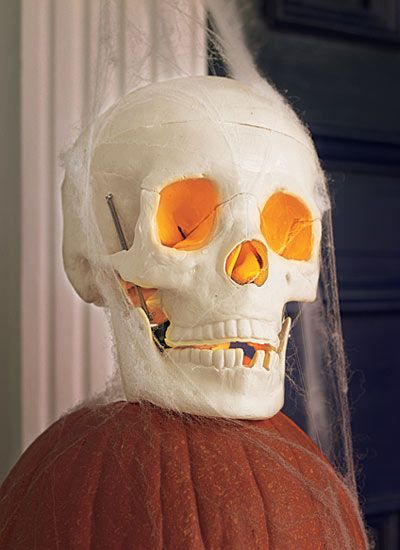 Heads above the typical jack-o'-lantern, this flickering noggin adds a devilish look to a stack of pumpkins—and you can create it in less time than it takes to fill a candy bowl.
See how to make this eerie light in only 5 minutes: How to Make a Skull Light
Giant Yard Spider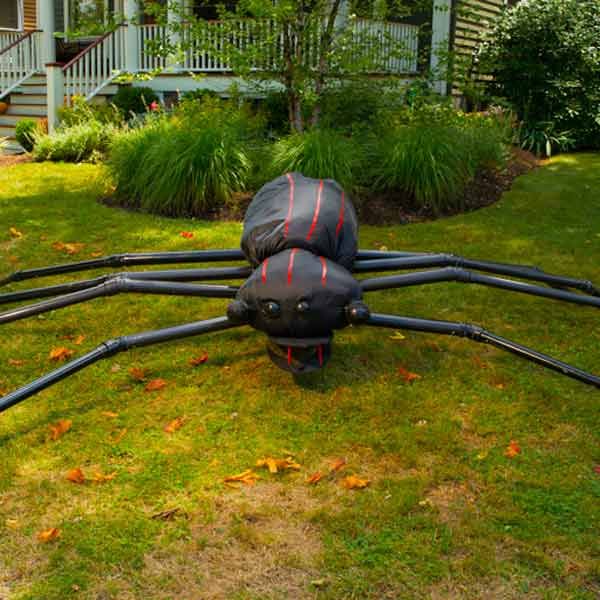 An oversize arachnid is sure to scare the pint-sized set—and maybe even freak out a few adults. The long legs are made from inexpensive PVC pipe, making this creepy crawler the perfect Halloween home center project—web not included.
Here's how to let the creepy crawly take over your yard: How to Build a Giant Halloween Spider
Bone Door Knocker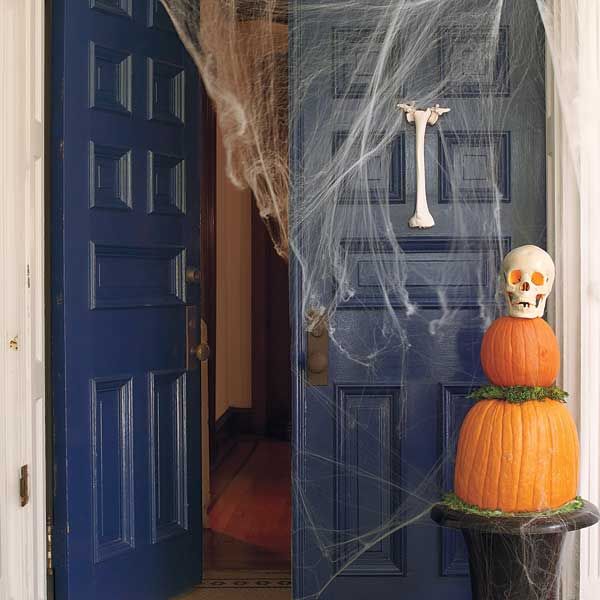 What better way to welcome your neighborhood's resident witches, ghouls, and goblins to your home than by tricking out your front door. For this spooky setup, we turned bones (fake, of course) into a knocker. You'll need your own faux bones, a drill/driver, some screws, and a can of black spray paint—and prepare to see some very surprised faces approach your walkway on Halloween.
See the easy steps: How to Make a Bone Door Knocker
Witch's Cauldron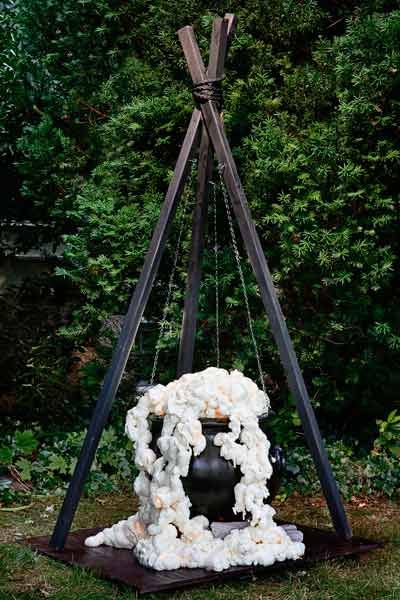 Stir up a frightful sight in your yard without much toil and trouble. You can skip the eye of newt and toe of frog—this is already one pretty spooky brew.
Here's how to bubble up your own potions: How to Build a Halloween Witch's Cauldron
Skeleton-Foot Doormat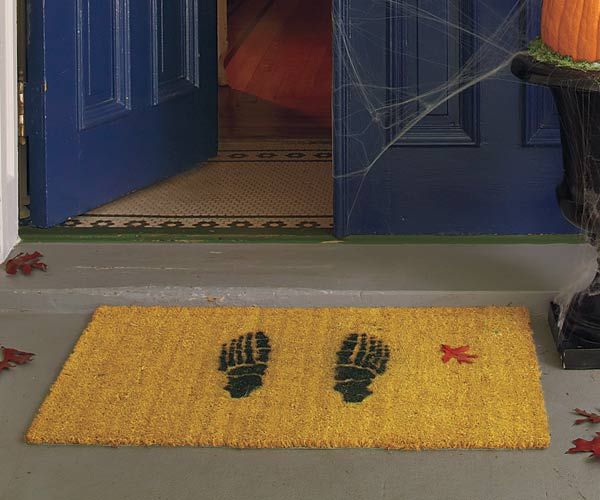 Step up your stoop supernaturally with this inventive doormat. All you need is a can of indoor/outdoor matte-black spray paint, a plain coir mat (about $23 for an 18-by-30-inch mat), and a stencil template.
See How to Stencil a Skeleton-Foot Doormat for instructions and a downloadable stencil template
Pumpkin Luminaries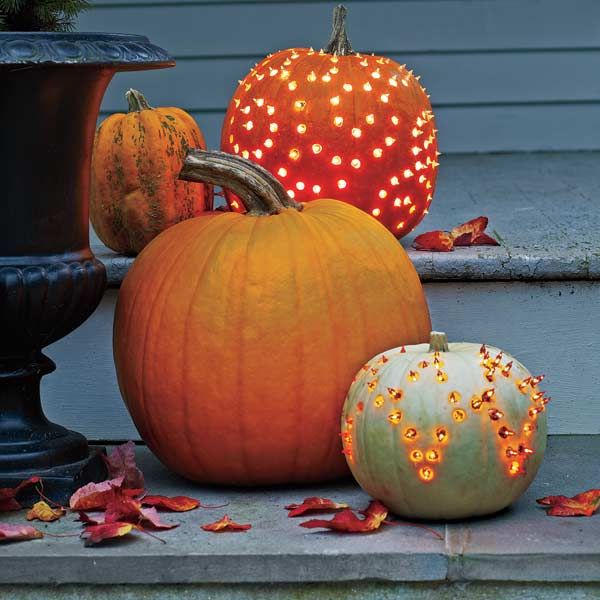 Your drill is the key to turning the pumpkins on your doorstep into out-of-the-ordinary Halloween luminaries. Studded with tiny bulbs in swirling or geometric designs, these gourds make brilliant use of white and orange outdoor Christmas lights and they look far more sophisticated than the average toothy jack-o'-lantern.
Get our step-by-step instructions: How to Create Beautiful Pumpkin Luminaries
Gothic Wreath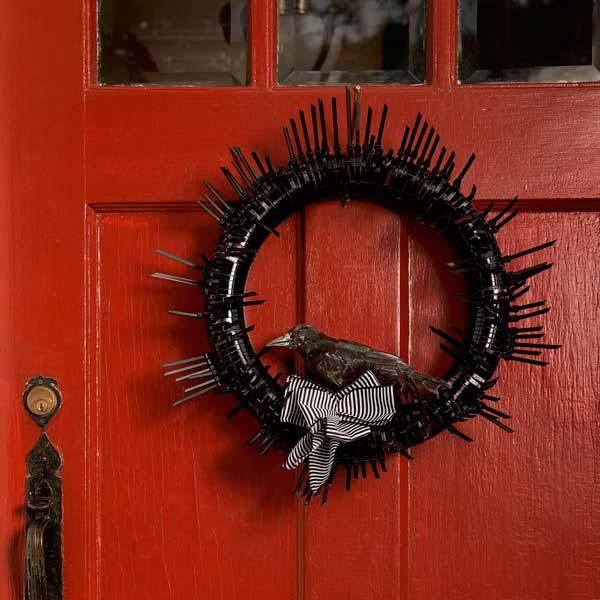 Unwelcome guests might think twice about rapping at your door with this raven keeping watch.
Here's how to make your front door extra spooky: How to Make a Gothic Halloween Wreath
Halloween Mirror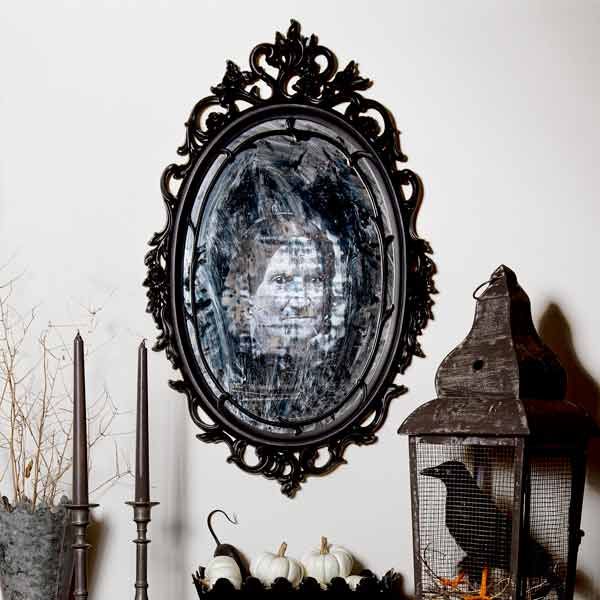 This haunting "reflection" will spook your guests and turn any entryway into a spot the Addams Family would approve of. We made ours by removing some (but not all) of the mirror's paint and reflective coating and securing a scary image behind the glass.
Check out How to Create an Eerie Halloween Mirror for the how-to
Ghostly Graveyard Tombstones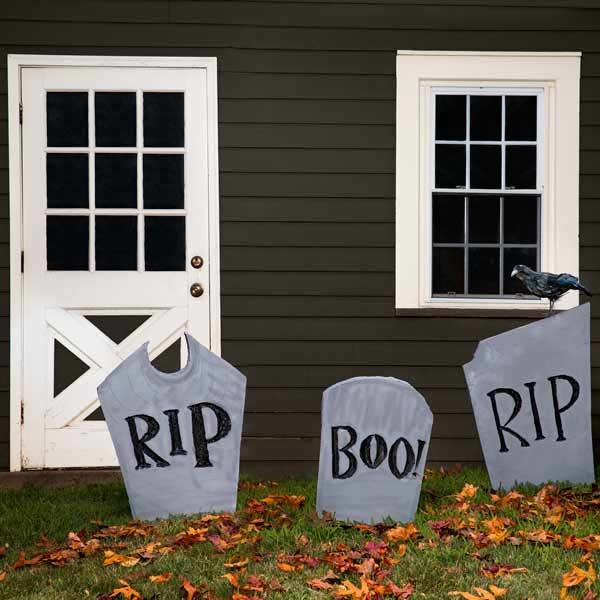 Extend an otherworldly welcome to Halloween revelers with a row of tombstones on your lawn.
Scarecrow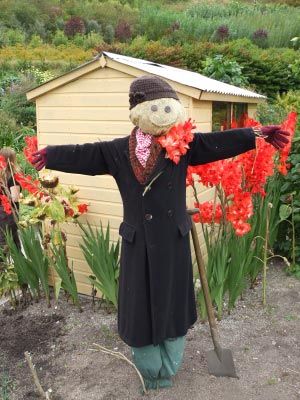 Instead of throwing out old clothes, use them to make a scarecrow. Take a shirt and pair of pants and stuff them with newspaper or plastic bags. Use a broomstick pushed into the ground to support him. For the head, glue spare buttons onto a brown paper bag to make eyes, a mouth, and ears and tie the bag onto the body. Top off your scary creation with an old hat.
For more DIY decor ideas, see Healthy Halloween Decorations
Carve a Pumpkin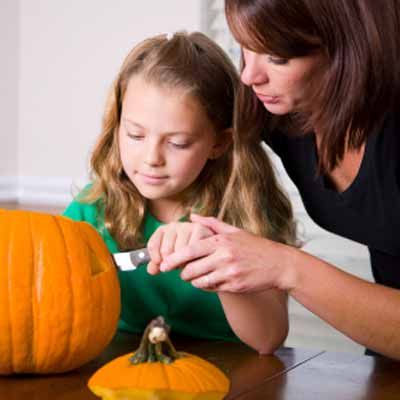 You've seen their creations in our Inspirational Pro Pumpkin Carving gallery. Now, here are pro tips and secrets for every step of the pumpkin-carving process, from how to choose the perfect carver, what tools to use, how to light it up, and more.
See How to Carve a Pumpkin for our pro-carver tips
Window Silhouettes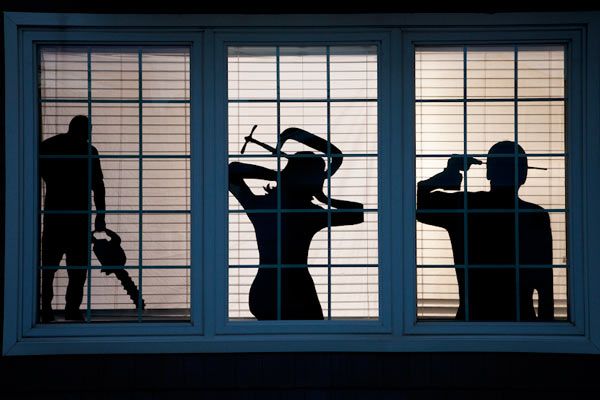 With these ghoulish characters looming in your windows, you'll leave the neighbors fearing what takes place in your workshop when the lights go out. Grab your scissors and tape, and prepare to embrace your DIYer dark side.