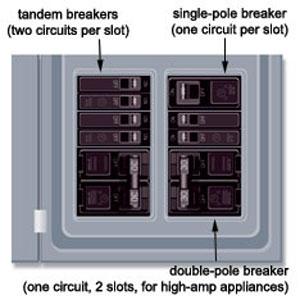 6. Overwired Panel

What it means: The panel contains more circuits than it's rated to handle, because too many single-pole breakers (one circuit) have been replaced with tandem breakers (two circuits) in one slot. (Tandem breakers aren't the same as high-amp double-pole breakers, which take up two slots with one circuit.) A label on each panel specifies how many circuits the panel can accommodate.

Code violation? Yes.

Danger level: Minimal. It may become an issue when the house is being sold and an inspector looks inside the panel.

Solution: Add a subpanel with a few extra slots ($250), or, if you're planning major home improvements, replace the existing panel with a larger model ($500 to $800).