This article appeared in the Fall 2023 issue of This Old House Magazine. Click here to learn how to subscribe.
For years, losing power because of a storm or stressed infrastructure has usually meant keeping a gas generator on standby to get essentials up and running. While those gas-guzzling power plants deliver reliable energy, they come with several trade-offs: emissions, noise, maintenance, and a fussy starting procedure that worsens after long stints in the garage. But now there's an option that behaves a lot like an electric vehicle (EV) or a battery-powered lawn mower. These "portable power stations" have a battery core that can run a range of household appliances and devices.
On the less demanding side, they're powerful enough to keep electronics—laptops, tablets, phones, and TVs—going for hours during an outage or a seasonal brownout. Paired with supplemental batteries and plug-in solar panels, they can become a capable, reliable system that can run a home's largest appliances for days—emissions-free, quiet, with nary a spark plug to check, and with the push of a button.
Whether you want to keep the fridge and a few lights running for 24 hours or the entire kitchen for a few days, there is a system to suit your needs. Here's what you need to know to choose the right one.
Which Portable Power Station is Right for You?
While a portable power station offers push-button reliability, it isn't the solution for every situation.
Pros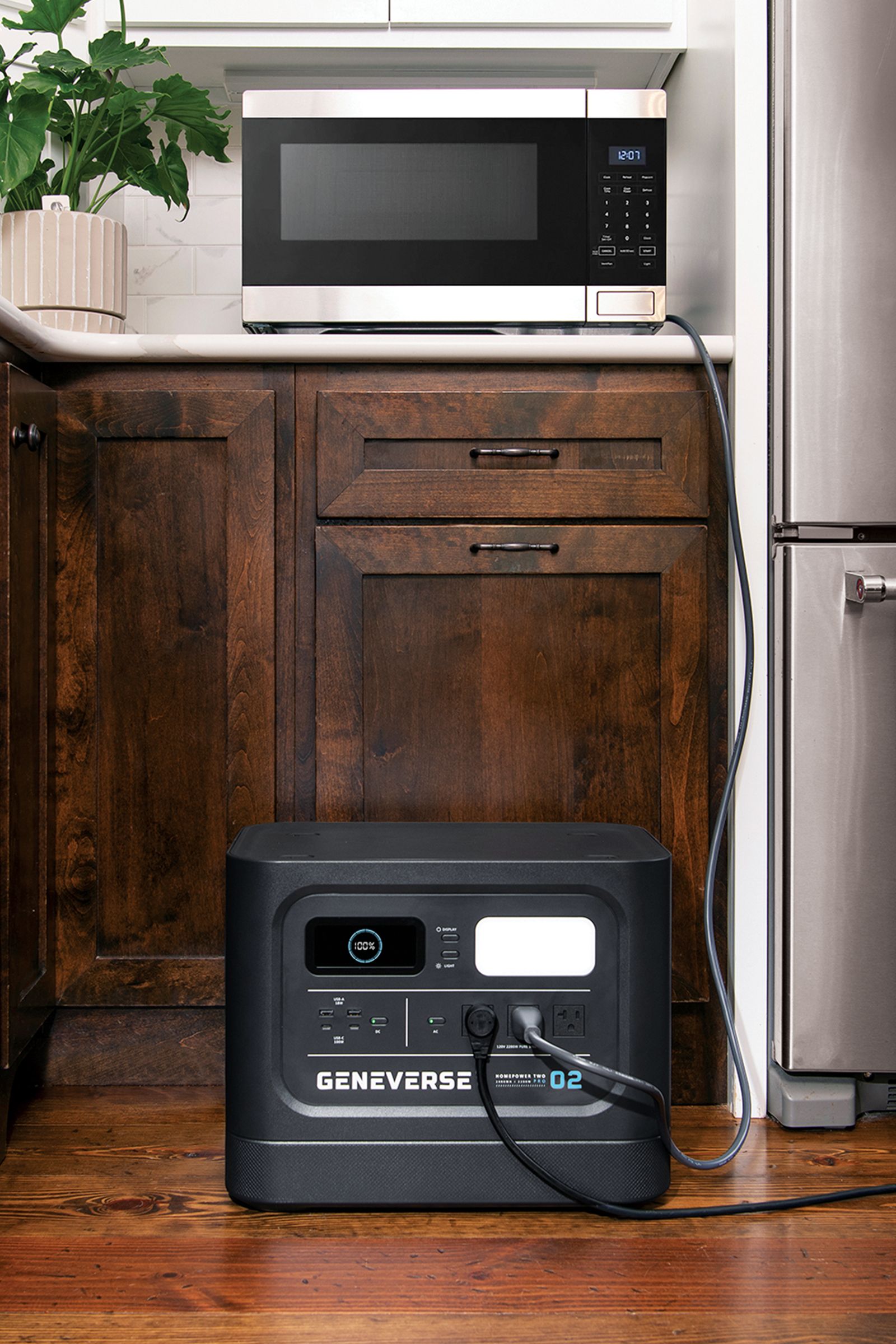 No emissions. Without a rumbling engine generating power, portable power stations are safe to use inside. They can get warm to the touch with heavy use, but never hot enough to burn children or pets. Because they're quiet, they can be set up in a bedroom—or go to a campsite, tailgate, or cookout.
No maintenance. They don't require gas or oil, and there is no filter to change. Tidy and compact, they're easy to store indoors.
Cheaper and easier to run than a gas generator. Electricity is generally less expensive than fossil fuels. Paired with multiple solar panels, some batteries recharge in about 21/2 hours for free. Plugged into an outlet, some charge in about 2 hours.
Easy to use. With Bluetooth apps that provide control, myriad plugs and ports, and an LED readout that displays how much run time is left, portable power stations take the guesswork out of backup power.
Better for tech. They often have pure sine-wave inverters built in, which moderate the flow of energy for sensitive electronics like laptops. All feature built-in USB ports, unlike most gas generators.
Cons
Pricey. For around 3,600 watt-hours, a portable power station can cost about seven times more than a readily available gas generator.
Needs peripherals to extend run time. Without spending more for expansion batteries and solar panels, portable power stations struggle to match the run time of gas generators and their easy-to-find and easy-to-store fuel.
Not easily serviced. Gas engines have lots of moving parts, many of which can be replaced or repaired. While portable power stations can last from 5 to 15 years, repairing them isn't likely to be an option.
Slow to recharge. Unless you plan to max out the number of solar panels a portable power station can support, recharging can take about 12 hours using the sun alone.
Needs to move around. Solar panels come with a cable that is about 10 feet long. Unless the portable power station is within that range, or you buy an extension cable, you'll have to move it to the solar panels, which might mean carrying it out of the basement or down a flight of stairs. They can be heavy, weighing as much as 182 pounds.
Pack on the Power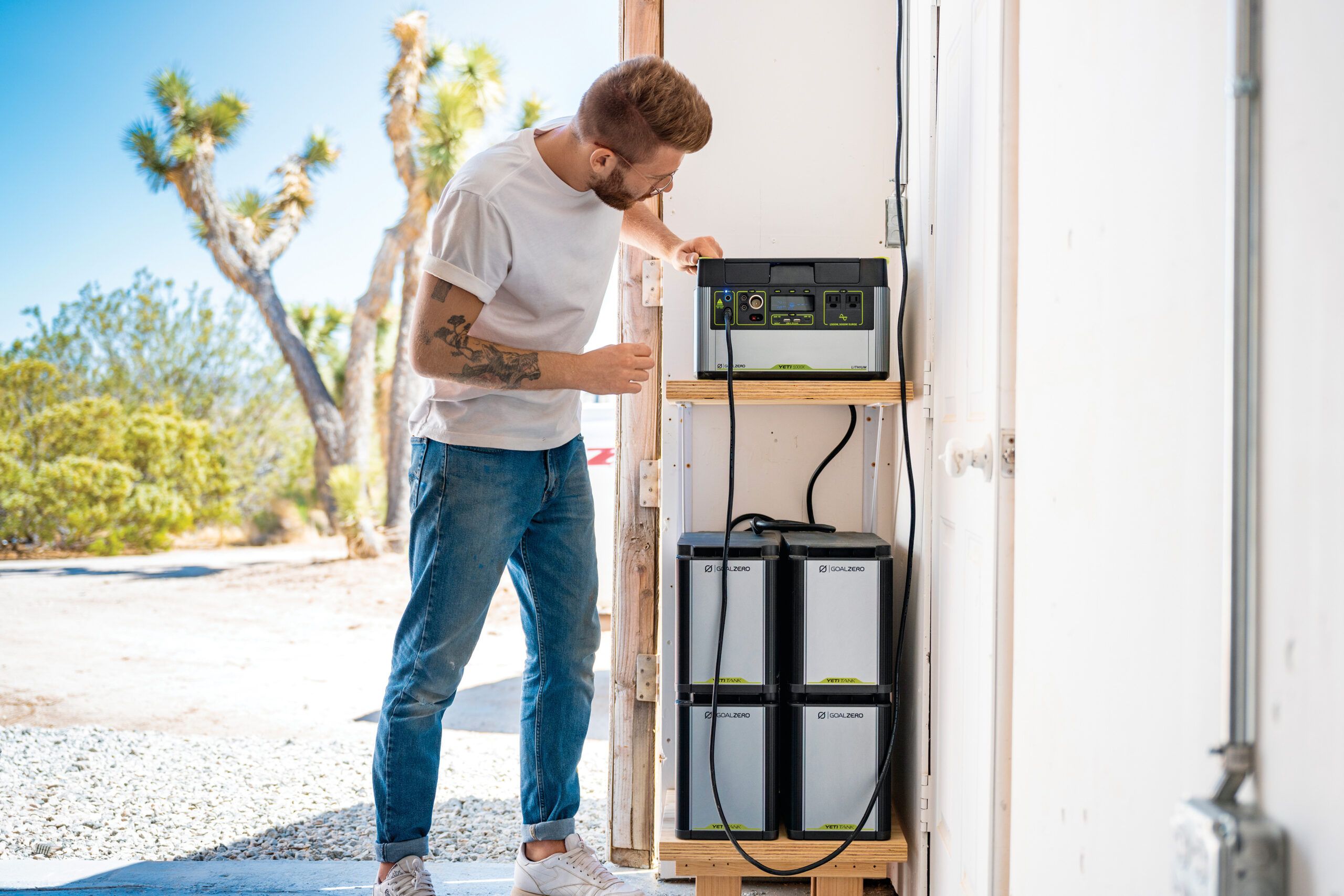 Connecting to supplemental batteries helps scale up a portable power station to meet the demands of more devices or to extend run time.
Many power stations can essentially double their capacity with an additional battery—essentially the same battery without the extra electronics. These also add weight—around 50 pounds or more—and cost. But not all power stations can add more than one, which is a key distinction if you want to power lots of appliances or specific circuits, like for a whole kitchen or bathroom.
Some models can support up to four supplemental batteries; some can daisy chain to a second power station and its set of extra batteries. Expect to pay about 75 percent of the cost of the portable power station for an expansion battery. Adding one or two supplemental batteries for more capacity and enough solar panels to juice up the portable power station in a few hours can easily double or triple the cost.
Pick Your Battery Tech
Portable power stations rely on various battery chemistries to provide juice—be sure to find out what a model uses before you buy. Below are the main types, each with its own pluses and minuses.
Compact but temperature sensitive: lithium ion
While lithium ion is the same form found in cordless tools and smartphones, it's less common in bigger portable power stations that back up major appliances. Since it's well established, lithium ion also tends to be less expensive per watt-hour. But manufacturers have moved away from it over the past few years because of its reputation for potentially combusting under heavy draw, its shorter cycle life, and its temperature sensitivity. The depth of discharge (DoD), which is the percentage of the cell that can be used before requiring a recharge, is 80 to 95 percent.
Consistent and safer: lithium iron phosphate (LiFePO4 or LFP)
A newer version of lithium ion, LFP relies on iron phosphate, rather than cobalt oxide, at the ends of the battery cell. LFP chemistry has the edge when it comes to how many charge cycles it can handle. Lithium ion tends to step down to 80 percent of its original capacity after about 500 cycles, whereas LFP will last for 3,000 or more before reaching the same point.
While they can be pricier than lithium ion, LFP batteries withstand more extreme temperatures—from about −4 to 140 degrees F—and are much less susceptible to overheating and igniting. LFP batteries can also reach 100 percent depth of discharge before requiring a recharge.
Energy dense but pricey: semisolid state
Unlike traditional lithium ion or LFP, a pouch-style semisolid-state battery does not rely on a liquid electrolyte solution to separate the two ends of a cell—at least not long-term. In a semisolid-state battery, that liquid inside thickens over time into a paste.
That conversion fills every nook and cranny inside the battery. Compared with lithium ion, these batteries are more stable, especially if they're damaged or dropped, and the chemistry offers more energy density than others. But the technology is relatively new, so cells cost more and might not outlast the life cycle of LFP batteries, though they have a similar depth of discharge rate.
Inexpensive but needs a boost: lead acid
One of the oldest forms, lead acid batteries are in virtually every car. This chemistry is inexpensive, safe, and reliable, but it lacks the long-term durability of lithium ion, which can last hundreds of more cycles. Its depth of discharge is around 50 percent, so these usually need expansion batteries or solar panels to make them a viable option.
---
Frequently Asked Questions About Portable Power Stations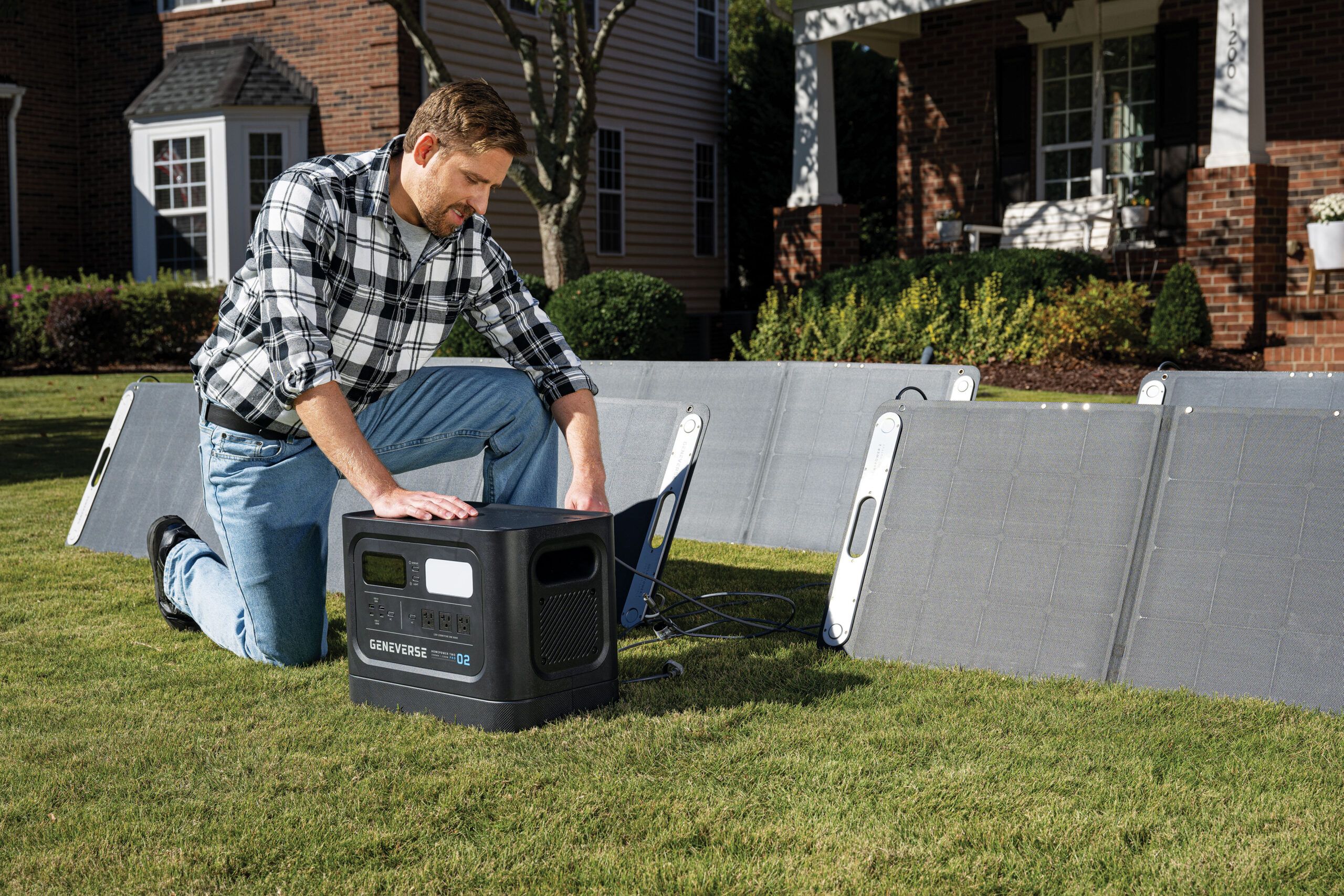 How long do they run?
Larger-capacity portable power stations suitable for backup power range from 2,048 to over 6,000 watt-hours, which can run a typical refrigerator from about 12 to 38 hours before they require recharging. Expansion batteries can often double the watt-hours and run time, and plug-in solar panels keep them charged while you're off the grid.
What can they power?
Along with most smaller electronic devices, like smartphones, tablets, and laptops, portable power stations can handle the load of larger household appliances like sump pumps, window air conditioners, and furnace fans. How long they can run higher-draw appliances depends on the battery capacity.
What do they cost?
Prices start at about $2,000 for a power station with 2,048 watt-hours and climb to about $5,400 for one with two and a half times as much power. Generally, expect to pay about $1 per watt-hour. Most manufacturers offer an expansion battery; this add-on costs less than the base station, which has plugs, ports, and controls.
What's the warranty?
Warranties for portable power stations and their expansion batteries range from one to five years. Some manufacturers offer an extended warranty that adds an additional two or three years. Solar panels are usually warranted for one to three years.
Portable Charging Stations: Choosing Wattage
Picking the right product means assessing your wattage needs. Here's what to know.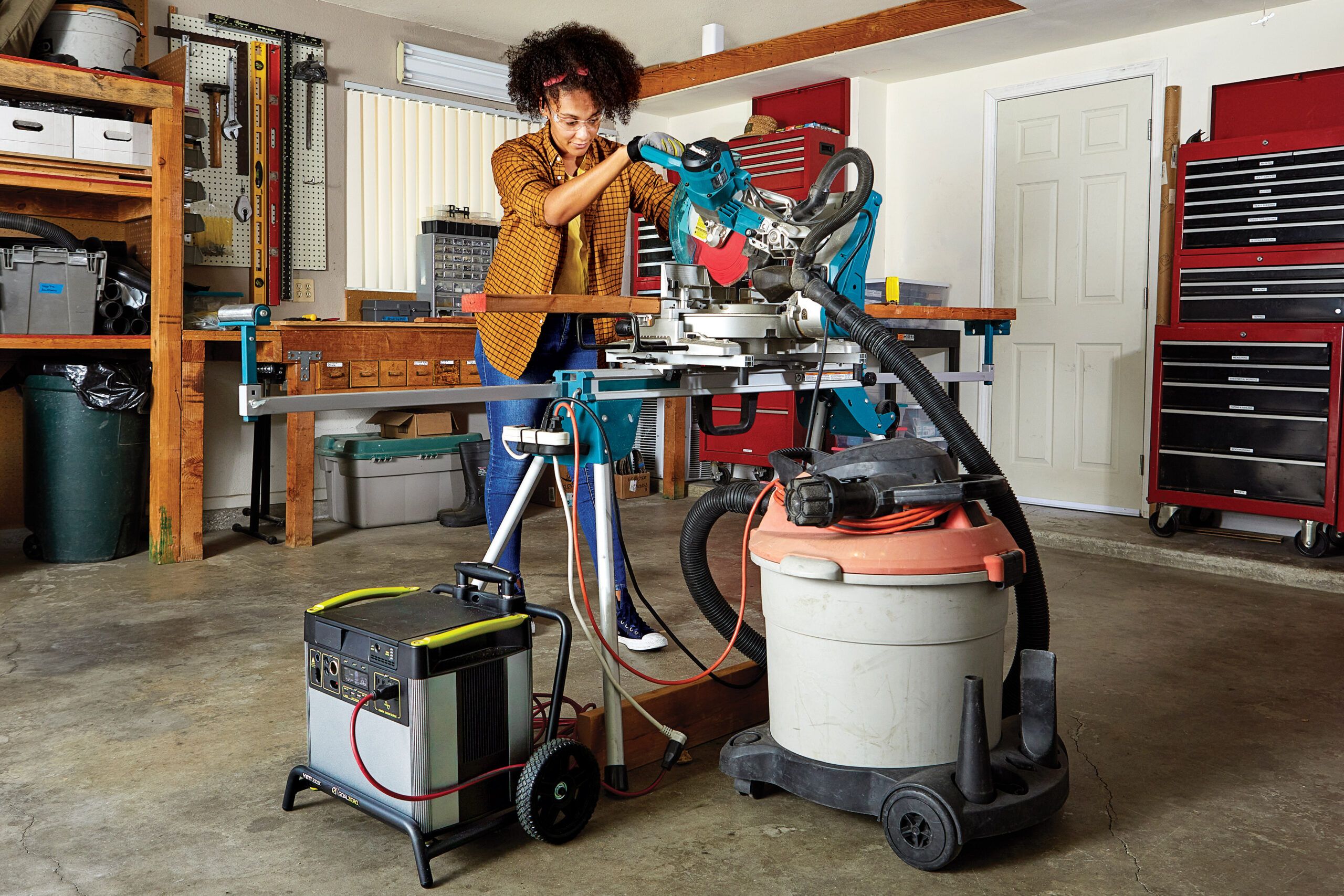 Total wattage vs. watt hours
Sizing a portable power station, as with a gas generator, comes down to having a unit that can cover the total wattage you need to run essentials. Where it differs from a gas generator is in understanding watt hours (Wh), too. Watts describe the power supplied by the batteries. Watt-hours convert that into power consumption over a period of time. Watts tell you everything the battery can power simultaneously; watt- hours show you how long the juice will last once all the things plugged into it are running. Watt-hours are often less of a consideration with gas generators because they are faster to refuel. Like taking an EV on a road trip, using a portable power station requires planning to execute extended run time with solar panels and/or additional batteries.
Running wattage vs. starting wattage
For appliances that have a motor—refrigerators and HVAC equipment—there is running wattage, the power they need to keep working, and starting or surge wattage, the high initial draw to get things started. If an appliance doesn't list starting wattage, triple the listed wattage as an estimate. Factoring in starting wattage is key to keeping a power station from being overwhelmed, and shutting off like a tripped breaker.
Watt calculations
Before adding up the power draw of all the appliances you want to run, it's helpful to have these two formulas on hand:
Watts (W) = volts (V) × amperes (A)
Watt-hours = watts × 24 hours, for a full day
The watt usage listed on a device is the amount of power drawn for a single hour. For some appliances, knowing the watts used in an hour is important, like a coffee maker or a toaster oven, which runs for infrequent bursts. For others, like a refrigerator, you'll want to calculate the watt-hours to figure out how much power they draw over an entire day.
Grab a pen and start tallying
List all the essential appliances you want to run in a power outage. Find the watts of all the devices, including the starting wattage of bigger essentials like a refrigerator, a furnace fan, or a sump pump. Check the appliance's sticker or owner's manual, or search for it online using the model number. Add the watts together, adding in the highest starting wattage of the biggest appliance. That sum is the total wattage you need in an hour's time. Now multiply that by 24 to get an idea of how much power you need to run everything for a full day. This equation is an estimate, of course, since most appliances are not running for 24 hours.
Power Station Features
Paying attention to these details can help you choose the best product for your needs.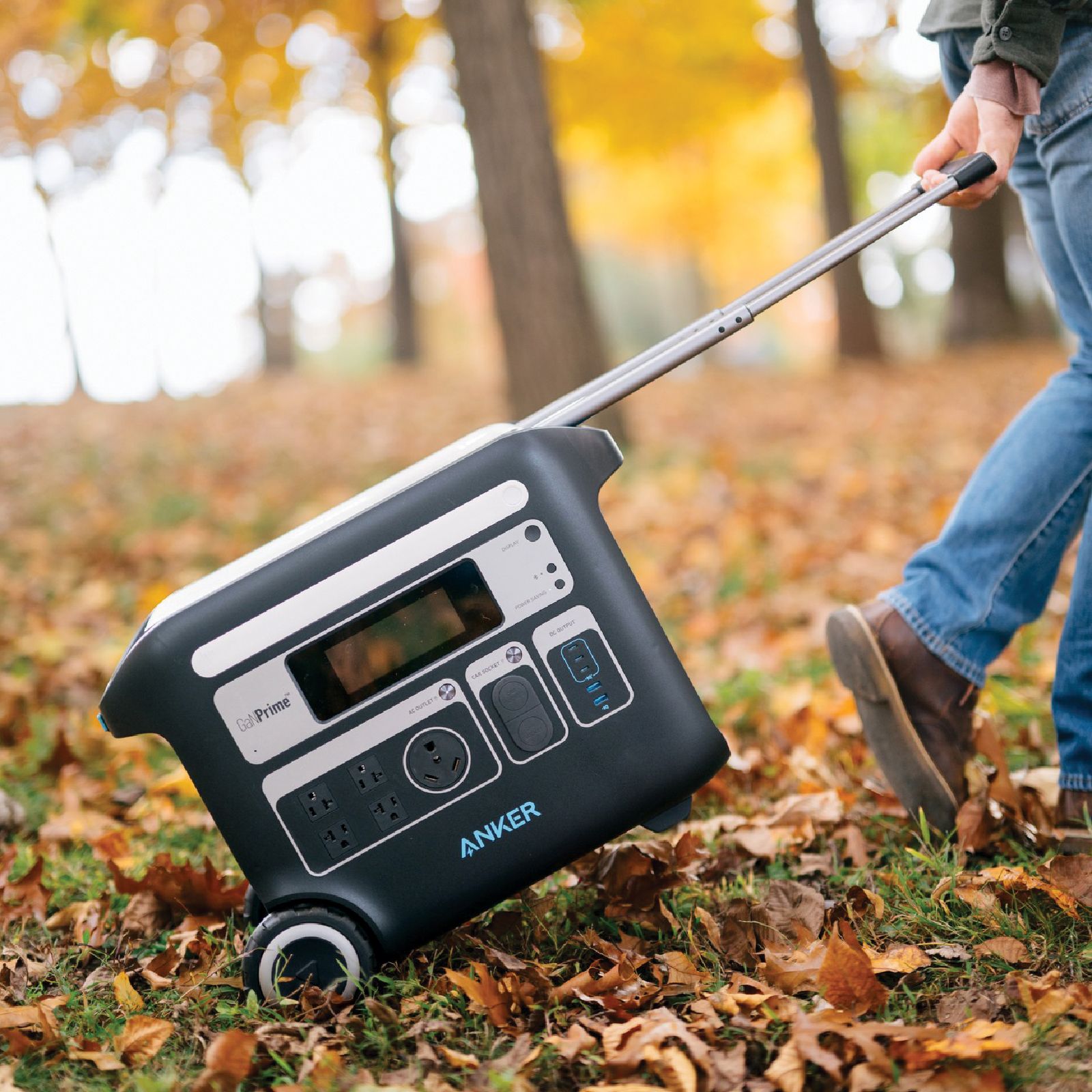 Portability pluses
These power stations may weigh less than a gas generator with similar watts, but at about 70 to more than 180 pounds, they may still require an extra set of hands to get up and down stairs. Wheels and a handle can make them easier to move around inside—or outside—the house.
Clear display
A bright LCD display lets you know how much run time is left. Just like a smartphone, it also lets you know, based on what' s plugged in, what percentage of battery remains and, when charging, spells out how much time remains until full power. Often an LED bar on top makes it easier to find and use the station in the dark.
App control
Most stations have a dedicated app that connects via Bluetooth and not Wi-Fi, so it works even without an Internet connection. It can let you know at a glance how much power is left and allows you to turn plugs and ports on or off remotely.
Pass-through power
The ability to draw power from a battery while it's charging is an important feature, especially for longer stints of use. Many power stations support pass-through power so you can run devices while the battery is receiving a charge through the wall or solar panels.
Power-saver
Like a screen saver for a laptop, a power-conservation or eco mode shuts down the flow of energy once a connected USB device, like a tablet or smartphone, is fully charged. Some 120-volt plugs also have this feature for larger battery-powered devices, like a laptop.
External battery ports
Supplemental batteries that have their own USB ports add versatility to a system because you can charge devices away from the main power station.
Backup power using power-tool batteries
Power-tool companies offer portable power solutions of their own. While most can't recharge through solar, they can help out during a storm.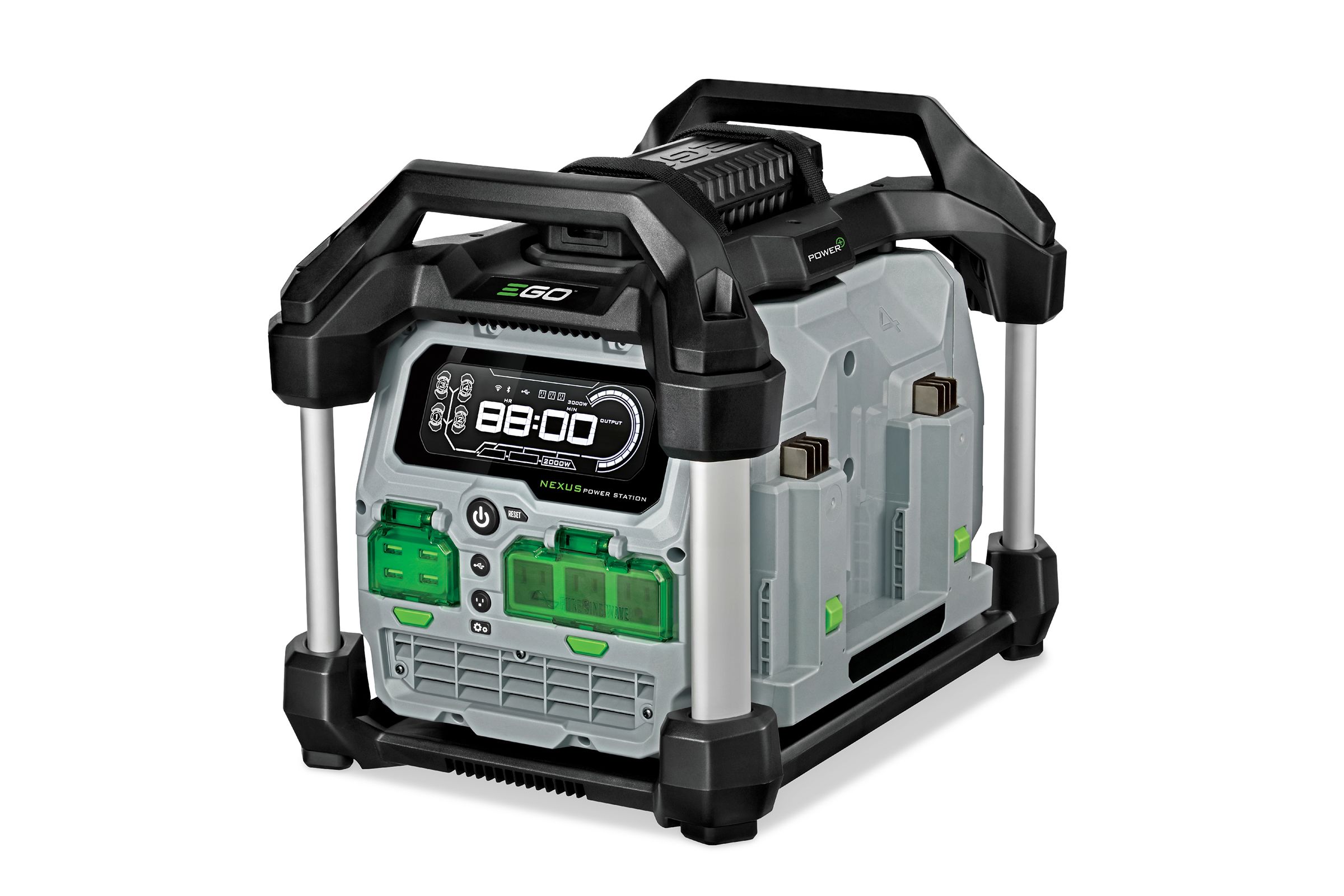 Ego Power+ Nexus Portable Power Station: Protected by a roll cage, Ego's power station, left, can take up to four of the 56-volt batteries that power the brand's lawn and garden tools, though it will work with just one. Depending on their amp-hours, they can run a TV for 21/2 to nearly 14 hours. With up to 2,000 watts, this station has the muscle to run a mini fridge for almost a day.
Milwaukee Tool M18 Carry-On Power Supply: Designed to replace a gas generator on a job site, Milwaukee's power station uses four 18-volt batteries. The two 120-volt outlets are 15 amps to handle the high draw of tools like air compressors and corded saws. While it needs four batteries to turn on, it's safe for delicate electronics like smartphones.
Ryobi 18V One+ Power Station: Plug in up to eight of the brand's 18-volt batteries for 1,800 watts that will run tools and appliances, like a refrigerator, for hours. Or, depending on the batteries, run a TV for 1 to 8 hours. An LCD screen displays battery-charge levels. Rechargeable through a solar panel and with Bluetooth connectivity, the Ryobi behaves themost like a larger power station.
Essential Receptacles for Portable Power Stations
Common 120-volt outlets
These are the backbone of any power station. Most have three or four, rated for typical 15-amp appliances. Some plugs have a T shape on one of the prongs, signaling that the circuit is rated for 20 amps, higher than a typical household plug. These deliver more power to demanding appliances like refrigerators, microwaves, and toasters without stressing the system.
120- and 240-volt outlets
These round outlets are designed to handle the draw of the biggest appliances, like freezers, window air conditioners, dryers, and sump pumps. You can convert these outlets to the more common ones with an adapter that accepts a standard plug.
NEMA TT-30R outlet
RV owners use this large, round plug to power systems inside, like a refrigerator and HVAC equipment, without a connection at a campsite. At home, this port also connects the portable power station to a transfer switch. With an adapter, it can charge an EV in a pinch, too.
USB ports
Typically, portable power stations have both USB-A and USB-C ports clustered together. Some USB-C ports are quick-charging to deliver more power. Nearly any small electronic device you need to power can plug right into these ports without taking up a traditional outlet with the transformer brick.
Car sockets
This round socket—sometimes called a cigarette-lighter port—accepts car plugs to power devices commonly found in an RV, like a small refrigerator or kettle. You can also pop in an adapter with USB ports to expand its ability to charge smaller electronic items.
Wireless charging
While not common, some portable power stations have an area on top that wirelessly charges devices like smartphones, earbuds, and speakers.
Portable Power Station Options for Every Budget
Anker Solix F2000
Cost: $1,999
With a 2,048-watt-hour, lithium-iron-phosphate-battery, this station is easy to move and has a user-friendly dashboard. Add one expansion battery for a total of 4,096 watt-hours; four 120-volt outlets handle a suite of kitchen appliances. The TT-30 port powers an RV.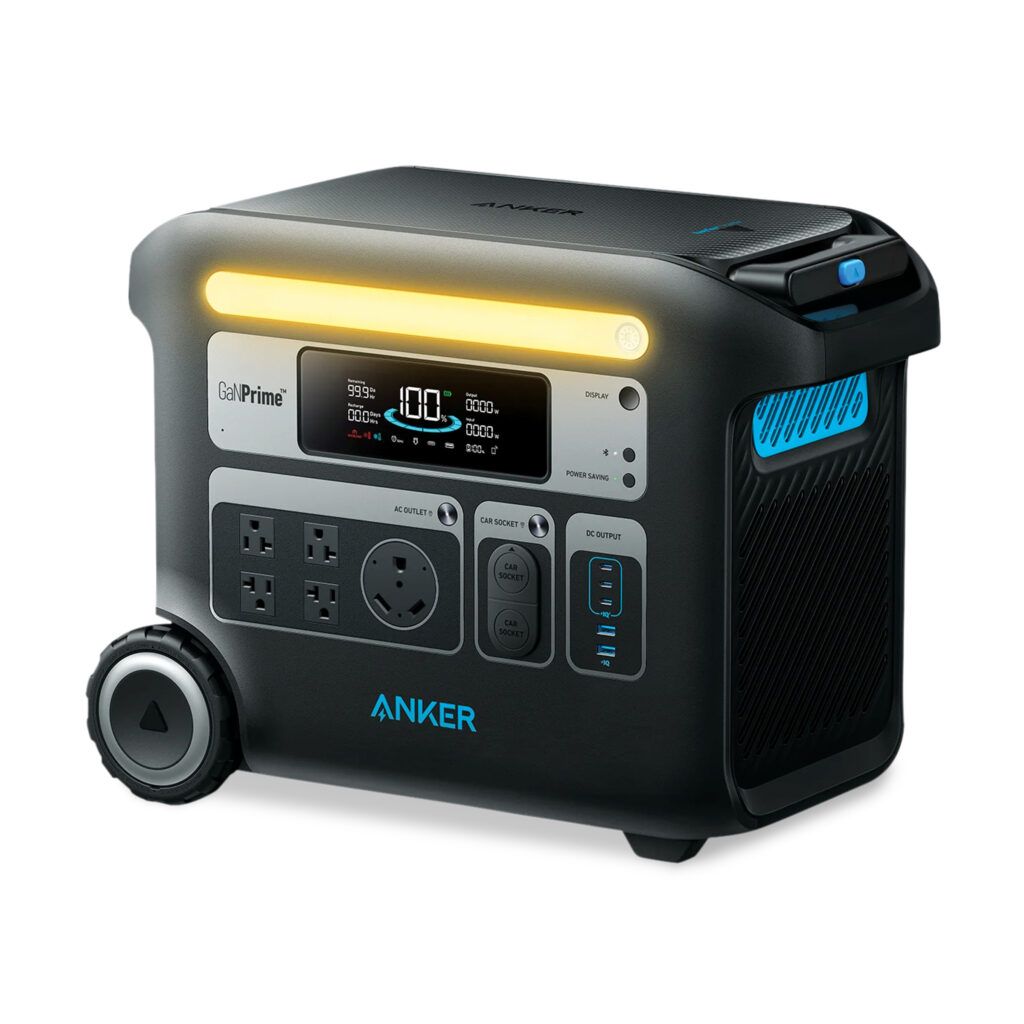 EcoFlow Delta Pro
Cost: $3,699
Alone, the lithium- iron-phosphate battery provides 3,600 watt- hours; add two external batteries to handle a whole kitchen, or daisy chain a second power station for up to 25,000 watt-hours—ideal with a wired transfer switch to dedicated circuits.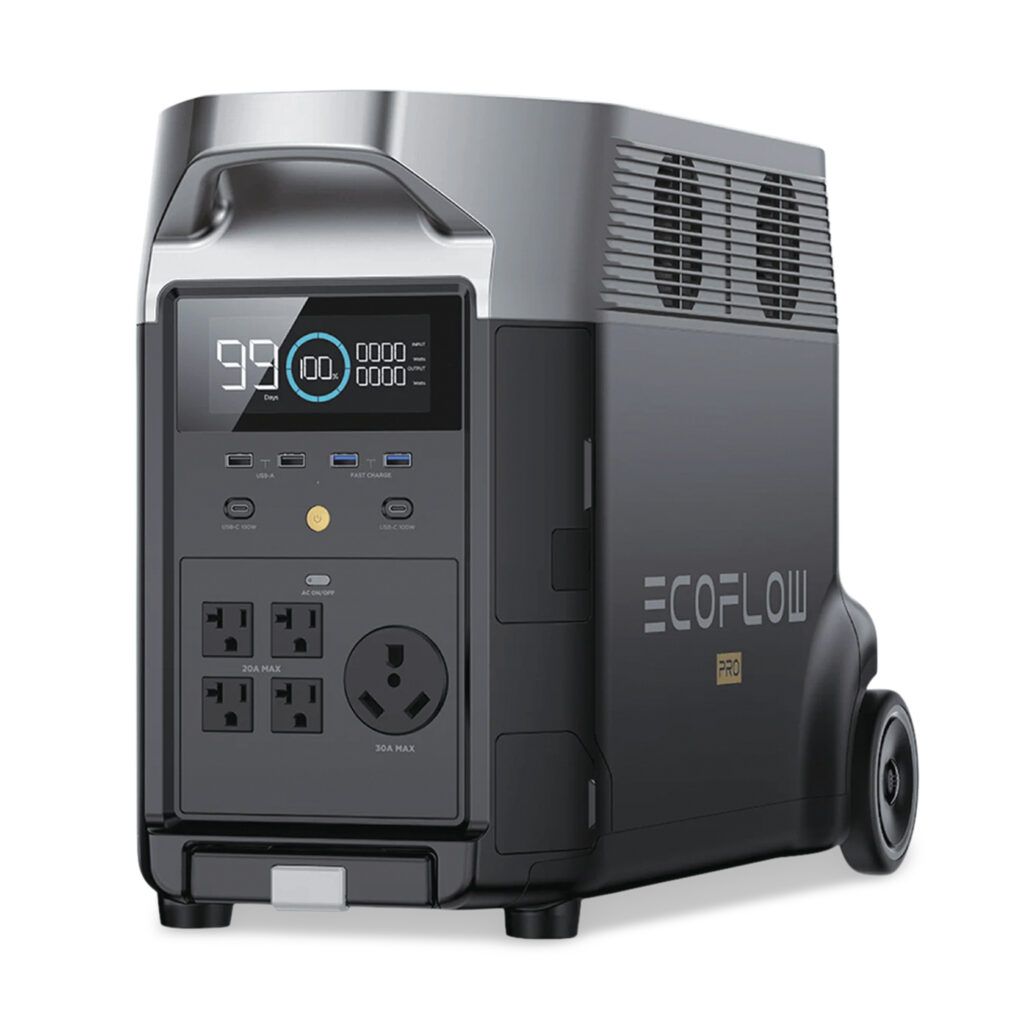 Zendure SuperBase V6400
Cost: $6,999
This semisolid-state battery offers more energy density—at a price. Its 6,438 watt-hours can run a larger
appliance like an AC unit. It accepts up to four more batteries; two stations together can power an entire home with up to 64,000 watt-hours.