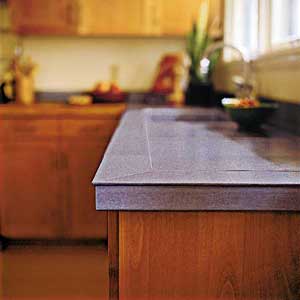 There are more options than ever in kitchen surfaces, each with pros and cons. The biggest trend right now is stone, stone, and more stone. There are almost limitless choices in stone, all of them extremely durable. They'll take a lot of abuse, but the cons are that they're expensive, cold, and tough on glassware — if you drop a glass on a stone counter, your counter will be fine but the glass will break. Here's a rundown on a few options:

ENGINEERED STONE combines the durability of granite with the colorful palette of solid surfacing. This is a good choice for homeowners who want the natural look of stone without its maintenance; it provides lots of color options and a wide cost range. Its distinct look might not be for everyone, but it's structurally and aesthetically predictable, stain- and scratch-resistant, unfazed by heat, and unaffected by everyday acids like coffee, citrus, and vinegar.

Cost: Can range anywhere from $60 to $120 square foot installed.

NATURAL STONE, including top-of-the-line granite as well as marble, limestone, and slate, makes a wonderful style statement. It's available in a broad range of colors, grains, finishes, and textures, which means it can work with any design scheme. Granite is heat- and stain-resistant; marble and limestone are likely to show stains and scratches. Marble is usually a better choice in an area where it will get less wear and tear. Joints will show on all natural stone counters.

Cost: Prices vary regionally, but expect to pay at least $60 to $120 per square foot depending on the type of stone, the detailing, and the complexity of the installation.

CONCRETE is a trend in kitchen surfaces; you can dye it whatever color you want or have it embedded with stones, jewels, and fossils, but be prepared, it stains and cracks.

Cost: Prices vary significantly, depending on grade and quality, complexity of the installation, detail, and finish. Expect to pay anywhere from $60 to $350 per square foot.