Engineered Quartz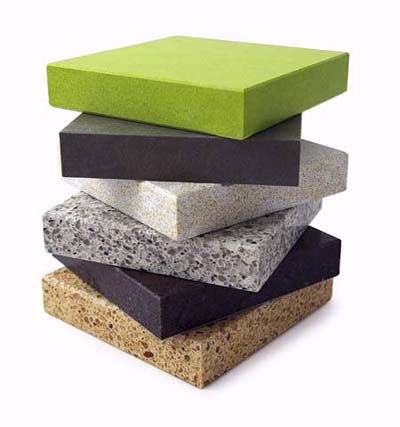 Created by combining 95-percent natural stone with 5-percent polymer resins, manmade quartz is a super-hard, low maintenance surface with the look and feel of natural stone. It is available in a variety of color options, is non-porous and doesn't need to be resealed. Excessive heat can damage the surface and installation can be labor intensive.
CeasarStone's version of manmade quartz is available in a varety of unique colors, ranging from apple martini (shown top) to coffee bean (shown second from bottom).
Engineered Quartz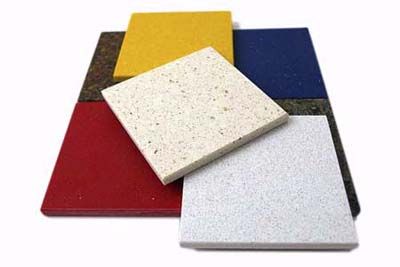 The latest quartz surface from Silestone cleans up nice, featuring built-in Microban antimicrobial protection that fights the growth of odor-causing bacteria, mold, and mildew. The line, Silestone Leather, offers a distinctive texture with rich colors that are well-matched with mahogany and cherry cabinets.
Engineered Quartz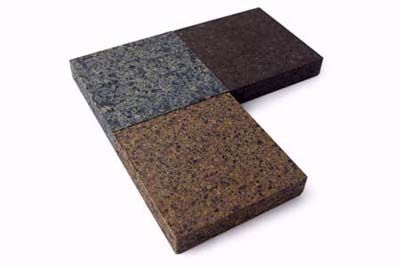 DuPont's Zodiaq countertops are almost entirely made up of pure quartz crystals, which gives it a unique, radiant look. The 2006 colors include chestnut, woodland grey, and saddle brown (shown).
Ceramic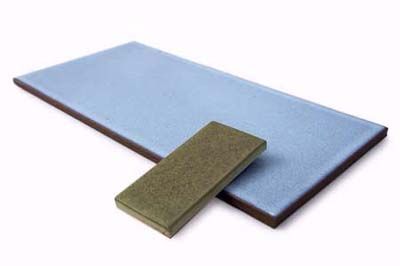 With an enormous variety of size, color, shapes, patterns, finishes and textures available, ceramic tile is an appealing surface choice. It is durable and stain resistant, easy to install and affordable. However, it can be cold and hard and the grout needs to be sealed to prevent staining.
The larger of these two tiles is a handcrafted ceramic art tile from Ann Sacks' Heath series in frost. The smaller is a rustic 2-inch by 4-inch saxony green tile from the company's Elements series. Both are "stoneware," meaning that they are ceramic tiles made of strong, opaque, non-porous clay fired at a high temperature. The color is baked onto the surface and serves doubly as a glaze to protect the tile from stains.
Concrete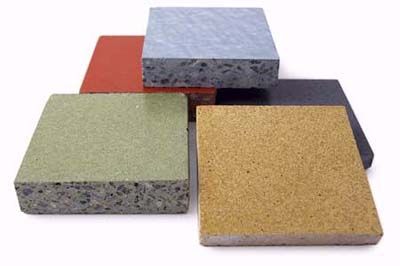 Precast in molds built to the customer's specifications or cast at the countertop site, no two concrete surfaces are the same. The unique look is created through variations of color and texture, and by adding embedded objects, from stones and shells to leaves and fossils. Environmentally friendly, concrete is non-synthetic and naturally renewable. Cons include labor-intensive installation, the possiblility of cracking, and the need for regular maintenance.
Concreteworks unique surfaces are sealed and waxed for protection against moisture and staining. The concrete is custom reinforced with fiberglass creating durable yet lightweight slabs. Twelve standard colors and three finish options are available.
Concrete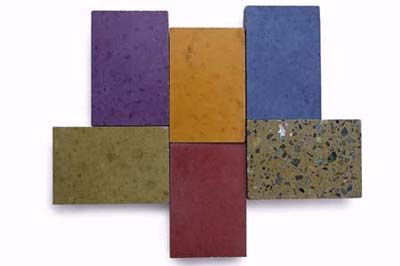 Geocrete from Cheng Design is shaped by skilled artisans to create a unique concrete surface. Available in eight earthy colors, it can be embedded with objects, which can include fossils, bits of interesting stone, and other found objects hand-selected by designer and owner Fu-Tung Cheng.
Concrete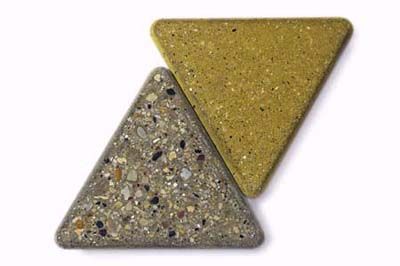 Vivendi's custom concrete surfaces, which are installed on location, are available in 17 colors, including gold coast and capri, shown here, and three finishes—earth, sand, and stone—that vary in polish and visible aggregate. Custom colors and special embedded items are available upon request. The counters should be sealed every six months, and will patina over time.
Porcelain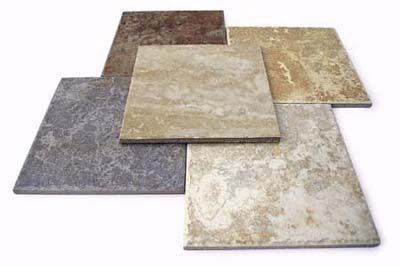 Porcelain tile offers versatility through a large variety of color, size, shape and texture options. It is high-fired making it non-porous, extremely durable, and frost resistant. It can be hard and cold to the touch. Unglazed porcelain should be sealed or finished with surface protection to avoid stains.
Bigger is better when it comes to tiles for countertops, reducing the amount of grout, which is liable to stain. Daltile's glazed porcelain Morlais tiles—available in citrine, anthracite, and ivoire (shown)—are available in 13-inch by 13-inch and 18-inch by 18-inch versions.
Porcelain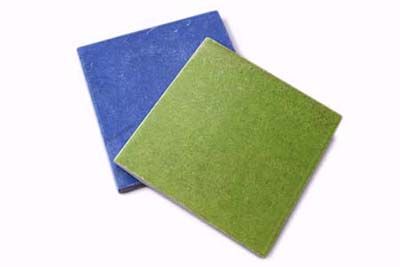 The Kromatica line from Stone Source is a porcelain tile with the look of painted concrete. Tiles are available in modular sizes ranging from 6- to 18-inches and 10 standard colors including forest and avio (shown).
Solid Surfacing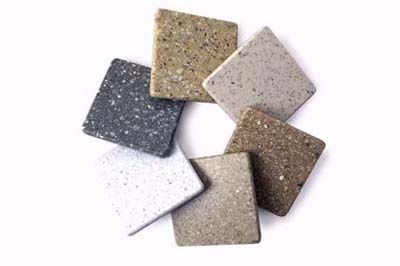 Boasting the utmost in durability, solid surfacing is solid throughout its entire thickness, made from acrylic, polyester, or a combination of the two ( both heavy-duty plastics). It is non-porous, stain resistant, and easy to clean and repair (scratches can be buffed out). With a seamless appearance, the material can be cut and formed to create shapes and curves, custom drain boards and trivets.
Oat and Granola are not only delicious for breakfast, but for the counter you're eating it on too. Those colors are among the latest in the more than 100 color palette from DuPont Corian.
Solid Surfacing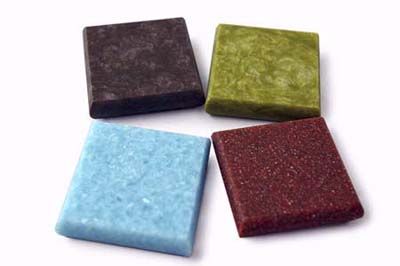 Formica's solid surfacing designer series combines acrylic and polyester for a result that is durable and versatile. The line is available in a variety of colors. Shown (left to right) are mineral mica, vintage green mica, and spa artifacts. Also featured is copper matrix from the company's Traditions line.
Laminate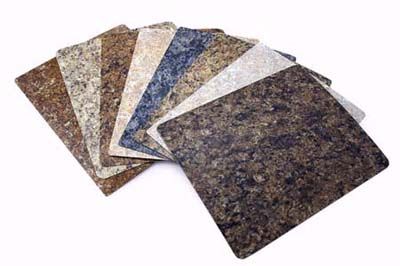 Today's laminates offer affordability, easy installation, and customization through color, style, and edge design. Formed from layers of decorative and kraft papers saturated with melamine resin and bonded together under pressure, no regular maintenance is required. Laminates are sensitive to heat and harsh cleaning chemicals, and are vulnerable to scratching.
The latest from Wilsonart provides the look of natural stone, minus the upkeep and price tag. Shown are the Milano series and the High Definition line, which use the company's floor technologies to create an extra strong counter surface.
Granite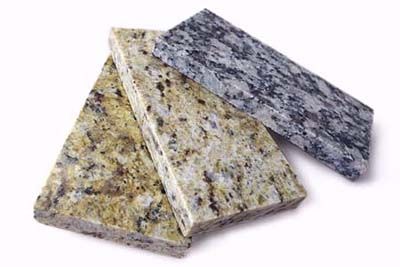 Probably the most popular countertop material, granite offers a sophisticated look for the kitchen. It is super-hard, and heat and scratch-resistant. It's porous nature requires sealing to prevent staining.
Granite Certified by DuPont undergoes rigorous quality control standards to produce high-quality product. It is available in a range of colors and patterns. For added durability, the surface is treated with DuPont Proprietary Penetrating Sealant.
Glass Tile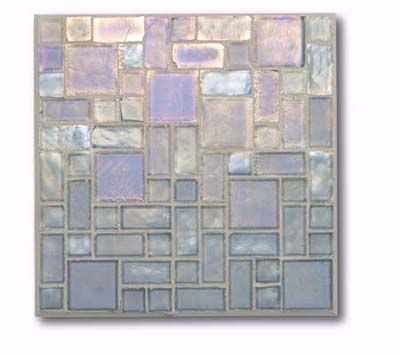 Perfect on an island or accent piece, glass tile creates visual interest through design flexibility and an almost limitless color palette. It is is non-porous and stain-resistant. Recycled glass can be used to create an eco-friendly surface. Cons include the possibility of breaks and a high price point.
Tessera hand-cut glass mosaic tiles from Oceanside Glasstile are offered in four different sizes up to 2-inches, and come sheet-mounted. The tile is environmentally friendly, made from silica sand, an abundant natural resource, and from 20- to 86-percent recycled materials. Shown is the company's random modular tile in fleet blue.