Outdoor space where you can find solace or entertain your loved ones is a luxury many homeowners forget to make the most of. If you're looking for ways to make your patio, deck, or backyard more welcoming, try these simple design upgrades.
Outdoor Room Ideas
1. Add color underfoot
There's no more natural extension of your home's living area than a porch. But all too often, furnishings are bare-bones. The trick to making this outdoor space more inviting is to layer on the same comfortable and stylish touches you'd expect indoors.
2. Cushions and quilts
Guests linger longer when seats are supportive. Mismatched pillows and blankets also help add charm.
3. Flexible seating
The more sit-down options you have, the easier it is to entertain. Look for a love seat to encourage close conversation. Vintage wicker sets pop up on Craigslist needing only a fresh coat of paint, and an upholstered footstool can double as a pint-size perch for kids.
4. Rustic wall
Create a sense of enclosure with a partition wall fashioned from a vintage screen door. Look for them at a salvage yard or antique store.
5. Pretty pendant
Set the mood and brighten the night with a no-wire candle chandelier.
6. Go for bold color: vibrant furniture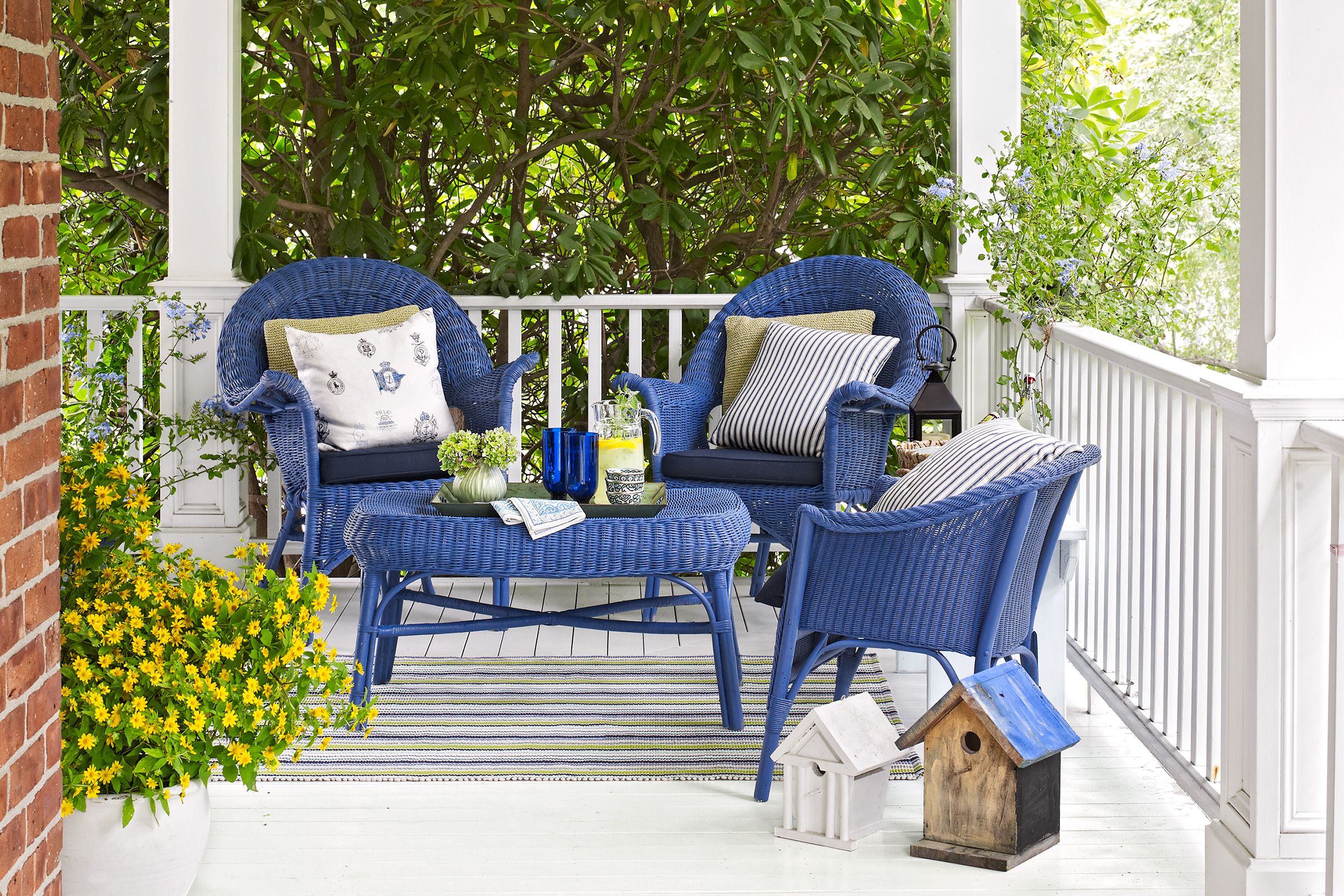 Make a seating area the main attraction. This cobalt-painted set looks fetching against white.
Vintage wicker, finished with Impervex Latex High-Gloss Enamel for wood or metal in Delphinium, about $65 per gallon; benjaminmoore.com
7. Separate zones
Area rugs, especially when positioned under hanging lights, can help define distinct spots for dining or lounging.
8. Green screen
A line of trees, tall shrubs, or bamboo plants can provide privacy. For a faster, summertime fix, train sweet peas up a trellis or another support.
9: Enliven with accessories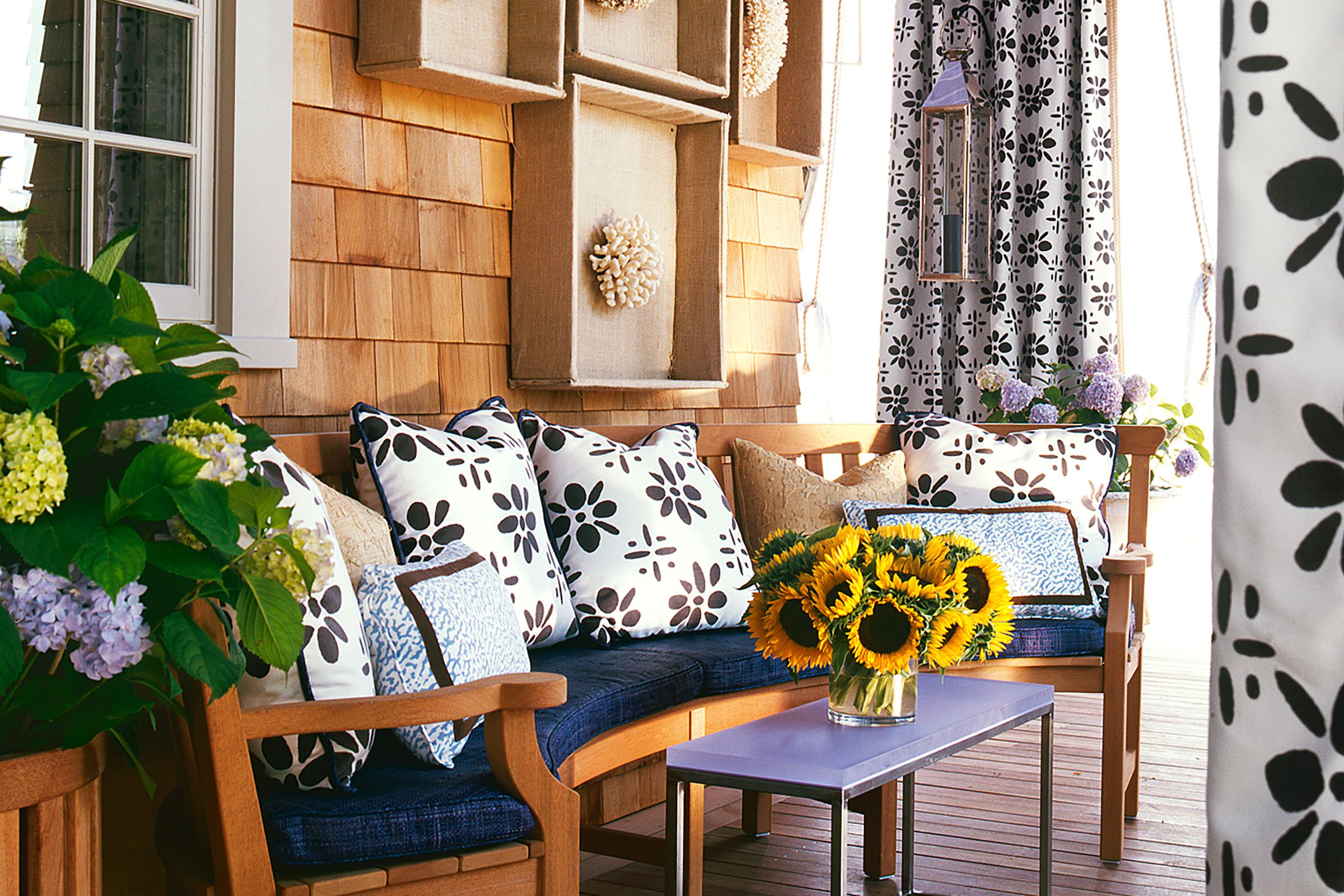 Hang quick-dry drapes to provide shade and privacy, and array coordinated throw pillows for a cohesive look.
10. Deep blue overhead
Highlight the ceiling with a more saturated and energetic shade than traditional sky blue.
11. Shadow-box art
Personalize the space with all-weather artwork.
12. Inject vintage style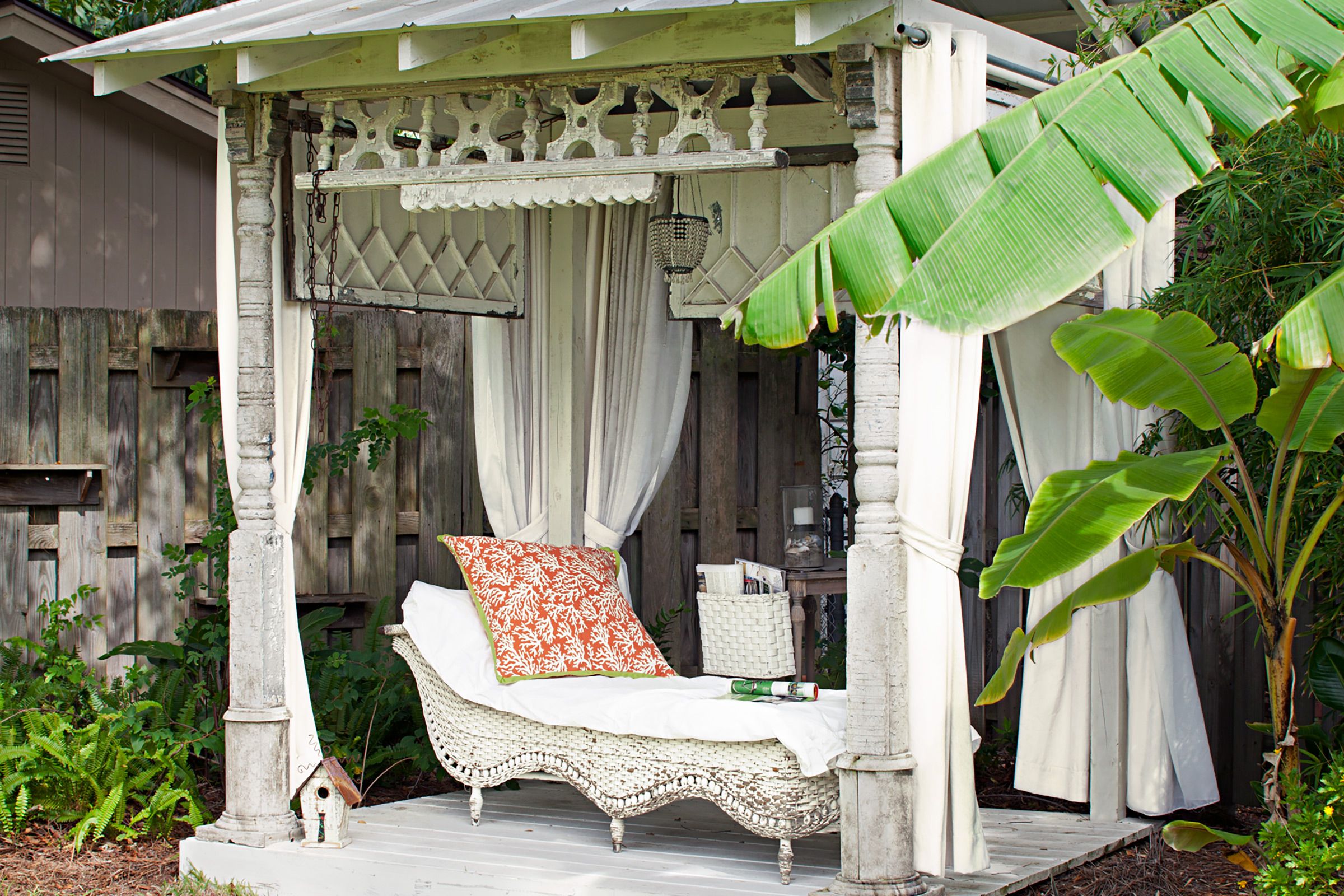 A freestanding structure, set away from the bustle of the house, can be a real draw. Build it yourself with some key parts, and make it complete with just a few furnishings.
Salvaged porch posts mark off the footprint; diamond-pane windows and a gingerbread panel create the cornice.
About $85 to $250 per item; columbusarchitecturalsalvage.com
13. Sun-reflecting roof
To keep costs down and ease installation, look for galvanized-metal panels.
14. Lavish lounger
An antique chaise or daybed evokes Victorian-era gardens—and can easily top $1,000. Opt for easy-care resin reproduction.
15. Try a lush look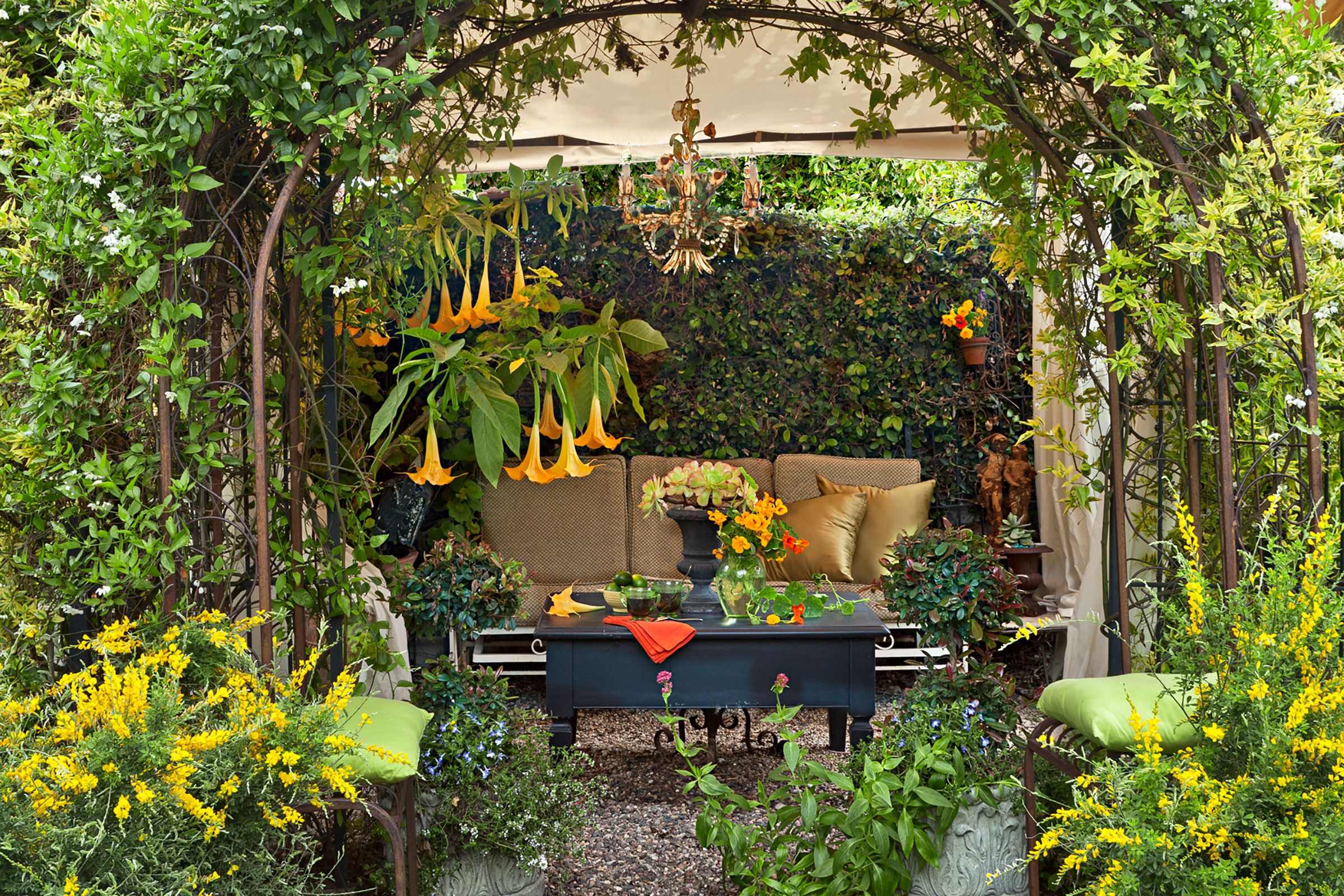 Position an arbor in front of a tent-pole canvas cabana to serve as a dramatic portico. This metal one holds variegated potato vine.
16. Potted plants
Establish entry points with portable greenery.
17. Pebble carpet
For an easy DIY floor, pour pea gravel into a frame that's made from steel or pressure-treated wood and sunk into the soil, sandbox-style.
18. Plush seating
Make sure any upholstery is weather-safe, and finish bare wood with exterior-grade acrylic-latex enamel paint or stain.
19: Create ambience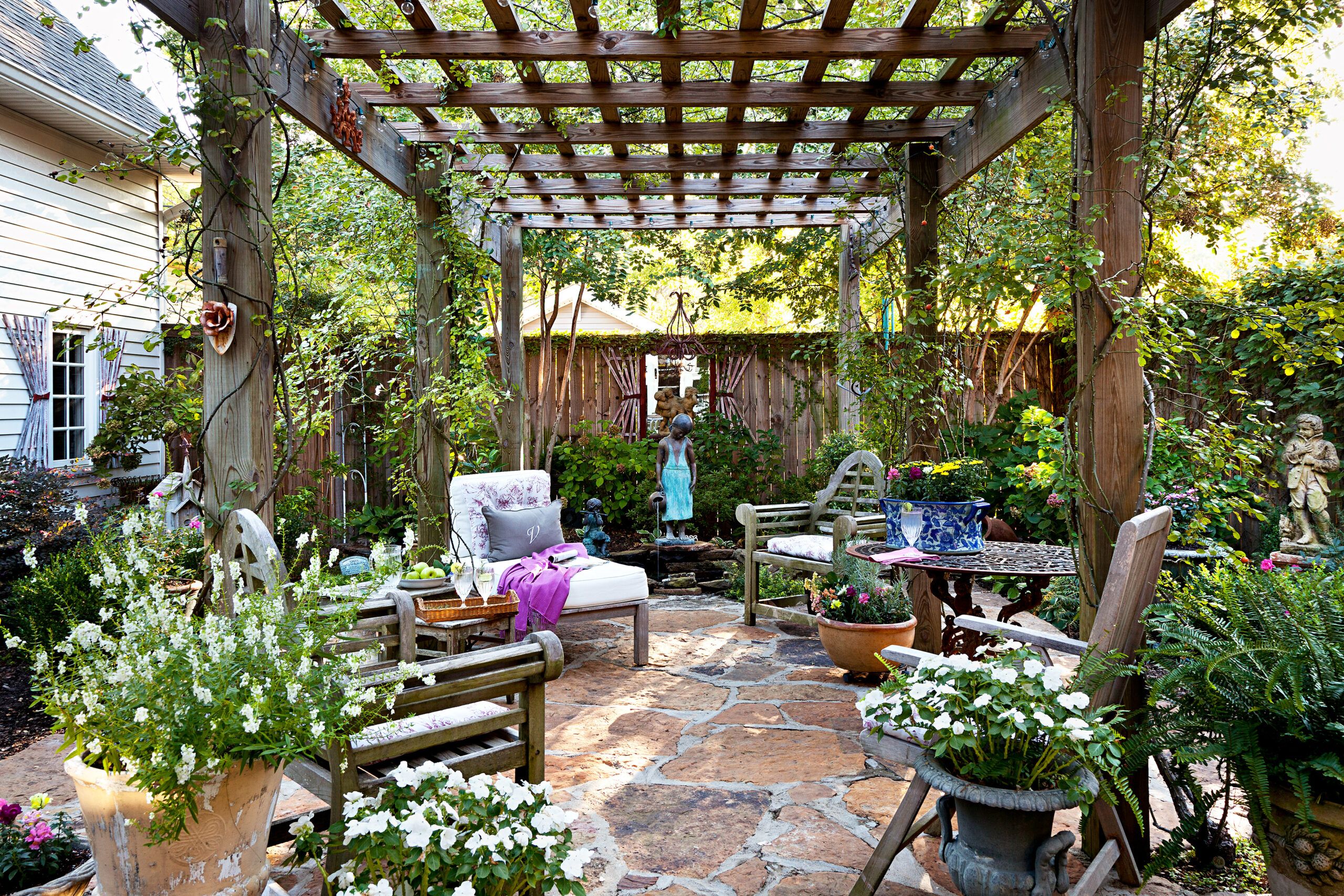 A little structure makes a patio feel like an outdoor room. Consider a paved or loose-stone floor, and use the house or a fence for a sidewall or two and a pergola or tree boughs for a "roof."
A pergola offers sun protection without blocking breezes, while its open sides frame the view and establish a sense of enclosure. This pergola was custom-made, but DIYers can build one from a kit.
20. Water feature
No babbling brook nearby? A fountain can mimic its soothing sounds. Just be sure there's a spigot for replacing evaporated water and an outlet for running the pump.
21. Looking glass
Hang a mirror on a wall or fence to create the illusion of a window to another room.
22. Prep for gatherings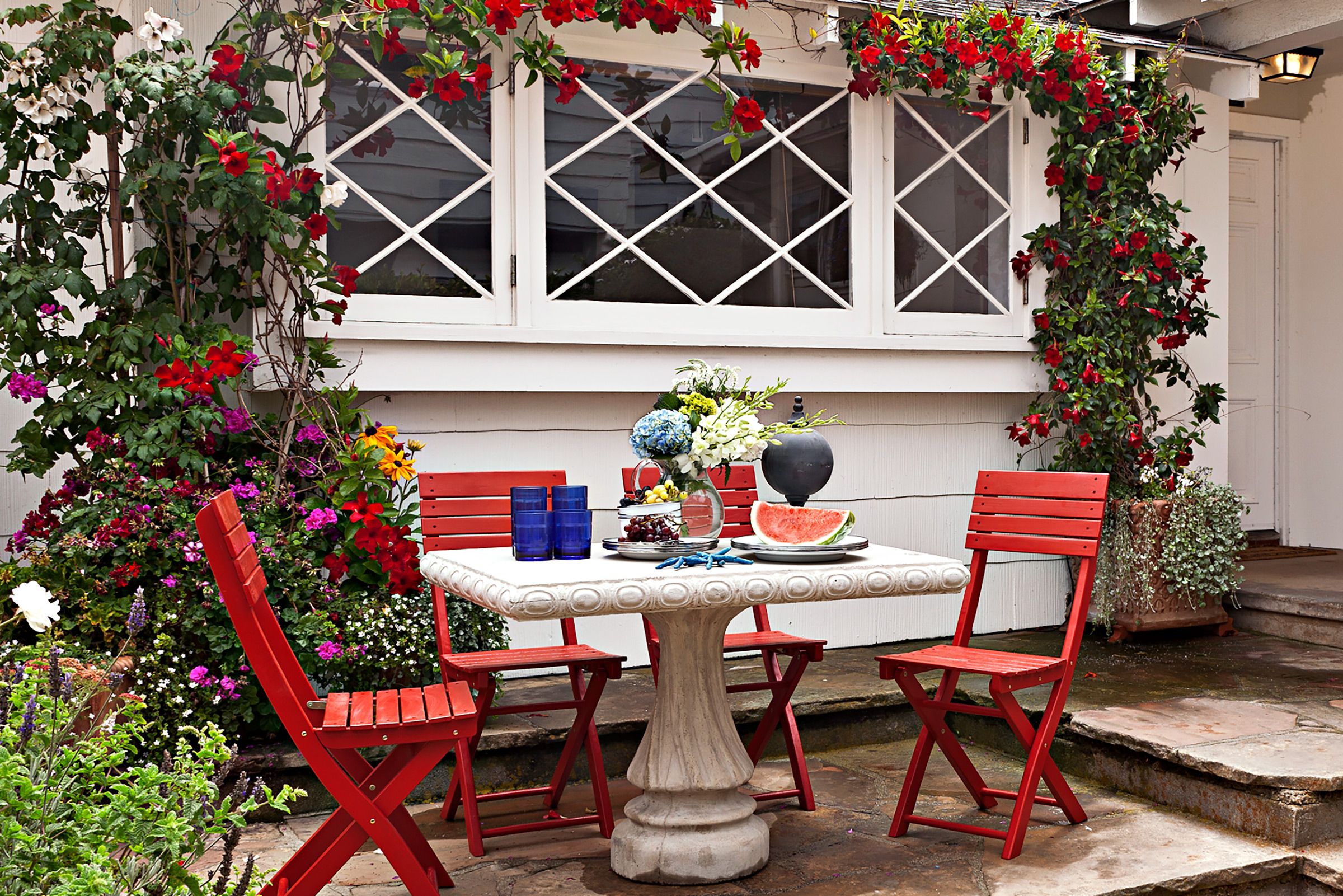 An eating area near the house reduces the number of steps to the kitchen. Add a weatherproof concrete pedestal table that doubles as a bar, and chairs that fold for easy stowing.
23. Pleasing palette
Follow the 60-30-10 rule for color selection. In this outdoor space, the house, table, and flagstone create a neutral foundation. Red elements account for 30 percent, and lively accents claim the rest.
24. Floral trellis
For an arbor-like backdrop, train a flowering vine up the wall and onto the eaves or the top of a door or window. Just add eye hooks threaded with medium-gauge wire for a support structure.
25. Build a fire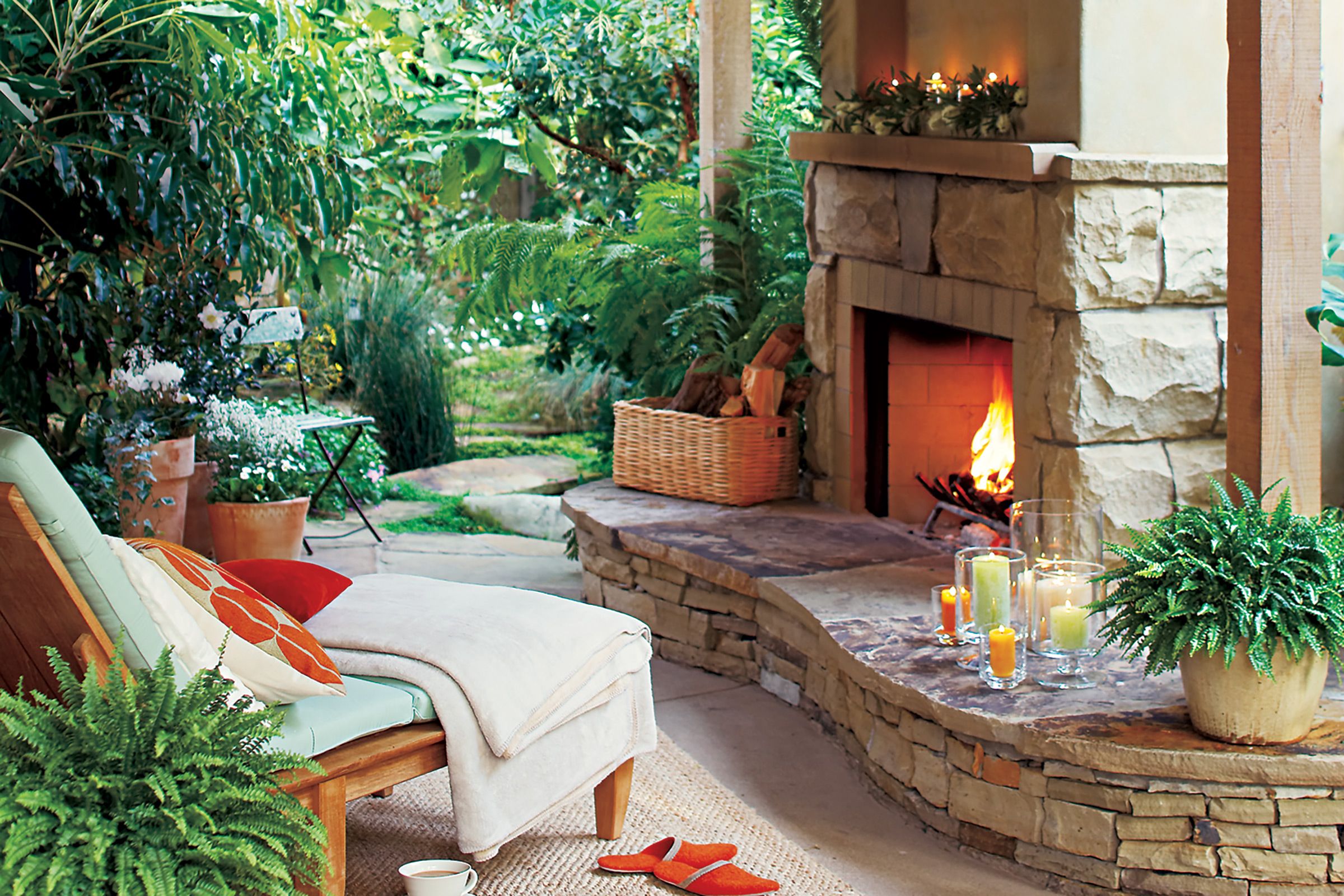 An open flame draws people near and keeps them cozy after the sun goes down. If you've got the space and budget for more than a fire pit, consider putting in a freestanding prefab fireplace and surrounding it with a hearth that doubles as a low sitting wall.
For a DIY version of this wall with foot-traffic-friendly contours, construct a winding base of cinder block, face it with ledgestone veneer, and top it with custom-cut flagstone.
26. Textured accessories
Baskets and rugs made from natural fibers, such as jute and sisal, weather well and fit in naturally with their alfresco surroundings.
27. Warm It Up: Patterned Floor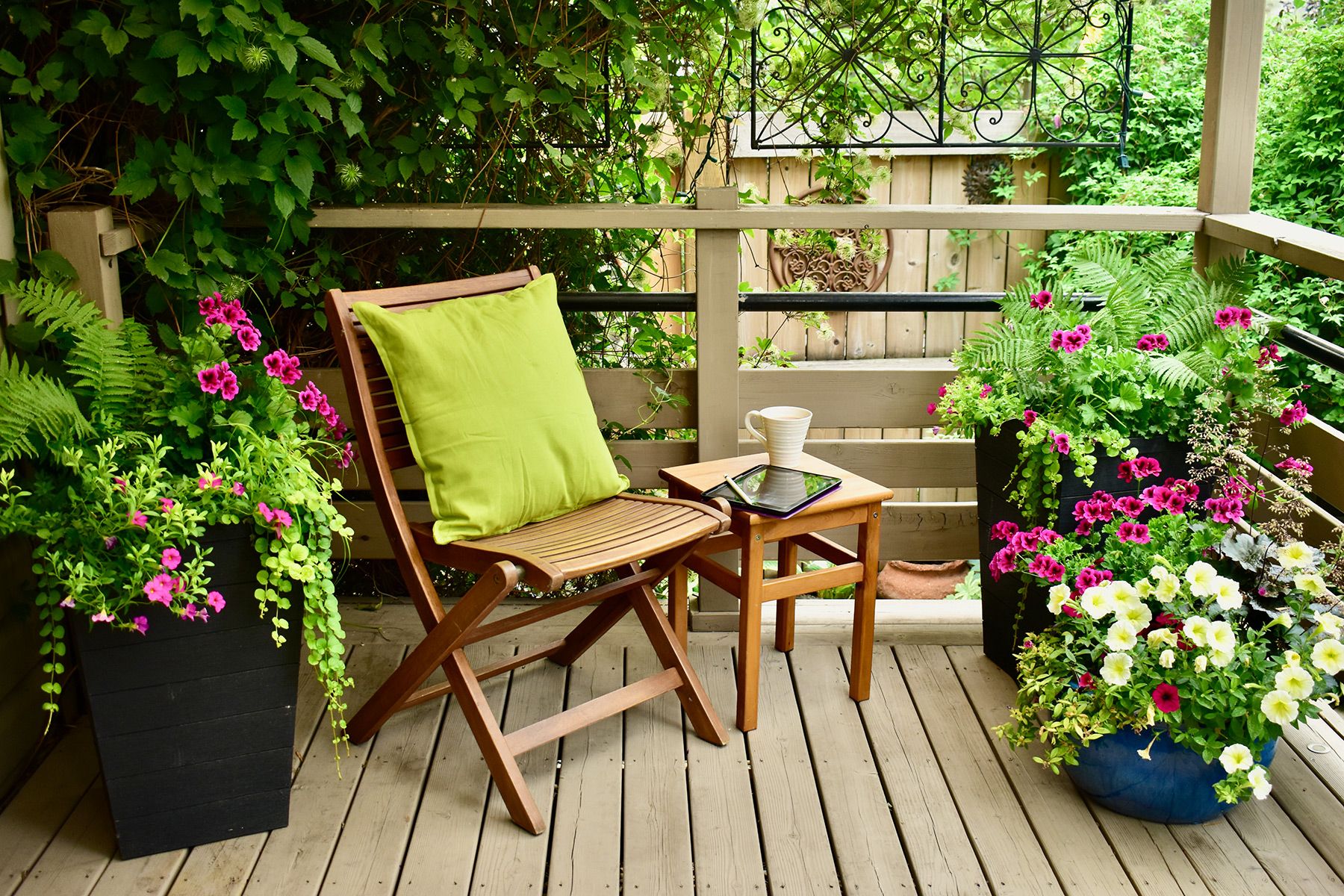 Finish a simple wood platform, whether attached to the house or out in the yard, with plants and materials that fit in with the surroundings.
Use deck stain to make a checkerboard in weathered grays.
28. Leafy levels
Plants and small trees in wheeled pots lend structure to an open space and can slide inside in winter.
29. Metal trellis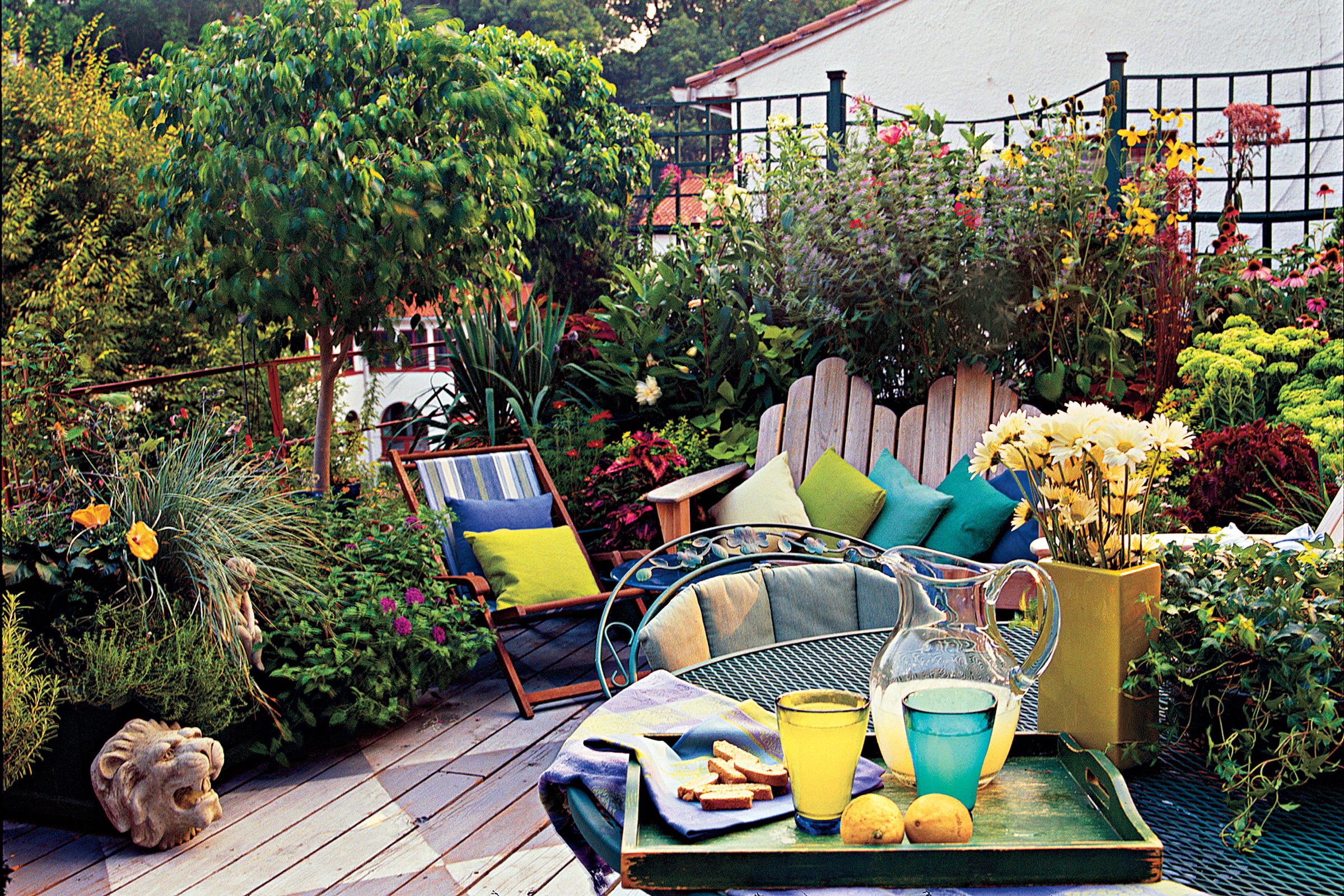 Iron panels invite vines like clematis to create a privacy screen.
30. Assemble an intimate getaway
A deck that doesn't require railings can be bordered with fencing and planter boxes for a tucked-away feeling.
31. Bistro set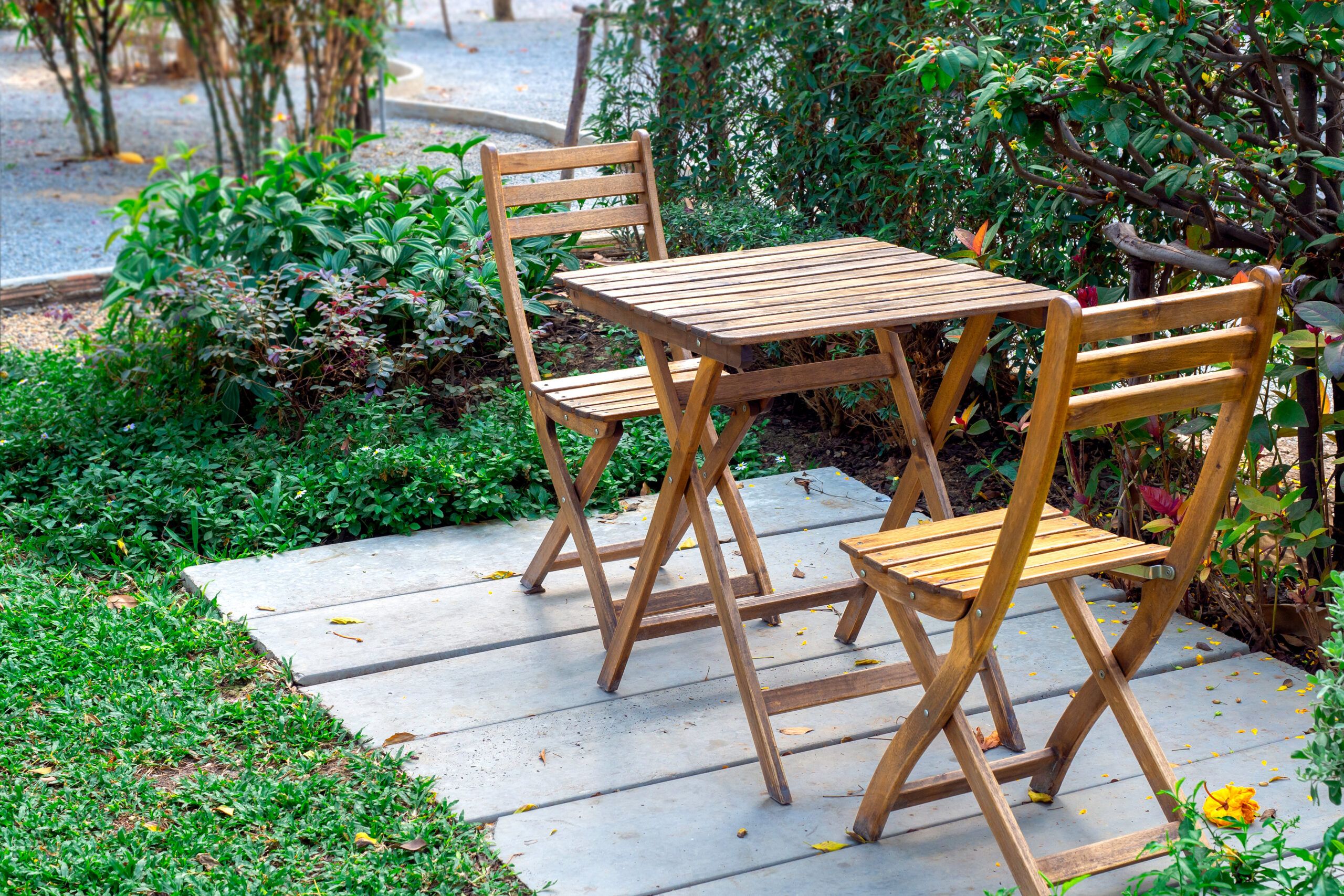 Sit down for a glass of wine or dinner for two at a folding table that's portable and fits on a platform. Unpainted wood sets like this one may require annual sealing with a penetrating oil, such as teak or tung oil, to maintain their luster.
32. Green roof
Arrange seating or dining areas under a backyard tree. The dappled shade created by leafy boughs overhead is atmospheric—and it's free.
33. Set up a snug nap spot: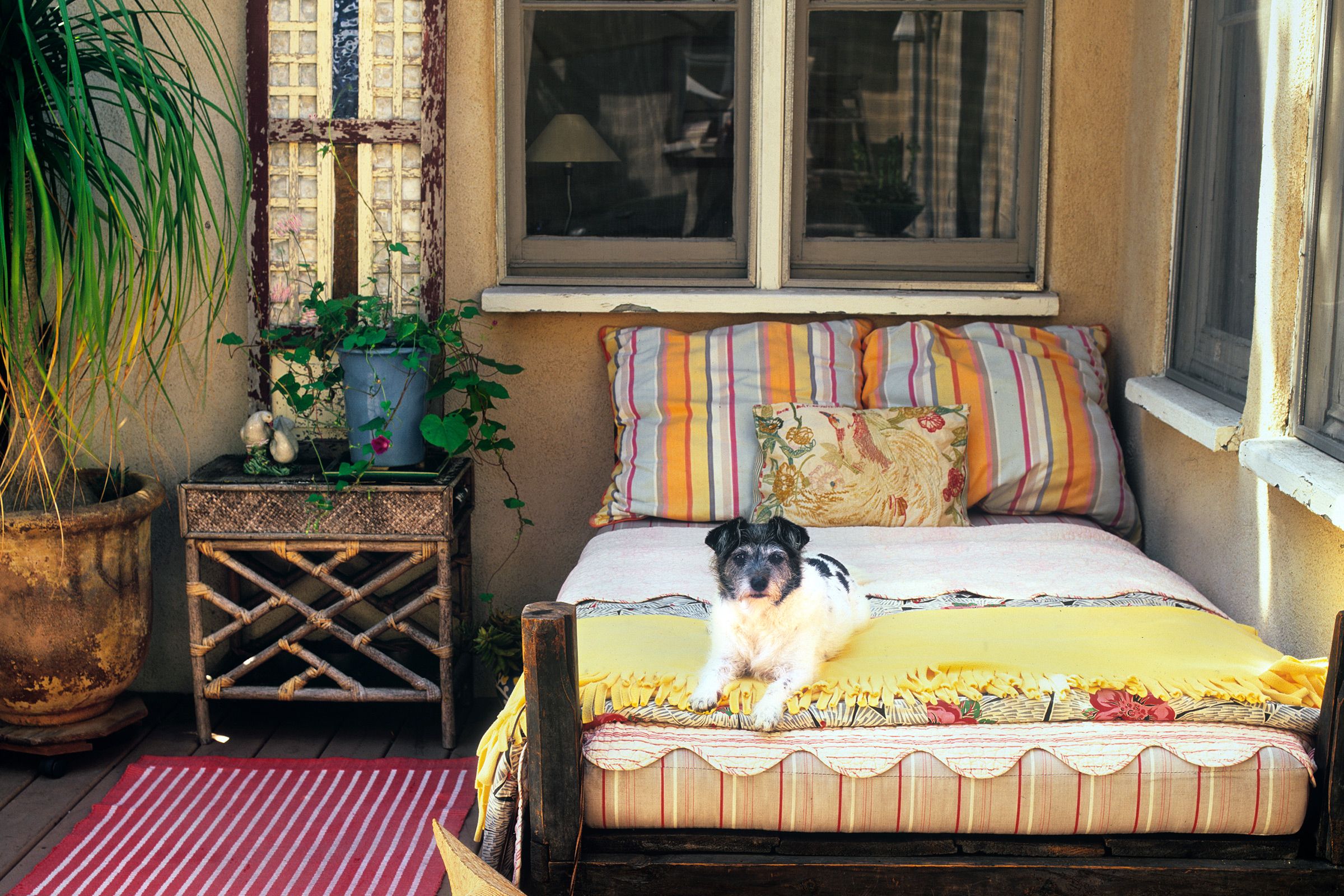 Who says you can stretch out only on a chaise? This antique Spanish-cedar bed frame can weather the elements just fine, but even one made of inexpensive unfinished pine can be protected—and warmed up—with the right finish.
Then, for a mildew-proof mattress, zip a custom-cut foam slab into a waterproof vinyl cover and add a fitted-sheet–style topper stitched from quick-dry weather-resistant fabric. Finish with outdoor cushions, as well as indoor linens—if you're willing to bring them inside in damp weather.
34. Striped foot warmer
An outdoor rug brightens deck boards and cushions bare feet.
35. A canopy caps it off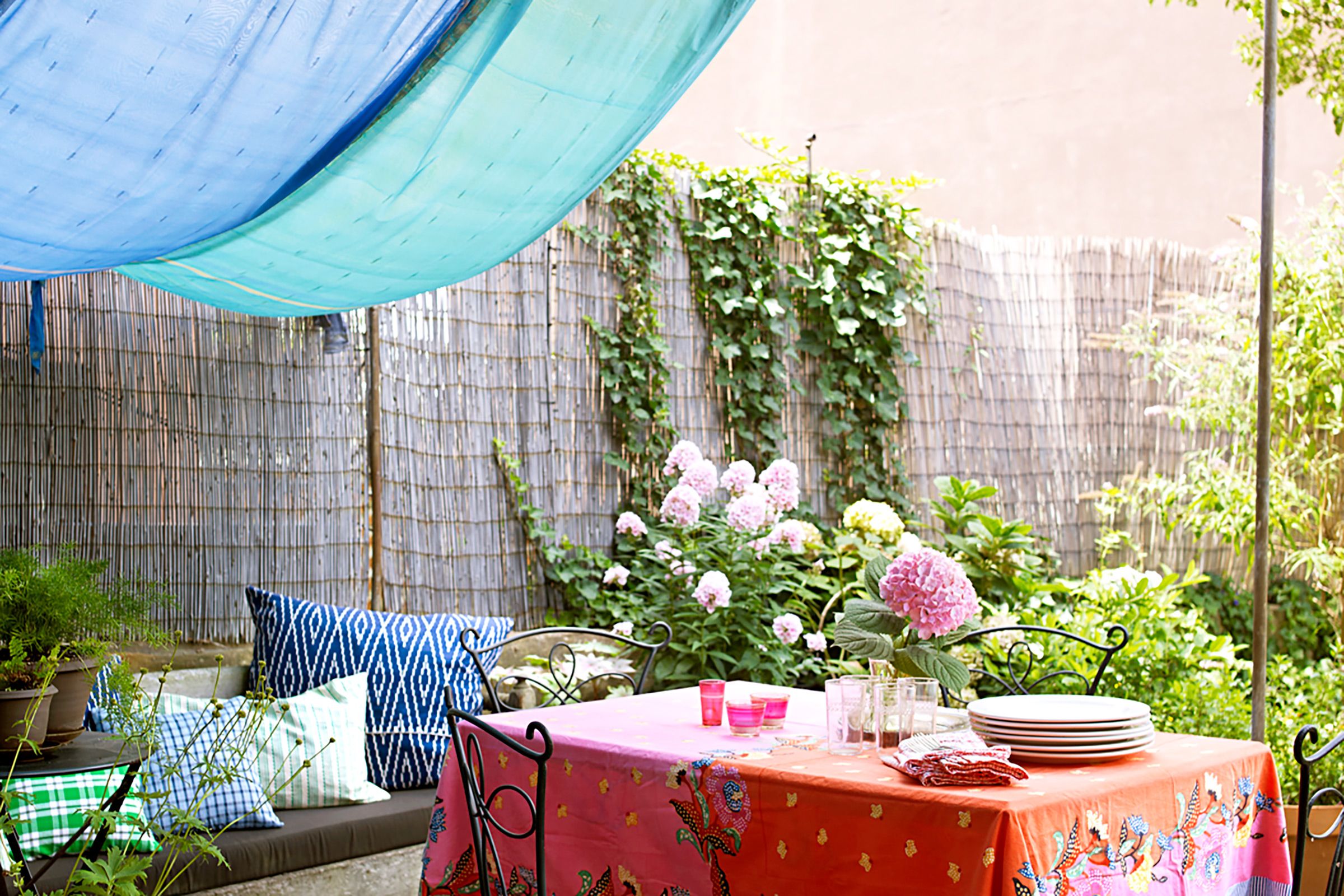 One of the simplest ways to enclose a space is with fabric. These three styles offer shade while adding a little drama.
Long lengths of silk can hang over a clothesline strung between the house and a pole anchored in the backyard. Secure the sides to a fence or a roof overhang with sturdy spring clips.
36. Repurposed tarp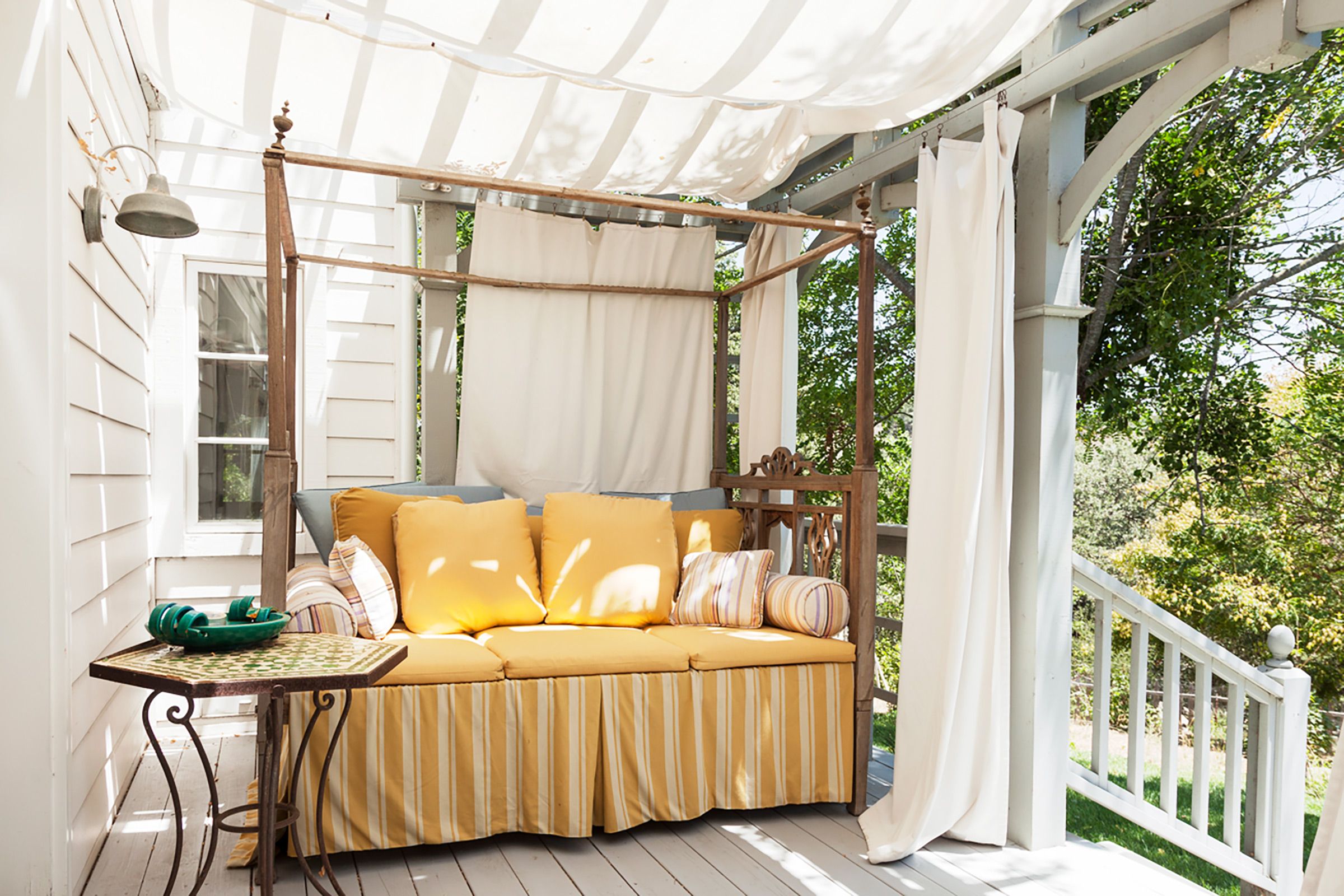 Cotton canvas treated to resist moisture can serve as a temporary awning when suspended from a pergola with ties or metal clips.
37. Romantic netting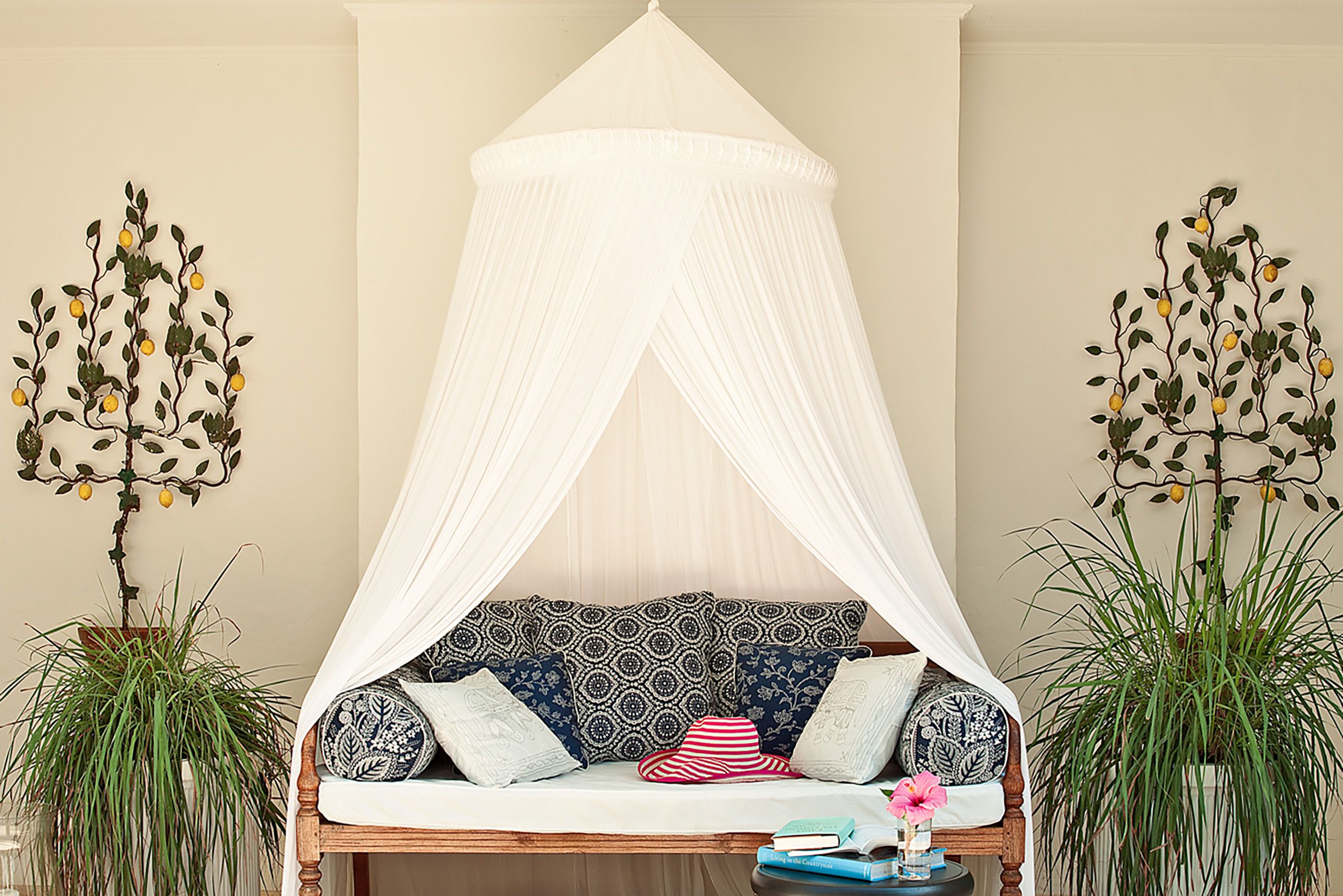 A veil of fine netting that comes with its own "hat" to hang from turns a well-cushioned bench into a private getaway.