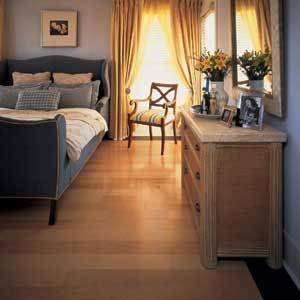 The wood look is definitely in. Just consider all those other flooring materials trying to imitate it. While many do a good job, the real McCoy has a distinctive tone, grain and texture that can't be duplicated by other materials. But even real wood flooring now comes in veneer as well as solid forms. The wide range of products and much improved finishes mean wood floors can go just about anywhere in your house, including over a concrete slab. We'll show you what's available, tell you which products can go where and answer the most common questions about buying and installing a wood floor.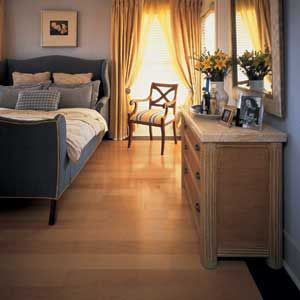 Solid Wood
Solid, 3/4-inch-thick wood flooring has been used in homes for generations. Because these floors can be refinished, they often last 100 years or longer. Red and white oak are the most common species, with prices for red-oak flooring beginning at $2.25 per square foot; white oak runs slightly more.
Popular alternatives to oak include maple ($3.80 per square foot), cherry ($4.40) and ash ($4). Search a bit more and you'll even find species like mahogany, mesquite and teak. Even within a wood species there are different grades to consider. Select and clear grades are made from premium, knot-free boards. Common and #2 grades are less expensive. This flooring will show more variation in grain and color, and occasional tight knots. Another way to save money is to specify "shorts." The frequent end joints that result from these shorter strips create a busier-looking floor, however.
There are three finishing options. You can stain flooring to darker hues; use a bleaching stain or light-toned filler treatment; or leave the floor its natural color. All are followed by a protective finish.
Several major manufacturers, such as Bruce and Hartco, offer wood flooring with factory-applied finishes. Prefinishing adds around $1.25 per square foot to the cost of your flooring. It's a good option for remodeling because you eliminate the sawdust from sanding the floor and the fumes from stain and finish. And factory finishes are pristine and very durable. Solid-wood flooring does have some limitations. It expands and warps in the presence of moisture, so it's not a wise choice for areas that get damp, like basements and baths. It must be nailed in place, making it unsuitable for use over a concrete slab unless an expensive wood subfloor is installed first. And do-it-yourselfers will find this type of flooring more difficult to install than thinner engineered strip flooring.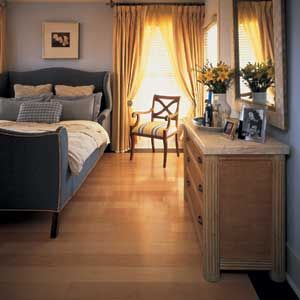 Engineered Options
Made from several layers of wood bonded together, engineered flooring comes in strips and planks; it resembles solid wood once installed. Although it's essentially a plywood, there are definite benefits to engineered wood. First, most engineered flooring comes prefinished, so the floor is ready to walk on as soon as it's installed.
Second, the multiply composition of engineered flooring makes it more dimensionally stable than solid-wood flooring. You can install it just about anywhere — even in basements and bathrooms. What's more, this type of flooring is easier to install than solid wood. And because most engineered flooring isn't as thick (3/8 to 1/2 inch) as solid wood, you're less likely to encounter level-changing problems.
The variety of engineered flooring is staggering. There are different thicknesses and widths, different wood species and different finish treatments to consider. And the edges where strips or planks join can be eased or square. As you might expect, prices vary greatly — from a low of $2.50 to well over $6 per square foot for the material. Installation costs also vary, depending on the type of floor you choose and whether or not you do the work yourself.
Some engineered flooring is glued or nailed to a subfloor, while other material is simply glued to itself along each tongue-and-groove joint and allowed to float on a foam pad over the subfloor. Floating wood floors are the easiest to install over concrete.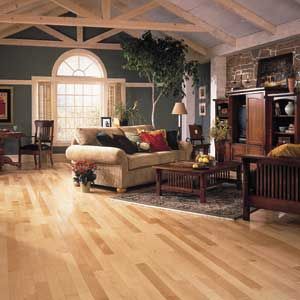 Smart Shopping
Lumberyards, home centers and flooring dealers all sell wood floors. However, dealers that sell carpeting, vinyl flooring and tile will probably offer a broader selection of wood flooring than lumberyards and home centers do. You'll also be able to get quotes on installation prices for different types of floors from dealers.
Both solid-wood and engineered flooring are discounted frequently. Unfinished solid- oak strips that normally sell for $3.75 per square foot can go for $2.50 per square foot. That's a savings of about $300 on a typical living room floor. Smart shopping can earn you similar savings on engineered flooring.
Installation costs tend to be similar from one region to the next, with square-foot prices in the $2 to $3 range common. It costs about the same to install and finish an unfinished floor as it does to lay a prefinished one (prefinished flooring must be handled more carefully).
If you want to do the job yourself, equipment-rental agencies have the tools and materials for this kind of work. A hammer-actuated nailer will run about $15 per day; add $15 or so for the nails required to do a 200-square-foot room. If you're installing unfinished flooring, sanding equipment (drum sander, edge sander and sandpaper) will come to about $75 per day.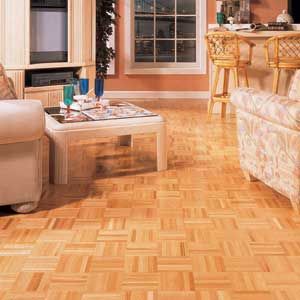 Flooring FAQ
Will new flooring create uneven floor heights between rooms?
It can. If you are replacing a vinyl floor with wood, the new floor height will be different, and you'll notice it at doorways. In the kitchen, you could also notice the new height at counters. To minimize this effect, you might want to go with thinner flooring. If you are removing wall-to-wall carpet and padding to install a wood floor, the finished height will be close to the carpet height. To compensate for height changes, doorways might require a transitional element like a wood saddle. Most flooring dealers can supply these along with your flooring.
Will I have to remove molding to install a new wood floor?
You will need to remove baseboard, although you can reuse it. As shown in the top illustration, there must be some expansion space between the edge of the floor and the wall. This space is covered by the baseboard and shoe molding. If your new floor will extend through a doorway, you won't have to remove the jamb and casing, but they have to be cut off so the flooring can slip underneath.
What's the difference between strips and planks?
Any wood flooring narrower than 3 inch qualifies as strip flooring. The most common strip flooring size is 21/4 in., but 15/8-inch-wide strips are also available. Plank flooring is any material wider than 3 in.
How do I prevent gapping?
Gaps in solid-wood floors are inevitable because wood expands and contracts with changes in humidity; narrower strip flooring simply has smaller gaps. Engineered flooring offers greater dimensional stability than solid wood, so you can expect little or no gapping with this material.
Can engineered flooring be sanded and refinished?
The top, or wear, layer on better grades of engineered flooring is at least 1/8 inch thick. This provides enough wood for at least one sanding. But because the wear layer is so thin, it's best to have a professional do it.
Is an eased or flat edge treatment best?
Manufacturers usually offer both edge treatments. Eased edges, which have a tiny bevel, or roundover, at the top, allow a wood floor to appear flat, even if adjacent strips or planks are not level with each other for some reason. A slightly uneven subfloor and moisture-related expansion or contraction of individual boards are two common causes of level discrepancies. While eased-edge flooring is the most forgiving wood flooring you can install, it does look different from flat-edged flooring. And the miniature depressions where eased edges meet are definitely dirt traps. To decide if this edge treatment is right for you, compare sample floors at a supplier and discuss your installation details with an experienced dealer.
What's the best finish?
Factory-applied finishes are superdurable and should provide years of wear.
Polyurethane is the most popular finish for flooring installed unfinished. It's available in water- and oil-based formulations. Water-based products dry quickly — you can apply a second coat in just three hours. But because of the fast drying time, it's difficult to go back and correct mistakes without leaving lap marks. Oil-based polyurethane takes up to 24 hours to dry, and it gives off fumes that many people find offensive. But it can be worked when wet, which means you can go back and correct mistakes.
Polyurethane provides excellent durability, and it's not difficult to apply. While gloss poly offers slightly more wear resistance than satin versions, it also shows scratches more distinctly. You can apply polyurethane over a stain treatment, but make sure than the stain and clear finish are compatible.
Is it easy to dress up a wood floor?
There are many decorative possibilities (photo). For more geometric punch, install strip or plank flooring in a herringbone pattern, or change direction. In larger spaces, such as a living or dining room, contrasting borders are popular. This highlight can take the form of wood strips stained to a different tone, but more elaborate treatments are also possible. Some manufacturers even allow you to combine engineered wood flooring with compatible simulated-stone or tile flooring. Inlays and medallions are other decorative details that definitely pump up the personality of a floor.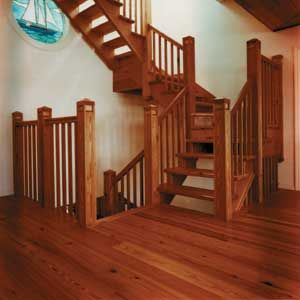 Where to find it:
Manufacturers:
Anderson Hardwood Floors
384 Torrington Rd.
Clinton, SC 29325
800/252-4186.
Bruce Hardwood Floors
Box 308
Mount Olive, NJ
800/722-4647
Firebird Industries
Box 10457
Jefferson, LA 70181-0457
800-634-3829
Harris-Tarkett
Johnson City, TN 37605-0300
800/842-7816
Hartco Flooring Co.
900 Gay St.
Knoxville, TN 37841
423/544-0767
Mannington Wood Floors
1327 Lincoln Dr.
Highpoint, NC 27260
800/252-4202
International Hardwood Floors
7400 Edmund St.
Philadelphia, PA 19136
215/624-4566
Piedmont Hardwood Flooring
Box 3070
Macon, GA 31205
912/781-0155
Specialty Floors:
Br-111 Imports & Exports
9435-K Washington Blvd.
Laurel, MD 20723
800/525-2711
Goodwin Heart Pine
106 SW. 109th Pl.
Micanopy, FL 32667
800/336-3118
Historic Floors of Oshkosh
911 E. Main St.
Winneconne, WI 54986
920/582-9977
Trade Associations:
Maple Flooring Manufacturing Association
60 Revere Dr., Suite 500
Northbrook, IL 60062
312/480-9138
National Oak Flooring Manufacturers Association
Box 3009
Memphis, TN 38173-0009
901/526-5016
National Wood Flooring Association
1688 Westwoods Business Park
Ellisville, MO 63021-4522
800/422-4556