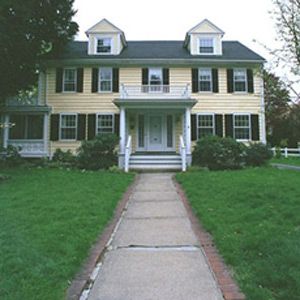 After the massive undertaking that was the Manchester Project, we figured something a little more modest might be in order. We found the perfect project in Winchester, Massachusetts—we swear all the -chesters are purely coincidental, by the way. As described in the project overview, this 1922 Colonial Revival is a quintessential American suburban home. With yellow clapboards, black shutters,formal living room, and a detached garage, it sits on about a third of an acre, which is flat as a pancake. Most significantly, what's hurting is its skin rather than its bones.
After the makeover started, homeowners Kim Whittemore and Bruce Leasure—like homeowners everywhere—discovered that the process was hardly simple. Before the paint and paper stage came some basic and profound decisions about whether to "just live with it" or to invest in changes that would make their house the home they wanted it to be. Since we at the show are firm believers in getting the fundamentals done first and correctly, we encouraged Kim and Bruce to think hard about the less-glamorous aspects of the job before getting too carried away looking at the lighting fixture catalog—and they have.
Thus, under the direction of landscape contractor Roger Cook, a wall of troublesome trees was removed. A sub-par sun porch has fallen to Tommy's reciprocating saw. Richard Trethewey has consigned the inefficient boiler to the junk heap. And the sins of past plumbers—floor joists notched out or cut through completely—have been painstakingly revealed and repaired. Chimney specialist Mark Schaub inspected and repaired the main flue, and painting contractor Jim Clark stripped the entire exterior down to bare wood, so that the next paint job will last more than just a few years.
Not all the work was the expensive-but-nigh-invisible kind, however. Guided by Winchester architect David Stirling's excellent design, we reconfigured the master suite and expanded the cramped kitchen into a larger space that will one day house not only a new kitchen layout, but a breakfast room instead. And, now the nice light fixture that Kim and Bruce selected from the catalog hangs over the breakfast table.