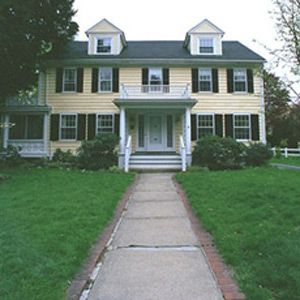 Bruce and I always day-dreamed about having This Old House renovate our home. We imagined the perfect house and what it would be like to work with the best talent and resources from the show—the "Dream Team" of renovating, as it were. The more we moved around the country for our respective careers, fixing up or building homes along the way, the more insistent and compelling this fantasy became.
When Bruce's job brought us to the Boston area, we discovered nearby Winchester on a tip from friends. Neither of us had ever heard of the town, despite our numerous visits to
the area. Easily accessible from the city but still a bucolic, wooded place, it immediately drew us in. And when we spotted our would-be house and neighborhood—well, we were sold. The house just made us feel happy when we walked in, and we both thought it had good bones. The fact that it had been virtually untouched over the past 30 years was a real plus to us, because
we could make choices and decisions without having to undo a lot of previous work. Earning the support of the crew from TOH meant all of our dreams were really coming true.
But the one aspect of our experience we could never have imagined was the warm reception we got when we moved into this town—outsiders with no local ties—and brought This
Old House with us. We didn't anticipate the sense of homecoming that our association with the show would bring into our lives.
Complete strangers have written us letters welcoming us to the neighborhood, wishing us luck, inquiring about our Alabama license plates, and offering warm invitations to their homes. People familiar with the town's history and architecture have sent us books, articles, and e-mails to help us in researching the house's roots. Local residents have stopped by with bulging files detailing their own home's history. Everywhere we go people take a
moment to introduce themselves and welcome us. Even the kids stop by to wave to their friends on the Web cams now mounted in front of our house. In our short time in Winchester, we feel as if we have met as many of the locals as some of the town's lifelong residents.
It has all made me remember an invitation we once got from some friends who were throwing a party after purchasing and renovating a place in the city. The message on the card went something like this: "We now have a house, but it will take all of you to make it a home." Even though we were still in the very early stages of our own renovation project, it didn't take long for our house to feel like a home—thanks to our neighbors and This Old House.