Ryan Sweenor, 23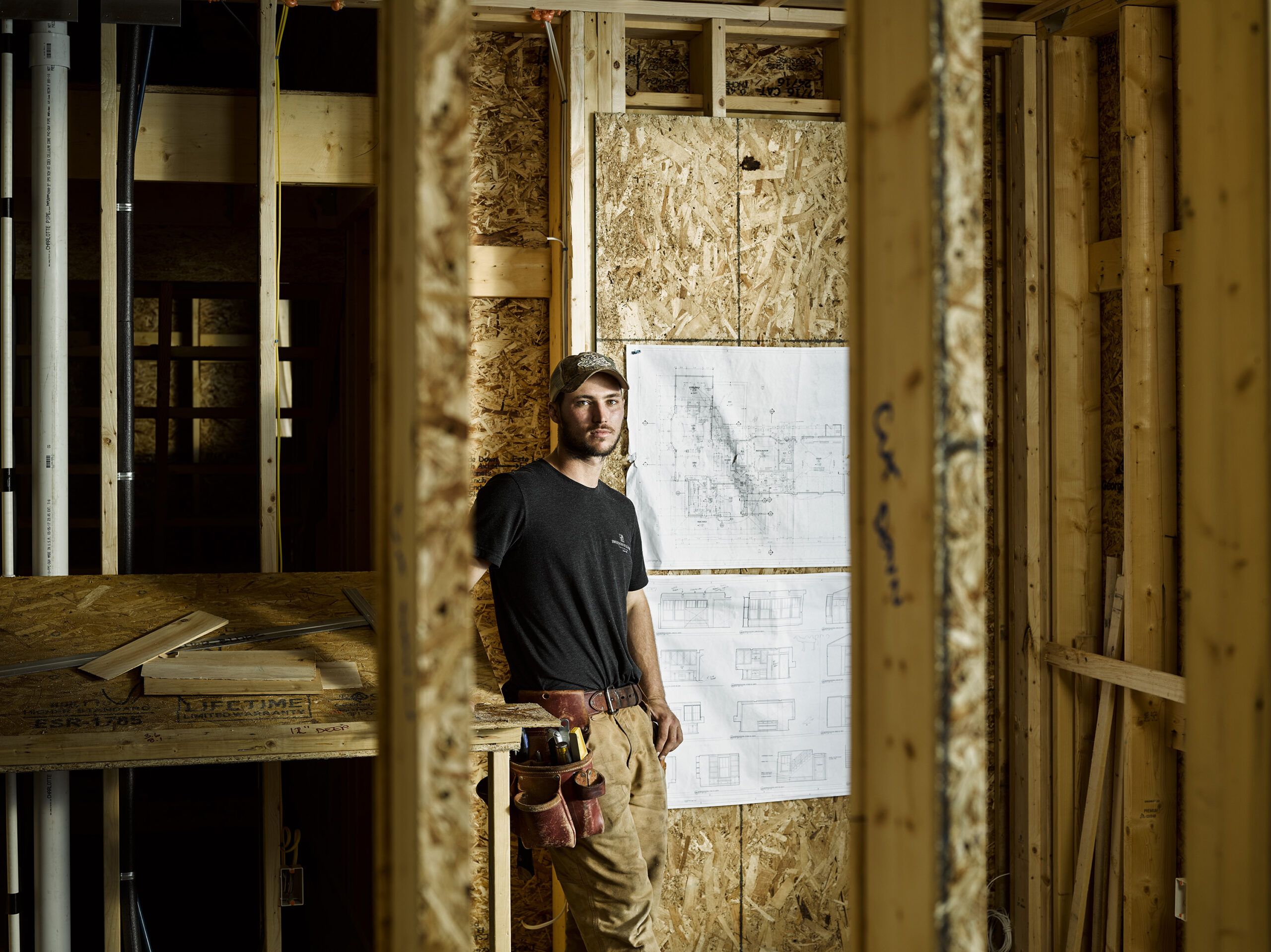 Even though he is the son of a builder, Ryan Sweenor grew up swinging a baseball bat more often than a hammer. "My big focus in high school and for the first two years of college was baseball, and I was on a path to make a career of it," Ryan says. In the summer of 2014, all that changed. "I'd had enough, and I didn't play at all that summer," he says. "I just worked full-time building a house, and I've never stopped." He left the four-year college where he was pursuing a business degree and switched to New England Institute of Technology, in East Greenwich, Rhode Island. Now he's taking classes at night toward a construction management degree, which he expects to finish by mid-2018. Mondays through Saturdays, he's on a job site, working for Sweenor Builders, a custom residential construction firm started in 1989 by his father, Jeff Sweenor. "I grew up watching my dad build houses," Ryan says, "but it wasn't until I started doing it myself that I realized how much satisfaction there is in working with my hands."
Ryan says he has learned many parts of the process from the experienced crew he works alongside, and he is gravitating toward framing and exterior trim as his specialties. The construction management degree may help him one day if he wants to leave the tool belt behind, but for now, he is focused on sharpening his skills on the job site. "My dad has worked hard to build this business, and other family members are involved too, with my mom doing bookkeeping and my sister working with the interior designer," Ryan says. Family businesses, it seems, run in the family: Sweenor's Chocolates is a well-known Rhode Island company that was founded by Ryan's grandparents. But for the younger Sweenors, it's all about houses. Sweenor Builders currently has five houses under construction, most of them within a few miles of the ocean in Narragansett, Rhode Island. For Ryan, there are no second thoughts about choosing the hammer over the bat: "At the end of the day, it is just so satisfying to look at a completed house, and say, 'We built all of that.'"
JoHanna Clendenning, 24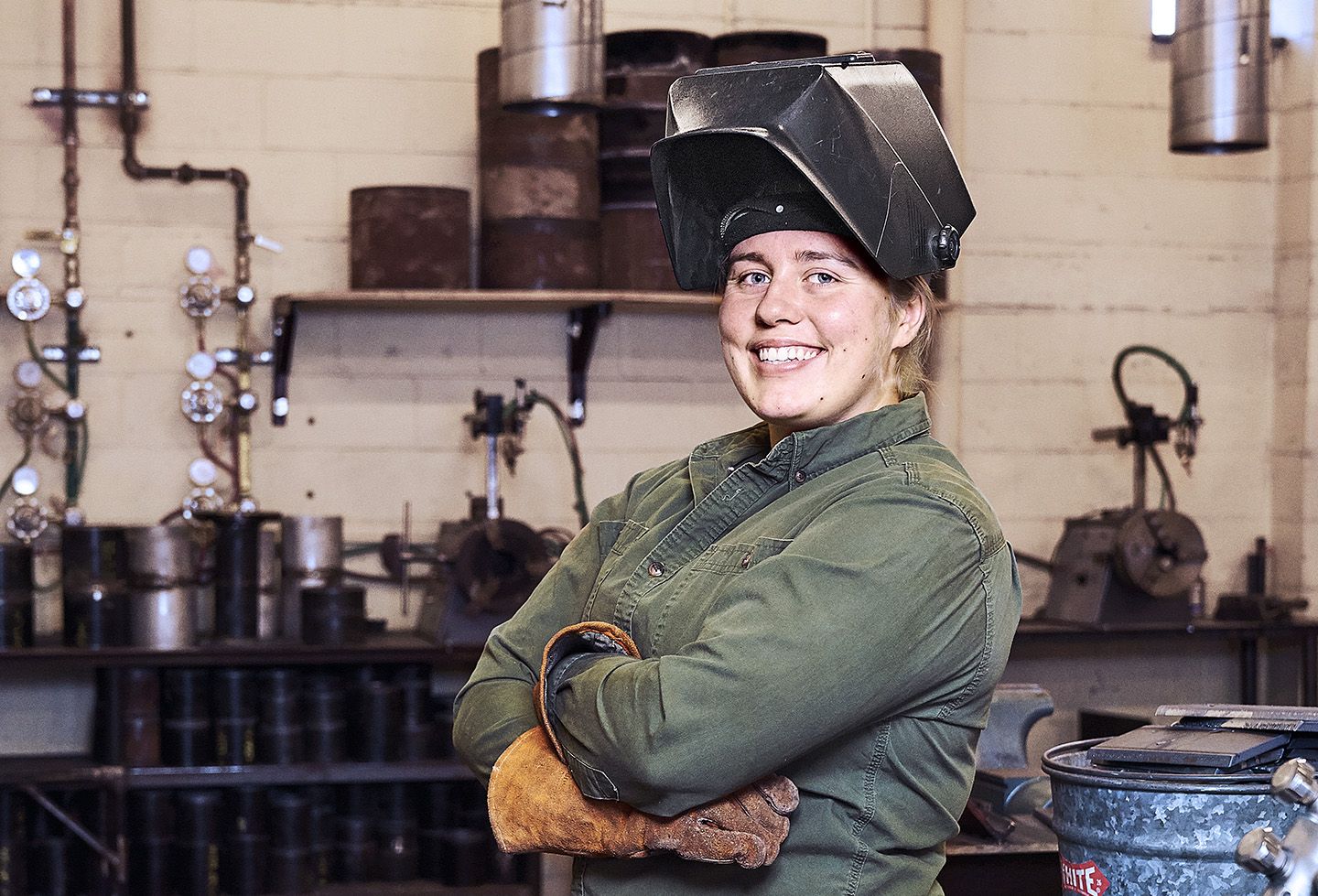 Lower Burrell, PA | Plumbing
Some people thrive on the rigors of a 40-hour-workweek coupled with several nights of school, and JoHanna Clendenning is one of them. "I love the job and the training, especially working with my hands," says Clendenning, now a fifth-year apprentice with the Pittsburgh Plumbers Local 27 of the UA. Interested in the building trades since she was very young, she got a taste of the work at a local vocational-technical high school and considered careers in both electrical and plumbing. After a year at the Red Rock Job Corps Center, in Sullivan County, PA—a program of the Department of Labor, which operates centers around the country offering vocational training and education at no cost to people 16 to 24 years old—she worked for a plumbing company and took more classes, then applied for the UA apprenticeship.
It's been a lot of hard work and valuable training ever since, as well as a paid, full-time job. Clendenning takes pride in the fact that she has passed her journeyman plumber test, and is enthusiastic about this last year of her apprenticeship, which includes a focus on computer-assisted design. "I got called in to do AutoCAD work for a project, and I see that skill as something I will be using for years to come." She hopes to become a master plumber and pursue both residential and commercial work, but values the camaraderie and on-the-job training right now. "I like working with the other plumbers, communicating during our workday, and knowing that the big projects we do are helping to build up our town and city. That's very satisfying."
Caleb Smith, 18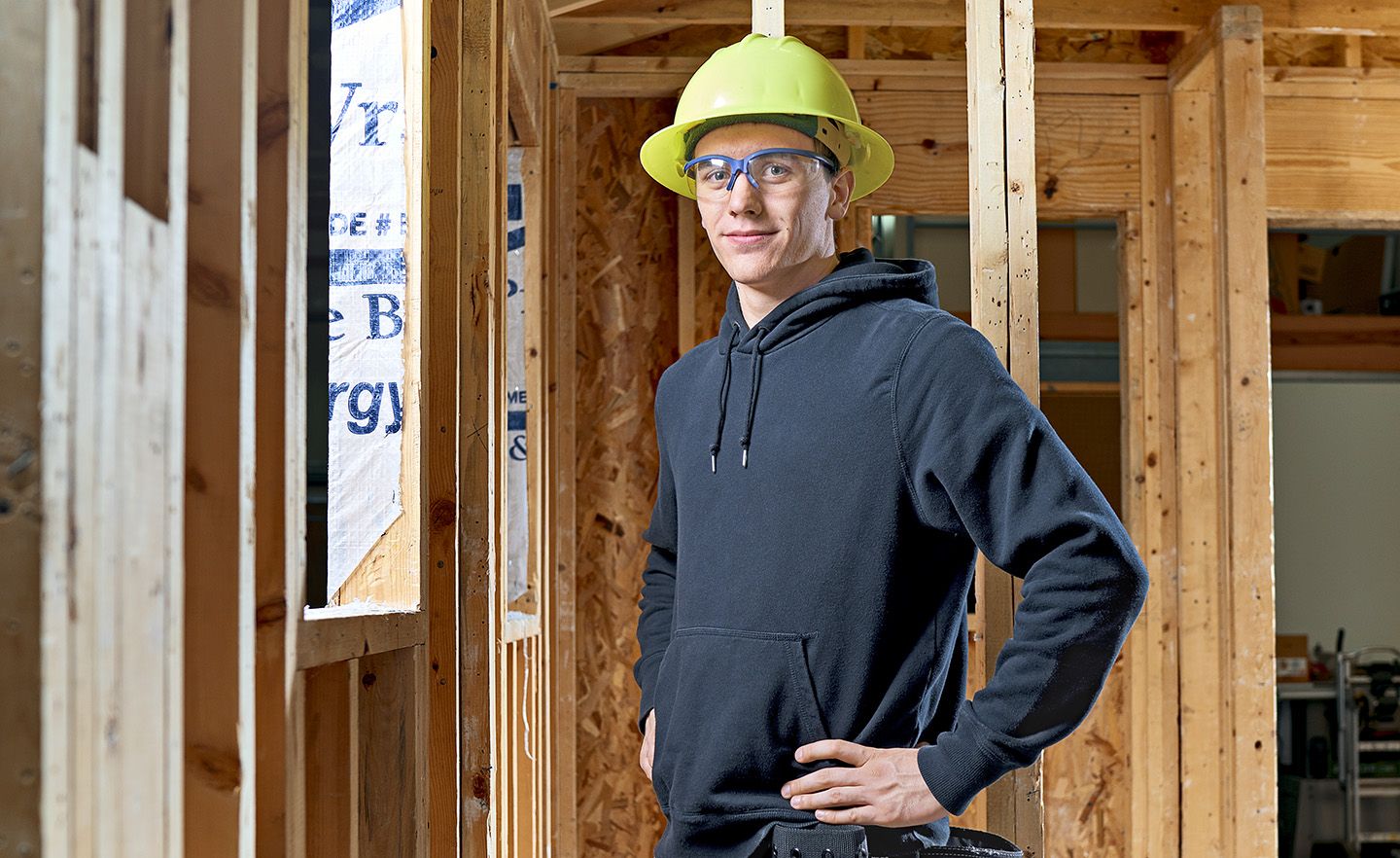 New Plymouth, OH | Construction Management and Carpentry
Caleb Smith's interest in pursuing a career in the building trades was sparked when his parents bought a 1970s fixer-upper in rural New Plymouth, OH, six years ago. "With an older house, you can see the effect of previous owners making little mistakes along the way," says Smith, who has helped his stepfather—a self-taught remodeling hobbyist—do everything from fixing sagging floor joists while removing a drop kitchen ceiling to converting a decrepit workshop outbuilding to a one-room guest cabin.
Today, Smith is pursuing a two-year degree in construction management, with a focus on carpentry, at the Logan Campus of Hocking College, outside Columbus, OH. He is the recipient of a mikeroweWORKS Foundation Work Ethic Scholarship, the application process for which involves signing the S.W.E.A.T. [Skill & Work Ethic Aren't Taboo] Pledge. Included in the pledge are commitments to "work my butt off" and "show up early, stay late, and cheerfully volunteer for every crappy task there is."
The pledge immediately resonated with Smith: "I am accustomed to hard work, and when I looked at the pledge, I saw all the things I valued and that were important in life, but I had never known how to word them—I thought the pledge was so cool." After graduating, Smith is anxious to get to work full-time. "My preference is to get into residential carpentry with a general contractor, and just keep learning. I would love to learn more about everything."
Voncaira Williams, 30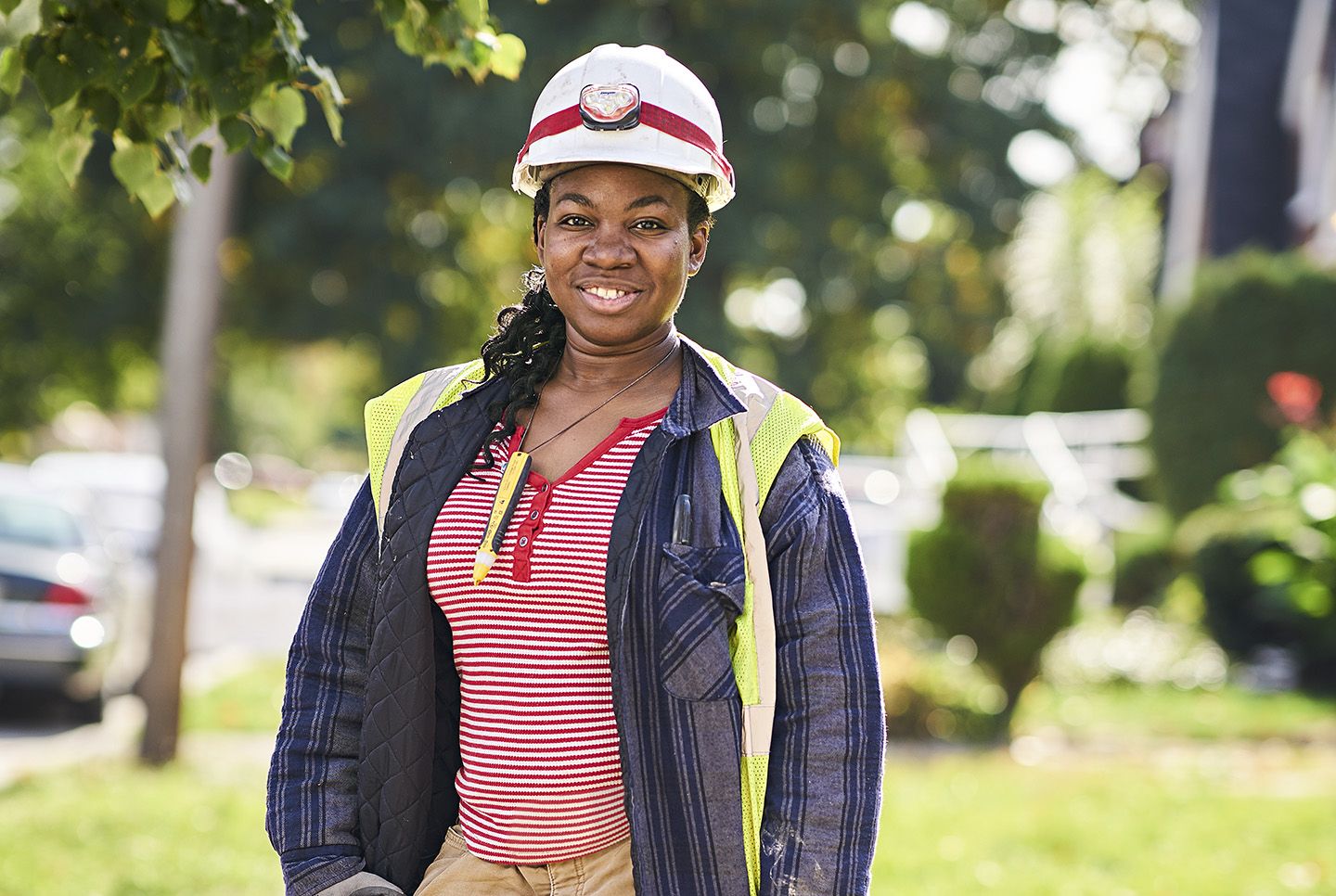 Detroit, MI | Electrical
Voncaira Williams hit roadblock after roadblock in her path toward a career in the trades: After high school, she tried vocational school and community college, but found it hard to juggle work, classes, and tuition payments; working in a factory as a tool-and-die trainee, she found there was no room for growth. Frustrated, she heeded the advice of a coworker who encouraged her to check into union apprenticeships. With a natural aptitude for math—"it was my strongest subject in school"—Williams was accepted for a five-year electrical apprenticeship with the IBEW Local 58 and NECA, in Detroit; she is now in her second year.
"I was so excited coming in, and a bit nervous, " recalls Williams, describing her first days. "They put me on a construction site, with lots of dirt and mud, and when one female journeyman saw that I was nervous, she really helped, showing me how to work smart in situations where I couldn't rely on physical strength. I've been okay ever since." The full-time paid apprenticeship includes one day of classes every other week for Williams, who also juggles the role of mother to her 12-year-old daughter. But she finds the demanding schedule well worth it. "I'm in really good hands as far as the training, there are so many ways I can go. I like the hands-on work, doing math every day, and being part of one of the most highly skilled of the trades."
Ross Burr, 23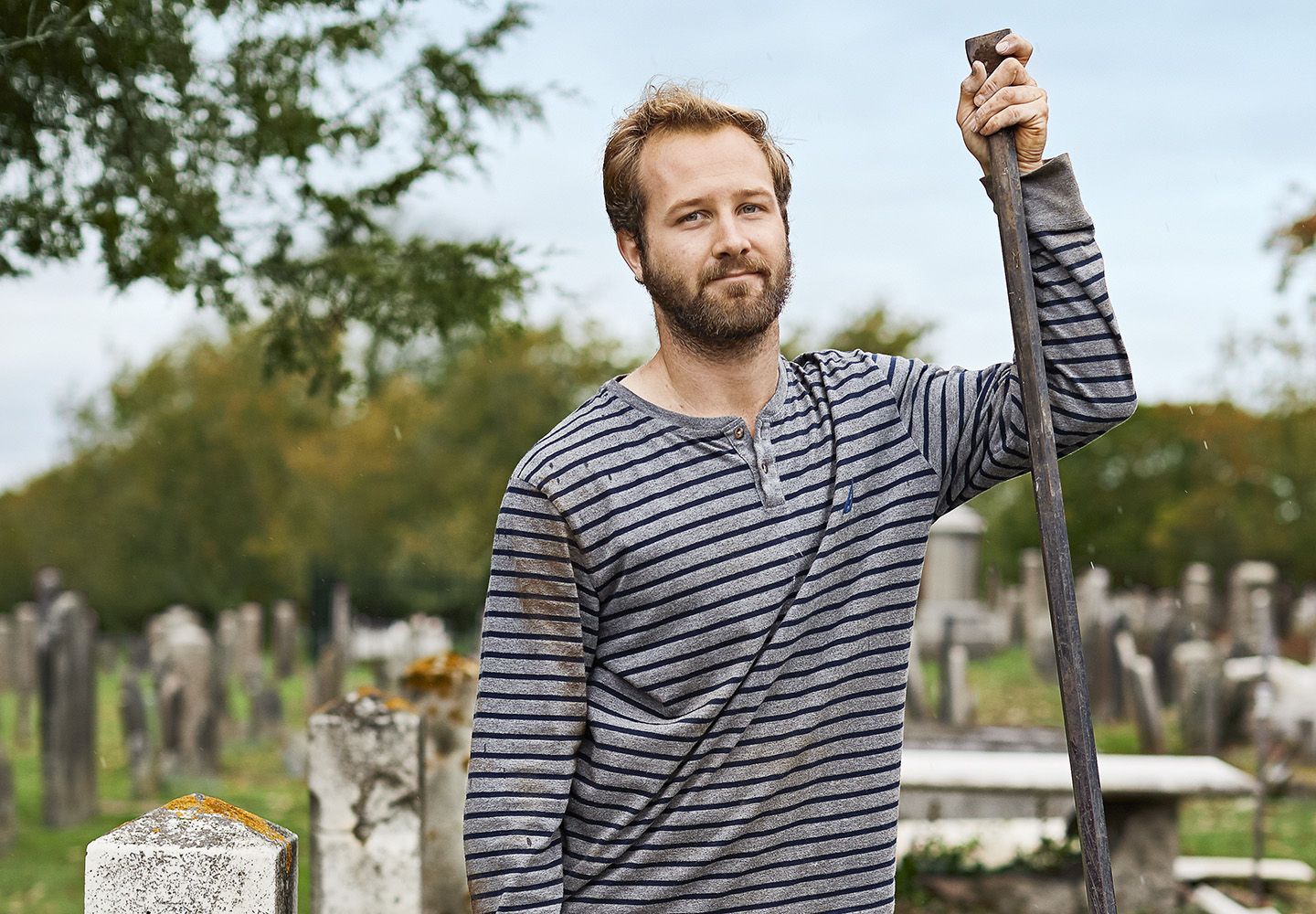 Newport, RI | Architectural Wood and Stonework
Not many college seniors can credit a class in historic cemetery restoration as inspiring their career choice, but Ross Burr does. A recent graduate of the four-year Cultural and Historic Preservation program at Salve Regina University, in Newport, RI, Burr had known since shop class at Lyme-Old Lyme High School in Connecticut that he wanted to be a builder. "I also liked history, and when I got a scholarship to go to Salve, I was thrilled because I knew there were so many historic houses and buildings in Newport," says Burr.
He worked for a carpenter during his first two summers home from college, which fueled his interest in restoring pre-20th-century houses. During his sophomore year, the historic cemetery restoration class also awakened Burr to the skills involved in preserving architectural wood and stone. He was able to get an internship with the Preservation Society of Newport County, which has evolved into a part-time job, and has been doing conservation work for the last two years. "We do things like re-patina pieces of bronze, patch-repair stone urns and fountains, and reverse old techniques that have caused damage," says Burr. For a recent project, he helped repair, refinish, repoint, and reinstall a cast bronze dragon atop a marble column at one of the Gilded Age mansions in Newport.
Having just completed his B.A. in cultural and historic preservation, Burr plans to apply to restoration companies to do work in architectural wood or stone. "I know I want to work with houses and buildings," he says, "but until I entered this program, I didn't know about hands-on historic preservation. I hope more people get the opportunity to explore this kind of work."
Jennifer Sustar, 29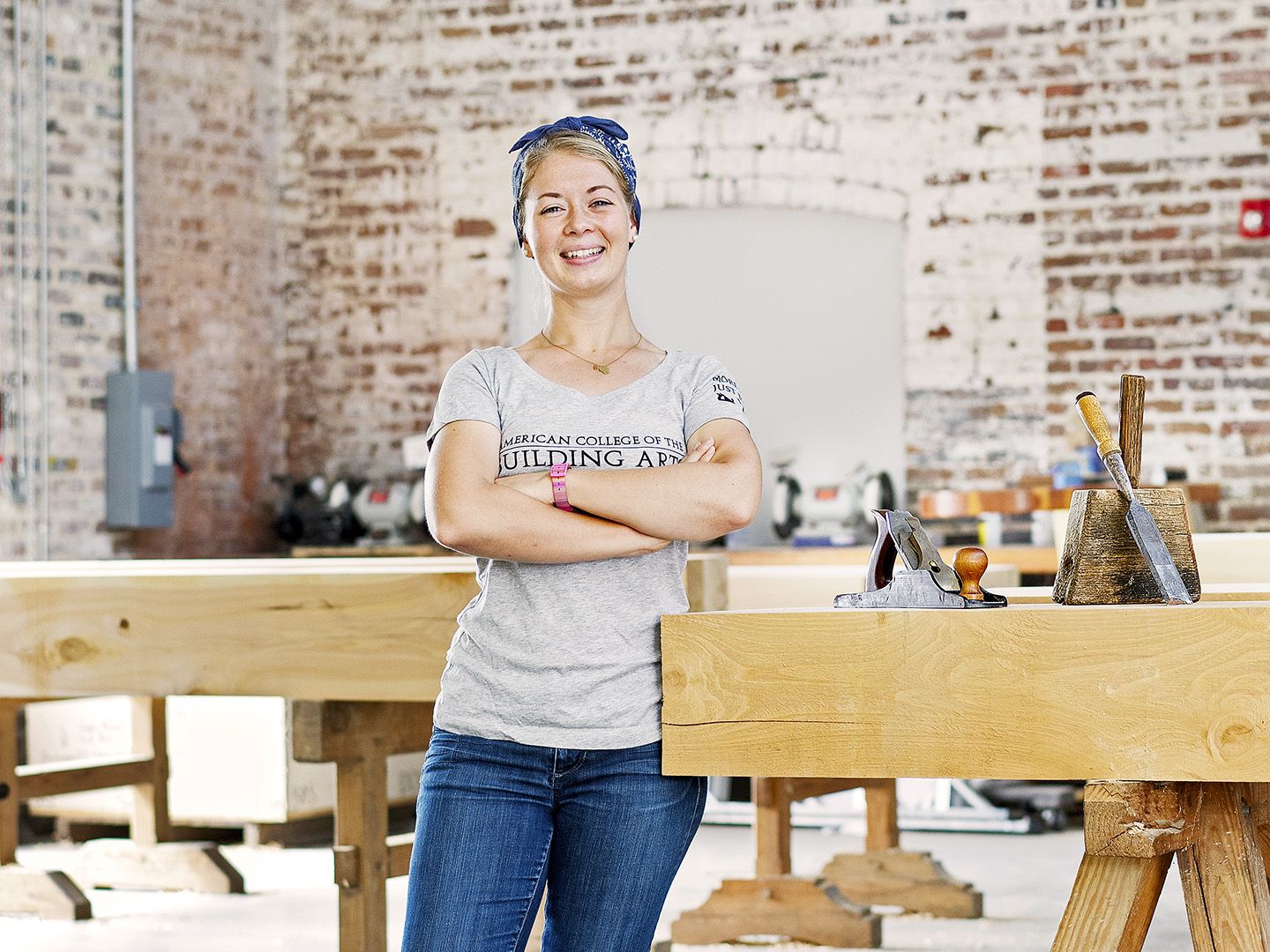 Milwaukee, WI | Timber Framing
Coming from a family of carpenters and cabinetmakers, Jennifer Sustar should have known she would end up working with wood. Today, she is a first-year timber-framing major at the American College of the Building Arts (ACBA), in Charleston, SC, a four-year college that combines hands-on skill building in the preservation trades with academic coursework.
Sustar became interested in old buildings as a teenager in her native Milwaukee, where she volunteered at the Soldiers Home, a national historic landmark built to care for Civil War soldiers. "Many people don't pay attention to these buildings, and I thought they were amazing," says Sustar, who took three years off after high school to travel, teach, and work for AmeriCorps, which included a stint at a centennial farm in Wisconsin. After that, she completed a B.A. in historic preservation at the University of Mary Washington, in Fredericksburg, VA, where she learned the research and documentation aspects of preservation.
Now, at ACBA, she is gaining the hands-on experience that will enable her to devote herself to work in the preservation of rural architecture. "I love farms and old agricultural buildings. They tell a part of our history." Her first-year work at ACBA includes learning the basics of hand tools and wood science, and Sustar couldn't be happier. "I have always been a hands-on learner. My biggest fear is having a job where I sit at a desk all day. I love being out there doing things."
Nick Portnoy, 34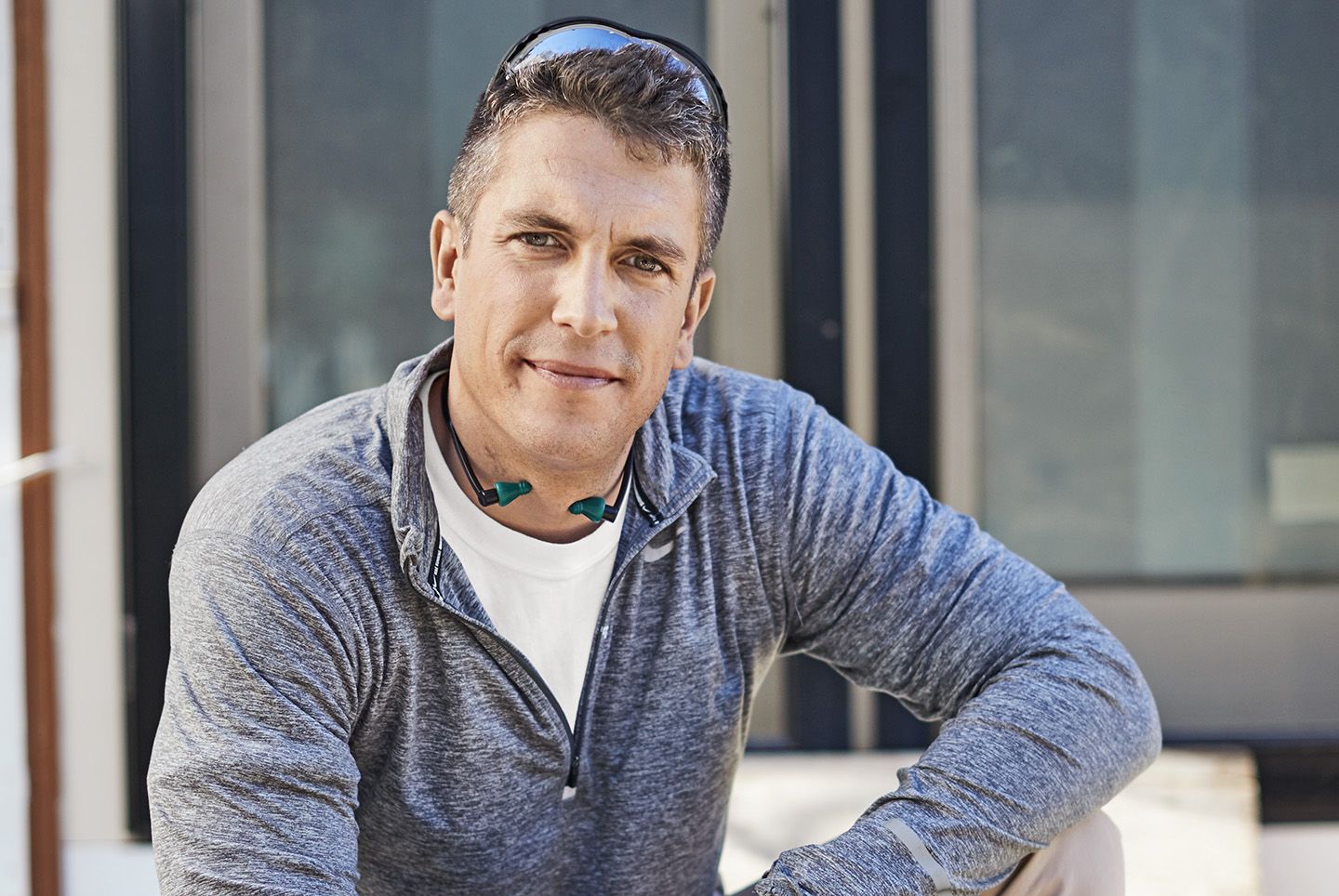 Watertown, MA | General Contracting
Boston-area native Nick Portnoy headed west just after high school to study at the University of Southern California for a career in the film industry, but a stagehand job at the campus theater freshman year changed everything. "I started out doing basic carpentry tasks for the theater, and when I went home that summer, I worked for a builder," recalls Portnoy. "I really liked the feeling of gratification, when you step back and look at the work and what you've accomplished."
Convinced he would one day work in the building trades, he added construction management as a minor when he returned to USC, and continued to take on larger carpentry projects at the theater. Graduating in 2004 with a B.A. in political science and construction management, Portnoy went directly to work for a builder in Waltham, MA, as a carpenter. "I'd had enough experience as a stagehand and from summer jobs that I knew my way around the tools, but there was so much to learn in the field." In 2007, he started his own residential remodeling and construction firm in Watertown.
Now, with three people working for him, Portnoy sees the process of training from a different perspective. "In the field, you need to do things at a certain pace—it's nice to have a teachable moment, but you really can't afford to do it all the time. It's a big help if people have some basic instruction. It really counts for a lot."
Geoffrey Keating, 41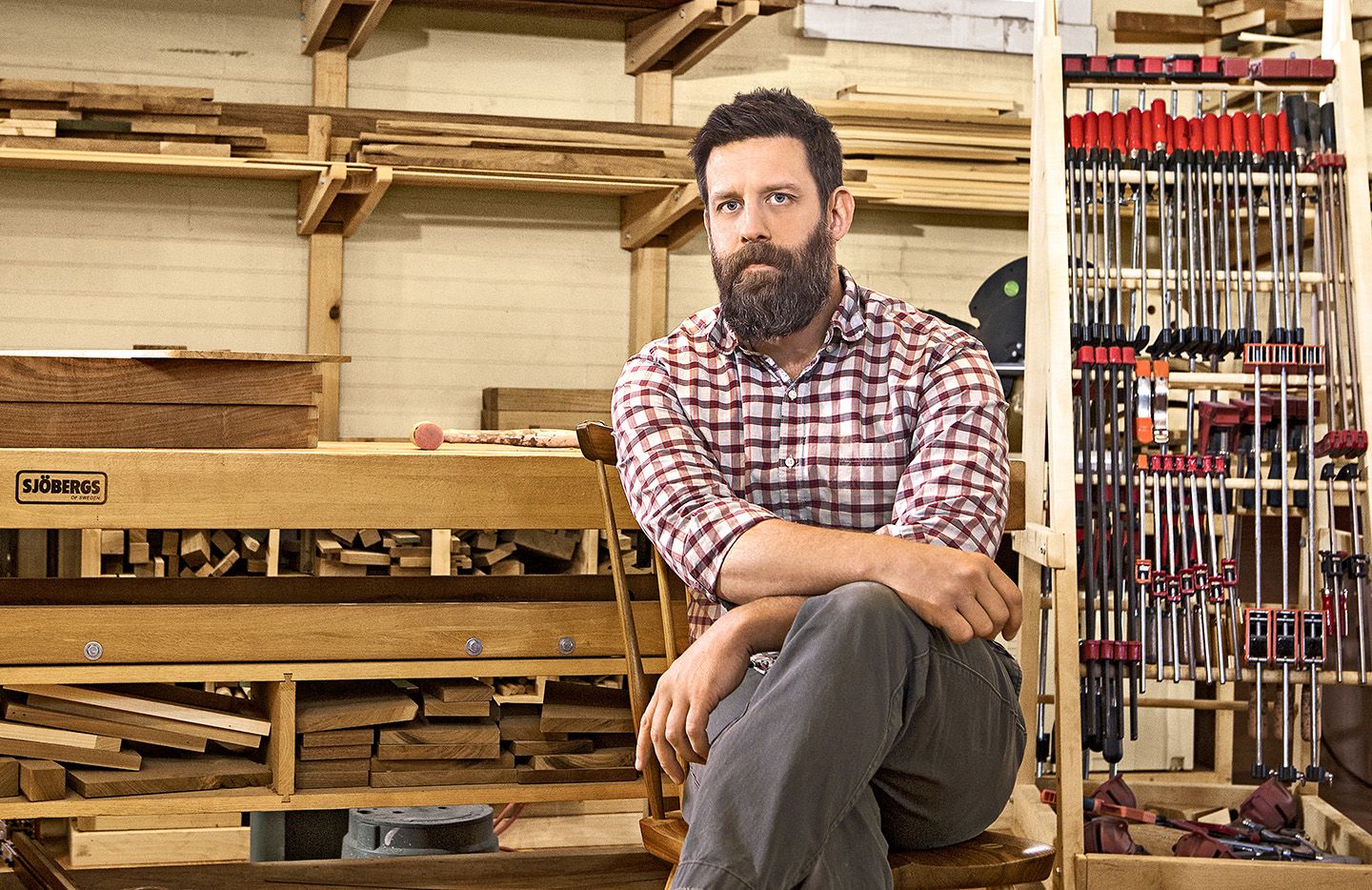 Colorado Springs, CO | Furniture Making
When Geoffrey Keating uses the phrase "leap of faith" to describe the move he made to leave a Ph.D. program and professor's life to become a furniture maker, he means it in the truest sense. Keating was working toward a doctorate in theology at the University of Notre Dame in Indiana when he decided to heed a different calling. "In grad school, I started making small things for friends, and then larger pieces, like desks, for professors," he recalls. "I realized it made so much more sense for me in terms of how happy I was. Academia just wasn't a good fit."
Descended from a long line of furniture makers on his mother's side, he was exposed to the craft while growing up in Amarillo, TX. Today, his studio occupies the ground floor of an 1897 Gold Rush−era building in Colorado Springs, CO, that he and his wife, Anna, bought several years ago. They live upstairs with their two young children. His passion for the work is evident in the details of each piece, from the beautiful hand-rubbed oil finish on his preferred materials of black walnut and ash to the dovetailing on every drawer. His clients, primarily individuals and designers, hail from around the country.
Guided by a strong desire to give back, Keating also mentors art students from nearby Colorado College, sharing with them his reverence for the craft and his belief that "making furniture is an incredibly satisfying pursuit."
Samantha Lombardo, 26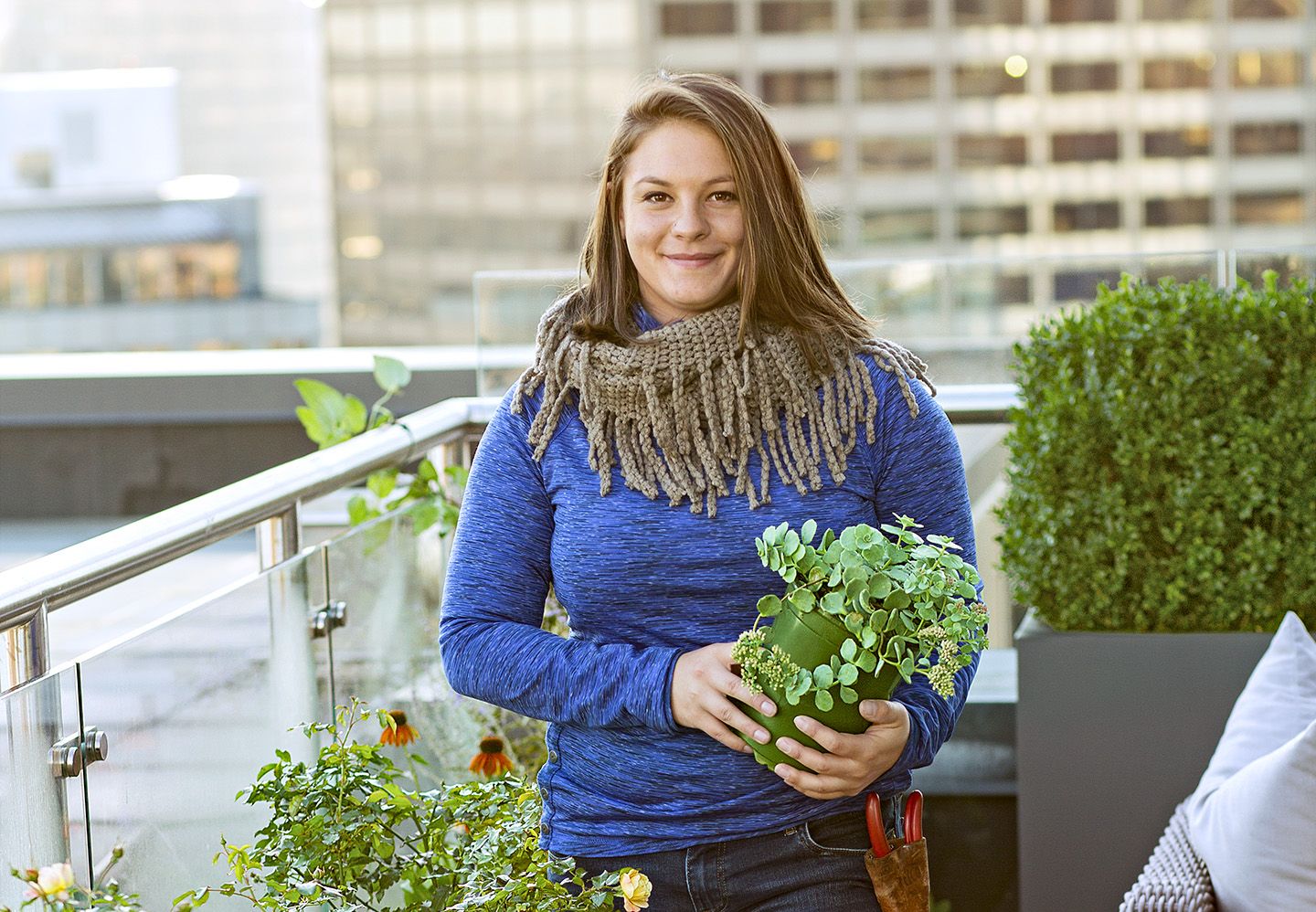 Medford, MA | Gardening and Horticulture
Growing up, Samantha Lombardo was so sure she wanted to turn her love of animals into a career as a veterinarian that she attended Bristol County Agricultural High School, in Dighton, MA, a public school with an emphasis on farming, animal husbandry, horticulture, and conservation. Then something unexpected happened: "I learned that I hated animal science—but I loved plant science," she says. After graduation, Lombardo headed to the Stockbridge School of Agriculture, in Amherst, a highly regarded agricultural college dating from the 1860s that is part of the University of Massachusetts. There she earned an associate's degree in horticulture and a bachelor's in urban forestry. She credits the college's emphasis on internships with exposing her to the actual work of gardening.
Today, Lombardo serves as head gardener and horticulturist at Jean Brooks Landscapes, a residential firm in Chelsea, MA. "I love when I finish and take a step back, and the garden is completely transformed," she says. Her education continues on the job: "I'm learning how to deal with people now as well as plants. Right out of college, I didn't necessarily know how to do that because I had never managed anyone." As a gardener in a cold climate, she enjoys the perk of being able to travel for a month during the winter. "But then I'm back in February, and we start tree pruning," she adds. Her goal is to one day run her own business, or return to her high school alma mater, affectionately known as Bristol Aggie, to teach. "I'd like to inspire more people to go into the green industry. It's so important for our future."
Hans Hurst, 23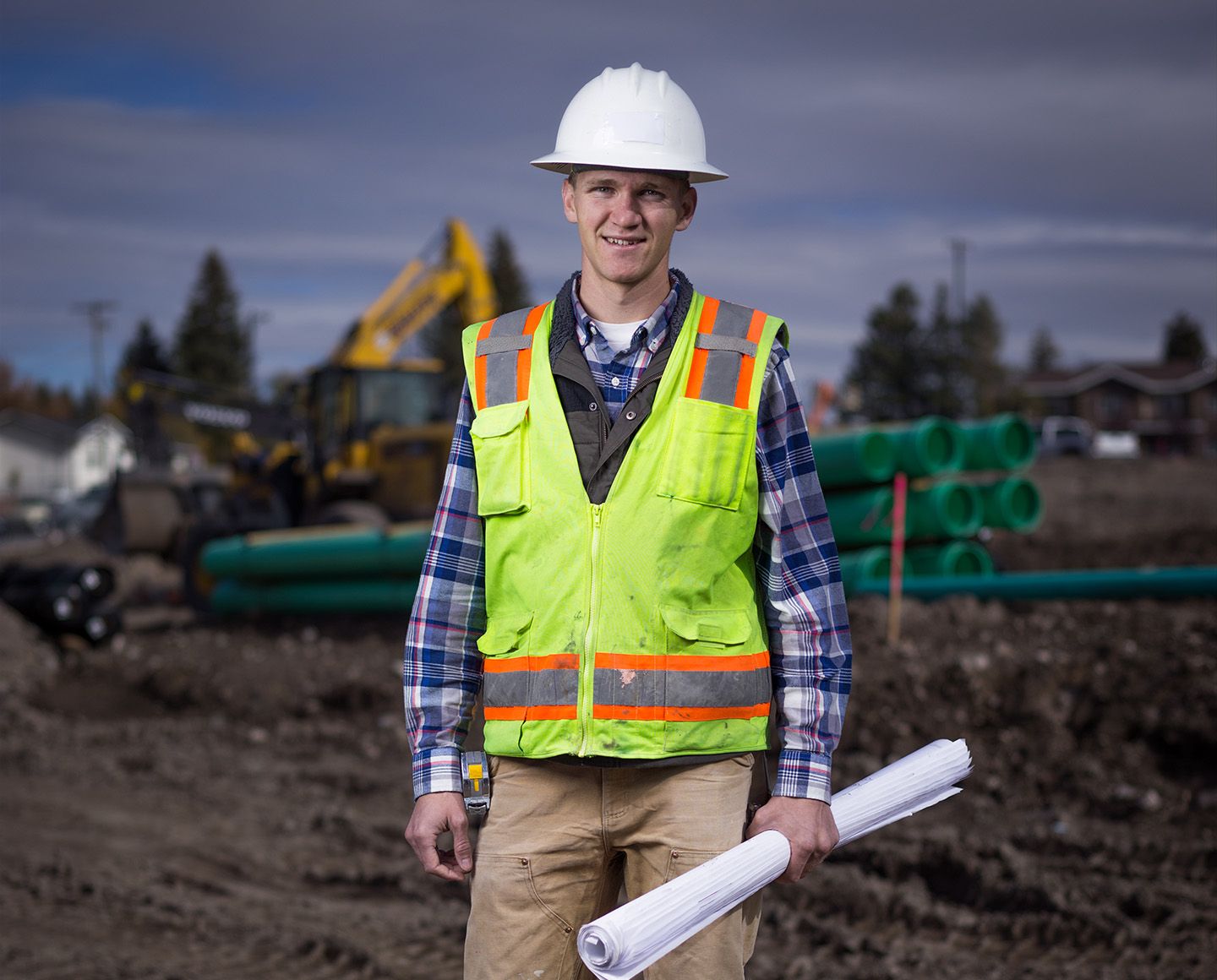 Rexburg, ID | Construction Management
Growing up in a small Utah town as the son of a builder, Hans Hurst experienced early on what it's like to work with his hands. "Building construction is in my blood," says Hurst, who is pursuing a four-year bachelor's of science degree in construction management at Brigham Young University–Idaho. "I love the sense of satisfaction that comes from building and construction. It's something you can look back at; there is a real result from the work you do."
A recipient of a mikeroweWORKS Foundation Work Ethic Scholarship, Hurst sees the construction management program as valuable in providing a broad perspective of the industry. He pairs this big-picture view with the hands-on experience he gains doing summer internships with residential and commercial builders back home in Utah. Hurst, whose father was his first mentor in the building trades, says his father also encouraged him to go to college, explaining that university studies would provide context and awareness of business practices.
Above all, Hurst is pragmatic about hard work and the toll it may take. "Trade careers are very demanding, and our generation is a little afraid of hard work, I think," Hurst reflects. "It's hard on your body, it's hard on family life. You can't seem to find the time for the things you want to do. But I feel like a lot of people miss the simple satisfaction that comes from the building trades."
Chris Casanovas, 25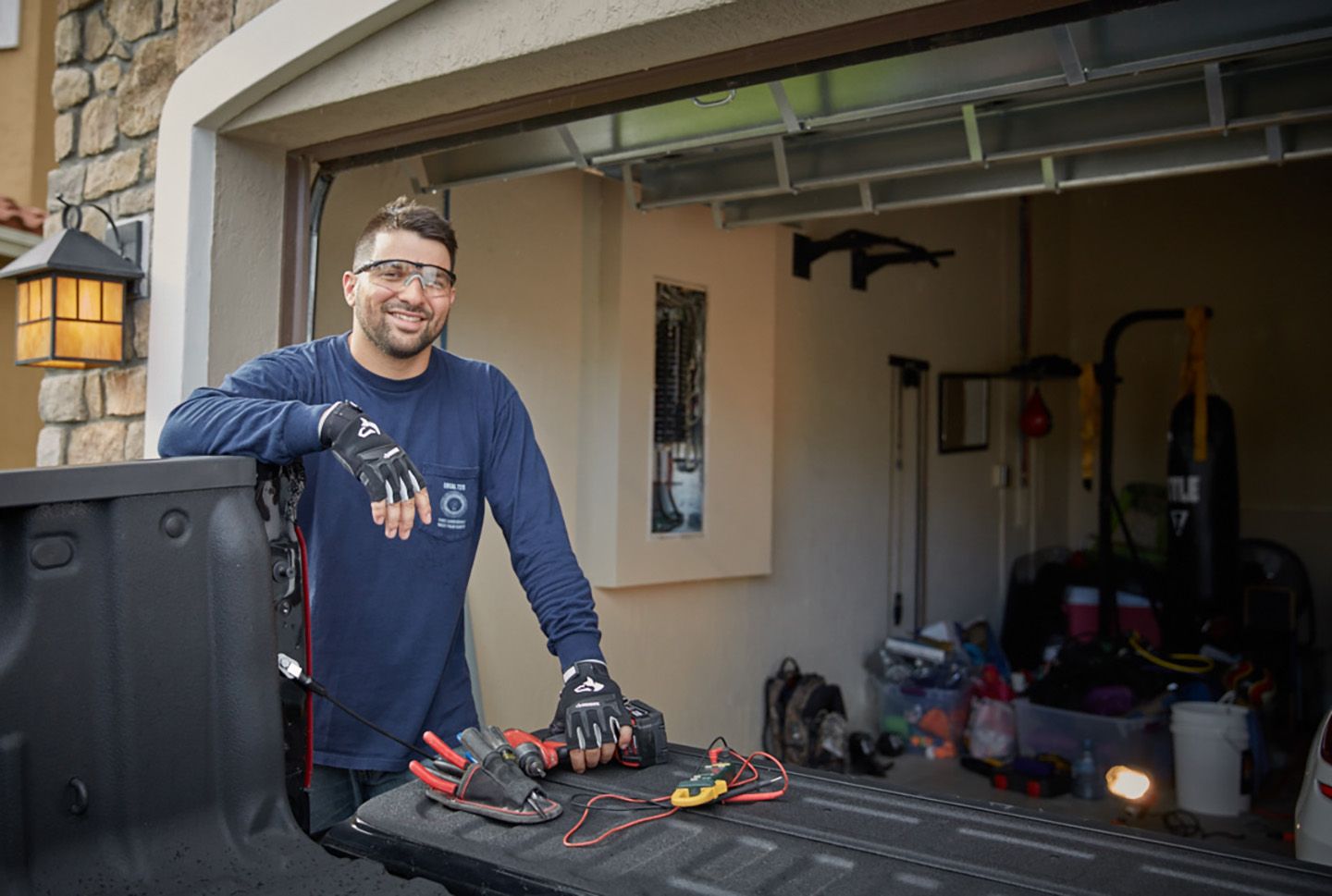 Fort Lauderdale, FL | Electrical
A fifth-year IBEW apprentice, Chris Casanovas is already a journeyman electrician working on a bachelor's degree in electrical engineering from Florida International University, in Miami. His commitment to the electrician's trade developed after several years as a construction laborer, a path he followed as part of a five-year program with the Home Builders Institute (HBI). "I was always interested in architecture as a kid, and I went to community college right after high school to start earning a degree in architecture, but I ended up in a juvenile program," says Casanovas.
HBI, a Washington, DC–based nonprofit, runs training programs across the country, with many participants assigned through the court system. Casanovas credits the HBI program with giving him the foundation to pursue the electrician's apprenticeship. "I have learned so much, and I want to keep furthering my knowledge," he says. "My favorite part of the work is troubleshooting—I love figuring out what's wrong. I love the entire construction process." His childhood interest in architecture has served him well, he notes: On the industrial projects where he's an IBEW apprentice, he often studies blueprints and works alongside architects and engineers. He also works on residential projects as often as he can, gaining even more experience. "There's a lot to learn and a lot of risk, and you can't play around," he says. "But there's a level of respect that an electrician has."
Jacob Carr, 19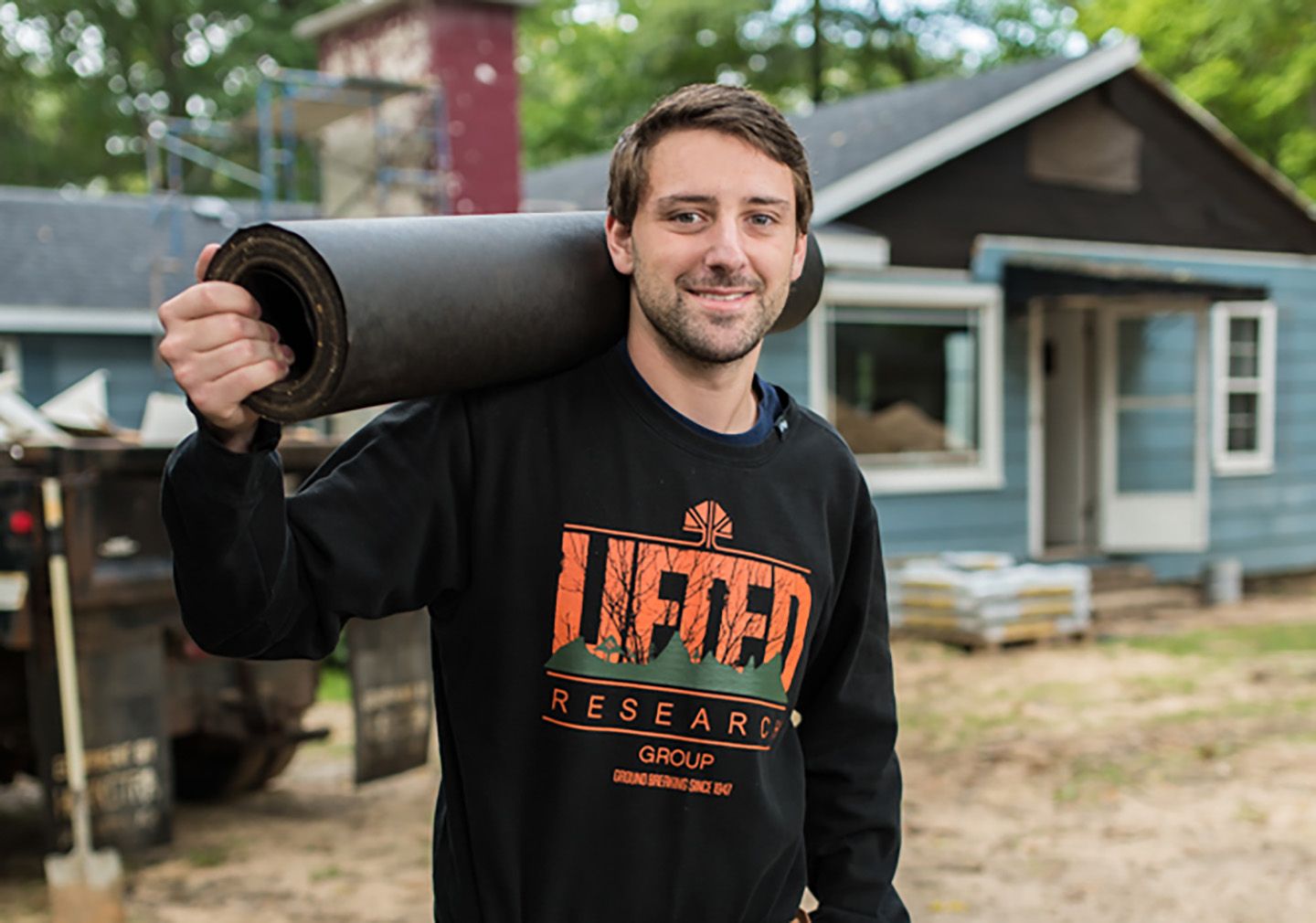 Whitehall, MI | Construction Management
As a student at Michigan's Muskegon Community College, Jacob Carr is studying for an associate's degree in construction management, learning the business side of the industry in the classroom and gaining hands-on experience while working afternoons, weekends, and summers for a residential builder in his hometown of Whitehall. His interest in the building trades began in high school when he participated in a tech center program focused on the construction sector. "I really liked learning the basic skills, and we built a house start-to-finish in my junior year and again in my senior year," he says.
Carr's teacher in the tech program in high school exposed the class not only to the building trades, but also to This Old House TV. "It was my teacher's favorite program. If there was a rainy day and we couldn't work on site, she would show us an episode and we would discuss it," he recalls. Carr also watched Dirty Jobs, and became familiar with the mikeroweWORKS Foundation Work Ethic Scholarship Program. He applied for a scholarship and was thrilled to be chosen, as it affirmed his decision to pursue the building trades.
"I always knew I wanted to work with my hands," he says, "and every career test in high school confirmed it, coming up with me doing hands-on work." Carr plans to move on to a bachelor's degree in construction management at a four-year college after completing his associate's degree in May 2017. On the job right now, the focus is remodeling houses, and Carr couldn't be happier. "I like the process of watching it come together when you remodel a house. You can really see the progress."
Daniella Helline, 22
Charleston, SC | Architectural Stonework
A native of Rock Hill, SC, Daniella Helline knows the implicit value of following her mom's advice. "I wasn't sure what I wanted to do after high school, but I had always been artistic. My mom read an article about the American College of the Building Arts; I went to visit and fell in love with it!" recalls Helline, who is now a senior at the Charleston, SC, college that specializes in the preservation trades. "The program is great because you study all the trades in the first two years, then you specialize."
After studying plasterwork, architectural stonework, and masonry, Helline chose stone. "I love stone carving because it is such a challenge. It makes me slow down and really take the time to learn the material I'm working with. One small angle change or too hard a hit can completely change the outcome, and I love having to pay attention to those details. You have to have a lot of patience to work with stone."
Her interests have been further honed by three internships, one in plasterwork with Hyde Park Mouldings, in New York, a maker of custom architectural ornamentation; and two with the International Fine Art Conservation Studios (IFACS), an Atlanta-based specialist in the restoration and conservation of historic properties and interiors. "For my IFACS internship two years ago, we restored the brick and terra-cotta at Ponce de Leon Hall, a national historic landmark at Flagler College, in Saint Augustine, Florida," she says. "I absolutely loved that work." With plans to graduate from ACBA in May 2017, Helline already has her eye on her next steps: "I can see myself with my own restoration business," she says.
Michelle Ahola, 23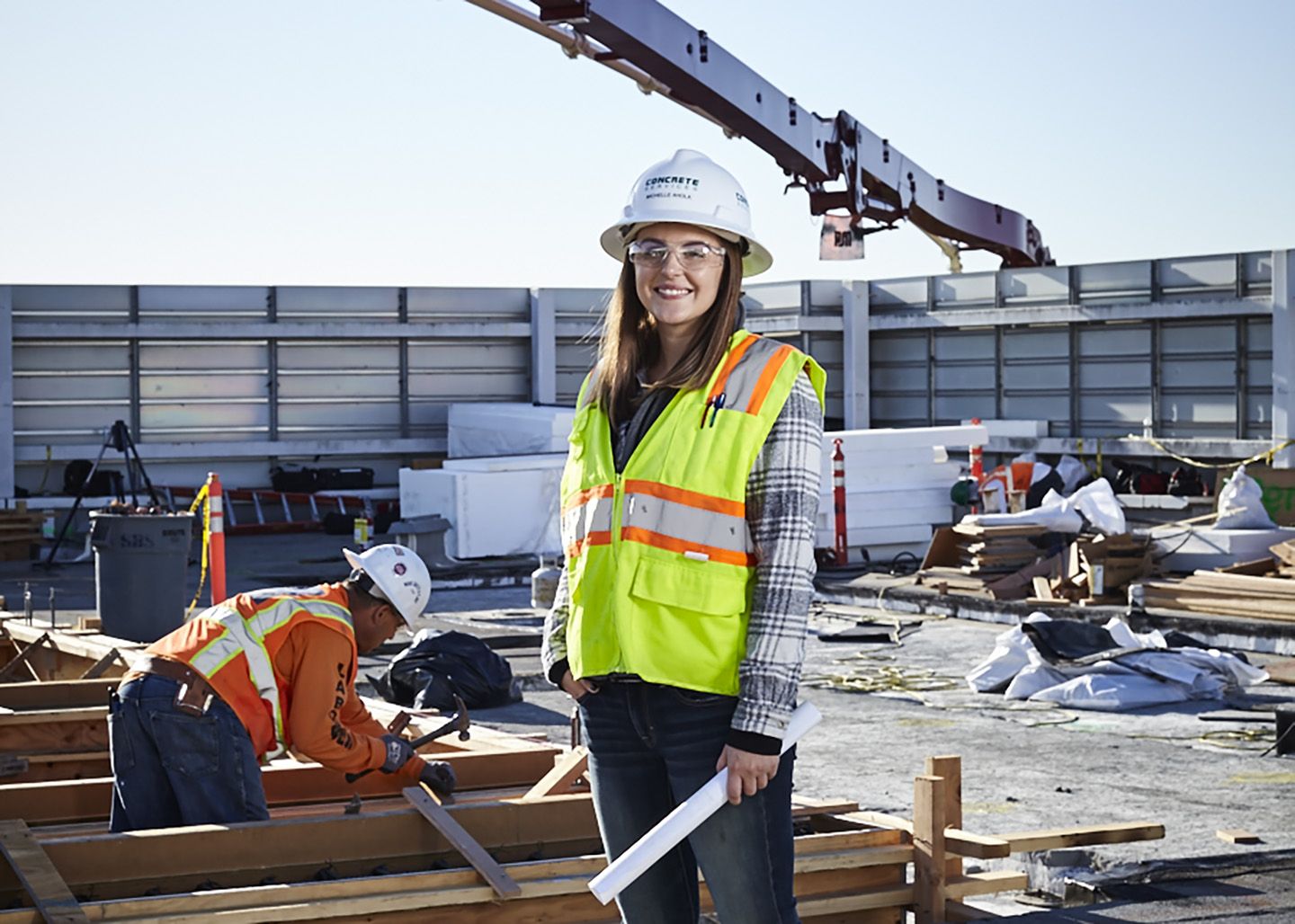 Citrus Heights, CA | Concrete Industry Management
Growing up in Colusa, CA, Michelle Ahola was always fascinated with how things worked, so later on, she thought being an auto mechanic might be a good career path. "I even started in an auto program at a community college," she says, "but I realized that working on cars is so much more electrical than mechanical now, and I wasn't as interested." By chance, she heard about a building trades program in concrete management, and found it fascinating.
In May 2015, Ahola graduated from California State University, Chico, with a bachelor's of science degree in concrete industry management (and a minor in business administration), helped along the way by a mikeroweWORKS Foundation Work Ethic Scholarship. The program at Chico is one of only four offered in this area of study in schools across the country, and Ahola feels fortunate that her hometown was relatively close to the campus. The fieldwork she did one summer in San Francisco was particularly inspiring: "We worked on Alcatraz, doing repairs, and it was the best learning opportunity to be able to work on buildings at a U.S. National Parks Service site," she says.
Ahola now works as a project engineer for a concrete-services company in Sacramento. "I like both the physical work and the management side," she says; her goal is to be a superintendent in the concrete industry. "And I really love being able to wear jeans and Georgia boots to work."
Christin LaDue, 34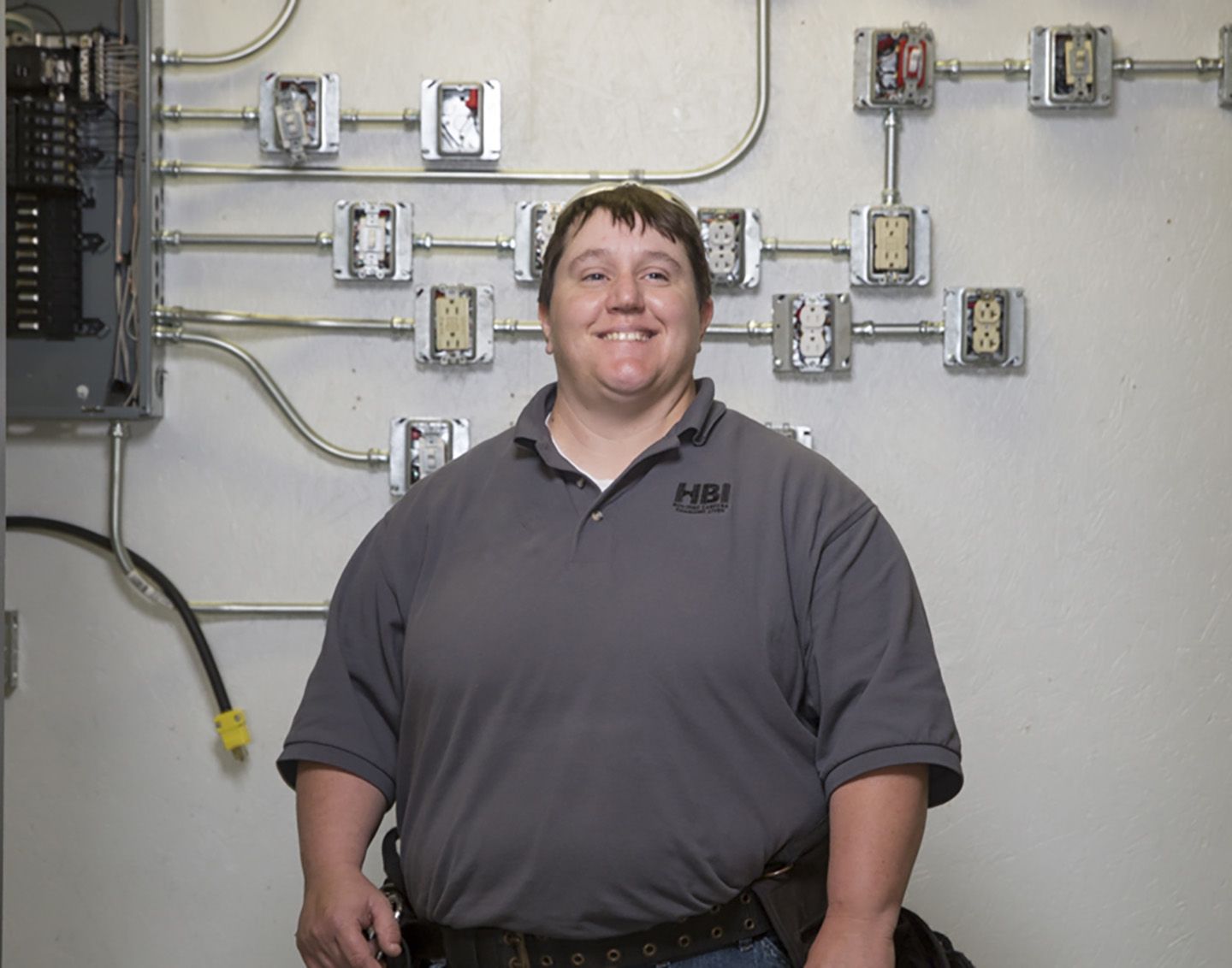 Ballwin, MO | Electrical
Christin LaDue, a high school dropout from a background she describes simply as "bad," found her way into the building trades through a Job Corps program out in the middle of the Shawnee National Forest, in Illinois, run by the Home Builders Institute. Now she is a licensed electrician and teaches at the same program, at the Golconda Job Corps Center in Golconda, IL.
"Most of the students are from backgrounds similar to mine, from South Side Chicago or East St. Louis, and they all have issues," says LaDue. "It's nice to bring them out of that environment." She herself was 21 and had a GED when she went through the program, which is administered by the U.S. Department of Labor and offers free training to people age 16 to 24. After completing the program, LaDue went on to a non-union apprenticeship, then one with the IBEW and union membership, doing both commercial and industrial work for 10 years.
During a leave when she was recovering from cancer, her Job Corps instructor called to offer her the teaching job at Golconda. She is devoted to the work. "The Job Corps program offers a way to learn a trade and make money without going to college and racking up thousands in student loans," she says. "To get the same training, you would pay more than $30,000 for an associate's degree."
Golconda's students spend up to two years learning the basics at the center, then they can go on to advanced training. "Anyone who wants to get into the electrical trade can find a Job Corps program that will help them," she says. "After that, it's a matter of discovering what you are good at—there's everything from conduit work, data work, being a residential wireman or commercial/industrial wireman, or solar and wind-turbine work. It's all possible if you make the commitment."
Shane Masters, 35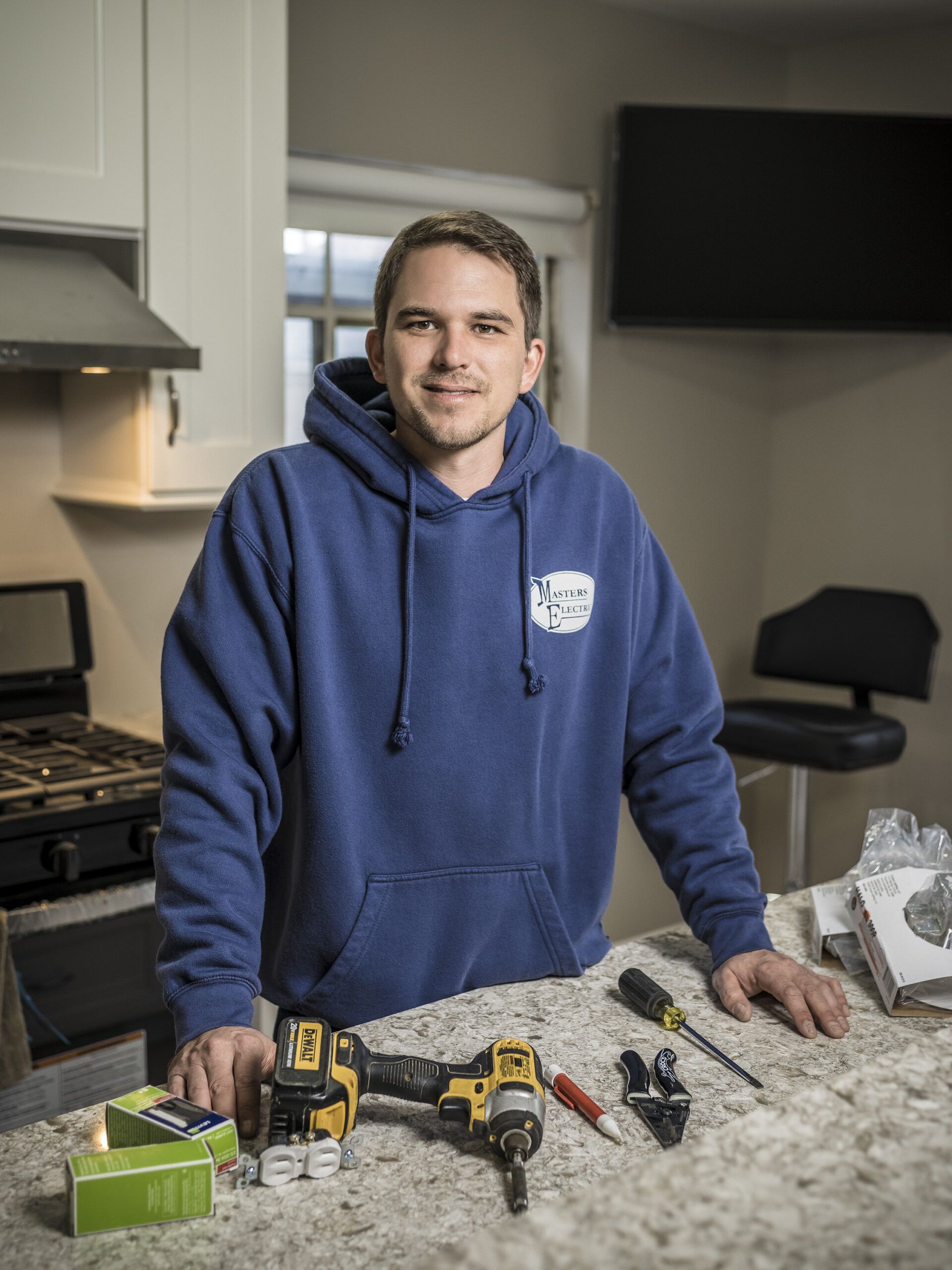 Shelby Township, MI | Electrical
As early as high school, Shane Masters knew he wanted to work with his hands, based on experience he had gained at a career technical training school. Even so, after graduating, Masters tried working at an office job, doing customer service at a bank, and lasted only a few months. "I hated sitting in that cubicle, and luckily I had a friend who knew someone at an electrical company," he says. "That was my introduction to the trade and the tools."
After working alongside journeymen and master electricians for 11 years, and eventually earning his own master electrician license, Masters started his own company in 2012, hiring his brother as his first employee. Now there are five in the company—Masters, both of his brothers, plus two friends—and they do both residential and commercial work, all in the metro Detroit area.
Masters was the electrical contractor for This Old House TV's Detroit project in 2016. With the pace of building picking up in Detroit, he sees a need for more people to go into the building trades but worries that young people just aren't interested. "It seems like people are turned off by the physical labor. And it's true—not every day is easy. Some days, you are out digging trenches. But it's a good honest living, and it's essential for the way people live today. There's a lot behind the scenes that gives us this wireless world we live in. Electricians are the ones who make that happen."
Josh Engle, 36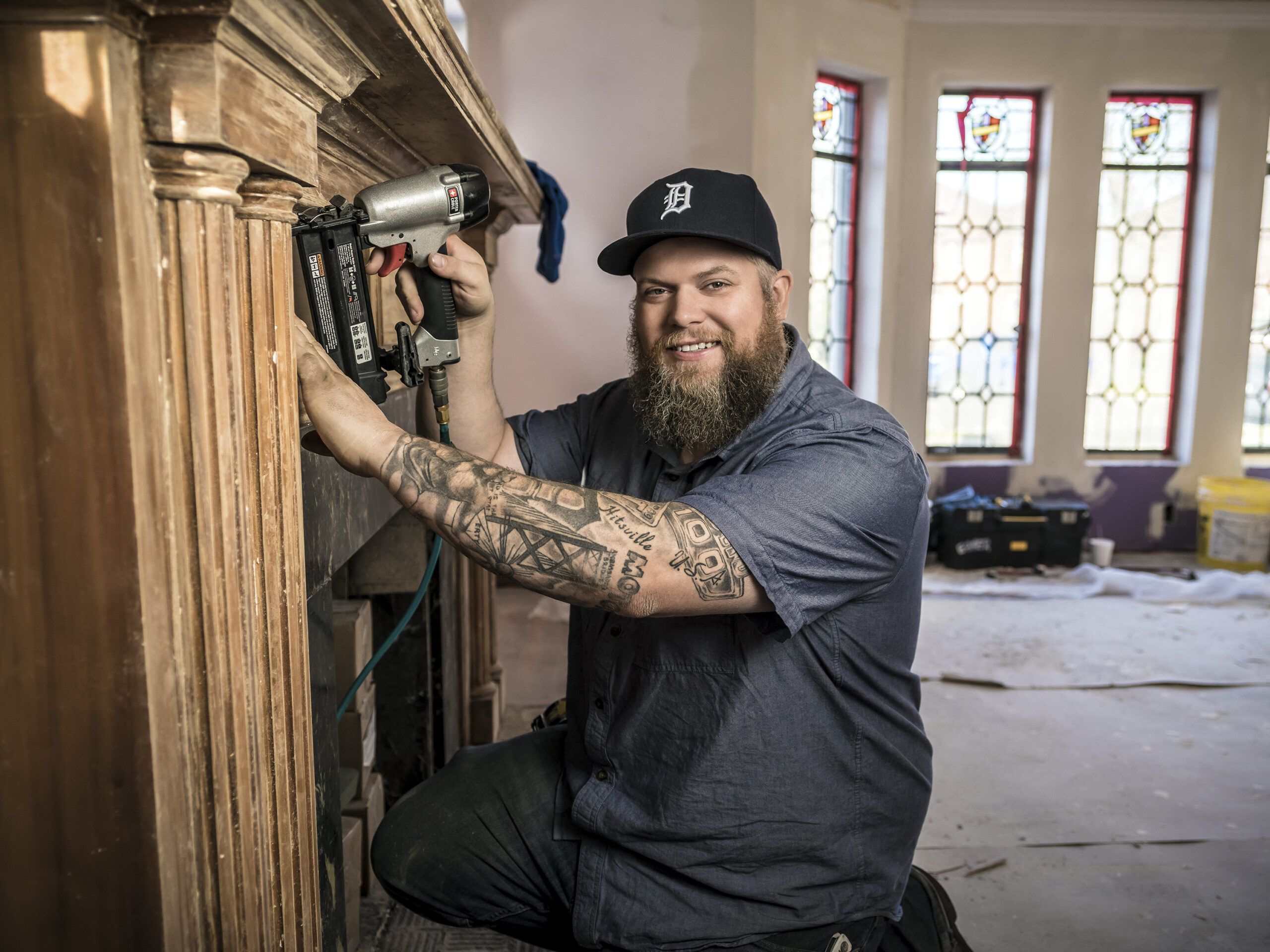 Detroit, MI | General Contractor
At age 12, Detroit native Josh Engle started his education in the trades on the job, working alongside his contractor uncle every day after school. "My uncle insisted I learn about every aspect of construction," says Engle. "The only sub he had was a concrete guy—we did everything else ourselves, and I think that's the best way to learn. It gave me an incredible base of knowledge."
As he gained more experience, Engle discovered a passion for finish carpentry. "I love making furniture, mantels, trim, anything with wood, and I learned by doing. You master the basics and then go destroy a piece of wood about 10 times, and you learn a lot more," he says.
Today, Engle himself is a general contractor with as many as 30 people working for him at any one time, and his business handles both commercial and residential projects. He makes a point of hiring young people and is willing to train them, although he finds that many kids out of high school don't have basic knowledge about working with their hands. "When it works out, it's great, but a lot of times it doesn't. Many of my guys are older now and used to run their own companies but got tired of managing a business—they just like doing the work."
Engle was the general contractor for This Old House TV's Detroit project in 2016, helping the homeowners renovate a 1930s two-story in the Russell Woods Historic District that they purchased at auction. He is also renovating a 100-year-old Tudor Revival for himself in another Detroit neighborhood. Engle bought the house a year ago and describes it as "a 3,200-square-foot fixer-upper with a basement that was once a speakeasy."
Adam Piazza, 37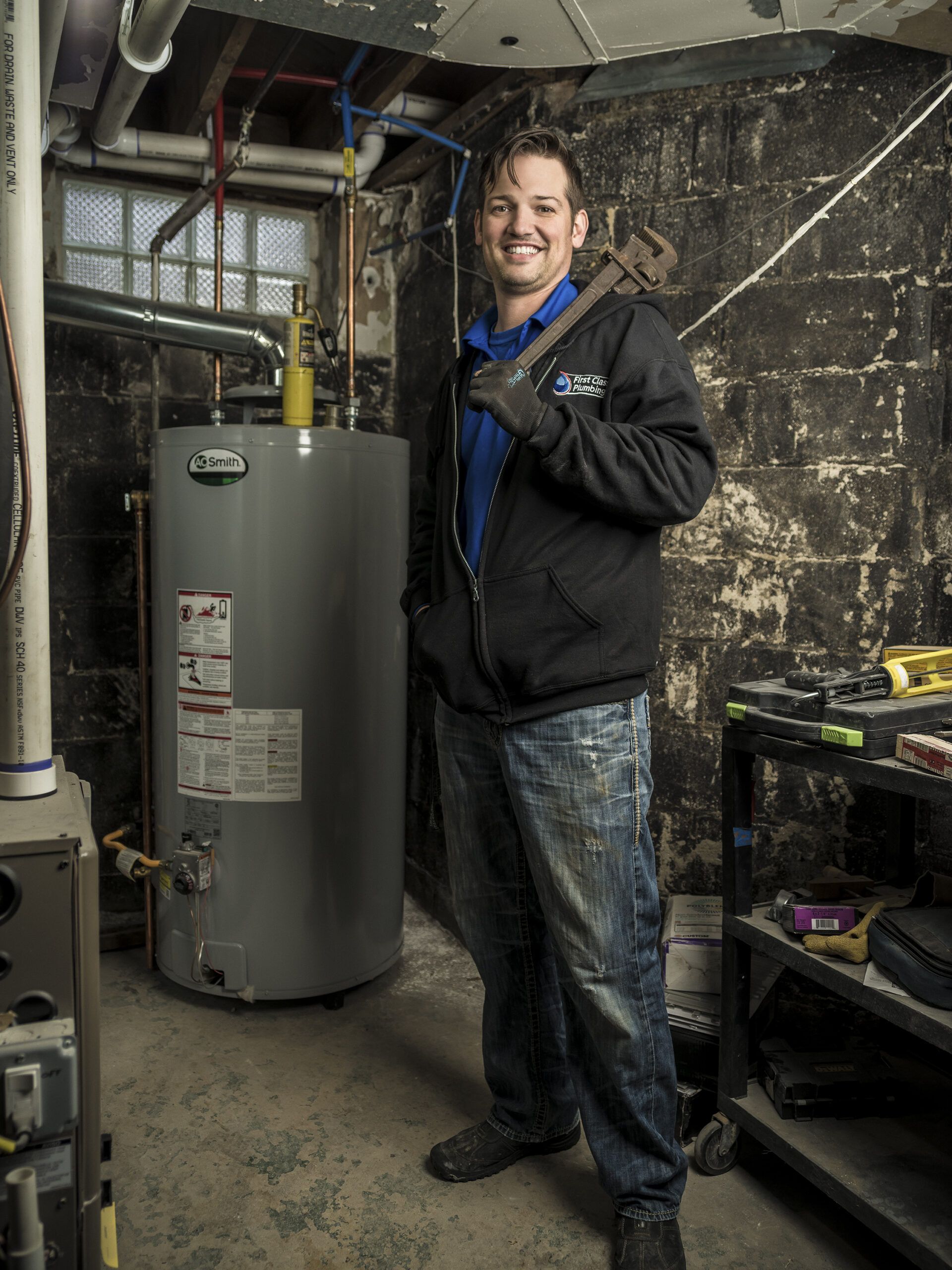 Lake Orion, MI | Plumbing
Big brothers can be lifesavers, a lesson that Adam Piazza has learned many times. Adam grew up in the Detroit area wanting to be a chef, and he realized that dream in his 20s, when he went to study at Le Cordon Bleu College of Culinary Arts in Scottsdale, Arizona. But restaurant environments can have a downside, with a lot of late nights that end with a lot of drinking.
"Culinary ended up not being a good avenue for me because of that," says Adam. "Every time I lost a chef's job, I'd end up on my big brother's plumbing truck." That brother is master plumber Stephen Piazza, 40, who owns his own company in Lake Orion, MI.
Stephen is unquestionably Adam's hero, albeit a quiet one. "Stephen likes to stay in the background, but I like to be in the middle of everything," says Adam. "We make a great combination." With the business equally divided between new construction work and service jobs in the metro Detroit area, Stephen finds new people to help through word of mouth and trains everyone who comes on the job, Adam says. "I learned everything from him, he's one of the best in the industry."
Five years ago, Adam gave up culinary work for good and now works full time in the family business. A recent job that found Adam in the limelight: He did the plumbing rough-in at This Old House TV's Detroit project. Little brothers come in handy, too.