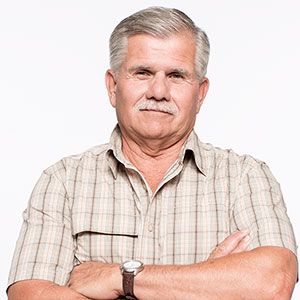 Published July 1, 2015
Of the 60+ Project Houses you've worked on in your 29 years at This Old House, which were the most rewarding? The most challenging?
Each project is challenging and rewarding in their own ways, but I would have to say the Manchester by the Sea house in 2001 and the contemporary home in Cambridge in 2005 were a couple of the most difficult. Both projects more than doubled in size in the process.
However, in turn I would say Manchester and the Cambridge contemporary were also some of the most rewarding. In Manchester the house was in rough shape after years of abuse by the elements and some poor design and building decisions. We were really able to bring it back to its original grandeur and make it a truly gorgeous home again. The house in Cambridge was a small box hidden in the brush when we started and what a transformation—we turned it in a gorgeous modern home, to look at the before and after you would have never known it was the same house!
What's your best advice to homeowners working with contractors. Or, how can a homeowner facilitate a good working relationship with their contractor?
It is key to have a contractor you feel really comfortable with. My advice is to do your homework, ask for personal recommendations from friends, family or neighbors who have recently had work done.
Be sure to have your ideas very clearly defined; magazines cut outs, photos, and other visuals are great to use to communicate clearly what you want so everyone is on the same page.
Building materials have changed a lot in the past 35 years. Are they any new developments that you're particularly excited about?
That is for sure! There have been a tremendous amount of changes in building materials. I have really seen big developments in simple adhesives—chalking materials have improved greatly; engineered lumber is wonderful for structure. Cellular PVC is a magical way to trim your house. Done correctly, with strong attention to the details, it will look just like wood and is incredibly durable.
What do you think about the whole genre of home improvement TV that TOH launched in 1979?
On This Old House, we teach our viewers the complete process, the full step-by-step on how to do things correctly from start to finish. Viewers know that our show is one they can trust and learn from.
We have enabled people to have options, to get involved, and to be educated. Not to mention, we make it entertaining!
Name three projects that remodelers frequently overlook—or fail to invest in—when embarking on a remodel?
(1) High-efficiency heating and cooling. (2) High-quality insulation. (3) Caulking where the foundation meets the house, and around all the windows and doors, to prevent air leakage. Behind-the-walls projects like these may not be glamorous, but they will make the home more efficient, economical, and durable. They are definitely worth the investment.
Tell us about the work at the Lexington Project. What's special about it?
There is so much great history in Lexington and this project is actually a colonial revival from 1966, our "youngest" project for This Old House. We are made some big improvements but still kept the integrity and unique qualities of the original house. The kitchen is 40 years old and needed a huge upgrade.
We also worked on a great big deck off the back with an additional screened in porch. The owners have three young children who all got their own rooms in the completed home, which they are very happy about! It was exciting to work on creating much more functional spaces and an efficient home for this young family to grow into.